Photocatalysis is a process in which a catalyst, typically a metal oxide or semiconductor material, is used to accelerate a chemical reaction when exposed to light. One of the most common applications of photocatalysis is in the degradation of pollutants and organic compounds in water and air. In this process, the catalyst absorbs light and generates reactive species, such as electrons and holes, which can then break down the pollutants into simpler compounds. Photocatalysis can also be used for hydrogen production, CO2 reduction, and self-cleaning surfaces.
Photocatalysis is the acceleration of a photoreaction in the presence of a photocatalyst, the excited state of which "repeatedly interacts with the reaction partners forming reaction intermediates and regenerates itself after each cycle of such interactions," according to chemistry. In many cases, the catalyst is a solid that, when exposed to UV or visible light, generates electron-hole pairs, which produce free radicals.
It is the acceleration of a chemical reaction by light. In photocatalysis, a material called a photocatalyst absorbs light and uses the energy to activate chemical reactions. These reactions can include the breakdown of pollutants, the production of hydrogen fuel, and the synthesis of useful chemicals. Photocatalysis is a promising technology for environmental cleanup and the production of renewable energy.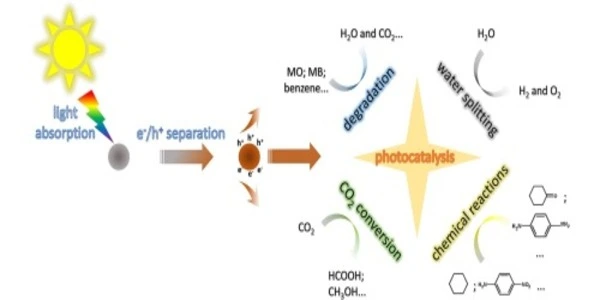 The most common type of photocatalysis uses titanium dioxide as the photocatalyst and UV light as the energy source. Photocatalysis is used in a wide range of applications, including air and water purification, self-cleaning surfaces, and the degradation of pollutants. It can also be used in the production of hydrogen fuel from water.
It is most commonly used in the field of environmental science to degrade pollutants in air and water. Photocatalysis involves the use of a photocatalyst, which is a material that absorbs light and uses the energy to generate reactive species that can break down pollutants. The most commonly used photocatalyst is titanium dioxide (TiO2), which can be used to degrade a wide range of pollutants, including volatile organic compounds (VOCs) and organic dyes. Photocatalysis is also being researched for potential use in areas such as self-cleaning surfaces, water purification, and air purification.