Business Policy of Airtel Bangladesh
Airtel Bangladesh Ltd. is a GSM-based cellular operator in Bangladesh. Airtel is the sixth mobile phone carrier to enter the Bangladesh market, and originally launched commercial operations under the brand name "Warid Telecom" on May 10, 2007. Warid Telecom International LLC, an Abu Dhabi based consortium, sold a majority 70% stake in the company to India's BhartiAirtel Limited for US$300 million. BhartiAirtel Limited took management control of the company and its board, and rebranded the company's services under its own Airtel brand from December 20, 2010. The Bangladesh Telecommunication Regulatory Commission approved the deal on Jan 4, 2010.
BhartiAirtel made a fresh investment of USD 300 million to rapidly expand the operations of Warid Telecom and have management and board control of the company. This is the largest investment in Bangladesh by an Indian company. Dhabi Group continues as a strategic partner retaining 30% shareholding and has its nominees on the Board of the Company.
The new funding is being utilized for expansion of the network, both for coverage, capacity, and introduction of innovative products and services. As a result of this additional investment, the overall investment in the company will be in the region of USD 1 billion.
History of Airtel Bangladesh Limited
Airtel Bangladesh Ltd. is a GSM-based celluer operator in Bangladesh. Airtel is the sixth mobile phone carrier to enter the Bangladesh market, and originally launched commercial operations under the brand name "Warid Telecom" on May 10, 2007. Warid Telecom International LLc, an Abu Dhabi based consortium, sold a majority 70% stake in the company to India"s BhartiAirtel Limited for US$300 million.
BhartiAirtel Limited took management control of the company and its board, and rebranded the company's services under its own airtel brand from December 20, 2010. The Bangladesh Telecommunication Regulatory Commission approved the deal on Jan 4, 2010.
Packages offered by Airtel Bangladesh Limited
Airtel Bangladesh has segmented its" product line under 5 (five) category and more are on the way to be introduced. At present airtel provides both post-paid and pre-paid connection plans. The post-paid plan is branded and marketed across the country under the name airtel Postpaid; the pre-paid segment is branded and marketed as airtel Prepaid. Furthermore there are International Roaming, Value Added Services and MCommerce.
Some of the airtel prepaid packages are: Adda. Hoi Choi, Manuted pack, Valentines pack, Shobai, Golpo, Kotha, Foorti, Dolbool, Bijoy 016.
The airtel postpaid is categorized under 3 packages which are designed to assist one"s professional and personal communication needs.
Airtel Exclusive
Airtel Classic
Airtel Advantage
Airtel exclusive brings the highest fnf features and 1 second pulse that will enable to manage different calls efficiently. Airtel classic offers a flexible tariff plan that helps to explore a wide service and keep overall cost to a reasonable limit. Airtel advantage comes with an attractive flat tariff plan, large close calling circle which makes one"s communication simple. Airtel-Postpaid and Airtel Prepaid user enjoy various Value Added Services (VAS), such as SMS, MMS, GPRS, 64K SIM, Duel SIM product, Corporate packages for product advertising via SMS, and a host of other features. However, International roaming is available only to airtel postpaid users.
Vision & Tagline of Airtel Bangladesh Limited
The tagline that they follow is that-
"Enriching lives means putting the customer at the heart of everything we do. We will meet their needs based on our deep understanding of their ambitions, wherever they are.
By having this focus we will enrich our own lives and those of our other key stakeholders. Only then will we be thought of as exciting, innovation, on their side and a truly world class company."
Values of Airtel Bangladesh
Why values are important for ABL:
Provide the base of employee empowerment and integrity.
Is the glue for creating an organizational culture appropriate for the vision?
Values provide the Driving Energy. People need to believe of what they are doing.
Values help keep/hire/highlight the contributing members. If people don"t believe in or practice the values it will be a cause of dissonance with the organization.
** Caselet prepared for airtel values are available in the appendix part of the report.
Organogram of Airtel Bangladesh Limited
BhartiAirtel South Asian operations are headed by Mr. Sanjay Kapoorwho reports to company"s Chairman Mr. Sunil BhartiMittal. Airtel"s South Asian operations are geographically divided into three zones and each zone is headed by one CEO. The CEO of Airtel Bangladesh Ltd. Reports to Mr. Ajay Puri, who is leading Bangladesh and Western par of Indian operations of Airtel. The management team is named as Airtel Leadership Board (ALB) in Bangladesh. All the fuctional heads are a member of this team which is headed by CEO and Managing Director Mr. Chris Tobit.
The workforce in Airtel Bangladesh Limited combines total of 13 departments with their respective functions. Combining all the below divisions the management team is build:
Customer Care
Supply Chain Management
Engineering
Operational Excellence
Human Resources & Administration
Sales
Information Technology
Corporate Affairs
Finance
Marketing
Legal & Secretarial
CEO Office
Corporate Assurance Group
My Job Description/Nature of the Job
The nature of my job was to assist compensation specialist of preparing and assisting him in his daily projects and activities. From assigning appointment letters to new joined employees to prepare different project, I assisted my official supervisor in his actions. My job was mostly in desk job based but sometime I had to visit different organizations for delivering or hand over important documents.
Specific Responsibilities of my Job
As being an associate of compensation speciali st, my main job was to assist him in preparing necessary policies of the organization such as dress code policy, maternity leave policy, and etc. Moreover, I had to prepare and issue appointment letter for newly hired employees. I had to prepare it by myself and after the preparation of the whole letter, I had to go to the CHRO for his signature. After his signature, the letter is ready to be deliverand they are couriered to the employee's address.
I also had to assist M-Commerce department to assist them in opening M-Banking account of the new internees. Apart from all these I had prepared the whole Airtel Employee Handbook for the year 2013.
My learning
Under the supervision of Compensation Specialist, I have been assigned with different projects and successfully accomplished those. The project works are described below:
Employee Appointment Letter Issuance
Purpose
The purpose of appointment letter is to provide a newly hired employee a written letter of appointment as a regular/probationary status, contract, or temporary employee, as a formality, after accepting a job offer.
Procedure
Appointment letter will be issued after completing necessary post- joining requirements and documentation within one week of joining that shall clearly spell out the teams and conditions of employment. With the help of personal file, necessary information is inserting into the excel file through which their job location, job responsibilities, salary, payment and all other details are included. A preview of a sample letter tracker is given below for the better understanding of the procedure: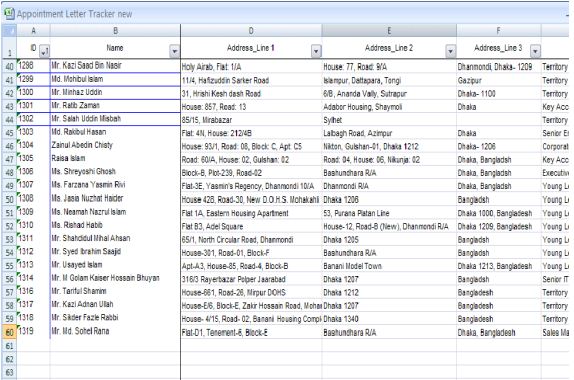 After the information are inserted, the excel file is being closed and another pre-linked word document is opened. Since these files are linked to one another, once the word file is open the appointment letter is ready to be print out. After the print out, a final authorization signature is taken from CHRO and is couriered to the employee"s present address. A signed photocopied of the appointment letter is saved in the personal file for future necessitate. Thus the whole process ends up.
Employee Dress Code Policy
Purpose
The purpose of dress code policy is to define a dress code as it is the foundation on which ABL build and maintain the professional image of the company.
Scope
The policy is applicable to all employees of ABL. For the purpose of this policy, the following people are deemed to be "employees":
Those who are on the permanent employment rolls of The Company.
Those who are outsourcing employees in airtel premises.
Procedure
On the basis of previous year"s policy my task was to prepare an updated policy for the year "13. Employees are strictly bound to maintain the dress code on the week days. The updated policy of business attire for employees would include: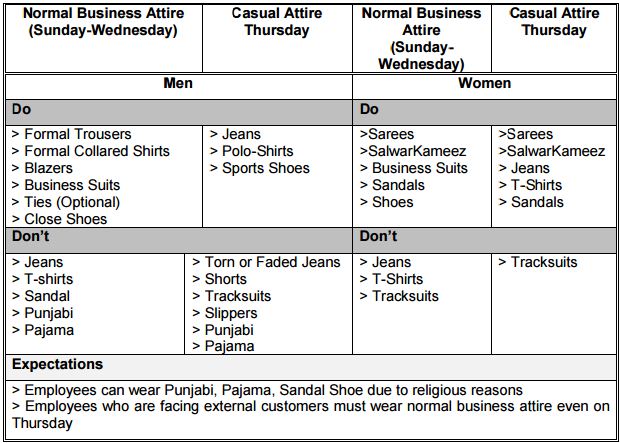 In case of any event or festivity (i.e. Eid, PahelaBaishakh); dress code will be notifies through HR by email and will be effective on the specific day.
ABL believes all employees will exercise good judgment in their dress sense to upkeep its corporate image. In case any employee is found not complying with the dress code mentioned on the policy, a suitable action shall be taken against him/her as per misconduct policy and management.
Maternity Leave Policy
Maternity leave is a temporary period of absence from employment granted to expectant or new mothers during the months immediately before and after childbirth. These policies are generally aimed at supporting the mother"s full recovery from childbirth and facilitating a stronger motherbond child. This mechanism has gained greater salience in the past few decades as mothers increasingly enter the workforce.
The maternity leave policy available to women in Bangladesh is 12 weeks which is paid at 100%. However, interestingly enough, there are no specific laws that exist for management level (women) workers. In Bangladesh, only a handful of organizations have recently started to offer their female employees on-site child care.
Unlike other organizations, Airtel Bangladesh limited has its maternity leave period of 4 months. Since most of the organizations have upgraded their leave policy from 4 months to 6 months, employees of Airtel Bangladesh Limited demand this to be increased on the same level. Furthermore government rules clearly encompass a leave period of 6 months which cannot be denied. Thus, the new policy has been updated on ABL and is being approved by the CHRO.
The policy is, however, will come into an effect from June 1, 2013. Maternity leave policy is eligible for all permanent employees of ABL. For the purpose of this policy; the people who are on the employment rolls of the company, on the day this policy comes into effect and employees thereafter, shall be deemed to "employees".
Opening Accounts of Internee Mobile Banking
Mobile Banking is a banking process without bank branch which provides financial services to unbanked communities efficiently and at affordable cost. To provide banking and financial services, such as cash-in, cash out, merchant payment, utility payment, salary disbursement,  foreign remittance, government allowance disbursement, ATM money withdrawal through mobile technology devices, i.e. Mobile Phone, is called Mobile Banking.
In Bangladesh this mobile banking facility is only provided by Dutch Bangla Bank Limited (DBBL). To open an account, a customer needs the following things:
Any mobile operator connection
1 copy of passport size photo
Photocopy of National ID Card/ Passport
Filled up KYC from (available to the registered agents)
Airtel Bangladesh Limited pays the monthly stipend of its internees through DBBL Mobile Banking. Once the internee has an account, his/her monthly stipend goes directly to the account.
Later the salary can be taken from any of the DBBL ATM booths.
During my internship period, whenever a new internee joined, my task was to assist them to open the account. First of all, I had to talk to the DBBL agent to fix up a date. After the confirmation of the date, I had to then contact with internees to bring over necessary documents on the fixed date. After they are done with all the procedure with the help of customer care agents of airel and their forms are ready, I used to collect the forms from the agents after they are filled out and handed over to the DBBL agents. The account is ready once a specific code is provided by the agent. The mobile number is the account number itself with a specific code number at the end of the digit. For an example, if the mobile number is 01610005566, the specific code can be 9 and the account number will be 16100055669. Internees will be asked to have a password of their own which has to be a four digit in range. The password will only be known by the account holder and s/he will use the code for further collection of salary. After every steps done, the account numbers are been submitted to the Executive –E banking and finally the process will be done.
KUDOS Reward and Recognition
In a competitive business climate, more business owners are looking at improvements in quality while reducing costs. Meanwhile, a strong economy has resulted in a tight job market. So while small businesses need to get more from their employees, their employees are looking for more out of them. Employee reward and recognition programs are one method of motivating employees to change work habits and key behaviors to benefit a small business.
To retain its employees and creating a good impression, ABL designs and updates its reward and recognition program time to time; which is however named as "Airtel KUDOS Reward & Recognition Program". The aim of this program is to designing innovating and motivating ways to engage and attract people towards the organization.
The keys to developing a reward program are as follows:
Identification of company or group goals that the reward program will support
Identification of the desired employee performance or behaviors that will reinforce the visions of ABL.
Determination of key measurements of the performance or behavior, based on the individual or group"s previous achievements
Determination of appropriate rewards
Communication of program to employees.
In order to reap benefits such as increased productivity, the HR team of airtel designs the reward program in such a way that the company or group"s goal must be identified and the behaviors or performance will contribute to this. The reward program can be financial and non-financial as well. HR team of airtel Bangladesh focuses on the non-financial rewards than financial because it is long lasting and more awaited remuneration to the employees.
To achieve its vision by 2015 of being the most loved brand and enriching the lives of millions; ABL continuously works to achieve its 3 values- alive, inclusive and respectful. A total reward approach has developed for the achievement of the values- total cash, benefits, recognition, development & career opportunities & work life balance.
Airtel Leadership Competency
Leadership competencies of ABL focus on specific measurements for different bands which help its employees to increase their superior performance. For band 1 & 2, there are drive execution excellence and be analytically decisive competency. "Drive Execution Excellence helps to translate initiatives into actions. It also aligns communication, accountabilities, resource capabilities, internal processes, and ongoing measurement systems to ensure that strategic priorities yield measurable and sustainable results. Through "Be Analytically Decisive"securing and comparing information from multiple sources can be identified for business issues and committing an action after weighing solutions against important decision criteria. For band 3 & UC, there are "Build Teams & Talent"& "Establish Strategic Direction". Build teams and talents enables employees to develop, engage and retain talented individuals; creating a work environment where people can realize their full potential. However, establish strategic decision facilitates one understands of major business functions, industry trends, and own organizations position to contribute to effective business strategies and tactics. From band 1 to band UC, some common brands has developed including "Drive Customer Engagement", "Be Entrepreneurial" and "Build Collaborative Relationships.
Recommendations
While working very closely to the Human Resource team of Airtel, I came up with certain observations and recommendations towards the organization:
Working hour of Airtel Bangladesh is from 10:00am- 07:00pm; where most of the telecom industris in the country ends at 05:00pm. Even though the target is to reduce man power, it slows down productivity in a certain way. Thus, work presure of the employees should be reduced by reducing the working hour from 07:00pm-05:00pm. If needed more employees should be recruited on a temporary basis.
Employees of Airtel Bangladesh are getting paid high than other telecom industries such as orascom, ericsson and etc. but the outcome is relatively poor in the market. Thus, it should be measured or a balance among the income and the outcome should be maintained.
Airtel depends a lot on Bdjobs.com for getting CVs for Territory Manager, Key Account Manager, Manager Compliance; most of the time good CVs are not found there so then HR takes people from reference which is time consuming, as a result HR cannot meet the demand of different departments in supplying employees as they require.
More training can be introduced to improve skills of the employees.
Conclusion
Recent analysis and literature demonstrate in the topic of "Policies Facilitation to Employees By Human Resource Department of Airtel Bangladesh Limited" show that the policies adopted are for the well-being of the employed to make them engaged towards the organization and the environment.
The study examined the overall policies that Human Resource takes and updates time to time. The research would suggest that in an agency such as the study site, where the workers are significantly engages, production outcomes would be high on the basis of the policies that the company facilitates.
Even though Airtel Bangladesh held 4th position on the basis of customer subscription, they are trying to become the market leader since the value itself targeted to be the most loved brand by 2015, employees are the one who needed to be engaged towards their work and without which this value cannot be achievable. Considering this in their mind, Human Resource team of Airtel Bangladesh trying their best to recruit the best employee from the market and implies durable policies that might help its" employees achieving the goal.