As an online market place, the customer servicer acivities & customer satisfaction
of Kaymu.com.bd
Kaymu.com.bd is one of the pet projects of the world's largest internet incubator Rocket Internet. Rocket internet has 5 ventures in Bangladesh including kaymu.com.bd. Other ventures are Carmudi, Lamudi, Foodpanda & Daraz. These five are the organizations operating under the umbrella of Rocket Internet Group in Bangladesh.
Kaymu.com.bd has started its operations in Bangladesh at the end of 2013. Within a year kaymu.com.bd become number one online market place of Bangladesh. It is also acquired the top position in Asia. Before kaymu.com.bd entered into Bangladeshi market, Kaymu.com.pakistan was in the driving seat. Including Bangladesh it has operation in 24 other countries throughout the world. Kaymu.com.bd replicates the eBay model of transaction where sellers sell on Kaymu.com.bd in altercation of a commission percentage on sales.
Kaymu.com.bd is an online marketplace where plenty of the sellers have the opportunity to sell their product through Kaymu.com.bd website. Buyer can order anything from kaymu.com.bd from all over the Bangladesh. Payment procedure is cash on delivery (especially in Dhaka) and for outside Dhaka some sellers take pre-payment via bank account or mobile banking like bkash. Sellers find kaymu.com.bd as an easy way to sell through kaymu.com.bd as they don't keep their stocks to handle the payment. Sellers use kaymu.com.bd as a platform to get buyers. Buyers also get a huge collection of verity products under one single website. Moreover they find a reliable organization which provides post purchase service because still a fear works for online purchasing in Bangladeshi customers due to the product authenticity.
Problem arises when customer wants to see the product physically before purchasing moreover the delivery systems become unable to take the pressure. Kaymu.com.bd is still on the lookout for a dependable partner for quick delivery service. Still it takes 2 to 3 days for delivery inside Dhaka & almost 5 to 6 days for delivery for outside Dhaka.
Financially Kaymu hopes to break even within the end of this year. Currently it runs from parent company funding and focuses on investing heavily on marketing and promotional activities to gain the market share. Kaymu.com.bd is the sponsor of cricket bat of Bangladeshi Cricketer Tamim Iqbal for running Bangladesh vs. Pakistan series 2015.
Given the fact kaymu.com.bd is a new company in the market. I tried to give a clear view about the operation of Kaymu.com.bd, organization structure, customer satisfaction and challenges.
INTRODUCTION
E-commerce which is stands for electronic commerce is a term for any types of business or commercial operation which involves the transmission of information across the internet. It covers a huge range of different types of business from customer based retail sites, through auction or music sites, to business exchange trading goods and services between corporation or end customers.
E-commerce lets consumers to electronically exchange goods and services with no barriers of time distance. E-commerce has extended rapidly over the last five years and it's predicted to continue at this rate or even go faster than current rate. This online transaction can effectively save a lot of time and money which often the main reason for customers to shop online rather than purchasing from a conventional marketplace. The following figure is showing the motives behind the purchase from online market: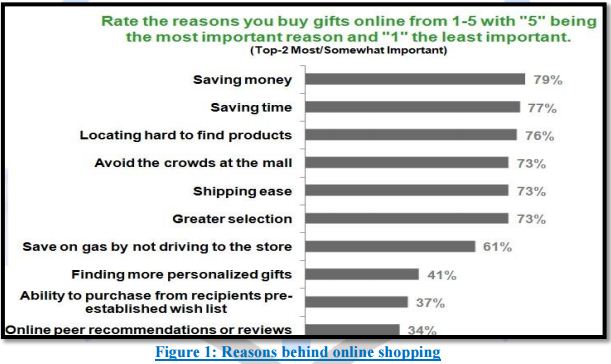 Bangladesh is one of the fastest growing emerging markets with a vast population. Most interestingly, the cultural background is more or less same for the whole population. In recent year's mobile as well as internet penetration has ascended inspiring a whole array of internet companies all over the world flock. In a recent report Motorola says, "Bangladesh has an excellent mobile penetration rate which is going to be huge in coming days". Based on those information it is crystal clear why companies like Rocket Internet pay attention to grab a market like Bangladesh.
The problem Kaymu.com.bd had facing that the online market was not that much popular in Bangladesh because of the education rate. Moreover the internet user's rate was not satisfactory a few years back though the scenario is far more different now. The internet user's rate is increasing day by day. Following figure is showing internet subscribers in Bangladesh on the month of March 2015 by BTRC.
Just recently, the online market bloomed and people are more interested for shopping online now. Kaymu.com.bd is the leading online marketplace for emerging markets. They had to educate the customers as they bring this business in Bangladesh which as almost new for this country.
Kaymu.com.bd replicates the business model of eBay in emerging market like Bangladesh where they don't have eBay. Kaymu.com.bd is a venture of rocket internet which is one of the world's largest ecommerce focused on venture capital firms and startup incubators.
Kaymu.com.bd was launched in October 2013 as of September 13th it is ranked as the 179th website in Bangladesh right after only three e-commerce sites (OLX, Ekhanei, Click BD). It has surpassed akhoni.com which is ranked 270 and biponee.com which is ranked 423. (Source: www.alexa.com)
Kaymu.com.bd is basically a service industry as they don't have any product of their own. They create a bridge between the buyers and sellers which bring them into same platform. So their primary focus is to satisfy their customers through sourcing good sellers and quality products. So to insuring the flows of sales they had to ensure the best service to the customers. Moreover they emphasize on sellers satisfaction as they are the main source of Kaymu.com.bd for making money. Kaymu take commission from sellers based on their sales percentage.
This report looks into the operation of kaymu.com.bd in Bangladesh especially focusing on the customer service activities of Kaymu Bangladesh as a new ecommerce site and prospect in the Bangladesh e-commerce market.
OBJECTIVES
To learn about the current operation and business model of Kaymu.com.bd.
To study the customer service activities and satisfaction of customers.
To find out the problems they currently facing and possible solutions
BACKGROUND INFORMATION
Rocket internet is a German internet company which was founded in Berline in 2007 by three brothers. Marc, Oliver and Alexander Samwer and was once connected to the European founders fund, an associated company.
On july 1, 2014, Rocket Internet changed its legal form to a private limited company to a public limited company. The initial public offering took place on October 2, 2014 at the Frankfurt Stock Exchange. Rocket Internet operates their business in more than 50 countries and has more than 75 ventures. Such as e-commerce retail store Zalando in german, jabong.com in India, Lamoda.ru in Russia, ZALORA in south East Asia, The Iconic and Zanui in Australia, the global food delivery platform foodpanda/hello food, the global property listing site Carmudi, Lamudi etc. Rocket internet has created more than 20000 jobs worldwide. Previous venture includes Citydeal which was purchased by Groupon for US$126M, which profited by US$90M.
ROCKET INTERNET VENTURES IN BANGLADESH
In Bangladesh Rocket internet has 5 ventures and they are kaymu, lamudi, Carmudi, Daraz and Foodpanda. Short descriptions about those ventures are given below:
Kaymu.com.bd :Kaymu.com.bd is an online marketplace where plenty of the sellers have the opportunity to sell their products through their website. It is an extensive online marketplace where buyers and sellers can meet and make awesome deals. The price is fixed here so there is no chance for bargaining. On Kaymu.com.bd, customers can purchase a verity of products both used and new. Such as computers, smartphone, fashion items and clothing, home appliances, cars and real estate. All the transaction is safe and secure. Moreover customer can check the product on the time of delivery. If they don't like the product there is option to exchange or return it. This company is currently active in more than 30 countries across Africa, Asia & Europe. It was founded in 2012.
Lamudi.com.bd :Lamudi is another venture of Rocket Internet which was launched in October 2013. Lamudi is a global property portal. This is available in 30 countries across Asia, the Middle East, Africa & Latin America, with more than 800000 real estate listing across world. This leading real estate marketplace offers sellers, buyers, landlords and retailer to sell and rent properties online.
Carmudi.com.bd :Carmudi is also an online marketplace allows customer to buy and sell cars, motorcycles or any types of vehicles in the fastest way possible. It brings together car showroom, dealers and individual buyers and sellers into the same platform. It makes the car shopping experience simple and hassle free. Buyer can compare the price of cars, models based on their budget, lifestyle. Sellers also get benefit to give ads on the carmudi.com in less than two minutes and reach millions of user at once.
Foodpanda.com.bd : Foodpanda is an online food delivery service which is available in Asia and Europe. It is a non-stop meal solution provider which lets customer to select or buy a meal from their favorite restaurant. Foodies across the city can order food through website, mobile app. They provide home delivery service within a short period of time in home and office and enjoy there meal.
Daraz.com.bd : Daraz launched in Bangladesh in 2014. This is an online platform that allows customer to buy the branded products. On daraz.com.bd every product is belongs to popular brand. They don't offer any local product here. They only focus on the renowned branded product for sell. The also provide home delivery service to the buyers end. Nowadays Daraz is getting huge attention from the customer due to the product authenticity. People those who like to use the branded product; they get an opportunity to order from Daraz.
KAYMU IN BANGLADESH
Kaymu.com.bd is an online market place where plenty of the sellers have the opportunity to sell their product through Kaymu website. Kaymu brings the buyer and seller to the same platform. It was founded in 2012 and lunched in Bangladesh on November 2013. The company is currently activated in more than 30 countries cross Africa, Asia and Europe. On kaymu.com.bd, customers can purchase a variety of products at a fixed price. Kaymu.com.bd sales almost everything used and new products like books, mobile, tablets, fashion wear and accessories, electronics, jewelry, home and living products, kid's products and many more thing. It is the nonstop solution for the customers to find their product under a single website.
All transactions are safe and secure here and customers can even choose where and when delivery should take place. Delivery charge inside Dhaka city is 70 taka & for outside Dhaka 100 taka maximum.
STRUCTURE OF KAYMU.COM.BD
In a short span of time Kaymu.com.bd has grew a lot. They are now number one online market place of Bangladesh and also become top in Asia. Operation of Kaymu.com.bd is far more different than other typical organizations. That is the reason behind the uniqueness of the organizational structure of kaymu.com.bd. There work process is also a lot more different. There are total 8 departments on Kaymu.com.bd. On every department there are also some layers. Departments are:
Sales
Seller Management
Human Resource
Finance .
Administrator
Public Relation
Content
Customer Service
Sales: The work of sales is to source the buyers who provide quality products, give best service. They sign up the sellers with Kaymu. Sometime they go to the field work to visit the sellers and to see their products. Sometime they had to go to capture the picture of the products along with photographer team. They had to negotiate about the commission. They try to provide the best price of the product after negotiating with sellers as there is no chance of bargaining because the product price given in the website is fixed.
Seller management: Seller management manages the sellers account. Help them to give ads, maintain their orders. Help them to be top sellers. To stimulate the sales of the seller they try their level best with promotion or any types of problem they faced. If any complain generates against the product quality or delivery service of sellers basically they deal with those issue. They had to meet the sellers with different business deals like commission issue based on the sales. Every seller management executive assigned with almost 1000 sellers.
Human Resource: Human resource deals with the recruiting, selection, compensation, promotion, taking the interview, leave related issue, managing turnover rate, record of overall performance etc.
Finance: Finance department takes care of Kaymu's financial works. They take care of Planning, investing, expenses, future forecasting etc.
Administrators: There work is to deal with the other country managers, overall planning, monitoring the workforce, changing in work. More or less admin take care of each and every sector.
Public relation: PR works with the different parties who are attached with Kaymu, arranging different events, deals with the reputation of the organization or if any problem arises or crisis handling.
Quality Control: Quality control department deals with product listing, giving the details of product, approve the listings, uploading the product pictures and editing of the pictures. Moreover they also ensure the quality of the product which is going to upload in the website.
Photographers: They had to work in office and also field to take the pictures of the product to upload in the website. Sellers bring the product in the office and they take the photos. Sometime sellers can't bring the product for so many reasons. Like if someone is going to give ads of bed, it's too costly to bring beds on the office or it's not possible also. So photographer has to go to field to take pictures of the product.
Customer service: Customer service of kaymu.com.bd is bit different than other organization. They don't work like typical organization. They had to validate the orders, order processing, receiving the inbound calls, live chat, Zendesk support, and handling complains. They had to ensure the customer is satisfied so that they buy again and suggest other to buy. As organization is almost new in market they had to educate their customers. They are performing an important task on the growth of the organization.
SWOT ANALYSIS OF KAYMU.COM.BD
SWOT analysis is a method used to evaluate the Strengths, Weaknesses, Opportunities and Threats involved in a project or an organization. Strength of a business gives advantage over others. Weakness places the business or project at a disadvantage relative to others. Opportunities are the absolute advantages of the organization & threats elements in the environment that could trouble for business or project.
It's really important to identify the SWOT because they can inform later steps in planning to achieve the organizational objective. It's more significant for the decision makers of the organization. SWOT analysis of kaymu.com.bd is showing below
Strength:
Kaymu consider their workforce as their main strength. They recruit young and energetic people for their organization. They believe that this type of organization needs young people because this is not like traditional organization. Moreover they are available anytime when organization needs them.
Kaymu also consider their reputation throughout the world as strength. It has a brand value all over the world. In Bangladeshi market they gain the trust of the people so early because of their brand value. So it's a plus point of kaymu.com.bd as they have a heavy backup from Rocket Internet the mother company.
Kaymu marketing policy is also their strength. They were sponsor of Bangladeshi cricketer Tamim Iqbal's bat for Bangladesh vs Pakistan Cricket series. They arrange different contest and competition. They go for heavy campaign during the time of special occasions like Pahela Baishakh, Eid, Puja etc. They are capable enough to go for heavy promotional activity which is considered as one of their strength.
Weakness:
Kaymu has some problem with their operation process. To source more sellers sometime they don't judge the seller's capability whether they are capable enough to business with kaymu or cope up with the process.
Kaymu.com.bd doesn't have their personal delivery channels. That is why they have not the full control over the product delivery system of sellers. If the sellers doesn't provide the goods on time, that hamper the reputation of Kaymu. Moreover they can't sign up those sellers who don't have their own delivery service.
Kaymu.com.bd doesn't have any organized quality control department to judge the quality of the product. That is why customer complain is bit higher. People obviously want low price product but they must ensure minimum quality. That's make customer dissatisfied.
Opportunity:
Kaymu.com.bd is already number one online market place of Bangladesh. So they just have to defend their position. Rests of all are the followers. So Kaymu will always get the advantage then others. They are already few steps ahead from others.
Bangladesh is an emerging market. Online shopping is just started here. It will bloom within a few years, so it's also a great opportunity.
People are more interested to do side business. Kaymu is helping them to do so. Already they have above 10000 sellers. If they can properly manage, it will increase more.
A lot of people are using internet now a days, and the internet subscription rate is growing at a satisfactory rate, so it is also an opportunity for an online market like kaymu.com.bd
Threat:
Following the footsteps of Kaymu.com.bd, a lot of online shops are open now days. They are doing well. So it might be a threat for Kaymu.
Kaymu has some lacking which need to solve as early as possible, like delivery charge and delivery time. Their delivery charge is bit high and delivery time is also long. If they can't solve that issue quickly they will gradually lose market share because competitor won't forget to take this advantage.
Online is such a media where news spread in a devastating rate. So it can be a threat for the organization if they can't provide good service. Reputation crisis may occur for a simple fault.
Political instability is also another threat for Kaymu.com.bd. Cause they provide home delivery service. Due to the political situation delivery delayed. So customer complained a lot.
OUTBOUND CALLS
Customer service department of kaymu.com.bd had to call customer for order processing purpose. Customer service individuals had to contact with 1200 buyers every day approximately. Outbound calling starts from 9:30 AM to 6 PM. There are different purposes of outbound calls. Like: Order Validation, General order processing, MPS Call, Complain investigation call.
Order validation: Outbound call starts with order validation. At every morning fist 1 hour, 9:30 AM to 10:30 PM customer service department call the customer for validate their order. When a customer places an order on Kaymu.com.bd, a verification code automatically send to the customer's phone. Customer had to use this code for confirming his order online". Sometime due to the network problem they don't get the code. Moreover some customers don't understand the process that they have to validate the order by using that code. On the other hand, some customer doesn't validate the order willingly for confirming it later though they get the code.
So customer service executives call the individual buyers for those invalidated orders to validate it. Sometime it seems that customer orders multiple products by mistake, so they had to make it sure that whether they place the multiple order willingly or they just did it on mistake. So, to make sure that order is real or the buyer is interested to buy or not they had to call those buyers for confirming the order.
General Order processing: From 10:30 AM to 6:00 PM CS agent's call the customer for general order processing. Purpose of the general order processing is to know whether a customer received the product or not. If the customer receive the product then asking them to rate the seller on a 5 point likert scale based on the product quality, sellers service, contact related issue, product delivery system. On this likert scale 5 is excellent, 4 is good, 3 is neutral, 2 is poor and 1 is very poor. Based on the buyers ranking sellers are raked on different platform like gold seller, platinum seller, Diamond seller, Star seller. If they don't get the product in time then customer service executives forwarded the complaint to the complaint management team to solve the issue. Per day approximately 500 orders have to close with ratings. For 500 closing they had to call 1400 customers at list. Ration of closing is 5:14, which means for closing 5 orders they had to call 14 customers on an average. This ratio is bit high due to the no answer or buyers phone off. Closing means closed an order account which received by the buyer and doesn't have any issue regarding return or exchange.
This ratings and review showed in the product page just below the product picture which allows customer to know about the product quality and sellers service. As it is an online market place, it's not possible to check the product physically. This ratings  and review helps customer to know about the product without see it physically.
Buyers can compare the sellers and product quality for this ratings option. So it is considered as one of the most import work of customer service department.
MPS Call: MPS call is basically deals with the customers who gave bad ratings to the sellers and Kaymu service. Every day One CS executive has to call them and discuss about the problem that he or she faced. This is basically to sort out the reasons behind their dissatisfaction. If possible he/she tries to solve it. On MPS call, CS agents ask for feedback& customer expectation from those customers who are highly dissatisfied. This is basically for regain the old customers who leave Kaymu or dissatisfied on Kaymu service. Customer feels special when the get this type of unexpected call and there is 50-50 chance that he or she again shop from Kaymu.com.bd.
Complain investigation Call: When a complaint has been generated from different source like live chat, Zendesk, Inbound calls and Outbound calls, one customer service agent has to call the customers to know the problem that he/she had faced. Then the executive has to call the seller to solve it. If it is a serious issue then he forwarded the complaint to the portfolio manager of the seller. One portfolio manager maintains the account of more than 1000 sellers. In Kaymu there are more than 12000 individual sellers. So when portfolio manager got the complaint he has to take it seriously and try to solve it as early as possible. After solving it he informs the complaint manager and he forward that message to that customer as early as possible.
SURVEY METHOD
The purpose of this survey is to find the customer satisfaction level of Kaymu.com.bd on different factors. This survey has been conducted on 30 customers of kaymu.com.bd over the phone and face to face interview. The principle focus of the survey was to seek customer opinion about their relationship with company as pertain to the following areas:
Website
Delivery system
Product quality & Price
Payment
Post purchase Service
A total of 16 questions relative to above areas, and an additional question designed to measure the customer's Overall Satisfaction with the Company, were posed to each customer.
Population: Population of this study is all the existing customers of Kaymu.com.bd from all over the Bangladesh.
Sample: Sample is the small unite of population on which research has been conducted. I took 30 people as sample. For sampling I used simple random sampling method. Among the sample 21 were male and 9 female. In percentage 30% were female & 70 percent were male.
Among them there are people of different profession with different age level. There are variations of students, job holder, business man, teacher, government employee, housewife and other occupations.
Data collection: For data collection I used a set of questioners. Total 17 questions were asked based on 5 different factors. Most of the interviews were conducted via telephone & very few were face to face interview.
ANALYSIS
Analysis has been conducted by Microsoft office excel 2010. In a total 17 questions were asked based on 5 different factors. They are Website, Delivery system, Product quality & Price, Payment procedure & Post purchase Service related. Analysis and finding from each and every sector is showing below:
Website related satisfaction:
First factor of satisfaction was considered as website related view of customers. The questions under these sections were:
Do you think that Kaymu.com.bd has a user friendly website?
Do you like order placing procedure?
Does enough information is given about the product in website?
User friendliness of website:


40 % people considered it as an excellent website, 34% accepted it as a good website, 23% were neutral and only 3 % of people think it's not a user friendly website. So it's seems that more or less 74% people are satisfied with the Kaymu web page.
Order placing procedure: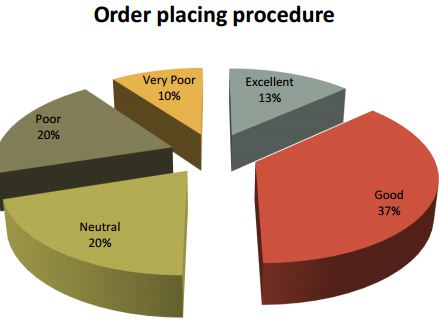 13% of the people considered the order placing procedure as excellent, 37% good, 20% neutral, 20% Poor, 10% very poor. So it's seems that 50% of the people are satisfied with the order placing procedure and 30% doesn't like it at all. The reason is that the order placing procedure is bit long in Kaymu.com.bd. Customer had to get registered first. Then they had to place the order. On the perspective of Bangladesh customer are not educated enough to do so.
So, some of the customers want to place the order over the phone. Basically that is the main reason behind this dissatisfaction.
Product related information:
 None of the respondent think that enough information related with product is uploaded in the website is in excellent level; only 13% people are think it's good, 40% neutral, 30% very poor and 17% people considered it as poor. So it's seems that only 13% people are satisfied with the provided information in the website. On the other hand 47% are dissatisfied regarding this issue. While people go for purchasing a shirt or pant they need a unit to measurement. Moreover they want each and every detail about the product as they can't see the product physically. So improvement is necessary here.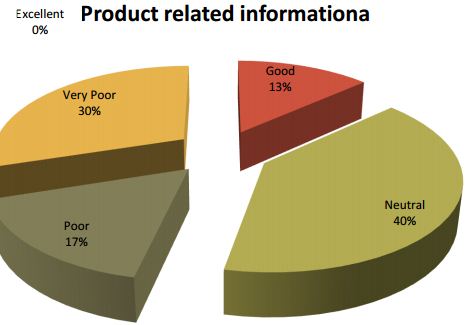 FINDINGS
The survey was conducted over 30 customers on different factors which is responsible for customer satisfaction of Kaymu.com.bd. The purpose was to find out the factors where customers are highly dissatisfied. It's not possible to keep satisfy all the customers of an organization. Still it is the goals of the organization to keep satisfy all of their customers. This survey reflect customers satisfaction and dissatisfaction rate.
The findings from the survey analysis in showing below:
74% customers are satisfied with the website friendliness. Only 3% customers are dissatisfied with the website design and user friendliness. So, satisfaction rate is good here. 50% people are satisfied with order placing procedure, 30% dissatisfied & 20% neutral. So, dissatisfied rate is bit more here. So need to take it into the consideration. People want more easier way to place an order. Cause it takes time to get registered. 30% of sample complained that it's time consuming and consider this as a complicated ordering process.
47% of the customers are not satisfied with the product related information which is given in the website. They didn't find enough information regarding product on the product page. As the buyers can't see the product physically before the delivery, so enough information should provide. This is the only way to know about the product before delivery. Suppose if it is a replica watch, then the grade of the replica should mentioned. The size, length, colors of the shirt, pants, and shoes should be provided with the picture. Otherwise customer gets confused. If it is an electronic product then warranty and product specification should be mentioned.
26% buyers complained that seller didn't contact timely. Buyers expect quick response from the sellers. So it should take on account so that seller contact with the buyer timely after placing the order. This negligence of the sellers hampers the reputation of Kaymu. 60% people are satisfied with the time they got the product. They don't have any complain as they got the product timely. 27% people didn't get the product on time. So it's also bit high percentage of dissatisfaction.
67% of the people are not totally satisfied with the delivery cost of Kaymu.com.bd. It's really very high. Inside Dhaka they charge 70 taka & for outside Dhaka 100 taka. If anyone ordered a product of 150 taka from outside Dhaka, it will cost 250 taka with delivery charge, which is really too high. Moreover if someone purchases multiple products from different sellers they had to pay delivery charge for each product. So this is one of the main reasons for what customers are losing interest to purchase from Kaymu.
37% percent of buyers are not satisfied with the lead time which seller takes for shipment to the buyers end. Inside Dhaka they take 2 to 3 days for delivery & outside Dhaka it's 5 to 6 days for delivery. This lead time for delivery need to be shorten. Customer expects more quick service. Most of them want the delivery within a day inside Dhaka. Moreover there is no urgent delivery system provided by Kaymu.com.bd. Customer sometime wants the product immediately for gift. So they until kaymu.com.bd start any urgent delivery service, it's not possible to make satisfy this great proportion of customers.
60 % people think that product quality is good enough, 23% people are dissatisfied with the quality. Though this rate is not that much high, still need to take it on consideration. Cause product quality is an important factor for satisfaction of customers. If they get good quality product form Kaymu they will purchase again or suggest others to buy from Kaymu.com.bd.
Moreover if anyone gets faulty product that also may create a buzz on online cause news in internet spreads quickly.
50% of the people thinks that product is exactly look same like the picture which appear in website, 27% people are dissatisfied. So pictures should look same like the original one. Over editing is responsible for this dissatisfaction. So on the time of editing this should be taken on consideration.
36% people are dissatisfied on product price. They think product price is high here. As there is no chance for bargaining and price is fixed here, they need to keep the price reasonable compare to physical market.
77% people are satisfied with the payment procedure. Only 10% people are not satisfied. Among them most of are from outside Dhaka who doesn't want to pay in advance. So on condition courier service may apply here.
66% customer doesn't face any hassle on the time of delivery, 27% of them faced hassle. Due to the political situation this rate is bit high. Cause sellers face difficulties on the time of delivery due to the strikes.
84% of the customer has no complain about extra delivery charge, only 13% claims that they had to give extra charge for delivery. So satisfaction level is good here.
Only 10% people complained that they didn't get quick response from customer service. Rests of them are satisfied. So customer are satisfied enough on customer service. It's not possible to keep satisfy all the customer but target should be 100% satisfaction.
Only 16% people complained that the actual problem didn't solve when they give complain to customer service. Rest 84% consumers are satisfied with the service.
20% customer doesn't think that customer service is quick enough to solve problem but 80% people are satisfied with this service. It's tough to make it quicker because of management complicacy.
So, it seems that main problems are with product information, Shipping cost, Delivery time, Order placing system, Product price and Seller contact issue. Dissatisfaction rate is bit high on those sectors. To provide an excellent online shopping experience they need to work with those factors.
RECOMMENDATION
Kaymu.com.bd needs own delivery system to deliver the product timely. They are facing troubles with the delivery of the products due to that reason. Moreover, if they leave it on the hand of the sellers they won't have a strong control over the delivery system.
They need to start an urgent product delivery service, as a large number of customers want it from Kaymu. They may ask for extra delivery charge for it. Sometime customer wants the delivery within 24 hours. They are also ready to pay extra charge for it due to urgency.
Delivery charge needs to reduce at any cost. If the customer orders from different sellers they have to give delivery charge for each product separately which is really high, as the sellers send the product from their own place. Customer may not choice all products from a single seller. So sometime they don't order two or three different products due to high delivery charge. If all the delivery is through kaymu.com.bd then this problem may solve. On that case buyer can order without any headache of delivery charge complicacy.
As a large number of buyers don't want to get registered for placing order, it should be making easier for them. The steps of placing order should reduce. There should be an option to get registered easily.
Though Kaymu.com.bd has a quality control department, but their work is to collect the product information, listing the products of the seller and upload those in website. But there must be a section to judge the actual quality of the product before uploading the product information into the website. That may reduce the customer complains about the low quality product.
Enough information of the products should give along with the product picture as the customer doesn't get confused or face any problem while browsing website. As the customers can't see the product physically or can't talk with the seller before placing the order, enough information is required to know about a product.
Product price should judge on local market before fix a rate, as there is no chance of bargaining here. If the rate is high people won't attract to buy from here. So price should be rational.
As sometime customer complains that the product is not exactly look same like picture, so over editing of picture should avoid. That changes the real color of the product. Sometime in picture product looks far more attractive than real product. So they should use real view of the product as much as they can.
Customers don't want to pay in advance for outside Dhaka, so all the payments procedure for outside Dhaka should be on condition via courier service. That will attract more buyers.
They can give some coupon or discount offer to their loyal customer, which will help them to feel special and they will bring more customers. That is also a good way of promotion.
They can go for television commercial. That will help them to spread their name more in market.
CONCLUSION
Kaymu.com.bd shows a promising prospect on Bangladeshi e-commerce market. Within 1.5 years of time they did well and growth rate is very high. They already grab the market and become the number one online market place of Bangladesh. E-commerce journey in Bangladesh has just started, a long way to go. So Kaymu.com.bd has a huge opportunity to be a market leader. Moreover they have a huge backup of their parent organization Rocket internet. Internet subscription rate is also growing up and customers are getting attracted in online shopping. So this is the right time to tap into the market and establish them as early as possible. If Kaymu.com.bd can overcome its challenges and makes proper uses of the opportunities by using its strength, hopefully in near future Kaymu.com.bd will rule Bangladeshi market.