Organizational Profile of Ruapli Bank
Ruapli Bank Ltd. is one of the largest state owned public limited banks of Bangladesh. It plays significant role in banking business through providing service to the mass people & in the economic development of the county. The main functions of a commercial bank are to collect money from the surplus unit, transfer it to the deficit unit. The overall purpose of banking is not only the collect money form surplus unit and transfer it to the deficit unit, but also grip the foreign exchange by the means of export and wage earners remittance to well contribute in favor of economic growth and development of the emergent nations like Bangladesh. To do the foreign exchange business a commercial bank has to take authorized dealers license form the central bank of Bangladesh, Bangladesh Bank. As foreign exchange business involves transaction with the foreign country, an authorized dealer branch has to maintain some international rules and regulations along with local customs. Foreign exchange department of Rupali Bank ltd is one of the important departments that earns significant amount of profit. This bank has twenty-seven Authorized Dealers branches that are engaged for doing foreign exchange transactions. The main functions of AD branches are doing Import- export and foreign remittance business. Foreign remittance is one of the important sectors for our economy that increases our foreign reserves. Wage earners want to send the money easily to their nearest one. Foreign remittance transaction of a bank is the function of its international division how they arrange the procedure. Besides Import-export business, investing foreign currency in the international share market by using its dealing room is another business of this bank. Rupali Bank ltd. is doing its foreign exchange business by its 183 foreign correspondents. Foreign exchange business is guided by some national and international policies. Among the national regulations Bangladesh Bank, Chief controller of import and export, Ministry of commerce, Ministry of finance are main authority.
International regulatory authority is ICC publications like UCPDC-600, URC, and URR. Foreign exchange market is becoming competitive gradually. Bangladesh is a comparatively small open market economy with a large expatriate labor force that sends substantial remittances to the country.
ORGANIZATIONAL PROFILE OF RUPALI BANK LTD.
Historical background
Rupali Bank Ltd. was constituted with the merger of 3 (three) erstwhile commercial banks i.e. Muslim Commercial Bank Ltd., Australasia Bank Ltd. and Standard Bank Ltd. operated in the then Pakistan on March 26, 1972 under the Bangladesh Banks Order 1972, with all their assets, benefits, rights, powers, authorities, privileges, liabilities, borrowings and obligations. Rupali Bank worked as a nationalized commercial bank till December13, 1986. Rupali Bank Ltd. emerged as the largest Public Limited Banking Company of the country on December 14, 1986.
Company Profile
Present Capital Structure
Authorized Capital : Tk. 700 crore
Paid up Capital : Tk. 208.73 crore
Break up of paid up Capital
Government shareholding : 90.19%
Private shareholding : 9.81 %
Present Share Structure
Total Number of share: 20, 87, 25,000
Number of shareholders as on 31.03.2013: 5248
Number of Branches
Rupali Bank operates through 535 branches. It is linked to its foreign correspondents all over the world.
Number of Zones and Corporate Offices
The Corporate Head Office of the Bank is located at Dhaka with one local office (Main Branch), four corporate branches at Dhaka, one in Chittagong and twenty-five zonal offices all over the country.
Number of Employees
The total number of employees is 5914.
Mission of the Bank
The bank participates actively in socio-economic development of the country by performing commercially viable and socially desirable banking functions.
Board of Directors
The Board of Directors is composed of ten members headed by a Chairman and the directors comprised of representatives from both public and private sectors and shareholders.
Rupali Bank Ltd. at a Glance
The following table shows the overall position of RBL for the year 2012, 2013 and 2014 respectively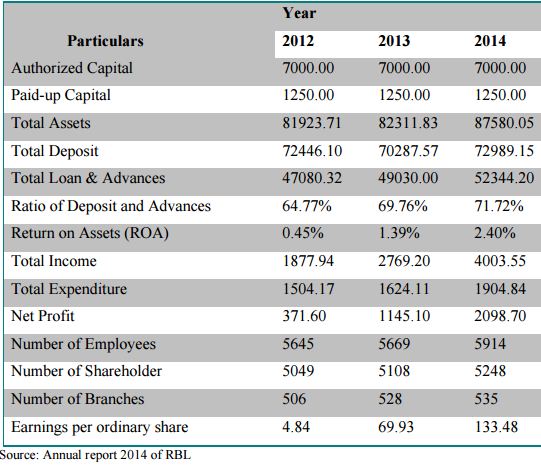 Head office Divisions of Rupali Bank Ltd.
Admin & Human Resources Department
Audit & Inspection Department
Central Accounts Department
Computer Department
Discipline Department
Development, Planning & Research Department
Establishment & Welfare Department
Engineering Department
General Banking Department
General Credit Department
Internal Control & Compliance Department
Industrial Credit-1 Department
Industrial Credit -2 Department
International Division
Law Department
Public Relations Department
B.T.I Director & DGM
Rural Credit Department
Recovery Department
Reconciliation Department
Anti-Money Laundering Department
MIS Department
Rupali Bank Training Institute
Since the Establishment in 5th July 1976, Rupali Bank Training Institute provided training and development programs to 20735 employees and staffs. In 2013 more than 600 employees participated in the training and development programs for various courses. Emphasis is given on foundation banking courses to the newly recruited officers and training on foreign exchange is also given as per requirement.
Functions of Rupali Bank
General Banking
Rupali Bank Ltd. Provides its general banking service to the customers throughout the country with its 535 branches in urban and rural areas. Various deposit schemes of RBL
Savings deposit
Current deposit
Short notice deposit
Time deposit
DPS
Rural deposit pension scheme
Festival deposit
Call deposit
Interest rates of deposit schemes
Savings deposit – 4.5%
Short notice deposit – 3.5%
Time deposit – varies between 7.5% to 8.5% depending on time
Foreign remittance deposit – 6%
Rupali Bank deposit pension scheme 2 – 6.5%
Other Banking services
Besides general banking Rupali Bank Ltd. Provide other banking services such as –
Demand draft
Pay order
Telegraphic transfer
Mail transfer
Call deposit
Transfer of fund with instructions
Computerized Banking
Currently RBL is working on transferring their banking activities from traditional to online/internet banking. The system is still in progress and it is expected that soon all the branches of RBL will operate under online banking system.
One Stop service
Currently only 27 AD branches are offering fast paced one stop services to its customers. Soon most of the branches of RBL will introduce this service so the customers don't have to rely on the specified branches only.
Utility Services
Rupali Bank Ltd. works as an agent for its customers and provides various utility services such as collection of telephone, electricity, water, gas bills for free of charges.
Credit Facilities
General Credit Programmes
With main focus on financing trade, business and industry productiveness RBL credit programs are expanded throughout the country. This credit program also covers international/cross-border business. Basic focus is on developing the rural economy such as agriculture and livestock. Credit is also provided to the thrust sector declared by the government.
Rural Credit Programmes
Rural credit programs are designed to promote and facilitate agro based business and services, and also to ensure employment opportunities in rural areas. These are the sector of financing under this program – fishery, livestock, shrimp, poverty alleviation, micro credit, agro products marketing etc.
Youth and Farmer Loan
Rupali Bank Ltd. provides loans to the young entrepreneurs and farmers by having a savings account with it. The loan amount can be up to five times of the savings account amount but not exceeding fifty lac taka.
SME Loan
Rupali Bank Ltd. offers Small and Medium Enterprise loan (SME) in three categories – industrial, service and business sector.
Industrial sector – loans for electronics material, fashion design, plastic and synthetic functions, establishment of school and kindergarten.
Service sector – loans for education, health, recreation, tourist spot making.
Business sector – loans for retailer and whole seller grocery shop, departmental store, medicine and restaurant purpose.
Student Loan
With the sense of corporate social responsibility Rupali Bank Limited provides student loan facilities to study abroad. RBL is offering student loan up to 12,00,000,00 Taka against reasonable amount of interest.
Foreign exchange functions of Rupali Bank Ltd.
Rupali Bank Limited is doing its international business around the world by its 27 Authorized dealer branches and 183 foreign correspondences. Rupali bank ltd has one joint venture branch outside the country. Import, export and foreign remittance are the main focus of foreign exchange transaction of RBL.
FC A/C opening
There are three types of FC Account that can be opened in USD, GBP, EUR with AD Branches of Rupali Bank Ltd.
Private foreign currency account – Bangladeshi resident residing abroad or foreign nationals residing in Bangladesh or any foreign company operating in Bangladesh can open this account.
Non-resident foreign currency deposit account – Bangladeshi origin all nonresidents having dual nationality can open this account.
Resident foreign currency account – this account is for all the residents of Bangladesh to do foreign currency exchange business.
Documents for FC A/C
Two Copies of Photographs of applicant attested by the High Commission/Embassy.
Two Copies of Photographs of nominee of the a/c attested by the applicant.
Copy of passport attested by High Commission / Embassy.
Residence certificate / Employer's certificate.
Facilities in F.C. Accounts
Nominee can operate the account.
Interest is paid on F.C account.
Balance in F.C A/C can be utilized for import of goods.
Balance available in the F.C. account may wholly or partially be sent abroad.
Foreign currency brought in by Wage Earners can be deposited in the F.C A/C.
Non-resident Foreign Currency Deposit A/C (NFCD A/C) can also be opened by Wage Earners.
This A/Cs may be maintained as long as the account holder desires.
F/C Account Products and Services
Export Credit (Pre-shipment & Post-shipment)
Suppliers Credit
Letter of Credit (Import)
Guarantees in Foreign Currency
ÿ Bid Bond
ÿ Performance Guarantee
ÿ Advance Payment Guarantee
Bill purchasing/ discounting
Remittance, Collection, Purchases & Sales of Foreign Currency & Traveler's Cheques
NRTA (Non-Resident Taka A/C )
NFCD Account (Non-Resident Foreign Currency Deposit)
RFCD Account (Resident Foreign Currency Deposit)
Convertible & Non-convertible Taka Account
Forward contracts
Correspondent Banking Relations
Correspondent Banking
Rupali Bank's aim is to increase its foreign exchange business. It is doing international banking with major banks of the world. It is maintaining agency arrangements and correspondent relationship with about 160 foreign correspondents.
Investment Banking
RBL investment banking portfolio includes –
Bangladesh government bond and securities
Treasury bills
Grammen Bank bonds
Debentures of Govt. and semi-govt. organizations and public limited companies
Shares of listed companies
Industrial Financing
RBL industrial loan portfolio includes appropriate investment fund for the development of thrust sectors such as textile, jute and products, leather and products, frozen and semicooked shrimps, footwear, knit garments and other small and medium enterprises. RBL also emphasizes on providing loan to the IT industry.
Training and Development
The Human Resources Division is very much concerned about the training. Every year it provides a schedule for development and training purposes. The bank recruited officers in 2013-2014 through Bankers' Recruitment Committee (BRC) which is conducted by Bangladesh. Now RBL is recruiting officers by their own arrangement. RBL give importance to provide institutional training to their human resources. It has its own training institution. At the top there is a national level training institute and RBL also provide training at Bangladesh Institute of Bank Management (BIBM) to cater to the training needs of the higher level bank personnel.
Performance Appraisal and Feedback
The RBL follows closed appraisal system and appraisal in mainly done for the use of promote, disciplinary action and to control human resources. Performance feedback is almost absent in RBL. No systematic culture has yet been developed for performance feedback.
Recommendations
In modern world we consider time as money. Right decision at the right time will bring expected result for the bank. Therefore, the following steps should be taken for the overcoming existing limitations of bank and overall development of the foreign exchange business of Rupali Bnak Limited.
(i. It is recommended to introduce Online Banking system to attract customer and provide better customer service. At present RBL has no online banking system yet for which bank cannot provide customer service promptly. Some banks are providing ATM/Debit/Credit card and Evening banking facility from any of their branches, but Rupali Bank does not have ATM/Debit/Credit card and Evening banking facilities in all the branches. Rupali Bank should introduce ATM/Debit/Credit card and Evening banking facility in all of their branches. Elite businessman of the country does foreign exchange business. They expect all facilities to run their business smoothly. If they find all the facilities they will be customer this bank.
(ii. The practice of marketing promotion policy is almost absent is Rupali Bank which will be a cause to its survival among all other new banks as the other banks are tremendously exercise to improve the marketing promotion. It is recommended RBL should exercise marketing promotion practice. RBL lost its image during the last couple years when govt. wanted to sell out the bank. For strengthening source of remittance, it is need to create/build up a positive image of RBL among expatriates & their beneficiaries by marketing and advertising. Bank may consider opening of a booth/counter at the airport for providing special services to expatriates. This is also advertisement for the bank in the important place.
Advertisement in print media/newspapers may be published periodically through professional ad firms to attract the people who want to do foreign exchange business.
(iii. Shortage of manpower hampers its FE operation. It is recommended that RBL should employ more talented personnel. As expert officers are going on retirement then it will face serious crisis if enough employees are not recruited. Training is more effective way to make employees at the relevant department. All employees should get various types of training to make them skilled and all employees should get the opportunity to work all sorts of FE functions.
(iv. RBL has no special remittance cell. Sometimes customers face problems of queries. It is recommended that RBL should maintain a special remittance cell for prompt service. In order to ensure speedy delivery of remittance to the beneficiary, Bank may arrange for cash payment of money without having any account with the bank on the basis of identity card/ Passport/Driving license, Phone no.
(v. Exchange rate plays an important role in routing maximum remittance by the expatriates & the beneficiary/exchange houses. Spread of exchange gain from the cover fund may be lowered to attract more remittance. So the bank may take competitive advantages by offering market competitive rate.
(vi. Website of RBL should be enriched with all information regarding the foreign exchange relevant facilities. Most of importer and exporter want to take information regarding banks and its existing facilities from the website.
(vii. No. of AD Branches should increase and all types of function should do in all branches. If it is necessary to relocate some AD branches to strengthen the FE business. AD branches should be increased in the prospective places. It is found that some general branches are doing FE business those branches should make AD branches. RBL is doing business among the existing customer. New clients should be increased for importing and also for exporting products to increase the FE business.
(viii. Customer wants well-decorated environment. Branches have to be decorated in modernize way to attract the customer. Customer feels comfort in the modernized environment to work. Good working environment represent the bank to the mass people.
(ix. Customer wants instant response but branch cannot do it, as the power limit is restricted. Power limit have to be increased to make instant decision for any sort of function regarding foreign exchange business. When branch send proposal to the head office, it takes long time to find the decision. After waiting few days customers change their decision not to do business in this bank.