Overall Market Scenario of Munch Rollz
Food is core element in our daily lives. Not only does it enable us to survive, but appropriate amounts and quality also help to ensure a better standard of living by contributing to our health and wellness. Nestlé is the largest food company in the world measured by revenues. Nestlé's product include baby food, bottled water, breakfast cereals, coffee, confectionary, dairy products, ice cream, pet foods and snacks. Nestlé employs around 3, 30,000 people in over 150 countriesand have 461 factories or operations in 86 countries.
Nestlé believes that not only possible to create long-term value for their shareholders if their behavior strategies and operations also create value for the communities where they operate, for their business partners and of course, for their consumers.
Nestlé in Bangladesh
Nestlé Bangladesh Limited started its first commercial production in Bangladesh in 1994. In 1998, Nestlé S.A. took over the remaining 40% share from our local partner when Nestlé Bangladesh became a fully owned subsidiary of Nestlé S.A.
Nestlé Bangladesh's vision is to be recognized as the most successful food and Beverage Company in Bangladesh, generating sustainable, profitable growth and continuously improving results to the benefit of shareholders and employees.
Our factory is situated at Sreepur, 55 km north of Dhaka; the factory produces instant noodles, cereals and repacks milks, soups, beverages and infant nutrition products.
Today Nestlé Bangladesh Ltd. is a strongly positioned organization. The Company will continue to grow through our policy of constant innovation and renovation, concentrating on our core competencies and our commitment to high quality, with the aim of providing the best quality food to the people of Bangladesh.
Nestlé Bangladesh Limited is a leading food company with lots of global strategic brands operating in Bangladesh. Munch is one of the strategic brands of Nestlé Bangladesh Limited. In Bangladesh to reach to more consumers and to better satisfy the needs, Munch is trying to implement some of the exceptional promotional programs such as School & university Campaign, festival Gift Box and This research is being carried out with an intention to evaluate the effectiveness of these programs .By talking with the teenagers personally whenever it was convenient, it was being tried to find out whether there is any differences between the pattern of choices.
Business Vision
―Organizational excellence is never achieved through a onetime effort; it is always a process of continuous improvement across a number of areas of operation.‖ ~ The spirit of Nestlé. A key factor for Nestlé's success has been its quest for continuous improvement through ushering in greater productivity and more efficiency in everyday operations. Despite the infrastructure impediments in India, Nestlé has set itself high standards of business performance.
This is reflected through the essence of the company – its mission statement.
Nestlé's mission
―To be in every way the leading company in the Bangladesh food industry and a good corporate citizen by providing our consumers with superior quality products, our shareholders with rapid growth & fair returns and our employees with a challenging and satisfying work environment.‖ To translate this spirit into a planned and measurable process, Nestlé has set up key objectives across all divisions.
Activities of the organization
Nestlé Bangladesh Limited has divided its brands according to each type of its business groups under many categories. They are being structured in the following: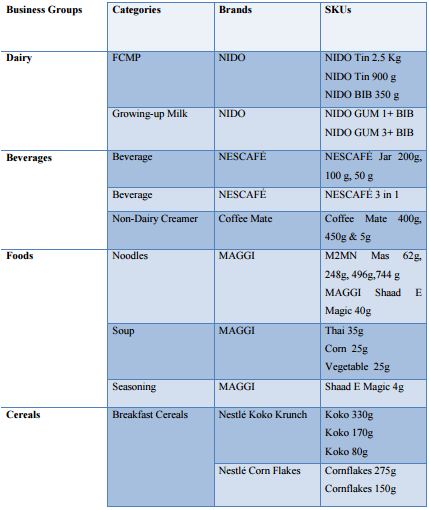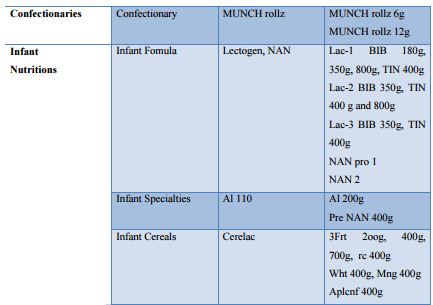 Key objectives
Broad Objective:
Marketing objectives are compatible with the overall corporate objectives of Nestlé. Company's objective is to be the world's largest and best branded food manufacturer while insuring that
Nestlé name is synonymous with the products of the highest quality.
"Making our customers winners by constantly exceeding their expectations"
Chief objectives:
To achieve compatibility with international voluntary standards on environmental management systems.
To build mutual trust with consumers, governmental authorities and business partners.
To ensure continuous improvement of Nestlés environmental performance.
Conservation of natural resources and minimization of waste.
Total compliance with the laws.
To establish the benchmark for good business practice.
Employing new technologies and processing.
By committing to resources, both human and financial.
Measuring the cost and benefits to business of its activities
Specified objectives of each division
(Production)
To optimize production costs while enhancing product quality so as to make Nestlé products even more competitive in the market place.
 (Sales and marketing)
To reach a sales turnover of 3000 crores by the year 2003
To double the turnover every three years
(People)
To help employees to retain a long term perspective and integrate them fully with the company's business goals
To retain a broad perspective while addressing individual needs
To view growth as a continuous process
To concentrate on attitudinal changes by developing leadership skills, an appreciation of interdependence between units and the enhancement of a sense of belonging to Nestlé.
(Finance)
To maintain profit levels above the average for the food industry in Bangladesh.
(Factory)
Nestlé has one factory in Bangladesh and that is in Sreepur, where they produce 3 kinds of products internally. Those are Cerelac, Munch and Maggi. The other products are imported.
Nature of the Job:
Mainly I worked at Nestle Bangladesh Limited as an Intern at Sales of Consumer Brand (Munch rollz). My supervisor was Territory Officer MimtazBenozir. She supervised my market report. I went to different retail markets to know about the market share, challenges, consumer feedback, Market return, of Munch rollz and others chocolate brands. Moreover, I directly communicated with retailers to monitor the trade price and trade offerings as well as stock of the product. Then,
I would submit my market report to my ASM (Area Sales Manager) MD. Sufi Alam. He instantly would take action to improvise the Munch Rollz market return and feedback of consumers as well as retailers. In a nut shell, I would brief the overall scenario of Munch Rollz in different retail markets.
Different aspects of job performance:
The market analysis is characterized as a systematic, comprehensive, objective, and independent approach which can assist the manager to understand the working of the individual parts of the organization and their contribution to the total system geared toward the achievement of the organizational objectives. An empirical study of the marketing investigation can provide some insight into management's perception of the benefits of the marketing audit as well as the current procedural aspects of the marketing audit, which are currently lacking in the literature.
Marketing research
Marketing research is "the process or set of processes that links the consumers, customers, and end users to the marketer through information — information used to identify and define marketing opportunities and problems; generate, refine, and evaluate marketing actions; monitor marketing performance; and improve understanding of marketing as a process. Marketing research specifies the information required to address these issues, designs the method for collecting information, manages and implements the data collection process, analyzes the results, and communicates the findings and their implications. The task of marketing research (MR) is to provide management with relevant, accurate, reliable, valid, and current information.
Competitive marketing environment and the ever-increasing costs attributed to poor decision making require that marketing research provide sound information. Sound decisions are not based on gut feeling, intuition, or even pure judgment. Methodologically, marketing research uses the following types of research designs:
Qualitative marketing research – generally used for exploratory purposes — small number of respondents — not generalizeable to the whole population — statistical significance and confidence not calculated — examples include focus groups, in-depth interviews, and projective techniques
Quantitative marketing research – generally used to draw conclusions — tests a specific hypothesis – uses random sampling techniques so as to infer from the sample to the population — involves a large number of respondents — examples include surveys and questionnaires. Techniques include choice modeling, maximum difference preference scaling, and covariance analysis.
Advantages of Market Analysis:
A marketing analysis can be defined as a systematic, periodic and a comprehensive procedure of checking out the marketing activities of a concern. Some of the other benefits and advantages of marketing analysis are as follows:
The analysis provides the marketers with an in depth view of the marketing activities that are going around in the concern. It brings out a complete picture of the entire operations of the concern. While revealing the various drawbacks the analysis process also leads to efficiency. This process can also be used to lay down an improved marketing plan.
A marketing analysis can help a company refine its business practices and improve its productivity and profitability.
Marketing analysis helps to marketing executives, top management and investors to ensure that they are doing the right things to help drive growth for their organizations.
A marketing analysis is a careful examination and evaluation of marketing practices and results. It offers a baseline for performance measurements and a framework for effective business planning to maximize positive external perception and demand generation.
An analyst helps the company determine the value of a sale and a sales lead.
There are no permanent "right" answers in marketing. Customers' needs and wants are moving targets, and marketing programs require testing and retesting to find the most profitable formula. A marketing analysis is the way to achieve success by providing an interim report card to help the company and their staffs tap into inherent resource.
Marketing analysis often lead to strategic marketing change. Careful assessment of the changing environment, customers, channels, and competitors may lead to a reassessment of firm direction.
Findings:
On the basis of market visit some important issues have been found out .Total five markets had been visited. Like- Uttora, Azompur, Ashkona market, BRAC hazi market, Nikunjo 1& 2, Gawsulazam, Mollarteck Market.
Impact of TP & Price inconvenience on Traders:
Marketers are facing some difficulties to attract the consumer. However, the target consumers are young generation and children. They have great impact on profitability but consumers are having more expectation from munch rollz. The major barrier is the high expectation of gaining profit from traders. It is therefore, some miscommunications have been created to sell product in the secondary market. At the same time consumer's demand is not being fulfilled by this product. On the basis of market visit such as in Nikunjo, some small traders take profit minimum 1 -2 tk. However other traders of counter store want 3 to 3.5 tk per piece as profit margin. They basically prefer trade promotion on tk per pieces rather than having additional TP on piece. As in the previous month there had less profitable promotion for the time period. They placed more orders through providing trade offers when munch's sales are good. In the contrary, most of the traders expect they will have fixed amount of profit from much's sales without TP.
In case of price munch is quite cheap which is 6 taka but consumers have tendency to buy this product in 5 tk because it's round figure which is applicable from lower class to higher class consumer. For these reason, traders sometimes don't feel interest to purchase due to inconvenience of its price. Sometimes consumer purchases it for 5 tk. They are not getting interest to pay extra 1 tk. Munch SKU's price is quite cheaper rather than other chock let because it doesn't make profit in the long run. Moreover, we are providing some promotional activities like display promotion, incentives for traders. Traders are not satisfied with company's rules and regulation as well as those promotional tools.
In the short run, product can be existed in the market but it can face difficulties to grab the entire market share in the long run.
Environmental effect:
In the summer season, chock let gets melted due the warm weather. So customers can not feel to take any chock let. Its taste is not that much good comparing to other chock let like Kitkat and Dairy milk. Moreover, Kitkat has been packed by silicon paper but munch does not have that kind packaging protection.
Bad impact of Gray Product :
In Bangladesh, customers are very much willing to buy exported product. So there are some markets such as Gawsulazam and uttora metro lots of product exist in the trade which has been exported from different countries. As traders are not getting their expected profit from munch rather than having much more profit on Kitkat and Dairy milk's SKU. Their minimum profit is from Kitkat and dairy milk minimum 6 tk to maximum 10 tk.At the same time customers have some interest to buy exported product rather than buying our local or Bangladeshi product. But in that case we should work on customer feedback also. In these area people have capability to buy exported product and traders are responsible for grabbing the market by the Gray products.
Summary of the Project:
Munch rollz is one of the prominent brands in Nestle Bangladesh Limited. This projects is based on how munch rolls sales cause with the help of Trade promotion as well as Market return. Theoretically it has been shown that its sale increases due to consecutive three months Trade promotion. However, it has been increased first one month distribution, after two months its sales trend along with the market return has been fallen down frequently instead of changing trade promotion. Even though Trade promotion has been provided but statistically it has been proven that TP does not affect on sales that much too some extent it should have been. Apart from that reason it is to be said that sampling is the good communication method to this impulse product to create mass marketing among the consumers to support the production of munch rollz sales trend.
Questionnaire Design:
Reviewing available reports, reviews, books, journal papers and frequent site visits, a questionnaire has been designed for this study, which includes some demographic information of the samples, their brand preference of chocolates, criteria for choosing, frequency and reasons for buying, quality, taste, etc.For this questionnaire, three types of questions have been designed: closed ended, open ended and scaled response.
Sampling:
For this study, 37 samples hadbeen randomly selected from BRAC University premises. As a result, almost all of the samples belong to younger age groups, which specifically align with the target market of Munch Rollz.
Data collection:
The data for the questionnaires were collected through personal interviews while visiting BRAC University. And the data of the distribution, sales, trade promotion and market return were collected internally from Nestle.
Data analysis:
For data analysis, Microsoft Excel and SPSS have been used in this study.After data input and compilation, various bar, line and pie charts have been created to illustrate and analyze demographic, comparative, qualitative and quantitative data of the samples. For the secondary data collected from Nestle internally, along with the similar charts mentioned above, independent sample t-test have been carried out for understanding the impacts of trade promotions (TP).
Interpretation:
The bar chart above compares the price consideration of different chocolate products. Dairy Milk leads here, followed by Cadbury and Sneakers. Munch Rollz has tied with Safari behind them. Analyzing this figure, it can be interpreted that value propositions of Dairy Milk, Cadbury and Sneakers have been well received by the consumers. On the other hand, Munch Rollz has not yet received much appreciation yet. Previously it has been identified that consumers have associated low price and good quality with Munch Rollz but bad quality compared to other products. Relating that to the findings from this chart, Munch Rollzhave been perceived by the consumers as an under-priced okay quality product with a slightly misaligned value proposition.
To sum up the consumer survey, Munch Rollz has already created brand awareness enough but promotions and advertisements should continue till the percentage of consumers knowing Munch Rollz rise up to 100% from current 82%. Other chocolate products like Dairy Milk, Cadbury, Sneakers and Kitkat have been well received in the market. Consumers have high regard for these products irrespective of their much higher price. Munch Rollz on the other hand have been a slow starter. Lower price of Munch Rollz have associated itself with lower quality compared to the products it is competing with. Being said that, Munch Rollz still has a degree of positive perception from the consumers.
SWOT ANALYSIS
STRENGTHS
Long history of nutritious brand over 140 years.
A global innovative company which excels in R&D network.
Quality of the products
Strong workforce
Excellent sales staff & strong knowledge of existing products.
Good internal communications.
Ranked first in nearly all the product segments.
Weakness
Less consumer research
Less number of brands compared to Nestlé world.
Less effective brand communication
Varieties of sachet packs are unavailable compared to other competitors.
Marketing research data is not available for all products
OPPORTUNITIES
156 million people and its growing every year
Changes in food habit (home to out of home)
Health-based products are more welcomed.
Unavailability of trustworthy and reliable competition in the market
Increasing customer demand for quality products
THREATS
Existence of mature competitors
Global competitor all around
Increase of prices
Competitors launching new advertising campaign.
Competitors are making availability of their products in many new shops
Highly competitive, organized and financially strong organizations are coming to play in the markets.
Recommendation:
Pricing strategy should be changed as following issues need to be considered. Firstly, in Bangladesh, many customers are very much willing to buy imported foreign chocolates. So there are some markets such as Gawsulazam and Uttara Metro, where lots of imported chocolates exist in the trade. As traders are not getting their expected profit from Munch, they find itmore profitable to sell importedKitkat,Dairy Milk and other chocolates. Their profit margin from Kitkat, Dairy Milk and other chocolates range from 6 tk to 10 tk. At the same time customers have some interest to buy imported product rather than buying our local or Bangladeshi product. In these areas people have the capability to buy more expensive products and traders are responsible for grabbing the market by these gray products. So it is suggested that Nestle reconsiders the pricing of Munch Rolls, so that it can attract these customers with higher purchasing power and the traders can make the amount of profit from Munch Rolls as they make from those imported chocolates. Moreover, marketers are facing some difficulties to attract the consumer to Munch Rollz. One of the main reasons behind this is the positioning of Munch Rollz. The target consumers are the young generation and the children. This class of consumers is aware of the brands and the products they choose to purchase. As they associate Nestle with a good brand providing good value, they cannot relate Munch Rollz to Nestle as Munch Rollz is extremely cheap. Because of this, Munch Rollz is also failing to some extent to grab the secondary market. On the other hand, this study shows that trade promotions have helped to increase sales. So Nestle can focus more on the trade promotions as a part of its pricing strategy. Furthermore, another important observation of this study is that the price of Munch Rollz (6 gram) is 6 taka, which creates inconvenience for both the vendors and the consumers as the most traded bills are 10 taka and 5 taka bills, while buying a Munch Rollz always results in returns of small changes (2 taka bills). This should also be kept in mind while formulating the pricing strategy.
Packaging, taste should be more attractive, effective and efficient. (Test or sampling marketing should be placed) to establish brand name among the consumer. In the summer season, chocolate melts due to hot weather. So customers can not feel to take any chocolate. Its taste is not that much good comparing to other chock let like Kitkat and Dairy milk.
Moreover, Kitkat has been packed by silicon paper but munch does not have that kind packaging protection.
Additional Promotional activities CP as should be launched like gift box and premium on box.
Well merchandizing plan should be implemented in the specific criteria.
Shelf life should be increased in order to attend to the secondary market.
Conclusion:
This study analyzes the overall market scenario of Munch Rollz in Bangladesh, which included a consumer survey and sales; trade promotion and market return analysis of Munch Rollz. Consumer survey findings show that other chocolate products like Kitkat, Dairy Milk and Sneakers are slightly more popular than Munch Rolls among the targeted consumers, which can be attributed to early entry, brand awareness, better value proposition and higher perceived quality. Even though Munch Rollz had a late entry to the market, it has also shown sound sales and limited growth. Moreover, this survey suggests that because of its low price, consumers often have associated Munch Rollz with slightly lower quality than its competitors, which can be attributed as one of the main causes to the lower sales of Munch Rollz compared to its competitors. Lastly, the analysis of the sales, trade promotion and market return data shows that trade promotions have had significant impacts in the growth of sales and market return as well.
Thus to conclude it is suggested that Nestle prioritizes on the trade promotions, pricing and packaging in order to keep Munch Rollz in the market.