Business Overview of GlaxoSmithKline Bangladesh
GlaxoSmithKline Bangladesh Limited carries with it an enviable image and reputation for the past 6 decades. A subsidiary of GlaxoSmithKline (GSK) is one of the world's largest researchbased pharmaceutical and healthcare companies GSK Bangladesh, continues to be committed to improving the quality of human life by enabling people to do more, feel better and live longer.
The Company's principle activities include secondary manufacture of pharmaceutical products and marketing of vaccines, pharmaceutical and healthcare products.
Creation of GlaxoSmithKline–History
The present day GlaxoSmithKline is the product lot mergers, acquisitions and strategic alliance over the years. Therefore it is necessary to focus on the histories of different major companies that combine to form the present day GlaxoSmithKline.
The Mergers
Glaxo Wellcome:
On January 25, 1995, Glaxo launched a takeover bid for Wellcome. In March the integration of these two companies created the world's largest pharmaceutical company. Total contribution of GlaxoWellcome from June 1994 to December 1995 was 23.2 million and was concentrating on scientific, technological, and marketing skills.
SmithKline Beecham:
The merger in 1989 of SmithKline and Beecham group to form the SmithKline Beecham created a new company with one of the world's biggest researches and development organizations of the combined product portfolio pipeline and geographic networks positioned SmithKline Beecham at the forefront of the global health care industry.
It was announced in January 2000 that the GlaxoWellcome and SmithKline Beecham would merge to form GlaxoSmithKline (GSK), a world leading researched based pharmaceutical company with a powerful combination of skills and resources to provide a platform for delivering strong growth in today's rapidly changing health care environment. In December 2000, the merge took place.
At a Glance-GlaxoSmithKline:
GSK's mission is to improve the quality of human life by enabling people to do more, feel better and live longer
GSK is a research-based pharmaceutical company.
GSK is committed to tackling the three "priority" diseases identified by the World Health
Organization: HIV/AIDS, tuberculosis and malaria
GSK's business employs around 99,000 people in over 100 countries
GSK makes almost four billion packs of medicines and healthcare products every year
In November 2009, GSK launched ViiV Healthcare, a global specialist HIV company established by GlaxoSmithKline and Pfizer to deliver advances in treatment and care for people living with HIV.
Many of our consumer brands are household names: Ribena, Horlicks, Lucozade, Aquafresh, Sensodyne, Panadol, Tums, and Zovirax.
Vision and Mission Statement:
We have a challenging and inspiring mission to improve the quality of human life by enabling people to do more, feel better and live longer. By focusing our business around our strategic priorities, we are confident that we can fulfill this promise.
Product and Service offering
As a more than a century old R&D pharmaceutical and healthcare company GSK's product portfolio spreads across key therapy areas benefiting millions of lives across the globe. More than 1300 prescriptions are written every minute for GSK products. GSK products focus on different therapeutic areas such as- Anti-bacterial, Respiratory, Cough & Cold preps, Dermatology, Gastro-intestinal, vitamin, vaccines for Hepatitis A & B, Typhoid, Chicken Pox, Measles, Mumps as well as cervical cancer and others. The company has Consumer HealthCare and Nutritional HealthCare drinks also. Some products GSK are presenting through the following table: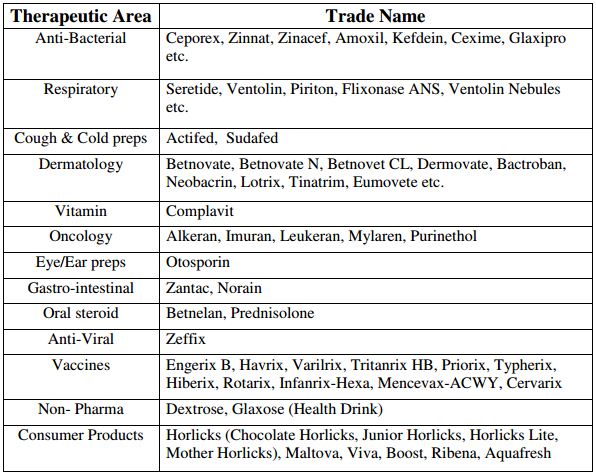 Major Functional Department of GSK
In corporate office of GlaxoSmithKline Bangladesh Ltd following five major functional departments are in operation:
Sales Department
Distribution of the sales target fixed by PMD in the respect of market size and medical promotion officer in terms of value and unit.
Pay regular visit to the doctors' show the benefits of new and existing products with the help of promotional tools
Monitoring and analysis of the competitors activities and report to the PMD
Personnel & Administration Department (PAD)
Recruitment, promotion and transfer of employees
Retirement of employees' bill with remuneration, increments, and other fringe benefits namely house rent, allowances, insurance's, profit bonus etc.
Accounts and Finance Department
Maintains all the accounts like recording of transaction, preparation final accounting reports, costing and budgeting, taxation, bookkeeping's, providing funds to the projects etc
Preparation final accounting report for performance analysis of GSK
Information Technology (IT) Department
Providing computer and other related accessories supports to all users
Maintenance of server and ensure smooth LAN operation
Providing up to date technical and software support to all the sectors of GSK
Stiefel
As a global leader in skin health, Stiefel, a GSK company, is committed to improving the quality of life for those affected by skin conditions around the world. There 165 years of dedication to dermatological solutions has helped Stiefel expand its operations in nearly 132 countries. Stiefel has both prescription and consumer products. I worked for consumer products which are non prescription medicines. The products list for which I had work for are given below: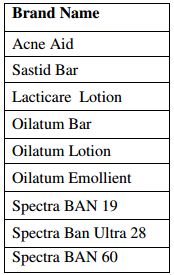 Description / Nature of the job
I was assigned to make the promotional strategies of Stiefel products. Under the stiefel products there are both prescription and non-prescription medicines. GSK is trying to promote their non prescribed medicines to consumer. To reach the consumer they need to do lots of promotional activities. So, I was assigned for planning, making leaflets, brochures, stickers, posters, banners etc.
Preparing promotional material according to the needs
For promoting these products we needed some promo materials. Such as leaflets, brochures, stickers, posters, banners etc. At first we made an idea how can we reach the consumer.
Then, I made some leaflets for Oilatum, Acne Aid Bar, SAStid Bar, SpectraBAN 60 and spectraBAN 19.
Search for new product information
For promoting any product first we have to analyze the market. Doing survey to find out which products are available in the market. And the most important thing is analyzing the customer demand. I went to the markets and asked the marketer which products are more demandable.
III. Look for new product promotional areas
To expend the market we tried to look for new promotional areas. Such as parlors, super markets, small shops, and shopping centers. I went to some parlors, gave them knowledge about our product and convince them to advice about our products towards their customers.
Conduction of awareness campaign
We conduct some awareness campaign in parlors, spas, shopping malls, universities, schools and in ladies clubs. I went to the parlors and spas, gave advice/recommend about our products and how the products will solve the problems of acne, sunburn and dryness. In some shopping malls we kept a booth with our product, presentation slides was providing information and one of our team member was introducing products to customers.
Explore new business opportunities
For making more profit, companies always try to expand business. GSK were trying to expand their business through reaching to the consumer and make the customer know about the non pharma products. However, GSK tried to put shelf in super-markets having stiefel products (Acne Aid Bar, Oilatum and SPectaBAN). I collected some designs of shelves, made ideas and gave it to an advertising firm. They made a shelf for us and soon the super markets will have our stiefel products.
Specific responsibilities of the job
Leaflet
For doing promotional activities I made some leaflets for Oilatum, Acne Aid Bar, SAStid Bar, SpectraBAN 60 and spectraBAN 19. The leaflets provide all the information in details. However, GSK wanted to distribute the leaflets in shops, super markets, and parlors. Designing the leaflets, deciding the text, size, making it lucrative was my job.
Campaign Design
We have done some campaign design. Such as arranging awareness program for those people who can understand about our Stiefel products and give idea about the products to other customers or general people. For example, we invited some beauty experts in our program and gave them a brief idea about our product. Moreover, we try to make them convince to keep some of our products in there parlor and provide knowledge about products to their customer. Through this they got an idea which is a very affective way for promotional activity.
III. Removing Duplicity
Acne Aid Bar is a very popular and effective soap which removes acne. It is mostly prescribed by doctors. But recently a new problem arises. After a huge market research it is observed that sales have been decreased. And the reason behind this is a duplicate Acne Aid Bar is available in the market. In a sales meeting It was decided that a sticker have to attached with the Soap. Moreover, I made some posters regarding this to make people aware about it "before buying Acne Aid Bar please see the sticker".
Survey
38 pharmacies have been visited. As a result I found out in which pharmacies our products are available and where are not available. Quantities of the products are enough or not. What improvement we should bring up. Does the field force doing their work in proper manner or not.
Different aspects of job performance
Good promotional skill
There are many ways for performing a job successfully. My job was to promote Stiefel products toward customers. I had to make new ideas and plan what a consumer can come to know about the product and get influence to buy it. So at first I made leaflets, stickers, brushers to advertise. For keeping a shelf in super-shops GSK try to make a deal with Rahimafrooz. However, these kinds of promotional skill increase my job performance.
Good communication skill
Communicating with people in a good manner is the most important quality of an employee. As I was promoting the product I had to talk with lots of people. I visited beauty parlors, super-shops, small shops, pharmacies. So customers was impressed with my communication skill and responded a lot. In GSK I had also a very good relation with everyone and got a good opportunity to know about the corporate system.
Positive attitude
Positive attitude is the most important key factor of job performance. Positive attitude can attract customer. While convincing someone one might give positive response, another might give negative response. But as a marketer we have to handle the situation in a positive manner.
Moreover, in the office I always tried to work in a positive way, showed interest in work and focused on what are the customers need and want.
Time management skill
Maintaining the office time is very important. My office hour was 8.30am-5.00pm. I always tried to maintain the time. I finished all the woks on time which where gave by my supervisor. Managing time is not that much tough. If we finish our day to day work then it becomes so easier. Though this internship period I became more efficient and learned to make the best use of time.
Good team work
Working in a team sometime it makes the work easier and sometimes it become so hard to work in a team. I really like to do team work. My coworkers were also very helpful and supporting. Not only with the interns I had done all my works jointly with every sector of people.
Stress management skill
Managing all the work under pressure is part of job. Whatever the situation is we can't show our problem or stress to our office and have to complete the work properly. Doing internship in GSK my stress management skill also increased.
Multiple task management skill
As I was promoting the skin products so for promotional material I made all the leaflets, stickers, literature etc. So for designing all of this I had to do graphical work, Photoshop etc. By doing all these things I also got some multi task talent.
Critical observation and recommendation
Critical observation
Communication with customer
For promotional work a good communication with customer is very important. For example, I visited some beauty parlors gave them all the information about our products. So if anyone don't provide information in correct manner they a very bad impression may create about the products.
So, it is very much important to deliver the information in an effective way.
Product positioning
Stiefel are medicated products. So GSK have to make the customer understand that other products (like Lux, Dove) are not our direct competitors. Some cleansers and lotions are our competitors but Stiefel products itself have their own separate position because they are medicated products.
Increase sale
If the Stiefel products can reach to the general consumer then the sale will be high. Now still they are doctor prescription product so increasing the customer will increase the sale. So GSK should give all the effort to promote the product, make the customer more aware about it and make the product available in most of the shops.
Recommendation
Need to take better market research policy.
Company should develop their marketing policy for chemist.
The price of products should minimize.
Develop consumer level promotional strategy.
Try to develop strategy more public oriented.
Develop the consumer relation.
Delivery system should be faster.
Arrange seminar for promotion the product.
Need more TV advertisement.
Build up good relation with doctor.
Finding more energetic sales personnel.
Need more medical campaign.
Motivation policy improves for medical promotion officer.
Conclusion
GlaxoSmithKline carries good branding image all over the world. Their promotional strategy is more clear & different from the other Pharmaceutical Company. To enhance the market share & reaching the market leader company should develop their promotional strategy. And if the company becomes able to make a good impression into the mind of customer then easily go to top level of the completion market.
The quality of product must be ensured and promotional policy must be modifying day by day. If company can develop its customer relation management polices then it can easily extend its market and target sales.