Martina Navratilova – Retired Czech and American Tennis Player and Coach
Name: Martina Navratilova
Date of birth: October 18, 1956 (age 60)
Place of birth: Prague, Czechoslovakia
Height: 1.73 m (5 ft 8 in)
Turned pro: 1975
Retired: 2006
Plays: Left-handed (one-handed backhand)
Residence: Miami, Florida, USA
Father: Mirek Subert
Mother: Jana Navratilova
Siblings: Jana Navratilova
Spouse/Partners: Judy Nelson, Julia Lemigova
Early Life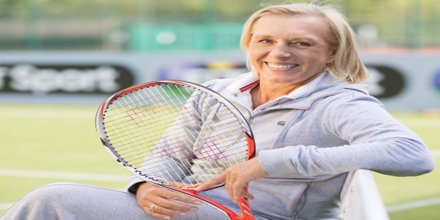 Martina Navratilova was born on October 18, 1956, in Prague, Czechoslovakia (now in Czech Republic). She was a Czech-born American tennis player, who dominated women's tennis in the late 1970s and the '80s. She was voted the greatest tennis player (female) by 'Tennis', a magazine devoted to the game, for an incredible 40 years, from 1965 to 2005. Navratilova took to tennis at a rather tender age of 4, when she bounced tennis balls against a concrete wall. By the time she was 7 she had become a regular at the courts, and later went on to become the uncrowned queen of the game. In addition to being an ace tennis player, she also dabbled in writing, and penned a series of works of fiction. The gay rights movement was dear to her heart, of which she was a vociferous supporter. Her parents parted ways when Martina was just three. Martina was probably destined to become an ace tennis player as it was in her genes. Her grandmother was an internationally recognized tennis player. Her stepfather Miroslav often accompanied her to the courts, and helped her work on her strokes.
Originally from Czechoslovakia, she was stripped of her citizenship when, in 1975 at the age of 18, she asked the United States for political asylum and was granted temporary residency. At the time, Navratilova was told by the Czechoslovak Sports Federation that she was becoming too Americanized and that she should go back to school and make tennis secondary. Navratilova became a US citizen in 1981, and on January 9, 2008, she acquired Czech citizenship. She stated she has not renounced her U.S. citizenship nor does she plan to do so and that acquiring her Czech citizenship was not politically motivated.
Childhood and Educational Life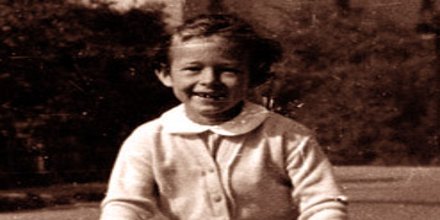 Martina Navratilova was born on October 18, 1956 in Prague, Czechoslovakia (the Czech Republic). Tennis ran in her blood as her mother too was an accomplished gymnast and a good tennis player.
Martina took tennis lessons from the Czech champion George Parma while she was just 9. Parma helped her refine her game and laid the foundations for a brilliant career in tennis. Her first tennis coach was her stepfather Miroslav Navratil, to whose last name she added the suffix (feminine) 'nova'. Her biological father Mirek, a professional ski-instructor committed suicide when she was just 9 and this left her devastated.
Martina has a sister named Jana and an older half-brother (Miroslav's son). She won her first national level championship (Czechoslovakian) while she was just 15 years old.
Navratilova won her very first singles title as a professional in Orlando, Florida at the age of sixteen. She turned professional around this time.
Personal Life
In 1981, Martina Navratilova publicly admitted that she is a bisexual and lesbian. She also said that she was in a sexual relationship with Rita Mae Brown.
Between 1984 and 1991 Navratilova got into a long-term relationship with Judy Nelson whom she met in Fort Worth during a tournament. She has co-written an instruction book on tennis along with Mary Carillo in 1982. She went on to pen her autobiography, which was co-written with George Vecsey, the then sports columnist at 'The New York Times'. She is a gay activist and won the National Equality Award instituted by the Human Rights Campaign, the largest gay and lesbian group in the country.
On September 6, 2014, Navratilova proposed to her longtime girlfriend Julia Lemigova at the US Open. They married in New York on December 15, 2014.
On April 7, 2010, Navratilova announced that she was being treated for breast cancer. A routine mammogram in January 2010 revealed that she had a ductal carcinoma in situ in her left breast, which she was informed of on February 24, and in March she had the tumour surgically removed; she received radiation therapy in May.
In December 2010, Navratilova was hospitalized after developing high altitude pulmonary edema while attempting a climb of Mt. Kilimanjaro in Tanzania.
In 2008, Navratilova announced plans to open an academy for young tennis players in her home country, the Czech Republic.
Playing Career
In 1973, aged 16, she made her debut on the United States Lawn Tennis Association professional tour but did not turn professional until 1975. Although perhaps most renowned for her mastery of fast low-bouncing grass, her best early showing at majors was on the red clay at the French Open, where she would go on to reach the final 6 times. In 1973, she made the quarterfinals where she lost 6-7 4-6 to Evonne Goolagong.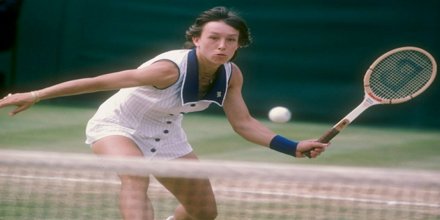 With Czechoslovakia squarely under Soviet control, 18-year-old Navratilova defected to the United States at the 1975 U.S. Open. The decision meant she'd be cut off from her family for years, but it also set her career up for an unprecedented level of success. In 1978, she won her first Grand Slam tournament with a victory over American Chris Evert at Wimbledon.
Navratilova defended her Wimbledon title the following year, once again beating Evert in the finals, and then won a third Grand Slam victory at the 1981 Australian Open. By the early 1980s, Navratilova was the most dominant player in women's tennis.
During 1982, 1983, and 1984, Navratilova lost a total of only six singles matches. This included a run of 13 consecutive victories over her closest rival and world-ranked #2, Chris Evert. Navratilova's reign from 1982 to 1986 is the most dominant unbroken spell in the professional era.
Navratilova won the 1984 French Open, thus holding all four major singles titles simultaneously. Her accomplishment was declared a "Grand Slam" by Philippe Chatrier, president of the International Tennis Federation, although some tennis observers countered that it was not a true slam because the titles had not been won in a single calendar year. She entered the 1984 Australian Open with a chance of winning all four titles in the same year. In the semifinals, however, Helena Suková ended Navratilova's 74-match winning streak (a record for a professional) 1–6, 6–3, 7–5.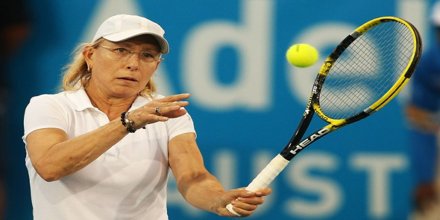 In all, she won 18 Grand Slam singles titles, 31 Grand Slam women's doubles championships and 10 Grand Slam mixed doubles. Her greatest success came at Wimbledon, where she advanced to 12 singles finals, winning nine titles. Navratilova retired from singles play in 1994, but continued to play in doubles matches. In 2003, she won the mixed doubles championship at Wimbledon. Three years later, she repeated the accomplishment with a win at the U.S. Open.
In 2000, Navratilova returned to the tour to mostly play doubles events, while rarely also playing singles. In her first singles performance in eight years, at Eastbourne in 2002, she beat World No. 22 Tatiana Panova before losing in the next round to Daniela Hantuchová in three sets. She won a singles match over Catalina Castaño 6–0 6–1 at the first round of Wimbledon in 2004, aged 47 years and eight months, to make her the oldest player to win a professional singles match in the open era. She then lost her second round match with Gisela Dulko in three sets.
On July 6, 2006, Navratilova played her last career match at Wimbledon, losing in the third round of mixed doubles to the eventual champions, Israel's Andy Ram and Russia's Vera Zvonareva. Earlier that day, Navratilova lost her women's doubles quarterfinal match against Chinese fourth seeds Yan Zi and Zheng Jie, also the eventual champions. Navratilova capped off her career by winning the mixed doubles title at the 2006 US Open with Bob Bryan, her 41st major doubles title (31 in women's doubles and 10 in mixed doubles) and 177th overall. At the time, she was just over a month away from her 50th birthday.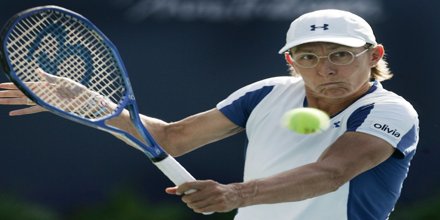 In September 1992, the 35-year-old Navratilova played Jimmy Connors in the third Battle of the Sexes tennis match at Caesars Palace in Paradise, Nevada. Connors was allowed only one serve per point and Navratilova was allowed to hit into half the doubles court. Connors won 7–5, 6–2. She played for the Boston Lobsters in the World TeamTennis pro league through the 2009 season.
Coaching Career
In December 2014, it was announced that Navratilova had joined Agnieszka Radwańska's coaching staff. However, in April 2015, after Radwańska struggled in the first half of the season, the pair decided to part ways.
Awards and Honours
She was declared female athlete of the decade collectively by the Associated Press, National Sports Review and United Press International.
She won the prestigious Flo Hyman Award instituted by the Women's Sports Foundation.
She shattered Helen Wills Moody's record after winning her ninth Wimbledon singles championship.
Her contributions to tennis won her WTA's David Gray award in 1996.
She was declared the Team of the Year in 1977 at the WTA tour, along with Betty Stove, and Billie Jean King during 1978-79.
Martina became the Wimbledon champion during 1978-79, and went on to become the Australian Open champion in 1981.
She was in WTA Team of the Year yet again during 1981-89 along with Pam Shriver.
Women's Sports Foundation declared her sportswoman of the year consecutively from 1982 to 1984.
She won six Wimbledon championships in a row from 1982 to 1987.
She was voted Female Athlete of the Year by Associated Press in 1983.
Martina won the French and U.S. Championships in 1984 and followed that up by winning the Australian Open Championship in 1985.