Biography of Louis Kahn
Louis Kahn – American architect.
Name: Louis Isadore Kahn
Date of Birth: February 20, 1901
Place of Birth: Kuressaare, Estonia, Russian Empire
Date of Death: March 17, 1974 (aged 73)
Place of Death: Pennsylvania Station, New York, United States
Occupation: Architect
Father: Leib Schmuilowsky
Mother: Bertha Mendelsohn
Spouse/Ex: Esther Kahn (m. 1930-1974)
Children: 3
Early Life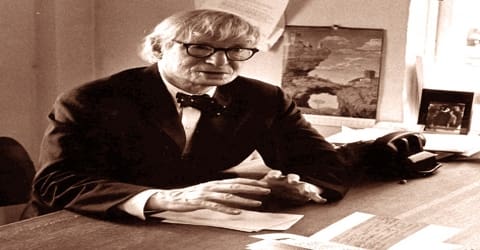 A renowned American architect of the 20th century, based in Philadelphia, whose buildings, characterized by powerful, massive forms, made him one of the most discussed architects to emerge after World War II, Louis Khan was born on 20th February 1901, into a poor Jewish family in Pärnu, formerly in Russian Empire, but now in Estonia. After working in various capacities for several firms in Philadelphia, Khan founded his own atelier in 1935.
Louis Khan worked in various capacities for several architectural firms and founded his own business soon after. Kahn continued practicing as an architect and also became a professor at Yale School of Architecture and at the School of Design in the University of Pennsylvania. Most of his designs were colossal and extremely avant-garde, way ahead of the time in terms of design and styling. He was honored with a number of medals and at the time of his death, Kahn was known to the world as 'America's foremost living architect'. Some of his grandest and most iconic projects include the 'Urban and Traffic Study', 'Yale University Art Gallery', 'The Salk Institute', the 'Indian Institute of Management, Ahmedabad' and the 'Center of Philadelphia'.
Louis Khan created a style that was monumental and monolithic; his heavy buildings, for the most part, do not hide their weight, their materials, or the way they are assembled. Famous for his meticulously built works, his provocative proposals that remained unbuilt, and his teaching, Kahn was one of the most influential architects of the twentieth century. He was awarded the AIA Gold Medal and the RIBA Gold Medal. At the time of his death, he was considered by some as "America's foremost living architect."
Childhood, Family and Educational Life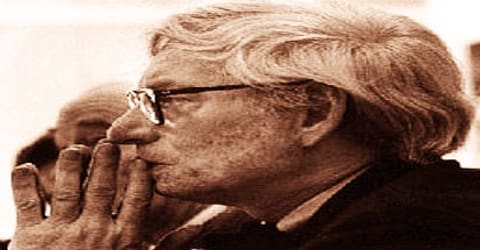 Louis Kahn, in full Louis Isadore Kahn, also called Louis I. Kahn, whose original name was Itze-Leib (Leiser-Itze) Schmuilowsky (Schmalowski), was born on February 20, 1901, into a poor Jewish family in Parnu, Estonia. He was raised in Kuressaare in Saaremaa, which was then a part of the Livonian Governorate. Khan spent his early childhood in Kuressaare on the island of Saaremaa, then part of the Russian Empire's Livonian Governorate. At the age of three, he saw coals in the stove and was captivated by the light of the coal. He put the coal in his apron, which caught on fire and burned his face. Khan carried these scars for the rest of his life.
Khan's family immigrated to the United States when he was a child, in 1906. His birth year may have been inaccurately recorded in the process of immigration. According to his son's 2003 documentary film, the family could not afford pencils. They made their own charcoal sticks from burnt twigs so that Louis could earn a little money from drawings. Later he earned money by playing the piano to accompany silent movies in theaters. He became a naturalized citizen on 15th May 1914. His father changed their name to Kahn in 1915.
Kahn studied at Philadelphia's Central High School and the Public Industrial Art School and got his architecture degree from the University of Pennsylvania in 1924. While earning his degree, he was mentored by architect Paul Cret, a leading American architect in the decades leading up to WWII. Two years after leaving the university, Kahn served as the chief of design for the Sesquicentennial Exposition, a fair in Philadelphia that celebrated that 150th anniversary of the signing of the Declaration of Independence.
Personal Life
Louis Khan married his first wife, Esther, in 1930 and they had one daughter, Sue Ann. With Anne Tyng, who began her working collaboration and personal relationship with Kahn in 1945, he also had a daughter, Alexandra. When Tyng became pregnant in 1953, to mitigate the scandal, she went to Rome, Italy, for the birth of their daughter. With Harriet Pattison, he had a son, Nathaniel Kahn.
Most biographical works on Kahn fail to describe the profound impact his female partners had on his designs. Anne Tyng was an extremely talented architect and teacher, while Harriet Pattison was a pioneering landscape architect.
When this renowned American architect was 3-years-old, he was fascinated by the light emitting out from the coal burning in the stove. Khan put on an apron and put some coal in the apron which caught fire and eventually burnt his face. The scars of these early burns remained on his face.
Career and Works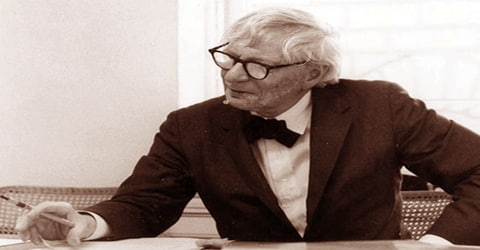 After graduation, Louis Kahn worked as a chief designer at the office of the City Architect in Philadelphia in 1926. He worked on the designs for the 1926 Sesquicentennial Exposition. He toured Europe in the late 20s and by 1929 he returned to the United States and worked in the agencies of Paul Philippe Cret and with Zantzinger, Borie, and Medary, in Philadelphia.
During the thirties, Khan was largely unemployed, intermittently working for several design firms. He co-founded the Architectural Research Group (ARG), which explored the social responsibility of architecture, and focused on mass housing. Kahn developed a desire to develop public buildings that would help the country and promote interaction among people. Several of his proposals were offered federal funding but were never built due to local political objections.
Louis Kahn designed private residences and worker housing in the 1930s and '40s. He became a professor of architecture at Yale University in 1947. After a fellowship at the American Academy in Rome (1950), which deepened his appreciation of Mediterranean architecture, Kahn carried out his first important work: the Yale University Art Gallery (1952-54) at New Haven, Connecticut, which marked a notable departure from his International Style buildings of the previous decade.
Khan co-founded the Architectural Research Group in 1932 with Dominique Berninger. Among the assignments that he worked on during this period were unbuilt systems for public accommodation that he had presented to the Public Works Administration. Through the 30s, he worked with George Howe on a number of ventures for the Philadelphia Housing Authority.
Louis Kahn worked with Howe in the late 1930s on projects for the Philadelphia Housing Authority and again in 1940, along with German-born architect Oscar Stonorov, for the design of housing developments in other parts of Pennsylvania. A formal architectural office partnership between Kahn and Oscar Stonorov began in February 1942 and ended in March 1947, which produced fifty-four documented projects and buildings.
During World War II, Kahn became frustrated with government control over city planning and architecture. The government awarded commissions to architects offering modernist designs that didn't take the aesthetics or client needs into account. Alongside another architect, Kahn coauthored several pamphlets urging the public to reevaluate city planning and design regulations. His ideas wouldn't be acknowledged for years. After the war, he designed several houses including the Weiss House and the Genel House, both in Pennsylvania. Kahn also worked on many public buildings for labor unions and personal homes.
From 1950 to 1951 Khan was made the architect in residence at the American Academy in Rome. It was a huge achievement and a peak point for Kahn's career. It was during this time that he got the opportunity to visit Greece, Egypt and Italy and developed his own basic approach towards architecture. He adapted the classical style and used solid forms and durable materials in his own work and combined them tactfully with modern techniques.
From 1951 to 1953, Louis Khan was busy in his first major commission, which was to design the Yale University Art Gallery in Connecticut. This was his first masterpiece and became one of his most important designs. Khan was named Albert F. Bernis Professor of Architecture and Planning at the Massachusetts Institute of Technology, in 1956. The same year, he completed the design for the Richards Medical Research Laboratories at the University of Pennsylvania.
Louis Kahn was named professor of architecture at the University of Pennsylvania, in 1957. His Richards Medical Research Building (1960-65) at the university is outstanding for its expression of the distinction between "servant" and "served" spaces. The servant spaces (stairwells, elevators, exhaust and intake vents, and pipes) are isolated in four towers, distinct from the served spaces (laboratories and offices). Laboratory buildings had been designed this way for decades; Kahn elevated this practical feature into an architectural principle. His mature style, best exemplified by the Salk Institute for Biological Studies, La Jolla, California (1959-65), and the Yale Center for British Art, New Haven (1977), combined the servant-served typology with inspiration from classical and medieval architecture, basic geometric forms, and an elegant, expressive use of such familiar materials as concrete and brick.
Kahn became a prominent member of the 'Philadelphia School of Architecture' that consisted of other architects including Robert Venturi, Romaldo Giurgola, and Robert Geddes. His designs consistently featured slivers of light coming through windows, triangular and circular-shaped buildings, thick textures, and a dedicated to spaces that promoted a natural progression from one room to the next.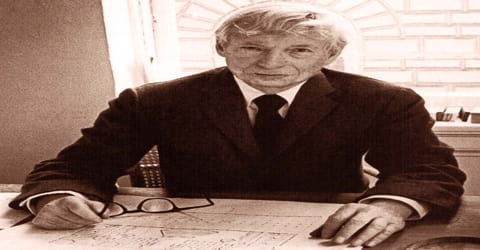 Louis Khan received a scholarship, in 1961 from the Graham Foundation for Advanced Studies in Fine Arts, so that he could study traffic movement and prepare an overpass system for the same. Around this time, he was also the visiting professor at Princeton University. He began working on the Jatiyo Sangshad Bhaban, a National Assembly building in Dhaka, Bangladesh, which was completed only in 1974. Some of his last architectural works include the 'Phillips Exeter Academy Library', 'Kimbell Art Museum', 'Yale Center for British Art', 'Franklin D. Roosevelt Four Freedoms Park' and his last work, which was completed in 1979, the 'Flora Lamson Hewlett Library'.
Louis Kahn was one of the most influential and admired architects of his time and earned a lot of respect. The proof of it was the title that he got at the time of his death, 'America's foremost living architect'. Despite all this, at the time of his death, Kahn had nothing much in terms of finances and he even indebted.
Awards and Honor
Louis Kahn was elected a Fellow in the American Institute of Architects (AIA) in 1953. He was made a member of the National Institute of Arts and Letters in 1964.
Louis Khan was awarded the Frank P. Brown Medal in 1964. He was elected into the National Academy of Design as an Associate Academician, in 1965.
Khan was made a member of the American Academy of Arts and Sciences in 1968 and awarded the AIA Gold Medal, the highest award given by the AIA, in 1971, and the Royal Gold Medal by the RIBA, in 1972.
Death and Legacy
Louis Kahn died of a heart attack in a restroom at Penn Station in Manhattan on 17th March 1974. He had just returned from a work trip to India. Owing to police miscommunications in both New York City and Philadelphia, his wife, and his office were not notified until two days after his death. After his long career, he was in debt when he died.
Khan's work went on to influence a number of influential architects such as Muzharul Islam, Robert Venturi, Jack Diamond, Moshe Safdie, and Richard Rogers. A chamber opera called 'Architect' was a personality study on Kahn and his works by Pulitzer-Prize winning composer, Lewis Spratlan. He was also the subject of the documentary 'My Architect' and his family life inspired an episode of the famous series, 'Law & Order: Criminal Intent'. Kahn's work, like that of Eero Saarinen, Frei Otto, and others, who broke with the International Style, was controversial during his lifetime. However, his work was reviewed more favorably by a new generation of critics, who declared him one of the most original and important architects of the 20th century.
The 'Jatiyo Sangshad Bhaban' in Dhaka, Bangladesh, is considered his magnum opus. It took him twelve years to complete this magnificent edifice, starting from 1962 and ending in 1974. It still remains as one of the most important buildings in Bangladesh. Commissioned by Muzharul Islam, he designed this building with the help of his students at Yale University. The building, one of his largest works, includes dining halls, hostels, a hospital and the main Parliament building itself.
In 2003 Nathaniel Kahn, son of Louis Khan, released a documentary about his father, entitled, My Architect: A Son's Journey. The Oscar-nominated film provides views and insights into the architecture of Kahn while exploring him personally through people who knew him: family, friends, and colleagues. It includes interviews with such renowned architectural contemporaries as Muzharul Islam, B. V. Doshi, Frank Gehry, Ed Bacon, Philip Johnson, I. M. Pei, Vincent J. Scully, and Robert A. M. Stern. It also provides insights into Kahn's unusual and complicated family arrangements.
Information Source: