Biography of Glen Campbell
Glen Campbell – American singer, guitarist, songwriter, television host, and actor.
Name: Glen Travis Campbell
Date of Birth: April 22, 1936
Place of Birth: Billstown, Arkansas, United States
Date of Death: August 8, 2017 (aged 81)
Place of Death: Nashville, Tennessee, United States
Occupation: Singer, Guitarist, Songwriter, Television Host, Actor
Father: John Wesley
Mother: Carrie Dell (Stone) Campbell
Spouse/Ex: 1982–2017 – Kimberly Woolen, 1955–1959 – Diane Kirk, 1959–1976 – Billie Jean Nunley, 1976–1980 – Sarah Barg
Children: Ashley Campbell, Cal Campbell, Debbie Campbell, Dylan Campbell, Kane Campbell, Kelli Campbell, Shannon Campbell, Travis Campbell
Early Life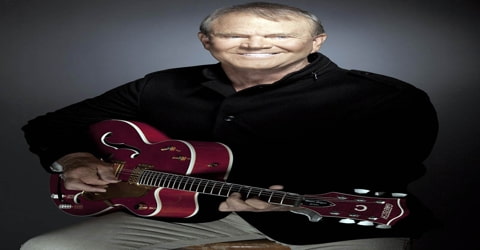 American country-pop musician who rose to stardom in the late 1960s and '70s and became a household name for his hit song "Rhinestone Cowboy," Glen Campbell was born on April 22, 1936, in Billstown, a tiny community near Delight in Pike County, Arkansas, to John Wesley (a sharecropper) and Carrie Dell (Stone) Campbell. He was best known for a series of hit songs in the 1960s and 1970s, and for hosting a music and comedy variety show called The Glen Campbell Goodtime Hour on CBS television, from January 1969 until June 1972. He released over 70 albums in a career that spanned five decades, selling over 45 million records worldwide, including twelve gold albums, four platinum albums, and one double-platinum album.
Campbell was one of the leading figures of country-pop during that era, racking up a steady stream of Top Ten singles, highlighted by classics like "By the Time I Get to Phoenix," "I Wanna Live," "Wichita Lineman," "Galveston," "Rhinestone Cowboy," and "Southern Nights." Boasting Campbell's smooth vocals and layered arrangements, where steel guitars bounced off sweeping strings, those songs not only became country hits, they crossed over to the pop charts as well, which was appropriate since that is where he began his musical career. Originally, he was a Los Angeles session musician, playing on hits by the Monkees, Elvis Presley, Frank Sinatra, and Merle Haggard. By the end of the '60s, he had become a successful solo artist, and that success would not abate until the late '80s when he stopped having radio hits and began concentrating on live performances at his theater in Branson.
Starting his career as a songwriter and a sideman, Campbell achieved success in the genres of both country and pop music. About 80 of his songs reached the Billboard and other charts, 29 of which made it to the top 10, and nine of which reached the No. 1 spot. Inducted into the Country Music Hall of Fame in 2005, Campbell won the Grammy Lifetime Achievement Award in 2012. He owned trophies for Male Vocalist of the Year from both the Country Music Association (CMA) and the Academy of Country Music (ACM), and took the CMA's top award as 1968 Entertainer of the Year. Campbell played a supporting role in the film True Grit (1969), which earned him a Golden Globe nomination for Most Promising Newcomer. He also sang the title song, which was nominated for an Academy Award. After being diagnosed with Alzheimer's disease in the early 2010s, he died in 2017 at the age of 81.
Childhood, Family and Educational Life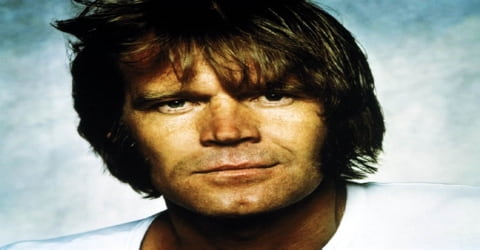 Glen Campbell, in full Glen Travis Campbell, was born on April 22, 1936, in Billstown, Arkansas, to John Wesley, a poor sharecropper, and Carrie Dell (Stone) Campbell. He had five brothers and four sisters. The family lived on a farm and picked cotton for rich farmers Glen used to pick a hundred pounds for $1.25. He later said in an interview that even if he worked very hard, he could pick only 80-90 pounds a day.
Campbell started playing guitar at age four after his uncle Boo gave him a Sears-bought five-dollar guitar as a gift, with his uncle teaching him the basics of how to play. Most of his family was musical, he said. "Back home, everybody plays and sings." By the time he was six he was performing on local radio stations. Campbell continued playing guitar in his youth, with no formal training and practiced when he was not working in the cotton fields. He developed his talent by listening to radio and records, and considered Django Reinhardt among his most admired guitarists, later calling him "the most awesome player I ever heard."
At the age of 14, he dropped out of school to work with his brothers in Houston. Yet, he wouldn't give up music. He started playing music at fairs, church choirs, and church picnics. He also performed on local radio stations, and later in a local nightclub. Campbell eventually moved to New Mexico in 1954 and joined his uncle's band, Dick Bills and the Sandia Mountain Boys. He also found spots on children's programs on KOB television and radio shows with his uncle.
In 1958, Campbell formed his own band, the Western Wranglers. "We worked hard," he said. "Six, sometimes seven nights a week. I didn't have my eye set on any specific goals or big dreams."
Personal Life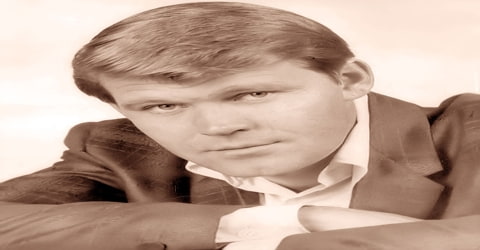 Glen Campbell was married four times. He had five sons and three daughters, ranging in year of birth from 1956 to 1986. Campbell's eldest daughter is Debby, from his marriage (1955–1959) to Diane Kirk. After divorcing Kirk, Campbell married Billie Jean Nunley, an Albuquerque beautician, who gave birth to Kelli, Travis, and Kane. Billie Campbell filed for divorce in 1975, and their divorce was final in 1976. He married singer Mac Davis's second wife, Sarah Barg, in September 1976. They had one child named Dillon and divorced in 1980.
After his divorce from Barg, Campbell began a relationship with fellow country artist Tanya Tucker. The relationship was marked by frequent tabloid gossip and articles. The couple recorded a number of songs together, including the single "Dream Lover", and they performed the national anthem together at the 1980 Republican National Convention.
Campbell wed Kimberly 'Kim' Woollen in 1982. The couple met on a blind date in 1981 when Woollen was a Radio City Music Hall "Rockette". Together, they had three children: Cal, Shannon, and Ashley. All three joined Campbell on stage, starting in 2010, as part of his touring band.
In the 1970s, Campbell became addicted to alcohol and cocaine. In an interview, he had stated that his wife Kim helped him overcome his addictions. Although he stopped drinking and abusing drugs in 1987, he relapsed in 2003. He was jailed for ten days for drunk driving and escaping from the scene of an accident.
Career and Works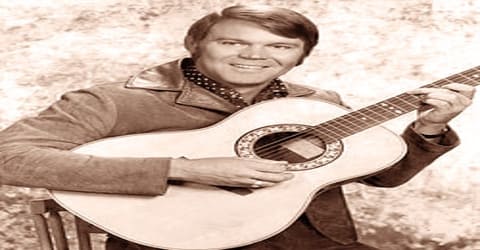 By the time Campbell was age 14, he had become a good guitarist and was already a performing musician. His talent with the guitar allowed him to make a living as a session musician in Los Angeles when he moved there in 1960.
In 1960, Glen Campbell moved to Los Angeles and joined the rock and roll band, the Champs. He also took up a job at American Music, a publishing company, where he wrote songs and recorded demos. Soon he joined a group of studio musicians called the Wrecking Crew. In May 1961, Campbell left the Champs and signed a contract with the Crest Records. His first solo single, 'Turn Around, Look at Me', peaked at No. 62 on the Billboard Hot 100. He, along with his band members from the Champs, formed Gee Cees and performed at the Crossbow Inn. They also released a single, which did not do well.
He released his own album in 1962 (Big Blugrass Special) and two more in 1963 (Swingin' 12 String Guitar and Too Late to Worry, Too Blue to Cry), but in the meantime he was in high demand to play in studio recordings with musicians such as Elvis Presley (Viva Las Vegas, 1964), the Everly Brothers (Beat & Soul, 1965), Merle Haggard (Swinging Doors and the Bottle Let Me Down, 1966), and the Monkees (The Monkees, 1966).
Also in 1962, Campbell played guitar and sang on "Kentucky Means Paradise," a single by the one-off group the Green River Boys, who released an album, Big Bluegrass Special. "Kentucky Means Paradise" became a hit on the country charts, climbing to number 20. Instead of pursuing a full-fledged country career after the single's release, Campbell returned to studio work, and over the next two years he played on sessions by Frank Sinatra ("Strangers in the Night"), Merle Haggard ("The Legend of Bonnie and Clyde"), the Monkees ("I'm a Believer"), the Association, and the Mamas & the Papas, among many others.
By 1963 his playing and singing were heard on 586 recorded songs. He never learned to read music, but besides guitar, he could play the banjo, mandolin, and bass. From 1964 on, Campbell began to appear on television as a regular on Star Route, a syndicated series hosted by Rod Cameron, ABC's Shindig!, and Hollywood Jamboree. His popularity as a musician earned him some television projects as well, and in 1964 he started appearing as a regular on the syndicated series 'Star Route', the musical variety series 'Shindig!' and 'Hollywood Jamboree.'
In 1964–65 Campbell joined the Beach Boys to fill in for Brian Wilson, who had taken leave after a mental breakdown. Campbell toured with the band for several months and contributed to the recording of the breakthrough album Pet Sounds (1966).
In 1965, his song 'Universal Soldier' became his biggest solo hit and reached No. 45 on the Hot 100. He then collaborated with producer Al De Lory and recorded 'Burning Bridges' in 1966; it became a top 20 country hit. Next, they recorded 'Gentle on My Mind', which was an instant hit, followed by the song 'By the Time I Get to Phoenix', which became a bigger success.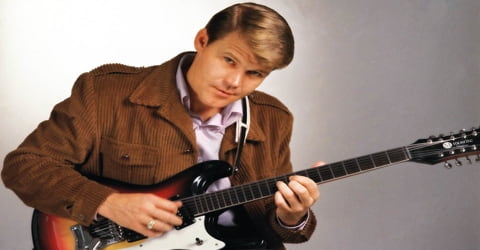 In 1965, he had his biggest solo hit yet, reaching number 45 on the Hot 100 with a version of Buffy Sainte-Marie's "Universal Soldier". Asked about the pacifist message of the song, he said that "people who are advocating burning draft cards should be hung." Campbell continued as a session musician, playing guitar on the Beach Boys' 1966 album Pet Sounds, among other recordings. In April of that year, he joined Rick Nelson on a tour through the Far East, again playing bass.
During 1967, Capitol pushed Campbell as a country recording artist, and their breakthrough arrived in the late summer when his folky country-pop rendition of John Hartford's "Gentle on My Mind" became a Top 40 hit on both the country and pop charts. By the end of the year, he had released a cover of Jimmy Webb's "By the Time I Get to Phoenix," which reached number two on the country charts, and number 26 on the pop charts. Early in 1968, "Gentle on My Mind" won the Grammy Award for Best Country & Western Recording of 1967. Campbell's success continued in 1968, as "I Wanna Live" became his first number one hit and "Dreams of the Everyday Housewife" reached number three. The following year, CBS television hired him to host the variety show The Glen Campbell Good Time Hour, which became quite popular and helped establish him as not only a country star but a pop music superstar.
Campbell's solo career began to take off with the hit song "Gentle on My Mind" (1967), which earned him two Grammy Awards that year. He followed up with the popular By the Time I Get to Phoenix (1967). The title track of that album became one of his best-known songs and earned Campbell another two Grammy Awards (1967), and that album won the Grammy for album of the year (1968). Two other major hits from that time are "Wichita Lineman" and "Galveston."
Glen Campbell hosted his own weekly variety show, 'The Glen Campbell Goodtime Hour', which ran from 1969 to 1972 on CBS. He welcomed to his stage famous personalities such as Ray Charles, Cher, Neil Diamond, Lily Tomlin, Three Dog Night, and Rick Nelson. Campbell made his film-acting debut in 1967 in The Cool Ones and then had a more prominent role in 1969 in the John Wayne hit western True Grit. The following year he starred in the film Norwood opposite Kim Darby (who had also appeared in True Grit).
Throughout the late '60s and early '70s, Campbell continued to rack up hit singles, including the number one hits "Wichita Lineman" (1968) and "Galveston" (1969), plus the Top Ten singles "Try a Little Kindness" (1969), "Honey Come Back" (1970), "Everything a Man Could Ever Need" (1970), and "It's Only Make Believe" (1970). In 1968, he began recording duets with Bobbie Gentry, and they had hit singles with their versions of two Everly Brothers songs: "Let It Be Me," which reached 14 in 1969, and "All I Have to Do Is Dream," which peaked at number six in 1970. Also in 1969, he began a film career, appearing in the John Wayne movie True Grit that year and Norwood the following year.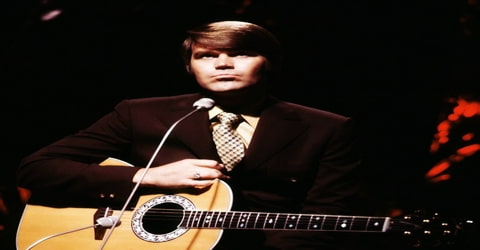 During the 1970s though he had some successful singles, such as "Rhinestone Cowboy," "Country Boy (You Got Your Feet in L.A.)," "Don't Pull Your Love/Then You Can Tell Me Goodbye," and "Southern Nights" Campbell entered a period of heavy drug and alcohol use. He got sober in the mid-1980s and became a born-again Christian, though he continued to struggle with drinking problems throughout the next two decades.
In the mid-1970s, his major hits were 'Rhinestone Cowboy', 'Southern Nights', 'Sunflower' and 'Country Boy (You Got Your Feet in L.A.)'. He also sang for motion pictures like 'True Grit' in 1969, 'Norwood' in 1970, 'Rock-a-Doodle' in 1992, and the 2014 documentary film 'Glen Campbell: I'll Be Me'.
Campbell co-starred in a made-for-television movie, Strange Homecoming (1974), with Robert Culp and up-and-coming teen idol Leif Garrett. He hosted a number of television specials, including 1976's Down Home, Down Under with Olivia Newton-John. He co-hosted the American Music Awards from 1976 to 1978 and headlined the 1979 NBC special Glen Campbell: Back to Basics with guest-stars Seals and Crofts and Brenda Lee. He was a guest on many network talk and variety shows, including Donny & Marie and The Tonight Show Starring Johnny Carson, where he performed "Rhinestone Cowboy". He also appeared on Cher, the Redd Foxx Comedy Hour, The Merv Griffin Show, The Midnight Special, DINAH!, Evening at Pops with Arthur Fiedler and The Mike Douglas Show.
"Rhinestone Cowboy" was Campbell's largest-selling single and one of his best-known recordings, initially with over 2 million copies sold. Campbell had heard songwriter Larry Weiss' version while on tour of Australia in 1974. Both songs were in October 4, 1975, Hot 100 top 10. "Rhinestone Cowboy" continues to be used in TV shows and films, including Desperate Housewives, Daddy Day Care, and High School High. It was the inspiration for the 1984 Dolly Parton/Sylvester Stallone movie Rhinestone. The main phrase of Campbell's recording was included in Dickie Goodman's Jaws movie parody song "Mr. Jaws". Campbell also made a techno/pop version of the song in 2002 with UK artists Rikki & Daz and went to the top 10 in the UK with the dance version and related music video. "Southern Nights", by Allen Toussaint, his other number one pop-rock-country crossover hit, was generated with the help of Jimmy Webb, and Jerry Reed, who inspired the famous guitar lick introduction to the song, which was the most-played jukebox number of 1977. From 1971 to 1983, Campbell was the celebrity host of the Los Angeles Open, an annual professional golf tournament on the PGA Tour.
During the mid-'80s, Campbell experienced a brief commercial revival, as the singles "Faithless Love," "A Lady Like You," and "The Hand That Rocks the Cradle" all reached the country Top Ten. By that time, he had begun to clean up his act. Over the course of the mid-'80s, he kicked his addictions to drugs and alcohol and became a born-again Christian. Appropriately, he began recording inspirational albums, yet he didn't abandon country music. As late as 1989, Campbell's smooth, synth-laden contemporary country-pop was reaching the country Top Ten; his last two Top Ten country hits were "I Have You" (1988) and "She's Gone, Gone, Gone" (1989).
Campbell published his autobiography, Rhinestone Cowboy, in 1994, and he recorded new material into the 2000s, releasing Meet Glen Campbell (2008), Ghost on the Canvas (2011), and, his final album, See You There (2013). The last song he recorded, "I'm Not Gonna Miss You," won the Grammy Award for best country song and was nominated for an Academy Award as the theme song to the aforementioned documentary.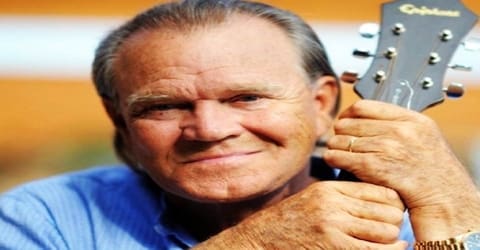 After Campbell was diagnosed with Alzheimer's in 2010, he embarked on a Goodbye Tour with three of his children joining him in his band. His final show was in November 2012, in Napa, California. He also began working on his final album, 'Adiós', and in January 2013, he recorded his last song, 'I'm Not Gonna Miss You'. On August 30, 2016, during the 10th Annual ACM Honors, Keith Urban, Blake Shelton, and others performed a medley of Glen Campbell's songs in tribute to him. His wife Kim Campbell accepted the Career Achievement Award on his behalf. Alice Cooper described him as being one of the five best guitar players in the music industry. On June 9, 2017, his album 'Adiós' was released.
Awards and Honor
Glen Campbell was the winner of ten Grammy Awards. He received five of these in 1967 two for 'Gentle on My Mind' and three for 'By the Time I Get to Phoenix'.
In 1969, his song 'True Grit' received nominations for the Academy Award for Best Song and the Golden Globe for Best Original Song. Campbell won the Academy of Country Music Award ten times, American Music Awards thrice, Country Music Association Awards thrice, and the GMA Dove Awards thrice, besides several other honors.
In 2012, Campbell received the Grammy Lifetime Achievement Award.
In 2015, Campbell and songwriter Julian Raymond were nominated at the 87th Academy Awards for Best Original Song for I'm Not Gonna Miss You'.
Death and Legacy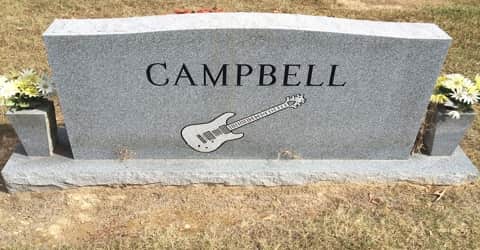 Glen Campbell became a patient at an Alzheimer's long-term care and treatment facility in 2014. That same year Campbell was featured in the documentary I'LL BE ME which examined Alzheimer's and how it affected his musical performances during his final tour across the United States with his wife, Kim, and family.
Campbell died on August 8, 2017, at the age of 81, in Nashville, Tennessee, following his long battle with Alzheimer's disease. He was buried in the Campbell family cemetery in Billstown, Arkansas.
Twelve of Glen Campbell albums were certified gold, four platinum, and one double-platinum. The albums 'Rhinestone Cowboy' and 'Southern Nights', both became US No. 1 hits. His single 'Rhinestone Cowboy' became one of his signature songs and won numerous awards and nominations. The songs 'Gentle on My Mind' and 'By the Time I Get to Phoenix' were his other important works. The former won four Grammy Awards while the latter earned two. Both the songs are counted among the best country songs of all time.
Campbell recorded and released 60 studio albums and six live albums between 1962 and 2017. He also lent his vocals to four soundtracks for motion pictures: True Grit (1969), Norwood (1970), Rock-a-Doodle (1992), and the 2014 documentary film Glen Campbell: I'll Be Me. He placed a total of 82 singles (one of which was a re-release) on either the Billboard Country Chart, the Billboard Hot 100, or the Adult Contemporary Chart, nine of which peaked at number one on at least one of those charts. He released 15 video albums and featured in 21 music videos. His first two music videos, "By the Time I Get to Phoenix" and "Wichita Lineman", were directed by Gene Weed in 1967 and 1968, respectively. Campbell released his final music video, "I'm Not Gonna Miss You", in 2014 to coincide with the release of the documentary Glen Campbell: I'll Be Me. His final studio album, Adiós, was released on June 9, 2017.
Information Source: