Biography of George Gershwin
George Gershwin – American composer and pianist.
Name: George Jacob Gershwin
Date of Birth: September 26, 1898
Place of Birth: Brooklyn, New York
Date of Death: July 11, 1937 (aged 38)
Place of Death: Los Angeles, California
Occupation: Composer, Pianist
Father: Morris (Moishe) Gershowitz
Mother: Rosa Bruskin
Early Life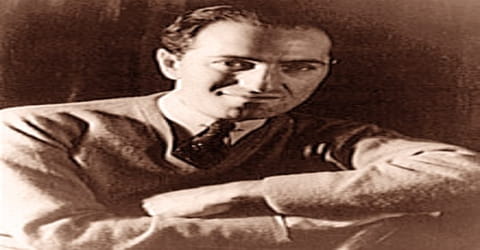 One of the most significant American composers of the 20th century, known for popular stage and screen numbers as well as classical compositions, George Gershwin was born on September 26, 1898, in Brooklyn, New York, as second son to Morris and Rose Bruskin Gershwine in their second-floor apartment on Brooklyn's Snediker Avenue. He wrote primarily for the Broadway musical theatre, but important as well is his orchestral and piano compositions in which he blended, in varying degrees, the techniques and forms of classical music with the stylistic nuances and techniques of popular music and jazz.
He dropped out of school and began playing piano professionally at age 15. Gershwin studied piano under Charles Hambitzer and composition with Rubin Goldmark, Henry Cowell, and Joseph Brody. Within a few years, he was one of the most sought after musicians in America. A composer of jazz, opera, and popular songs for stage and screen, many of his works are now standards. Among his best-known works are the orchestral compositions Rhapsody in Blue (1924) and An American in Paris, the songs Swanee (1919) and Fascinating Rhythm (1924), the jazz standard I Got Rhythm (1930), and the opera Porgy and Bess (1935) which spawned the hit Summertime.
With a major influence of jazz standards, Gershwin wrote compositions for films and for televisions. He was a man with a magnetic personality who approached every assignment with equal vigor and enthusiasm. Gershwin was often cited for his genius in melody and harmony and he was amongst the few great composers to make a lasting impression in classical music. Although Gershwin died young, his orchestral works and performances gave Gershwin the status he longed for during his lifetime. One of the great musicologists of the time Hans Keller stated that "Gershwin is a genius, in fact, whose style hides the wealth and complexity of his invention. There are indeed weak spots, but who cares about them when there is greatness?" Such was the musical magnitude of Gershwin. Even though he left the world early, at an age of 38, his music exhibits his lasting greatness.
Childhood, Family and Educational Life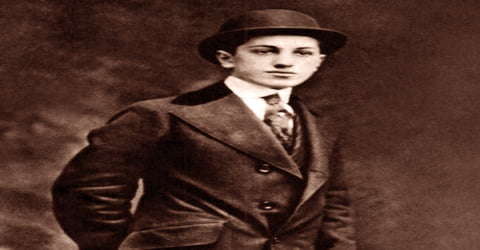 George Gershwin, original name Jacob Gershvin (Jacob Bruskin Gershowitz), was born in Brooklyn, New York on September 26, 1898. He was of Russian Jewish and Lithuanian Jewish ancestry. George was born as the second son to Morris and Rose Bruskin Gershwine in their second-floor apartment on Brooklyn's Snediker Avenue. His birth certificate identifies him as Jacob Gershwine, with the surname pronounced 'Gersh-vin' in the Russian and Yiddish immigrant community. He had just one given name, contrary to the American practice of giving children both a first and middle name. He was named after his grandfather, a one-time Russian army mechanic. He soon became known as George, and changed the spelling of his surname to 'Gershwin' about the time he became a professional musician; other family members followed suit.
The son of Russian-Jewish immigrants, George began his foray into music at age 11 when his family bought a secondhand piano for George's older sibling, Ira. When George surprised everyone with his fluid playing of a popular song, which he had taught himself by following the keys on a neighbor's player piano, his parents decided that George would be the family member to receive lessons. He studied piano with the noted instructor Charles Hambitzer, who introduced his young student to the works of the great classical composers. Hambitzer was so impressed with Gershwin's potential that he refused payment for the lessons; as he wrote in a letter to his sister, "I have a new pupil who will make his mark if anybody will. The boy is a genius."
Gershwin dropped out of school by the age of 15 and made an income by making piano rolls for the piano players. He also played at New York nightclubs. One of his most important jobs George Gershwin had when he had just dropped out of school was as a song plugger. George demonstrated sheet music for the Jerome Remick music-publishing company and earned $15 a week. The song pluggers like George worked for long hours playing the music for potential customers. The three years as a song plugger added to Gershwin's experience by adding to his dexterity and methods of improvisation and transposing.
Personal Life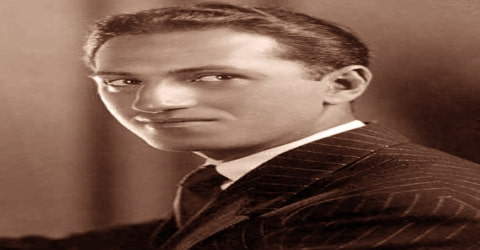 George Gershwin had a long-term relationship with Kay Swift. They met in 1925 when Kay was married. However, after Kay has the marriage dissolved in 1934, because of her involvement with George, her affair with George lasted for around ten years in all. Gershwin frequently consulted Swift about his musicals and other work. Despite their long relationship, Kay and Gershwin never married as George's mother Rose had an apprehension of Kay not being Jewish.
Swift's granddaughter, Katharine Weber, has suggested that the pair were not married because George's mother Rose was "unhappy that Kay Swift wasn't Jewish". Oh, Kay was named for her. After Gershwin's death, Swift arranged some of his music, transcribed several of his recordings, and collaborated with his brother Ira on several projects.
George Gershwin was an intensely social person and his crowd included personalities such as Moss Hart, Lillian Hellman, Edward G. Robinson, film director Reuben Mammalian, pianist and celebrity Oscar Levant, Harold Arlen Vincent Minnelli, Irving Berlin, Dorothy Fields, and Ginger Rodgers. He served as a mentor to younger musicians and for the amateur painter he was, he did portraits for many musical figures.
Career and Works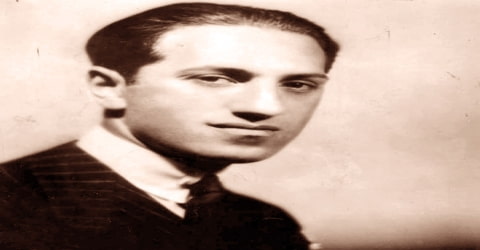 In 1916 George Gershwin composed his first published song, "When You Want 'Em You Can't Get 'Em (When You've Got 'Em You Don't Want 'Em)," as well as his first solo piano composition, "Rialto Ripples" where his song earned him a $5. He began to attract the attention of some Broadway luminaries, and the operetta composer Sigmund Romberg included one of Gershwin's songs in The Passing Show of 1916.
He attracted Broadway composers and the composer "Sigmund Romberg" included one of Gershwin's songs in his production "The Passing Show of 1916". In 1916, Gershwin also worked for Aeolian Company and Standard Music Rolls in New York by recording and arranging. He produced many rolls under his own name and also under pseudonyms. He also recorded rolls of his own compositions for the Duo-Art and Welte-Mignon reproducing pianos. He also recorded rolls of his own compositions for the Duo-Art and Welte-Mignon reproducing pianos. As well as recording piano rolls, Gershwin made a brief foray into vaudeville, accompanying both Nora Bayes and Louise Dresser on the piano. His 1917 novelty ragtime, "Rialto Ripples", was a commercial success.
Gershwin's first major hit, interpolated into the show Sinbad in 1919, was "Swanee," sung by Al Jolson. He wrote both complete scores and songs for such variety shoes as George White's Scandals (whose annual editions thus were able to introduce such songs as "I'll Build a Stairway to Paradise" and "Somebody Loves Me"). In the same year, Gershwin composed the entire score for his first show "La La Lucille". Gershwin worked on his most serious work and composed the "Lullaby" for string quartet.
In the late 1910s, Gershwin met songwriter and music director William Daly. The two collaborated on the Broadway musicals Piccadilly to Broadway (1920) and For Goodness' Sake (1922), and jointly composed the score for Our Nell (1923). This was the beginning of a long friendship. Daly was a frequent arranger, orchestrator, and conductor of Gershwin's music, and Gershwin periodically turned to him for musical advice.
From 1920 to 1924, Gershwin composed for an annual production put on by George White. He wrote forty-five songs – "Somebody Loves Me" and "Stairway to Paradise," along with the twenty-five-minute opera, "Blue Monday". After a show titled "Blue Monday," the bandleader in the pit, Paul Whiteman, asked Gershwin to create a jazz number that would heighten the genre's respectability.
In 1924, Gershwin composed his first major classical work, Rhapsody in Blue, for orchestra and piano. It was orchestrated by Ferde Grofé and premiered by Paul Whiteman's Concert Band, in New York. It subsequently went on to be his most popular work and established Gershwin's signature style and genius in blending vastly different musical styles in revolutionary ways. It was considered to be George's most popular works.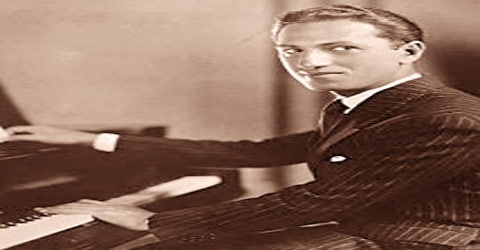 In 1924, Gershwin worked together with his elder brother, lyricist Ira Gershwin for the musical comedy "Lady Be Good". Together they wrote many more successful musicals including "Oh Kay!" and "Funny Face".
The success of "Rhapsody in Blue" led Gershwin to write more pieces for piano and orchestra. George Gershwin traveled to Paris for a short period to study from the famous instructor Nadia Boulanger. But he was rejected the mentoring as she thought that the classical study would ruin Georges jazz-influenced style. He wrote "Concerto in F" followed by "An American in Paris "in 1928 in Paris itself. This piece was premiered at Carnegie Hall in late 1928s and the track was used in "Show Girl" as a ballet scene. Tired of the Parisian musical scene, Gershwin returned to the United States soon.
During this time, and in the years that followed, Gershwin wrote numerous songs for stage and screen that quickly became standards, including "Oh, Lady Be Good!" "Someone to Watch over Me," "Strike Up the Band," "Embraceable You," "Let's Call the Whole Thing Off" and "They Can't Take That Away from Me." His lyricist for nearly all of these tunes was his older brother, Ira, whose witty lyrics and inventive wordplay received nearly as much acclaim as George's compositions.
In the 1920s, Gershwin spent time in Paris, which inspired his jazz-influenced orchestral composition An American Paris. Composed in 1928, An American Paris inspired the 1951 Oscar-winning movie musical by the same name, which was directed by Vincente Minnelli and starred Gene Kelly and Leslie Caron. A Broadway musical based on the film opened in 2014.
In 1929, Gershwin was contracted by Fox Film Corporation to compose the score for the movie Delicious. Only two pieces were used in the final film, the five-minute "Dream Sequence" and the six-minute "Manhattan Rhapsody", which in expanded form was later published as the Second Rhapsody. Gershwin became infuriated when the rest of the score was rejected by Fox Film Corporation, and it would be seven years before he worked in Hollywood again.
In 1929, the Gershwin brothers created Show Girl; Girl Crazy performed 1930, which introduced the standards "Embraceable You", debuted by Ginger Rogers, and "I Got Rhythm"; and Of Thee I Sing in 1931, which was the first musical comedy to win the Pulitzer Prize for Drama; the winners were George S. Kaufman, Morrie Ryskind, and Ira Gershwin.
In the early 1930s, Gershwin came up with other major orchestral contributions. His "Second Rhapsody" from 1931 featured in the movie "Delicious". It was one of the most experimental works and received a lot of appreciation. "Strike up the Band", "Let 'Em Eat Cake", and "Of Thee I Sing", were innovative works of the 1930s which dealt with social issues of that time. "Of Thee I Sing" was a major hit and it was the first comedy to win the Pulitzer Prize.
By the '30s, the Gershwin's had turned to political topics and satire in response to the onset of the Depression, and their Of Thee I Sing became the first musical to win a Pulitzer Prize. In the mid-'30s, Gershwin ambitiously worked to meld his show music and classical leanings in the creation of the folk opera Porgy and Bess, with lyrics by Ira and Dubose Heyward. Gershwin's first opera, Blue Monday, is a short one-act opera, which was not a financial success and has received only limited performances.
Gershwin's most ambitious composition was Porgy and Bess, first performed in 1935, based on the novel Porgy by DuBose Heyward, which he called a "folk opera", and it is now widely regarded as one of the most important American operas of the twentieth century. "From the very beginning, it was considered another American classic by the composer of 'Rhapsody in Blue' even if critics couldn't quite figure out how to evaluate it. Was it opera, or was it simply an ambitious Broadway musical? 'It crossed the barriers,' per theater historian Robert Kimball. 'It wasn't a musical work per se, and it wasn't a drama per se – it elicited the response from both music and drama critics. But the work has sort of always been outside category."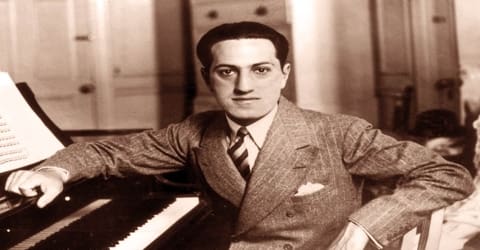 The music of "Porgy and Bess" was a combination of popular music of the day, with influences of Black music and opera techniques. Although this opera didn't receive much fame in the beginning, it included memorable songs like "It Ain't Necessarily So," "I Loves You, Porgy," and "Summertime".
Following his success with "Porgy and Bess," Gershwin moved to Hollywood and was hired to compose the music for a film titled "Shall We Dance," starring Fred Astaire and Ginger Rogers. This included hits such as "Let's Call the Whole Thing Off" and "They Can't Take That Away From Me." It was while working on a follow-up film with Astaire that Gershwin's life would come to an abrupt end.
For the remainder of his career, Gershwin devoted himself to both popular songs and orchestral compositions. His Broadway shows from the 1920s and '30s featured numerous songs that became standards: "Fascinating Rhythm," "Oh, Lady Be Good," "Sweet and Low-Down," "Do, Do, Do," "Someone to Watch over Me," "Strike Up the Band," "The Man I Love," "'S Wonderful," "I've Got a Crush on You," "Bidin' My Time," "Embraceable You," "But Not for Me," "Of Thee I Sing," and "Isn't It a Pity." He also composed several songs for Hollywood films, such as "Let's Call the Whole Thing Off," "They All Laughed," "They Can't Take That Away from Me," "A Foggy Day," "Nice Work if You Can Get It," "Love Walked In," and "Love Is Here to Stay." His lyricist for nearly all of these tunes was his older brother, Ira, whose glib, witty lyrics often punctuated with slang, puns, and wordplay received nearly as much acclaim as George's compositions.
George Gershwin was influenced by French composers of the early twentieth century. In turn Maurice Ravel was impressed with Gershwin's abilities, commenting, "Personally I find jazz most interesting: the rhythms, the way the melodies are handled, the melodies themselves. I have heard of George Gershwin's works and I find them intriguing." The orchestrations in Gershwin's symphonic works often seem similar to those of Ravel; likewise, Ravel's two piano concertos evince an influence of Gershwin.
Awards and Honor
George Gershwin received his sole Academy Award nomination, for Best Original Song, at the 1937 Oscars, for "They Can't Take That Away from Me".
Death and Legacy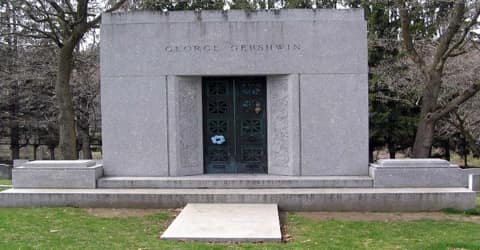 At the beginning of 1937, George Gershwin began to experience troubling symptoms such as severe headaches and noticing strange smells. In the early hours of July 11 doctors at Cedars removed a large brain tumor, believed to have been a glioblastoma, but Gershwin died on the morning of July 11, 1937, at the age of 38. The fact that he had suddenly collapsed and become comatose after he stood up on July 9, has been interpreted as brain herniation with Duret hemorrhages.
Gershwin's friends and fans were shocked and devastated. John O'Hara remarked: "George Gershwin died on July 11, 1937, but I don't have to believe it if I don't want to." He was interred at Westchester Hills Cemetery in Hastings-on-Hudson, New York. A memorial concert was held at the Hollywood Bowl on September 8, 1937, at which Otto Klemperer conducted his own orchestration of the second of Gershwin's Three Preludes.
In a career tragically cut short in mid-stride by a brain tumor, George Gershwin (1898-1937) proved himself to be not only one of the great songwriters of his extremely rich era but also a gifted "serious" composer who bridged the worlds of classical and popular music. The latter is all the more striking, given that, of his contemporaries, Gershwin was the most influenced by such styles as jazz and blues.
Gershwin's music remains a subject of debate among prominent international conductors, composers, and music scholars, some of whom find his works for an orchestra to be naively structured, little more than catchy melodies strung together by the barest of musical links. In 1954, Leonard Bernstein summed up the feelings of many classical musicians, saying, "The themes are terrific inspired, God-given. I don't think there has been such an inspired melodist on this earth since Tchaikovsky. But if you want to speak of a composer, that's another matter."
In 2007, the Library of Congress named their Prize for Popular Song after George and Ira Gershwin. Recognizing the profound and positive effect of popular music on culture, the prize is given annually to a composer or performer whose lifetime contributions exemplify the standard of excellence associated with the Gershwins. On March 1, 2007, the first Gershwin Prize was awarded to Paul Simon.
Information Source: