Biography of Bing Crosby
Bing Crosby – American singer and actor.
Name: Harry Lillis "Bing" Crosby Jr.
Date of Birth: May 3, 1903
Place of Birth: Tacoma, Washington, United States
Date of Death: October 14, 1977 (aged 74)
Place of Death: Alcobendas, Madrid, Spain
Occupation: Singer, Actor
Father: Harry Lincoln Crosby (1870–1950)
Mother: Catherine Helen
Spouse/Ex: Dixie Lee (m. 1930–1952), Kathryn Crosby (m. 1957–1977)
Children: Mary Crosby, Gary Crosby, Nathaniel Crosby, Dennis Crosby, Lindsay Crosby, Phillip Crosby, Harry Crosby
Early Life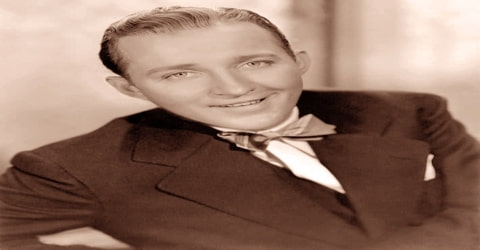 Bing Crosby, American singer, actor, and songwriter who achieved great popularity in radio, recordings, and motion pictures, was born on May 3, 1903, in Tacoma, Washington, the U.S. in a house his father built at 1112 North J Street. His early career coincided with recording innovations that allowed him to develop an intimate singing style that influenced many male singers who followed him, including Perry Como, Frank Sinatra, Dick Haymes, and Dean Martin. Yank magazine said that he was "the person who had done the most for the morale of overseas servicemen" during World War II. In 1948, American polls declared him the "most admired man alive", ahead of Jackie Robinson and Pope Pius XII. Also in 1948, Music Digest estimated that his recordings filled more than half of the 80,000 weekly hours allocated to recorded radio music.
Crosby earned recognition after launching his own program at the CBS radio station in New York City, soon after which he began getting offers from Hollywood. At this point in his career, he was also emerging as a singer and later millions of copies of his records were sold. He rose to prominence with 'White Christmas', which later became one of the most successful singles of all time. During his time, he was credited with nearly 300 hit singles that topped the music charts. His career took a different turn when he teamed with his friend Bob Hope, an American comedian and starred in seven successful 'Road' film series, with him. He soon began to prove his mettle as an actor and became the recipient of various prestigious awards. In his later years, his work reduced considerably and he began appearing in several television programs and hosted his own show. He was often admired for his persona and his occasional 'crooning'.
Crosby won an Academy Award for Best Actor for his role as Father Chuck O'Malley in the 1944 motion picture Going My Way and was nominated for his reprise of the role in The Bells of St. Mary's opposite Ingrid Bergman the next year, becoming the first of six actors to be nominated twice for playing the same character. In 1963, Crosby received the first Grammy Global Achievement Award. He is one of 33 people to have three stars on the Hollywood Walk of Fame, in the categories of motion pictures, radio, and audio recording. He was also known for his collaborations with longtime friend Bob Hope, starring in the Road to… films from 1940 to 1962.
Crosby became the archetypal crooner of a period when the advent of radio broadcasting and talking pictures and the refinement of sound-recording techniques made the climate ideal for the rise of such a figure. His casual stage manner and mellow, relaxed singing style influenced two generations of pop singers and made him the most successful entertainer of his day.
He became the first performer to pre-record his radio shows and master his commercial recordings onto magnetic tape. Through the medium of recording, he constructed his radio programs with the same directorial tools and craftsmanship (editing, retaking, rehearsal, time shifting) used in motion picture production, a practice that became an industry standard. In addition to his work with early audio tape recording, he helped to finance the development of videotape, bought television stations, bred racehorses, and co-owned the Pittsburgh Pirates baseball team.
Childhood, Family and Educational Life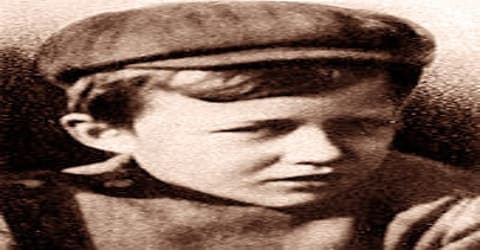 Bing Crosby, byname of Harry Lillis Crosby Jr. was born on May 3, 1903, in Tacoma, Washington, U.S. but moved to Spokane, Washington at the age of three. He was the fourth of his seven siblings. His parents were Harry Lowe Crosby (1870–1950), a bookkeeper, and Catherine Helen "Kate" (née Harrigan; 1873–1964). His mother was a second generation Irish-American. His father was of English descent; an ancestor, Simon Crosby, emigrated to America in the 17th century.
For his education, Crosby attended Catholic school, reflecting his mother's deep devotion to her faith. He went to Gonzaga High School, which was run by Jesuits. While attending Gonzaga University, Crosby abandoned his aspirations to become a lawyer for his dreams of musical stardom. He performed with a group called the Musicaladers as a singer and a drummer. As a freshman, he played on the university's baseball team. The university granted him an honorary doctorate in 1937. Today, Gonzaga University houses a large collection of photographs, correspondence, and other material related to Crosby.
In 1910, a neighbor began calling him 'Bingo from Bingville', which was taken from his favorite comic strip, 'The Bingville Bugle'. The nickname, after dropping the last vowel, became his name for the rest of his life.
In 1917, Crosby took a summer job as property boy at Spokane's "Auditorium," where he witnessed some of the finest acts of the day, including Al Jolson, who held him spellbound with ad-libbing and parodies of Hawaiian songs. He later described Jolson's delivery as "electric."
Personal Life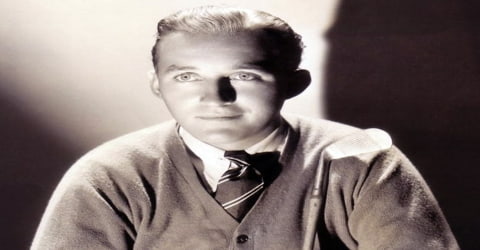 Crosby was married twice. In 1930, he married actress/singer Dixie Lee and the couple had four sons: Gary, twins Dennis and Phillip, and Lindsay. She passed away due to ovarian cancer in 1952.
After his wife died, Crosby had relationships with model Pat Sheehan (who married his son Dennis in 1958) and actresses Inger Stevens and Grace Kelly before marrying actress Kathryn Grant, who converted to Catholicism, in 1957. They had three children: Harry Lillis III (who played Bill in Friday the 13th), Mary (best known for portraying Kristin Shepard on TV's Dallas), and Nathaniel (the 1981 U.S. Amateur champion in golf).
Crosby reportedly had an alcohol problem in his youth and may have been dismissed from Paul Whiteman's orchestra because of it, but he later got a handle on his drinking. According to Giddins, Crosby told his son Gary to stay away from alcohol, adding, "It killed your mother."
Career and Works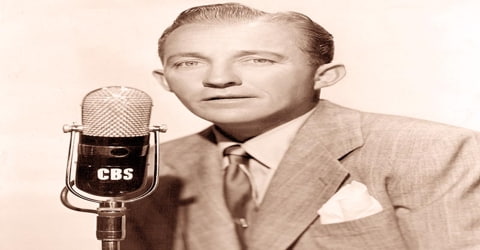 In 1923, Crosby was invited to join a new band composed of high school students a few years younger than him. Al Rinker, Miles Rinker, James Heaton, Claire Pritchard, and Robert Pritchard, along with drummer Crosby, formed the Musicaladers, who performed at dances both for high school students and club-goers. The group performed on Spokane radio station KHQ but disbanded after two years. Crosby and Al Rinker then obtained work at the Clemmer Theatre in Spokane (now known as the Bing Crosby Theater). Crosby was initially a member of a vocal trio called 'The Three Harmony Aces' with Al Rinker accompanying on piano from the pit, to entertain between the films. Bing and Al continued at the Clemmer Theatre for several months often with three other men – Wee Georgie Crittenden, Frank McBride, and Lloyd Grinnell and they were billed The Clemmer Trio or The Clemmer Entertainers depending who performed.
In 1925, Crosby joined vocalist, Al Rinker and they became extremely popular with their vaudeville act, 'Two Boys and a Piano', where the performance consisted of individual or combined acts by singers, actors etc. Later, Al Rinker's brother introduced them to a famous bandleader, Paul Whiteman. The Crosby-Rinker duo became a trio after Whiteman introduced Harry Barris, a songwriter, and pianist, into the group, which they called 'The Rhythm Boys'. The 'Rhythm Boys' performed with Paul Whiteman and soon enough Crosby tasted success.
After a period spent singing with the Paul Whiteman orchestra in 1927, Crosby appeared in the early sound film King of Jazz (1931). Crosby became a star after getting his own program on the CBS radio station in New York City in 1932. He began appearing in more films, and by the late 1930s, his records were selling millions of copies. His songwriting activities included part-authorship of "A Ghost of a Chance" and "Where the Blue of the Night" (his radio theme song). In the 1940s he was the star of a popular radio variety show.
In addition to releasing a few singles, the Rhythm Boys appeared together in one of Crosby's first films, 1930's King of Jazz. Crosby soon launched his solo career, landing his own radio show. Debuting in 1931, his radio program became a big success, attracting as many as 50 million listeners during its peak, and lasting nearly 30 years on the airwaves. That same year, Crosby scored a number of hits with such songs as "I Found a Million-Dollar Baby" and "Just One More Chance." He continued to delight music buyers over the coming years with "Please," "You're Getting to Be a Habit With Me" and "June in January." His show was aired for nearly 30 years.
Crosby also starred in 'The Big Broadcast', an American 'musical comedy' film, which he signed with Paramount Pictures. His slim frame and protruding ears may not have been the features of a traditionally handsome leading man, but Crosby's easy charm and smooth patter quickly won over film audiences. He started out in a number of musical comedies, such as 1934's Here Is My Heart, with Kitty Carlisle; and 1936's Anything Goes, with Ethel Merman. Crosby also starred in 1936's Pennies from Heaven, which gave him another hit single with its title track.
In 1936, Crosby exercised an option from Paramount to make a film out-of-house. He signed a one-film agreement with Columbia. Crosby wanted his friend Louis Armstrong, who influenced his singing style, to appear in Pennies from Heaven, a screen adaptation of The Peacock Feather. He asked Harry Cohn, but Cohn had no desire to pay for the flight or to meet Armstrong's "crude, mob-linked but devoted manager, Joe Glaser." Crosby threatened to leave the film and refused to discuss it any more with Cohn. Armstrong's musical scenes and comic dialogue improved his career. Crosby gave Armstrong equal billing with white co-stars. Armstrong starred as himself in many more films and appreciated Crosby's lack of racism, often thanking him in later years.
In 1936, Crosby replaced Paul Whiteman and hosted NBC's (Nation Broadcasting Corporation) 'Kraft Music Hall'; where he received great appreciation for his radio theme song, 'Where the Blue of the Night', which he both sang and composed. During WWII, he performed at the 'European Theatre' and entertained the American troops. Towards the end of the war, he was voted by the U.S. troops as 'the person who had done the most for American G.I. morale during WWII'.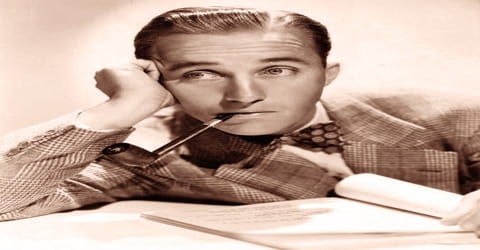 Crosby's film career continued to flourish, reaching its peak in the 1940s. He co-starred with comedian Bob Hope in the wildly popular series of Road pictures, which began with the 1940s The Road to Singapore. The on-screen dynamic duo forged a genuine affection for each other off-screen as well. Crosby and Hope remained friends for life and appeared together in numerous films. With Dorothy Lamour along as their female lead, they made seven Road movies together.
In 1941, Crosby sang 'White Christmas' that soon became a popular hit and was broadcasted on the radio on Christmas. The song then appeared in his movie Holiday Inn (1942). His record hit the charts on October 3, 1942, and rose to No. 1 on October 31, where it stayed for 11 weeks. A holiday perennial, the song was repeatedly re-released by Decca, charting another sixteen times. It topped the charts again in 1945 and a third time in January 1947. The song remains the bestselling single of all time. According to Guinness World Records, his recording of "White Christmas" has sold over 100 million copies around the world, with at least 50 million sales as singles.
During this time, Crosby became a bankable actor. He starred with Fred Astaire in the box-office hit Holiday Inn (1942), and in that musical Crosby first sang "White Christmas." His recording of the Irving Berlin ballad became one of the most popular songs of the century, exceeded in record sales only by his "Silent Night." Crosby then won an Academy Award for best actor for his portrayal of Father O'Malley in the film Going My Way (1944). He reprised the role in The Bells of St. Mary's (1945), for which he received another Oscar nomination.
The June 18, 1945, issue of Life magazine stated, "America's number one star, Bing Crosby, has won more fans, made more money than any entertainer in history. Today he is a kind of national institution." "In all, 60,000,000 Crosby disks have been marketed since he made his first record in 1931. His biggest bestseller is 'White Christmas', 2,000,000 impressions of which have been sold in the U.S. and 250,000 in Great Britain." "Nine out of ten singers and bandleaders listen to Crosby's broadcasts each Thursday night and follow his lead. The day after he sings a song over the air any song some 50,000 copies of it are sold throughout the U.S.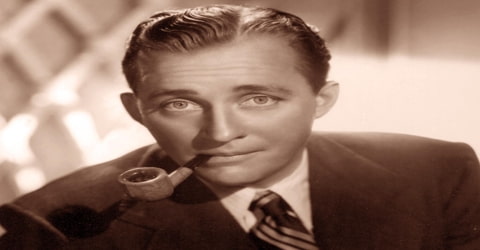 Taking a paternal turn, Crosby starred as Father Chuck O'Malley in 1944's Going My Way. He played a warm and worldly Roman Catholic priest, who helps straighten out a group of young kids and, in turn, helps his parish. This dramatic role netted Crosby his one and only Academy Award win, which reprised for 1945's The Bells of St. Mary's. Returning to light comedies, Crosby reunited with Hope for 1946's Road to Utopia and 1947's Road to Rio. According to some reports, Crosby was the top box office star from 1944 to 1947. To this day, he remains one of the all-time top grossing film performers. Crosby continued to appear in musicals, such as 1954's White Christmas, with Danny Kaye and Rosemary Clooney. With the movie's title song, Crosby once again scored a Top 10 hit. He had more than 300 hit singles during his long career.
Perhaps the best known in the series of seven "Road" films was Road to Morocco (1942), which was widely regarded as a classic. His other films included White Christmas and The Country Girl (both 1954); for the latter, Crosby received his third and final Academy Award nomination. Crosby made his last Road film with Bob Hope and Dorothy Lamour in 1962's The Road to Hong Kong. He continued to act into the 1970s, many of his later appearances being on television. His last credited role was in the TV movie Dr. Cook's Garden (1971).
In the 1949 Disney animated film The Adventures of Ichabod and Mr. Toad, Crosby provided the narration and song vocals for The Legend of Sleepy Hollow segment. In 1960, he starred in High Time, a collegiate comedy with Fabian Forte and Tuesday Weld that predicted the emerging gap between him and the new young generation of musicians and actors who had begun their careers after WWII. The following year, Crosby and Hope reunited for one more Road movie, The Road to Hong Kong, which teamed them up with the much younger Joan Collins and Peter Sellers. Collins was used in place of their longtime partner Dorothy Lamour, whom Crosby felt was getting too old for the role, though Hope refused to do the movie without her, and she instead made a cameo appearance. Shortly before his death in 1977, he had planned another Road film in which he, Hope, and Lamour search for the Fountain of Youth.
While his film work tapered off in the 1960s, Crosby focused more on the small screen. He appeared in numerous televisions specials and, from 1964 to 1970, hosted the variety program The Hollywood Palace. He also tried his hand at situation comedy in 1964, with The Bing Crosby Show, but the series was short-lived.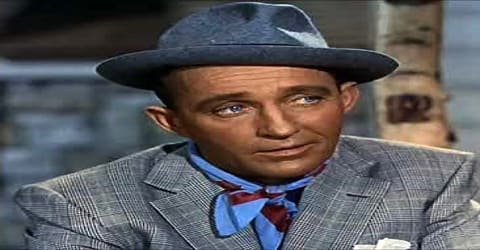 The Fireside Theater (1950) was his first television production. The series of 26-minute shows was filmed at Hal Roach Studios rather than performed live on the air. The "telefilms" were syndicated to individual television stations. He was a frequent guest on the musical variety shows of the 1950s and 1960s. Crosby was associated with ABC's The Hollywood Palace. In the early 1970s, he made two late appearances on the Flip Wilson Show, singing duets with the comedian. His last TV appearance was a Christmas special taped in London in September 1977 and aired weeks after his death. It was on this special that he recorded a duet of "The Little Drummer Boy" and "Peace on Earth" with rock star David Bowie. Their duet was released in 1982 as a single 45-rpm record and reached No. 3 in the UK singles charts. It has since become a staple of holiday radio and the final popular hit of Crosby's career. At the end of the 20th century, TV Guide listed the Crosby-Bowie duet one of the 25 most memorable musical moments of 20th-century television.
In 1977 special, Bing Crosby's Merrie Olde Christmas, he performed a duet with David Bowie on two-holiday classics, "Peace on Earth" and "The Little Drummer Boy." The show and tracks were recorded several weeks before Crosby's death. Crosby also enjoyed making guest appearances on such programs as The Tonight Show and The Carol Burnett Show.
Bing Crosby Productions, affiliated with Desilu Studios and later CBS Television Studios, produced a number of television series, including Crosby's own unsuccessful ABC sitcom The Bing Crosby Show in the 1964–1965 season (with co-stars Beverly Garland and Frank McHugh). The company produced two ABC medical dramas, Ben Casey (1961–1966) and Breaking Point (1963–1964), the popular Hogan's Heroes (1965–1971) military comedy on CBS, as well as the lesser-known show Slattery's People (1964–1965).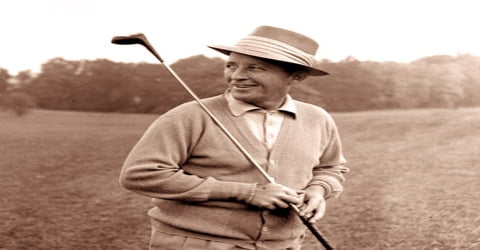 Bing Crosby had an interest in sports. In the 1930s, his friend and former college classmate, Gonzaga's head coach Mike Pecarovich appointed Crosby as an assistant football coach. From 1946 until his death, he owned a 25% share of the Pittsburgh Pirates. He was also an avid golfer, and in 1978, he and Bob Hope were voted the Bob Jones Award, the highest honor given by the United States Golf Association in recognition of distinguished sportsmanship. He is a member of the World Golf Hall of Fame. In 1937, Crosby hosted the first 'Crosby Clambake' as it was popularly known, at Rancho Santa Fe Golf Club in Rancho Santa Fe, California, the event's location prior to World War II. Sam Snead won the first tournament, in which the first place check was for $500. After the war, the event resumed playing in 1947 on golf courses in Pebble Beach, where it has been played ever since. Now the AT&T Pebble Beach Pro-Am, it has been a leading event in the world of professional golf.
Awards and Honor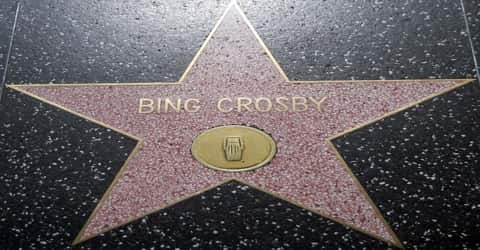 (One of three stars on the Hollywood Walk of Fame at 6769 Hollywood Blvd)
Bing Crosby won an Academy Award for Best Actor for 'Going My Way' in 1944 and was nominated for the 1945 sequel, The Bells of St. Mary's. He received critical acclaim for his performance as an alcoholic entertainer in The Country Girl and received his third Academy Award nomination.
In 1962, Crosby received the 'Grammy Lifetime Achievement Award'.
This famous personality was an avid golfer, and in 1978, Bing Crosby and Bob Hope were voted the Bob Jones Award, the highest honor given by the United States Golf Association in recognition of distinguished sportsmanship.
Crosby was inducted into the 'Grammy Hall of Fame', 'Hit Parade Hall of Fame' and 'Western Music Hall of Fame', posthumously.
Crosby is a member of the National Association of Broadcasters Hall of Fame in the radio division.
Death and Legacy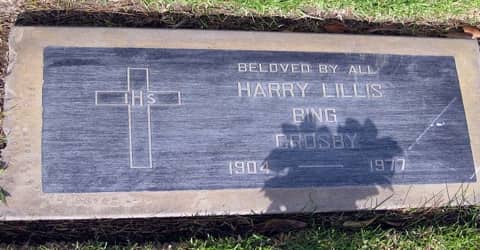 On October 13, 1977, Bing Crosby flew alone to Spain to play golf and hunt partridge. On October 14, at the La Moraleja Golf Course near Madrid, Crosby played 18 holes of golf. At about 6:30 pm, Crosby collapsed about 20 yards from the clubhouse entrance and died instantly from a massive heart attack.
Crosby's family and fans were devastated by the news of his passing. According to his longtime friend, Bob Hope, "If friends could have been made to order, I would have asked for one like Bing." On October 18, following a private funeral Mass at St. Paul's Catholic Church in Westwood, Crosby was buried at Holy Cross Cemetery in Culver City, California. A plaque was placed at the golf course in his memory.
A special memorial was held at New York City's St. Patrick's Cathedral shortly after Crosby's death. Nearly 3,000 admirers attended the ceremony, to remember and honor the late entertainer. Crosby's family also held a small private funeral for the singer in Culver City, California, which was attended by Bob Hope and Rosemary Clooney, among a few other close friends of Crosby's from Hollywood.
An astute businessman, Crosby amassed one of the largest fortunes in Hollywood from his earnings as an entertainer and from shrewd investments. By the mid-1970s, 400 million copies of his records had been sold. His autobiography, Call Me Lucky, appeared in 1953.
His song 'White Christmas', which was first used in the musical film, 'Holiday Inn', became an instant hit with the masses. After being included in the music charts on October 3, 1942, it rose to the no.1 position on October 31, 1942. It charted the billboard countdown for 11 weeks and sold nearly 100 million copies, along with earning the title of 'best-selling single of all time'.
Several years after his death, Crosby's reputation as the mellow, cool paternal type was shattered by allegations made by his son Gary. He claimed in his 1983 tell-all memoir Going My Own Way that Bing was a cruel father who used to physically abuse his sons. Gary's brothers were divided on the book. Phillip played down these claims, but Lindsay supported Gary's stories. As the new millennium began, a public effort ignited to remember Crosby and restore some of his legacies. Jazz critic Gary Giddins re-examined the singer's early work in Bing Crosby: A Pocketful of Dreams (2001). In 2005, the Film Society of Lincoln Center hosted a retrospective of Crosby's films. Regardless of what he did or didn't do in his personal life, Crosby changed the sound and style of popular music. His songs are a part of the American soundtrack, and can still be heard on the radio, on television programs, and in films.
Information Source: