Biography of Clara Barton
Clara Barton – American nurse.
Name: Clarissa "Clara" Harlowe Barton
Date of Birth: December 25, 1821
Place of Birth: North Oxford, Massachusetts, U.S.
Date of Death: April 12, 1912 (aged 90)
Place of Death: Glen Echo, Maryland, U.S.
Occupation: Nurse
Father: Stephen Barton
Mother: Sarah Barton
Early Life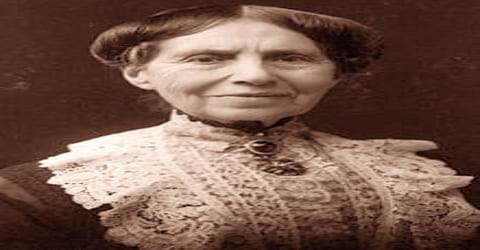 The American humanitarian Clara Barton was born on December 25, 1821, in North Oxford, Massachusetts, U.S. She was the founder of the American Red Cross. Her work helping people in times of war and times of peace made her a symbol of humanitarianism. She was a hospital nurse in the American Civil War, a teacher, and patent clerk. Nursing education was not very formalized at that time and she did not attend nursing school, so she provided self-taught nursing care. Barton is noteworthy for doing humanitarian work at a time when relatively few women worked outside the home.
This legendary war-nurse resigned from her government job during the American Civil war and set out to the dangerous front line of the war at a time when women were not allowed in the battlefields. She risked her own life to bring medical and food supplies to the wounded soldiers and saved the lives of countless soldiers who were injured in war. She founded the American Red Cross at the age of 60 and served as the President of the organization for a period of 23 years. She was one of the first American women to serve as a clerk in the U.S Patent Office and earn a remuneration that was equal to that of a man. She was an ardent woman's rights activist and was part of the woman's suffrage movement. She was also an African-American rights activist. The fact that at a time when women rarely ventured out of their home to work, Clara Barton dared to risk her life at the war front bears testimony to her courage and steadfastness.
She became a teacher, worked in the U.S. Patent Office and was an independent nurse during the Civil War. While visiting Europe, she worked with a relief organization known as the International Red Cross and lobbied for an American branch when she returned home. The American Red Cross was founded in 1881, and Barton served as its first president. She was inducted into the National Women's Hall of Fame in 1973.
Childhood, Family and Educational Life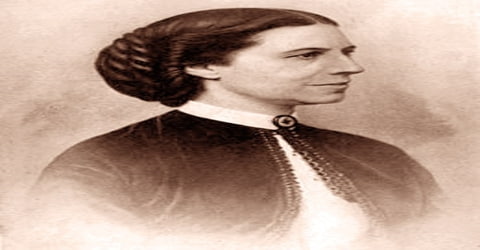 Clara Barton, in full Clarissa Harlowe Barton, was born on December 25, 1821, in North Oxford, Massachusetts, the U.S. Her father was Captain Stephen Barton, a member of the local militia and a selectman who inspired his daughter with patriotism and broad humanitarian interest. He was a soldier under the command of General Anthony Wayne in his crusade against the Indians in the northwest. He was also the leader of progressive thought in the Oxford village area. Barton's mother was Sarah Stone Barton.
Since the age of three, Barton had exceptional reading and spelling skills and attended the Col. Stones High School, but was a very shy kid. She first found her calling as a nurse at the age of eleven, when she took care of her sick brother David, who miraculously recovered under her care even after doctors had given up.
Barton spent much of her life in the service of others and created an organization that still helps people in need today – the American Red Cross. A shy child, she first found her calling when she tended to her brother David after an accident. Barton later found another outlet for her desire to be helpful as a teenager.
Barton was educated at home and began teaching at age 15. She attended the Liberal Institute at Clinton, N.Y. (1850–51), where she studied writing and languages. Following her education, she set up a free school in New Jersey.
She achieved her first teacher's certificate in 1839, at only 17 years old. This profession interested Barton greatly and helped motivate her; she ended up conducting an effective redistricting campaign that allowed the children of workers to receive an education. Successful projects such as this gave Barton the confidence needed when she demanded equal pay for teaching.
In 1852 in Bordentown, N.J., she established a free school that soon became so large that the townsmen would no longer allow a woman to run it. Rather than subordinate herself to a male principal, Barton resigned. She was then employed by the U.S. Patent Office in Washington, D.C., from 1854 to 1857 and again in 1860.
Personal Life
Clara Barton chose not to marry all her life. However, it is speculated that she was romantically involved with a person named John J. Elwell.
Career and Works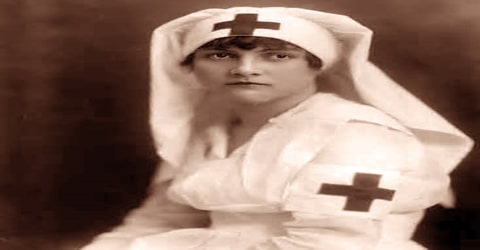 Barton became an educator in 1838 for 12 years in schools in Canada and West Georgia. Barton fared well as a teacher and knew how to handle rambunctious children, particularly the boys since as a child she enjoyed her male cousins' and brothers' company. She learned how to act like them, making it easier for her to relate to and control the boys in her classroom since they respected her. As a writer, her terminology was pristine and easy to understand. Her writings and bodies of work could instruct the local statesmen. No one could exceed her outstanding service to humanity in war and in peace.
Barton was working for the patent office in Washington, D.C. when the Civil War (1861–65) began. She decided to serve the Federal troops by personally collecting and storing supplies that people had given freely in support of the troops. In Washington, she collected and stored food and medical supplies that could be distributed to the troops. In 1862 she was permitted to travel to places where the fighting was taking place. Barton was with Federal forces during the siege of Charleston, South Carolina, and also at battles in other areas. She did not work primarily as a nurse during the war. She became increasingly skilled at obtaining and passing out supplies. However, her courage and concern for people made her presence strongly felt everywhere she went.
Barton gained permission to pass through the battle lines to distribute supplies, search for the missing, and nurse the wounded. Barton carried on this work through the remainder of the Civil War, traveling with the army as far south as Charleston, S.C., in 1863. In June 1864 she was formally appointed a superintendent of nurses for the Army of the James. In 1865, at the request of Pres. Abraham Lincoln, she set up a bureau of records to aid in the search for missing men.
In 1852, Barton was contracted to open a free school in Bordentown, which was the first ever free school in New Jersey. She was successful, and after a year she had hired another woman to help teach over 600 people. Both women were making $250 a year. This accomplishment compelled the town to raise nearly $4,000 for a new school building. Once completed, though, Barton was replaced as principal by a man elected by the school board. They saw the position as head of a large institution to be unfitting for a woman. She was demoted to "female assistant" and worked in a harsh environment until she had a nervous breakdown along with other health ailments, and quit.
During the Civil War, Clara Barton sought to help the soldiers in any way she could. At the beginning, she collected and distributed supplies for the Union Army. Not content sitting on the sidelines, Barton served as an independent nurse and first saw combat in Fredericksburg, Virginia, in 1862. She also cared for soldiers wounded at Antietam. Barton was nicknamed "the angel of the battlefield" for her work.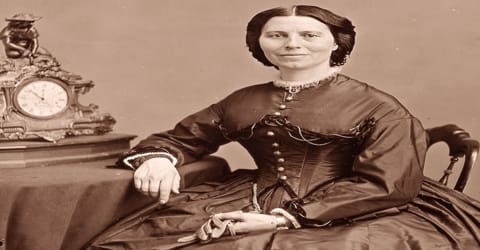 In 1864, she started serving as 'lady in-charge' at the behest of Union General, Benjamin Butler, at the hospitals located at the front of the Army of the James – the regiment that served along the James River, Virginia. After the conclusion of the American Civil war, she worked at the Office of Missing Soldiers which was located at 437 Seventh Street, Northwest, Washington, D.C. The organization tracked missing soldiers and reunited them with their families. She soon started delivering lectures pertaining to her experiences during the war across the country and also became a part of the woman's suffrage movement and an African-American rights activist.
Barton and her assistants wrote 41,855 replies to inquiries and helped locate more than twenty-two thousand missing men. Barton spent the summer of 1865 helping find, identify, and properly bury 13,000 individuals who died in Andersonville prison camp, a Confederate prisoner-of-war camp in Georgia. She continued this task over the next four years, burying 20,000 more Union soldiers and marking their graves. Congress eventually appropriated $15,000 toward her project.
After the war ended in 1865, Clara Barton worked for the War Department, helping to either reunite missing soldiers and their families or find out more about those who were missing. She also became a lecturer and crowds of people came to hear her talk about her war experiences.
Barton suffered from periods of poor health. In 1869 she went to Geneva, Switzerland, hoping to improve her condition through rest and change. There she met officials of the recently organized International Red Cross, a group that worked to help victims of war. They urged her to seek U.S. agreement to the Geneva Convention, a treaty that permitted medical personnel to be treated as neutral parties who could aid the sick and wounded during wars. Before Barton could turn to this task the Franco-Prussian War (1870–71), a war in which France was defeated by a group of German states led by Prussia, began. She helped organize military hospitals during this war. Her most original idea was to put needy women in Strasbourg, France, to work sewing garments for pay. She also introduced this work system in Lyons, France.
At the beginning of the Franco-Prussian War, in 1870, she assisted the Grand Duchess of Baden in the preparation of military hospitals and gave the Red Cross society much aid during the war. At the joint request of the German authorities and the Strasbourg Comité de Secours, she superintended the supplying of work to the poor of Strasbourg in 1871, after the Siege of Paris, and in 1871 had charge of the public distribution of supplies to the destitute people of Paris. At the close of the war, she received honorable decorations of the Golden Cross of Baden and the Prussian Iron Cross.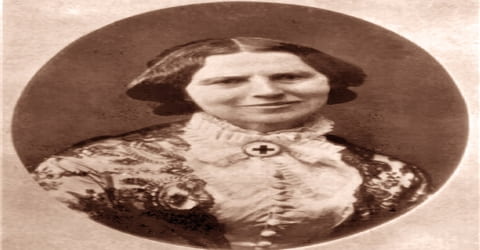 In Europe, she became associated with the International Red Cross (now Red Cross and Red Crescent), and after her return to the United States in 1873 Barton campaigned vigorously and successfully for that country to sign the Geneva Convention. The agreement sought to allow for the treating of the sick and wounded in battle, the proper identifying and burial of those killed in battle, and the proper handling of prisoners of war.
In 1878, Barton met with President Rutherford B. Hayes, who expressed the opinion of most Americans at that time which was the U.S. would never again face a calamity like the Civil War. Barton finally succeeded during the administration of President Chester Arthur, using the argument that the new American Red Cross could respond to crises other than war such as natural disasters like earthquakes, forest fires, and hurricanes.
On May 21, 1881, Barton founded and became the president of the American branch of the Red Cross, known as the American National Red Cross. The first official meeting of the society was held at her apartment in Washington D.C. As its leader, Clara Barton oversaw assistance and relief work for the victims of such disasters as the 1889 Johnstown Flood and the 1900 Galveston Flood. On August 22, 1882, the first local branch of the Red Cross was set up in Dansville, Livingston County, New York, where she owned a country home and also had many social connections.
In 1883 Barton also served as superintendent of the Women's Reformatory Prison in Sherborn, Massachusetts. However, she remained devoted to her major cause. In 1882 she traveled as a Red Cross worker to assist victims of fires in Michigan and earthquake victims in Charleston, South Carolina. In 1884 she brought supplies to flood victims along the Ohio River. Five years later she went to Johnstown, Pennsylvania, after it suffered a disastrous flood. Barton also traveled to Russia and Turkey to assist those in need. As late as 1900 she visited Galveston, Texas, to supervise assistance after a tidal wave.
Domestically in 1884 Barton helped in the floods on the Ohio River, provided Texas with food and supplies during the famine of 1887 and took workers to Illinois in 1888 after a tornado and that same year to Florida for the yellow fever epidemic. Within days after the Johnstown Flood in 1889, she led her delegation of 50 doctors and nurses in response. In 1897, responding to the humanitarian crisis in the Ottoman Empire in the aftermath of the Hamidian Massacres, Barton sailed to Constantinople and after long negotiations with Abdul Hamid II, opened the first American International Red Cross headquarters in the heart of Turkey. Barton herself traveled along with five other Red Cross expeditions to the Armenian provinces in the spring of 1896, providing relief and humanitarian aid. Barton also worked in hospitals in Cuba in 1898 at the age of seventy-seven. Barton's last field operation as President of the American Red Cross was helping victims of the Galveston hurricane in 1900. The operation established an orphanage for children.
In 1896, Barton traveled to several parts of Armenia in order to provide the people with essential food supplies, medicine, humanitarian aid, and other vital necessities. In 1897, she traveled through the sea to Constantinople and established the headquarters of the American International Red Cross in Turkey after obtaining official permission from Abdul Hamid II.
Barton devoted herself entirely to the organization, soliciting contributions and taking to the field with relief workers even as late as the Spanish-American War in Cuba when she was 77 years old. She was jealous of any interference, however, and supervised the organization's activities so closely that charges of authoritarianism were brought against her by members of the executive council.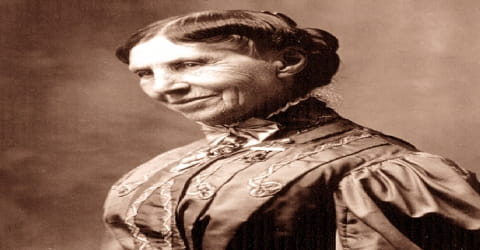 The Red Cross had been chartered by Congress in 1900, and the rebelling faction used that lever to force Barton's resignation in 1904. As criticism arose of her mixing professional and personal resources, Barton was forced to resign as president of the American Red Cross in 1904, at the age of 83 because of her egocentric leadership style fitting poorly into the formal structure of an organizational charity. She had been forced out of office by a new generation of all-male scientific experts who reflected the realistic efficiency of the Progressive Era rather than her idealistic humanitarianism.  In memory of the courageous women of the civil war, the Red Cross Headquarters was founded. During the dedication, not one person said a word. This was done in order to honor the women and their services. After resigning, Barton founded the National First Aid Society.
After leaving the Red Cross, Clara Barton remained active, giving speeches and lectures. She also wrote a book entitled The Story of My Childhood, which was published in 1907.
Awards and Honor
In 1873 Barton was awarded the Iron Cross of Merit by the German emperor, William I (1797–1888). It was one of many such honors for Barton.
Death and Legacy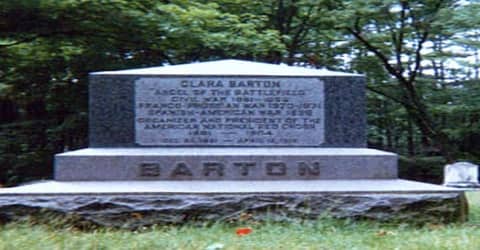 Clara Barton died in her home on April 12, 1912, at the age of 90. The cause of death was pneumonia.
She founded the American Red Cross, which is a universally recognized humanitarian organization of great repute. It makes available emergency assistance to victims in the U.S.A and is the 3rd most popular charity/non-profit organization in America.
Despite the arbitrariness of her administrative methods, her achievements remained; she was affectionately known as the "angel of the battlefield" for her life's work. She wrote several books, including History of the Red Cross (1882), The Red Cross in Peace and War (1899), and The Story of My Childhood (1907).
Information Source: