Antoine Griezmann – Football Player
Full name: Antoine Griezmann
Date of birth: 21 March 1991 (age 25)
Place of birth: Mâcon, France
Height: 1.75 m (5 ft 9 in)
Playing position: Forward
Early Life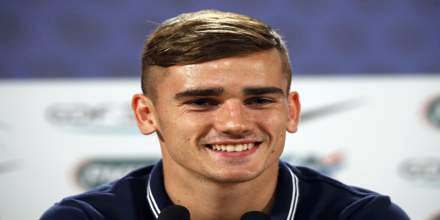 Antoine Griezmann was born on 21 March 1991, in Mâcon, France. He is a French professional footballer who plays for Spanish club Atlético Madrid and the France national team as a forward.
Griezmann was a French youth international, who represented his country at under-19, under-20 and under-21 level. In 2010, he was part of the team that won the 2010 UEFA European Under-19 Football Championship on home soil. He made his debut for the senior national team in 2014 and played at that year's World Cup, helping France to the quarter-finals.
Griezmann was the top scorer and Player of the Tournament at UEFA Euro 2016, where the French were runners-up on home soil, after a 1-0 defeat to Portugal.
He began his career at Real Sociedad, making his debut in 2009 and winning Segunda División in his first season. Across five seasons there, he scored 52 goals in 201 official matches. In 2014, he transferred to Atlético Madrid for €30 million. Griezmann has scored over 90 La Liga goals in his career.
Griezmann began his career playing for hometown club UF Mâcon. While there, he embarked on several trials with professional clubs in order to earn a spot in one of their youth academies, but was rejected because clubs questioned his size and lightweight frame.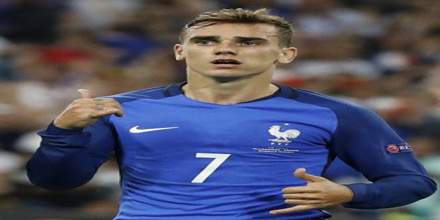 In 2005, while on trial with Montpellier, Griezmann played in a friendly match against the youth academy of Paris Saint-Germain in Paris, and impressed several clubs, notably Spanish club Real Sociedad, whose scouts were attending the event. Following the match, the club's officials offered Griezmann a one-week trial in San Sebastián, which he accepted. He was later offered a second-week stay at the club. The club then contacted his parents and formally offered the player a youth contract. Griezmann's parents were initially reluctant to have their son move to Spain, but allowed him to make the move after positive reassurances.
Griezmann features on the cover of the French edition of FIFA 16 alongside global cover star Lionel Messi, having been selected for the role by public vote. Ahead of Euro 2016, Griezmann featured in advertisements for Beats by Dr. Dre headphones, alongside Harry Kane, Mario Götze and Cesc Fàbregas.
Childhood and personal Life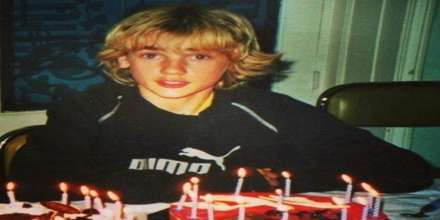 Antoine Griezmann was born on 21 March 1991, in Mâcon, France. His father Alain, a town councillor, is of Alsatian descent, hence the Germanic surname. His mother Isabelle, a former hospital cleaner, is of Portuguese descent, and her father Amaro Lopes was a Portuguese footballer for F.C. Paços de Ferreira. Amaro Lopes came to France with his wife Carolina to work in construction in 1957, where Isabelle was born, and he died in 1992 when his grandson was an infant. As a child, Griezmann often spent his holidays in Paços de Ferreira.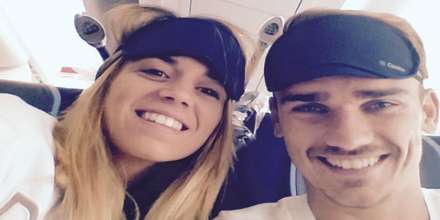 (Griezmann and his partner)
Griezmann and his partner had their first child, a daughter, in April 2016. His sister Maude was a survivor of the siege of the Bataclan theatre in the November 2015 Paris attacks, which took place as he was playing against Germany at the Stade de France. His sister is studying to be his image rights manager, and his younger brother Theo plays for Sporting Mâcon, the local Portuguese club.
Playing Career
Griezmann began his career at Real Sociedad, making his debut in 2009 and winning Segunda División in his first season. Across five seasons there, he scored 52 goals in 201 official matches.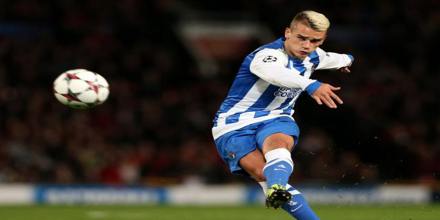 On 8 April 2010, Griezmann signed his first professional contract agreeing to a five-year deal with the club until 2015 with a release clause of €30 million. Prior to signing the contract, he drew considerable interest from Ligue 1 clubs Lyon, Saint-Étienne, and Auxerre.
Griezmann also drew interest from Premier League clubs Manchester United and Arsenal before signing his contract.
On 28 July 2014, Atlético Madrid reached an agreement with Real Sociedad for the transfer of Griezmann, for a fee believed to be close to his €30 million (UK£24 million) buy-out clause. He passed the medical examination the same day and signed a six-year contract on 29 July.
On 21 December 2014, he scored his first La Liga hat-trick as Atlético won 4–1 at Athletic Bilbao, having trailed at half time. He was the La Liga Player of the Month for January 2015 despite appearing in only three of Atlético's five matches.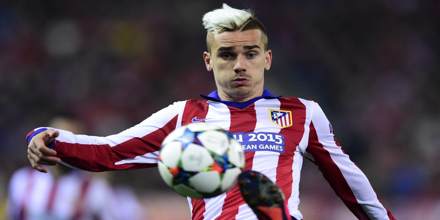 On 25 April 2015, Griezmann scored a brace against Elche CF in a 3–0 home win, bringing him to a total of 22 goals in the league season, overtaking Karim Benzema for the highest total by a French player in a single Spanish top-division campaign. He finished the season with 22 goals in 37 games, and was selected as the only Atlético player and one of three forwards in the Team of the Year at the LFP Awards, alongside Cristiano Ronaldo and Lionel Messi.
On 23 June 2016, Griezmann signed a new contract with Atlético, which will keep him at the club until 2021.
After his success with Real Sociedad, on 23 February 2010, he was named to the France under-19 team to play in two friendly matches against Ukraine. On 2 March, Griezmann made his youth international debut appearing in the team's 0–0 draw with Ukraine.
On 7 June 2010, Griezmann was named to coach Francis Smerecki's 18-man squad to participate in the 2010 UEFA European Under-19 Football Championship. In the tournament, he scored two goals and provided an assist in the team's second group stage match against Austria, a 5–0 win, as the national team eventually won the competition on home soil. He was named in the Team of the Tournament.
On 10 June 2011, he was named to the 21-man squad to participate in the U-20 World Cup. He made his debut in the competition on 30 July 2011 in the team's 4–1 defeat to the hosts Colombia. On 10 August, in France's Round of 16 match against Ecuador, Griezmann scored the game-winning goal in a 1–0 victory.
In November 2012, Griezmann was suspended, along with 4 other youth players, from France's national teams until 31 December 2013 for disciplinary reasons regarding a late night out before training. During this time, he considered switching allegiance to his ancestral Portugal.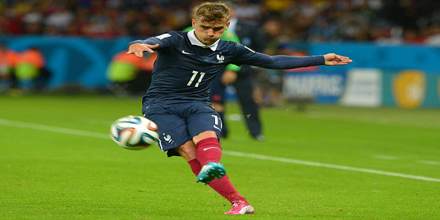 On 13 May, he was named in Deschamps' squad for the 2014 FIFA World Cup. Griezmann was chosen for France as they hosted UEFA Euro 2016, and started the opening game, a 2–1 win over Romania.
A quick, modern, and versatile left-footed forward, with an eye for goal, Griezmann has been described as a "team player", and is capable of occupying several offensive positions in or behind the main attacking line, due to his technical skills, ability to drop deep and link-up play between the forwards and midfielders, or score many goals with both feet as well as his head: he has been deployed as a main striker, in a central role as an attacking midfielder, or as a winger, on either flank. In addition to his ability to both score and create goals, he has also been praised for his work-rate, attacking movement, positional sense, and ability to interpret the game, which, combined with his pace, mobility and energy, enables him to make effective attacking runs to beat the defensive line. He is also accurate from penalties and set-pieces.
Honours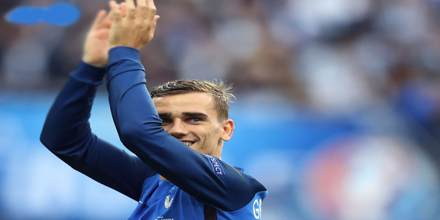 Club
Real Sociedad
Segunda División: 2009–10
Atlético Madrid
Supercopa de España: 2014
International
France
UEFA European Under-19 Football Championship: 2010
UEFA European Championship: Runner-up 2016
Individual
Ballon d'Or – Third-place: 2016
UEFA European Under-19 Championship Team of the Tournament: 2010
La Liga Best Player: 2016
La Liga Player of the Month: January 2015, April 2015, September 2016
La Liga Team of the Season: 2014–15
Onze d'Or French Player of the Year: 2014–15
Trophées UNFP for Best French Player playing Abroad: 2016
UEFA Champions League Squad of the Season: 2015–16
UEFA European Championship Player of the Tournament: 2016
UEFA European Championship Golden Boot: 2016
UEFA European Championship Team of the Tournament: 2016
UEFA Team of the Year: 2016
UEFA Best Player in Europe Award: 2016 (2nd place)
French Player of the Year: 2016
La Liga Fans' Five Star Player: 2016