Carlos Slim – Mexican Business Magnate, Investor, and Philanthropist
Full name: Carlos Slim Helú
Date of birth: January 28, 1940 (age 77)
Place of birth: Mexico City, Mexico
Residence: Mexico City, Mexico
Nationality: Mexican
Occupation: Chairman & CEO of Telmex, América Móvil, Samsung Mexico and Grupo Carso
Father: Julián Slim Haddad
Mother: Linda Helú Atta
Spouse/Partner: Soumaya Domit Gemayel
Children: Johanna Slim Domit, Vanessa Slim Domit, Soumaya Slim Domit, Patrick Slim Domit, Marco Antonio Slim Domit, Carlos Slim Domit
Net Worth: US$50 Billion
Early Life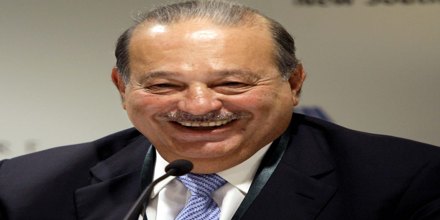 Carlos Slim Helú was born on January 28, 1940, in Mexico City, Mexico. He is a Mexican business magnate, investor, and philanthropist. He currently owns over 200 businesses in a wide variety of industries and has been named by 'Forbes' magazine, as the richest man in the world, several years in a row. He learned basic business practices from his father, from a very early age, and worked in his family's business as a teenager. After he graduated from college, he began investing in earnest and slowly began building a multi-industry empire of conglomerates and corporations; both developed and purchased by him. Today, he has holdings in Latin American and international companies, in industries ranging from construction and manufacturing to dry goods, and tobacco. His most famous and influential holdings include his near complete monopoly over the mobile phone market, in Mexico, which at one point provided over 80% of the mobile services used in that country. Part of his vast wealth goes towards many different philanthropic projects, dedicated to preserving the environment, providing dependable and affordable health care, protecting culture and the arts, and many other humanitarian causes. He is honorary chairman for life, of his parent company, 'Grupo Carso', but after he underwent heart surgery, many of the daily responsibilities in the company have been passed to his children.
His conglomerate includes education, health care, industrial manufacturing, transportation, real estate, media, energy, hospitality, entertainment, high-technology, retail, sports, and financial services. He accounts for 40% of the listings on the Mexican Stock Exchange, while his net worth is equivalent to about 6 percent of Mexico's gross domestic product.
Childhood and Educational Life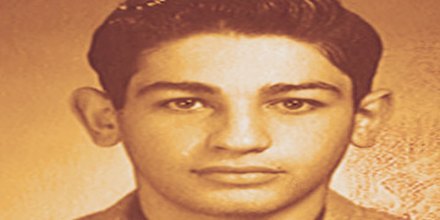 Carlos Slim Helú, one of the wealthiest people in the world, was born on January 28, 1940, in Mexico City to a family of Lebanese Christian immigrants. He was one of six children, and his father was a successful dry goods business owner. Slim's father Khalil Salim Haddad Aglamaz emigrated to Mexico from Lebanon (then part of the Ottoman Empire) in 1902 (he was 14), and later changed his name to Julián Slim Haddad. It was not uncommon for Lebanese children to be sent abroad before they reached the age of 15 to avoid being conscripted into the Ottoman Army, and four of Haddad's older brothers were already living in Mexico at the time of his arrival.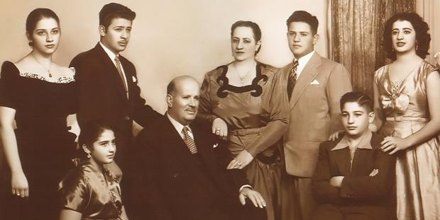 (Carlos Slim with his parents and family members)
At the age of 11, Carlos invested in a government savings bond that taught him about the concept of compound interest. He eventually saved every financial and business transaction he made into a personal ledger book which he keeps to this day. At the age of 12, he made his first stock purchase, by purchasing shares in a Mexican bank. By the age of 15, Slim had become a shareholder in Mexico's largest bank. At the age of 17, he earned 200 pesos a week working for his father's company. He went on to study civil engineering at the National Autonomous University of Mexico, where he also concurrently taught algebra and linear programming.
In high school, Slim's favorite subjects were history, cosmography, and mathematics.
Though Slim was a civil engineering major because of his fascination with numbers, he also displayed an interest in economics. He took economics courses in Chile once he finished his engineering degree. Graduating as a civil engineering major, Slim has stated that his mathematical prowess and his background of linear programming was a key factor in helping him gain an edge in the business world, especially when reading financial statements.
Personal Life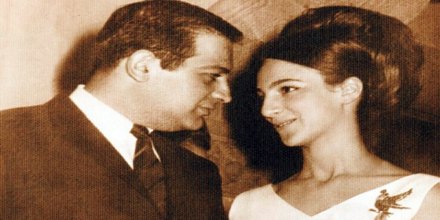 (Carlos Slim and his Wife Soumaya Domit in 1966)
Slim married Soumaya Domit in 1967 and the couple had six children together. His wife died in 1999. Slim's fortune has given rise to a family business empire and he often acquires shares on behalf of himself and his children. His three older sons serve in key positions in the companies controlled by Slim where most are involved in the day-to-day running of Slim's business empire.
Slim underwent heart surgery in 1999. After the heart surgery he started taking it easy and passed the daily business affairs of his many holdings to his children.
Slim regularly pours his massive resources into philanthropic projects, in a broad range of areas, including education, health and the arts. The 'Fundación Carlos Slim Helú' was established in 1989, and its generous contributions to museums, healthcare programs, wildlife conservation efforts and many other projects led 'Forbes' to rank him fifth, in their list of the world's biggest givers.
Working Career
Working from the strong business foundation built by his father, Slim began his own career, as a trader, in Mexico and soon went on to start his own brokerage that invested in individual businesses. By 1965, his capital had grown big enough, that he was incorporating other companies or buying them outright.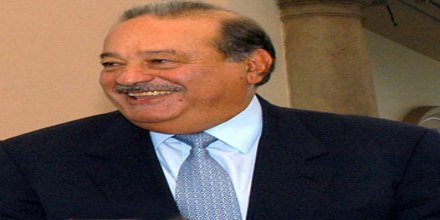 By 1966, he was already worth an estimated US$40 million and growing. Although his early career saw him investing in many different individual businesses, his main focus was construction, mining and real estate, and he continued to acquire businesses in those fields.
Companies found within the construction, soft drink, printing, real estate, bottling and mining industries were the focus of Slim's early burgeoning business career. He later expanded into numerous industries including auto parts, aluminium, airlines, chemicals, tobacco, manufacturing of cables and wires, paper and packaging, copper and mineral combustion, tires, cement, retail, hotels, beverage distributors, telecommunications and financial services where Slim's Grupo Financiero Inbursa – which sells insurance and invests the savings, mutual funds and pension plans of millions of ordinary Mexicans. By 1972, he had established or acquired a further seven businesses in these categories, including one which rented construction equipment. In 1976, he branched out by acquiring a 60 percent share of Galas de México, a small printer of cigarette-pack labels for US$1 million, and in 1980, he consolidated his business interests by forming Grupo Galas as the parent company of a conglomerate that had interests in industry, construction, mining, retail, food, and tobacco. In 1981, Slim acquired a majority stake in Cigarros la Tabacelera Mexicana (Cigatam), Mexico's second largest producer and marketer of cigarettes, at a reduced price.
In 1982, the falling prices of oil caused the mostly oil-based economy of Mexico to suffer and collapse, as banks became nationalized and the value of the Mexican currency Peso plummeted. During the next few years of economic downturn, Slim increased his acquisition efforts and gained large shares in the Mexican branches of international companies, including a 50% share in 'The Hershey Company'.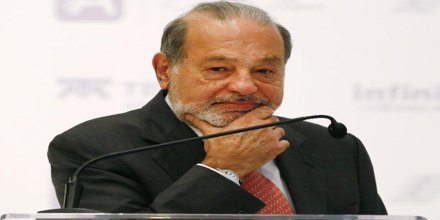 In 1988 Slim bought the Nacobre group of companies, which trades in copper and aluminum products, along with a chemicals business, Química Fluor, and others.
made a large fortune in the early 1990s when Mexico privatized its telecom industry and Grupo Carso acquired Telmex from the Mexican government. In 1990 the Grupo Carso was floated as a public company initially in Mexico and then worldwide. Grupo Carso also acquired majority ownership of Porcelanite, a tile making company in 1990. This investment was assigned to an associated company, but in 1995 Grupo Carso began growing its equity stake to 83 percent and subsequently made it a subsidiary.
Later in 1990 Slim acted in concert with France Télécom and Southwestern Bell Corporation in order to buy the landline telephone company Telmex from the Mexican government, when Mexico began privatizing its national industries. Slim was one of the initial investors of Telmex, the revenues of the company eventually formed the bulk of Slim's wealth.
In 1991 he acquired Hoteles Calinda (now OSTAR Grupo Hotelero), and in 1993, he increased his stakes in General Tire and Grupo Aluminio to the point where he had a majority interest.
In 1996 Grupo Carso was split into three companies: Carso Global Telecom, Grupo Carso, and Invercorporación. In the following year, Slim bought the Mexican arm of Sears Roebuck. In July 1997 Grupo Carso agreed in principle to sell Procter & Gamble de México, a subsidiary of The Procter & Gamble Co., a manufacturing plant in Apizaco and the company's Lypps, Pampys, and other toilet-tissue brands for about US$170 million but kept its tissue-products company Fábricas de Papel Loreto y Peña Pobre.
In 1999, Slim began expanding his business interests beyond Latin America. Though the bulk of his holdings still remained in Mexico, he began setting his sights towards the United States for overseas investments.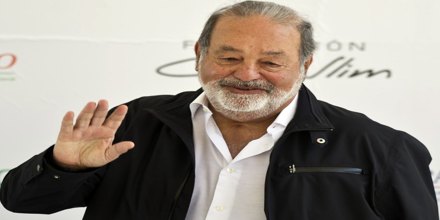 During the 2000s, he continued to build his empire in the US and Latin America, buying and selling companies and increasing his stakes in his long standing mobile phone and tobacco interests. He invested in many diverse companies during this time including 'The New York Times Company', 'Saks Fifth Avenue' and the airline 'Volaris'.
Since 2006, IDEAL won three infrastructure contracts yet it faces stiff competition from a number of other Mexican and Spanish construction companies. The number of contracts is fewer than its biggest local competitor, Empresas ICA.
In 2007, after having amassed a 50.1% stake in the Cigatam tobacco company, Slim reduced his holdings by selling a large portion of his equity to Philip Morris for US$1.1 billion, while in the same year also selling his entire interest in a tile company, Porcelanite, for US$800 million. He licensed the Saks name and opened the Mexican arm of Saks Fifth Avenue in Santa Fe, Mexico. During the same year, the estimated value of all of Slim's companies was at US$150 billion. On December 8, 2007, Grupo Carso announced that the remaining 103 CompUSA stores would be either liquidated or sold, bringing an end to the struggling company, although the IT tech part of CompUSA continued under the name Telvista with U.S. locations in Dallas, Texas (U.S. Corporate Office) and Danville, Virginia. Telvista has five centers in Mexico (three in Tijuana, one center in Mexicali, and one in México City). After 28 years, Slim became the Honorary Lifetime Chairman of the business.
In 2008 Slim took a 6.4% stake valued at $27 million in the troubled New York Times Company, as the global recession and declining advertising revenues took a particularly heavy toll on print-based "old media" companies across the United States. Slim increased his stake to 8% by 2012.
In March 2012 Slim, along with American television host Larry King, established Ora TV, an on-demand digital television network that produces and distributes television shows including Larry King Now, Politicking with Larry King, Recessionista, and Jesse Ventura Uncensored.
In September 2012 Slim bought 30% stakes in Pachuca and León, two Mexican soccer teams through his telecommunications company America Movil. In December 2012, he bought all the shares of the second division team Estudiantes Tecos.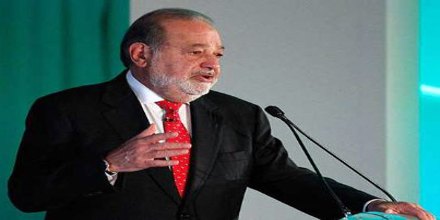 In 2013 Slim's company, Grupo Carso opened Mexico City's Telcel Theater, which operates in conjunction with his entertainment company, Grupo CIE (Corporación Interamericana de Entretenimiento), Mexico's equivalent of Live Nation.
In April 2013 Slim entered the business of managing Mexican prisons to expand the investments of his construction-finance company. Ideal acquired stakes in two federal prisons from Desarrolladora Homex SAB, a Mexican homebuilder where Slim's companies are to receive 4 billion pesos (US$326 million) within the agreement. The company run by his son, Marco Antonio Slim, added the prisons to its portfolio of infrastructure assets among which include toll roads, hydroelectric dams, and water-treatment plants.
On April 23, 2014, Slim gained control of his first successful European acquisition, 'Telekom Austria'. The company has already established mobile services in seven European countries and Slim views it as an excellent opportunity, to expand into the Central and Eastern European markets.
As of January 15, 2015, he became the largest individual shareholder in 'The New York Times Company', with a holding of 16.8%. Slim cashed in on loans given to the company, when it was floundering at the beginning of the US recession, to acquire these shares.
On September 8, 2015, one of Slim's companies announced that Philosophy Jr. Studio, a fashion line for young women, will expand into a standalone retailer chain that will compete with elite fashion retailers across the globe. Although the style of the new fashion line and the number of yearly collections has not been made public, Philosophy Jr. Studio is expected to compete with a myriad of well-known multinational fast-fashion retailers such as H&M, Forever 21, Zara and C&A. The fashion line will be offered at individual brick and mortar boutiques at two shopping malls in Mexico City. With a US$20 million seed investment, Slim's plan is to have 100 standalone stores by 2017. The brand was established in 2011 and has been sold at Sears Mexico, a unit of Grupo Sanborns, the restaurant, retail, and pharmacy chain owned by Slim.
Wealth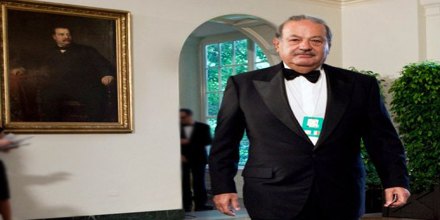 On March 29, 2007, Slim surpassed American investor Warren Buffett as the world's second richest person with an estimated net worth of US$53.1 billion compared with Buffet's US$52.4 billion.
On August 4, 2007, The Wall Street Journal ran a cover story profiling Slim. The article said, "While the market value of his stake in publicly traded companies could decline at any time, at the moment he is probably wealthier than Bill Gates". According to The Wall Street Journal, Slim credits part of his ability to "discover investment opportunities" early to the writings of his friend, futurist author Alvin Toffler.
On August 8, 2007, Fortune magazine reported that Slim had overtaken Gates as the world's richest person. Slim's estimated fortune soared to US$59 billion, based on the value of his public holdings at the end of July. Gates' net worth was estimated to be at least US$58 billion.
On March 5, 2008, Forbes ranked Slim as the world's second-richest person, behind Warren Buffett and ahead of Bill Gates.
On March 11, 2009, Forbes ranked Slim as the world's third-richest person, behind Gates and Buffett and ahead of Larry Ellison.
On March 10, 2010, Forbes once again reported that Slim had overtaken Gates as the world's richest person, with a net worth of US$53.5 billion. At the time, Gates and Buffett had a net worth of US$53 billion and US$47 billion respectively. He was the first Mexican to top the list. It was the first time in 16 years that the person on top of the list was not from the United States. It was also the first time the person at the top of the list was from an "emerging economy". Between 2008 and 2010, Slim more than doubled his net worth from $35 to $75 billion.
In March 2011 Forbes stated that Slim had maintained his position as the wealthiest person in the world, with his fortune estimated at US$74 billion.
In December 2012, according to the Bloomberg Billionaires Index, Carlos Slim Helú remained the world's richest person with an estimated net worth of US$75.5 billion.
On March 5, 2013, Forbes stated that Slim was still maintaining his first-place position as the wealthiest person in the world, with an estimated net worth of US$73 billion.
On May 16, 2013, Bloomberg L.P. ranked Slim the second-richest person in the world, after Bill Gates.
On July 15, 2014, Forbes announced that Slim had reclaimed the position of the wealthiest person in the world, with a fortune of US$79.6 billion.
In September 2014, Forbes listed Slim as number 1 on its list of billionaires with a net worth of US$81.6 billion.
As of December 2016 his net worth is of 48.1 bn USD
Awards and Honours
Entrepreneurial Merit Medal of Honor in 1985 from Mexico's Chamber of Commerce.
"Gold Patron" of the American Academy of Achievement,
Commander in the Belgian Order of Leopold II
CEO of the year in 2003 by Latin Trade magazine
CEO of the decade in 2004 by Latin Trade magazine
Fundacion Telmex received in 2007 the National Sports Prize of Mexico for sports promotion
In 2008 his philanthropy was recognised with the award of The National Order of the Cedar by the Lebanese government.
In 2011 the Hispanic Society of America awarded Fundacion Carlos Slim the Sorolla Medal for its contribution to the arts and culture
On May 20, 2012. Slim was awarded a Honorary Doctorate in Public Service from George Washington University.