Bruce Lee (1940-1973) – Actor, Martial Artist, Philosopher, Filmmaker
Birth name: Lee Jun-fan
Date of birth: November 27, 1940
Place of birth: Chinatown, San Francisco, California, U.S.
Date of death: July 20, 1973 (aged 32)
Place of death: Kowloon Tong, Hong Kong
Resting place: Lake View Cemetery, Seattle
Nationality: Hong Kong, United States
Spouse: Linda Lee Cadwell (m. 1964–1973)
Children: Brandon Lee (1965–93), Shannon Lee (born 1969)
Occupation: Martial artist philosopher actor director screenwriter producer
Early Life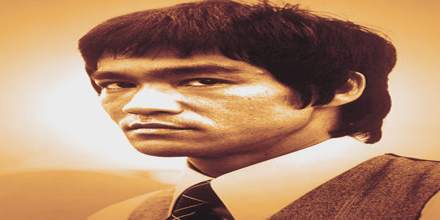 Iconic actor, director and martial-arts expert Bruce Lee was born Lee Jun Fan on November 27, 1940, in Chinatown, San Francisco, California, U.S. He was a Hong Kong and American actor, martial artist, philosopher, filmmaker, and founder of the martial art Jeet Kune Do.
He is widely considered by commentators, critics, media, and other martial artists to be one of the most influential martial artists of all time, and a pop culture icon of the 20th century. He is often credited with helping to change the way Asians were presented in American films.
He was a child actor in Hong Kong who later returned to the U.S. and taught martial arts. He starred in the TV series The Green Hornet (1966-67) and became a major box office draw in The Chinese Connection and Fists of Fury.
His Hong Kong and Hollywood-produced films elevated the traditional Hong Kong martial arts film to a new level of popularity and acclaim, sparking a surge of interest in Chinese martial arts in the West in the 1970s. The direction and tone of his films changed and influenced martial arts and martial arts films in the US, Hong Kong and the rest of the world.
He is noted for his roles in five feature-length films: Lo Wei's The Big Boss (1971) and Fist of Fury (1972); Golden Harvest's Way of the Dragon (1972), directed and written by Lee; Golden Harvest and Warner Brothers' Enter the Dragon (1973) and The Game of Death (1978), both directed by Robert Clouse. Lee became an iconic figure known throughout the world, particularly among the Chinese, as he portrayed Chinese nationalism in his films. He trained in the art of Wing Chun and later combined his other influences from various sources, in the spirit of his personal martial arts philosophy, which he dubbed Jeet Kune Do (The Way of the Intercepting Fist). Lee held dual nationality of Hong Kong and the US.
Shortly before the release of his film Enter the Dragon, he died at the age of 32 on July 20, 1973.
Childhood and Educational Life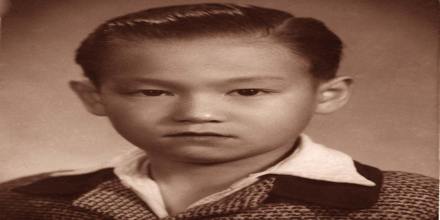 Bruce Lee was born on November 27, 1940, at the Chinese Hospital, in San Francisco's Chinatown. Bruce's father, Lee Hoi-chuen, (李海泉) was Han Chinese, and his mother, Grace Ho (何愛瑜), was of half-Chinese and half-Caucasian descent. His father, Lee Hoi Chuen, a Hong Kong opera singer, moved with his wife, Grace Ho, and three children to the United States in 1939; Hoi Chuen's fourth child, a son, was born while he was on tour in San Francisco. He was introduced to the film industry by his father and appeared in several films as a child actor.
Lee received the name "Bruce" from a nurse at his birthing hospital, and his family never used the name during his preschool years. The future star appeared in his first film at the age of 3 months, when he served as the stand-in for an American baby in Golden Gate Girl (1941).
Lee's father, Lee Hoi-chuen, was one of the leading Cantonese opera and film actors at the time, and was embarking on a year-long opera tour with his family on the eve of the Japanese invasion of Hong Kong. Lee Hoi-chuen had been touring the United States for many years and performing at numerous Chinese communities there.
Although many of his peers decided to stay in the US, Lee Hoi-chuen returned to Hong Kong after Bruce's birth. Within months, Hong Kong was invaded and the Lees lived for three years and eight months under Japanese occupation. After the war ended, Lee Hoi-chuen resumed his acting career and became a more popular actor during Hong Kong's rebuilding years.
Lee had three other Chinese names: Li Yuanxin (李源鑫), a family/clan name; Li Yuanjian (李元鑒), which he used as a student name while he was attending La Salle College, and his Chinese screen name Li Xiaolong (李小龍; Xiaolong means "little dragon"). Lee's given name Jun-fan was originally written in Chinese as 震藩, however, the Jun (震) Chinese character was identical to part of his grandfather's name, Lee Jun-biu (李震彪). Hence, the Chinese character for Jun in Lee's name was changed to the homonym 振 instead, to avoid naming taboo in Chinese tradition.
As such, the young Bruce Lee grew up in an affluent and privileged environment. Despite the advantage of his family's status, the neighborhood in which Lee grew up became overcrowded, dangerous, and full of gang rivalries due to an influx of refugees fleeing communist China for Hong Kong, at that time a British Crown colony.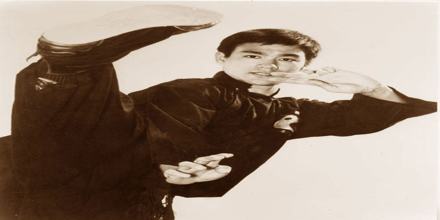 After Lee was involved in several street fights, his parents decided that he needed to be trained in the martial arts. Lee's first introduction to martial arts was through his father, from whom he learned the fundamentals of Wu-style t'ai chi ch'uan.
He also studied dance, winning Hong Kong's cha-cha competition, and would become known for his poetry as well.
In 1953, he began to hone his passions into a discipline, studying kung fu (referred to as "gung fu" in Cantonese) under the tutelage of Master Yip Man. By the end of the decade, Lee moved back to the U.S. to live with family friends outside Seattle, Washington, initially taking up work as a dance instructor.
Lee finished high school in Edison, Washington, and subsequently enrolled as a philosophy major at the University of Washington. He also got a job teaching the Wing Chun style of martial arts that he had learned in Hong Kong to his fellow students and others.
Personal Life
Bruce takes out Linda Emery (his future wife) for their first date. They have dinner at the Space Needle. Bruce gives notice to Ruby Chow and leaves her restaurant. He married her in 1964. By that time, Lee had opened his own martial-arts school in Seattle.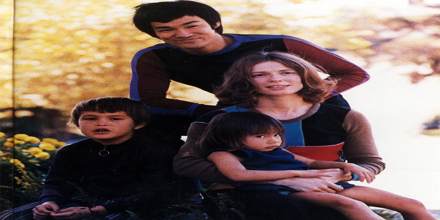 (Bruce Lee with his family)
He and Linda soon moved to California, where Lee opened two more schools in Oakland and Los Angeles. He taught mostly a style he called Jeet Kune Do, or "The Way of the Intercepting Fist." Lee was said to have deeply loved being an instructor and treated his students like a clan, ultimately choosing the world of cinema as a career so as not to unduly commercialize teaching.
Lee and Linda also expanded their immediate family, having two children — Brandon, born in 1965, and Shannon, born in 1969.
In 1965 Bruce's father passes away in Hong Kong. Bruce returns to Hong Kong for his fathers funeral. As tradition dictates, in order to obtain forgiveness for not being present when his father died, Bruce crawls on his knees across the floor of the funeral home towards the casket wailing loudly and crying.
Martial Arts Career
As a teenager, he was taunted by British students for his Chinese background and later joined a street gang. In 1953, he began to hone his passions into a discipline, studying kung fu (referred to as "gung fu" in Cantonese) under the tutelage of Master Yip Man.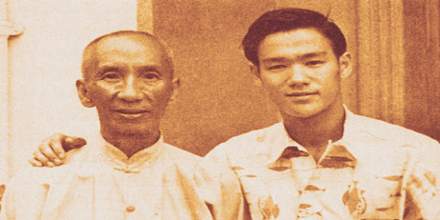 (Bruce Lee with his only formal martial art instructor, Yip Man)
After a year into his Wing Chun training, most of Yip Man's other students refused to train with Lee after they learned of his mixed ancestry, as the Chinese were generally against teaching their martial arts techniques to non-Asians. Lee's sparring partner, Hawkins Cheung states, "Probably fewer than six people in the whole Wing Chun clan were personally taught, or even partly taught, by Yip Man". However, Lee showed a keen interest in Wing Chun, and continued to train privately with Yip Man and Wong Shun Leung in 1955. Wan Kam Leung, a student of Wong's, witnessed a sparring bout between Wong and Lee, and noted the speed and precision with which Lee was able to deliver his kicks. Lee continued to train with Wong Shun Leung after later returning to Hong Kong from America.
Lee began teaching martial arts in the United States in 1959. He called what he taught Jun Fan Gung Fu (literally Bruce Lee's Kung Fu). It was basically his approach to Wing Chun. Lee taught friends he met in Seattle, starting with Judo practitioner Jesse Glover, who continued to teach some of Lee's early techniques. Taky Kimura became Lee's first Assistant Instructor and continued to teach his art and philosophy after Lee's death. Lee opened his first martial arts school, named the Lee Jun Fan Gung Fu Institute, in Seattle.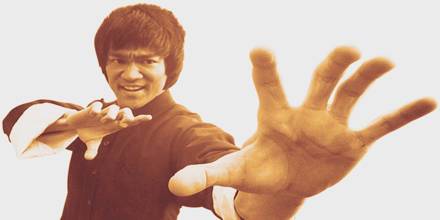 In 1964 Long Beach, Ca – Ed Parker, known as the Father of American Karate (Kenpo), invites Bruce to give a demonstration. Bruce shows off his "one-inch punch," and his two-finger push-ups, where he literally does "two" finger push-ups. At his first International Karate Championships, Jay Sebring, the hair stylist for Batman, William dozier, a producer, who is looking to cast a part in a TV series he was developing. Sebring then gives a film of Bruce's demo to Dozier who is impressed at Bruce's super-human abilities. Bruce later flys down to Los Angeles for a screen test.
It was at the 1964 championships where Lee first met Taekwondo master Jhoon Goo Rhee. The two developed a friendship – a relationship from which they benefited as martial artists. Rhee taught Lee the side kick in detail, and Lee taught Rhee the "non-telegraphic" punch.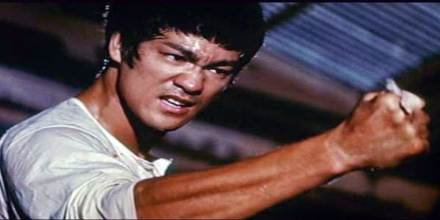 Several months after he begins teaching, he is challenged by, Wong Jack Man, a leading Kung-Fu practitioner in the Chinatown Community. They agree: If Bruce looses, he will, either close his school, or stop teaching Caucasians; and if Jack looses, he will stop teaching. Jack Man Wong does not belie Bruce would actually fight, and tries to delay the match. Bruce becomes angered and insists that they not wait. Wong then tries to put limitations on techniques. Bruce refuses "rules"and the two go no holds barred. Bruce begins to pound his opponent in only a couple of seconds. As Bruce is winning, Wong attemps to flee, but is caught by Bruce. Bruce begins to beat him on the ground. Students of the other teacher attempted to step in and help their teacher, James Lee, Bruce's good friend prevent this. Later he is bothered on why the fight took so long and begins to re-evaluate his style. He is determined that he is not in his top physical condiiton. Thus, the early concepts of Jeet Kune Do (JKD), "The art of the intercepting fist" is created. JKD is an art including techniques of all types of fighting. (i.e. American Boxing, Thai Kick Boxing, Japanese Karate, etc.) His style is no style. Bruce is signed to a one-year option for The Green Hornet. He is paid an $1800 retainer.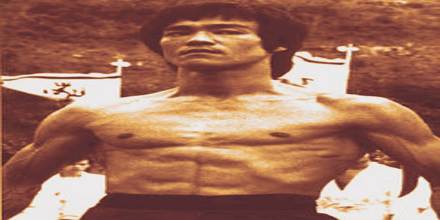 At 173 cm (5 ft 8 in) and 64 kg (141 lb), Lee was renowned for his physical fitness and vigor, achieved by using a dedicated fitness regimen to become as strong as possible. After his match with Wong Jack Man in 1965, Lee changed his approach toward martial arts training. Lee felt that many martial artists of his time did not spend enough time on physical conditioning. Lee included all elements of total fitness—muscular strength, muscular endurance, cardiovascular endurance, and flexibility. He used traditional bodybuilding techniques to build some muscle mass, not overdone as that could decrease speed or flexibility. At the same time in balance, Lee maintained that mental and spiritual preparation are fundamental to the success of physical training in martial arts skills.
Acting Career
Lee gained a measure of celebrity with his role in the television series The Green Hornet, which aired in 26 episodes from 1966 to '67. In the show, which was based on a 1930s radio program, the wiry Lee displayed his acrobatic and theatrical fighting style as the Hornet's sidekick, Kato. He went on to make guest appearances in such TV shows as Ironside and Longstreet, while a notable film role came in 1969's Marlowe, starring James Garner as the notable detective created by Raymond Chandler. (The screenwriter for the film, Stirling Silliphant, was one of Lee's martial arts students. Other Lee students included James Coburn, Steve McQueen and Garner himself.)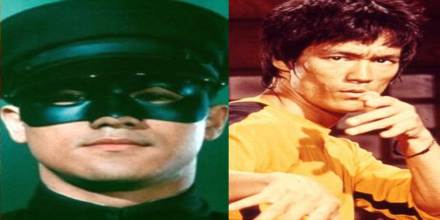 Lee, who was devoted to a variety of workouts and physical training activities, suffered a major back injury that he gradually recovered from, taking time for self-care and writing. He also came up with the idea that became the basis for the Buddhist monk TV series Kung Fu; however, David Carradine would get the starring role initially slated for Lee due to the belief that an Asian actor wouldn't pull in audiences as the lead. Confronted with a dearth of meaty roles and the prevalence of stereotypes regarding Asian performers, Lee left Los Angeles for Hong Kong in the summer of 1971.
Lee signed a two-film contract, eventually bringing his family over to Hong Kong as well. The Big Boss, aka Fists of Fury in the U.S., was released in 1971 and featured Lee as the factory worker hero who has sworn off fighting yet enters combat to confront a murderous drug smuggling operation. Combining his smooth Jeet Kune Do athleticism with the high-energy theatrics of his performance in The Green Hornet, Lee was the charismatic center of the film, which set new box office records in Hong Kong.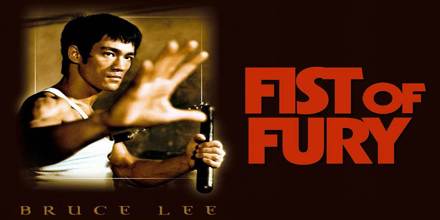 Those records were broken by Lee's next film, Fist of Fury, aka The Chinese Connection (1972), which, like The Big Boss, received poor reviews from some critics upon the U.S. release.
Bruce begins work on Game of Death and films several fight scenes including Danny Inosanto and Kareem Abdul-Jabbar. Bruce appears on Hong Kong's TVB channel for a hurricane disaster relief benefit. In a demo Bruce performs, he breaks 4 out of 5 boards, one of which is hanging in the air with a line of string. Brandon even performs and breaks a board with a sidekick! Bruce helps Unicorn, a fellow actor, by assisting him for one day and supervises fight action sequences in Unicorn's film, The Unicorn Palm – Footage of Bruce on the set is used in the movie and Bruce's name appears in the credits to his surprise causing Bruce to become angry and make a public announcement denying his endorsement of the film. Unicorn was advised to get Bruce's name in the credits, so his movie would have a better chance at being a success.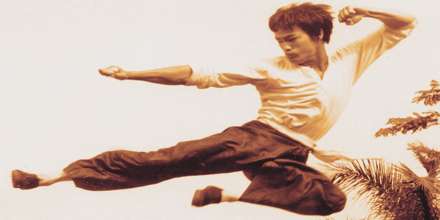 Location shots are made for Bruce's third film The Way of the Dragon (released in the U.S. as The Return of the Dragon). This time Bruce gets almost complete control the the movie, which he writes, directs, and stars in. Chuck Norris is Bruce's adversary in the final fight scene. Again, this film surpasses all records set by his previous two films.
By the end of 1972, Lee was a major movie star in Asia. He had co-founded with Raymond Chow his own company, Concord Productions, and had released his first directorial feature, Return of the Dragon. Though he had not yet gained stardom in America, he was poised on the brink with his first major Hollywood project, Enter the Dragon.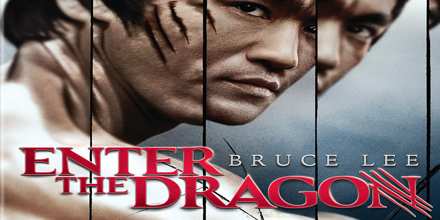 In 1973 Bruce gets his chance at American stardom as filming of Enter the Dragon begins while Game of Death is put on hold. It is the first-ever production between the U.S. and Hong Kong film industries. On February 20, Bruce is guest of honor at St. Francis Xavier's school for Sports Day ceremonies.
Mysterious Death and Legacy
On July 20, 1973, just one month before the premiere of Enter the Dragon, Bruce Lee died in Hong Kong, China, at the age of 32. The official cause of his sudden and utterly unexpected death was a brain edema, found in an autopsy to have been caused by a strange reaction to a prescription painkiller he was reportedly taking for a back injury. Controversy surrounded Lee's death from the beginning, as some claimed he had been murdered. There was also the belief that he might have been cursed, a conclusion driven by Lee's obsession with his own early death.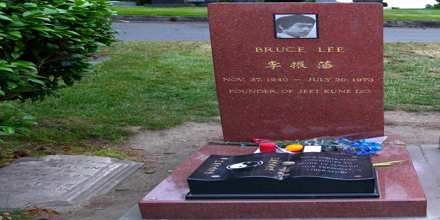 Enter the Dragon was delayed from its initial premieres a four days later because of the actors death.
More rumors of the so-called curse circulated in 1993, when Brandon Lee was killed under mysterious circumstances during the filming of The Crow. The 28-year-old actor was fatally shot with a gun that supposedly contained blanks but somehow had a live round lodged deep within its barrel.
A funeral ceremony is held for friends and fans in Hong Kong consisting of over 25,000 people. Bruce is dressed in the Chinese outfit he wore in Enter the Dragon.
With the posthumous release of Enter the Dragon, Lee's status as a film icon was confirmed. The film, said to have a budget of $1 million, went on to gross more than $200 million. Lee's legacy helped pave the way for broader depictions of Asian Americans in cinema and created a whole new breed of action hero — a mold filled with varying degrees of success by actors like Chuck Norris, Jean-Claude Van Damme, Steven Seagal and Jackie Chan.
On January 6, 2009, it was announced that Bruce's Hong Kong home (41 Cumberland Road, Kowloon, Hong Kong) will be preserved and transformed into a tourist site by philanthropist Yu Pang-lin.
Lee's legacy as a premier martial artist continues to be revered as well. Daughter Shannon Lee was largely involved in the 2011 update of her father's instructional guide Tao of Jeet Kune Do.
Awards and Honours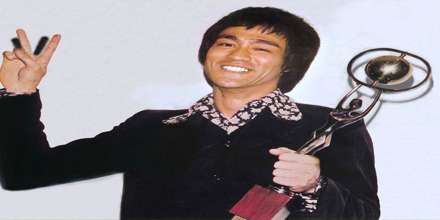 In 1979 with the master of ceremonies Joe Green, the Mayor of Los Angeles, Tom Bradley, officially proclaimed June 8 as Bruce Lee Day.
"Where as Bruce Lee gained international fame and motion picture superstar status as one of the world foremost martial arts practitioners and, Where as Columbia Pictures in association with Golden Harvest Films and Raymond Chow Productions is releasing Mr. Lee' last motion picture, Game of Death, on Friday June 8, 1979, and Where as Bruce Lee's teachings remain the ultimate criteria for martial arts, I do proclaim it Bruce Lee Day tomorrow in Los Angeles."
Lee was named among TIME Magazine's 100 Most Important People of the Century as one of the greatest heroes & icons, as an example of personal improvement through, in part, physical fitness, and among the most influential martial artists of the twentieth century.
With his ancestral roots coming from Gwan'on in Seundak, Guangdong province of China (廣東順德均安, Guangdong Shunde Jun'An), a street in the village is named after him where his ancestral home is situated. The home is open for public access.
In 1993, Lee received a star on the Hollywood Walk of Fame.
In 1999, he was the first martial artist that was introduced to the "Martial Arts Hall of Fame".
In 2001, LMF, a Cantonese hip-hop group in Hong Kong, released a popular song called "1127" as a tribute to Lee.
In 2004, UFC president Dana White credited Lee as the "father of mixed martial arts".
On 31 March 2007 Lee was named as one of History's 100 Most Influential people, according to a Japanese national survey that was televised on NTV.
On 26 November 2005 the city of Mostar in Bosnia and Herzegovina honored Lee with a statue on the Spanish Square, as a symbol of solidarity. After many years of war and religious splits, Lee's figure was to commend his work: to successfully bridge culture gaps in the world. (One day before the unveiling of the statue in Hong Kong, below).
In 2005, Lee was remembered in Hong Kong with a bronze statue to mark his sixty-fifth birthday. The bronze statue, unveiled on 27 November 2005, honored Lee as Chinese film's bright star of the century. There is also in discussion for more Bruce Lee statues for the future, more than Michael Jackson statues.
A Bruce Lee theme park with memorial statue and hall has been scheduled to be built in Shunde, China. It is expected to be complete in 2009.
On 10 April 2007 China's national broadcaster announced it has started filming a 50-part series on Lee. Xinhua News Agency said China Central Television started shooting "The Legend of Bruce Lee" over the weekend in Shunde in Guangdong province in southern China. Shunde is the ancestral home of Lee, who was born in San Francisco. It said the 50 million yuan (US$6.4 million; €4.8 million) production will also be filmed in Hong Kong and the United States, where Lee studied and launched his acting career. Danny Chan Kwok Kwan, who plays Lee, said he has mixed feelings about playing the role of the icon, Xinhua reported. "I'm nervous and also excited, but I will do my best," Chan was quoted as saying. Chan, best known for appearing in the action comedy "Kung Fu Hustle," says Lee has been his role model since he was a child and that he has practiced kung fu for many years. The TV series, which is due to be aired in 2008, the year Beijing hosts the 2008 Summer Olympics Games, appears to aimed at highlighting Chinese culture in the run up to the event.
In 2008, Plans for a Hong Kong museum dedicated to Lee are also in discussion. Lee's two-story Hong Kong home was to be sold in July for as much as $13 million to benefit victims of the Sichuan earthquake, but its philanthropist owner, responding to pleas from Lee's fans, decided instead to donate the property to the city so hopefully it can be turned into a museum some day.
Still to this day, he is considered by different documentaries, magazines (such as Black Belt Magazine), media (such as the UFC channel Spike (TV channel)) and websites about martial arts as the greatest martial artist of the 20th century, or of all time.