Social Distancing, also called "Physical Distancing," means keeping space between yourself and other people outside of your home. Social distancing is the practice of purposefully reducing close contact between people. According to the CDC, social distancing means:
Remaining out of "congregate settings" as much as possible.
Avoiding mass gatherings.
Maintaining distance of about 6 feet (2 meters) from others when possible.
In addition to everyday steps to prevent COVID-19 (coronavirus), keeping space between you and others is one of the best tools we have to avoid being exposed to this virus and slowing its spread locally and across the country and world.
When COVID-19 (coronavirus) is spreading in your area, everyone should limit close contact with individuals outside your household in indoor and outdoor spaces. Since people can spread the virus before they know they are sick, it is important to stay away from others when possible, even if you have no symptoms. Social distancing is especially important for people who are at higher risk of getting very sick.
The Centers for Disease Control and Prevention (CDC) have described social distancing as a set of "methods for reducing frequency and closeness of contact between people in order to decrease the risk of transmission of disease". During the 2019–2020 coronavirus pandemic, the CDC revised the definition of social distancing as "remaining out of congregate settings, avoiding mass gatherings, and maintaining distance (approximately six feet or two meters) from others when possible".
Previously, in 2009, the WHO described social distancing as "keeping at least an arm's length distance from others, and minimizing gatherings". It is combined with good respiratory hygiene and hand washing, and is considered the most feasible way to reduce or delay a pandemic.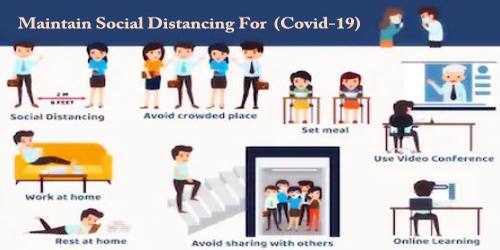 Important of Social Distancing: Social distancing is crucial for preventing the spread of contagious illnesses such as COVID-19 (coronavirus). COVID-19 can spread through coughing, sneezing and close contact. By minimizing the amount of close contact we have with others, we reduce our chances of catching the virus and spreading it to our loved ones and within our community.
Social distancing is important for all of us, but those of us who are at higher risk of serious complications caused by COVID-19 should be especially cautious about social distancing. People who are at high risk of complications include:
Older adults.
People who have serious chronic medical conditions like heart disease, diabetes and lung disease.
Recent studies indicate that people who are infected but do not have symptoms likely also play a role in the spread of COVID-19. It may be possible that a person can get COVID-19 by touching a surface or object that has the virus on it and then touching their own mouth, nose, or eyes. However, this is not thought to be the main way the virus spreads. COVID-19 can live for hours or days on a surface, depending on factors such as sun-light and humidity. Social distancing helps limit contact with infected people and contaminated surfaces.
Although the risk of severe illness may be different for everyone, anyone can get and spread COVID-19. Everyone has a role to play in slowing the spread and protecting themselves, their family, and their community.
In early March 2020, the sentiment "Stay The Fuck Home" was coined by Florian Reifschneider, a German engineer and was quickly echoed by notable celebrities such as Taylor Swift, Ariana Grande, and Busy Philipps in hopes of reducing and delaying the peak of the outbreak. Facebook, Twitter and Instagram also joined the campaign with similar hashtags, stickers, and filters under #staythefhome, #stayhome, #staythefuckhome and began trending across social media. The website claims to have reached about two million people online and says the text has been translated into 17 languages.
Affects and Tips for Social distancing: There are concerns that social distancing can have adverse affects on participants' mental health. It may lead to stress, anxiety, depression or panic, especially for individuals with preexisting conditions such as anxiety disorders, obsessive-compulsive disorders, and paranoia. Widespread media coverage about a pandemic, its impact on economy, and resulting hardships may create anxiety. Change in daily circumstances and uncertainty about the future may add on to the mental stress of being away from other people.
Tips –
Follow guidance from authorities where you live.
If you need to shop for food or medicine at the grocery store or pharmacy, stay at least 6 feet (2 meter) away from others.
Use mail-order for medications, if possible.
Consider a grocery delivery service.
Cover your mouth and nose with a cloth face cover when around others, including when you have to go out in public, for example to the grocery store.
Stay at least 6 feet between yourself and others, even when you wear a face covering.
Work from home when possible.
If possible, avoid using any kind of public transportation, ridesharing, or taxis.
If you are a student or parent, talk to your school about options for digital/distance learning.
Avoid large and small gatherings in private places and public spaces, such a friend's house, parks, restaurants, shops, or any other place. This advice applies to people of any age, including teens and younger adults. Children should not have in-person playdates while school is out. To help maintain social connections while social distancing, learn tips to keep children healthy while school's out.
Stay connected while staying away. It is very important to stay in touch with friends and family that don't live in your home. Call, video chat, or stay connected using social media. Everyone reacts differently to stressful situations and having to socially distance yourself from someone you love can be difficult.
"Flattening the curve" refers to reducing the number of people who are sick at one time. If there are high surges in the number of COVID-19 cases all at once, health care systems and resources could potentially become overwhelmed. Efforts that help stop COVID-19 from spreading rapidly like social distancing help keep the number of people who are sick at one time as low as possible.
Information Sources: