Slush hydrogen is a mixture of frozen and liquefied hydrogen, and hydrogen that has been subcooled below its boiling point to increase density and storage. At the triple point, it is a mixture of liquid and solid hydrogen with a lower temperature and higher density than liquid hydrogen. It is a cryogenic solid–liquid two-phase fluid that contains solid hydrogen particles with particle diameters of several millimeters in liquid hydrogen.
Slush hydrogen is a useful thermal fluid with a high density that allows for the efficient transmission and storage of hydrogen energy and electrical power. It is often generated by repeating a freeze-thaw cycle. This is most easily accomplished by heating liquid hydrogen to near-boiling temperatures and then lowering pressure with a vacuum pump. The decrease in pressure causes the liquid hydrogen to vaporize/boil, removing latent heat and eventually lowering the temperature of the liquid hydrogen.
As the boiling liquid cools and reaches its triple point, solid hydrogen forms on the surface (between the gas/liquid barrier). When the vacuum pump is turned off, the pressure rises, and the solid hydrogen formed on the surface partially melts and sinks.
The solid hydrogen is stirred in the liquid, and the process is repeated. When compared to liquid hydrogen, the resulting hydrogen slush has a density increase of 16–20 percent. It is proposed as a rocket fuel in place of liquid hydrogen in order to employ smaller fuel tanks and thereby reduce the vehicle's dry weight.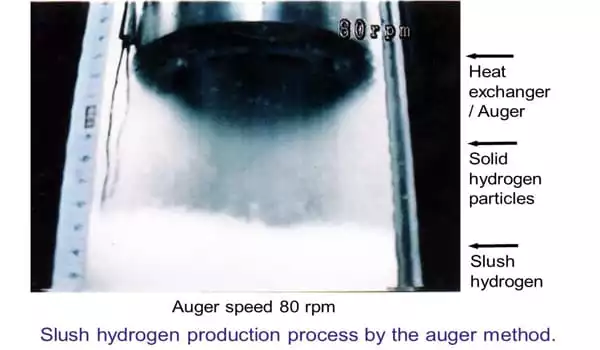 Production
The continuous freeze approach for slush hydrogen involves drawing a continuous vacuum over triple point liquid and utilizing a solid hydrogen mechanical ice-breaker to disrupt the freezing hydrogen's surface.
Properties
At the triple point, 13.8 K, slush hydrogen is a mixture of liquid and frozen hydrogen in equilibrium with the gas. The density of the ice-like form is approximately 20% more than that of the boiling liquid. To obtain the ice-like form, the heat content of the liquid must be removed at 20.3 K until the triple point is reached, and then the latent heat of fusion must be removed.
Fuel density: 0.085 g/cm3
Melting point: −259 °C
Boiling point: −253 °C
Slush hydrogen is a cryogenic solid–liquid two-phase fluid that contains solid hydrogen particles with particle diameters of several mm in liquid hydrogen and has a higher density and refrigerant heat capacity than liquid hydrogen.
Application
Because of its enhanced density and heat capacity, slush hydrogen is an appealing fuel for these vehicles. The heat of fusion of the solid, together with the heat capacity of the liquid from triple point to regular boiling point, contributes around 24 percent to the cooling (heat of vaporization) capacity of liquid hydrogen at normal boiling point. The additional heat capacity is available without the need for boiling or the probable loss of liquid hydrogen, resulting in lower fuel use, smaller tanks, and smaller, less expensive cars.