Review about Samsung Galaxy Tab S3
The Galaxy Tab S3 is now officially on sale in the UK, priced at £599 direct from Samsung or via Currys.
The tablet has been available to pre-order since 19 March, with those pre-ordering before the end of the month receiving a free keyboard book cover worth £119. A great deal as the tablet is much better with it.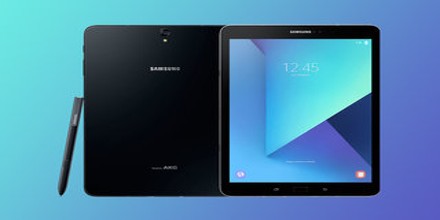 The Galaxy Tab S3 is the follow-up to Samsung's older Galaxy Tab S2, but it looks more like an enlarged Galaxy S7. The tablet has a glass back and front that's neatly contained within a metal frame. Round the sides you'll find four speakers plus a microSD slot and USB Type-C. The only design similarity between it and the S2 is the appearance of a physical home button on the tablet's front.
Samsung continues to compete with Apple's iPad with the revamped Galaxy Tab S3. Two years ago, the company released 8.0-inch and 9.7-inch models of the Tab S2, but Samsung is now simplifying with just one 9.7-inch model of the updated tablet. The $599/£599 tablet has an HDR-ready display, a sleek glass design, a faster processor, a fingerprint sensor, and an included and improved S Pen, just to name a few of its features.
The new S3 continues Samsung's efforts to persuade those who want a high-end, all-purpose tablet to choose its Android device over an iPad, and Samsung padded this attempt with a couple of features geared toward users of its Galaxy smartphones. But Android's tablet app gap, among other things, continues to make premium Android tablets a hard sell.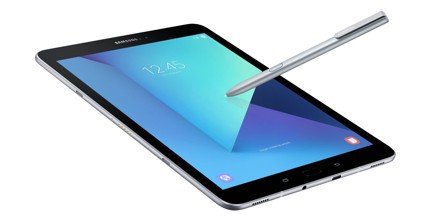 Design and Feature
Samsung's Galaxy Tab S3 is similar in design to its predecessor, albeit more refined than the 2016 variant with a matte metal unibody. Measuring in at 237.3 x 169 x 6mm and weighing only 429g (or 434g if user opt for the LTE-enabled variant), the Tab S3 is sleek and lightweight – in fact, it's thinner, smaller and lighter than Apple's 9.7in iPad Pro despite featuring the same size display, at 9.7in.
On its edges are a microSD card slot, the volume rocker and power buttons, a headphone jack and one USB Type-C port for charging, and two small, oval-ish indentations. These ovals surround magnetic nodes that help the tablet attach to the keyboard deck.
While the keyboard is optional, the Tab S3 includes the improved S Pen in the box. This model of the stylus looks like a longer, slightly fatter version of the pen found in the Samsung Chromebook Pro, and it features an all-rubber, .7mm tip and a singular side button. The tablet can sense when the pen is hovering over it, and the side button brings up the pen menu by default. That button also acts as a quick eraser, letting user switch more freely between pen input and eraser negation.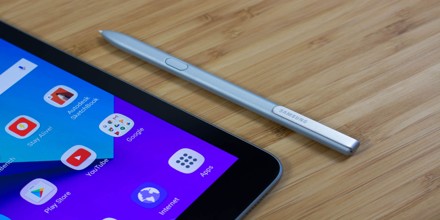 The Samsung Galaxy Tab S3 also comes with what Samsung calls a "refined" S Pen. The pen features a smaller 0.7mm tip with increased pressure sensitivity for a more natural writing experience, while also coming with new features like the ability to quickly scribble notes on the display while it's off using Screen off Memo.
Inside the Tab S3 are quad speakers tuned by AKG, which sense the orientation of the tablet to provide the best sound. Four speaker grills are visible on the top and bottom edges of the tablet, and the speaker software will change the way sound comes out of those speakers depending on how user's are holding the tablet. There's an audible difference as soon as they switch from portrait to landscape mode while listening to music-based content, such as a music video: everything is slightly amplified when in landscape mode, with stronger vocals and pronounced background instruments that are normally nothing more than faint echoes. But when watching something more dialogue-based, like a Netflix show, the difference is less apparent.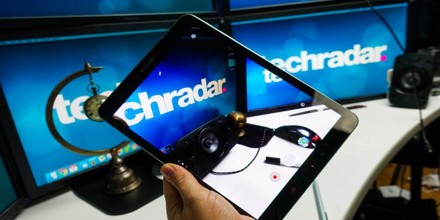 The Samsung Galaxy Tab S3 has a 13MP rear camera that user will hardly use. It has autofocus, an f/1.9 aperture and a flash in case users want to attract more attention to themselves… a tablet-camera user. The quality is good for a tablet, complete with gesture control and 4K video recording, although user's smartphone camera is always going to be better.
The Samsung Galaxy Tab S3 runs Android 7.0 Nougat with the latest version of Samsung Experience software overlay, making it simple and easy to navigate through all the apps and settings.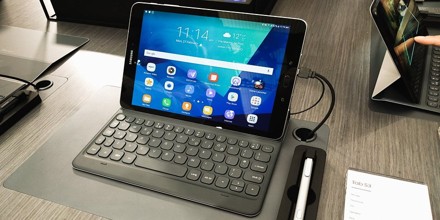 Specs and Performance
The heart of the Samsung Galaxy Tab S3 is the Snapdragon 820. It's a new chipset for the tablet series, but one we saw in several dozen Android phones in 2016. The good news here is that this Qualcomm SoC (system on a chip) is powerful enough to run all the latest 3D games, and it'll be that way for a long time to come, as it's going to remain compatible with newer titles for some time due to its immense popularity among handsets.
Samsung has chosen to include 32GB of internal storage, and you can easily expand that with an extra 256GB, with the Tab S3 including a microSD card slot for more future-proofing.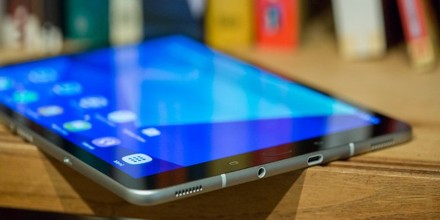 Its 6,000mAh battery is slightly bigger than the Tab S2's 5,870mAh, but it's still undersized next to the power packs in the iPad Pro 9.7 (around 7,300 mAh) and Google Pixel C (around 9,200mAh). Tab S3 had above-average battery life, enough to last a long-haul flight across the US if user wanted to watch a couple of movies and do some work. Running a 90-minute HD video at nearly full brightness drained the battery by 13%, leaving us with 87%.