3.13 Monitoring
Monitoring is a system by which a bank can keep track of its clients and their operations. So monitoring is an essential task for a CRO to know the borrowers activities after the loan disbursement. This also facilitates the buildup of an information base for future reference.
3.13.1 Importance of Monitoring
Through monitoring a CRO can see whether the enterprise invested the sanctioned amount in the pre-specified area of his business, how well the business is running, the attitude of the entrepreneur, cash credit sales and purchase, inventory position, work in process and finished goods etc, This information will help the CRO/BRAC Bank to recover the loan accruing to the schedule and to take the necessary decisions for repeat loans. Moreover, monitoring will also help to reduce delinquency. Constant visit over the client /borrower ensures fidelity between the bank and the borrower and tends to foster a report between them.
3.13.2 Area of Monitoring
The purpose is to know the entire business condition and all aspects of the borrowers so that mishap can be avoided.
i. Business Condition: The most important task of the CRO to monitor the business frequently, it will help him to understand whether the business is running well or not, and accordingly advice the borrower, whenever necessary. The frequency of monitoring should be at least once month if all things are in order.
ii. Production: The CRO will monitor the production activities of the business and if there is any problem in the production process, the CRO will try to help the entrepreneur to solve the problem. On the other hand the CRO can also stop the misuse of the loan other than for the purpose for which the loan was disbursed.
iii. Sales: Monitoring sales proceed is another important task of the CRO it will help him to forecast the monthly sales revenue, credit sales etc. which will ensure the recovery of the monthly loan repayments from the enterprise as well as to take necessary steps for future loans.
iv. Investment: It is very important to ensure that the entire loan has been invested in the manner invented. If the money is utilized in other areas, then it may not be possible to recover the loan.
v. Management of raw materials: In case of a manufacturing enterprise, management of raw materials is another important area for monitoring. If more money is blocked in raw materials then necessary, then the enterprise may face a fund crisis. On the other hand the production will suffer if there are not enough raw materials.
3.13.4 Monitoring System
The CRO can consider the following thing for monitoring:
i. The CRO will monitor each business at least once a month. He/she will make a monitoring plan/ schedule at the beginning of the month. During monitoring the CRO must use the prescribed monitoring from and preserve in the client file and forward a copy of the report to SME head office immediately.
ii. A SME branch will maintain the following files: The file will contain Purchase Receipt, Delivery Memo's, and Quotations. In addition, all other papers related to furniture and fixture procurement
iii. Other fixed assets and refurbishment: All fixed assets and refurbishment related papers such as purchase receipt, delivery memo's, quotation, guarantee and warrantee papers, servicing related papers and any other paper related to fixed assets are refurbishment will be in this file.
iv. Lease agreement file: This file will contain all papers related to lease agreement between the SESDS office and owners of the leased premises.
v. Individual client file: Individual files are to be maintained for each borrower and that will hold loan  application,  Loan  Proposal,  Copies  of  Loan  Sanction  Letter,  Disbursement  Memo, Monitoring Report, CIB application and Report, Credit report from other bank and all other correspondents including bank receipt
vi. Statement file: All types of statement sent to SME head office will be kept in this file chronologically
vii. Office instruction file: All kind of office instruction regarding administration should be kept in this file.
viii. Operating instruction and guideline files: All kind of office instruction and guidelines related to operating should be kept in this file
ix. New forms introduction file: All minutes of meeting, whenever held, should be kept in this file.
x. Security documents and legal aspect file: One set of security documents and lawyer's opinions and suggestions regarding issue will be kept in this file. The original should be send to SME head office on a weekly basis
xi. Survey form file: After conducting survey, all survey will be kept in this file chronological.
3.14 Closing Procedure of SME Loan
 Pre Closing manual activities
Receive SMS/Fax requisting for closing: The borrowers repay the loan as per repayment schedule.  When  the  repayment  is  being  complete  the  borrower  request  the  unit office/CRO to close his loan account. The unit office/CRO sends a SMS/Fax the loan administration division requesting to close the loan account of the respective borrower.
Print the SMS/Fax: Receiving the request from the respective unit office/CRO, the loan administration division takes a paper print and takes necessary steps to close the account.
Bring the loan file from achieve: The loan account file of the respective borrower is brought from the archive. And the documents of file are checked with MBS record.
Obtain approval from the concern authority: it is require the permission of concerned authority to close the loan. If concerned authority approved the closing of the loan account then next initiatives are taken.
 Checking in Finacle: The loan administration division checks the loan status in MBS. If there is any difference found with the SMS/Fax from unit office and MBS then deposits sleeps are re-checked. Then the loan administration division calculates the total balance of the loan account (Ledger balance + buffer interest +Excise duty)
SMS sent to concern CRO: Loan administration division sent an SMS to the concerned CRO informing the current balance of the requested loan account.
Receive and print closing SMS/Fax checking & Freezing: The concerned CRO send a final SMS to loan administration division informing that the respective borrower cleared all his liabilities regarding the loan. The loan administration division takes paper print of the SMS, check it and finally close the loan account.
4.0 SME Relates With Modern Marketing Concept
The goal of modern marketing concept is the customer satisfaction and this satisfaction comes through integrated marketing efforts. In terms of SME the goal is to economic development of our country through meeting and exceeding customer needs better than competition. In terms of customer orientation, SME provides the best facilities to customers regarding their needs. SME provides unsecured loans up to 8 lacs which none of other banks provide. In spite of integrated effort, SME is a team-based organization. CRO go to the door-to-door business and by depending on them, BBL gives loan to clients. By this BBL gets the direct feedback from the customers about their needs and wants. BBL analyzes the customers' wants and tries to give them the product that the customer wants. Though it is team base management bank, the corporate goals can be achieved and gaining trust of management satisfies customers.

4.1 Marketing Processes Relate to SME
Basically strategic plans define the organizations overall mission and objective. Within each business unit, marketing plays a role in helping to accomplish the overall strategic objectives.
4.1.1 Market Segmentation
The market consists of many types of customers, products and needs and the marketer has to determine which segments offer the best opportunity for achieving company objectives. SME segments the market into three categories: Trading, Manufacturing, and Service. In trading business, there are different kinds like retailer, wholesaler, food business, general stores etc. in manufacturing,  there  are  mills,  bakery,  press  business,  etc  and  also  except  purchasing manufacturer organization also take loans to meet the working capital requirements. In service business, there are pathology, hospitals and satellite business. Though in our country there is not much manufacturing organization, so most of the demands go for trading business. However it is a small and medium enterprise, therefore it focuses on small loan clients that are small types of business like trading, manufacturing, and service. Basically manufacturing clients take medium or low amount of loan during short period of time.
Small & Medium Entreprises
4.1.2 Bases for Segmenting Consumer Markets
There is no single way to segment a market. A market has to try different segmentation variables, alone and in combination, to find the best way to view the market structure.
4.1.2.1 Geographic segmentation: Dividing a market in to different geographic units such as nations, states, region, countries, cities, or neighborhood. In terms of SME, it targets every region around the country in terms of small business. Now the SME has almost 429 unit offices to provide credit facilities to the clients around the country. Each of the SME unit offices mainly setup the district levels around the city but not in the rural or undeveloped areas. However, where the potential enterprises/businesses are more, SME try to develop unit office at that particular region/area to capture the entire market.
4.1.2.2 Demographic Segmentation: Dividing the market in to groups based on demographic variables such as age, sex, family, income, education, religion, and nationality. In terms of SME, in some cases it is very strict. If one who has Hindu religion and live close to the border, SME would have very careful to provide loans to those clients. SME provide loans 20-60 aged peoples. SME is restricted to provide loans more than age of 65.
4.1.2.3 Behavioral Segmentation: Behavioral segmentation divides buyers in to groups based on their knowledge, attitude, uses or responses to a product. Many marketers believe that behavior variables are the best starting point for building market segments. In terms of SME, few clients would be found those who had done Masters and most of clients are secondary or higher secondary pass. But basically SME segments clients at least whether the clients can understand his/her own business. SME gives very importance on attitude. At the first sight if any client behaves rough then CRO never go to that particular client.
4.2 Target Consumer
To succeed in today's competitive marketplace, organization must be customer centered and keeping them by delivering greater value. But before it can satisfy customers, organization must first understand their needs and wants. There are too many different kinds of consumers with too many different kinds of needs and some organizations in a better position to serve certain segments of the market. In terms of SME of BRAC bank, their target customers are small and medium enterprises. BRAC bank SME target customers those who have minimum income of 40-70 thousand Tk. per month. Mostly entrepreneur's in our country is illiterate. Some of them are higher secondary and BSC graduate. So SME mainly targeted those clients who actually understand his own business. There are three sectors of target customers which SME follows: Trading, Service and Manufacturing. Basically according to the clients demand, SME support them financially to enhance their business.
4.3 Target Market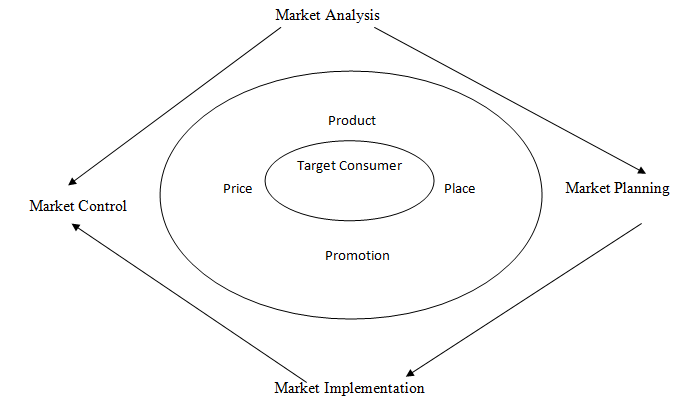 It is the process of evaluation of each market segment and after then selecting one or more segments to enter into the target market. In terms of SME, the scope is specified in which the target market is small and medium enterprise. However, SME is restricted for leather, jewelry, and alcohol business.
4.4 Differentiated marketing: Using a differentiating marketing strategy, an organization decides to target several markets or niches and designs separate offers for each. Basically it provides the loan within 25 days and gives the highest month store pay the loan than other banks. In terms of trading business, if the business is not too big then SME is not allow to give more than 20 months to repay the loan. On the other hand, in case of manufacturing business, if the business is too big then SME gives theclientgrossperiodandmorethan30monthstorepaythe loan. SME also categorizes the dealings with the customers in A, B & C groups.
A-Categories officers are dealing with the educated clients, like masters or above or highly social client.
B-Categories officers are dealing with the undergraduate or normal standard clients.
C- Categories officers are dealing with the non-educated or illiterate normal clients.
4.4.1 Market Positioning
Market positioning means to occupy a clear, distinctive and desirable place relative to accomplish products in the minds of target consumers. To meet the customer demands, SME already establish different offices across the country. Before taking the loan CRO clearly defines to the clients regarding SME policies and repayment schedules. To positioning in the market, SME not only provide loan but also they give some valuable ideas to enhance the clients business and for economic development.
Once a company decides in which segments of the market it will enter, it must decide what positions it wants to occupy in those segments. A products positioning in the way the product is defined consumers mind relative to competing product.
Main head office of SME is in Dhaka city and rest of its unit offices are spread out surrounding the country. Each unit office consist of 2 or 3 CRO who provides door to door services, they even work at night. Many banks have field officers but could not carry out the unit office facilities. So BRAC bank can reach to the potential clients at anywhere in the country. The CRO of SME never say to the customer at the first impression that interest rate is24%.Theytryto make understand to the clients mind that2% per month or equal monthly payment as well as many benefits.
4.4.2 Unique Selling Propositions Facilities- the main facility of SME is to provide quick service to the clients, which might take 15 to 20 days. Hypothecation loans are collateral security free which other banks take securities. If any clients got serious problem in business after taking SME loans then it gives reschedule to repay the clients loan. While taking repeat loan SME provide various facilities to the clients.
4.4.3 Different features- IFC and Shore banks are going to carry out equity participation with BRAC bank. It will deposit more funds to provide more loans to the clients, which cover around the whole country
4.4.4 Different services- to get the loan, client do not have to go in bank directly. All sorts of work are done by the CRO for clients to have the loan quickly. In terms of necessities CRO go to clients home and bring repayments of the loan. In favor of clients, CRO also work in holidays.
4.4.5 Marketing Strategies for Competitive Advantages
To be successful the company must do a better job than its competitors for satisfying target consumers. Thus marketing strategies must be geared to the needs of consumers and also to the strategies of competitors. The core competency of SME is that it already set up the business around the country and marketing officers go to the door to door to the clients. On the other hand, it provides the highest amount for unsecured loans than other banks. In addition, it provides extremely quick services to clients by getting the loan.
4.5 Developing Marketing Mix
The set of controllable tactical marketing tools- product, price, place and promotion that the organization blends to produce it wants in the target market. The main possibilities can be controlled into four groups of variables known as the Four P's: Product, Price, Promotion and Place.
4.5.1 Product
Means the goods and services combination the company offers to the target market. In view of SME, they have short term and medium term loans whether CRO provide quick and quality services to clients. Customer service is another element of product strategy. A company designs its products and support services to profitability meet the needs of target customers. Short terms products means 3/6/9/12 months loan andmidtermproductmeans15/18/24/30/36monthsloan. For example- in Eid occasion most cloth merchants want short-term loan to carry out a profitable business.
4.5.1.1 Short Term Products
Easy repay- these categories of products are easy repaid for the clients. When the pick season comes like Christmas/Eid/Puja then these short-term products could be required for the clients. If the clients can exercise these types of loan at the pick season then clients business carry out like hot cakes and easily can repay the loan to BRAC bank.
Short-term fund requirement- without pick season, many clients could have required short funds to hold the tender or dealership. BRAC bank would be a good hand for the clients to have that dealership.
4.5.1.2 Mid Term Products
Proper Utilization- on average, clients get these categories of loan for 18 to 24 months. So clients can easily utilize the money regarding the prospect of the business. Easy repay- though it is a long time repayment schedule, so clients make the profits to get the required amount of loan and repay the loan in a monthly basis.
4.5.2 Price
Price is the amount of money customers have to pay to obtain the products. In terms of SME of BRAC bank, clients have to pay a certain amount of processing fees and stamp costs to get the loan. One of the factors that affect the company's own pricing moves. For example- many banks have processing fees with 1% or 2% additional charge and other miscellaneous costs. But BRAC bank has withdraws other costs and charges to carry out in the competitive market.
Costly- BRAC bank SME interest rate is 24%. So it is little bit of costly by the competitive edge but the client gets this loan within very short period of time. In this situation client cannot think about the interest rate because at the right time they get the loan, which they can exercise in their business, can yields profits.
Easy sanction- If the CIB (Credit Information Bureau) is being cleared from Bangladesh Bank and all information is being transparent from client then the loan is become sanctioned in favor of client.
All time consultancy- Whether the customers take loan or not, CRO's give the moral advices to the clients for the development of the business.
4.5.3 Place (Distribution)
It includes company's activities that make the product available to target consumers.SME already spread out its unit offices around the country. SME tries to reach each and every small business enterprise to meet client's demands. Marketing channel decisions are among the most important decision that management faces. Management must make channel decision carefully, incorporating today's needs with tomorrow like selling environment. SME of BRAC bank already has 429 unit offices, whichispreadthroughoutthecountryand1309CRO'sworking under these unit offices. These officers have respective selected supervisors who directly report
to the SME main head office. So SME division has everywhere in Bangladesh to serve all respective clients.
4.5.4 Promotion
It means activities that communicate the merits of the product and persuade target customers to buy it. For example- up to 8 lacs taka SME don't take collateral security to provide loan. Also for the repeat borrowers SME discounts up to 6% interest rate and Tk. 1000fortherespectiveclient.
Advertisement is one of the major elements in promotion. SME is focusing customers by printing various leaflets, magazines and showing banners in front of their respective unit offices.
4.4.1 Door to door service- it is a door-to-door customer services to clients. CRO knock the door of the business enterprise whether the client has required any loan or not.
4.4.2 Market to non-Bank people: Some clients do not maintain any account in the bank. They are dealing by cash. By providing BRAC bank loans, these sorts of clients can be attached with the banks. In addition, they can understand more about banking and can have a good relationship with them.
5.0  SWOT Analysis
The comparison of Strengths, Weaknesses, Opportunities and Threats is normally referred to as a SWOT analysis. Its central purpose is to identify the strategies that will create a firm-specific business model that will best align, fit, or match a company's resources and capabilities to the demands of the environment in which it operates. It helps the organization to identify how to evaluate its performance and scan the macro environment, which in turn would help organization to navigate in the turbulent ocean of competition.
Strength:
Company reputation (Brand image)
Strong investment international organization like IFC, Shorecap etc
Strong management & their strategy
Facility & equipment
Interactive corporate culture
Comprehensive & goal oriented team work at mid & lower level
Opportunities
Huge untapped sub-urban & rural SME market
Growing in less tapped sectors-Vehicle finance, trade finance
Exploring the unexplored market of CC/overdrafts countywide
Profiting from self-generated low cost deposit
Geographical expansion through SME Agricultural branches
Introduction of Mobile Banking will bring in new era in banking industry
Increasing trend in consumerism and urbanization driven by steady economic growth
Weakness
Market could be  misleaded through assuming BRAC as NGO name
Absence of 'Hunter-Farmer' strategy for SME centers
High employee turnover
Low remuneration package
Managing PAR (portfolio at risk) under control delinquency and NPL% as targeted level
Retaining resources would be challenging
More positioning strategy of the products (both lending & deposit), process, services yet to be done
Threats
Emerging of new multinational & international banks
Greater regulatory intervention in SME lending
Increasing number of NPL (non performing loan) most of cases collateral free
6.1 Findings
BRAC bank plays a vital role in the SME sector of Bangladesh. Up to April 2010, BBL provides loans for 265,000 clients and in total 10,000 crore TK.   BBL is the pioneer in the SME loan sector. They have taken different strategies for the development of this sector, because it is the main profitable product of BBL. In the recent years they launched different types of SME loan product for mitigate the different target customers needs. Throughout the survey analysis and 3 months internship period this reports found some shortfalls of SME sector of BBL. The findings of this report are given below:
Most of the customers want to reduce the interest rate and increase tenure.
Some customers are not satisfied with the attitude/behavior of CROs.
Huge number of documents in the helpdesk causes delay in the disbursement process
Zonal office can approve up to 5 lacs, but at present the percentage of repeat customer's increase rapidly and most of the cases they apply for more than 5 lacs.
Lack of marketing activities in the urban area, whereas other competitors are giving more ad at different spot.
The remuneration package for the entry and the mid level management is considerably low. The compensation package for BBL entry-level position even lower than the contemporary banks.
Some of the borrowers do not install a signboard in a visible place of business or manufacturing unit mentioned that financed by "BRAC Bank Limited".
6.2 Recommendation
For better improvement of SME, BBL can consider the following recommendation:
• Reduce the interest rate because most of their competitors are providing loans at a lower rate for example most of the competitors banks providing loan at 12-15% interest rate
• Increase marketing activities in the urban area because other competing industries are taking huge promotional activities to capture the urban area which helps them to increase their customer base.
• Give proper training to the CROs with some real life problem because they are all in all for SME loan. Sometimes they make mistakes which results in customer harassment, increase processing time and charges.
•Look after CROs activities by the ZOs because sometimes they are hiding information and make mistakes to prepare financial statements and other documents.
•Increase amount of SME loan approval by the Zonal officer, at present they can approve up to 5 lacs.
•Increase amount up to 10 lacs without collateral security for providing loans
• Recruit fresh ZOs from outside to control CRO grievances (since present ZOs are mostly promoted CROs who have joined the Bank all most at same time).
 • Frequently check clients are perform all the terms and condition of SME loan.
 • Increase the remuneration and compensation package for the entry and mid level management otherwise BBL can't retain the efficient and experienced employees.
6.3 Conclusion :
BRAC Bank intends to set standards as the market leader in Bangladesh. It demonstrates that a locally owned institution can provide efficient, friendly and modern banking service on a profitable basis. It was an honor to work as an intern in a reputed organization like BRAC Bank Limited. The BRAC Bank Limited is a bank that confirms the best service to the customers as well as to the employees.
By working in SME division, the knowledge that was learnt would be helpful enough to sustain with the real organizational environment. SME is the most emerging sector to expand and BRAC Bank has every potentiality to explore the SME business throughout the country. This report presents some significant ways to meet the future challenges in SME business. Nevertheless, the success of SME banking depends on the expertise and dedication of the field level officers. That is why continuous training and motivation is very much relevant to run the SME banking successfully.