4.1 What is Telesales?
Telemarketing (known as telesales in the UK and Ireland) is a method of direct marketing in which a salesperson solicits to prospective customers to buy products or services, either over the phone or through a subsequent face to face or Web conferencing appointment scheduled during the call.
Telemarketing can also include recorded sales pitches programmed to be played over the phone via automatic dialing. Telemarketing has come under fire in recent years, being viewed as an annoyance by many.
4.2 Telesales Activities:
Provide new information.
Encourage people to open an account or take loan.
Highlight the superiority of the bank to the customer.
Help customer to open an account.
Help customer to get a loan.
Saturday banking information
Inform customer about the new product of the bank
Inform customer about all fees and charge.
Student file query.
Follow up the customer
Balance Inquiry
Account Statement
Loan information
Cheque Status
Lost Card Reporting
Credit Card Related Service.
Information on Co-Brand Cards.
Current interest rate of all products.
 POS point location
4.3 Process of Telesales in Brac bank:
Process of Telesales occurs in some following steps: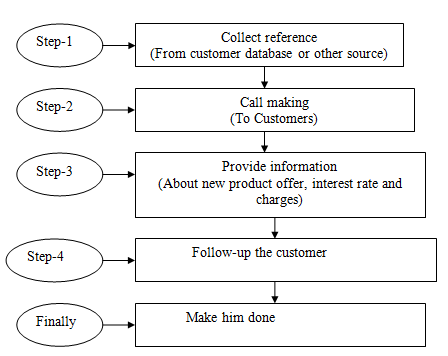 Step-1: Collect Reference
The first step of sales via telephone is to collect customer number or address to contract. In this stage Business Executive collect address or contract number from their relative, friends or other customer's database (it may be inside or outside database of the bank).
Step-2: Call Making
In this stage Business Executives contract to the customer via mobile or telephone and introduce themselves such like that "Good morning sir, I am …..from Brac Bank". Then they ask some bank related question like; have you any account in Brac Bank?
Step-3: Provide information
After hearing the answer of the customer the BE can easily understand what information is needed to the customer and they provide them perfectly and correctly. If the customer is existing customer, Business Executive provides information about new products, offers and interest rate or the person is going to be a customer he/ she provide him/ her about all products, services, offers and interest.
Step-4: Follow-up the customer
In this stage they call again those customers whose they provide information before and follow up them to take the product (means to open an account, FDR, DPS and loan).
Finally:  Make him done
Finally they encourage customer to make him done. That means the customers are come to his/ her nearest branch and the BE go to the same brunch and help him/ her to  fill up the customer relationship from and open the account, DPS, FDR, and to get loan.
4.4 Advantages of Telesales:
Less customer time consuming and expense consuming
Customer gets all the correct information properly.
Telesales deliveries information on bank service (i.e. evening banking, number of branch, ATM, POS etc.)
Telesales provide information about product.
Encourage exciting customer to take new product
Increase total number of sales of Brac Bank.
No hassle, no fuss.
Encourage new customer to open an account or to take loan from bank.
4.5 Disadvantages of Telesales:
Customer face lots of problem because the phone of business executive. They are very much angry on phone banking. Some time customers do not receive the unknown phone because their own work. That's why the system being hazard. Though telesales is the new concept in Bangladesh most of the customers does not aware about it. So they are ready to come branch but not to talk with BE via phone. Many customers don't believe us and go to the CSO to open an account or collect information.
4.6 Call Manner:
Business Executives of telesales have to maintain a specific call manner or call process to provide better service to the valued clients, which are given below:
Take permission from customer for holding

Monogramming of call.
Avoid excuse.
Giving the caller subdividing communication.
Giving spoken feedback of customer in positive manner.
Avoiding mouth noise.
Using question, listening, summarizing
4.7 Agent Attitudes:
Maintain call structure.
Confidence voice.
Spoken feedback
Different between good and great service
Voice conversation must be clear and clean.
Strong personality.
Smiling face.
Cheerful
Patience
Good listing skill.
Tactful.
4.8 Call Structure: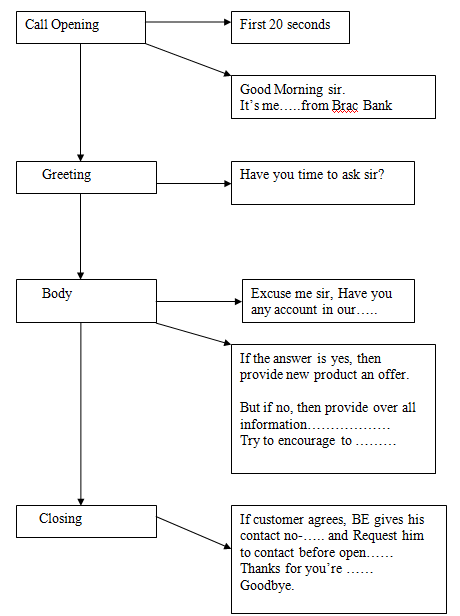 4.9 Performance Evaluation of Telesales Department:
Performance 

Evaluation

2008

2009

Month

No. of Calls

Feedback

No. of Calls

Feedback

January

35720

17545

151013

56124

February

39294

14261

146879

23541

March

42275

13210

115349

45121

April

46157

32100

113248

12456

May

42320

12012

110798

36541

June

38128

12245

July

51015

12413

August

56177

18941

September

73706

19875

October

84857

20012

November

120503

23120

December

121317

34512

Total

751469

230246

637287

173783
Interpretation: about above chart
According the above chart we can see that the number of calls in 2009 is higher then the months of 2008. But the feedback of 2009 is lower than the months of 2008. The main reason of these lowest feedback is job switching and became permanent of the senior BEs. Although, HR department of Brac Bank Limited has recruited new BEs, they are not trained enough as like as the senior BEs.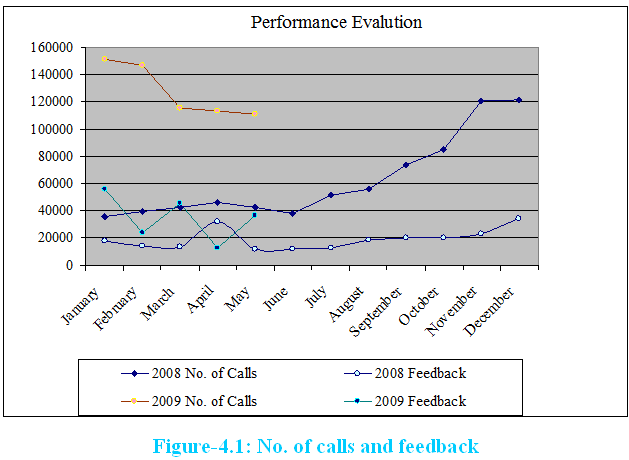 4.10 Good Customer Service:
Customer service agents have to occupy some skill and abilities to provide the better services to customer that are given below:
Opening with Smiling Face.
Positive Attitude.
Helping Mode.
Good Pronunciation.
Answer to the Point.
Customer Need Understand.
Listening Power.
Give Alternative Solution.
Don't interrupt with customer.
Trademark Closing.
Motivational Power.
Be free & Go Close to the customers
4.11 Bad Customer Service: 
Opening without smile.
Lack of listening.
Don't Understand the customer
Lack of Patient.
Unnecessary Talking.
Bad Pronunciation.
Wrong Information.
Rude voice.
Interrupt the customer.
Don't enjoy the conversation.
4.12 Responsibility of the Customer Service Agent Service:
Quality:
Ensure proper opening and closing of conversation with customer.
Maintain courtesy & politeness while conversing with customer
Ensure one stop service provided to customers
Handle customer complaints with diligence.
Ensure mystery shopper rating is achieved as per standard.
4.13 Product knowledge:
Have a thorough knowledge on BBL products and camping.
Be updated on the new product lunches & latest marketing.
Perform up to mark in the monthly quiz (Min 80%).
4.14 Accuracy:
Ensure customer queries are responded to efficiently and accurately.
Ensure action & stop payment of cheques and blocking of ATM are processed accurately and promptly.
Ensure accuracy is maintained while processing customer instructions. Team work.
 Maintain cooperative and friendly attitudes others BE.
Guide and train new BE.
4.15 General:
Ensure logged in time & break time is maintained as per requirement and punctuality maintained.
Handle peak hour pressure, downtimes efficiently (other job should be done during off peak hrs).
Avoid loud conversation/ laughter and food while logged-in.
4.16 Customer Type:
Customers are divided into three types, such as:
Customer Type

Types

 % of total customer

Business Man
40%
Private Customer
30%
Probashi Customer
20%
Premium banking Customer
10%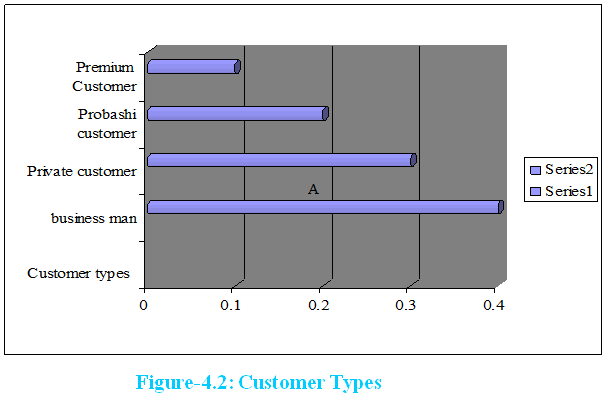 4.17 Customer compliments:
The valued clients are pleased for getting services through Tele Banking.
 The interacting process of the "Tele Banking" agent is highly appreciated by the customers
 The customers appreciate the new promotional packages of any product.
What a great process to serve the customer service it is through the Tele Banking as a local in Bangladesh.
Agents of the Tele Banking department are different.
Tele Banking agents try to solve the problem instantly.
4.18 Customer's complaints:
The valued clients don't interest to aspect the new delivery process of "cheque Books" and "ATM Cards"
Our valued customers don't to accept the cheque activation process.
The valued clients want to get a good co- operation from the branch
The sales executives do not get  the complete information especially about the charges of any product
The branch employees do not inform the valued customer about his / her cheque which is sent for collection. They always consume much time also.
Customer can't not login "Internet Banking" frequently.
Bills payable Machine consumes more time to credit amount of customers an account.
The Money, which is accepted by ATM booth. is credited amount after  long  period of time
Holding problem: customer hold for a long time.
After long time call waiting the call will be automatically disconnected
4.19 Customer's Suggestion:
 Service quality should be developed.
 Service should be easy and faster.
 More Branch and ATM booth.
 Word of Business Executive should be clear and attractive.
 Provide correct and effective information.
Sound knowledge about the product of BE.
4.20 Sales Volume of Telesales Department:
            Sales Volume of Telesales Department
March
April
May
Product
Number
Amount
Number
Amount
Number
Amount
Account
350
20010000
363
20045000
250
19100000
Loan
45
15000000
46
18500000
39
13370000
FDR
67
19910000
71
22011000
58
15823000
Interpretation:
If we see the figure we can easily understand that the sales volumes of Telesales Department have been fluxed in every month. In the month of April both the amount & the number of the sales of the products have been increased. But in May both the amount & the number of the sales of the products have been decreased, because of the change of interest rate both loan & deposit product.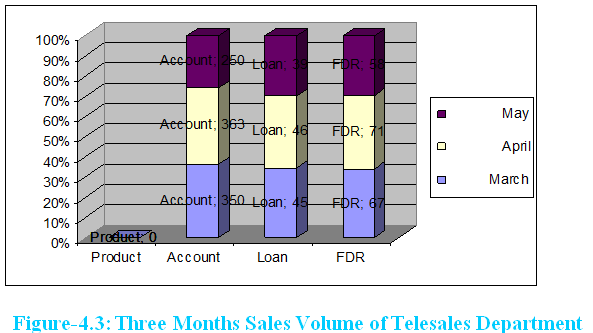 4.21 Telesales Related Services:
Telesales services are divided into following parts. These are given bellow:
Account Related Service:
Balance Query

Transaction Details

Loan account Details

ATM Card Related Service
Product Related Service
Accounts
Deposit Product
Card Product
Loan Product
Banking Related Service:
Evening Banking
Saturday Banking
Internet Banking
Some More Parts-
Report on Telesales Department Activities of Brac Bank Limited (Part-1)
Report on Telesales Department Activities of Brac Bank Limited (Part-2)
Report on Telesales Department Activities of Brac Bank Limited (Part-3)