2.1 Shahjalal Islami Bank Limited (SJIBL):
The "Shahjalal Islami Bank Limited" a Shariah Based Commercial Bank in Bangladesd was incorporated as a public limited company as on 1st day of April 2001 under the Companies Act. 1994. The Bank started its commercial operation on May 10, 2001. The Bank has made a significant progress within a very short period of its existence and occupied an enviable position among its competitors after achieving remarkable success in all areas of business operation. The authorized capital of the Bank is Tk. 4000 million and Paid up capital of the Bank stood at Tk. 2740 million as on 31 December 2009. The total equity (capital and reserves) of the Bank as on December 31, 2009 stood at Tk. 5430 million.
Managing Director:
Muhammed Ali
Phone: +880 2 9570807, Mobile: 880 187031674
Contact Person:
Md. Jillur Rahman, Deputy Managing Director
Phone: +880 2 9568800
Contact Address:
Shahjalal Islami Bank Limited
Jiban Bima Bhaban Front Block (4th floor)
10, Dilkusha Commercial Area
Dhaka-1000, Bangladesh
Phone: +880 2 9570812, 7160591, 9561473
Fax: +880 2 9570809, 9553562
E-mail: sblho@shahjalalbank.com.bd, shahjalajislamibank@gmail.com,
            sblho@aitlbd.net.
Web: www.shahjalalbank.com.bd
2.2 Overview Shahjalal Islami Bank Ltd
With a view to materialize the dream of the people of Bangladesh for doing their banking transactions in line with what is prescribed by Islam, a group of highly successful entrepreneurs conceived an idea of floating a commercial bank styled as "Shahjalal Islami Bank Limited" which is named after the name of the renowned saint Hajrat Shahjalal (R) who dedicated his life for the cause of peace in this world and hereafter and for the service of humanity. The sponsors are reputed personalities in the field of trade & commerce, industry and finance.
"Shahjalal Islami Bank Limited" offers the full range of banking services for personal and corporate customers, covering all segments of society within the framework of Banking Company Act and rules and regulations laid down by our central bank. Diversification of products and services include Corporate Banking, Retail Banking and Consumer Banking right from industry to agriculture, real estate to software and is backed by the latest technology.
The Bank is being managed by a group of highly experienced professionals with diversified experience in finance and banking.  The Management of the bank constantly looks after customers' satisfaction and believes that a satisfied customer is a great Ambassador. The Bank has already achieved tremendous progress within only ten years. The bank has already ranked as one of the quality service providers & is known for its reputation. Offers the full range of banking services for personal and corporate customers, covering all segments of society within the framework of Banking Company Act and rules and regulations laid down by our central bank.
By now, the Bank established correspondent Banking relationship with 18 Banks covering their global network of 385 branches/units of International repute at different important locations. It also established accounting relationship with 10 Banks and maintaining 22 NOSTRO Accounts in 8 (eight) major Currencies at different convenient locations.
The Board of Directors of our Bank consists of reputed Industrialists and Businessmen who are successful in their respective fields headed by Mr. Sajjatuz Jumma, the Chairman of the Board who is an eminent Industrialist & reputed businessman in Bangladesh and current Chairman of Islamic Banks Consultative Forum (IBCF). The Board generally deals with policy matters relating to management of Business and sets goal for the growth & development of the Bank as a whole, review of the same from time to time and gives necessary guidance to the management.
The Bank is managed by a Team of professional Executives and Officials having profound banking knowledge & expertise in different areas of management and operation of Banks. The Team is headed by the immediate past Executive President and CEO of Islami Bank Bangladesh Ltd. (IBBL) for about 7 years. During his Incumbency, IBBL attained a remarkable growth & development. Above all, he had the opportunity to hold the position of Chairman of the Board of Directors of Islami General Insurance Company & then he Joined Shahjalal Islami Bank Ltd on February 25, 2004 as the Managing Director and Chief Executive Officer (CEO) to enrich Islamic Banking methodology in the Country.
During the short span of time, Shahjalal Islami Bank so far introduced a good number of attractive deposit products to broaden the resource base and also Investment products to deploy the deposit resources so mobilized. Some more schemes covering the deposits, Investments & Services will be introduced gradually in near future suiting to the taste and requirement of the clients. The Bank has a strong Shariah Council consisting of prominent Ulama, Fuquah & Economists who meet periodically to confer decisions on different Shariah issues relating to Banking Operation & to address them and to give necessary guidance to the management on Shariah Principle. Since inception, Bank has been performing in all the sectors i.e. general Banking, Remittance, Import, Export and Investment. All our branches are fully computerized having on line Banking facility for the clients.
All activities of the Bank including its products and services are mainly for different economic groups of Bangladesh at home & abroad. Bangladeshi expatriates living abroad in different countries form a strong economic group who contribute greatly towards the economic development of the country.
2.3 Vision of SJIBL
To be the unique modern Islami Bank in Bangladesh and to make significant contribution to the national economy and enhance customer's trust and wealth, quality investment, employee's value and rapid growth in shareholders equity.
2.4Mission of SJIBL
To provide quality services to customers
To set high standards of integrity
To make quality investment
To ensure sustainable growth in business
To ensure maximization of shareholders wealth
To expand the customer's innovative service acquiring state-of the-art technology blended with Islamic principles.
To ensure human resource development to meet the challenges of the time.
2.5 Objectives of SJBL
From time immemorial Banks principally did the functions of moneylenders or "Mohajans" but the functions and scope of modern banking are now a days, very wide and different. They accept deposits and lend money like their ancestors, nevertheless, their role as catalytic agent of economic development encompassing wide range of services is very important. Business commerce and industries in modern times cannot go without banks. There are people interested to abide by the injunctions of religions in all sphere of life including economic activities. Human being is value oriented and social science is not value-neutral.
Shahjalal Islami Bank believes in moral and material development simultaneously.
 "Interest" or "Usury" has not been appreciated and accepted by "the Tawrat" of prophet Moses, "the Bible" of prophet Jesus and "the Quran" of Hazrat Muhammad (sm). Efforts are there to do banking without interest Shahjalal Islami Bank Limited avoids "interest" in all its transactions and provides all available modern banking services to its clients and wants to contribute in both moral and material development of human being. No sustainable material well-being is possible without spiritual development of mankind. Only material well-being should not be the objective of development. Socio-economic justice and brotherhood can be implemented well in a God-fearing society.
The other objectives of Shahjalal Islami Bank include:
  To conduct interest-free and welfare oriented banking business based on Islamic Shariah.
  To implement and materialize the economic and financial principles of Islam in the banking arena.
  To contribute in sustainable economic growth.
  To help in poverty alleviation and employment generations.
  To remain one of the best banks in Bangladesh in terms of profitability and assets quality.
  To earn and maintain a 'Strong' CAMEL Rating.
  To introduce fully automated systems through integration of information technology.
  To ensure an adequate rate of return on investment.
  To maintain adequate liquidity to meet maturing obligations and commitments.
  To play a vital role in human development and employment generation.
  To develop and retain a quality work force through an effective Human Resources Management System.
  To ensure optimum utilization of all available resources.
  To pursue an effective system of management by ensuring compliance to ethical norms, transparency and accountability at all levels.
2.6 Strategies of SJIBL:
To raise capital.
To strive for customers' best satisfaction and earn their confidence.
To manage and operate the Bank in the most effective manner.
To identify customers' needs and monitor their perception towards meeting those requirements.
To review and update policies, procedures and practices to enhance the ability to extend better service to customers.
To train and develop all employees and provide them adequate resources so that customers' needs are reasonably addressed.
To promote organizational effectiveness by openly communicating company plans, policies, practices and procedures to employees in a timely fashion.
To cultivate a congenial working environment.
To diversify portfolio both in the retail and wholesale markets.
To increase direct contact with customers in order to cultivate a closer relationship between the bank and its customers.
2.7 Equity of the Bank:
| | | |
| --- | --- | --- |
|   |   | (Figure in milloin) |
| Particulars | 2009 | 2008 |
| Equity Fund (Capital & Reserve) | 5430 |                 4069 |
Total equity of the Bank as on 31th December 2008 was Tk. 4069 million and the total equity stood at Tk. 5430 million on 31th December 2009.
2.8 Deposits:
The Bank mobilized a total deposit of Tk. 47,459 million as on December 31, 2009 as against Tk. 34,280 million as on December 31, 2009 showing an increase of 38% The combination of competitive interest rates that offered sustained deposit raising efforts of the Bank and confidence reposed by customers in the Bank resulted in this growth of deposits. Steps are being taken to further increase the deposit base continuously at a reduced average cost of funds.
(Figure in million)
| | | |
| --- | --- | --- |
| | | (Figure in million) |
|  Particulars | 2009 | 2008 |
| Deposit | 47,459 | 34,280 |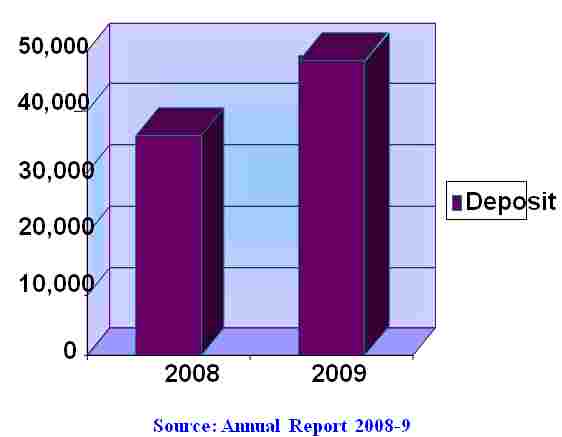 2.9 PERFORMANCE OF SHAHJALAL ISLAMI BANK LIMITED AT A GLANCE: 
Balance Sheet
As At 31 December'2009 (with compare 2008)
PROPERTY AND ASSETS

2009

2008

Taka

Taka

CashCash In Hand (Including Foreign Currencies)

Balance with Bangladesh Bank & Sonali Bank(Including Foreign Currencies)

Balance with other Bank and Financial Institutions

Inside Bangladesh

Outside Bangladesh

Investments in securities

Government

Investments

Murabaha, Bai-Muajjal etc.

Bills Purchased & Discounted

Fixed Assets Including Premises Furniture and Fixtures etc.

Other Assets

Non Banking Assets

Total Assets

562,922561,

3,515,663,193

449,615,577

2,773,858,394

4,078,585,754

3,223,473,971

1,729,470,208

404,441,115

546,298,93248

168,432,590

2,133,911,323

714,731,522

 

3,483,146,682

 

1,144,189,400

3,483,146,682

1,144,189,400

40,369,639,045

3,588,621,666

29,197,016,442

3,721,757,226

43,958,260,711

32,918,773,668

 

620,466,461

358,743,429

–

 

338,806,004

499,438,757

–

58,920,895,401

44,109,502,922
LIABILITIES AND CAPITAL

2009

2008

Taka

Taka

Liabilities

Financial (Borrowings) from other Banks,

Financial Institutions and Agents

Deposits and other Accounts:

Al-Wadiah Current Deposit & Other Accounts

Bills Payable

Mudaraba Saving Deposits

Mudaraba Term Deposits

Other Mudaraba Deposits

   4,500,000,000

3,966,538,988

351,419,391

3,072,788,942

27,578,741,808

12,489,742,364

4,654,500,000

2,975,717,377

263,o76,409

1,863,522,467

18,985,664,403

10,191,759,337

47,459,231,493

34,279.739993

Other LiabilitiesTotal Liabilities

Capital/Shareholders' Equity

2,035,030,640

53,994,262,133

1,569,822,257

40,504,062,248

Paid-up CapitalStatutory Reverse

Retained Earnings

Asset Revaluation Reseerve

 

   2,740,095,600

1,142,585,039

753,328,328

250,624,301

 

2,245,980,000

823,552,175

535,908,499

 

Total Shareholders' EquityTotal Liabilities & Shareholders' Equity

 

4,926,633,268

3,605,440,674

58,920,895,401

44,109,502,922

 

 
2.10 Departments of SJIBL
All branches of Shahjalal Islami Bank Limited are divided into three departments:
General Banking Department.
Foreign Exchange Department.
Investment Department.
2.10.1 General Banking Department:
General banking department is one of the most important departments of Shahjalal Islami Bank Limited. Basically bank provides the main services to the customer through this department. In general this section of the Shahjalal Islami Bank Limited is divided into five sections.
Accounts opening section
Cash section
Remittance section
Bills and clearing section
Accounts section
2.10.2 Foreign Exchange Department:
Banks play a very important role in effecting foreign exchange transaction of a country. Mainly transactions with overseas countries are in respect of imports; exports and foreign remittance come under the purview of foreign exchange department. Banks are the vital sectors by which such transactions are effected/settled. Central Bank records all sorts of foreign exchange transactions. The other banks dealing with foreign exchange are to report to Bangladesh Bank regularly (viz. daily, monthly, quarterly, yearly etc.). The foreign exchange department consists of three sections. They are:
Import section
Export section
Foreign remittance section
2.10.3 Investment Department:
Banking business consists of borrowing and lending, Bank act as an intermediary between surplus and deficit economic units. Thus a banker is a dealer in money and credit. Banks accept deposit from large number of customers and then lend a major portion of the accumulated money to those who wish to borrow. In this process banks secure reasonable return to the savers, make funds available to the borrowers at a cost and earn a profit after covering the cost of funds. Banks, besides their role of intermediation between savers and borrowers and providing an effective payment mechanism, have been allowed to diversify into many new areas of better paying business activities.
2.11 Credit Rating Report:
Long Term
Short Term
Entity Rating
AA+
ST- 2
Date of Rating
April 03, 2009
Credit Rating Information and Services Limited (CRISL) upgrades the rating of Shahjalal Islami Bank Limited(SJIBL) to A+ (pronounced as single A plus) from A (pronounced as single A) in the Long Term and reaffirms short term rating to ST-2.
2.12     ORGANOGRAM OF THE MANAGEMENT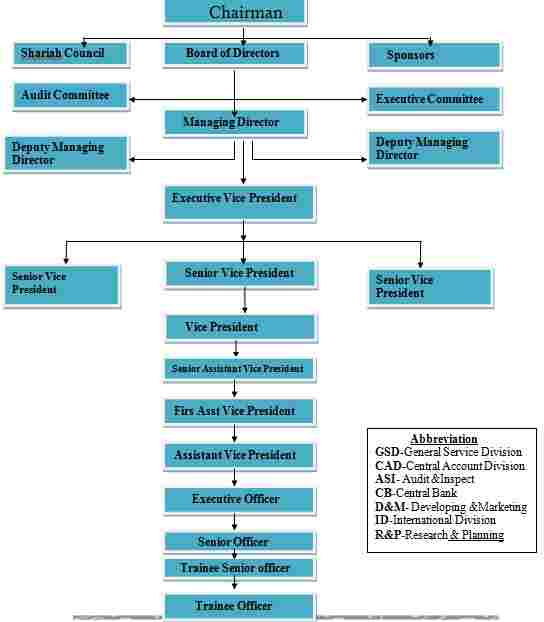 2.13 Social Welfare Activities:
With a view to providing financial assistance to the poor and needy people of the society and also for the welfare of the community, to this perspective, bank has established "Shahjalal Islami bank Foundation" with the objective to provide health care, relief and rehabilitation, education, humanitarian of winter clothes during the winter etc.
Shahjalal Islami Bank Foundation has a planning to establish the following projects and programs:
Shahjalal Islami Bank International School and College
Shahjalal Islami Bank Hospital
The foundation have also drawn up programs to look after the education, health and medical requirements of all the people of rural areas where the bank has launched Rural Investment Programs with vision 2020.
The foundation already introduced a program to reward poor student who passes SSC and HSC exam. Students who are not financially sound, the foundation gives financial assistance to them. The bank has started it from 2006 under these project 111 poor and meritorious students awarded by monthly scholarship and lump sum money at yearly basis. This will motivate students to do better in future. The bank appreciates the good things in the society.
More parts of this post-
General Banking Operation Of Shahjalal Islami Bank Limited.(Chapter-1)
General Banking Operation Of Shahjalal Islami Bank Limited.(Chapter-2)
General Banking Operation Of Shahjalal Islami Bank Limited.(Chapter-3)
General Banking Operation Of Shahjalal Islami Bank Limited.(Chapter-4)
General Banking Operation Of Shahjalal Islami Bank Limited.(Chapter-5)
General Banking Operation Of Shahjalal Islami Bank Limited.(Chapter-6)