Lionel Messi – Argentine Professional Football Player
Full name: Lionel Andrés Messi
Date of birth: 24 June 1987 (age 29)
Place of birth: Rosario, Argentina
Nationality: Argentine
Height: 1.70 m (5 ft 7 in)
Playing position: Forward
Early Life
Lionel Messi, in full Lionel Andrés Messi, also called Leo Messi was born on June 24, 1987, in Rosario, Argentina. He is an Argentine-born football (soccer) player who was named Fédération Internationale de Football Association (FIFA) world player of the year five times (2009–12 and 2015).
The only player in history to win five FIFA Ballons d'Or, he was also the first player to win three European Golden Shoes. During his playing career he shattered many world records and currently holds the records for most goals scored in La Liga, a La Liga season (50), a calendar year (91), a single season (73), and a Champions League match (5), among several others. Born into a football-loving family in central Argentina, he developed a passion for the sport at an early age and spent his childhood playing football with his brothers. He joined the youth team of Newell's Old Boys as a young boy and began playing for FC Barcelona's under-14 team when he was 13. Having made his competitive debut as a 17 year old, Messi quickly established himself as an integral player for the Barcelona club. His first big success came in the 2008–09 season, during which he helped Barcelona achieve the first treble in Spanish football. Over the ensuing years he proceeded to establish himself as Barcelona's all-time top scorer in official competitions and is also Argentina's all-time leading goalscorer with 55 goals in 112 matches. He retired in 2016 following Argentina's loss to Chile in the Copa América Centenario final.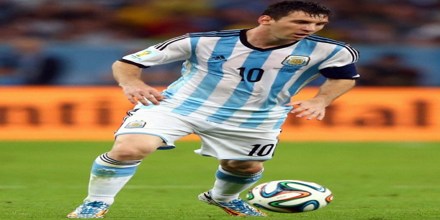 His style of play as a diminutive, left-footed dribbler drew comparisons with compatriot Diego Maradona, who declared the teenager his successor. After making his senior debut in August 2005, Messi became the youngest Argentine to play and score in a FIFA World Cup during the 2006 edition, and reached the final of the 2007 Copa América, where he was named young player of the tournament. As the squad's captain from August 2011, he led Argentina to three consecutive finals: the 2014 World Cup, for which he won the Golden Ball, the 2015 and the 2016 Copas América.
Childhood and Educational Life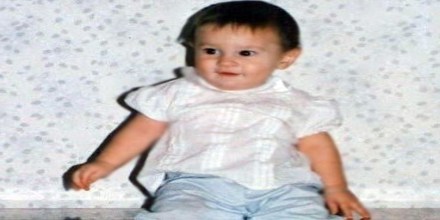 Lionel Messi was born Luis Lionel Andres Messi on June 24, 1987, in Rosario, Argentina. He has three siblings, two elder brothers Rodrigo and Matias, and a sister, Maria Sol. His father was a factory steel worker and his mother was employed as a part-time cleaner. As a young boy, he tagged along when his two older brothers played soccer with their friends, unintimidated by the bigger boys. At the age of 8, he was recruited to join the youth system of Newell's Old Boys, a Rosario-based club. Recognizably smaller than most of the kids in his age group, Messi was eventually diagnosed by doctors as suffering from a hormone deficiency that restricted his growth.
Messi's parents, Jorge and Ceclia, decided on a regimen of nightly growth-hormone injections for their son, though it soon proved impossible to pay several hundred dollars per month for the medication. So, at the age of 13, when Messi was offered the chance to train at soccer powerhouse FC Barcelona's youth academy, La Masia, and have his medical bills covered by the team, Messi's family picked up and moved across the Atlantic to make a new home in Spain.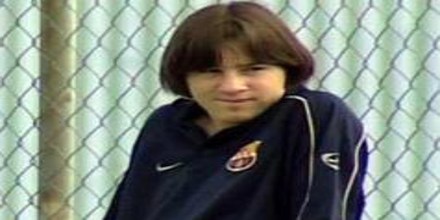 After a year at Barcelona's youth academy, La Masia, Messi was finally enrolled in the Royal Spanish Football Federation (RFEF) in February 2002. Now playing in all competitions, he befriended his teammates, among whom were Cesc Fàbregas and Gerard Piqué. After completing his growth hormone treatment aged 14, Messi became an integral part of the "Baby Dream Team", Barcelona's greatest-ever youth side.
Personal Life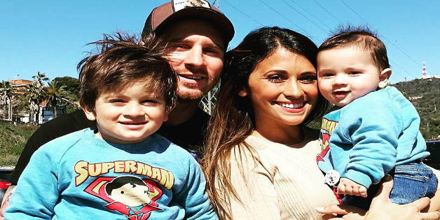 Messi has had quite a couple of romantic associations before he got steady with his present girlfriend Antonella Roccuzzo. He was first linked with Macarena Lemos, a female from his hometown Rosario, whom Messi was introduced to by the former's father while he was recovering from his injury before the 2006 World Cup. Messi and Roccuzzo have two sons: Thiago (born 2012) and Mateo (born 2015).
Messi enjoys a close relationship with his immediate family members, particularly his mother, Celia, whose face he has tattooed on his left shoulder. His professional affairs are largely run as a family business: his father, Jorge, has been his agent since he was 14, and his oldest brother, Rodrigo, handles his daily schedule and publicity. His mother and other brother, Matías, manage his charitable organisation, the Leo Messi Foundation, and take care of personal and professional matters in Rosario.
Playing Career
Club Career
Messi's career kickstarted in the year 2000 when he played for the junior system ranks. Within a short span, he became the only player to play for five different teams. His excellence at the game was visible from the fact that Messi quickly moved through the junior system ranks to make a league debut on October 16, 2004 against RCD Espanyol.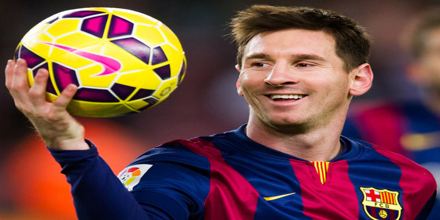 Although he was often homesick in his new country, Messi moved quickly through the junior system ranks, and by the age of 16, he had made his first appearance for Barcelona. Messi put himself in the record books on May 1, 2005, as the youngest player to ever score a goal for the franchise. That same year, he led Argentina to the title in the under-20 World Cup, scoring on a pair of penalty kicks to propel the team over Nigeria.
His first goal came the following year on May 1, 2005 against Albacete. He created history by being the youngest to ever score in a La Liga game for Barcelona. He received Spanish citizenship in September 2005, which finally made it possible for Messi to make a debut in the Championship League.
However, he continued to be plagued by major injuries; a metatarsal fracture sustained on 12 November 2006 kept him out of action for three months. He recovered in time for the last 16 round of the Champions League against Liverpool, but was effectively marked out of the game; Barcelona, the reigning champions, were out of the competition. In the league, his goal contribution increased towards the end of the season; 11 of his 14 goals came from the last 13 games. On 10 March 2007, he scored his first hat-trick in a Clásico, the first player to do so in 12 years, equalising after each goal by Real Madrid to end the match in a 3–3 draw in extra time. His growing importance to the club was reflected in a new contract, signed that month, which greatly increased his wages.
Messi's first outing at the Champions League was against Italian club Udinese. Though he entered the field as a substitute, he played amazing soccer with Ronaldinho, the two sharing good chemistry over passing and receiving the ball. Out of his 17 league appearances, Messi managed to strike six goals. However, a muscle tear in his right thigh led to his premature exit from the league, which Barcelona eventually won as champions of Spain and Europe.
His efforts in 2007 also earned him award recognition; journalists voted him the third-best player of the year for the Ballon d'Or, behind Kaká and runner-up Cristiano Ronaldo, while international managers and national team captains voted him second for the FIFA World Player of the Year award, again behind Kaká. Although he managed to score 16 goals during the 2007–08 campaign, the second half of his season was again marred by injuries after he suffered a torn hamstring on 15 December.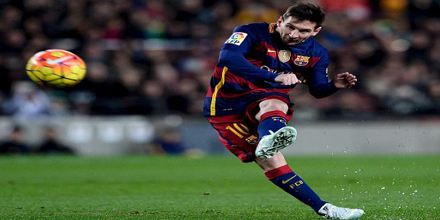 After two unsuccessful seasons, Barcelona were in need of an overhaul, leading to the departure of Rijkaard and Ronaldinho. Upon the latter's departure, Messi was given the number 10 shirt. He signed a new contract in July 2008 on an annual salary of €7.8 million, becoming the club's highest-paid player.
Messi eventually grew to 5 feet and 7 inches, and with his short stature, speed and relentless attacking style, he drew comparisons to another famous Argentinean footballer: Diego Maradona. 2009 was a successful year for Messi as he not only won his first Copa del Rey, but helped his team win La Liga and finally the Champions League. With three victories by their side in a single year, Barcelona became the first ever Spanish club to win the treble. Messi scored a hat-trick quite a couple of times. He ended the season with an overall 38 goals and 18 assists record.
Before the year end, Barcelona had recorded another win at the 2009 Club World Cup beating Estudiantes, thus totalling their title won in the year to six.
2010 was a year of hat-trick for Messi as he scored against CD Tenerife, Valencia CF, Real Zaragoza, thus becoming the first Barcelona player to score back-to-back hat-tricks in La Liga. In a match against Arsenal, Messi went on to score four goals. The year ended with Messi scoring 47 goals and 11 assists in all competitions.
In the 2010 Copa del Rey final, Barcelona faced their arch rivals Real Madrid. Though the defending champions lost their game to Real Madrid, Messi was however the joint top-scorer of the tournament along with Cristiano Ronaldo, with 7 goals.
As Messi developed into a combination of a number 8 (a creator), a 9 (scorer), and a 10 (assistant), he scored an unprecedented 73 goals and provided 29 assists in all club competitions during the 2011–12 season, producing a hat-trick or more on 10 occasions. He began the campaign by helping Barcelona win both the Spanish and European super cups; in the Supercopa de España, he scored three times to achieve a 5–4 aggregate victory over Real Madrid, overtaking Raúl as the competition's all-time top scorer with eight goals. At the close of the year, on 18 December, he scored twice in the FIFA Club World Cup final, a 4–0 victory over Santos, winning the Golden Ball as the best player of the tournament, as he had done two years previously.
Messi, on the other hand, had by far the best year or season in his career till then as he became the top goalscorer in La Liga for a second time, with a Liga record of 50 goals. He was the second best assist provider in La Liga that season with 16 assists, after Mesut Ozil, who managed 17. He also ended the season as the UEFA Champions' League Top Scorer for a fourth consecutive time, with 14 goals. He was one of the top assist providers of the tournament with 5 assists and finished the season with 73 goals and 29 assists in all club competitions, with more goals and assists than any other player in the history of the game.
In 2012, Messi's goal count rested at 91 for the calendar year which was the highest ever, surpassing Gerd Muller's 85 goal haul. The supremely outstanding performance of Messi led to Barcelona renewing its contract with this ace footballer until the year 2018.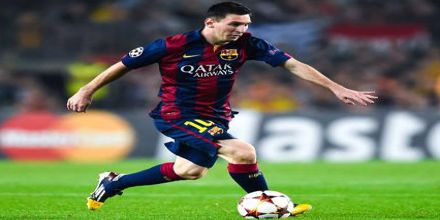 Barcelona had virtually secured their La Liga title by the start of 2013, eventually equalling Real Madrid's 100-point record of the previous season. However, their performances deteriorated in the second half of the 2012–13 campaign, concurrently with Vilanova's absence due to ill health. After losing successive Clásicos, including the Copa del Rey semi-finals, they were nearly eliminated in the first knockout round of the Champions League by Milan, but a revival of form in the second leg led to a 4–0 comeback, with two goals and an assist from Messi. Since his evolution into a false nine three years earlier, his input into the team's attack had increased exponentially; from 24% in their treble-winning campaign, his goal contribution rose to more than 40% that season.
Messi continued to struggle with injury throughout 2013, eventually parting ways with his long-time personal physiotherapist. Further damage to his hamstring sustained on 12 May ended his goalscoring streak of 21 consecutive league games, a worldwide record; he had netted 33 goals during his run, including a four-goal display against Osasuna, while becoming the first player to score consecutively against all 19 opposition teams in La Liga. With 60 goals in all competitions, including 46 goals in La Liga, he finished the campaign as league top scorer in Spain and Europe for the second consecutive year, becoming the first player in history to win the European Golden Shoe three times. Following an irregular start to the new season under manager Gerardo Martino, formerly of his boyhood club Newell's Old Boys, Messi suffered his fifth injury that year when he tore his hamstring on 10 November, leaving him sidelined for two months. Despite his injuries, he was voted runner-up for the FIFA Ballon d'Or, relinquishing the award after a four-year monopoly to Cristiano Ronaldo.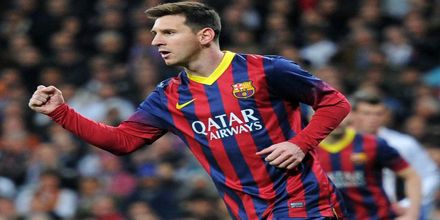 His persistent injuries posed a threat to his career but he bounced back in 2014, and had a good start to the 2014–15 season. By the end of the year, he had successfully broken three longstanding records. He scored a hat-trick against Sevilla in November which made him the all-time top scorer in La Liga. He had an amazing start in the 2015 season. He gave a scintillating performance along with team mates Luis Suárez, and Neymar to score a total of 122 goals in all competitions that season, a record in Spanish football. Messi himself scored 58 of the 122 goal.
Continuing his streak of success in 2016, Messi scored two goals and assisted the other two in a 4–1 derby win over Espanyol at the Camp Nou in the first leg of the Round of 16 of the 2015–16 Copa del Rey in January 2016. In February the same year, he reached his 300th league goal in a 1–3 away win against Sporting Gijon. He scored his 500th senior career goal for club and country on 17 April 2016 in Barcelona's 2–1 home loss to Valencia. In the 2015-16 season, he scored a total of 41 goals and provided 23 assists.
International Career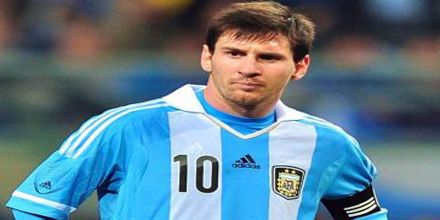 As a dual Argentine-Spanish national, Messi was eligible to play for the national team of both countries. Selectors for Spain's Under-17 squad began pursuing him in 2003 after Barcelona's director of football, Carles Rexach, alerted the Royal Spanish Football Federation to their young player. Messi declined the offer, having aspired to represent La Albiceleste since childhood. To further prevent Spain from taking him, the Argentine Football Association organised two under-20 friendlies in June 2004, against Paraguay and Uruguay, with the purpose of finalising his status as an Argentina player in FIFA.
In recognition of his achievements with the under-20 side, senior manager José Pékerman gave Messi his first call-up for a friendly against Hungary on 17 August 2005. Aged 18, Messi made his senior debut for Argentina. He subsequently made regular appearances for the team ahead of Argentina's participation in the 2006 FIFA World Cup, scoring his first goal in a friendly against Croatia on 1 March 2006. A hamstring injury sustained a week later jeopardised his presence in the World Cup, but he was nevertheless selected for Pékerman's squad and regained fitness in time for the start of the tournament.
During the World Cup in Germany, Messi witnessed their opening match victory against the Ivory Coast from the substitutes' bench. In the next match, against Serbia and Montenegro, he became the youngest player to represent Argentina at a FIFA World Cup when he came on as a substitute in the 74th minute. He assisted their fourth strike within minutes and scored the final goal in their 6–0 victory, making him the youngest scorer in the tournament and the sixth-youngest goalscorer in the history of the World Cup.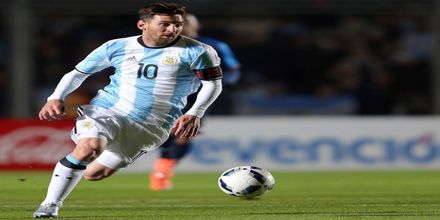 As Messi evolved into one of the best players in the world, he secured a place in Alfio Basile's starting line-up, as part of a team considered favourites to win the 2007 Copa América, held in Venezuela. In a surprise defeat, Argentina lost the final 3–0 to a Brazil squad which lacked several of the nation's best players. Their unexpected loss was followed by much criticism in Argentina, though Messi was mostly exempt due to his young age and secondary status to star player Juan Román Riquelme. He was named the best young player of the tournament by CONMEBOL.
After Argentina's unsuccessful performance in the Copa América in 2011, Batista was replaced by Alejandro Sabella. Upon his appointment in August 2011, Sabella awarded the 24-year-old Messi the captaincy of the squad, in accord with then-captain Javier Mascherano. Now playing in a free role in an improving team, Messi finally ended his goal drought by scoring during their first World Cup qualifying match against Chile on 7 October, his first official goal for Argentina in two-and-a-half years.
His first hat-trick with the Albicelestes came in a friendly against Switzerland on 29 February 2012, followed by two more hat-tricks over the next year-and-a-half in friendlies against Brazil and Guatemala. Messi then helped the team secure their place in the 2014 World Cup with a 5–2 victory over Paraguay on 10 September 2013; in addition to providing an assist, he scored twice from a penalty kick, taking his international tally to 37 goals to become Argentina's second-highest goalscorer behind only Batistuta. Overall, he had scored a total of 10 goals in 14 matches during the qualifying campaign. Concurrently with his bettered performances, his relationship with his compatriots improved, as he gradually began to be perceived more favourably in Argentina.
For all his success with Barcelona, Messi has come under fire for his inability to help Argentina's national team win a major title. He did lead "La Albiceleste" to the final of the 2014 World Cup, and was named player of the tournament, although his team lost to Germany. In 2016, following Argentina's second consecutive loss to Chile in the final of the Copa America tournament, Messi announced he was ending his run with the national team.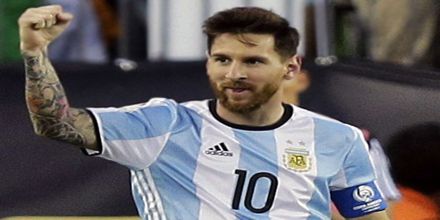 Just a week after Messi announced his international retirement, Argentine newspaper La Nación reported that he was reconsidering playing for Argentina at the 2018 FIFA World Cup qualifiers in September. On 12 August, it was confirmed that Messi had reversed his decision to retire from international football, and he was included in the squad for the national team's upcoming 2018 World Cup qualifiers. On 1 September, in his first game for Argentina after reversing his decision to retire, he scored the only goal in a 1–0 home win over Uruguay in a 2018 World Cup qualifier.
In July 2016, soon after the loss to Chile, Messi suffered a blow off the soccer field when a Barcelona court found him and his father guilty of three counts of tax fraud. During a four-day trial, Messi and his father denied breaking the law and claimed they were unaware of any tax illegalities that were committed. However, they were both sentenced to 21 months in prison. Under Spanish law, first offenses under two years are suspended so they will not go to jail, but Messi will pay a fine of 2 million euros and his father is required to pay 1.5 million euros.
Records
As of 10 November 2016
Most FIFA Ballons d'Or: 5 (2009–12, 2015)
Most consecutive FIFA Ballons d'Or: 4
Youngest two-time and three-time FIFA Ballon d'Or winner: 23 and 24 years old
Most UEFA Best Player in Europe awards: 3 (2009, 2011, 2015) (shared with Cristiano Ronaldo)
Most La Liga Best Player awards: 6 (2009–13, 2015)
Top goalscorer in La Liga: 319 goals
Top assist provider in La Liga: 130 assists
Top goalscorer in the Supercopa de España: 12 goals
Top goalscorer in El Clásico: 21 goals
Top goalscorer in the Derbi barceloní: 16 goals
Top goalscorer in the UEFA Super Cup: 3 goals (shared with Arie Haan, Oleg Blokhin, Gerd Müller, Rob Rensenbrink, François Van der Elst, Terry McDermott, and Radamel Falcao)
Top goalscorer in the FIFA Club World Cup: 5 goals (shared with César Delgado and Luis Suárez)
Top goalscorer in all club competitions in a calendar year: 79 goals in 2012
Top goalscorer in all club competitions in a season: 73 goals in 2011–12
Longest goalscoring run in a domestic league: 21 matches, 33 goals in 2012–13
Top goalscorer in a La Liga season: 50 goals in 2011–12
Most hat-tricks scored in a La Liga season: 8 in 2011–12 (shared with Cristiano Ronaldo)
Only player to score consecutively against all opposition teams in La Liga: 19 matches, 30 goals in 2012–13
Only player to have won more than one FIFA Club World Cup Golden Ball.
Youngest player to score 200 goals in La Liga: 25 years in 2013
First player to be top goalscorer in five UEFA Champions League seasons (2008–09 to 2011–12, 2014–15)
First player to be top goalscorer in four consecutive UEFA Champions League seasons
Most hat-tricks scored in the UEFA Champions League: 7
Most goals scored in a UEFA Champions League match: 5 in 2012 (shared with Luiz Adriano)
Youngest player to make 100 appearances in the UEFA Champions League: 28 years, 84 days in 2015
Most titles won with Barcelona: 29 (shared with Andrés Iniesta)
Top goalscorer for Barcelona in official competitions: 475 goals
Top goalscorer for Barcelona including friendlies: 498 goals
Top goalscorer for Barcelona in the UEFA Champions League: 93 goals
Most hat-tricks scored in all competitions by a Barcelona player: 36
Most hat-tricks scored in La Liga by a Barcelona player: 26
Only Barcelona player to be top goalscorer in three La Liga seasons (2009–10, 2011–12, 2012–13)
All-time top assist provider in Copa América: 11 assists
Argentina all-time top goalscorer: 56 goals
Top goalscorer for Argentina in a calendar year: 12 goals in 2012 (shared with Gabriel Batistuta)
Youngest player to play for Argentina in a FIFA World Cup: 18 years, 357 days in 2006
Youngest player to score for Argentina in a FIFA World Cup: 18 years, 357 days in 2006
Youngest player to reach 100 caps for a country under CONMEBOL's jurisdiction: 27 years, 361 days in 2015
Awards and Honours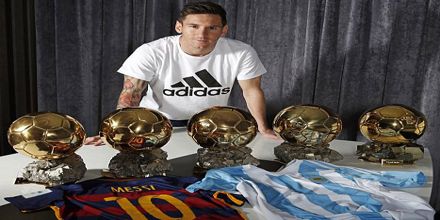 Barcelona
La Liga: 2004–05, 2005–06, 2008–09, 2009–10, 2010–11, 2012–13, 2014–15, 2015–16
Copa del Rey: 2008–09, 2011–12, 2014–15, 2015–16
Supercopa de España: 2006, 2009, 2010, 2011, 2013, 2016
UEFA Champions League: 2005–06, 2008–09, 2010–11, 2014–15
UEFA Super Cup: 2009, 2011, 2015
FIFA Club World Cup: 2009, 2011, 2015
International
FIFA U-20 World Cup: 2005
Olympic Gold Medal: 2008
Individual
Awards
Ballon d'Or: 2009
FIFA World Player of the Year: 2009
FIFA Ballon d'Or: 2010, 2011, 2012, 2015
IFFHS World's Best Top Goalscorer: 2011, 2012
IFFHS World's Best Top Division Goalscorer: 2012, 2013
IFFHS World's Best Playmaker: 2015, 2016
UEFA Club Footballer of the Year: 2009
UEFA Club Forward of the Year: 2009
UEFA Best Player in Europe: 2011, 2015
European Golden Shoe: 2010, 2012, 2013
Best Player in La Liga: 2009, 2010, 2011, 2012, 2013, 2015
Best Forward in La Liga: 2009, 2010, 2011, 2012, 2013, 2015, 2016
La Liga Player of the Month: January 2016
Olimpia de Plata (Argentine Footballer of the Year): 2005, 2007, 2008, 2009, 2010, 2011, 2012, 2013, 2015, 2016
Olimpia de Oro (Argentine Sportsperson of the Year): 2011
FIFA Club World Cup Golden Ball: 2009, 2011
FIFA Club World Cup Silver Ball: 2015
FIFA World Cup Golden Ball: 2014
Copa América Most Valuable Player: 2015 (rejected)
FIFA FIFPro World XI: 2007, 2008, 2009, 2010, 2011, 2012, 2013, 2014, 2015, 2016
UEFA Team of the Year: 2008, 2009, 2010, 2011, 2012, 2014, 2015, 2016
La Liga Team of the Year: 2015
AFA Team of All Time (published 2015)
FIFA World Cup Dream Team: 2014
Copa América Dream Team: 2007, 2011, 2015, 2016
UEFA Goal of the Season: 2006–07, 2014–15, 2015–16
Copa América Best Goal: 2007
FIFPro Young World Player of the Year: 2006, 2007, 2008
Golden Boy (Young European Footballer of the Year): 2005
FIFA World Youth Championship Golden Ball: 2005
FIFA World Youth Championship Golden Shoe: 2005
Copa América Best Young Player: 2007
Performances
La Liga top goalscorer: 2009–10, 2011–12, 2012–13
La Liga top assist provider: 2010–11, 2014–15, 2015–16
Copa del Rey top goalscorer: 2008–09, 2010–11, 2013–14, 2015–16
UEFA Champions League top goalscorer: 2008–09, 2009–10, 2010–11, 2011–12, 2014–15
UEFA Champions League top assist provider: 2011–12, 2014–15
FIFA Club World Cup top goalscorer: 2011
FIFA World Youth Championship top goalscorer: 2005
Copa América top assist provider: 2011, 2015, 2016