Biography of Jerry Garcia
Jerry Garcia – American singer-songwriter and guitarist.
Name: Jerome John Garcia
Date of Birth: August 1, 1942
Place of Birth: San Francisco, California, United States
Date of Death: August 9, 1995 (aged 53)
Place of Death: Lagunitas-Forest Knolls, California, United States
Occupation: Musician, Songwriter
Father: Jose Ramon Garcia
Mother: Ruth Marie Garcia
Spouse/Ex: Sara Ruppenthal Garcia (m. 1963-1967), Carolyn Garcia (m. 1981-1994), Manasha Matheson (m. 1990-1993), Deborah Koons (m. 1994-1995)
Children: Annabelle Walker Garcia, Heather Garcia, Keelin Noel Garcia, Theresa Adams Garcia
Early Life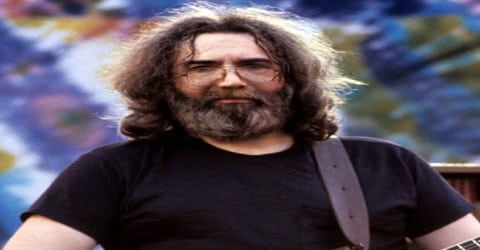 American musician and guitarist, best known as one of the co-founders of the rock band, The Grateful Dead, Jerry Garcia were born in the Excelsior District of San Francisco, California, on August 1, 1942, to Jose Ramon "Joe" Garcia and Ruth Marie "Bobbie" (née Clifford) Garcia. He was best known for his work as the lead guitarist and as a vocalist with the band Grateful Dead, which came to prominence during the counterculture era in the 1960s. Although he disavowed the role, Garcia was viewed by many as the leader or "spokesman" of the group.
The rock band, formed in the mid-1960s was known for its unique and eclectic style which combined elements of rock, folk, bluegrass, blues, reggae, country, and psychedelia. He rose to prominence as the group's lead guitarist and vocalist during the counterculture era and was also considered by some to be the spokesman of the extremely popular band. For around three decades The Grateful Dead ruled over the hearts of music lovers not just in America, but all over the world. Having gained a reputation for himself as the co-founder of the extremely famous musical group, Jerry Garcia also became involved in other projects alongside, the most notable being the Jerry Garcia Band. He had a very close friendship with the bluegrass mandolinist David Grisman and often collaborated to play with him.
Concurrently for much of that time, Garcia also led his own Jerry Garcia Band (JGB), and he performed and recorded in a variety of configurations and a variety of styles, particularly styles of folk and country music, sometimes switching to banjo or pedal steel guitar for the purpose. He also released several solo albums and contributed to a number of albums by other artists over the years as a session musician. He was well known for his distinctive guitar playing and was ranked 13th in Rolling Stone's "100 Greatest Guitarists of All Time" cover story in 2003. (In the 2015 version of the list he was ranked at #46.)
For all his creativity and talent, Garcia had a dark side he was a heavy smoker and addicted to drugs. A diabetic, his health suffered greatly because of his addictions and deteriorated in the 1990s. Garcia died of a heart attack in 1995, at the age of just 53.
Childhood, Family and Educational Life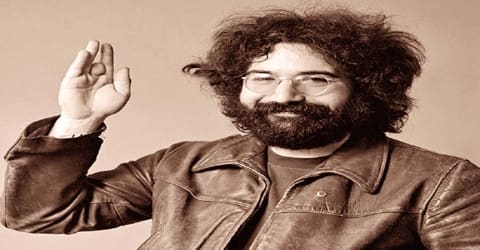 Jerry Garcia, by name of Jerome John Garcia, was born on August 1, 1942, to Jose Ramon "Joe" Garcia and Ruth Marie "Bobbie" in San Francisco, California. His parents were big fans of music and they named him after the composer Jerome Kern. He had one elder brother. Shortly before Clifford's birth, their father and a partner leased a building in downtown San Francisco and turned it into a bar, partly in response to Jose being blackballed from a musicians' union for moonlighting.
Garcia was influenced by music at an early age, taking piano lessons for much of his childhood. His father was a retired professional musician and his mother enjoyed playing the piano. His father's extended family who had emigrated from Spain in 1919 would often sing during reunions. Tragedy struck the Garcia household in 1947 when his father drowned while on a fishing trip. His mother started working to support the family and Jerry and his brother was sent to live with their grandparents. His mother eventually remarried.
Garcia attended the Monroe Elementary School where his artistic abilities became apparent. As he grew up, he became interested in rock and roll and rhythm and blues and was inspired by the likes of Ray Charles, John Lee Hooker, B. B. King, Hank Ballard, and Chuck Berry. As a student, he attended several schools including Menlo Oaks School, Balboa High School, and the Analy High School. He was a trouble-maker as a teenager and was notorious for skipping classes and fighting with fellow students.
Garcia did, however, join a band at his school known as the Chords. After performing and winning a contest, the band's reward was recording a song they chose "Raunchy" by Bill Justis. In 1961, he was involved in a serious car accident in which one of his friends died. This was a wakeup call for young Jerry and he vowed to rebuild his life.
Personal Life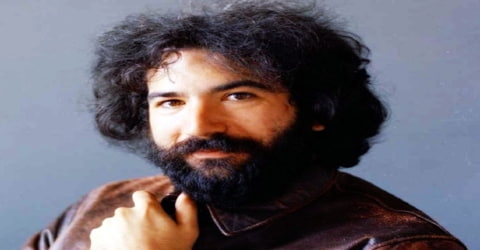 Jerry Garcia met his first wife, Sara Ruppenthal Garcia, in 1963. She was working at the coffee house in the back of Kepler's Books, where Garcia, Hunter, and Nelson regularly performed. They married on April 23, 1963, and on December 8 of that year, their daughter Heather was born.
Garcia became involved with another woman, Carolyn Adams, while still married to Sara leading to their divorce in 1967. While raising Sunshine with Garcia, Adams gave birth to Garcia's second and third daughters, Annabelle Walker Garcia (February 2, 1970) and Theresa Adams "Trixie" Garcia (September 21, 1974). Adams and Walker eventually divorced in 1978. Garcia had an affair with Amy Moore (a Kentucky-born member of the extended "Grateful Dead family" and the mistress of Texas oil heir Roy Cullen) circa 1980–1981, and their brief liaison inspired the Garcia-Hunter song "Run for the Roses."
During August 1970, Garcia's mother Ruth was involved in a car crash near Twin Peaks in San Francisco. Garcia, who was recording the album American Beauty at the time, often left the sessions to visit his mother with his brother Clifford. She died on September 28, 1970.
Garcia married Carolyn Adams in 1981. He started a relationship with Deborah Koons while he was still involved with Carolyn. Garcia and Carolyn Adams officially divorced in 1994.
During the autumn of 1978, Garcia developed a friendship with Shimer College student Manasha Matheson, an artist, and music enthusiast. They remained friends over the following nine years before initiating a romantic relationship in Hartford, Connecticut on the Grateful Dead's spring 1987 tour. On August 17, 1990, Jerry and Manasha married at their San Anselmo, California home in a spiritual ceremony free of legal convention. Jerry and Manasha became parents with the birth of their daughter, Keelin Noel Garcia, on December 20, 1987.
In January 1993, Barbara "Brigid" Meier, a former girlfriend from the early 1960s, reentered Garcia's life. According to Meier, he had considered her to be the "love of his life" and proposed to her during a Hawaiian vacation shortly after their relationship recommenced. However, the "love of his life" sentiment was not reserved for Meier, as Garcia expressed the same feelings to several other women in his life. The affair with Meier marked the breakup of Jerry's family life with Manasha and Keelin.
However, Garcia ended the affair with Meier forty-five days later in Chicago while on tour with the Grateful Dead after she confronted him about his drug use. Shortly thereafter, Garcia renewed his acquaintance with Deborah Koons in the spring of 1993. They married on February 14, 1994, in Sausalito, California.
Career and Works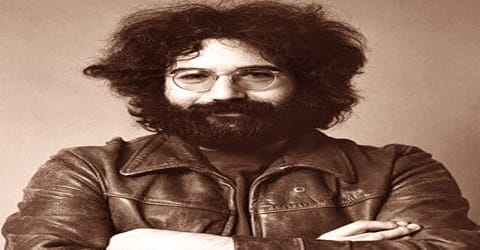 Jerry Garcia was the singer, songwriter, and lead guitarist of the San Francisco-based group that emerged from the Haight-Ashbury psychedelic-drug-and-music scene in the mid-1960s. Known for his gentle, laid-back stage presence and soulful extended guitar improvisations, he became the portly patriarch of a devoted legion of nomadic fans called the Deadheads, who followed the band on tour in spirited makeshift communities. Garcia, whose father was a jazz musician, was raised amid a variety of musical influences, including folk, bluegrass, country, rock, and rhythm-and-blues. The band gained notoriety as the party band for Ken Kesey's Acid Tests, featuring revelers experimenting with the then-legal hallucinogen LSD, and fame for performing at such high-profile rock concerts as the Monterey (Calif.)
Garcia stole his mother's car in 1960, and as punishment, he was forced to join the United States Army. He received basic training at Fort Ord. After training, he was transferred to Fort Winfield Scott in the Presidio of San Francisco. Garcia spent most of his time in the army at his leisure, missing roll call and accruing many counts of AWOL. As a result, Garcia was given a general discharge on December 14, 1960.
In April 1961, Garcia first met Robert Hunter, who would become a long-time friend of and lyricist for the Grateful Dead, collaborating principally with Garcia. The two involved themselves in the South Bay and San Francisco art and music scenes, sometimes playing at Menlo Park's Kepler's Books. In 1962, Garcia met Phil Lesh, the eventual bassist of the Grateful Dead, during a party in Menlo Park's bohemian Perry Lane neighborhood (where author Ken Kesey lived). Garcia soon began playing and teaching acoustic guitar and banjo. One of Garcia's students was Bob Matthews, who later engineered many of the Grateful Dead's albums. Matthews attended Menlo-Atherton High School and was friends with Bob Weir, and on New Year's Eve 1963, he introduced Weir and Garcia.
Garcia decided to take his life seriously and started playing the guitar in earnest. He played with several bands over the next couple of years and also started teaching acoustic guitar and banjo. During this time he became acquainted with some other aspiring musicians and decided to form his own band. Along with Bob Weir, Ron "Pigpen" McKernan, Phil Lesh, and Bill Kreutzmann, he founded the rock band, The Grateful Dead, in 1965 in Palo Alto, California. The band had many musical influences and made extensive use of improvisation, and is considered one of the originators of jam band music.
During 1964, Garcia began playing in a jug band, Mother McCree's Uptown Jug Champions, that also featured guitarist/singer Bob Weir and singer/harmonica player/keyboardist Ron McKernan (aka Pigpen). At the turn of 1965, the group took up electric instruments and became a rock & rolls band, adding drummer Bill Kreutzmann and renaming themselves the Warlocks. Phil Lesh, another friend of Garcia's, joined on bass by June 1965, and in December the quintet first performed under its new name, the Grateful Dead. Their first single, comprising the traditional songs "Stealin'" and "Don't Ease Me In," was released by Scorpio Records in June 1966, and Garcia was the lead vocalist on both tracks.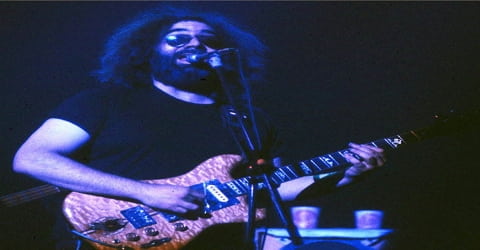 Jerry Garcia later described his playing style as having "descended from barroom rock and roll, country guitar. Just 'cause that's where all my stuff comes from. It's like that blues instrumental stuff that was happening in the late Fifties and early Sixties like Freddie King." Garcia's style could vary with the song being played and the instrument he was using, but his playing had a number of so-called "signatures". Among these were lead lines based on rhythmic triplets (examples include the songs "Good Morning Little School Girl", "New Speedway Boogie", "Brokedown Palace", "Deal", "Loser", "Truckin'", "That's It for the Other One", "U.S. Blues", "Sugaree", and "Don't Ease Me In"). Another signature to his style was poignant, almost pleading quality of musical gesture that, especially in extended solos could evolve into disparate and unpredictable emotional regions such as anxiety, anger, or triumph. This tremendous breadth of emotional expression between songs or even within a piece accounts for a great deal of his reputation as a guitarist.
The band's first two albums 'The Grateful Dead' (1967) and 'Anthem of the Sun' (1968) were moderate successes though it was their third album, 'Aoxomoxoa' (1969) that established them as a popular rock group. The band also used to tour a lot and play live concerts.
Meanwhile, the Grateful Dead signed to Warner Bros. Records for the release of their first album, The Grateful Dead, in March 1967. Featuring the Garcia-written song "Cream Puff War," the LP peaked in the Top 100. Although all the tracks on the Grateful Dead's second album, a combination of live and studio recordings called Anthem of the Sun released in July 1968, were credited to the group as songwriters, Garcia had enlisted his friend Robert Hunter to write lyrics to some of the songs, and the Garcia/Hunter songwriting partnership officially premiered on the band's third album, Aoxomoxoa, released in June 1969.
Over the 1970s the band became increasingly popular due to its eclectic and unique music. In addition to his career with The Grateful Dead Jerry Garcia also started taking up side projects and released his solo albums 'Garcia' (1972), 'Compliments' (1974), and 'Reflections' (1976). Garcia founded another band, The Jerry Garcia Band, in the mid-1970s. It was one of his most important side-projects and had the bassist John Kahn and keyboardist Melvin Seals. This band too played rock music infused with elements of blues, folk, country, and jazz.
Garcia also spent a lot of time in the recording studio helping out fellow musician friends in session work, often adding guitar, vocals, pedal steel, sometimes banjo and piano and even producing. He played on over 50 studio albums, the styles of which were eclectic and varied, including bluegrass, rock, folk, blues, country, jazz, electronic music, gospel, funk, and reggae. Artists who sought Garcia's help included the likes of Jefferson Airplane (most notably Surrealistic Pillow, Garcia being listed as their "spiritual advisor"). Garcia himself recalled in a mid-1967 interview that he'd played the high lead on "Today," played on "Plastic Fantastic Lover" and "Comin' Back to Me" on that album. Others include Tom Fogerty, David Bromberg, Robert Hunter (Liberty, on Relix Records), Paul Pena, Peter Rowan, Warren Zevon, Country Joe McDonald, Pete Sears, Ken Nordine, Ornette Coleman, Bruce Hornsby, Bob Dylan, It's a Beautiful Day and many more. In 1995 Garcia played on three tracks for the CD Blue Incantation by guitarist Sanjay Mishra, making it his last studio collaboration.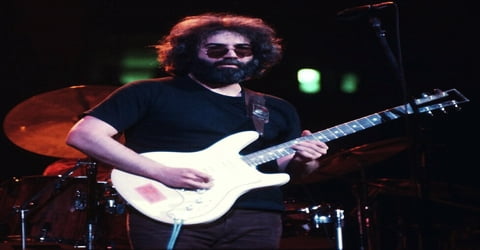 His first track as a solo performer was "Love Scene," which appeared on the soundtrack to the 1970 film Zabriskie Point. Garcia also began playing in a pickup band in a club in San Francisco with keyboardist Howard Wales, beginning a string of gigs that would lead to the JGB, although the more immediate result was his first "solo" album, an LP actually credited to Wales and him, called Hooteroll?, released by Douglas Records in 1971.
Garcia also lent pedal steel guitar to fellow-San Francisco musicians New Riders of the Purple Sage from their initial dates in 1969 to October 1971, when increased commitments with the Dead forced him to opt out of the group. He appears as a band member on their debut album New Riders of the Purple Sage, and produced Home, Home on the Road, a 1974 live album by the band. He also contributed pedal steel guitar to the enduring hit "Teach Your Children" by Crosby, Stills, Nash, & Young. Garcia also played steel guitar licks on Brewer & Shipley's 1970 album Tarkio. Despite considering himself a novice on the pedal steel, Garcia routinely ranked high in player polls. After a long lapse from playing the pedal steel, he played it once more during several of the Dead's concerts with Bob Dylan in the summer of 1987.
Garcia's and the Grateful Dead's interest in country-rock was explored on the band's fifth album, Workingman's Dead, released in May 1970, and Garcia composed or co-composed seven of its eight songs, including "Uncle John's Band," which became the Grateful Dead's first chart single. American Beauty, their sixth album, released that November, continued in this style, and Garcia was involved in the writing of seven of its ten songs, among them "Friend of the Devil," later covered by Counting Crows, Ramblin' Jack Elliott, and Chris Smither, among others, and "Ripple," later covered by such varied artists as Rick Danko, Perry Farrell, Jimmie Dale Gilmore, and Chris Hillman. The Grateful Dead reverted to a more eclectic style after these two popular albums, but the self-titled debut album by the New Riders of the Purple Sage, released by Columbia Records in the summer of 1971, continued in the country-rock sound. Garcia amicably exited the New Riders that fall, but played on their next album, Powerglide, and later produced their 1974 live album, Home, Home on the Road.
The 1980s was a very difficult period for Garcia. He had become addicted to drugs because of which his health declined considerably. This also impacted his musical career negatively and thus he was not much productive during this decade.
In 1988, Garcia agreed to perform at several major benefits including the "Soviet American Peace Walk" concert at the Band Shell, in Golden Gate Park, San Francisco, that drew 25,000 people. He was asked to play by longtime friend and fellow musician, Pete Sears, who played piano with all the bands that day and also procured all the other musicians. Garcia, Mickey Hart and Steve Parish played the show, they were given a police escort to a Grateful Dead show across the bay later that night. Garcia also played with Nick Gravenites and Pete Sears at a benefit given for Vietnam Veteran and peace activist Brian Willson, who lost both legs below the knee he attempted to block a train carrying weapons to military dictatorships in El Salvador.
Although the Grateful Dead regularly released albums, they made only one top-10 single. They became, however, one of the most successful touring bands in the nation, as much for the spectacle of their Deadhead entourage as for Garcia's marathon four-hour musical meanderings. Garcia and the band discovered newfound fame in the late 1980s when baby-boomer nostalgia combined with a new generation of young fans to make the Grateful Dead more popular than ever before.
Garcia created a number of drawings, etchings, and watercolors. Garcia's artistic endeavors were represented by the Weir Gallery in Berkeley, California from 1989 to 1996. He returned to his past glory in the 1990s when he teamed up with the bluegrass/newgrass mandolinist and composer David Grisman to release the albums 'Garcia/Grisman' (1991) and 'Not for Kids Only' (1993).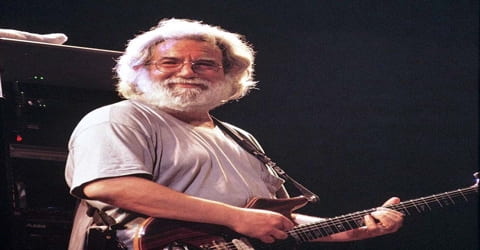 In February 1991, Garcia added a third steady group to his schedule, appearing in an acoustic duo with his old friend David Grisman at the Warfield and, shortly after, releasing the album Jerry Garcia/David Grisman through Grisman's Acoustic Disc label. Warfield shows from 1990 with the JGB were the source for Arista's two-CD set Jerry Garcia Band, released in May 1991, Garcia's first solo chart album in nine years. Still, the bulk of the guitarist's time was given over to the regular touring he did with the Grateful Dead. On August 4, 1992, four days after his 50th birthday, he was reported to have fallen ill again, although he was not hospitalized this time. On October 31, 1992, he returned to performing with the JGB.
Garcia was an early adopter of digital art media; his artistic style was as varied as his musical output, and he carried small notebooks for pen and ink sketches wherever he toured. Roberta Weir continues to maintain an archive of the artwork of Jerry Garcia. Perhaps the most widely seen pieces of Jerry Garcia's art are the many editions of men's neckties produced by Stonehenge Ltd. Some began as etchings, other designs came from his drawings, paintings, and digital art. Years after Garcia's death, his estate granted the license to Mulberry Street which resulted in a lawsuit and settlement with the original manufacturer, and new styles and designs continue to be produced and sold.
Garcia's musical relationship with Grisman found him collaborating with the mandolin player on a series of recordings, and another duo release, Not for Kids Only, appeared in September 1993. That year, the Grateful Dead were the most successful touring act in the U.S., grossing $45.6 million. In 1994, they grossed $52.4 million but fell to fifth place in the face of stiffer competition. Meanwhile, they had begun to delve into their archives for vintage live recordings to satisfy the demands of the Deadheads, releasing such albums as One from the Vault (1991), recorded in 1975, and Two from the Vault (1992), recorded in 1968. The summer of 1995 found the Grateful Dead, as usual, playing outdoor stadiums, and they finished the run with a show at Soldier Field in Chicago on July 9. It was the band's last concert.
Awards and Honor
Jerry Garcia was inducted into the Rock and Roll Hall of Fame as a member of the Grateful Dead in 1994.
Garcia was ranked 13th in Rolling Stone's "100 Greatest Guitarists of All Time" cover story.
Death and Legacy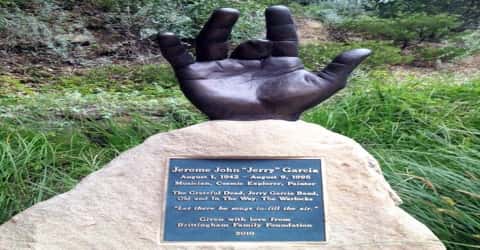 Jerry Garcia struggled with drug addiction and heavy smoking. He was also a diabetic, and his addictions aggravated his health problems.
On August 9, 1995, at 4:23 am, eight days after his 53rd birthday, Garcia was found dead in his room at the rehabilitation clinic. The cause of death was a heart attack. Garcia's funeral was held on August 12, at St. Stephen's Episcopal Church in Belvedere. It was attended by his family, the remaining Grateful Dead members, and their friends, including former pro basketball player Bill Walton and musician Bob Dylan. Deborah Koons barred Garcia's former wives from the ceremony.
On the morning of April 4, 1996, after a total lunar eclipse earlier that day, Weir and Deborah Koons, accompanied by Sanjay Mishra, spread half of Garcia's ashes into the Ganges River at the holy city of Rishikesh, India, a site sacred to Hindus. The remaining ashes were poured into the San Francisco Bay. Koons did not allow former wife Carolyn Garcia to attend the spreading of the ashes.
Jerry Garcia is best remembered as one of the co-founders of the rock band, The Grateful Dead. The band was very popular for their live performances and improvisational style and were ranked 57th in the issue The Greatest Artists of all Time by 'Rolling Stone' magazine. The Grateful Dead have sold more than 35 million albums worldwide.
In May 2015, 20 years after his death, his surviving bandmates led an all-star tribute to his memory called Dear Jerry. Two months later they reunited to celebrate their 50th anniversary with a series of farewell concerts held at Chicago's Soldier Field, the site of their last performance with Garcia. It was the first time they had performed under the Grateful Dead banner since Jerry's passing, and his role in the band was filled by longtime admirer Trey Anastasio of Phish. In 2016, a record by one of Garcia's earliest pre-Dead projects, the Hart Valley Drifters, was issued for the first time.
Information Source: