Biography of Helena Rubinstein
Helena Rubinstein – Polish-American businesswoman.
Name: Helena Rubinstein
Other names: Princess Gourielli, Madame Helena Rubinstein, Chaja Rubinstein
Date of Birth: December 25, 1870
Place of Birth: Kraków, Austrian Poland
Date of Death: April 1, 1965 (aged 94)
Place of Death: Manhattan, New York City
Occupation: Businesswoman, philanthropist, art collector, cosmetician
Spouse: Prince Artchil Gourielli-Tchkonia (m. 1938–1955), Edward William Titus (m. 1908–1938)
Children: Roy Valentine Titus, Horace Titus
Early Life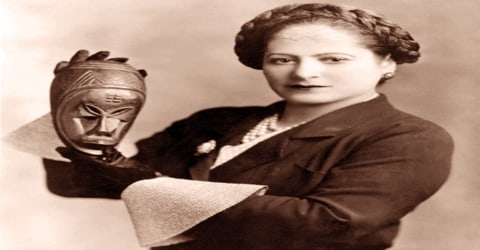 Helena Rubinstein was born in Krakow's Jewish Ghetto on December 25, 1872, in Poland and nothing in her early life suggested she was destined to become such a powerful woman. She was a Polish-American businesswoman, art collector, and philanthropist. A cosmetics entrepreneur, and was the founder and eponym of Helena Rubinstein Incorporated cosmetics company, which made her one of the world's richest women.
In 1902, she started her business career in Australia distributing a beauty cream that her mother had used. She soon founded a beauty salon and manufactured cosmetics, working hard to expand her business at every turn. Rubinstein opened salons in London and Paris, and when World War I began she moved to America. Her beauty business grew into a worldwide cosmetics empire, and she eventually created the Helena Rubinstein Foundation in 1953 to fund organizations for children's health.
Childhood, Family and Educational Life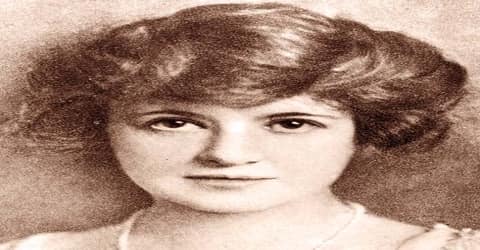 Helena Rubinstein was born on December 25, 1870, Kraków, Poland. Rubinstein was the eldest of eight daughters born to Polish Jews, Augusta – Gitte (Gitel) Shaindel Rubinstein née Silberfeld and Horace – Naftoli Hertz Rubinstein; who was a shopkeeper in the city of Kraków in Lesser Poland, which became part of Austria-Hungary following the partitions of Poland in the late 18th century. The existentialist philosopher Martin Buber was her cousin. She was also the cousin of Ruth Rappaport's mother.
She studied medicine briefly in Switzerland before journeying in the late 1890s to visit relatives in Australia.
As the oldest child, Helena helped her father with bookkeeping, and her intelligence led him to insist she study the medical sciences. She liked the lab work but was averse to being in a hospital, and she was allowed to end her studies as long as she agreed to marry. Her choice, however, was not the 35-year-old widower her father picked out but a fellow student from the University of Krakow.
Personal Life
Helena Rubinstein's interests included painting, jewelry, fashion, architecture, furniture, and interior design. She decided she would first conquer London and then take on the whole of Europe.
In 1908, she married the Polish-born American journalist Edward William Titus in London. They had two sons, Roy Valentine Titus (London, December 12, 1909–New York, June 18, 1989) and Horace Titus (London, April 23, 1912–New York, May 18, 1958).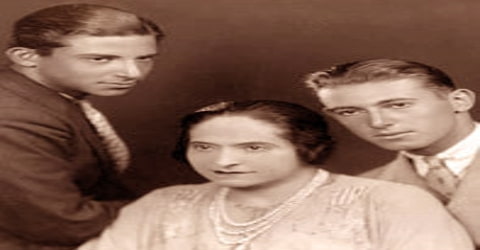 (Helena Rubinstein and her two sons)
They eventually moved to Paris where she opened a salon in 1912. Her husband helped with writing the publicity and set up a small publishing house, published Lady Chatterley's Lover and hired Samuel Putnam to translate famous model Kiki's memoirs.
Rubinstein and Titus divorced in 1937, and the following summer she married Russian prince Artchil Gourielli-Tchkonia, who was 20 years younger.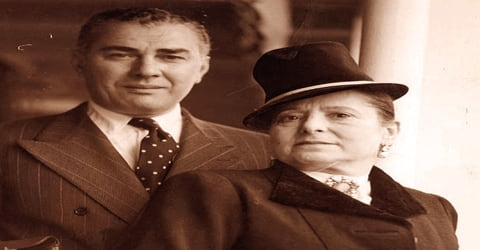 (Helena Rubinstein and her 2nd husband Prince Gurielli-Tchkonia in Sydney, Australia)
Eager for a regal title to call her own, Rubinstein pursued the handsome youth avidly, coming to name a male cosmetics line after her youthful prized catch. Some have claimed that the marriage was a marketing ploy, including Rubinstein's being able to pass herself off as Helena Princess Gourielli.
Career and Works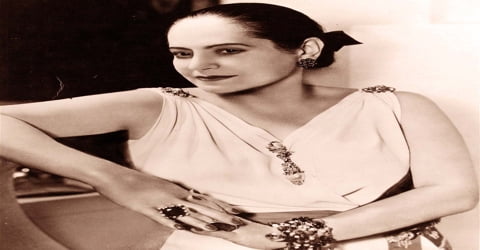 Diminutive at 4 ft. 10 in. (147 cm), Rubinstein emigrated from Poland to Australia in 1902, with no money and little English. Her stylish clothes and milky complexion did not pass unnoticed among the town's ladies, however, and she soon found enthusiastic buyers for the jars of beauty cream in her luggage. She spotted a market where she began to make her own. A key ingredient of the cream, lanolin, was readily at hand.
Rubinstein's father disapproved of her choice in a husband, so she packed up and moved from her native Poland to live with her uncle in Australia. She brought along a dozen bottles of her mother's beauty cream, made from combinations of herbs, almonds, and Carpathian fir tree extract. The creams were a hit with regional women and Rubinstein gave the products away until her mother had to send more.
Rubinstein had a falling out with her uncle, but after a stint as a bush, governess began waitressing at the Winter Garden tearooms in Melbourne. There, she found an admirer willing to stump up the funds to launch her Crème Valaze, supposedly including herbs imported "from the Carpathian Mountains". Costing ten pence and selling for six shillings, it walked off the shelves as fast as she could pack it in pots. Known to her customers only as Helena, Rubinstein could soon afford to open a salon in fashionable Collins Street, selling glamour as a science to clients whose skin was "diagnosed" and a suitable treatment "prescribed".
In 1908 she opened an elaborate beauty salon in London and in 1912 another in Paris. From the beginning, her clientele consisted of wealthy and aristocratic women, many of whom broke social custom in patronizing her salons. In 1914 she opened a salon in New York City, and over the next several years salons appeared as well in Chicago, Boston, Los Angeles, and other American cities. From that date, she spent an increasing portion of her time in the United States.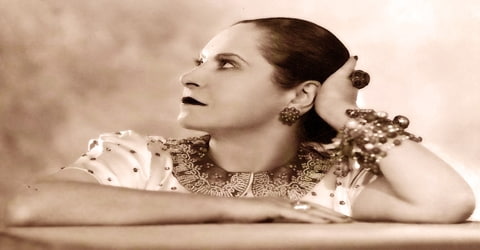 As such, Rubinstein formed one of the world's first cosmetic companies. Her business enterprise proved immensely successful and later in life, she used her enormous wealth to support charitable institutions in the fields of education, art and health. Rubinstein rapidly expanded her operation. In 1908, her sister Ceska assumed the Melbourne shop's operation, when, with $100,000, Rubinstein moved to London and began what was to become an international enterprise.
Helena Rubinstein opened a factory in Saint Cloud, where she worked with a team of chemists to develop even more complex creams that would protect skin from the effects of ageing. She also produced make-up there: a blusher for cheeks and a tinted powder to mattify the face. In under two years, she had Paris at her feet. Three of her sisters were working with her and she supported her family back in Poland. Her New York salon opened just before the First World War, providing a sumptuous setting where art and fashion mingled with skincare and beauty. It was an instant hit and the brand's fame soon spread across America.
In 1917 Rubinstein began the wholesale distribution of her products, an enterprise that, together with manufacturing, was eventually to become the predominant activity of her business. The chemists and researchers whom she employed developed hundreds of new and improved beauty aids, among which were the first line of medicated skin-care products. In the years that followed World War II, she established manufacturing facilities on five continents.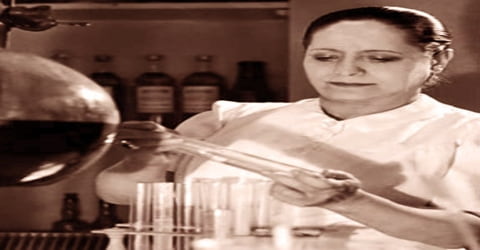 In 1908, Rubinstein headed to London with £100,000 to invest in her business, and in less than a year she had opened Helena Rubinstein's Salon de Beauté Valaze. She soon bought a Paris salon and installed her sister Pauline to run it. The only thing that slowed Rubinstein down was when she was pregnant and gave birth to two sons in 1909 and 1912. Rubinstein then opened a New York salon in 1916. Salons in San Francisco, Boston, Philadelphia, Chicago and Toronto followed, as did sales of her products in department stores.
From 1917, Rubinstein took on the manufacturing and wholesale distribution of her products. The "Day of Beauty" in the various salons became a great success. The purported portrait of Rubinstein in her advertising was of a middle-age mannequin with a Gentile appearance.
The 1920s found Rubinstein in Hollywood, teaching starlets how to properly apply makeup. Back in New York, she had a heated rivalry with both Elizabeth Arden and Charles Revson, founder of Revlon.
In 1928, she sold the American business to Lehman Brothers for $7.3 million, ($88 million in 2007). After the arrival of the Great Depression, she bought back the nearly worthless stock for less than $1 million and eventually turned the shares into values of multimillion dollars, establishing salons and outlets in almost a dozen U.S. cities. Her subsequent spa at 715 Fifth Avenue included a restaurant, a gymnasium, and rugs by painter Joan Miró. She commissioned artist Salvador Dalí to design a powder compact as well a portrait of herself.
A multimillionaire of contrasts, Rubinstein took a bag lunch to work and was very frugal in many matters, but bought top-fashion clothing and valuable fine art and furniture. Concerning art, she founded the Helena Rubinstein Pavilion of Contemporary Art in Tel Aviv and in 1957 she established the Helena Rubinstein traveling art scholarship in Australia. In 1953, she established the philanthropic Helena Rubinstein Foundation to provide funds to organizations specializing in health, medical research and rehabilitation as well as to the America Israel Cultural Foundation and scholarships to Israelis.
Helena Rubinstein was an acute observer of social trends. She saw the changes coming and she was ready for them. In 1958 she invented, first, waterproof mascara, then the automatic mascara. Her innovations kept the brand relevant to women as they gained new freedoms and their lives altered. Since its 1988 buy-out by L'Oréal, the brand has continued to pursue the ambitions of its founder.
In 1959, Rubinstein represented the U.S. cosmetics industry at the American National Exhibition in Moscow.
Beginning in 1958 a £300 annual Rubinstein Prize was awarded for portraits by Australian artists. Prizewinners included Frank Hodgkinson 1958; Charles Blackman 1960; William Boissevain 1961; Margaret Olley 1962; Vladas Meskenas 1963; Judy Cassab 1964, 1965; Jack Carington Smith 1966.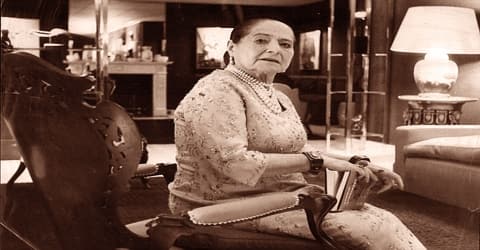 Called "Madame" by her employees, she eschewed idle chatter, continued to be active in the corporation throughout her life, even from her sick bed, and staffed the company with her relatives.
In 1973, the company Helena Rubinstein, Inc. was sold to Colgate Palmolive and is now owned by L'Oréal. The latest scientific research informed the development of the first skincare cream with plant stem cells, launched in 2010, and 2014 saw the innovative Re-Plasty prescription, the first made-to-measure cosmetic intervention from L'Oréal Luxe.
Since 2008, Helena Rubinstein's alliance with the medical expertise of Laclinic-Montreux has enabled it to offer the best of aesthetic medicine and cosmetic surgery in one place. The skincare range re-Plasty is one of the fruits of this collaboration, replicating the effects of treatments offered at Laclinic.
Death and Legacy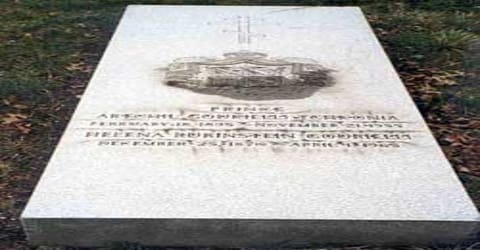 A lifelong advocate for healthy living and self-care, Rubinstein died in New York City on April 1, 1965, at age 94. She was buried in Mount Olivet Cemetery in Queens. Some of her estate, including African and fine art, Lucite furniture, and overwrought Victorian furniture upholstered in purple, was auctioned in 1966 at the Park-Bernet Galleries in New York City.
One of Rubinstein's numerous sayings was: "There are no ugly women, only lazy ones." A scholarly study of her exclusive beauty salons and how they blurred and influenced the conceptual boundaries at the time among fashion, art galleries, the domestic interior and versions of modernism is explored by Marie J. Clifford (Winterthur Portfolio, vol. 38). A feature-length documentary film, The Powder and the Glory (2009) by Ann Carol Grossman and Arnie Reisman, details the rivalry between Rubinstein and Elizabeth Arden.
With a personal fortune estimated at $100 million, Rubinstein was prominent in international society and maintained homes in cities around the world. A patron of the arts, she established the Helena Rubinstein Foundation in 1953 to coordinate her philanthropies, including gifts to museums, colleges, and institutions for the needy, particularly women and children.
2014 saw the beginning of a new chapter: the Helena Rubinstein brand started working with Jean-Marc Lemaître, Research Director of Inserm (France's Institute of Health and Medical Research), to explore how innovations in cellular reprogramming can be applied in its products.
The spirit of the brand's founder Helena Rubinstein can be felt in today's most cutting-edge research, which puts the effectiveness of science and medicine in the service of beauty.
Rubinstein was mentioned by the Austropop/comedy band Erste Allgemeine Verunsicherung in their debut album in 1978, in the song "Pustel Gunkel".
The Helena Rubinstein portrait prize, also known as "Boans – Helena Rubinstein portrait prize", was an annual prize of £300 for portraiture by an Australian artist, awarded by the Helena Rubinstein Foundation (disbanded 2011), and mostly staged at the Claude Hotchin Gallery in Western Australia.
Information Source: