Biography of Ayrton Senna
Ayrton Senna – Brazilian racing driver.
Name: Ayrton Senna da Silva
Date of Birth: 21 March 1960
Place of Birth: São Paulo, Brazil
Date of Death: 1 May 1994 (aged 34)
Place of Death: Bologna, Italy
Famous As: Formula One Driver
Father: Milton Da Silva
Mother: Neide Senna Da Silva
Siblings: Leonardo Senna, Viviane Senna
Spouse: Lilian De Vasconcelos Souza (M. 1981–1982)
Early Life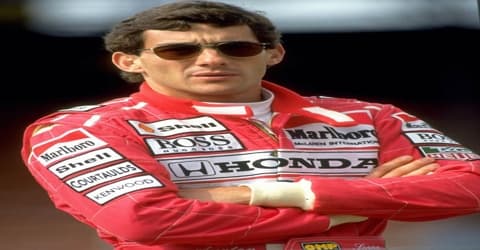 Brazilian race car driver Ayrton Senna was born on 21 March 1960 in the Pro-Matre Maternity Hospital of Santana, a neighborhood of São Paulo. He was a Brazilian racing driver who won three Formula One world championships for McLaren in 1988, 1990 and 1991 and is widely regarded as one of the greatest Formula One driver of all time. He died in an accident while leading the 1994 San Marino Grand Prix for Williams.
Three-times Formula One champion, Ayrton Senna was one of the world's greatest racers of all time. Starting off at the tender age of thirteen, he rose to prominence in no time and became the undisputed champion of Formula One racing.
Senna began his motorsport career in karting, moved up to open-wheel racing in 1981, and won the 1983 British Formula Three Championship. He made his Formula One debut with Toleman-Hart in 1984, before moving to Lotus-Renault the following year and winning six Grands Prix over the next three seasons. In 1988, he joined Frenchman Alain Prost at McLaren-Honda. Between them, they won all but one of the 16 Grands Prix that year, and Senna claimed his first World Championship. Prost claimed the championship in 1989, and Senna his second and third championships in 1990 and 1991. In 1992, the Williams-Renault combination began to dominate Formula One. Senna nonetheless managed to finish the 1993 season as runner-up, winning five races and negotiating a move to Williams in 1994.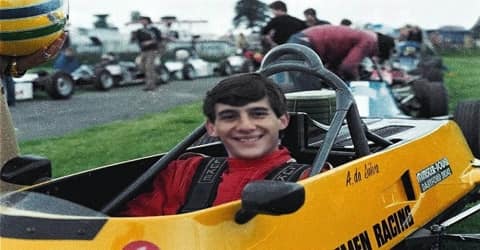 (21-year old Senna in his British Formula Ford 1600 single seater.)
However, the steep climb towards success did not last long as a tragic accident cost him his life. It was during the race at the San Marino Grand Prix that Senna lost his life in what is said to be one of the most fatal Formula One accidents. His death raised many questions over the safety concerns and reforms in Formula One. A legend in the making, Senna at the time of his death had successfully achieved a total of 65 pole positions. He was immensely dedicated to his profession and took part in some of the most controversial races with France's Alain Prost and England's Nigel Mansel. Amazingly, it took a total of 12 years for the acclaimed racer Michael Schumacher to beat Senna's record.
Senna has often been voted as the best and most influential Formula One driver of all time in various motorsport polls. He was recognized for his qualifying speed over one lap, and from 1989 until 2006 he held the record for most pole positions. He was also acclaimed for his wet weather performances, such as the 1984 Monaco Grand Prix, the 1985 Portuguese Grand Prix, and the 1993 European Grand Prix. He holds a record six victories at the Monaco Grand Prix and is the fifth-most successful driver of all time in terms of race wins. Senna courted controversy throughout his career, particularly during his turbulent rivalry with Prost. In the Japanese Grands Prix of 1989 and 1990, each of which decided the championship of that year, collisions between Senna and Prost determined the eventual winner.
Childhood, Family and Educational Life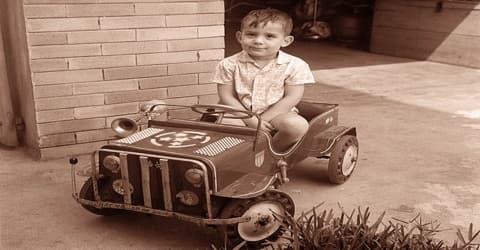 Ayrton Senna, Brazilian race-car driver was born March 21, 1960, São Paulo, Brazil. Senna's father, Milton da Silva, was a successful businessman and landowner, but also was a motor racing fan, and encouraged his son's fascination with cars. His mother was Neide Senna da Silva, he had an older sister, Viviane and a younger brother, Leonardo. He was left-handed.
Since he was four years old, he exhibited a keen interest in motor racing and cars. When Senna got behind the wheel, his awkwardness disappeared he was a natural. The entire family supported Senna's interest in motoring and spent weekends together at local parks where the young man could drive his kart. His parents used driving privileges as leverage to get Senna, a lackluster student, to pay better attention to his studies. Fortunately for Senna, his family was wealthy and could afford to finance his racing. At the age of seven, Senna first learned to drive a Jeep around his family's farm and gained the advantage of changing gears without the use of a clutch.
At eight years old, Senna was driving the family car. European racing stars Jim Clark and Jackie Stewart were his heroes, as well as Emerson Fittipaldi, a Brazilian driver who was fast emerging as an extraordinary talent. Senna received a 100cc kart for his tenth birthday but had to practice on his own at the local kart track until he turned 13, the minimum age for racing karts in Brazil. Interest in European motor racing grew in Brazil when Fittipaldi won the Formula One World Championship in 1972, and the nation hosted its first Grand Prix at Interlagos the following year.
By the time he was thirteen years old, he began to take part in karting competitions. The first kart that he owned was a small 1 HP go-kart, which was built by his father. In his very first race, he started on pole position and dominated the run a little before the end.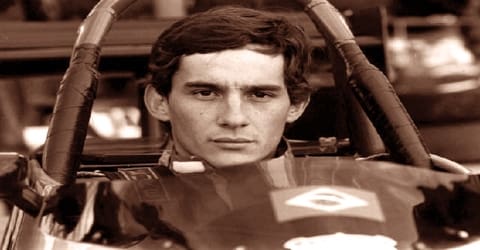 In 1977, he graduated from the Colegio Rio Branco, from where he obtained a grade five in physics. He also studied subjects like Mathematics, Chemistry, and English. Overall, his grades amounted up to 68%.
Personal Life
Senna was a devout Catholic, once saying:
"Just because I believe in God, just because I have faith in God, it doesn't mean that I'm immune. It doesn't mean that I'm immortal" (1989).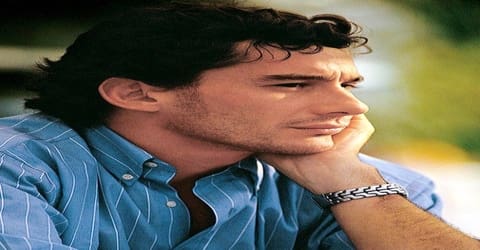 He often read the Bible on long flights from São Paulo to Europe. According to sister Viviane, Senna had sought strength from the Bible on the morning of his death:
"On that final morning, he woke and opened his Bible and read a text that he would receive the greatest gift of all, which was God himself."
In 1981, he married his long-time childhood sweetheart, Lilian de Vasconcelos Souza. The couple divorced the following year.
In 1985, he began to date Adriane Yamin. The couple was engaged for a brief period of time but their courtship ended in 1988. He was romantically involved with Xuxa, Christine Ferracciu, American model Carol Alt, Marjorie Andrade, Elle Macpherson, and Adriane Galisteu.
Senna was often quoted as using driving as a means for self-discovery and racing as a metaphor for life:
"The harder I push, the more I find within myself. I am always looking for the next step, a different world to go into, areas where I have not been before. It's lonely driving a Grand Prix car, but very absorbing. I have experienced new sensations, and I want more. That is my excitement, my motivation."
Career and Works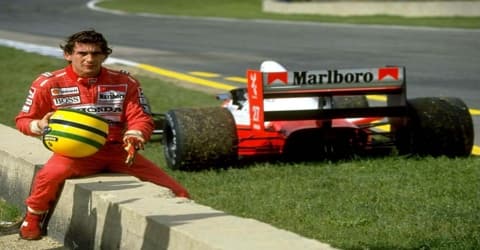 Ayrton Senna da Silva, a Brazilian race-car driver, was a fierce competitor who was renowned for his ruthless and risky maneuvers on the Grand Prix circuit and dominated the sport with 41 Grand Prix titles and 3 circuit world championships (1988, 1990, and 1991). Karting is a fertile seeding ground for racing car drivers, and many future F1 champions got their start as children, in races on European karting tracks. Senna was able to race karts legally when he turned 13 and won his first race. It was held at a karting track at Interlagos, and the young rookie driver beat several karting veterans to the finish. Senna won the 1977 South American Kart Championship and set his sights on Europe and the World Championships at the famous Le Mans circuit in France.
From 1978 until 1982, he contested in the Karting World Championship. His performance increased with each race. He finished runner-up in the 1979 and 1980 season.
Ayrton Senna joined the Formula One racing circuit in 1984 as one of the most promising new drivers, and he captured the coveted pole position a record 65 times for having had the fastest race-qualifying times. An enigmatic figure who was deeply religious yet highly aggressive on the racetrack, Senna thrilled spectators and cowed competitors with his fearsome driving. He invited controversy over his long-standing rivalry with Frenchman Alain Prost, with 51 titles the most successful driver; the two collided during the penultimate race of both the 1989 season when Prost emerged victorious, and the 1990 season, when Senna captured the world crown.
In 1981, he relocated to England to establish his racing career as a single seater. He participated in the Townsend-Thoreson Formula Ford 1600 Championships and the RAC competition, under Van Diemen team and ended up winning both the championships. Senna went on to win the 1982 British and European Formula Ford 2000 championships. For that season, Senna arrived with sponsorship from Banerj and Pool. The following year, he was the recipient of the British Formula Three Championship title. He also won the Formula 3 Grand Prix.
In 1983, Senna tested for Formula One teams Williams, McLaren, Brabham, and Toleman. Peter Warr of Lotus, Ron Dennis of McLaren, and Bernie Ecclestone of Brabham made offers for testing in 1984 and presented long-term contracts that tied Senna to driving later on. During his test for Williams at the 3.149-km (1.957-mi) Donington Park circuit, Senna completed 40 laps and was quicker than the other drivers, including Williams's reigning World Champion Keke Rosberg. Neither Williams nor McLaren had a vacancy for the 1984 season. Both Williams boss Frank Williams and McLaren boss Ron Dennis noted that Senna insisted that he got to run their cars before anyone else (other than their regular drivers such as Rosberg) so that he would have the best chance of a good showing by having a fresh car. The following year Senna moved to Lotus-Renault and won a total of six Grand Prix in three seasons.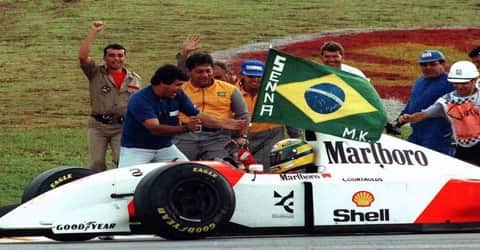 Senna made his F1 debut at the 1984 Brazilian Grand Prix at Interlagos. The home crowd was wild for their native son, who was seen as the most promising driver in a generation of F1 competition. Unfortunately, even the best driver cannot be a serious F1 contender while driving a non-competitive car. He managed only to qualify in the eighth position on the starting grid at Inter-lagos and failed to qualify in the next race at San Marino, Italy. Turbo problems with the car forced him to retire before the end of the French Grand Prix, and he qualified in 13th for the Monaco Grand Prix.
That season, Senna took two more podium finishes third at the British and Portuguese Grands Prix and placed 9th in the Drivers' Championship with 13 points overall. He did not take part in the Italian Grand Prix after he was suspended by Toleman for being in breach of his contract by signing for Lotus for 1985 without informing the Toleman team first. Senna became the first driver Lotus had signed not personally chosen by team founder Colin Chapman, who had died in 1982.
In 1986, he was the winner of the Spanish Grand Prix and the Detroit Grand Prix. The following year he tasted his second victory at the Detroit Grand Prix and also won the Monaco Grand Prix.
After a lackluster 1987 season, the McLaren team came back in 1988 with a more competitive turbo engine, and Prost found himself embroiled in what would become one of the bitterest rivalries in motorsports. There was no friendly competition between the teammates. Senna was aggressive and impulsive on the track and beat Prost in the 1988 World Championship with eight wins to seven. While Senna thrived on the confrontational rivalry, Prost did not. The fire was stoked further when Prost won the 1989 World Championship after the two McLaren cars collided during the penultimate race of the season, in Suzuka, Japan, taking Senna out of championship contention. Prost left McLaren after the incident to drive for Ferrari.
In 1990, he replicated the success of 1988 and took home the Formula One Championship trophy. The entire season was a successful one as he commanded and led the championship with a total of six victories, two-second places, and three third places. With a victory at the 1991 Formula One Championship, he became one of the youngest three-time world champions. Additionally, he had a total of seven victories in his name and also managed to increase his pole position record to 60.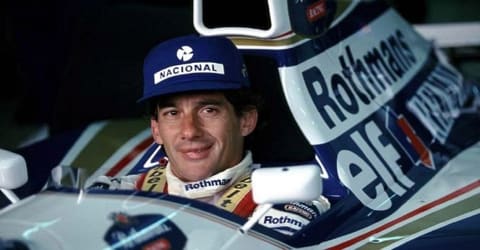 In 1991, Senna became the youngest ever three-time world champion, taking seven wins and increasing his pole position record to 60 from 127 events. Prost, because of the downturn in performance at Ferrari, the likes of which littered the team's history, was no longer a serious competitor. In preseason testing, Senna made public misgivings about the car's competitiveness with the new Honda V12, stating that the engine was not as powerful as the prior year's V10. Senna won the first four races as his rivals struggled to match his pace and reliability.
In 1992, McLaren-Honda was outshined by Williams-Renault due to which, he struggled all through the year. That season he finished the championship in the fourth position. On October 11, 1993, he signed up with the Williams-Renault team, after Alain Prost ended his racing career. He was offered $1 million for each race with $20 million for the season. In 1993, in the opening race that was held in South Africa, he finished the race in the second position. During this race, he barely survived a close collision with Michael Schumacher. All told, Senna compiled a remarkable record racing for McLaren, including three World Championships and 35 Grands Prix. Prost announced his retirement from F1 in 1994 when the Williams team announced its intention to sign Senna. Senna threatened to do the same, so incensed was he by Prost's decision to retire on his account.
The season ended at the Australian Grand Prix in Adelaide, where the first-corner chicane at the Adelaide Street Circuit was renamed the "Senna Chicane". Schumacher went on to win the driver's world championship title controversially after a collision that forced his retirement and that of his rival, and Senna teammate, Damon Hill. At the official FIA conference after the race, the German dedicated his title to Senna.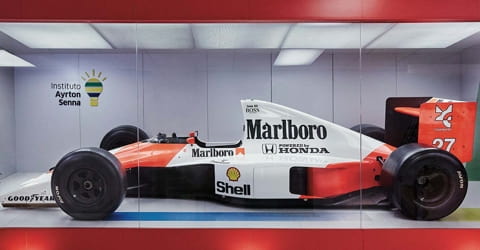 (McLaren road or race car been inspired by one of our greatest drivers, but the McLaren Senna bears the name of legendary Formula 1 driver Ayrton Senna)
He reportedly earned more than $100 million during his career, which included an annual salary of some $10 million. Senna's death came one day after Austrian rookie Roland Ratzenberger was killed in a similar accident during qualifying trials. Both deaths renewed concerns about recent rule changes. The Fédération Internationale de l'Automobile banned electronics and other drivers' aids from Formula One cars, a move that many believed made the sport more dangerous.
Awards and Honor
Numerous awards and championships, including South American Kart Championship, 1977; Formula Ford 1600 series and Formula Ford 2000 series, both 1981; Formula Ford Championship, 1982; British F3 Championship, 1983; F1 World Championship, 1985; F1 World Championship, 1988, 1990, 1991; fourth place, F1 World Championship, 1992; second place, F1 World Championship, 1993.
Ayrton Senna placed sixth overall in his first race at Le Mans, a respectable finish for a rookie driver. He finished second in the 1979 championship at Estoril in Portugal and placed second in the 1980 championship at Nivelles in Belgium. He never took the Karting World Championship, a fact that rankled him.
In April 2000, Senna was inducted into the International Motorsports Hall of Fame. That year, the UK public also voted Senna's opening lap of the 1993 European Grand Prix, the 43rd in the list of the 100 Greatest Sporting Moments.
Since Senna's death, every Williams F1 car has incorporated a small Senna 'S' logo in its Formula 1 car to honor their former driver and in support of the IAS. A revised logo was featured in 2014 for the 20th anniversary of Senna's death.
Death and Legacy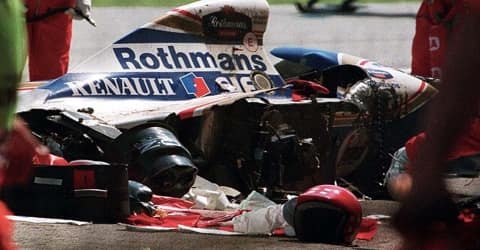 Ayrton Senna died in an accident while racing at the 1994 San Marino Grand Prix, Italy. He was only 34 at the time of the accident. The accident occurred on his lap 7 when his car hit the concrete wall. The European leg of the F1 season, starting at Imola, was traditionally considered the beginning of the yearly competition. Senna, who did not finish the two opening races of the season, declared that this was where his season would start, with 14 races, as opposed to 16, in which to win the title. Williams brought modified FW16s to Imola in an attempt to improve the car's handling.
Significant blood loss and poor neurological condition resulted in an on-site tracheotomy. He was immediately airlifted and taken to Bologna's Maggiore Hospital, where he was declared dead. His death was declared a national tragedy, and the Government of Brazil observed three days of national mourning. About three million people paid their last homage to this charismatic racer.
Senna's death was considered by many of his Brazilian fans to be a national tragedy, and the Government of Brazil declared three days of national mourning. The Italian Air Force offered to fly the coffin back to Brazil, but the Senna family wished that it return home in a Brazilian plane. Contrary to airline policy and out of respect, Senna's coffin was allowed to be flown back to his home country in the passenger cabin of a VARIG McDonnell-Douglas MD-11 airliner, accompanied by his distraught younger brother, Leonardo, and close friends. The plane was escorted by fighter jets into São Paulo–Guarulhos International Airport on 4 May 1994, where it was met by the Mayor of São Paulo, Paulo Maluf, and the state's governor, Luís Antônio Fleury. The coffin was carried by soldiers from the Air Force Police to a fire engine, where eight cadets from the Military Police Academy mounted guard as it carried the coffin on the 20-mile journey into the city. Leading the motorcade were 17 police motorbikes, and 2,500 policemen lined the route to keep the crowds at bay.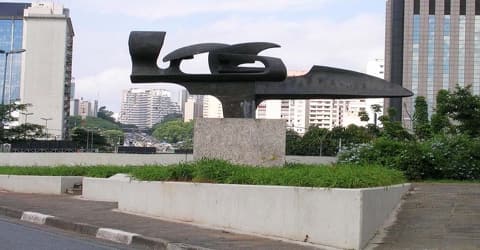 (A monument dedicated to Senna's Formula 1 racing, located at the entrance of the tunnel under Ibirapuera Park in São Paulo, Brazil.)
He was laid in state at the Legislative Assembly building in Ibirapuera Park. After public viewing of his body, the funeral procession moved to Morumbi Cemetery but not before a 21-gun salute was fired by the 2nd Artillery Brigade and seven Brazilian Air Force jets flew in a diamond formation.
Apart from being a great racer, he was an ardent humanitarian and donated $400 million in order to alleviate poverty in Brazil. He also founded an organization to help Brazilian children, which later became known as Instituto Ayrton Senna.
In July 1994, the Brazil national football team dedicated their World Cup victory to Senna and collectively held a banner on the field after defeating Italy in the final. Senna had met various members of the squad, including Ronaldo and Leonardo, three months earlier in Paris, telling them "this is our year". Throughout the rest of the 1994 season, Senna was commemorated in various ways. Damon Hill, along with Michael Schumacher, dedicated their individual success to Senna with Hill's victory in the Spanish Grand Prix and Schumacher's world-championship victory in the Australian Grand Prix.
In 2004, a book called Ayrton: The Hero Revealed (original title: Ayrton: O Herói Revelado) was published in Brazil for the 10th anniversary of his death. Senna remains a national hero in Brazil and his grave attracts more visitors than the graves of John F. Kennedy, Marilyn Monroe, and Elvis Presley combined.
Information Source: