The chemical compound ammonium dihydrogen phosphate (ADP), sometimes known as monoammonium phosphate (MAP), has the formula (NH4)(H2PO4). It is the phosphoric acid ammonium salt (molar ratio 1:1). ADP is a key component in agricultural fertilizers as well as several fire extinguishers. It serves as a fertilizer. It has a dihydrogenphosphate in it. It is also used extensively in optics and electronics.
It is generated when a phosphoric acid solution is introduced to ammonia until the solution becomes noticeably acidic. It provides soil with the elements nitrogen and phosphorus in a form that plants can use. The chemical is also found in some dry powder fire extinguishers as an ingredient in the ABC powder.
Properties
Ammonium dihydrogen phosphate (ADP) is a clear, piezoelectric crystal that contains no water during the crystallization process. This material's single crystals were originally designed for use in underwater sound projectors and hydrophones. It is a transparent colorless tetragonal crystal. Water-soluble, mildly soluble in alcohol, insoluble in acetone.
Molecular Weight: 115.03
Appearance: White crystals or crystalline powder
Melting Point: 190°C
Boiling point: 87.4 °C
Vapor pressure: 0.066 hPa (125 °C)
Density: 1.8 g/cm3
Solubility in H2O: N/A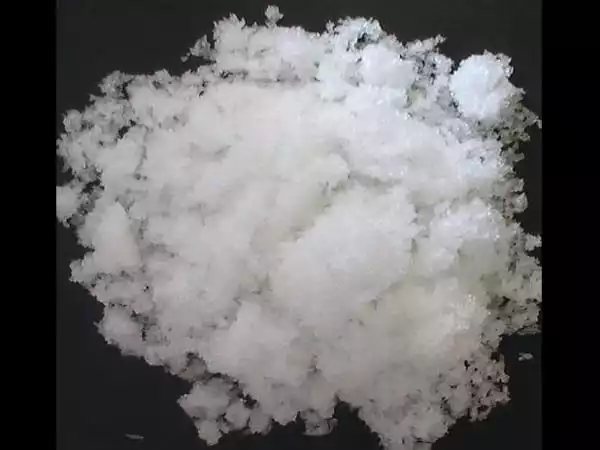 Chemical properties
Monoammonium phosphate is soluble in water and crystallizes as the anhydrous salt as elongated prisms or needles in the tetragonal system. It is almost completely insoluble in ethanol.
When solid monoammonium phosphate decomposes into gaseous ammonia NH3 and molten phosphoric acid H3PO4, it can be regarded stable in practice for temperatures up to 200 °C. The partial pressure of ammonia at 125 °C is 0.05 mm Hg.
A stoichiometric monoammonium phosphate solution is acidic (pH 4.7 at 0.1 percent concentration, 4.2 at 5 percent).
Preparation
The partial neutralization of phosphoric acid (which contains three acidic protons) with one molecule of ammonia produces mmonium dihydrogen phosphate. Pumping ammonia gas into an aqueous solution of phosphoric acid, followed by chilling to precipitate the ADP crystals, is the industrial synthesis of ADP. It is manufactured industrially by the exothermic reaction of phosphoric acid and ammonia in the following proportions:
NH3 + H3PO4 → NH6PO4
Crystalline MAP then precipitates.
Method of neutralization: first dilute the phosphoric acid to obtain a solution with a concentration of 50 to 55 percent, and then pour some of the measured solution into an enamel reaction tank with stirring and a jacket. The ammonia gas is slowly poured into the ammonia tube distributor for neutralization while stirring. Wait until the pH of the neutralized solution reaches 4.24.6, then filter it and immediately send it into the cooling crystallization mold, obtaining crystallization when the temperature drops to 26 °. Following dehydration, dry to yield ammonium dihydrogen phosphate products.
H3PO4 + NH3 → NH4H2PO4
Uses
Agriculture – Monoammonium phosphate is most commonly used in agriculture as a component of fertilizers. It provides soil with the elements nitrogen and phosphorus in a form that plants can use. Tetragonal prisms form when it crystallizes. It is frequently employed in the formulation of dry agricultural fertilizers. It provides soil with the elements nitrogen and phosphorus in a form that plants can use.
Fire extinguishers – The compound is also a component of the ABC powder in some dry chemical fire extinguishers.
Optics – Monoammonium phosphate is a widely used crystal in the field of optics due to its birefringence properties. As a result of its tetragonal crystal structure, this material has negative uniaxial optical symmetry with typical refractive indices no = 1.522 and ne = 1.478 at optical wavelengths.
Health effects/safety hazards
On contact, ammonium dihydrogen phosphate can cause significant skin and eye irritation. It decomposes into ammonia and phosphoric acid, both of which are dangerous and corrosive. Ammonia poisoning can result from prolonged exposure to ADP.