Introduction:
Social Islami Bank Limited (SIBL) is a banking company registered under the companies Act 1994 with its heads office 15 Dilkusha C/A, Dhaka-1000. The bank operates as a scheduled bank under a banking license issued by the Bangladesh Bank. The Bank started its operation from 22, November 1995. SIBL is a capitalized new generating Bank with an authorized capital of Taka 4000 million in 2008 and paid up capital of Taka 1309.88 million in 2008 and also 1119.55 million respectively as of December 2007.
In the formal corporate sector, this Bank would, among others, offer the most up-to-data banking services through operating of various types of deposit and investment accounts, financing trade, providing letters of guarantee, opening letters of credit, collection of bills effecting domestic and international transfer, leasing of equipment and consumer durables, hire purchase and installment sale for capital goods, investment in low-cost housing and management of real estates, participatory investment in various industrial, agriculture, transport, educational and health projects and so no.
In the Non-formal non-corporate sector, it would, among others, involve in cash Waqf Certificate and development and management of WAQF and MOSQUE properties and Trust funds.
For coordinating my internship I have been place in Social Islami Bank Limited, Nawabpur Road Branch Dhaka. There are 03 sections in N/R Branch. They are: 1) General Banking, 2) Investment Department, 3) Foreign Exchange Department. I shall devote my utmost effort and attention to learn banker's functions. After completion of the internship, I will render my all knowledge to present the report on "Customer satisfaction  on General banking of Social Islami Bank Limited".
Significance of the Report:
The major motive of this study is to become familiar with the practical business world and to attain practical knowledge about the overall Banking, which is so much essential for each and every student to meet the extreme growing challenges in job market. This report finding's will be beneficial for the management in attempting to improve the overall service quality and also to promote the company's services to customers. So the study will be very useful for the top management in improving the customer satisfaction. Besides, it would be a great opportunity for me to attain practical knowledge on the various spheres of banking business. So this study is very significant for both the company and me.
Objectives  of the Report:
Broad:
Customer Satisfaction Analysis on General Banking Activities of Social Islami Bank Limited.
Short:
The Short objectives are:
To be acquainted with how bank perform its operation.
To focus on products, services and financial condition of SIBL.
To export strengths and weakness of SIBL in comparison with competitors.
To analysis customer satisfaction on marketing mix of Social Islami Bank Limited.
To analysis general banking activities of Social Islami Bank Limited.
Methodology:
Type of research
This is an Exploratory Research, which briefly reveals and analyzes the customer satisfaction related to "Customer satisfaction on General Banking  of Social Islami Bank Limited".
Sources of Information
I have collected the information/data from the following sources, which has helped me to make this report. The source is divided into two parts:
a)      Primary Source
b)      Secondary Source
1 The "Primary Sources" are as follows:
Data collected for the first time is called primary data. The methods used to collect such data include:
Face-to-face conversation with the respective officers and staffs of the Branch.
Informal conversation with the clients.
Practical work exposures from the different desks of the departments of the Branch covered.
2 The "Secondary Sources" of data and information are:
The secondary data sources are annual reports, manuals, and brochures of Social Islami Bank limited and different publications of Bank. To identify the implementation, supervision, monitoring and repayment practice- interview with the employee and extensive study of the existing files.
Methods used to collect secondary data include:
Annual Report of Social Islami Bank Ltd and
 Internet.
Questionnaire
A close ended questionnaire was used for my study. For closed ended questionnaire, Multiple-choice questions were used where the respondent choose one option among several possible alternatives.
Sampling Plan:
Population
All customer of Social Islami Bank in the geographical base of Nawabpur Road Branch, Dhaka city.
Sample element
Individual customer of social Islami Bank Limited of Nawabpur road branch.
Sample frame
In this report, there is no well structured sampling frame is found.
Sampling Procedure
Non-probability convenience sampling method was used.
Sample size
The sample size is 30.
Types of Respondents

No of Respondents

Total

Employee

10

30

Customer

20
Data Analysis and Reporting:
Data have been analyzed through proper quantitative and qualitative techniques and reported from time to time to the concerned authority. After collecting data, they were coded and processed, analyzed and graphically used MS word, MS Excel. Tables and graphs were used to make the data meaningful and comparable.
Limitation of the study
It is obvious that every study has some limitations. The study I have made is of great importance and required me huge work. Those limiting factors that hampered my smooth workings in bank and finally in preparing this report are as following:
a)      The organization maintains strict confidentiality about their financial and other information. They are afraid of any type of information leakage to their competitors. So there was always difficulty to have appropriate information from them.
b)      Duration of the study was too short to have a sound understanding of the overall banking.
c)      Scope of my study is so wide that analytical and comprehensive study is not possible.
d)      Lack of sufficient books, papers and journals etc.
e)      Web site of the Organization isn't up to date to gather valuable information.
Social Islami Bank Ltd. (SIBL) became operational on 22 November 1995 with a clear manifesto to demonstrate the operational meanings of participatory economy, banking and financial activities as an integrated part of an Islamic code of life. SIBL is operating three-sector Banking, such as, Formal, Non-Formal and Voluntary sector, SIBL is beginning a new area of Islamic Banking having social, ethical and moral dimension in each of its activities ranging from credit to construction, trading to transport, farming to fishing, manufacturing to mining and so on. Some renowned personalities and institutions are sponsors and directors of this bank, specially, the Founder Chairman Prof. Dr. M. A Mannan, who is an internationally reputed. Islamic thinker and Professional Economist. He served in different important capacities in different International Organizations including Asian Development Bank and Islamic Development Bank. With his heartiest efforts and inspiration Ex-Secretary General of O.I.C Dr. Hamid AI-Gabid and Deputy Speaker of Saudi Arabia and former Secretary General of Rabeta, Dr. Abdullah Omar Nasseef, and Ex-Commerce Minister of Saudi Arabia Salah Jamjoom took part in the establishment of the Bank.
The Vision:
Social Islami Bank Limited started its journey with the concept of 21st Century Islamic participatory three sector banking model: i) Formal Sector- Commercial banking with latest technology; ii) Non-formal Sector-Family empowerment Micro-credit & Micro-enterprise program and iii) Voluntary Sector- Social Capital mobilization through CASH WAQF and others. Finally, "Reduction of Poverty Level" is the Vision, which is a prime object as started in Memorandum of Association of the Bank with the commitment "Working Together for a Caring Society."
The Mission:
High quality financial services with the latest technology.
Fast, accurate and satisfactory customer service.
Balanced & sustainable growth strategy.
Optimum return on shareholders' equity.
Introducing innovative Islamic banking products.
Attract and retain high quality human resource.
Empowering real poor families and create local income opportunities.
Providing support for social benefit organizations-by way of mobilizing funds and social services.
Products & Services: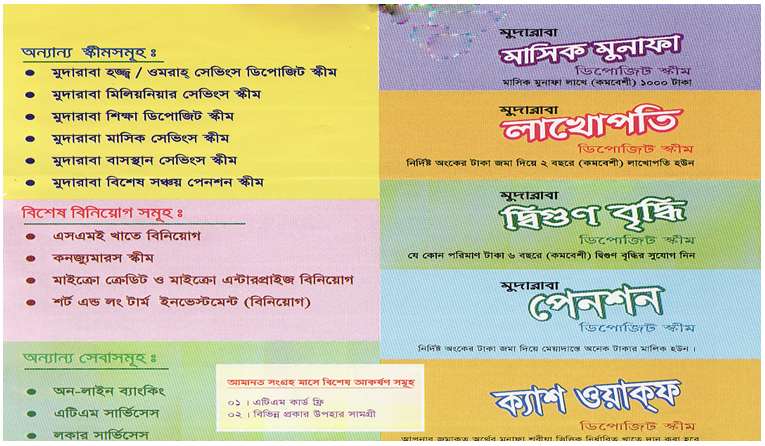 Goal:
Social Islami Bank has efficient and experienced staff for giving better service to its clients along with modern technology.
Non-formal sector
The Bank's special program is directed mainly to up-lift the socio-economic conditions of rural and urban poor. In order to achieve this objective, Social Islami Bank Ltd. is involved in the mobilization and utilization of local resources and the surplus labor mainly from within and provide employment opportunities to the unemployed and the landless besides investing in N.G.O. activities, educational, health expansion activities etc. Social Fellowship Program for Students has already been introduced; Family health service cheque is being introduced.
Investment voluntary sector
This Bank has a special program of development of various religious and social service oriented institutions. Within this program, Mosque, Maktab, Waqf, Charitable organizations etc. will be modernized and activated. All properties under this program will be utilized in productive activities on participation basis. Besides, Hajj (pilgrimage) and Kurbani (sacrifice of animals according to dictates of Islam) schemes are included in the program of Social Islami Bank Ltd Cash Waqf Certificate has already been introduced for the first time in history.
More parts of this post–
A Report On Social Islami Bank Limited.(Part-1)
A Report On Social Islami Bank Limited.(Part-2)
A Report On Social Islami Bank Limited.(Part-3)