1.1. Origin of the report:
For any business school student only curriculum activity is not enough for handling the real business situation, therefore it is an opportunity for the students to know about the field of business through the internship program. As internship program is a perfect blend of the theoretical and practical knowledge. This report is originated to fulfill the requirement of the assign project internship report on Foreign Exchange Operation of Mutual Trust Bank Ltd. In this regard an organization attachment at Dhanmondi Branch of Mutual Trust Bank has been given to me a period of three months. During this period I learned how the host organization works with, the help of the internal supervisor.
The internal supervisor assigned me on of the projects and shuffled me around to educate me about the operation of a bank.
1.2. Objectives
Primary objective
Primary objective is to team the real world experience because I have gathered theoretical knowledge for BBA course and try to match real world experience with the theoretical knowledge.
Secondary objective
 To study Foreign Exchange Trend of MTBL
 To analyze the spread between the cost of fond and return on Foreign Exchange and investment to assess the profitability.
 To suggest some policy to overcome the problems of issuing foreign trade.
 To evaluate customer's views about the services offered by the baric.
 Analyzing different products of this bank.
1.3. Methodology of the Study
The methodology of the report is given below-
 For the procedure of different banking operations, I had observed the operations and waked with the officers at the same time. I had interviewed the MTBL officials for getting more information.
 For the analysis part, data have been collected from different statements and the annual report of the bank.
Sources of Information
The data collection method of study consists of both of primary and secondary sources. But majority of the information was collected from secondary sources.
Primary Sources:
 Practical desk work
 Face to face conversation with the officer
 Direct observations
 Face to face conversation with the client
Secondary sources
 Files & Folders
 Memos & Circulars
 Product or service brochure
 Visit web site of MTBL
 Many circular published by MTBL
 Many circular published by Bangladesh Bank
 Several Booklets of Mutual Trust Bank Limited.
 A Text Book on Foreign Exchange, L.R. Chowdhury with a Forward by LA. Sarker.
1.4. Scope of the Study
Mutual Trust Bank Limited is one of the new generation banks in Bangladesh. The scope of the study is limited to the Dhanmondi Branch only. The report covers the organizational structure; background, functions and the performance of the bank have mainly worked in me foreign exchange so my report covers all the activities of foreign exchange department in the Dhanmondi branch. While preparing this report I haven't any limitations the employees of foreign exchange department has helped me a lot and I have use both primary and secondary data which was available to me.
1.5. Limitation of the Study
Three months is not enough to know about commercial banking operation through I have been received maximum assistance from the every individual of the MTBL Dhanmondi Branch. Definitely, I could not produce an outstanding report for the time limitations. Due to the time limit, the scope and dimension of the study has been curtailed.
The Term paper is likely to have following limitations:
 Since the ideal size of data could not be taken, suggested Operating process may not be useful without appropriate modifications.
 Doe to shortage of time, the accuracy of information may not have been completely perfect.
 The Operating Process is a theoretical suggestion. Only a practical application of this may justify its effectiveness that could not be done due to time limitation.
 Lack of comprehension of the respondents was the major problem that created– many confusions regarding verification of conceptual question.
 Confidentiality of data was another important barrier that was faced during the conduct of this study. Every organization has their own secrecy that is not revealed to others. While collecting data on MTBL, personnel did not disclose enough information for the sake of confidentiality of the organization.
 Rush hours and business was another reason that acts as an obstacle white gathering data.
 Observing and analyzing the broad performances of a Bank and one of its Branches, moreover when it is an AD branch, are not an easy job by this short duration of time (only three months).
However, omitting this, the report will help us understand the Foreign Exchange departments of the bank.
2.1. Origin of Banking Industry
The history of banking is as old as the history of many. Generally, to the necessity for keeping the money safe, the business of banking comes in to existence. The evolution if money solved the problem of 'Barter System', Earlier there are two groups of people. One group felt the need of honest and faithful person to keep their surplus money safe and the other group owing to transaction felt the need of some person who could provide money. As a result based on two groups a kind of businessman came in to picture. They used to keep the money as deposit for security and give loans to the needy people. This is how the banking sector has developed.
The English word 'Bank' is derived from the Italian word 'Banco'. The Latin word 'Bancus' and the French word 'Banque' which means a bench. They are of the opinion that the medieval.
European banker (i.e. moneychanger and moneylenders) transacted their banking activities on the benches in the market place. This money changing and money lending business is known as banking business.
Banking industry is very important financial institution in the country and the present economic state of Bangladesh demands immediate development of the financial institution. Bangladesh was born as an independent and sovereign country in the year 1971. That time banking industry faced a tremendous crisis as the Head office of the most of the banks was located in West Pakistan After mat, 'Bangladesh Bank' was established according to the order of Bangladesh Bank and this order effective from 16th December 1971. Bangladesh Bank was given the duty to act as the Central Bank of Bangladesh.
After that in 1972 nationalization order was declared and all commercial banks were nationalized accepts foreign banks. Thus four nationalized banks were formed. They are Soaab Bank, Agrani Bank, Janata Bank, and Rupali Bank.
2.2 Present Status of Banking Industry
Business plays vital role in driving and manipulating the total financial management and economy of any country. There are 54 different types of Banks operating in Bangladesh including newly established privatized commercial Banks, up to December 2010. Amongst these, there are 4 Nationalized commercial banks, 32 Private Banks, 10 Foreign Banks, 4 Government Specialized Banks, 1 Co-Operative Barits and 1 Grameen Bank.
In me recent years, Islamic Banking has been introduced which is a notable point in the existing banking system. Out of the established private banks four of them are Islamic Banks.
Besides the banking sector, there are some non-banking financial institutes, which contribute in financing the economy of the country. These institutions finance in different sector like housing, industries etc. which contributes towards the development of the country.
2.3 Company Profile
The Company was incorporated on September 29, 1999 under the Companies Act 1994 as a public company limited by shares for carrying out all kinds of banking activities with Authorized Capital of Tk. 38,00,000,000 divided into 38,000,000 ordinary shares of Tk. 100 each.
The Company was also issued Certificate for Commencement of Business on the same day and was granted license on October 05, 1999 by Bangladesh Bank under the Banking Companies Act 1991 and started its banking operation on October 24, 1999. As envisaged in the Memorandum of Association and as licensed by Bangladesh Bank under the provisions of the Banking Companies Act 1991, the Company started its banking operation and entitled to carry out the following types of banking business:
(i) AD types of commercial banking activities including Money Market operations.
(ii) Investment in Merchant Banking activities.
(iii) Investment in Company activities.
(iv) Financiers, Promoters, Capitalists etc.
(v) Financial Intermediary Services.
(vii) Any related Financial Services.
The Company (Bank) operates through its Head Office at Dhaka and 62 branches. The Company/ Bank carry out international business through a Global Network of Foreign Correspondent Banks.
2.3.1. Objective of the Bank
The objective of the Mutual Trust Bank Limited is specific and targeted to its vision and to position itself in the mindset of the people as 'a bank with difference'. The objectives of the Mutual Trust Bank Limited are as follows;
1. To mobilize the savings and channeling it out as loan or advance as the company approve.
2. To establish, maintain, carry on, transact and undertake all kinds of investment and financial business including underwriting, managing and distributing the issue of stocks, debentures, and other securities.
3. To finance the international trade both in import and export.
4. To carry on the foreign exchange business, including buying and selling of foreign currency, traveler's Cheque issuing, international credit card issuance etc.
5. To develop the standard of living of the limited income group by providing Consumer Credit.
6. To finance the industry, trade and commerce in both the conventional way and by offering customer friendly credit service.
7. To encourage the new entrepreneurs for investment and thus to develop the country's industry sector and contribute to the economic development.
2.4 Structure:
Mission:
We aspire to be the most admired financial institution in the country, recognized as a dynamic innovative and client focused company that offers an array of products and services in the search for excellence and to create an impressive economic value.
The organization structure and corporate of Mutual Trust Bank Limited (MTBL) strongly reflect its determination to establish, uphold and gain a stronger footing as an organization which is customer-oriented and transparent in its management.
Vision:
To be the bank of 1st choice by creating exceptional value for our clients, investors and employees.
Board of Directors
In Mutual Trust Bank Limited, the board of directors has been conceived as the sources of all power headed by its chairman. It is legislative body of the bank board can delegate its power and authority to professionals, but cannot delegate, relinquish or avoid their responsibilities. The board of directors of the bank consists of 13 members who are reputed business personalities and leading industrialists of the country.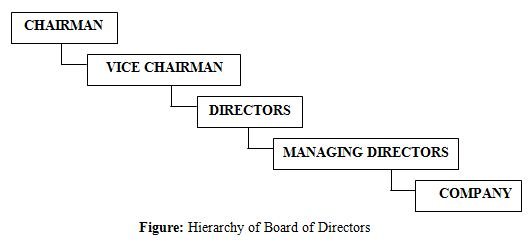 Board Committees
The Board of Directors who also decides on the composition of each committee determines the responsibilities of each committee.
Executive Committees:
AB routine matter beyond delegated powers of management are decided upon by or routed through the Executive Committee, subject to ratification by the Board of Directors.
Management
The management of the bank is vastly on a Board of Directors, for overall supervision and directions on policy matters by the board. The power of general supervision and control of me affairs of the bank is exercise by the president and managing director of the bank who is the chief executive officer. Above all, the bank will be manned and managed by a galaxy of talented professionals proficient in the individual fields and dedicated to the cause of the bank.
2.5. Management Hierarchy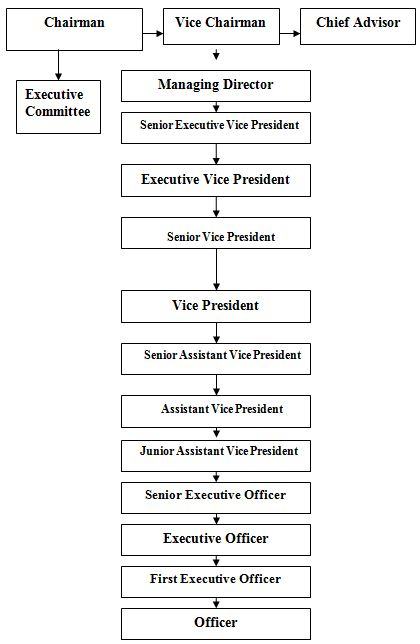 2.6.1 Departments:
It would be very difficult to control the system effectively, if the jobs are not organized considering their interrelationship and are not allocated in a particular department. If the departments are not fitted for the particular works mere would be random situation and the performance of a particular department would not be measured. Mutual Trust Bank Limited has done this work very well. There are-
 MDs Secretariat
 Board Division
 Internal Control & Compliance Division
• ICC Audit Department
• ICC Compliance Unit » ICC Monitoring Unit
 Human resource Division
• Research & Dev. Department
• MIS Department
 General Services Division
• Security & Printing Stationery
 Financial Administration Division
• Reconciliation Department
• FAD Section-1
• FAD Section-2
 Credit Division
• CIS Department
• Syndication Department
• Credit Processing & Approval
 International Division
• Correspondent Banking Dept
• Remittance Department
• SWIFT Department
 Merchant Banking Division
 Card Division
 SME & Consumer Banking Division
• SME Banking Department
• Consumer banking Department
 Treasury Department
• Asset Liability Mgt. Department
• Treasury Dept. (Front Office)
• Treasury Dept (Bade office)
 Banking Operations Department
• Anti Money Laundering
• Test Key Department
 Corporate Banking Department
 Credit Administration Department
 Credit Monitoring Cell
 Credit Recovery Cell
 ID Department
 Business Development Marketing
 Public Relations Department
 Share Department
 Engineering Department
2.6.2. Branches:
Mutual Trust Bank Limited is a fast growing commercial bank in our country. It has a established a good operating network throughout the country.It has 62 Branches throughout the country till now.
Dhaka Division
 35 Branches
Chittagong Division
 12 Branches
Sylhet Division
 6 Branches
Rajshahi Division
 5 Branches
Barishal Division
 4 Branches
2.6.3. Corporate Information
Mutual Trust Bank Ltd.
Established in 1999
Head office
26, Gulshan Avenue,
Plot 5, Block SE(D)
Gulshan 1,Dhaka-1212.
SWIFT- MTBLBDDH
Telex: 632173 MTB HO BJ
E-mail: mtbl@bangta.net
2.7.1. Services
Consumer Banking:
We are to satisfy all clients, regardless of how big or small they may be. Individuals are counseled on the best type of accounts suitable to them such as Current, Savings, Short Term Deposits, Fixed Deposits, Consumer Asset and Liability Products, etc
Apart from die conventional banking operations MTBL strives to introduce an array of products and services and already launched a number of consumer banking products with of popularizing consumer banking operations and offer higher return to its clients.
Our Consumer Banking Products are-
1. Brick by Brick Savings Scheme
2. Monthly Benefit Plan
3. Double Saver
4. Triple Saver
5. MTB Education Plan
6. MTB Millionaire Plan
7. MTB Unique Savings Plan
8. Best Invest Plan
9. MTB Festival Savings Plan
Foreign Trade
MTBL provides a wide range of banking services to all types of commercial concerns such as Import & Export Finance and Services, Investment Advice, Foreign Remittance and other specialized services as required. Although we are a private commercial Bank, we have a strong global network that helps us to undertake international trade smoothly and efficiently.
1. Import Business
Trust Bank supports its customers by providing facilities throughout the import process to ensure smooth running of their business. The facilities are:
a. Import Letter of Credit
b. Post Import Financing (LIM, LTR etc)
c. Import collection services & Shipping Guarantees
2. Export Business
Mutual Trust Bank offers extra cover to its customers for the entire export process to speed up receipt of proceeds. The facilities are:
a. Export Letters of Credit advising
b. Pre-shipment Export Financing
c. Export documents negotiation
d. Letters of Credit confirmation
3. Remittance
Mutual Trust Bank provides to its customers the following services:
a. Inward/ Outward Remittance Services
b. TT/DD Issue
c. DD/ Cheque collection
d. Endorsements
e. Travelers Cheque Issuance
Correspondent Banking
The objective of our correspondent banking operations is to strengthen our existing relationship with foreign and financial institutions around the globe as well as exploring new relationships. In addition to that, we provide assistance in marketing the products of the correspondent banks.
Al present MTB is maintaining relationships with 30 (thirty) foreign correspondents and the number is growing every day. Currently the bank has 18 (eighteen) NOSTRO A/Cs wife large foreign banks abroad. The bank is a "SWIFT" member and its Bank Identification Number or BIC is 'MTBLBBBH'.
Remittance Services
Mutual Trust Bank maintains a strong network with the Exchange Houses worldwide for ensuing better remittance services for its customers. The Bank having a network of 30 branches has established remittance arrangements with a number of exchange houses to facilitate wage earners to remit their money to Bangladesh. The following is the list of exchange houses having arrangement with al Mutual Trust Bank Ltd.
Exchange House Name
Service Available
Presence
UAE Exchange Centre     LLC
web:http://www.useexexchange.com1. Taka Draft Arrangement
2. EFT Using XPIN
3. TT ArrangementGlobalWall Street Exchange Centre LLC
web:http://www. wallsrreetcorp.com1. TT ArrangementUAEInstant Cash Worldwide Ltd.1. Taka Draft ArrangementGlobal Locations ListAl Ahalia Money Exchange Bureau1. TT Arrangement
2. Taka Draft ArrangementUAERoute of Asia Money Exchange Ltd.1. TT ArrangementUKBangladesh Money Transfers (UK) Ltd.1. TT ArrangementUKInstant Exchange UK Ltd.1. TT ArrangementUKMoney link UK Ltd.
web: bttfr//www. money hnknk.1. TT ArrangementUKTrust Exchange Co. W1.L.1. Taka Draft Arrangement
2. TT ArrangementQatar
Web:
The Internet has brought about a revolutionary change in the world leading to convergence of communication and computing technologies. In order to provide round the clock and up to date information on the Bank to the trade and business communities worldwide, the IT Team of Mutual Trust Bank Limited has developed a web for the ft can be accessed under the domain name: www.mutualtrustbank.com
SWIFT
The Bank has become the member of SWIFT Alliance Access, a multi-branch secure financial messaging system provided by the Society for Worldwide Inter-bank Financial Telecommunication [SWIFT], Belgium. With the activation of the SWIFT system the Bank enjoys instant, low-cost, speedy and reliable connectivity for L/C transaction, fund transfers, message communication and other worldwide financial activities.
2.7.2. Products
Deposit Products:
1. Brick by Brick Savings Scheme
2. Monthly Benefit Plan
3. Unique Savings Plan
4. Festival Savings Plan
5. Education Plan
6. Double Saver Plan
7. Triple Saver Plan
8. Millionaire Plan
9. Best Invest Plan
Loan Products:
1. Small Business Loan
2. Home Loan
3. Home Repair Loan
4. Auto Loan
5. MTB Life Line
6. CC Hypo
Visa Card:
1. Local Classic Credit Card
2. Local Gold Credit Card
3. Prepaid International Travel Money Card
4. Prepaid Local Gift Card
5. Visa Electron Debit Card
2.8. Performance at a Glance
The performance of Mutual Trust Bank Ltd from the year 2003 to 2008 is given in the following table:
#

ITEMS

2009

2008

2007

2006

2005

2004

1.

Authorized Capital

4200.00

3900.00

1000.00

1000.00

1000.00

1000.00

2.

Paid up Capital

1842.00

1496.88

950.40

864.00

720.00

600.00

3.

Shareholder's Equity

2846,85

2044,30

1904,80

1560,94

1217,55

970.5

4.
Total Capital
(Core + Supplementary)
3195.42
2888.33
2114.53
1705.97
1335.08
1030.38
5.Total Assets
45329.87
38964.97
25983.92
19306.99
15931.03
9037.53
6.Total Deposits
39825.59
33820.41
22264,05
16098,54
13164,13
7163.67
7.Total Loans & Advance
34892.04
28529.35
18591.52
14373.26
11692.97
5904.18
8.Total Investments
4572.54
3956.53
2821.62
2495.98
1376.21
996.06
9.Export
17573.84
18282.0
13943,2
8810.00
5924.00
3513,92
| | | | | | | | |
| --- | --- | --- | --- | --- | --- | --- | --- |
| 10. | Import | 30152.54 | 24866.06 | 26255.29 | 17660.0 | 17355.90 | 11284.4 |
| 11. | Total Contingent Liabilities | 16321.85 | 10916.1 | 9671.39 | 7498.27 | 5474.58 | 3887,90 |
| 12. | Operating Income | 1643.19 | 1188.34 | 1384.86 | 877.01 | 686.00 | 489.15 |
| 13. | Operating Expenditure | 572.09 | 424.48 | 315.39 | 225.17 | 179.06 | 118.09 |
| 14. | Profit before provision & tax | 1071.1 | 763.85 | 969.47 | 651.85 | 506.94 | 371.07 |
| 15. | Net profit after provision & tax | 423.65 | 210.80 | 478.28 | 336.17 | 247.19 | 190.34 |
| 16. | Total provision maintained | 762.43 | 603.43 | 239.98 | 145.00 | 117.50 | 60.00 |
| 17. | Earning assets | 38925.41 | 28470.9 | 23575.8 | 17419.05 | 14779.16 | 8300.61 |
| 18. | Non-interest earning assets | 4153.19 | 3710.93 | 2642.16 | 1887.95 | 1151.87 | 736.92 |
| 19. | Earnings per Share (In Taka) | 32.75 | 21.12 | 47.93 | 35.37 | 34.33 | 43.37 |
| 20. | Book value per Share (Li Taka) | 276.49 | 204.86 | 200.42 | 180.66 | 169.10 | 161.73 |
| 21. | Dividend – Cash | – | – | 20% | 14% | – | – |
| 22. | Dividend- Bonus Share | 25% | 25% | 1 5% | 10% | 20% | 20% |
| 23. | Return on equity (ROE) | 24.42% | 10.31% | 23.11% | 22.00% | 20.30 | 19.62% |
| 24. | Return on assets (ROA) | 1.49% | 0.75% | 1.82% | 1.78% | 1.555 | 2.1 1% |
| 25. | Classified loans as % of total loans & advance | 3.18% | 4.92% | 1.03% | Nil | Nil | Nil |
| 26. | Landing-Deposit ratio | 98.83% | 84.36% | 83.50% | 89.28% | 88.82% | 82.42% |
| 27. | Capital adequacy ratio | 16.33% | 10.19% | 11.83% | 12.55% | 11.87% | 17.33% |
| 28. | Price earning ratio (Times) | 27.59 | 28.24 | 7.14 | 11.12 | 17.10 | 5.14 |
| | | | | | | | |
| --- | --- | --- | --- | --- | --- | --- | --- |
| 29. | No. of Brandies | 44 | 30 | 25 | 20 | 16 | 13 |
| 30. | No. of Employees | 712 | 578 | 470 | 376 | 298 | 228 |
2.9. An overview of Dhanmondi branch
In 23 December of 2003 Mutual Trust bank Limited has opened its Dhanmondi Branch at Dhaka. It has a total number of 19 employees and 6 office staffs. Also the bank has a supervisor and three security guards. The workforce is very much co-operative both to each other and to the clients; Dhanmondi Branch is one of the branches of the Mutual Trust Bank Limited that has authorization to deal with Foreign Exchange. As other authorized dealers, it is licensed by Bangladesh Bank to transact all types of foreign exchange business. While opened it was among the first 9 authorized dealers of Mutual Trust Bank. Now it can be counted among the best three operated branches of Mutual Trust Bank both in terms of profitability and operational efficiency.
Departments within Dhanmondi Branch
This branch has four departments as the following.
1. General Banking (GB) Department
2. Credit Department
3. Foreign Exchange Department
4. Cash Department
Also the bank has a Computer and SWIFT section where maintaining Flora banks and other day to day computer related activities.