Trade facilitation has emerged as a critical factor in international trade efficiency and country economic development. It investigates how procedures and controls governing the movement of goods across national borders can be improved in order to reduce associated cost burdens and maximize efficiency while protecting legitimate regulatory objectives. This is because of the impact it has on competitiveness and market integration, as well as its growing importance in attracting direct foreign investment. Business costs may be incurred directly as a result of gathering information and submitting declarations, or indirectly as a result of border checks in the form of delays and associated time penalties, as well as lost business opportunities.
Business costs can be a direct result of gathering information and submitting declarations, or they can be an indirect result of border checks in the form of delays and associated time penalties, missed business opportunities, and reduced competitiveness.
The primary goal of trade facilitation is to make cross-border trade (imports and exports) faster, cheaper, and more predictable, while also ensuring its safety and security. In terms of focus, it is about simplifying and harmonizing formalities, procedures, and the associated exchange of information and documents between supply chain partners.
When policymakers discuss "trade facilitation," they are referring to a specific set of measures that streamline and simplify the technical and legal procedures for products entering or leaving a country in order to be traded internationally. As such, trade facilitation encompasses the entire range of border procedures, from the electronic exchange of shipment data to the simplification and harmonization of trade documents to the ability to appeal administrative decisions made by border agencies.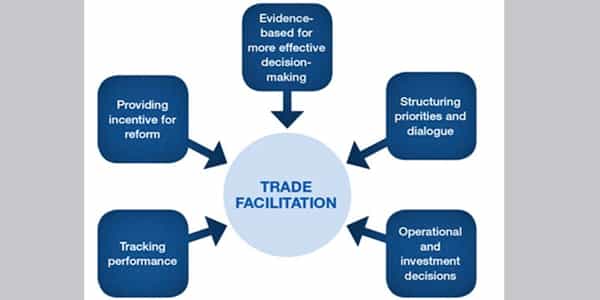 In a globalized world where goods frequently cross borders as both intermediate and final products, trade facilitation contributes to lower overall trade costs and increased economic welfare, particularly for developing and emerging economies.
The definition and application of the term "trade facilitation" vary in the literature and among practitioners. The term "trade facilitation" is commonly used by organizations that seek to improve the regulatory interface between government agencies and traders at national borders. In an online training package, the World Trade Organization defines trade facilitation as "the simplification and harmonization of international trade procedures," where trade procedures are defined as "the activities, practices, and formalities involved in collecting, presenting, communicating, and processing data required for the movement of goods in international trade."
Trade facilitation benefits all countries, whether they are exporting or importing goods, by improving access for businesses to foreign production inputs and encouraging greater participation in global value chains (GVCs). Countries, where inputs can be imported and exported quickly and reliably, are also more appealing to foreign firms looking to invest and offer consumers lower prices, higher quality products, and a wider range of goods.
Trade facilitation also encourages more – and smaller – businesses to participate in trade. Addressing unnecessary costs associated with trade procedures is critical for firms to fully capitalize on new market opportunities. This is especially true for micro, small, and medium-sized enterprises (SMEs), where trading costs can be disproportionately high.
Many proponents of trade facilitation will also mention trade finance and the payment procedures when defining the term (e.g. via a commercial bank). Trade facilitation, for example, is defined by UN/CEFACT as "the simplification, standardization, and harmonization of procedures and associated information flows required to move goods from seller to buyer and make payment."
Trade facilitation is sometimes used to refer to a broader agenda in economic development and trade, such as the improvement of transportation infrastructure, the elimination of government corruption, the modernization of customs administration, the elimination of other non-tariff trade barriers, and export marketing and promotion.