What do you need to spread your privacy? Promise of retribution? Fear of losing your most precious belongings? Or, perhaps, a skeleton of glowing eyes? This second was a valid suggestion in a patent filed in August 1927 by Helen Adelaide Shelby of California to "revolutionize the interrogation process" by taking criminal confessions and tools to record them photographically.
The patent, which was confirmed in March 1930, may seem a bit supernatural, but the inspirations that inspired its creation were too much for this world. "It is a well-known fact of criminal practice that confessions initially obtained from persons suspected of a crime through general channels are often later withdrawn or rejected by the offender, acknowledging that the allegation was obtained by threat or impartiality," the patent reads.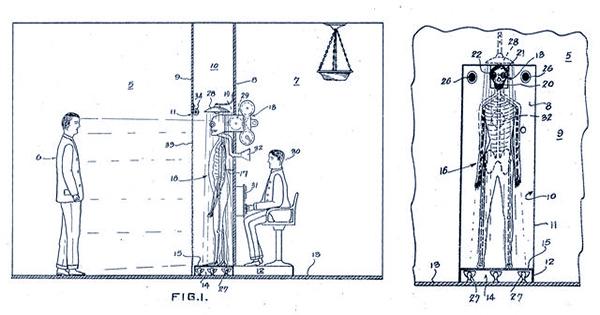 "The drawings attached show that the method of collecting and recording my confessions of this guilt has been applied to employ my method of subsequent reproduction as evidence." The illuminated figures present most of the images of the scene as the investigating officer. The suspect was standing in a separate room from where the interrogator was sitting and there was a skeleton between the two. Shelby's design calls for the removal of the back of the skeletal head so that a microphone and camera can be fitted inside to record the culprit's confession.
A filming confession is certainly a valuable tool that is still the subject of criminal interrogation today, so what has the skeleton got to do with it? Read the patent, in just one of many incredibly long sentences included in its write up, "The skeleton is arranged in front of 16 panels, with its legs placed on top of the glass of the light chamber 14. The two lights installed in this chamber adapt the whole skeleton to the flood from the light legs, another source of light on the skull skulls of 28 Mounted on top of panel 8, as shown in Figure 1, adapted for additional flooding from a reverse direction, the purpose is the presence of a landscape external or a body of debris and a diaphanus veil consisting of the so-called aura, illumination to clearly reveal the illuminating ghostly light and skeleton outline of a character adapted to the flood."