Introduction to the Term Paper:
This Term paper entitled "Eco-friendly Tourism Development in Bangladesh: Strategies and Policies" is a fundamental requirement for the completion of the course ETHM-524. The main purpose of this term paper is to relate the issues covered in this course with the activities of Eco-friendly Tourism Development in Bangladesh and to extract information of the Eco-friendly Tourism Development in Bangladesh using secondary sources of information. Under the instruction and guidance of the course instructor Prof. Dr. Md. Afjal Hossain, I have taken the initiative to prepare this term paper with much precision and by being completely unbiased.
Eco tourism is a form of tourism that involves traveling to tranquil and unpolluted natural areas. According to the definition and principles of ecotourism established by The International Ecotourism Society (TIES) in 1990, ecotourism is "Responsible travel to natural areas that conserves the environment and improves the well-being of local people." (TIES, 1990).
This term paper was prepared for fulfilling the requirement of Travel Agency and Tour Operation Management (ETHM-524) course. The work started as assigned by the honorable Course Instructor. It took about two weeks to finish.
Objectives:
The general objective of this term paper is to provide a synopsis of the Eco-friendly Tourism Development in Bangladesh: Strategies and Policies related to ETHM – 524. It is also required for the completion of this course. Beside the general objective, the objectives behind this term paper are given below:
Main Objectives:
The primary objective of the term paper is—
To analyze on the issue Travel Agency and Tour Operation Management.
To disclose the precise scenario of the 'Eco-friendly Tourism Development in Bangladesh: Strategies and Policies'.
To analyze and recommend on the mentioned issues.
Specific Objectives:
The secondary objective to prepare this term paper is—
To fulfill the requirements of my course ETHM-524.
To Relate Eco-friendly Tourism Development in Bangladesh: Strategies and Policies with the issues covered in my course.
To gather experience and knowledge of preparing a professional term paper.
Scope of the Term Paper:
This research study will cover the topic "Eco-friendly Tourism Development in Bangladesh: Strategies and Policies" and its related issues. It also includes recommendations against the selected issues. This term paper can be used as a secondary source for further purposes.
Sources of Information:
To fulfill the objective of this term paper collection of relevant, accurate, standardized and needful information was required. To make this term paper reliable I have collected data from secondary sources. The whole term paper is prepared based on secondary sources. That is why there is no primary source. Special consideration was given so that chances of biasness could not arise. The sources used were:
Secondary Sources:
Secondary sources are those, which simplify the process of finding and evaluating the primary literature. Secondary data may be available which is entirely appropriate and wholly adequate to draw conclusions and answer the question or solve the problem.
To know exactly how to prepare the term paper, I have referred different secondary sources. Secondary sources were consulted for an understanding of techniques of writing feasibility studies and for other relevant information. Few publications and web pages were also browsed.
I have also collected my data from the following secondary sources:
journal articles
newspaper and popular magazine articles
internet
review articles and literature reviews and
textbooks
bibliographies
biographical works
commentaries
dictionaries and encyclopedias
handbooks and data compilations
history
Methodology:
This term paper covers the different aspects and activities that are required to make a term paper on 'Eco-friendly Tourism Development in Bangladesh: Strategies and Policies'. However, the term paper is prepared based upon the information collected from several books, journals, articles, magazines, annual term papers, the researcher's own judgments and basically from the Internet. The findings are strictly structured upon information provided by these sources and some secondary sources. The focus here is on presentation of facts as discovered.
The methods that I followed to prepare the term paper are as follows:
At first I took the main issues studied in this course.
I clicked on the website of Eco-friendly Tourism Development in Bangladesh: Strategies and Policies.
Related the issues studied with the Eco-friendly Tourism Development in Bangladesh: Strategies and Policies activities.
Studied several books, articles, newspapers, and other secondary sources.
Collected information related to this term paper and the topic.
I have discussed with my honorable course instructor.
Limitation:
No study is beyond any limitations. While doing this research study I had to face some difficulties. The limitations of the research activities are as follows—
I did not have so much experience for conducting research and preparing the term paper very frequently, though I am in learning position.
There was lack of precise information;
There was not enough time to analyze the selected issues.
My resources were limited. So, it was hard for me to prepare a professional term paper with my limited resources.
It was very hard to get the real information, which was needed to explore the current situation
I do have a little experience of writing this type of Term Paper. That is why I faced some problems to prepare it.
Bangladesh is a country filled with natural wonders and untouched reserves and home to a variety of unique and magnificent creatures. With hills, valleys, forests, beaches, lakes and rivers, ecotourism in Bangladesh is ideal. Although this is still a relatively new form of tourism in Bangladesh, ecotourism is on the rise and extensive efforts are being made to promote it in the country.
Aside from exploring the vast natural territories, ecotourism in Bangladesh also affords visitors the opportunity to become acquainted with tribal villagers.
Bangladesh boasts to having the world's biggest mangrove forest ecosystem, expansive pristine beach, impressive Hilly Districts (Khagrachari, Rangamati and Bandarban), a massive marine world and the largest lake built by man. Certainly with these vital ecosystems contribute greatly to Bangladesh's ecotourism potential. Bangladesh is putting in order measures to integrate ecotourism resources. It is important that when ecotourism is being promoted in the country, the environment does not become over-exploited or damaged. Thus sustainable development needs to be followed. It may be necessary to control the number of tourists permitted in a particular area.
A variety of ecotourism activities are on offer in Bangladesh. Hike through the countryside as you search for ancient temples on the Bay's offshore islands. Hope aboard a boat and drift along on a glistening lake or river. Trek through thick forest where you may come across Mru villages. Stand a chance of viewing Bangladesh's amazing tigers. Many tourism companies offer a variety of itineraries and personalized eco-tours along with knowledgeable guides who will add to your amazing experience.
One of the most popular spots for ecotourism in Bangladesh is the Sundarbans. This group of islands is home to the world's largest mangrove forests. Residing in these verdant forests are Royal Bengal Tigers. There is little doubt that this is an ecotourism experience not to be missed. Recently designated a World Heritage Site, the Sundarbans attracts nature-lovers from around the world.
Ecotourism in Bangladesh is increasing in popularity as more people come to appreciate the stunning landscapes, unique animal life and fascinating plants of the country.
Ecotourism:
Defining "Ecotourism" has proven to be a difficult task given all the different players attempting to define it. People tend to define things in terms that are beneficial to themselves, hence the variety of definitions. There are however several workable definitions currently in wide use.
The International Ecotourism Society defines Ecotourism as: "responsible travel to natural areas that conserves the environment and improves the welfare of local people".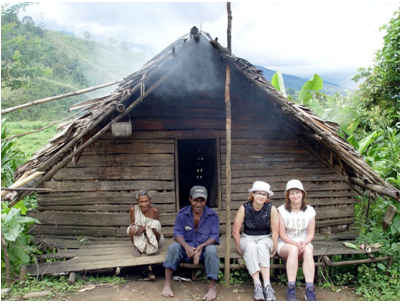 Characteristics of Ecotourism:
1) Involves travel to natural destinations: These destinations are often remote areas, whether inhabited or uninhabited, and are usually under some kind of environmental protection at the national, international, communal or private level.
2) Minimizes Impact: Tourism causes damage. Ecotourism strives to minimize the adverse affects of hotels, trails, and other infrastructure by using either recycled materials or plentifully available local building materials, renewable sources of energy, recycling and safe disposal of waste and garbage, and environmentally and culturally sensitive architectural design. Minimization of impact also requires that the numbers and mode of behavior of tourists be regulated to ensure limited damage to the ecosystem.
3) Builds environmental awareness: Ecotourism means education, for both tourists and residents of nearby communities. Well before departure tour operators should supply travelers with reading material about the country, environment and local people, as well as a code of conduct for both the traveler and the industry itself. This information helps prepare the tourist as The Ecotourism Societies guidelines state "to learn about the places and peoples visited" and "to minimize their negative impacts while visiting sensitive environments and cultures".
4) Provides direct financial benefits for conservation: Ecotourism helps raise funds for environmental protection, research and education through a variety of mechanisms, including park entrance fees, tour company, hotel, airline and airport taxes and voluntary contributions.
5) Provides financial benefits and empowerment for local people: National Parks and other conservation areas will only survive if there are "happy people" around their perimeters. The local community must be involved with and receive income and other tangible benefits (potable water, roads, health clinics, etc.) from the conservation area and it's tourist facilities. Campsites, lodges, guide services, restaurants and other concessions should be run by or in partnership with communities surrounding a park or other tourist destination.
6) Respects local culture: Ecotourism is not only "greener" but also less culturally intrusive and exploitative than conventional tourism. Whereas prostitution, black markets and drugs often are by-products of mass tourism, ecotourism strives to be culturally respectful and have a minimal effect on both the natural environment and the human population of a host country. This is not easy, especially since ecotourism often involves travel to remote areas where small and isolate communities have had little experience interacting with foreigners.
7) Supports human rights and democratic movements: Although tourism often is glibly hailed as a tool for building international understanding and world peace, this does not happen automatically; frequently in fact tourism bolsters the economies of repressive and undemocratic states. Mass tourism pays scant attention to the political system of the host country or struggles within it, unless civil unrest spills over into attacks on tourists. Ecotourism demands a more holistic approach to travel, one in which participants strive to respect, learn about and benefit both the local environment and local communities.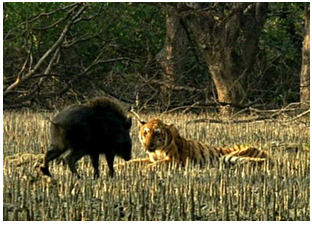 Ideally, ecotourism should satisfy several criteria, such as:
 Conservation of biological diversity and cultural diversity through ecosystem protection
Promotion of sustainable use of biodiversity, by providing jobs to local populations
Sharing of socio-economic benefits with local communities and indigenous peoples by having their informed consent and participation in the management of ecotourism enterprises
 Tourism to unspoiled natural resources, with minimal impact on the environment being a primary concern.
Minimization of tourism's own environmental impact
 Affordability and lack of waste in the form of luxury
 Local culture, flora and fauna being the main attractions
For many countries, ecotourism is not simply a marginal activity to finance protection of the environment, but is a major industry of the national economy. For example, in Costa Rica, Ecuador, Nepal, Kenya, Madagascar and Antarctica, ecotourism represents a significant portion of the gross domestic product and economic activity.
The concept of ecotourism is widely misunderstood and in practice is often used as a marketing tool to promote tourism, which is related to nature. This is an especially frequent malpractice in the realm of Jungle tourism. Critics claim that these green-washing practices, carried out in the name of ecotourism, often consist of placing a hotel in a splendid landscape, to the detriment of the ecosystem. According to them, ecotourism must above all sensitize people to the beauty and the fragility of nature. They condemn some operators as green-washing their operations: using the labels of "green" and "eco-friendly", while behaving in environmentally irresponsible ways.
Defining the Experience:
There are almost as many terms to describe types of travel as there are travel companies. A couple of buzzwords that we often hear these days are "Eco-Tourism" and "Adventure Travel". To further confuse the issue there is also "Sustainable Tourism", "Responsible Tourism", "Nature Based Travel", "Green Travel", "Multi-Sport Adventures" and "Cultural Tourism". The following are Untamed Path's definitions based on common usage.
Ecotourism: Perhaps the most over-used and misused word in the travel industry. But what does it mean? The Ecotourism Society defines it as "responsible travel to natural areas which conserves the environment and improves the welfare of the local people". A walk through the rainforest is not eco-tourism unless that particular walk somehow benefits that environment and the people who live there. A rafting trip is only eco-tourism if it raises awareness and funds to help protect the watershed. A loose interpretation of this definition allows many companies to promote themselves as something that they are not. If true eco-tourism is important to you, ask plenty of questions to determine if your trip will help "conserve and improve" the places you visit.
Adventure Travel: Another term which is heavily used by marketing departments. While travel to another country is often adventurous it is not necessarily "Adventure Travel". Most dictionaries define adventure similarly: "an unusual experience including some level of risk and uncertainty". "Adventure Travel" includes this idea of risk and oftentimes some unconventional means of transport. A dugout canoe journey deep into the Amazon basin with its attendant difficulties meets this definition.
Sustainable Tourism: Any form of tourism that does not reduce the availability of resources and does not inhibit future travelers from enjoying the same experience. If the presence of large numbers of tourists disturbs an animal's mating patterns so that there are fewer of that species in the future then that visit was not sustainable. Kayaking school on a free flowing river is an example of sustainable tourism. Big game hunting in Alaska is not.
Responsible Tourism: Tourism which operates in such a way as to minimize negative impacts on the environment. A wilderness camping trip using "Leave No Trace" ethics would be considered responsible tourism while dune buggy tours would not.
Nature-Based Tourism: A more generic term for any activity or travel experience with a focus on nature. Large jungle lodges fall into this category as do cruise ships to view penguins in Antarctica. These types of trips may or may not be environmentally sustainable or responsible. –
Green Tourism: Often used inter-changeably with eco-tourism and sustainable tourism but more accurately described as "any activity or facility operating in an environmentally friendly fashion". A lodge with composting toilets, gray water system, and solar powered lighting is probably "green". There are varying degrees of "greenness"; an awareness of where resources are coming from and where wastes are going is at the heart of the idea.
Multi-Sport Adventures: These trips have a focus on physical outdoor activities. Rafting, mountain biking, climbing, surfing, diving, etc. all offered in the same package. Not necessarily sustainable or eco but might be since many companies want to protect the areas where these activities take place.
Cultural Tourism: Interacting with and observing unique cultures is the focus of this style of trip. The concept of learning from other cultures to broaden ones perspective is usually a core value. An artisan showing you how to weave a tapestry and learning from them about their traditional dress would be a form of cultural tourism. Buying crafts in the market with no more interaction than the exchange of money does not provide the insight into another culture that is the central theme of cultural tourism.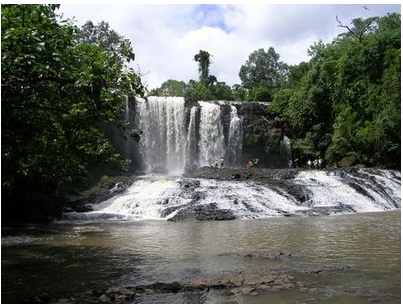 Ecotourism Attractions of Bangladesh:
Bangladesh is endowed with various tourist attractions which include archaeological sites, mosques, temples, monuments, modern resorts and a range of tours, including river cruises and boating. Visitors to Bangladesh are invariably brought close to nature. The following are the major tourist attractions.
Cox's Bazar: This is the tourist capital of Bangladesh with a 120 km long sandy, straight and drivable beach. Thousands of tourists, foreign and local, visit this spot every year. The Inani beach, about 30 km from Cox's Bazar, toward Teknaf, is a beautiful spot, full of coral stones. Not very far from Cox's Bazar is the island of Maheskhali, famous for its Buddhist and Hindu temples and a dry fish industry. A trip to Tefnak, about 100 km from Cox's Bazar, takes a visitor to the southern-most point of Bangladesh. It is simply fascinating. From there, one can go to the coral island of St. Martin by boat. Cox's Bazar is connected to Chittagong and Dhaka by road and air.
Hilly Districts: The three Hilly Districts of Rangamata, Khagrachari and Bandarban are inhabited by a number of tribes, with their distinctive cultures, rituals and traditions. The picturesque town of Rangamati is about 70 km from the port city of Chittagong. The Kaptai Lake is the largest man-made lake in the sub-continent.
Chittagong: This port city is famous for its harbour and port, beach and hills, a World War II cemetery, the shrines of saints and beautiful mosques. It is the second largest city in the country and is the commercial capital. Sitakund, a holy place for Hindu pilgrims, is only 36 km from Chittagong. Chittagong is connected to Dhaka by road, train and air.
Dhaka: Situated on the bank of the Buriganga River, Dhaka is the national capital. Founded in 1608 AD as the seat of the imperial Mughal Viceroys of Bengal and known over centuries for its silk, muslin and pearls, Dhaka has many interesting attractions. These are the Lalbagh Fort (built in 1678 by Prince Azam, son of Mughal Emperor Aurangzeb), the Armenian Church, the Ahsan Manzil Museum (the residence of the Nawabs of Dhaka), the Star Mosque, the National Memorial at Savar, the Central Shadeed Minar (a monument dedicated to the sacred memory of the martyrs of the Language Movement, 1952), Curson Hall, the National Museum, the Baldah Gardens, the Botanical Garden and the National Park. Sonargaon, one of the oldest capitals of Bengal, is 25 km from the present capital of Dhaka.
Mahasthangar (Bogra): Dating back from the 3rd century BC, this is the earliest known city site in the whole of Bengal. One can see the ruins of an early Buddhist monastery near Mahasthangar.
Paharpur (Naogaon): This gigantic temple and monastery of the 8th century is by far the most spectacular Buddhist site that has been discovered. It has been declared a World Heritage site by UNESCO.
Dinajpur: Ramsagor Lake and the Kantajis Mandir (built in 1722) are two important attractions in this northern district. The Mandir, with mythological decorations in terracotta, depicts the entire story of Mahabharata.
Sixty Domes Mosque (Bagerhat): Built in 1454, with 77 domes, this is the most magnificent and certainly the largest brick mosque of Bangladesh. The mausoleum in memory of the Muslim mystic Khan Jahan Ali is located here. It has been declared as a World Heritage site by UNESCO.
The Sundarbans: A cluster of islands with an approximate area of 600 km² form the largest mangrove forest in the world. This is the abode of the Royal Bengal Tiger and a unique place for ecotourism. Only recently it has been declared a World Heritage site by UNESCO.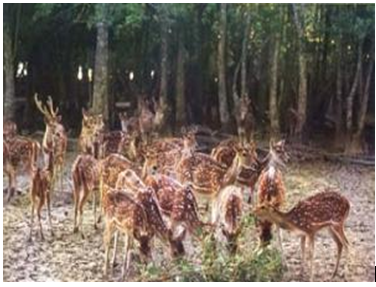 Comilla: Here the most important place to visit is Mainamati-Lalmai, an extensive centre of Buddhist culture (7th to 12th century), developed during the Chandra and the Deva dynasties.
Sylhet: This is the city of two great saints, Hazrat Shah Jalal (RA) and Hazrat Shah Paran (RA). It is a beautiful area with more than 130 tea gardens. Colourful Manipuri and Khasia tribes with their folk dances and distinct culture are added attractions.
Ecotourism Development in Bangladesh:
Various tourism facilities have been developed in many of the potential tourism areas by the Bangladesh Parjatan (Tourism) Corporation and other government, semi-government and non-government agencies. The Government of Bangladesh formulated a National Tourism Policy in February 1992. The main objective of this policy is to attract investment in tourism from the domestic private sector as well as by foreign investors. The government encourages foreign investment in the sector, either in the form of joint ventures or on a full foreign ownership basis. In order to encourage investments, the government has put in place a number of incentives such as tax exemptions, remittances of up to 50% of the salary of foreign staff, facilities for repatriation of savings and retirement benefits, repatriation of capital and profits, and guarantees against nationalization.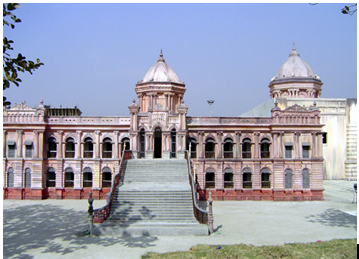 There was a time not too far in the past when tourism focused on beach resorts with recreational facilities. However lately, ecotourism has developed as a major trend. Travelling to relatively undisturbed natural areas with the specific object of studying, admiring and enjoying the scenery and wild plants and animals is a new phenomenon in developing countries.
Complementary to ecotourism is the emerging concept of green productivity (GP). The term "green productivity" is based on a strategy for enhancing productivity and environmental performance with the goal being overall socio-economic development. GP is the application of appropriate techniques, technologies and management systems to provide environmentally compatible goods and services. The GP concept can be applied in manufacturing, the service sector, agriculture, and in personal consumption; but GP is particularly pertinent to the concept of ecotourism.
About A National Organization : Bangladesh Ecotours:
Who they are
Bangladesh Ecotours is an experienced group of tribal leaders, ecotour operators, local guides, ecologists, social activists and other sundry personalities dedicated to deep ecotourism. They're the founding member of the local Ecotour Association as well as the pioneer (and still the only) eco adventure tour & trek organization in Bangladesh. It is a general member of TOAB.
"They welcome guests, but don't want Bandarban to become crowded or polluted like Rangamati. They don't want to lose their culture nor see it consigned to a museum."
– Raja A S Prue
Why they are
Established on the principle that sensitive tourism, if under the guidance of enlightened indigenous people, may prove a viable, sustainable alternative resource to the local people to protect the environment and their traditional and diverse cultures – they strive to at least have an interesting time trying and learning.
Their Focus
You'll appreciate their focus on people — their culture and the environment. These are not simply sight-seeing excursions, but real-time learning experiences. Enjoy an ideal blend of adventure and exploration with comfort and relaxation. Good, clean accommodation in the towns and hill tribe eco cottages or homestays in the interior allow a close interaction with the tourists' host families. Additional local guides and experts are used for treks and special interest tours. Oh, and their rates are as pocketbook-friendly, as the tourists'll find anywhere in South Asia, and help to preserve the environment and the indigenous cultures at the same time. They're committed — most of their profits stay in the villages and areas visited, with the local communities — directly supporting local initiatives.
Alongside providing a rewarding and unique experience for the tourists, a few of the things they seek to do are:
Study alternatives to, and the sustainable merits of traditional agriculture
Balance new and traditional healthcare, education & economics
Respect the quality of village life through controlled tourism
Provide a positive sustainable supplementary income sources
Value and promote indigenous skills and knowledge
Work for the protection and recognition of indigenous land rights
Provide tourism benefits directly to local communities on a fair basis
Provide intimate visits for guests without burdening village resources
Encourage the recognition of indigenous land & human rights
Encourage an interactive forum of all stakeholders
Their Tour Offerings
They offer both standard and customized tours for the tourists to choose from, the later being their specialty and passion. If the tourists are into nature, culture and unique experiences; traveling alone or with a very small group of like-minded people, are an 'off-the-beaten-path' type, and can manage a laugh (or at least a smile) when things get rather too earnest, the tourists are definitely on the right track.
Join any of their exciting tours and help develop ecotourism in a planned, intelligent and interactive manner. They know the region and the people well as they live here and work with them, the tourists can help by visiting with an open mind and heart. Their idea of an ideal group is from four to six people – just right for fun, flexibility and a low-impact. Still they're more than happy to host any individual, couple or groups of up to a dozen. Note that they're only able to accommodate smaller groups overnight in the interior villages. Larger groups will spend their nights comfortably in nearby small towns.
Their Commitment
Bangladesh Ecotours cooperates closely with the indigenous communities and generously contributes to, and helps coordinate their local initiatives aimed at conserving both the natural bio-diversity and their unique cultural heritage.
Their People
Meet the indigenous people of the Bandarban Hilltracts…
The Mru: A Hidden Tribe
Distinct with long hair kept in top knots, adorned with combs & wild flowers and wearing loin cloths, Mru youths return from a long day in the hills.
The solitary, independent and peace-loving Mru people have lived in the hill tracts of southeastern Bangladesh and western Burma for centuries – their small population split almost in half by the border. Many scholars believe them to be the original inhabitants of the region. Mru prefer to live on the hilltops, remote from even other hill tribes. Their villages are easily distinguished by sacred bamboo totems, presided over by guardian spirits. They live in large and cozy thatch-roofed bamboo cottages raised on stilts, with large open decks. Their life is based on jhoom (slash and burn) agriculture. Government resettlement of non-tribals on hereditary Mru lands makes it increasingly difficult for them to survive, many are now moving deeper into the interior in the vain hope of finding virgin lands. This migration tends to breakup their traditional society. They are in urgent need of a supplemental source of income. Small-scale marketing of traditional handicrafts along with responsible ecotourism (managed by them) may provide a sustainable alternative. This will engage traditional skills of making their own unique clothing, blankets, instruments and various household and cultural items.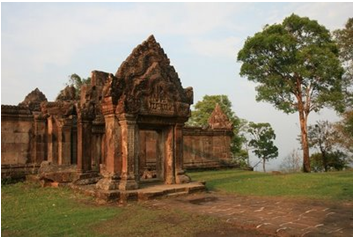 Tender Genders:
Mru highly value child care, shared equally by both genders.
The primary duty of both genders is agriculture. Women's other responsibilities are cooking, firewood gathering, making cotton thread & waist-loom weaving, embroidery, beadwork, etc. They carry heavy burdens using the traditional forehead strapped back-baskets. Both sexes acknowledge women work harder than men, brides are a little older than the grooms to ensure a strong woman to run their household. Both genders care and tend the children equally. Of all the tribes, they are the most affectionate and caring and would not imagine disciplining their children in any way. They go to great odds and endure much hardship to avoid any sort of conflict or confrontation. This trait leaves them vulnerable to exploitation by other tribes and settlers. Male duties other than farming, are home-building, hunting, basket-weaving, making musical instruments and other handicraft items, as well as cooking for festivals. Musical entertainment is the almost exclusive function of unmarried boys, who unabashedly groom and adorn themselves with combs, wild flowers and heavy silver jewelry.
A Gracious People:
Youth carrying bananas to market to trade for what little they don't produce.
Mru are very egalitarian and have no castes and few hereditary positions. They are extremely non-confrontational and take pride in being patient & peaceful. Each household has an equal voice in all village affairs. They are one of the few indigenous peoples who have staunchly retain their own unique culture, rituals and beliefs. With no functional leadership or hierarchies, this lack of higher-level social organization makes it difficult for them to avail of, or cooperate in joint efforts for 'development' or cultural preservation. Thus they are one of the least 'modern' of all the hill tribes, consciously preserving their distinct lifestyle. Mru are especially known for their mystical music, ascetic dress, exotic appearance and long, flower-adorned hair kept in topknots. Curiously, Mru have no sense of being 'tribal', as do other indigenous peoples. The word 'Mru' simply means 'man' — its those other than Mru that seem 'exotic'. They consider themselves just ordinary folks. Mru value their independence above all else, just desiring to pursue a traditional lifestyle free from domination or exploitation.
A Sublime Aesthetic
Youth plays his 'ploong', gourd & bamboo flute and sings ad-lib about nature, beauty and love.
The Mru fully enjoy the beauty of nature – hills, rivers, flora and fauna. They are especially fond of music, through which they express this love of all things beautiful. They sing all day – while farming, cooking, to their children, to themselves, to the trees, mountains – about anything that is pleasing. Words are often ad-lib, made up at the moment about nature, love and day-to-day activities. The simple bamboo flutes (prui) played by young women and the more elaborate mouth organs (ploong) of varying sizes played by the young men made from gourds & bamboo, are the basic instruments. The largest ploong has eight long pipes and sounds somewhat bagpipe-like. Drums and gongs accompany the wind instruments and lyrics. The music is based on set tone sequences, which are repeated indefinitely, the lyrics rather like rap. During the winter months (November to February), young Mru men travel around to woo the girls and by singing questions and answers, often into the early morning, the girls test the suitors qualifications and sincerity.
A True Mru Welcome:
A sincere smile and humble invitation awaits the tourists' visit.
As part of their traditional culture, the Mru simply love to entertain guests – who will surely come away richer by the association of these unique and interesting people. Click to find out how the tourists can do just this. Come visit them and the other fourteen native peoples of the Chittagong Hill Tracts. Stay in a 'Bawm' village – on the fabulous lotus-filled Boga lake shore – then trek up to Keokeradang, the highest peak (around 4,500 ft. above sea level) in Bangladesh, and return to enjoy a 'guitar evening'. Visit the Buddhist 'Marmas' while in Bandarban and sip their 'home-brew' slowly, while relaxing by the Sangu river. Only two more of the unlimited opportunities that await, as the tourists discover this region and it's peoples for yourself.
The Role of Government:
A desire to establish tourism in Bangladesh has been evident for many years; evident in the first master plan for the period of 1965 to 1985 and a second master plan for 1985–1995. Following the latter, a National Policy was formulated in 1992. The Bangladesh Parjatan Corporation (the national tourism organization) was established in 1973. Bangladesh was a founding member of World Tourism Organization (WTO) in 1975. The National Tourism Policy of 1992 identified five key areas for development: (i) emphasis on culture and heritage; (ii) preservation of natural and scenic beauty; (iii) preservation of unspoiled beaches and the preparation of land-use plans for beaches; (iv) emphasis on wildlife and preservation, and; (v) protection and rehabilitation of the Sundarbans.
Having proper infrastructure is a prerequisite for the development of tourism, especially ecotourism. Lack of infrastructure has been one of the prime causes of slow tourism development in Bangladesh. A few examples will testify to the fact. Kuakata is one of the few beaches in the world offering a full view of both the sunrise and sunset. It is a sloping sandy beach with coconut groves, towering cliffs, waves to be surfed and fish to be caught. Buddhist temples and the lifestyle of Rakhyne tribal people are added educational and cultural attractions. Unfortunately, it takes 12 hours on eight ferries to get there. This is enough for a tourist to lose interest in making a visit. Our government has taken steps to build bridges over the numerous rivers, thereby reducing the journey by four hours. However, it is imperative to construct a small airstrip to facilitate visitation to this area.
The Hilly Districts offer diversified tourist attractions ranging from fascinating tribal life, tropical evergreen forest, blue lakes, to picturesque valleys. However, many of the attractions have remained virtually inaccessible. Unlike many hill environments around the world, this area is not barren, but majestically green. The average height of the hills is around 1220 m. The highest peak of Bangladesh Tahjindong is in the Chimbuk valley, at 1412 m. This peak is not accessible by road.
The Sundarbans is the world's largest mangrove forest. No infrastructure has been developed to provide tourists with food, lodging and transport to the area. This vast waterway of riverine Bangladesh, and its reflection of local ways of life, could become a major attraction for foreigners. However, there are no arrangements for regular water transport allowing for safe travel through the waterways, and because of this its potential ecotourism attractions have remained largely unexplored. A multidimensional, comprehensive development plan needs to be prepared for the area.
Marketing of Ecotourism Destinations:
Clearly, promotion and advertising play a very significant role in establishing a product in the marketplace. Bangladesh Parjatan Corporation doesn't have a marketing unit to promote the country's products. Brochures and other promotional material could be distributed through all foreign missions in Bangladesh, through Bangladesh Biman, the national carrier. Though Bangladesh missions abroad aren't involved with tourism-related activities, inter-ministerial co-ordination between the Ministry of Civil Aviation and the Ministry of Foreign Affairs could pave the way for additional responsibility on the part of Bangladesh missions to do tourism marketing. Participation in international tourism fairs, publication of features and advertisements in trade journals would enable the country to promote its ecotourism products. Only by a serious effort in promotion will Bangladesh start to be seen as an ecotourism destination.
Ecotourism Guidelines for Responsible Travelers:
The conscious attitude, actions, participation and interactions on the part of the individual traveler directly affect the outcome for all involved. As a thoughtful and responsible traveler there are several things you can do before, during and after your journey to ensure the experience is in line with the values of "ecotourism" and minimize your impact on the host country. It is far easier to simply go on vacation as an uninformed tourist but making the choice to be an informed traveler can have far reaching impacts on the world around us. The more you put into your trip the more you'll get out of it. The following is a code of conduct for responsible travelers.
1) Prepare for your trip: Educate yourself about your destination. Be on the lookout for news and current events about the area. Learn about local history, customs and culture as well as vital ecosystems. Learn at least the basics of the local language. A simple hello, please or thank you goes a long way. Approach travel with the desire to learn rather than just observe.
2) Respect local traditions and etiquette: Wear clothing that is accepted by the local culture. Be aware of people's sensitivity to being photographed; always ask first. Observe local customs. Be perceptive of your own cultural values and how they affect your judgment of others. Remember that you are the visitor. There are many different concepts of time, personal space, communication etc. which are not wrong or inferior, just different. Act as an example for other travelers who are less informed than you.
3) Avoid ostentatious display of wealth: What may not seem a display of wealth to you may be considered extravagant by another culture. For example, a camera hanging around your neck or something as simple as a wristwatch or wedding band. Tuck these items away when visiting rural communities. Leave jewelry and other unnecessary valuables at home. They only create barriers and inhibit genuine interactions. Don't hand out sweets and loose change, this only serves to corrupt and create a begging mentality where none existed before.
4) Be flexible in your expectations: Approach your adventure with an open mind and you won't be disappointed. Sometimes plans change and an opportunity for more in-depth learning or a unique cultural experience presents itself. Adapt yourself to the situation rather than trying to adapt the situation to you.
5) Conserve resources: Often times the resources in an area visited by tourists are under a great deal of pressure already. Be aware of the resources that are being used because of your visit. This includes your personal consumption of items like water and wood for building fires or specialty foods that had to be transported from afar. Don't allow your guide to hunt endangered or threatened species or harvest rare plants for your consumption. A large luxury hotel in the middle of nowhere takes far more resources to build and maintain than does a small family run inn.
6) Practice environmental minimum impact: Follow the International Leave No Trace Rules. Pack out everything that you bring in including toilet paper (if there is no toilet) or plastic water bottles (use purification tablets or a filter). Go to the bathroom at least 200 feet (70 paces) from any water source. Remove litter that others left behind. Do not remove any objects, plants or animal products from nature. Be aware of local endangered or threatened species so as not to purchase souvenirs made from their skin, feathers etc. Not only is this impactful on the environment but it is illegal.
7) Choosing a tour operator or guide: Thoroughly research your tour operator or guide by asking them pointed questions about specifically what they do that is "eco" and how they involve the local communities and economies. The "greening of tourism" has led companies to promote themselves as "eco" simply to sell trips. The larger the company with more luxurious accommodations, the less likely it is to be true ecotourism. Be persistent in your inquiries of an international or local tour operator.
8) Support local economies: How will your visit directly benefit the local economy or entire community? This is an integral part of true ecotourism. Use local transportation, guides, inns, restaurants and markets. This helps create a buffer zone for the environment surrounding protected natural areas by giving locals an economic alternative to potentially destructive practices. Community based ecotourism spreads the wealth and workload.
9) Bridging cultural gaps: Take the opportunity to be a cultural ambassador. Much of the world's image of western tourists is based on the unrealities of television and magazines. Look for situations for cultural exchange whereby learning about each other's lives is mutual. Getting to know the person sitting next to you on a local bus or the person cooking your food takes some effort but is often a rewarding experience.
10) Continued ecotourism: Ecotourism doesn't need to end with your flight home. Follow through on your commitment to conservation in your everyday life. Share your experiences with others to foster a greater understanding of our world. You will have seen and learned much from your journey. While it is still fresh in your heart and mind take action using the various agencies, grassroots organizations and resources available to you.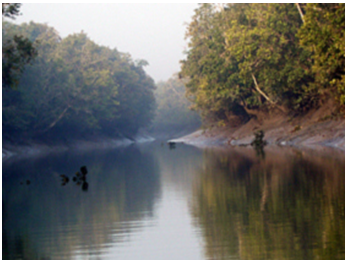 Conclusion:
Traditionally tourism has been viewed as largely beneficial to, and compatible with, the process of economic development. As the demand from tourists to visit natural scenic areas increases, developers have resorted to exploit this segment of the tourism market by developing tourist attractions in and around scenic sites, such as mountains, forests, beaches and cultural and historical areas. However overdevelopment, inappropriate development and poor management can cause environmental degradation. There is a need to balance the requirements of tourism development with the environmental constraints to ensure both economic and ecological sustainability. To create a form of tourism that utilizes unique local, natural, historical and cultural resources, and to promote the conservation and preservation of forests through proper management, and to combine successfully the resources and the promotion of tourism, it is necessary to implement ecotourism and a green productivity program in a planned way. The philosophies and practices of ecotourism and green productivity can be, and should be, a part of the tourism development strategy for Bangladesh.
Tourists visiting virtually unknown, developing countries like Bangladesh are concerned about food, disease, infection, inconvenience, language barriers, safety and security and so on. Therefore this negative image has to be addressed by the Bangladesh Parajatan Corporation by participating in international fairs, seminars and workshops and also through advertising and publicity campaigns. Government, NGOs and private organizers involved in the general tourism sector should work hand in hand to develop ecotourism and green productivity initiatives. Ultimately, with the right policies and understanding of the relationship between tourism and the environment, all tourism (including mainstream) will move towards being sustainable.