SpaceX Successfully Launches Its Latest Rocket EchoStar 23 Satellite
A SpaceX Falcon 9 launched the EchoStar 23 satellite early 16 March 2017 on the rare mission that did not attempt a recovery of the rocket's first stage. The company launched the EchoStar 23 communications satellite into orbit, which will provide Brazil with direct-to-home television service for a lifespan of around 15 years.
The launch took place at 2 a.m. EST from Launch Complex 39A at NASA's Kennedy Space Center in Florida, during the scheduled backup window. The backup window was originally scheduled to start at 1:35 a.m., but weather issues led SpaceX to delay it slightly.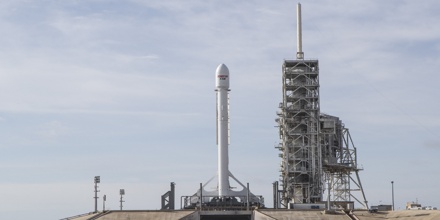 This will be the third launch of the year for SpaceX, whose full name is Space Exploration Technologies Corp. Its last mission was about three weeks ago, when it launched supplies for NASA to the International Space Station.
It hasn't been a smooth rocket launch for SpaceX. The launch was previously delayed from its initially scheduled date of March 12 because of problems with the static firing sequence. The test was initially scheduled to take place last Tuesday, but it was delayed 48 hours due to an unspecified issue. The routine check was eventually completed last Thursday, but the delays didn't stop there. A launch scheduled for Tuesday had to be called off due to high winds around the center.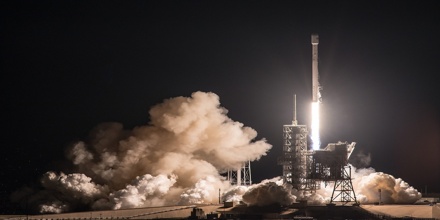 The launch was the third this year for SpaceX, and the second from the refurbished pad at KSC previously used for Apollo and shuttle missions. Unlike most other Falcon 9 launches, there was no attempt by SpaceX to land the rocket's first stage, either on land or on a ship at sea. The heavy mass of the satellite, estimated to be about 5,500 kilograms, kept SpaceX from reserving any first stage propellant for a landing attempt.
Details about EchoStar 23 Satellite
The EchoStar 23 satellite, manufactured by SSL, will provide broadcast satellite services alongside EchoStar's 25 other satellites. The craft needs to reach geosynchronous transfer orbit (GTO), over 22,000 miles above the Earth's surface, to properly communicate, which requires a lot more propulsion. The first stage gets the satellite to the edge of space, around 100 kilometers up, with the second stage powering ahead at a speed of around eight kilometers per second. Once it reaches GTO, the satellite is released.
EchoStar 23 is designed to serve the Brazilian market with its Ku-band payload. In a Feb. 24 filing with the U.S. Securities and Exchange Commission, EchoStar Corp. said it expected to meet an in-service milestone of the second quarter of 2017 set by Brazilian regulators for use of the Ku-band spectrum on the satellite, assuming a launch by the end of March.
The satellite is incredibly heavy, though, weighing around 12,000 pounds. This meant the rocket needed a lot more propellant to lift off in the first place. A droneship landing would have been too much to handle this time, but future rocket designs that use liquid-cooled propulsion fuel may enable landings on GTO missions.
It's the second launch from complex 39A. SpaceX took out a 20-year lease on the complex in 2014, and it's brought upgrades to the center's components that can better support Falcon 9 and Falcon Heavy launches, like the transporter erector used to roll the rocket out and tip it upright.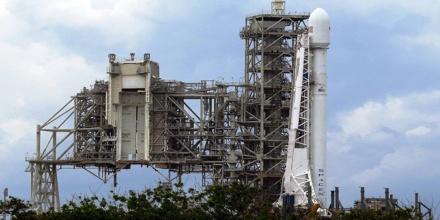 Introduction of SpaceX
SpaceX, is an American aerospace manufacturer and space transport services company headquartered in Hawthorne, California. It was founded in 2002 by entrepreneur Elon Musk, with the goal of reducing space transportation costs and enabling the colonization of Mars. SpaceX has developed the Falcon launch vehicle family and the Dragon spacecraft family, which deliver payloads into Earth orbit.
It is the only private company ever to return a spacecraft from low-Earth orbit, which it first accomplished in December 2010. The company made history again in May 2012 when its Dragon spacecraft attached to the International Space Station, exchanged cargo payloads, and returned safely to Earth — a technically challenging feat previously accomplished only by governments. Since then Dragon has delivered cargo to and from the space station multiple times, providing regular cargo resupply missions for NASA.
In February 2017, Elon Musk announced that the company had been contracted by two private individuals to send them in a Dragon spacecraft on a free return trajectory around the Moon. Provisionally launching in 2018, this may well become the first instance of lunar tourism.
In 2014, SpaceX had won nine contracts out of 20 that were openly competed worldwide in 2014 at commercial launch service providers. Space media reported that SpaceX had "already begun to take market share" from Arianespace.
Also in 2014, SpaceX capabilities and pricing had also begun to affect the market for launch of US military payloads. For nearly a decade the large US launch provider United Launch Alliance (ULA) had faced no competition for military launches. Anticipating a slump in domestic military and spy launches, ULA stated that it would go out of business unless it won commercial satellite launch orders.
The next SpaceX launch is expected to take place on March 27. Luxembourg-based satellite operator SES will work with the company to launch an SES-10 telecommunications satellite. It's the first company to use a previously-used Falcon 9 rocket in its mission, a major milestone in SpaceX history.