Techniques of Project appraisal:
An appraisal is a systematic exercise to establish that the proposed project is a visible preposition. Appraising officer
Head Office Approval:
Sanction letter: After getting the approval of the Head Office the branch issues sanction letter to the borrower. A sanction letter contains the following particulars amongst other details:
Name of borrower.
Facility allowed.
Purpose.
Rate of interest.
Period of the investment and mode of adjustment.
Security.
Others terms and condition.
Documentation: If the borrower accepts the sanction letter, the documentation starts. Documentation is a written statement of fact evidencing certain transactions covering the legal aspects duly signed by the authorized persons having the legal status. Following are the most common documents used by the NCC Bank for sanctioning different kinds of investment:
Joint Promissory Note.
Letter of Arrangement.
Letter of Disbursement.
Letter of Installment.
Letter of Continuity.
Trust Receipt.
Counter Guarantee.
Stock Report.
Letter of Lien.
Status Report.
Letter of Hypothecation.
Letter of Guarantee.
Documentation Relating to Mortgage.
Charges on securities: There are 6 types of moods of charging on securities:-
Pledge: – Pledge is the bailment of goods as security for payment of a debt or performance of a promise. A pledge may be   in respect of goods including stocks a and share as well as documents of title to goods such as railway receipts, bills of landing, dock warrants etc. duly endorsed in Bank's favor.
Hypothecation: – In case of hypothecation the possession and the ownership of goods both rest the borrower. The borrower to the Banker creates an equitable charge on the security. The borrower does this by executing a document known as Agreement of Hypothecation in favor of the lending Bank.
Mortgage:- Accounting to section (58) of the Transfer of Property Act, 1982 mortgage is the transfer of an interest in specific immovable property for the purpose of securing the payment of money advance or to advanced by way of loan, existing or future  debt or the performance of an engagement  which may give rise  to a pecuniary  liability. In this case the mortgage dose not transfer the ownership of the specific immovable property to the mortgagee only transfers some of his rights as an owner. The Banker exercises the equitable mortgage.
Lien:- Lien is the right of the Banker to the
Assignment: – Assignment means transfer of any existing or future right, property or debt by one person to another person. The person who assigns the property is called assignee. Usually assignments are made of actionable claims such as book debts, insurance claims etc. In banking business, a borrower may assign to the Banker (1) the book debts (2) money due from government's debt (3) insurance policy.
Set-off: – Set-off means the total or partial merging of a claim of one person against another in a counter claim by the latter against the former. It is in effect the combining of accounts between a debtor and a creditor   so as to arrive at the net balance payable to one r the other. It is a right, which accrues to the Banker as a result of the Banker-customer relationship.  Set-off arises when a debtor or his creditor wishes to arrive at the net figure owing between them when separate accounts or debt are involved.
Recovery: It is the duty of the recovery department of the Bank to recover the landed fund within the stipulated time & if the borrower fails to repay the money within the said period Bank will declare him as a defaulter & recover the fund by selling the securities given by the borrower or by freezing his account or make a suit against him.
4.13 Trend of Loans and Advances:
Loans & Advances figure as on 31.12.09 was TK50, 387.68 million which was 9% higher than that of previous year loans & advances figure of Tk.46, 332.69 million.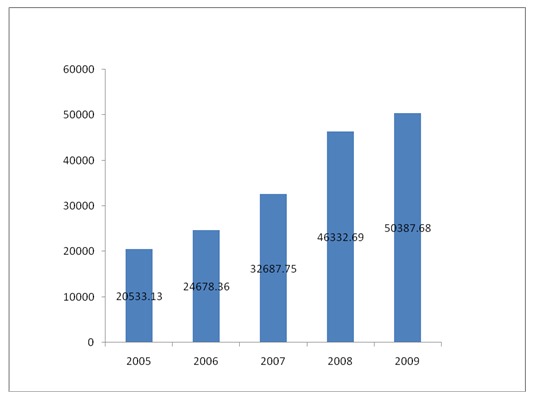 4.14 Trend of Import and Export Business:
During 2019, NCC Bank Limited handled export and import business for TK. 11,903.72 million & TK.  33,078.44 million. Respectively this was 5% & 15% higher than that of previous year export and import figure of Tk. 12,522.04 & 38,796.88 million.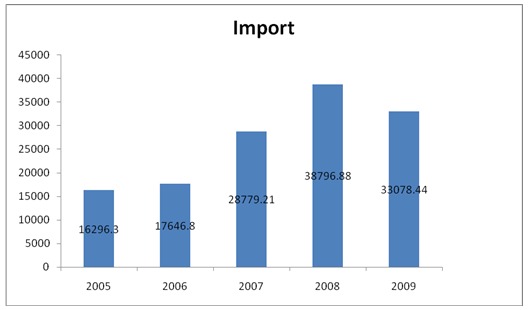 4.15 Trend of Operating Profit:
Profit position of NCC Bank Limited is good. In 2009 the Bank earned a handsome profit figure of Tk. 3,137.70 million, which is 33% higher than that of last year operating profit figure of Tk.2, 363.49 million.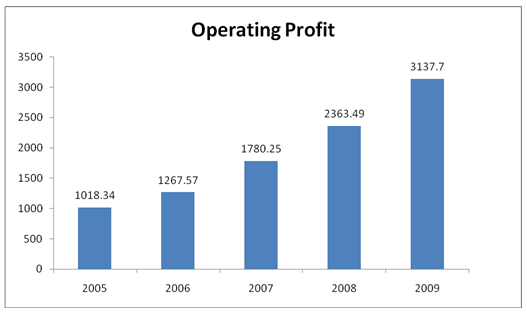 4.16 Prospect of SME:
Increase deposits.
Diversify business activities.
Trade finance.
Enhance standards of services, fee-based income & strive to achieve greater cost efficiency & staff productively.
Ensure sustainable & steady growth.
Achieve long term goals.
5.1 Findings:
National Credit and Commerce Bank has contributed in the national economy by investing remarkable amount in Small and Medium Enterprise Sector throughout the country.  While working at NCC Bank Limited, some findings and observations were pointed out as listed below:
NCC Bank Limited has already achieved a high growth rate accompanied by an impressive profit growth rate in 2010. The amount of deposit and investment are also increasing rapidly.
NCC Bank Limited has already established a favorable reputation in the banking industry of the country. It is one of leading private sector commercial banks in Bangladesh with 80 branches, 7 SME Service Centers, 2 ATM booths & 17 brokerage houses.
NCC Bank Limited has incorporated online banking system in their operation with FLORABANK banking software. All of the branches are now connected with this online banking system.
NCC Bank Limited has introduced Debit Card to promote its customers with 24hours banking facilities. The card can be used only by third parties booth as the bank has no ATM booth of its own.
NCC Bank Limited has achieved an outstanding performance in receiving foreign remittance. They have made arrangement with a number of agencies like MONEYGRAM, PLACID XPRESS, XPRESS Money, UAE Exchange, DHAKA JANATA and so forth.
Marketing policy of NCC Bank Limited is very poor. NCC Bank Limited has introduced a number of products and services as per the requirement of the business and individual's people. But the highlight of the product by using proper marketing channel was absent.
To accelerate the amount of investment in Small and Medium Enterprise Sector NCC Bank Limited has established 7 SME service centers.
The amount invested in SME sector compared with other sector is not satisfactory.
The operation of SME loan is not complying with CRM policy or Bangladesh Bank guideline. Loan application processing, disbursement, documentation and recovery of loan-all the tasks are carried out in one desk. But this is not complying with a good credit policy.
Like other private commercial banks, NCC bank ltd. has no special recovery team, who may be used to recover bank dues, which might not be possible by the regular desk officers.
They will establish 60 ATM booths by this year.
5.2 Recommendations:
Small & Medium Enterprise sector is contributing a lot in fostering economic growth, in generating employment & in reducing poverty the banks should give more concentration in this sector. After completion of internship period & considering the findings listed earlier some points may be recommended as listed below:
In order to fostering economic growth, to generate employment & reducing poverty NCC Bank Limited may enhance their budgetary allocation in SME sector financing. The fund disbursed under SME Financing will be redefined by Bangladesh Bank at prevailing Bank rate.
To make more investment in Small & Medium Enterprise sector in order to contribute in national economic development , the bank need to establish more SME service centre to the remote rural areas.
NCC Bank Limited may give instructions to all of its branches, whether located at urban or rural areas, to make marketing of SME loans and to disburse a remarkable amount of loans under SME finance.
NCC Bank may introduce different range of loan products and other services for the SME customers according to the nature of enterprises and according to the needs of the customer.
The procedure of SME loan operation must follow Bangladesh Bank CRM Policy, where loan application processing, disbursement, documentation and recovery need to be decentralized. Different officials may be assigned in each of the tasks which may results significant profit & growth of the organization.
 NCC Bank Limited may not invest directly to the SME sector rather they may use the NGOs as intermediary, its may lower operating & monitoring costs and amount of default of the bank.
NCC Bank should give more attention to advertisement for creating more attraction among its customers, which is helpful to collect more deposits and increase investments scope. That's why bank should give emphasis on advertisement in various media like TV, News Paper, Internet and Billboard.
NCC Bank may introduce third party recovery team like other private commercial bank to recover the bank's dues which has already been defaulted. Otherwise from different branches, who have shown their efficiency in recovery. The team may be guided & monitored by Head Office recovery division.
NCC Bank Limited needs to install ATM booth of its own in their branches & in prime location to give better service to its customer.
5.3 Conclusion
Now NCCBL Established 80 branches so far to provide financing, investment, counseling, underwriting among guarantee, portfolio management etc. along with traditional banking. Since its inception the bank has acquired commendable reputation by providing sincere personalized service to its customers in a technology based environment. The Bank has set up a new standard in financing in the Industrial Trade & Foreign Exchange business. Its various deposits & credit products have also attracted the clients both corporate & individuals who fell comfort in doing business with the Bank.
The banking sector of Bangladesh is passing through a tremendous reform under the economic deregulation and opening up economy. Currently this sector is becoming extremely competitive with the arrival of multinational banks, technological infrastructure, effective management, higher performance level and utmost customer satisfaction. NCC Bank Limited follows the policy and practices set by the management and the guideline set by the Bangladesh Bank. As a result, they are performing well in reducing the high classification rate and achieving the profit target of the bank.
More parts of this post–
SME Banking of NCC Bank Limited (part-1)
SME Banking of NCC Bank Limited (part-2)
SME Banking of NCC Bank Limited (part-3)
SME Banking of NCC Bank Limited (part-4)