Management of Brac Bank:
The board of directors is the top management and policy making body of BRAC Bank LTD. Presently the board of directors consists of a chairman and five directors. It is to be noted the managing director, is also a member of the board. The directors are appointed from amongst those who have experiences and shown capacity in the field of finance and banking, trade, commerce, industry etc. The chief executive officer (CEO)executes all the activities under the direction of the board. The officer and the other line and staff personnel are appointed by the bank's own recruitment committee.
Table2.1 Name of the Directors
| | |
| --- | --- |
| Name | Designation |
| Muhammad A (Rumee) Ali | Chairman |
| Quazi Mohammad Shariful Ala | Director(nominated by BRAC) |
| Nihad Kabir | Independent & Depositor Director |
| Tamara Hasan Abed | Director |
| Shib Narayan Kairy | Director |
| Dr. Hafiz GA Siddiqi | Depositor Director |
Table2.2 Name of Management Committee
| | |
| --- | --- |
| Name | Designation |
| Syed Mahhubur Rahman | Managing Director & CEO |
| Mohammad Mamdudur Rasid | Deputy Managing Director |
| Rais Uddin Ahmad | Company Secretary & Head of Legal Regulatory & Internal Control |
| Nabil Mustafizur Rahman | Chief Credit Officer |
| Dyed Faridul Islam | Head of SME Banking |
| Firoz Ahmed Khan | Head of Retail Banking |
| Khwaji Shariar | Head of Cash Management, Custodial Services and Probashi Banking |
| Mahmoodun Nabi Chowdhury | Head of Corporate Banking Division |
| Taniyat Karim | Head of Human Resources |
| Shah Alam Bhuiyan | Head of Operations and Acting Head of Operational Risk Management |
| Mohammad Rahmat Pasha | Head of Treasury & Financial Institution |
| Mr. Nawed Iqbal | Chief Technology Officer |
| M.Sarwar Ahmed | Head of Special Assets Management (SAM)-SME & Retail Banking |
| Zeeshan Kingshuk Huq | Head of Corporate Affairs |
Functional Department of BRAC Bank:
The departments of Brac Bank can be categorized into two ways are shown in following chart: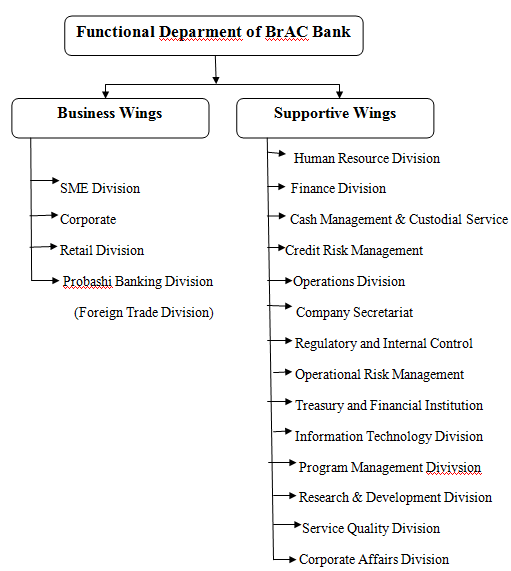 Wings of BRAC Bank Ltd:
BRAC Bank Limited consists of four major business divisions:
Corporate Banking Division
Retail Banking Division
Small and Medium Enterprise(SME)
Foreign Trade & Treasury
A.Corporate Banking Division:
BRAC Bank's Corporate Banking team exists to provide both banking services and a financial partnership with local large and medium corporates, trading houses and joint ventures. As the financial partner of choice
for the corporate sector, BRAC Bank is distinguished by our:
Quality of service
Value of innovative solutions
Level of trust with our clients
Market knowledge
Through the team our clients have access to a wide range of financial services including:
Debt capital
Equity capital
Ongoing relation support
Financial markets
Our Objectives:
To provide wide range of financial services professionally, efficiently and competitively to achieve pre-eminent position in chosen market.
Diversify revenue stream through product innovation.
A Well-diversified credit portfolio, which produces a reliable and consistent return to investment.
Our values:
Services to our customers
Quality in everything we do
Competitiveness and a will to win
Growth and development of our people
Continuous productivity improvement
Professionalism and ethics in all our actions
Growing profit for our stakeholders
B. Retail Banking Division
Retail Division offers a wide array of lucrative and competitive banking products to the individual customers of the bank. It also offers different types of term deposit scheme and attractive STD &Savings schemes giving interest on daily balance.
As a part of total banking solution it has introduced an innovative and one o its kind Remittance Services under the style and name "Secured & Easy Remittance Service"(SERS). The aim of the program is to introduce easy and secured remittances services whereby people will be comfortable and secured in remitting funds without hassle and delay. Using the countrywide network of BRAC comprising more than 11000 field offices the SRS will ensure secured and only 24 hour lead time delivery of remittances anywhere in Bangladesh.
C. Small and Medium Enterprise (SME): SME is an additional and specialized horizon of the bank which serves the bank's special focus on promoting broad based participation by catering to the small and medium entrepreneur. The network of SME has already been established through the Bangladesh.
The SME market in Bangladesh is large. BRAC Bank is absolute market leader in the number of loans given to small & medium enterprises throughout Bangladesh. The Bank disbursed almost BDT 144467 million since inception till 2010, of which disbursed BDT .32549 million in 2010.
D. Foreign Trade & Treasury Division:
Treasury Division is one of the major divisions of BRAC Bank . It deals with money market. All treasury related products are processed in conformity with the Bank's Operational, Trading, and Money market, Term placing, Deal settlement, Commercial positioning keeping, Treasury, Credit, Finance & other applicable policies.
Treasury Operations calculates investment figure, prepares the auction application, forwards the application to Bangladesh Bank for Bid and Treasury Operations maintains and reconciles all accounts with foreign and local banks.
Major Responsibilities:
It deals with Money Market
It deals with Foreign Exchanged Department
BRAC Bank is gradually growing up to establish itself in the Banking arena of Bangladesh to be market leader in terms of service quality and a trusted partner in the development of Bangladesh.
3.1 Definition of SME
SME stands for Small and Medium Enterprise. The "Policy Strategies for Development of Small & Medium Enterprises (SME) 2005" published by SME Cell of the Ministry of Industries categorizes Small and Medium Enterprises using the following definitions:
a. Manufacturing enterprise
Small Enterprise: an enterprise should be treated as small if, in current market prices, the replacement cost of plant, machinery and other parts/components, fixtures, support utility,  and associated technical services by way of capitalized costs (of turn-key consultancy services, for example), etc. excluding land and building, were to be up to Tk. 15 million.
Medium eEnterprise: an enterprise should be treated as medium if, in current market prices, the replacement cost of plant, machinery and other parts/components, fixtures, support utility, and associated technical services ( such as turn-key consultancy), etc. excluding land and building, were to be up to Tk.100 million.
b.Non-Manufacturing activities (such as trading or other services).
Small enterprise: an enterprise should be treated as small if it has less than 25workers, in full-time equivalents;
Medium enterprise: an enterprise should be treated as medium fi it has between 25 and 100 employees.
3.2 SME History of BRAC Bank Ltd:
He wants to see poverty banished forever.  This has been his single-minded pursuit in life. Ever since a devastating cycle wreaked havoc on the lives of the people and property in the coastal regions of pre-independence Bangladesh 1970, everything changed for a young chartered accountant. The young man was so moved by the death and destruction that he, along with some friends, dedicated to set up HELP to carry out relief and rehabilitation efforts. Later after the independence of Bangladesh the young man sold his flat in London and decided to set up a relief and rehabilitation center in the war ravaged Bangladesh. He never looked back.
He is Sir Fazle Hasan Abed, the founder and chairperson of BRAC, the world's largest NGO, arguably in terms of size and operation. BRAC has been working relentlessly to realize the hidden potential of mankind, especially the ones who are most deprived of opportunities.
It is this same vision that motivated him to come up with a bank that could realize the untapped potentials of this country.  Traditionally banking in Bangladesh has mainly addressed the mid to large sized businesses or the professionals. When Sir Fazle Hasan Abed established BRAC Bank he did it with the goal to serve the highly motivated group of entrepreneurs who wanted to break out of the vicious cycle of poverty and take control of their own future. We call them the "Missing Middle". His long cherished dream of availing quality finance services to these small to medium businesses finally come to reality. BRAC Bank proud to be the pioneering and largest SME bank in Bangladesh, discharging over 10,000 core taka in SME loan and helping fulfillment of more than 256,000 dreams that change hundreds and thousands of lives every day.
SME banking division of BRAC Bank Limited has successfully made a mark in creating platform for small and medium entrepreneurs in "Access to Finance", the key to the prime obstacle towards growth of SMEs. Since inception BRAC Bank upholds the motto to finance the "Missing Middle" the underserved market segment of SMEs. Years of market knowledge and understanding, committed resources, countrywide coverage and well aligned strategies have made the bank an expert in SME financing and the bank has successfully developed an examined and successfully model in SME financing in Bangladesh.
The strengths of BRAC Bank's SME Banking Division behind the success of growth are as follows:
Dynamic human resource
Country distribution network and coverage
Continuous development in creating innovative products
Unique loan approval process and monitoring
Robust risk management system
The bank has incorporated double bottom line approach in its operation –
1)  Making profit by mobilizing fund from urban to rural areas.
2)  Performing social responsibility by creating an entrepreneurial class.
Along with Small & Medium Enterprise financing, SME banking division is also actively working in creating awareness and imparting knowledge to SMEs about financial record keeping, dealing with modern banks and industry best practices in SME operation. In an attempt to ensure customer awareness and to strengthen the relationship with customers, SME banking division arranged informative campaigns and road shows for SMEs located across the country.
3.2  Importance of SME
The main focus of BRAC Bank is to develop human and economic position of a country. Its function is not limited only to providing and recovering of loan but also try to develop the economy of a country.
So reasons for this program from the viewpoint of BBL: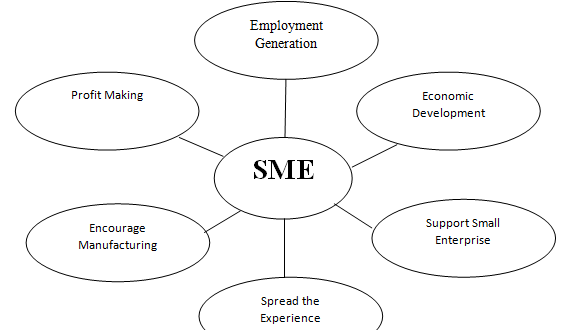 3.2.1 Support Small Enterprise
The small enterprise, which requires BDT 2 to 30 lacks loan, but they have no easy access to the banks/financial institutions. For example: In case of Anonno loan, an amount of 3 to 8 lacks is provided without any kind of mortgage.
3.2.2 Economic Development
Economic development of a country largely depends on the small and medium seal enterprises. Such as, if we analyze the development history of Japan, the development of small & medium scale enterprises expedite the development of that country.
3.2.3 Employment Generation
The bank gearing employment opportunities by two ways: Firstly, by providing loan to the small enterprises expanding, these businesses require more workers. Secondly, Small & Medium Enterprise (SME) program requires educated and energetic people to provide support to entrepreneurs.
3.2.4 Profit Making
SME program is a new dimensional banking system in the banking world. Most of the CROs are providing door-to-door services to the entrepreneurs. Entrepreneurs are satisfied by the service of the bank and make profit.
3.2.5 Encourage Manufacturing
The focus of BRAC Bank is to encourage manufacturing by the entrepreneurs who produce by purchasing various types of materials. CRO try to educate them to produce material if possible because if they can produce in line of purchase profits will be high.
3.2.6 Spread the Experience
Another reason of BRAC Bank is to spread the knowledge on the importance of SME banking regarding various businesses. The customer services officer share their knowledge from various businesses and tries to help the entrepreneurs who have shortage of the gathered knowledge. CRO's who are the driving force of SME division of BRAC Bank also gather knowledge about various businesses and make stronger knowledge base.
3.3 SME Products
BRAC Bank, being the youngest bank, took a step to break away from usual tradition and tapped into the true suburb entrepreneurial initiatives.
Today, with over 10,000 cores of loans disbursed till date, BRAC Bank is country's largest SME financier that has made more than 265,000 dreams come true!
If you have a dream on which you trust, let us make it true together.
Loan products
Deposit Products
Annono RinApurbo RinAroggo Rin

Digoon Rin

Prothoma Rin

Trade plus

Business Equity Loan

Proshaer Rin

Business Loan

Supplier Finance

Prapti Current Account
3.3.1 Anonno Rin
This is a small scale loan designed to finance small scale trading, manufacturing and service ventures, especially to aid the purchase of fixed assets and to finance working capital.
Eligibility
Entrepreneurs aged between 18 to 60 years

Entrepreneurs with minimum 2 years experience in the same line of business
  A business which must be a going-concern with more than 1 year in operation
Maximum Amount
From minimum BDT 3 lac up to maximum of BDT 8 lac
Features
Loan without mortgage
For excellent borrowers who have paid or paying in due times, we offer discounted rates

Quick, quality banking throughout the country
Potential women entrepreneurs will also get the facilities of this loan
3.3.2 Apurbo Rin
In order to help our SME borrowers for financing working capital or to purchase fixed assets,
BRAC Bank offers APURBO. It caters to the need of entrepreneurs who are operating in trading, manufacturing, service, agriculture, non-farm activities, agro- based industries and other sectors of our economy.
Eligibility
Entrepreneurs having a minimum of 3 years of some business activities
  A business which must be a going concern for 3 years
  Age minimum 25 years and maximum up to 60 years
Maximum Amount
Starting from BDT 8 lac to maximum of BDT 30 lac Features
Without mortgage loan below 10 lac

Simple loan processing for expanding your business
Quick disbursement
Disbursement in one or two installment
  Flexible monthly repayment loan
3.3.3 Pathshala Rin
This is a loan designed to meet the needs of small and medium sized private educational institutions, such as kindergartens, schools and colleges etc.
Eligibility
A small & medium educational institute that is in operation for minimum 3 years
The institution should be sole proprietorship, partnership, private limited company or society
The educational institute must be a profit making concern
Maximum Amount
Minimum BDT 3 lac to maximum BDT 30 lac Features
Without mortgage for loan below 10 lac
Loan for fixed assets purchase & civil construction 9  Loan repayment can be spread up to 4 years

  Minimum documentation
Monthly repayment loan
Quick disbursement
Flexible interest rate based on security