The Simien Mountains National Park (SMNP) in northern Ethiopia is a beautiful landscape, with jagged mountain peaks, deep valleys, and steep precipices falling 1,500 meters due to significant erosion over millions of years. It is Ethiopia's largest national park. Its territory encompasses the Semien Mountains and includes Ras Dashan, Ethiopia's highest point. It is located in the Northern Gondar Zone of the Amhara Region. Since it is home to globally endangered species such as the famous Walia ibex, a wild mountain goat found nowhere else on the planet, the Gelada baboon, and the Ethiopian wolf, the park is of global importance for biodiversity conservation.
The Simien Mountains National Park covered only 136km2 and 412km2 when it was first formed in 1966. The park is home to more than 50 bird species, including the remarkable bearded vulture, or lammergeier, which has a 3 m (10 ft) wingspan. The natural splendors of this area have often awed tourists from Ethiopia and beyond. The high plateau ends abruptly at 1000 to 2000-m deep escarpments, with gentle highland ridges covered in grasses, isolated trees (Erica &bored), and the bizarre Giant Lobelia (Lobelia rhynchopetalum).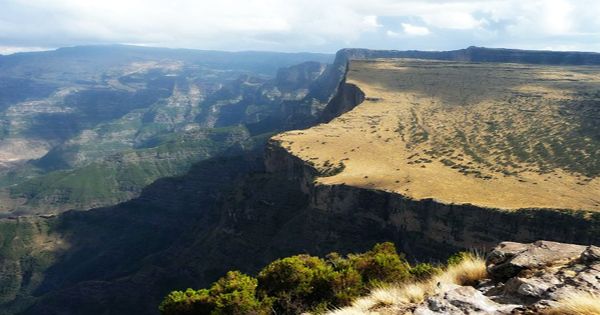 The Simien mountains' undulating plateau has been eroded over millions of years to create precipitous cliffs and deep gorges of breathtaking natural beauty. Some cliffs rise to 1,500 meters, and the northern cliff wall stretches for 35 kilometers. An unpaved road runs through the park from Debarq, where the park's administrative headquarters are located, east through several villages to the Buahit Pass (4,430 m), where the road turns south and ends at Mekane Berhan, 10 kilometers beyond the park's boundary. Currently, the total park area is 412km2; The park ranges from 1,900 to 4,533m.
For at least 2,000 years, the Simien area has been inhabited and cultivated. The clearing started on the gentle slope of the highland valley, but later spread to a steep slope, as erosion revealed. It was one of the first sites to be designated as a UNESCO World Heritage Site (1978). The Simien mountains' entire highlands are made up of dark Trapp basalt and light, soft turf geologically. They alternate and form a vast complex with a thickness of over 3000 meters. This complex was formed 20-30 million years ago by volcanic eruptions during the Tertiary Oligocene-Miocene Period, and it has been undergoing uplifting and erosion ever since.
However, it was added to the List of World Heritage in Danger in 1996 due to significant population declines of some of its distinctive native species. SMNP contains over 1,200 plant species, three of which are exclusive to the Simien Mountains: Festuca gilbertiana, Rosularia simensis, and Dianthus longiglumi. In SMNP, there are three major vegetation zones: Montane forest (1,900 to 3,000 meters), Ericaceous belt (Sub-Afroalpine) (2,700 to 3,700 meters), and Afroalpine zone (3,700 to 3,700 meters) (3,700 to 4,533m). The heritage area is 120 kilometers from the Gondar province of Begemder in Ethiopia's northwestern region, on the western side of the Simien Mountains. Simien has a lot of perforated basalt, which makes it a great catchment basin.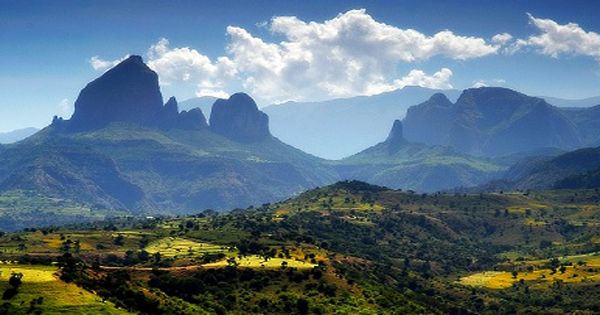 The park is also an Important Bird Area that is part of the larger Central Ethiopian Highlands Endemic Bird Area. The park is home to over 20 large mammal species and over 130 bird species. The biosphere of the Simien Moumains National Park is its biggest draw: the steep cliffs and cool climate at the Erica tree line (3600 to 4000 m ash) have provided ideal conditions for the survival of an ibex species (Capra ibex wee) that is endemic to the Simien Mountains. Several hundred species have lived to the present day despite significant habitat restrictions over the centuries.
In the northern and western sections of the park, montane forests can be found on the lower reaches of the escarpment leading to the lowlands. Other areas around SMNP were once covered in montane forests, according to local elders. Due to agriculture, clearing, and settlements, much of the primary forest has been destroyed; thus, protection of the remaining areas is critical. Biodiversity is much higher in montane forests than on high ridges or plateaus. Other mammals include the hamadryas baboon, colobus monkey, leopard, caracal, wild cat, spotted hyena, and golden jackal, which are all native to Ethiopia. Bushbuck, common duiker, and klipspringer are among the large herbivores.
Bearded vulture, Verreaux's eagle, kestrels, vultures, lanner falcon, augur buzzard, and thick-billed raven are among the 400 bird species. A total of 21 mammalian species, 3 endangered species, 63 bird species, and 7 endemic species have been identified. Juniper (Juniperous procera), Hagenia abyssinica, Olea africana, Cordia Africana, Ficus spp., and Szygium guineense are the most common plants, and nearly all of them are endangered. Shrubs like Solanum sessilistellatum make up the rest of the vegetation. Rosa abyssinica (Abyssinian rose, only present in Africa and in Yemen's highlands), Primula verticillata, Urtica, and herb species like Alchemilla and Thymus.
Ethiopia is home to 80 percent of Africa's land above 3,000 meters. As a result, the Simien Mountains, which include Ethiopia's highest point (Ras Dejen at 4,533m), are also known as "the roof of Africa." The park's great altitudinal, topographic, and climatic diversity have influenced its Afromontane and Afroalpine ecosystems, resulting in a diversity of species and habitats. National park management successfully preserves park representative species and collaborates with local communities to reduce demand on park resources by expanding arable land, overfishing livestock, and natural resource overcapacity. The burden on heritage sites is increasing as a result of global climate change.
The Simien Mountains were formed by lava outpourings between 40 and 25 million years ago during the Oligocene period, prior to the formation of the Rift Valley. The volcano is thought to have covered more than 5000m2 and formed a 3,000-3,500m thick basaltic volcano series that was deposited on 500m thick Precambrian crystalline basement. The Simien Mountains are mostly made up of the remains of a Hawaiian-style shield volcano. The human population in the region contributes to the uniqueness of this natural ecosystem. When trekking in the Park and its surrounding rural environment, the most striking experiences a tourist will have are of the rural population's traditional lifestyle and their survival in a harsh climate with limited natural resources.
Park management and alternative livelihood growth for local residents need more financial support. The management plan must be prepared, implemented, reviewed, and monitored, as well as the park's boundary revised and expanded, and residents must be completely involved. Because of differences in geological formation, glaciations, topography, and climate, various types of soils exist. The Humic Andosol is the most common soil type, found mostly above 3,000 meters. The other soil types are shallow Andosols, Lithosols, and Haplic Phaeozems, which are mostly found between 2,500 and 3,500 meters.
Agricultural and pastoral practices, such as the farming of a wide area of the property and the grazing of a large number of animals in particular, have negatively impacted the property's natural values, including the Walia ibex and Ethiopian wolf's vital habitats. Local collaboration is essential for preventing unsustainable use of national park resources and developing sustainable livelihoods. To alleviate the severe stress on wildlife, adequate financial support for the relocation of residents in the heritage region, as well as the implementation of effective livestock management, are needed.
Improving and expanding ecotourism services while maintaining the park's natural and scenic qualities has the potential to generate significant additional revenue. Environmental education and training programs are also required to help communities in and around the land, as well as to sustain community support and collaboration in the property's management, to ensure that it retains Outstanding Universal Value.
Information Sources: