SHAREit: It is an Alternative for Wireless Content Sharing
SHAREit is one of the best apps to transfer files faster through WiFi without any network connection. It is A fantastic application that can complete transferring files between devices in seconds! Cellular data free! Genuine multi-platform!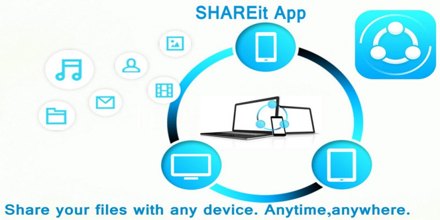 It is a free application from Lenovo that allows Windows, Windows Phone, Android, and iOS devices to transfer files directly by ad-hoc Wi-Fi connections. It is currently available in 39 languages including English, French, Spanish, Russian, Arabic and Chinese. It was first launched In China in June 2012 and known as anyshare. In transfer field, SHAREit competes with Xender, Zapya, Share Apps, SuperBeam. In addition to transferring files, SHAREit's services also include CONTROL and CLONEit. Shareit's Windows Phone app is now named SHAREit (Official) and the older app renamed to SHAREit (Unofficial) which was developed by Paradox.
It is an alternative for wireless content sharing. The app has a function to view photos stored in mobile device on computer. Users can control PPT directly with their phone.
It replicates contacts, SMS messages, MMS messages, music, videos, apps and other data from one old phone to the new one.
How To Use and Transfer Files Using SHAREit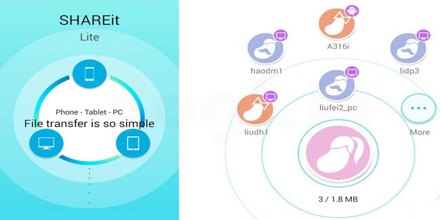 It's all about networking concepts. There is a receiver and a sender. One of them creates a WiFi hotspot. And the other connects to it. Now a local network is formed. Both will have IP addresses. Now, sender can select a file and then click send. The file is transferred through TCP and the receiver is identified by the IP address.
Now, the high speed part, well, the file is actually sent in chunks, and the progress is shown based on how much chunks are sent. The maximum link speed when connected to an android hotspot is usually 65 Mb/s which is about 8 MB/s (note the 'b' and 'B'. B – Byte. b – bit.) , maybe there are devices which have better WiFi NIC cards that provide better maximum link speed.
Link speed of the connection. Link speed differs based on the distance between the devices. Reading speed of the internal storage or sd card, where ever the file is stored  at sender side  and Writing speed of the internal storage or sd card where ever the file is going to be stored  at receiver side
How much bandwidth is being used by the app to send the file. It's good if it's able to utilise maximum bandwidth. Like, when a receiver connects to a sender's hotspot, some of the apps in the receiver which are running in background, will detect this WiFi, they detect whenever network state of the device is changed and think it's an Internet connection and will try to send requests to their servers to get data for showing notifications, but only after trying to send a good amount of requests, it will understand that there is no Internet connection. And will stop trying to send requests.
The devices going to transfer the files must have a WiFi functionality. Only WiFi, no data connection required
To begin transferring the files between one device to another, all you need is the SHAREit application installed on both the devices. You can download the shareit app for PC to use in windows.
Steps on SHAREit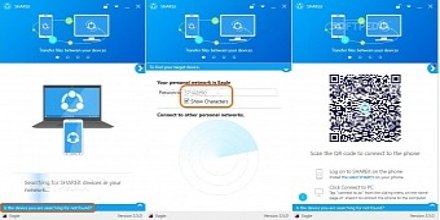 Open the App on Android device and choose "Send" option.
Now Choose the files which want to share. Once selected the files click on "Next"
Now the app will search for the nearby SHAREit device.
Open the SHAREit app on PC and click "Receive".
Now the app in the phone will show the nearby device. Tap on the device from phone, so that it will start sending the files to PC.
Share it works on the concept of wifi direct which was available in phones from a long time but not known to many people. Wifi direct shares data at wifi link speed so it's fast.