Dmitry Rogozin, Director of Roscomos, continues to threaten Russia's withdrawal from the International Space Station (ISS). This second tweet is a subtle reminder of his original threat: without Russia, the remaining foreign partners will have to figure out a means to adjust the ISS's orbit in order to maintain it in space. Roscomos has issued formal requests to NASA, the European Space Agency, and the Canadian Space Agency to rescind "illegal" sanctions imposed in the aftermath of Russia's invasion of Ukraine, according to the threat, which was posted on Twitter.
The tweet is accompanied by a map depicting the areas of Russia that the ISS flies through. Rogozin said in his original warning that if Russia does not cooperate, the ISS will re-enter the atmosphere in an uncontrolled manner, posing a threat to the United States, Europe, China, and India, but not Russia.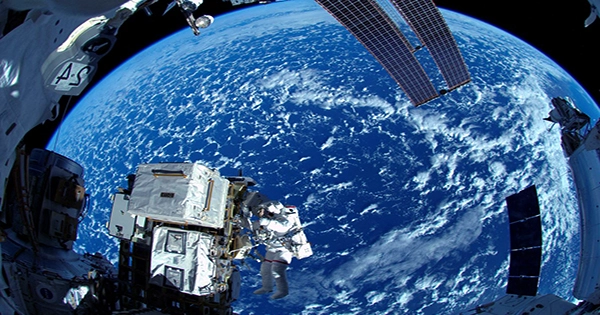 According to the new map, an uncontrolled re-entry could hit Russia as well as almost every other country on the planet. Several former astronauts have criticized Rogozin's "burning bridges" approach, which has included halting Russian scientific collaboration in space, delaying the launch of British satellites until Roscomsos' demands are met, and even providing footage for a video broadcast on Russian television that showed the ISS being dismantled.
That video showed astronaut Mark Vande Hei, who will return to Earth alongside cosmonauts Anton Shkaplerov and Pyotr Dubrov at the end of the month, stranded there. Regardless of what Rogizin claims, there are means to retain the ISS in orbit if Russia abandons it.
It's been a month since Russia invaded Ukraine, triggering a chain of events that have echoed throughout the world. The invasion has caused a breaking of connections between the West and Russia in space. According to SpaceNews, 16 commercial missions are slated to launch aboard the Russian Soyuz rocket during the next two years. These cargoes have become stuck, impacting clients as diverse as OneWeb, the European Commission, and the Swedish government. ExoMars, a joint European-Russian spacecraft set to go to Mars this year, may be delayed for years and possibly canceled, according to insiders.
Naturally, this has sparked worry about the destiny of the International Space Station, which has 15 partner nations and serves as NASA and Russia's crown jewel in space cooperation. A number of tales have surfaced in recent days alleging Russian "threats" to abandon NASA astronaut Mark Vande Hei aboard the International Space Station. Vande Hei will return to Earth in a Soyuz capsule that will touch down in Kazakhstan at the end of March. Officials from NASA are scheduled to meet him and transport him back to the United States.