Review about Zungle Panther
Introduction
Zungle is a sunglass manufacturer that has created a lineup of unique sunglasses that come with built-in bone conduction speakers that deliver sound waves into our skull through vibrations. The Zungle Panther shades bring bone conductive technology, enabling wearers to listen to music without clogging up their ear canals.
Zungle is a sunglass manufacturer that recently released a product called the Zungle Panther. Those sunglasses come with bone conduction speakers. These unique speakers deliver sound into our skull through vibrations. User (or we) can clearly hear music when wearing the sunglasses – even though there's absolutely nothing in their ears.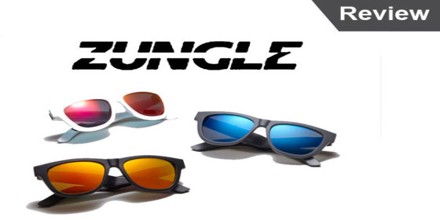 The Zungle Panther has everything users have expect from a pair of wireless headphones. There's Bluetooth audio playback, hands-free calling with a built-in mic and audio controls by way of a jog dial. Because the headphones use bone-conduction to transmit audio, they also free up user's ears to hear everything their environment has to offer.
The Panther sunglasses connect to user's phone via Bluetooth, at which point them can play music or answer calls through the sunglasses just like they would with any Bluetooth device.
At first glance, the Panther sunglasses look just like a normal pair of sunglasses. They may be a little thicker than ordinary sunglasses, but not in an overly noticeable way.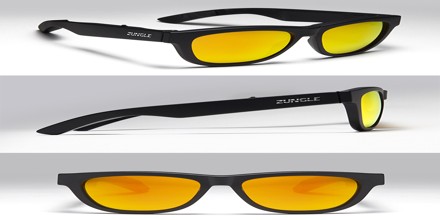 Design and Features
The Zungle Panther sunglasses look like ordinary sunglasses, but they hide all of their connective technology inside.
Inside the frames of the sunglasses are a microphone and Bluetooth receiver. User wear the sunglasses, connect their phone via Bluetooth, and then can communicate with their friends or listen to music without whipping out their phone.
Meanwhile, the sound from the sunglasses is delivered into user's ear using bone conduction speakers hidden within each end of the frame.
Other key parts of the sunglasses include a "jog dial", which is a small dial button placed on the right leg of the sunglasses. User can use this dial button to control all the key features of the sunglasses.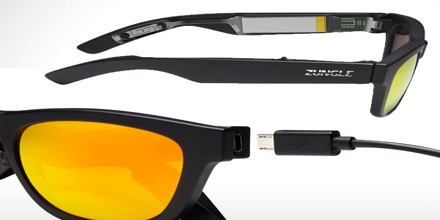 There's also a hidden USB port which is located at the end of the "leg" of the sunglasses.
The other leg of the sunglasses features a battery. That battery stretches down the length of the device. Zungle claims user can enjoy 4 hours of music playback with maximum sound output after just one hour of charging. The sunglasses are also waterproof.
The 45g Panthers feature a hidden USB port for charging, as well as discreet control buttons for media playback and managing calls. The frames come in 5 colors and offer replaceable lenses.
Superior sound comparable to normal earphones
Zungle Panther's Bone Conduction Sound System boasts superior sound quality. It provides sound comparable to normal earphones. Experience a whole new stereo sound with Zungle Panther's bone conduction speakers on each end of the legs. Bone conduction speakers may seem like wizardry, but they're actually a relatively straightforward technology.
Freedom from wires – Wireless Bluetooth
Zungle Panther can be paired with user's smart phone through wireless bluetooth. User can use all the music apps that they have been using before on their smart phone. Enjoy music on their smart phone with Zungle Panther's wireless Bluetooth.
Phone calls with a built-in mic
Zungle Panther has a built-in noise-cancelling microphone that lets user make and answer phone calls. With Zungle Panther, user can easily have phone calls with quality sound when riding or running.
Touchpad Control
Zungle Panther has a touchpad on its right side. With the touchpad, user can control their play list. The touchpad will offer them a straight forward guide to use the Panther.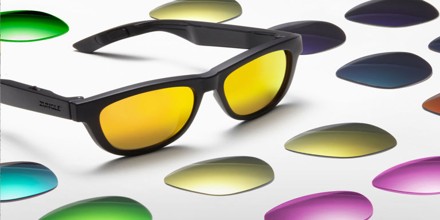 Conclusion
Ultimately, Zungle Panther sunglasses promise to help user "wear the beats" using nifty bone conduction technology in Bluetooth-enabled sunglasses. The stylish sunglasses have already created a buzz online and blew past their Kickstarter funding targets in days.
When users listen to ordinary sounds, their ears convert those sounds into vibrations, which are transferred into their brain via vibrations in their inner ear. Bone conduction speakers basically skip this step by delivering vibrations directly to their inner ear.
The end result is that user can still hear everything around them – but they can also listen to music or talk on the phone.