This report is a combination of three months internship program in National Bank Limited. "Bank" a little word but plays a very significant role in each country for the economic development. Even it is become impossible now a day to think about a country's economical environment excluding banking system. Whatever the countries are stand poor, less develop, developing or developed but all the countries should have the banking system. Banking system is the heart of each country's economic body. Economic, momentary and fiscal all the policy directly or indirectly depends on banking system its better implementation.
National Bank Limited is a banking company in comported in the People's Republic of Bangladesh with limited liability. The task of satisfying the export-import group, deposit group and borrower group is the first priority here. It aims to maintaining the high quality of service, has already achieved at the same time being in a sound financial health. Credit risk and quality risk are well under control. The management of National Bank has been focusing on these key issues for ensuring a better base foe their bank to stand on. The internship report is consisting into four parts first two parts are contain the organizational information; third part is all about the project and fourth part carry out the results of the report. The organizational informational part includes the company introduction, company background, nature of business, vision, mission, goals, objectives, principles, core values, organization's organogram, products and services of National Bank Ltd.
Next part I mention the nature of the job, specific responsibilities of the job, critical observation and different aspects of the job. Then finally comes to the major part of the report that consisted with brief introduction of retail banking, NBL's retail banking programs, analysis of retail banking model of National bank Limited including SWOT. In order to complete this report, I excited to work in depth of the topics which I have selected and getting lots of knowledge and ideas also clear some of my text book concepts of marketing also in the last part of the report I mention a handful findings and recommendation with the conclusion that might be an accurate way to overcome the
drawbacks of National Bank Limited.
In fact, I am capable to acquire a great experience on the way of completing my internship program and acknowledge different banking functions and day-to-day banking operation. In this report I have explained my best in respect of my real life experience gather from various aspects.
INTRODUCTION
A bank is a financial institution and a financial intermediary that accepts deposits and channels those deposits into lending activities, either directly by loaning or indirectly through capital markets or it can be said that a bank is the connection between customers that have capital deficits and customers with capital surpluses. Definition of a bank varies from country to country but without any prefix we deem it a "Commercial Bank" it's mainly concerned with managing withdrawals and deposits as well as supplying shortterm loans to individuals and small businesses.
According to Law No. 10 of 1998: "Commercial Bank is a bank conducting business based on conventional or Islamic principles in its activities to provide services in payment traffic" It's also called depository financial institutions those have ability to create money /demand deposits that lead the monetary policy to sustain a stable economy in any situation for a nation.
Our banking industry constituted of the commercial banks across the country, which provides huge cash-in-flow and reserve to the central bank that monitors the entire licensed local banks (Commercial Banks) in Bangladesh, beside that its also contributing to accelerate our economic growth for the better future in banking business. This sector is
moving towards new dimension as it is changing fast due to competition, deregulation and financial reforms. Now in banking industry advance technology has taken away in every means of banking system but it was not look like before at the earlier stage of banking business, when National Bank Limited started their journey as a private bank in
Bangladesh. It is the first private sector Bank fully owned by Bangladeshi entrepreneurs. In the history of Bangladesh private banking sector National Bank Limited is the pioneer at the beginning of private banking industry, since than they have a steady focus on playing very unique role in the national economic growth while the whole country was passing through a severe recession at that time some of the dynamic entrepreneurs came
forward for sake of nation economy.
National Bank Limited was the first domestic bank to establish agency arrangements with the world famous Western Union in order to facilitate quick and safe remittance of the valuable foreign exchanges earned by the expatriate Bangladeshi nationals and has been operating banking business all over the country with its total 167 service locations.
Now it has been performing in all marketing segments with complete consumer satisfaction starting from Micro Credit to International Master Card service which is acceptable in many merchant outlets around the world along with the easiest and quickest on-line banking service all over the country.
OBJECTIVE OF THE REPORT
The objective of the report can be viewed in two forms:
General Objective
Specific Objective
Specific Objective:
More specifically, this study entails the following aspects:
To provide a brief overview of NBL and their historical background.
To outline the framework of NBL and its structure.
To portrait detail about the various functional departments of the bank.
To analyze the bank's competitive position and the industry in brief.
To Know the National Bank Ltd. position in the Market.
To know the study's and conditions of overall performance.
To conduct a descriptive research revolving the Customer relationship through Restructuring Retail Banking Business Model (RRBBM) of National Bank Limited.
SIGNIFICANCE OF THE REPORT
This study is momentous to all the employer, employees, and management practitioners in NBL as they can all takes my findings into account and understands the effects on their performance due to the implementation of the new business model. It will also help me to understand the cultural attributes of the customers. There is also a scope for further studies into this topic for other banking and financial organizations.
SOURCES OF DATA
Primary Source
Most of the information was acquired by discussing with the officers working in the National Bank Ltd. Lake Circus Branch.
For information relating to customer relationship level, interviews and discussion sessions were conducted with related departments of the bank to gather basic information related to the products and a market overview from National Bank's perspective.
Observation and work experience with different divisional in-charges and suggestions of many executives of the bank.
Secondary Source
The organization booklets of charges and fees, application forms and suggestions from the customer's feedback from customer relation unit.
Various books, articles, compilations etc.
National Bank Limited's website
Newspapers and magazines regarding market and customer views on NBL, seminar papers and so on.
History of NBL
National Bank Limited has its prosperous past, glorious present, prospective future and under processing projects and activities. Established as the first private sector bank fully owned by Bangladeshi entrepreneurs, NBL has been flourishing as the largest private sector Bank with the passage of time after facing many stress and strain. The members of the board of directors are creative businessmen and leading industrialists of the country.
To keep pace with time and in harmony with national and international economic activities and for rendering all modern services, NBL, as a financial institution, automated all its branches with computer networks in accordance with the competitive commercial demand of time. Moreover, considering its forth-coming future, the infrastructure of the Bank has been rearranging. The expectation of all class businessmen, entrepreneurs and general public is much more to NBL. At present we have 145 branches under our branch network. In addition, our effective and diversified approach to seize the market opportunities is going on as continuous process to accommodate new customers by developing and expanding rural, SME financing and offshore banking facilities.
The emergence of National Bank Limited in the private sector was an important event in the Banking arena of Bangladesh. When the nation was in the grip of severe recession, the government took the farsighted decision to allow the private sector to revive the economy of the country. Several dynamic entrepreneurs came forward for establishing a bank with a motto to revitalize the economy of the country. National Bank Limited was born as the first hundred percent Bangladeshi owned Bank in the private sector. From the very inception, it was the firm determination of National Bank Limited play a vital role in the national economy. We are determined to bring back the long forgotten taste of banking services and flavors. We want to serve each one promptly and with a sense of dedication and dignity.
The then President of the People's Republic of Bangladesh Justice Ahsanuddin Chowdhury inaugurated the bank formally on March 28, 1983 but the first branch at 48, Dilkusha Commercial Area, Dhaka started commercial operation on March 23, 1983. The 2nd Branch was opened on 11th May 1983 at Khatungonj, Chittagong. At present, NBL has been carrying on business through its total 167 service locations (branches and Agri branches) spread all over the country. Since the very beginning, the bank has exerted much emphasis on overseas operations and handled a sizable quantum of home bound foreign remittance. It has drawing arrangements with 415 correspondents in 75 countries of the world, as well as with 37 overseas Exchange Companies located in 13 countries. NBL was the first domestic bank to establish agency arrangements with the world famous Western Union in order to facilitate quick and safe remittance of the valuable foreign exchanges earned by the expatriate Bangladeshi nationals. This has meant that the expatriates can remit their hard-earned money to the country with much
ease, confidence, safety and speed.
NBL was also the first among domestic banks to introduce international Master Card in Bangladesh. In the meantime, NBL has also introduced the Visa Card and Power Card. The Bank has in its use the latest information technology services of SWIFT and REUTERS. NBL has been continuing its small credit programmers for disbursement of collateral free agricultural loans among the poor farmers of Barindra area in Rajshahi district for improving their livelihood. NBL focused on all key areas covering capital adequacy, maintaining good asset quality,
sound management, satisfactory earning and liquidity. As a consequence, it was possible to a record growth of 175.51 percent with Tk. 8,809.40 million pre tax profits in the year under review over the preceding year. The net profit after tax and provision stood at Tk. 6,860.34 million which was Tk. 2,070.47 million in the previous year registering a 231.34 percent rise. The total deposits increased to Tk. 102,471.83 million being 33.37 percent increase over the preceding year. Loans and advances stood at Tk.92,003.56 million in the year under report which was Tk. 65,129.289 million representing 41.26 percent rise over the preceding year. Foreign trade stood at Tk. 144,255.00 million in 2010 compared to Tk. 115,939.00 million, increased by 24.42 percent compared to that of the previous year. During 2010, the bank handled inward remittance of Tk. 49,145.30 million, 10.73 percent higher than that of the previous year. Return on Equity (ROE) registered a 77.84 percent rise over the preceding year.
National Bank, has now acquired strength and expertise to support the banking needs of the foreign investors. NBL stepped into a new arena of business and opened its Off Shore Banking Unit at Mohakhali to serve the wage earners and the foreign investors better than before. Since its inception, the bank was aware of complying with Corporate Social Responsibility. In this direction, we have remained associated with the development of education, healthcare and have sponsored sporting and cultural activities. During times of natural disasters like floods, cyclones, landslides, we have extended our hand to mitigate the sufferings of victims. It established the National Bank Foundation in 1989 to remain involved with social welfare activities. The foundation runs the NBL Public School &
College at Moghbazar where present enrolment is 1140. Besides awarding scholarship to the meritorious children of the employees, the bank has also extended financial support for their education. It also provided financial assistance to the Asiatic Society of Bangladesh at the time of their publication of Banglapedia and observance of 400 years
of Dhaka City.
The Transparency and accountability of a financial institution are reflected in its Annual Report containing its Balance Sheet and Profit & Loss Account. In recognition of this, NBL was awarded Crest in 1999 and 2000, and Certificate of Appreciation in 2001 by the Institute of Chartered Accountants of Bangladesh. The bank has a strong team of highly qualified and experienced professionals, together with an efficient Board of Directors who play a vital role in formulating and implementing policies.
Nature of Business of NBL
The Bank engaged in all types of commercial Banking services within the stipulations laid down by Bank Companies Act 1991 and directives as received from Bangladesh Bank from time to time. The Bank within the stipulations laid down by Bank Companies Act-1991 and directives as received from Bangladesh Bank from time to time provides all types of Commercial Banking Services. Mainly National Bank Limited collects deposit from the people at lower rate and invests the same to the people again at higher rate. And difference between lower rate of deposit and higher rate of investment is the earnings of the Bank. National Bank Limited mainly invests in industrial sector like short term, middle term as well as long term for import of capital machineries, establish new industry and working capital assistances with this Bank play's a significant role in Bangladesh economy.
The function of the Bank mainly three categories:
General Banking
Credit and investment
Foreign Trade (Import, Export & Remittance)
Credit Cards
NBL is the first local bank, which introduced credit card & MasterCard in Bangladesh in both local and international market in 1997. MasterCard captured 35% of credit card through the world. However present market analysis reflects that a large number of people whose average income ranges in above Tk.l0000 are using the credit card. Credit card division is continuing their all-possible efforts for the participation in the globalized MasterCard program. The number of users of the credit cards is increasing day by day. During the year 2010 the bank has got a profit of Tk.500.25 million from credit card business. NBL also has got the licenses from international brand Visa Card and very soon, it will be launched in the country.
National Bank Limited offers mainly two type of credit card according to the geographical area. These are Local credit card and International credit card. According to the level of income the local and international credit cards are divided into two categories viz. Gold card and Silver card.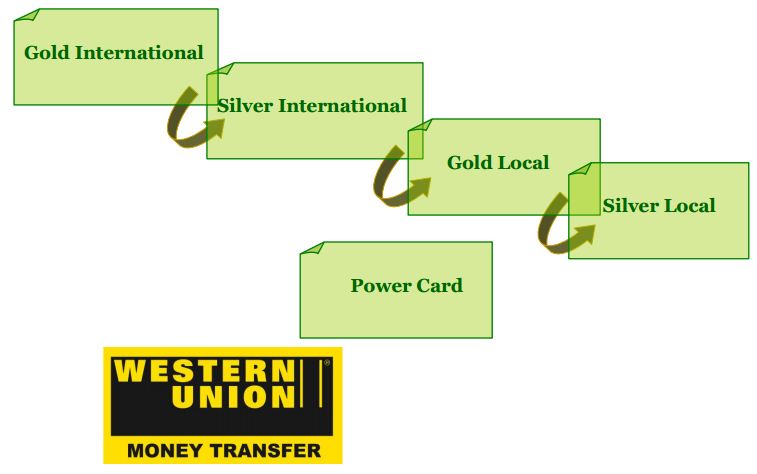 "Money transfer from anywhere in the World to Bangladesh in minutes"
Joining with the world's largest money transfer service "Western Union", NBL has introduced Bangladesh to the faster track of money remittance. Now money transfer between Bangladesh and any other part of the globe is safer and faster than ever before.
This simple transfer system, being on line eliminates the complex process and makes it easy and convenient for both the sender and the receiver. Through NBL – Western Union Money Transfer Service, your money will reach its destination within a few minutes. National bank Ltd. signed an agreement with the Western Union Financial services, USA in 1993. Western Union has been operating for over 150 years. Today with just over 437,000 Agent locations worldwide in over 200 countries and territories, millions of people trust Western Union to send and receive money worldwide. NBL is one of the first few Bangladesh Banks to obtain membership of SWIFT. SWIFT is a members' owned cooperative which a first and accurate communication network for financial transaction such as Letter of credit, Fund Transfer etc. By being a member of SWIFT, the bank has opened up possibilities for uninterrupted connectivity with over 5700 user institutions in 150 countries all over the world. SWIFT is a member-owned cooperative through which the financial world conducts its business operations with speed, certainty and confidence. More than 10,000 financial institutions and corporations in 212 countries trust us every day to exchange millions of standardized financial messages. This activity involves the secure exchange of proprietary data while ensuring its confidentiality and integrity. Its role is two-fold. SWIFT provides the proprietary communications platform, products and services that allow their customers to connect and exchange financial information securely and reliably. It also acts as the catalyst that brings the financial community together to work collaboratively to shape market practice, define standards and consider solutions to issues of mutual interest. SWIFT enables its customers to automate and standardize financial transactions, thereby lowering costs, reducing operational risk and eliminating inefficiencies from their operations. By using SWIFT customers can also create new business opportunities and revenue streams.
SWIFT has its headquarters in Belgium and has offices in the world's major financial centers' and developing markets. SWIFT provides additional products and associated services through Arkelis N.V., a wholly owned subsidiary of SWIFT, the assets of which were acquired from SunGard in 2010.
ATM Service
National Bank Limited has introduced ATM service to its Customers. The card will enable to save our valued customers from any kind of predicament in emergency situation and time consuming formalities. NBL ATM Card will give our distinguished Clients the opportunity to withdraw cash at any time, even in holidays, 24 hours a day, and 7 days a week. They have only 10 ATM Locations in Bangladesh.

The MoneyGram brand is recognized throughout the world as a leading global payment services company. The diverse array of products and services we offer enables consumer and businesses to make payments and transfer money around the world. From New York to Russia or London to India – in more than 197 countries – MoneyGram's money transfer service moves money quickly and easily around the world.
Its payment services also help businesses operate more efficiently and cost effectively. It offers products and services to consumers and businesses through a worldwide network of agents and financial institution customers. NBL also one of agent of MoneyGram service since it has been operating its own banking business in Bangladesh. One of the easiest ways of transfer money forms abroad to Bangladesh with the best security and safely transfers.
Retail Banking
Theoretically lots of definition of retail banking are written or explain by main noble people around the world but in a common sense what dose mean by retail banking. In today's world every one of us has a bank account but we all know more or less that the savings account that we have is known as to be part of retail banking in the banking
language. Well that's not just the basic concept about retail banking but how does it constitute, definitely it takes series of practice but the main factor of retail banking is to expansion of banking business under the circumstances of consumers financial security.
Retail banking refers to the consumer-oriented services offered by commercial banks, which are includes checking and savings accounts, mortgages and various types of loans and investment services relating to retirement and educational planning. It is the banking services that are offered to individual customers through local branches of the bank. Some retail banks offer basic brokerage services, though this is not always the case. Retail banking is the cluster of products and services that banks provide to consumers and small businesses through branches, the Internet, and other channels. Consumers and small businesses are typically the core retail banking customers. The key retail banking products are consumer credit and small business loans. Consumer credit includes credit
cards, mortgages, home equity lending, auto loans, education loans, and other personal loans. Although loans and deposits are the primary products, retail banking units provide a range of other financial services to consumers and small businesses. Consumers and small businesses constitute a coherent customer group largely because of commonalities in the financial products and services they use. Furthermore, consumers and small businesses are both well served through the branch network. Stability of retail-related activities is typically attributed to several factors. Firstly, retail banking is fundamentally a consumer-based business. The resilience of the consumer sector in recent years has almost certainly contributed to the stability of retail banking. And second important factor in the stability of retail banking is that it serves a large number of small customers.
The banking sector especially the private sector banks made meaningful progress and growth in terms of significant market share of deposits and advances through improved customer services, introduction of new products and switching over online banking keeping pace with the globalization process. The issue of retail banking is extremely important and relevant. Across the globe, retail lending has been a spectacular innovation in the commercial banking sector in recent years. The growth of retail lending, especially, in emerging economies, is attributable to the rapid advances in information technology, the evolving macroeconomic environment, financial market reform, and several microlevel demand and supply side factors.
NBL's Retail Banking Program
"A Bank for Performance with Potential"
NBL believes that they have been performing throughout their career providing the potentially in the retail banking arena. Indeed it's true that NBL has a strong image in their consumers mind with their flawless performance in their entire career and still now they are continuing their journey by maintaining their customer satisfaction level with their varieties of retail banking products and services.
SME
Small and Medium Enterprise Financing is the most popular and highly selling product in retail banking department of NBL, also a key product according to their consumer demand. There are different categories SME Loan that provides pure privileges to their consumers. It has some purpose
To encourage people to operate small business
To identify potential entrepreneurs and provide financial assistance to the newly challenged entrepreneurs of Bangladesh
To create channel for credit expansion and explore employment opportunity
To contribute in the socio-economic development of the country through strengthening economical activities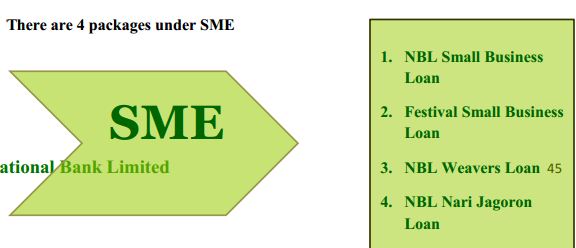 Brief Discussion on SME Loans
1. NBL Small Business Loan
With "zero" or free collateral
Limit up to / Maximum Tk. 5.00 lac.
Tenure – Maximum 5 years (1 Month grace period)
Rate of Interest 16% p.a – 17% p.a
2. Festival Small Business Loan
Collateral Free
Loan Limit up to / Maximum Tk. 3 Lac.
Loan Disbursement Period: 3 to 15 Months but days before of the beginning of any festival
Rate of Interest: 16% p.a – 17% p.a
Tenure – Maximum 3 Months (Its days of post festival)
3. NBL Weavers Loan
Collateral Free up to Tk.5.00 Lac. (Above Tk. 5.00 Lac. – Tk. 50.00 Lac. registered mortgage will be
required)
Rate of Interest: 15% p.a at quarterly rest
Tenure – Maximum 5 years
Loan Repayment Procedure: Installment Basis and Revolving (Revolving loan can be renewed after 1years)
4. NBL Nari Jagoron Loan
Collateral Free up to Tk.5.00 Lac. (Above Tk. 5.00 Lac. – Tk. 5.00 Lac. registered mortgage will be required)
Rate of Interest: 10% p.a at quarterly rest
Tenure – Maximum 5 years
Loan Repayment Procedure: Installment Basis and Revolving (Revolving loan can be renewed after 1years)
DEPOSIT
NBL has different deposit schemes all around its branches in Bangladesh. Except that two common types of deposit items Saving Deposit and Current Deposit, they have 6 distinctive deposit items.
1. Term Deposit
2. Foreign Currency Deposit
3. Monthly Saving Scheme (NMS)
4. Monthly Income Scheme (MIS)
5. Double Benefit Scheme (DBS)
6. Millionaire Deposit Scheme (MDS)
Brief Explanation on Deposit
1. Term Deposit
Under this Term deposit there are two deposit schemes available.
Special Notice Deposit
Fixed Deposit
Special Notice Deposit
It is a special account based on the savings of any account holder they offers different interest toward their customers, minimum maintenance charge on this deposit scheme is half yearly BDT 500.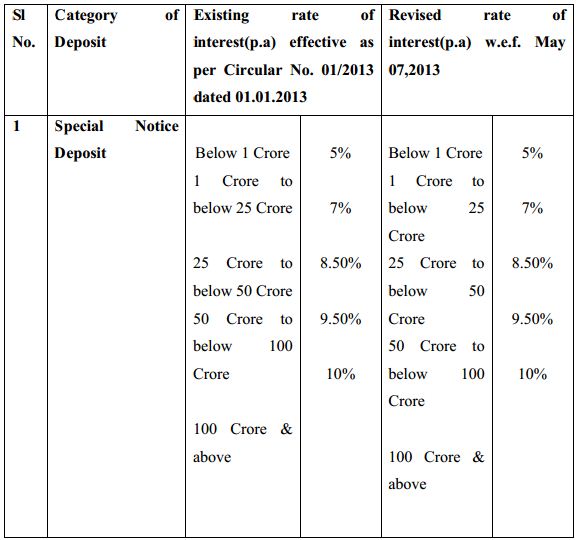 Fixed Deposit
The bank need not maintain cash reserves against these deposits and therefore, the bank offers higher of interest on such deposits. In the case of FDR it is clearly mention that when this amount will be withdrew account holder receive principle amount plus interest. FDR account holder gets a FDR slip that is provided by the NBL officer. FDR slip
contains name of account holder, deposited amount, and interest rate, and time of maturity. Duration of FRD is maximum 1year and auto-renewal also maximum interest rate 12.50%. If depositor withdraws his money before maturity date he does not get any interest. If account holder lost FDR slip then indemnity bond is required to issue a duplicate FDR slip. Following are given the interest rate according to the maturity date –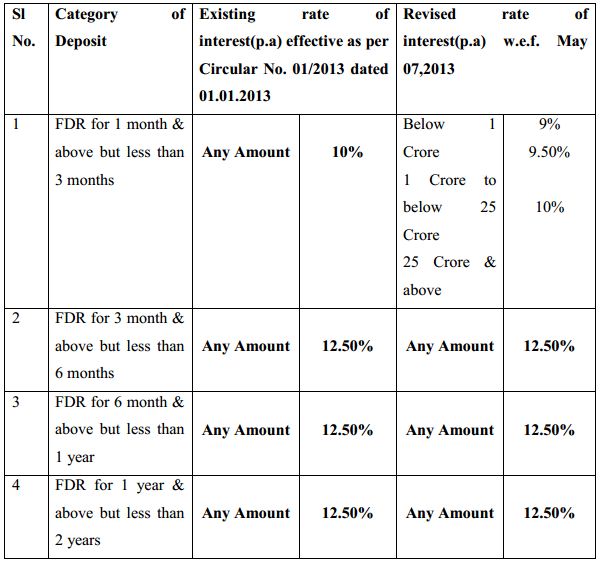 2. Foreign Currency Deposit
Under this Deposit Scheme there are two deposit schemes available.
3. Monthly Saving Scheme (NMS)
NMS is specially offering for limited income group peoples. This NMS account helps to accumulate in hand sum amount at the end of maturity date. This account is opened either singly or jointly and 4 types of accounts can be opened under this scheme. Account may be opened for monthly installment size of Tk. 500-Tk.50000. Monthly installments of deposits and the amount payable to the depositors after expiry of term shall be as under: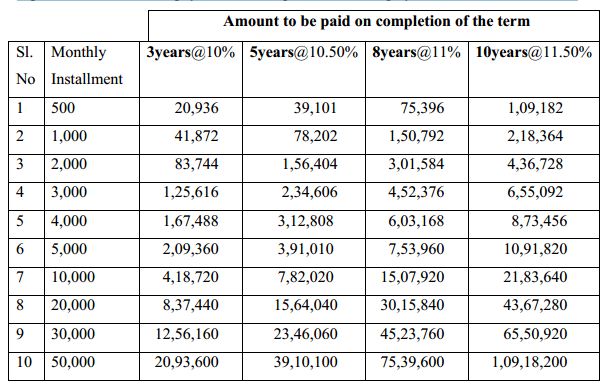 4. Monthly Income Scheme (MIS)
MIS A/C the period of this deposit will be 3 years, deposit amount Tk. 1,00,000 and also multiple up to any amount that will be acceptable under the scheme. The depositor must maintain a savings A/C with any branch of NBL. All the other terms and conditions for opening MIS A/C detail are mention in their account opening form. Interest rate of this deposit scheme about 10.00% without TIN certificate and with TIN (Tax Identification Certificate) 15.00%
5. Double Benefit Scheme (DBS)
DBS A/C the period of this deposit will be 6 years or it could be extend, but this account could be open from Tk. 50,000 up to any acceptable amount, this account opened either singly or jointly but it has some other terms and conditions, depositor has to fulfill all the terms and conditions. Interest rate of this account is 4.00% maximum, if the depositor holds TIN than the interest rate also increased.
6. Millionaire Deposit Scheme (MDS)
MDS A/C the period of this deposit divided into three years duration 5yeas, 7years and 10 years. According to the deposit duration there are 3types of installments Tk.12, 450 (5years), Tk.7, 870 (7years) and Tk.4, 550 (10years) but the maturity or terminal value will be same as others Tk.10, 00,000. It has also some different terms and conditions
applied on the depositors. There two more Schemes called Super Savers' Term Deposit Account and Serious Saver's Account, both this accounts are for merchant party or any potential depositor can open such account if they want to open STA or SSA with different benefit above all the deposit schemes of NBL.
Credit
Credit is a continuous process. Recovery of one credit gives rise to another credit. In this process of revolving funds, bank earns income in the form of interest. A bank can invest its fund in many ways. Bank provides loans and advances to traders, businessmen and industrialists. Moreover, nature of credit may differ in terms of security requirement, disbursement provision, terms and conditions etc. Bank often uses loans and advances as an alternative to one another. But, academically this concept is incorrect. Academically, Advances is the combination such items where loans is a part only. For this credit section of the banks is known as advance section.
NBL provides series of credit facilities through out there all branches
1. Security Overdraft
2. Home Loan
3. Lease Finance
4. Consumer Credit
5. Tread Finance
6. Cash Credit
7. SME Loan
8. Retail Loan
Each of the loans has different criteria for processing, so it is difficult to explain all those criteria which are required to fulfill this various types of loan. Brief knowledge on those loans.
1. Security Overdraft: Short form Security Overdraft is SOD, there are two types of SOD one is General (it against V.O, capital or working capital) and another one is Export (payment of acceptance bills at receipt of export proceeds). Others conditions are applicable to all the account holders, like FDR A/C holders get 11.00%to12.00% interest and NMS A/C holders get 15.00% interest in SOD.
2. Cash Credit: this type of loan allocated upon their customer needs (such loans are given on shop stock, home purpose etc.) maximum 10 lac and interest also higher about 18.00%.
3. Any Purpose Loan: Interest rate 18.00% and limitation on such loan about 2lac (it is actually based on the branch manager designation and fixed by the head office) in NBL head office its up to 5lac.
4. Consumer Durable Loan: Maximum 1 lac limitation and its given to the customers who wants to buy Tele Vision, refrigerator etc.
5. Education Loan: Maximum 5lac and it is only available for FDR A/C holders.
6. Professional Loan: All different professional account holders can have such loan not more than 8lac.
Under SME loan and Retail loan there are six types of loans available. It is not possible to discuss all these types of advances in details in this report but an attempt to expose in this report. NRB Banking and Micro Credit services are not provided by the Lake Circus Branch.
Analysis of Retail Banking Model of NBL
NBL started its journey with a bright prosperous past, now they are one of the reputed banks in the modern private banking era, plus consistently performing well than any other competitive banks and marching toward its prospective future with distinct goal. To succeed in future, NBL has stepped up with a very lucrative product line that has focused on its targeted customer. At the very inception, they firmly determined to contribute in the national economy, bring back the long forgotten taste of banking services and flavors (traditional banking flavor) and with a sense of dedication and dignity.
Now, NBL has been sophisticated and financially strong enough to face any kind challenges and have the ability to fulfill any target or setup goal with complete devotion. Once they promise to serve promptly to their customers, they always follow one-step forward upon their commitment and potentially perform throughout their journey.
NBL has performing their banking activities through the retail banking products and services with full dignity and complete loyalty. There retail banking package encompasses with lots of products and services as I briefly describe in NBL's Retail Banking Program. According to there retail banking program we can say that to accomplish their commitment, that "serve their customer the long forgotten taste of banking services and flavors" NBL has created completely Product Centric business model rather than Customer Centric and yet performing in this rock-hard competitive market. So it has been clear that all actions are taking on behalf of NBL that basically focused to feel the customer that ever used traditional banking style and in such convenient way they present there retail products or serves their clients that truly any one have to admit that NBL has the first owned private bank in Private Banking Business of Bangladesh.
So, analytically if we see the NBL's banking activities, it primly focused on product segmentation instead of customer segments, where in the market all its competitors are concerning only on customer–centric business model (means customer segmentation). Yet, it has been said that NBL performing well in the market but with its speed of efficiency and effectiveness other banks are moving fast to achieve the leading position in the upcoming competitive banking market and flourishing their luminous and glorious future. It is most important to know why or how does the product-centric model or customer-centric model influence banking system of a reputed bank or move toward success.
Customer-Centric
Customer-centric means start with an individual customer and tries to meet as many of that customer's needs as possible – across all the company's divisions and business units, and through time (i.e., meeting a customer's needs week after week, month after month). Success in consumer centricity is achieved by acquiring consumer relationships and optimizing them over time. It is not about "market basket" just today, but share of household value and use over time. It also says that customer-centric is deliver consistent treatment of customers across products, and ensure customer management decisions (pricing, risk-based decisions, service-level, sales strategy, collections strategy, etc) at customer portfolio level.
From one of the famous Mr. Don Peppers Founding Partner, Peppers & Rogers Group at TeleTech say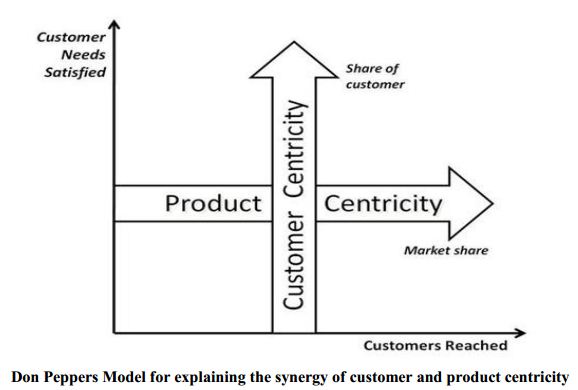 Mr. Don Peppers model of customer and product centricity we found that: First we should visualize a "marketing space" defined by the customer needs a business can satisfy (the vertical dimension) and by the number of customers it has (the horizontal dimension). Then we can map customer centricity and product centricity on the same diagram.
Success is measured by the length of the horizontal arrow (i.e., how many customers are reached). In competitive terms, this would represent your company's market share. And the length of the vertical arrow represents your share of customer. From this diagram it should be clear that customer centricity doesn't actually conflict with product centricity, because they aren't opposite in direction but orthogonal, so they have little or no effect on each other. That is, the strategies and tactics you follow to be more products centric will have little effect on your share of customer, while customer-centric strategies will have little effect on your market share.
SWOT of NBL
Basically, SWOT analysis is a technique for matching organizational strengths and weaknesses with environmental opportunities and threats to determine the organization's right niche. SWOT analysis is an imperative tool for evaluating the company's Strengths, Weaknesses, Opportunities and Threats. It helps the organization to identify how to evaluate its performance and scan the macro environment, which in turn would help organization to navigate in the turbulent ocean of competition. With this tool, we will be able to determine, though not perfectly, since we are not internal members of this organization, the internal strengths and weaknesses of NBL as well as the opportunities
and challenges that the changing external environment provides. Every organization has some strength that helps it to survive, some weakness that push it backward, some opportunities that helps it to compete and also some threats that keeps it aware. SWOT analysis of NBL has mention below: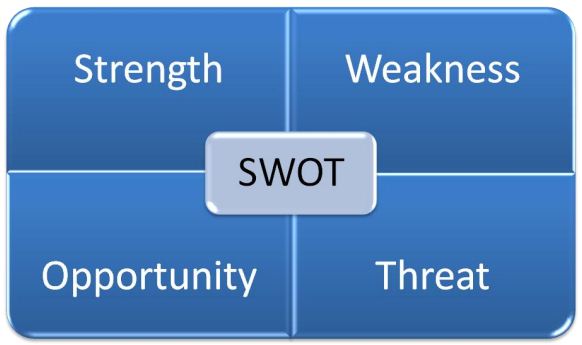 Strengths
NBL's prime strength is there reputation in private banking industry as well as a firm customer relationship with a positive image.
Good financial backup with an ample resource which led them to sustain a better position in the market, also accelerate the growth of their business.
Several deposit scheme, credit facilities, International Master Card services which is a competitive advantage for NBL.
Wide spread 167 branches in Bangladesh for their customers to feel them comfortable and secure in transaction wherever their customers live in Bangladesh.
Operating lots of Corporate Social Responsibility (CSR) activities in different fields such as Education, Employment, Sports& Culture, Disaster Relief and others.
Maintaining a strong network with their co-partners, business delegations and foreign clients such as subsidiary companies and other exchange companies and banks.
Weakness
Except the major branches of NBL, most of the "C-category" branches of NBL are not equipped; lots of lacking remains in organization or arrangements program of such categorized branches.
Customers are forbidden from all types of retail banking products and services which are available and easily accessible in all the major branches of NBL.
Online banking operating system quite backdated which has slow processing time in transaction and a limited online banking implementation within some branches.
Limited human recourses that create workload upon employees and making the customers as painful heavy pylon.
Offered different schemes are not properly designed that would attract the new customers; especially there is no such scheme that encourage to the student or young people to open any bank account.
Mostly they are detached from the marketing and promotional activity which is their biggest disadvantage that could be harder to sustain their business in highly competitive market.
ATM booth service of NBL is very poor that only a few number of ATM booths are available in Dhaka city as well as all over the country.
Salary is not suitable and structure of salary improperly constructed.
Opportunities
New innovative products (already tested in other markets) can be brought to Bangladesh.
Set up more correspondent relationship and branch network in potential areas.
Growing upper middle class and upper class population.
Foreign Exchange Business can be increased to a great extent.
Financing the most prospective garments sector in Bangladesh.
Financing poor stated industries which could have bright prospects.
Emergence of E-banking will open more scope for NBL to reach the clients desire level of satisfaction not only in Bangladesh but also global arena.
Government of Bangladesh has rendered its full support to the private banking sectors throughout the country which will led them achieve better future in the private banking arena.
Sector for a sound financial status of the country, as it is becoming one of the vital sources of employment in the country now. Such government concern facilitates and support long term vision of NBL.
Threats
The low compensation package of the employees from mid level to lower level position threats the employee motivation. As a result, good quality employees leave the organization and it effects the organization as a whole.
As previously mentioned, the world is advancing towards technology very fast. Through NBL taken effort to join the stream, it is not possible to complete the mission due to the poor technological infrastructure of our country.
All sustain multinational banks and upcoming foreign private banks with pooled ATMs/POS posse's enormous threats to National Bank Limited.
Slow down in global economy is also being a threat of National Bank Limited.National Bank Limited 64
Other bank use new technology which make a difference.
Recommendation & Suggestion of NBL
It is quite difficult for me to identify any inadequacy of NBL with in this very period of working experience about 3 months. Some are the following parts that I have tried to provide a few inadequacies which I have observed in my entire internship program of NBL Lake Circus Branch.
Converting Threats into Opportunities
NBL has to expose its international nature of trade more efficiently. It has to recover costs and maintains margins over long periods of time. The new technology has to use to protecting the currency value & use options for better credit rate earnings. NBL has to come to with other sort of criterion that's why the competitor have to fight very long to copy that exposure. NBL has to give a better deal in the banking fees & charges for the customers for the retail banking sector.
Converting Weakness into Strength
NBL has to focus equally to both ranges of customers either retail or corporate. It has to build up a proper strategy that's why the corporate customers can be interested to open more of corporate account in NBL. NBL also has to give higher interest rate for various products & services to gain more market share in banking business. They have to
advertise their brand name more .They can sponsor their name for various social activities which will bring up NBL value more to the local customers. They can also make social awareness to the local customers.
Some of suggestions are mention below:
NBL should adopt both customer-centric and product-centric model for their luminous future in order to sustain in the competitive market.
NBL should use latest IT software for operating actual online-banking service in this 21st era; otherwise they remain lagging behind their entire potential competitor's.
National Bank should pay lots of attention in branding, promotion activities as much as they can.
NBL should put some additional features with their lucrative products and services as BRAC Bank or others.
NBL hard copy annual reports should be available in their branches.
NBL should hired skilled, qualified and highly educated employees in their every branch around the country.
All branches should provide with all the facilities in NBL, it means services are properly allocated in every branches of NBL.
Make a good and well equipped HR program for each and every branch.
Make a better model of organization's organogram, mentioned each and every officers name and post with chronological from.
Conclusion
Now a day banking sector is more competitive. To achieve a proper reward about performance, it is essential to satisfy its customer by providing them different valuable and dynamic services. Because a satisfied customer will talk to others about the services those he/she is very justifiable enjoying and a satisfied customers statement is more
effective than a thousand of commercial advertisement. People depend on the people – is  the mode of human civilization. Therefore, the importance to satisfy customer is increasing day by day in the private commercial sector especially in the private banks. As all the activities those are required to provide valuable services to its customers to make them satisfy, are related with the retail banking system, NBL is fairly careful about its overall operating system. NBL always try to give its utmost attention in monitoring and managing the bank function and financial activities, which is consists of fund management, capital, reserve, deposit, loan and advance.
At present NBL is highly capable in generating newly banking concept or unique ideas that can give new dimension in today's banking business, also successful in managing its core issues which is very essential to improve and left a milestone in the private banking arena. In spite of that, in order to keep its success continue and reach at the peak of all private banks, its managers, board of directors and employees must have the comprehensive and clear idea about their reserve, fund, loan, capital, deposit and liquidity regarding the smooth control of bank and continue its imperative operation toward country's economic development.