Banking is known as the backbone of the national economy and it play an important role in the business sector & promoting industrialization & economic development of the country. City Bank Ltd is one of the ancient private commercial bank operated in Bangladesh which deals with four different and significant banking divisions which are the driving force of the bank such as Retail Banking, Corporate and Investment Banking, SME Banking and Treasury
Banking. Here the report has been prepared on "Retail activities and Customer services of CBL" and it covers detail about retail banking activities and customer service accomplishes by the bank. Besides it also consist of general information of CBL, financial information, learning points, findings, and recommendation.
Retail banking discusses about the banking in which banking institutions accomplish transactions directly with consumers, rather than corporations or other banks. CBL started its retail function in 2009. Through retail banking City bank collects deposits, provides loan to customers, and offers various card services both local and abroad and some services to nonresident business. The bank wants to provide their customers the best-in-class services, innovative products and financial solutions from smart outlets.
Main Objectives:
The main objective of this report is to learn about the Retail Banking Activities of City Bank Ltd, of Dhanmondi Branch and to find the gaps and give them suggestions as an advisor and relate with the theories.
Specific objectives:
Our specific objectives are-
To learn how a bank such City Bank Ltd conducts their retail banking undertakings.
To compare the pros and cons of retail banking.
To appreciate the organizational environment.
To know the official rules and regulations and follow-up the code and conduct.
Methodology:
This report has been prepared on the basis of understanding gathered during the period of internship. In order to prepare this report, I have also collected information from different section and department of the bank. I have presented my experience and findings through using different table and charts which are presented sequentially. To prepare an authentic and informative report I studied all the company's information, record, company website and other relevant things. Beside these it wasmost significant to discuss with employees of different section regarding various confidential records.
Primary Sources
Discussion with the organization's staff and executives in the employees of Dhanmondi Branch.
Talk with banks client.
Revise of relevant files.
Direct observation of daily activities.
Secondary Sources
Official records of City Bank Ltd.
Annual reports of City Bank Ltd.
Website of the bank.
Profile of City Bank LTD.
City Bank is one of the oldest private Commercial Banks operating in Bangladesh. City Bank is among the very few local banks which do not follow the traditional, decentralized, geographically managed, Branch based business or profit model. The bank currently has 87 online branches and 1 SME service centers and SME/Agri branch spread across the length & breadth of the country that include a full-fledged Islami Banking branch. Besides these traditional delivery points, the bank is also very active in the alternative delivery area. It currently has 189 ATMs of its own; and ATM sharing arrangement with a partner bank that has more than 550 ATMs in place; SMS Banking; Interest Banking and so on. It already started its Customer Call Center operation. The bank has a plan to end the current year with 200 own ATMs.
City Bank is the first bank in Bangladesh to have issued Dual Currency Credit Card. The bank is a principal member of VISA international and it issues both Local Currency (Taka) & Foreign Currency (US Dollar) card limits in a single plastic. The launch of VISA Prepaid Card for the travel sector is currently underway. Moreover CBL has launched American Express Credit Card and American Express Gold Credit card in November 2009.
City Bank prides itself in offering a very personalized and friendly customer service. It has in place a customized service excellence model called GAP (GracefulAppropriate-Pleasing) that 13 focuses on ensuring happy customers through setting benchmarks for the bank's employees' attitude, behavior, readiness level, accuracy and timelines of service quality.
Corporate Profile of City Bank Limited: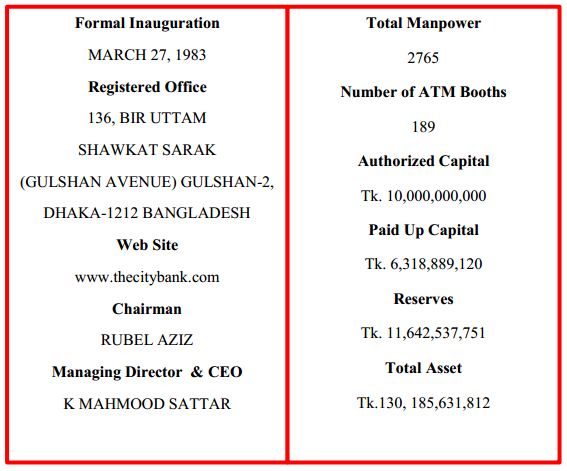 Branches of City Bank Limited:
The bank currently has 87 online branches and 1 SME service centers and 11 SME/Agri branch spread across the length & breadth of the country that include a full-fledged Islami Banking branch. The Bank has plans to open more Branches in the current fiscal year to expand the network.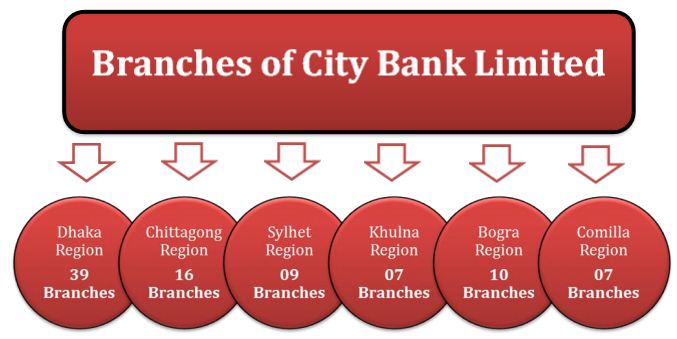 Functions of Different Division at City Bank
FINANCIAL DIVISION
Financial Planning , budget preparation and monitoring
Payment of salary
Controlling inter-branch transaction
Disbursement of bills
Preparation / Review of returns and statement
Preparation of financial reports and annual reports
Maintenance of Provident Fund, Gratuity, Superannuation Fund10
Reconciliation
CREDIT RISK MANAGEMENT (CRM)
Loan administration
Loan disbursement
Project evaluation
Processing and approving credit proposals of the branches
Documentation, CIB (Credit Information Bureau) report etc
Arranging different credit facilities
Providing related statements to the Bangladesh Bank and other department
HUMAN RESOURCE DIVISION (HRD)
Recruiting
Training and development
Compensation, employee benefit, leave and service rules program and
purgation
Placement and performance appraisal of employees
Preparing related reports
Reporting to the Executive Committee/Board on related matters
Promotional camping and press release
INFORMATION TECHNOLOGY (IT) DEPARTMENT
Software development
Network management and expansion
Member banks reconciliation
Date entry and processing
Procurement of hardware and maintenance
BRANCH CONTROL & INSPECTION DIVISION
Controlling different function of the branches and search for expansion
Conducting internal audit and inspection both regularly and suddenly
Ensuring compliance with Bangladesh Bank(BB), monitoring BB's inspection and external audit reports
Products and Services of City Bank Limited
The principal activities of the Bank are to provide all kinds of commercial banking, consumer banking trade services, custody and clearing to its customers through its branches in Bangladesh. City Bank is among the very few local banks which do not follow the traditional, decentralized, geographically managed, branch based business or profit model. Instead the bank manages its business and operation vertically from the head office through 4 distinct business divisions namely-
1. Corporate & Investment Banking;
2. Retail Banking (including Cards);
3. Treasury & Market Risks. &
4. SME Banking;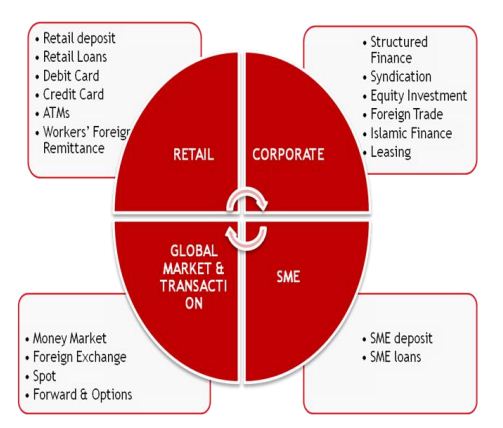 Retail Banking:
Retail banking includes the tasks for the following purposes-
1. DEPOSITS
Current Account
Savings Account
City Onayash
City Shomridhdhi
City Projonmo
City Ichchapurun
FDR
2. LOANS
City Drive
City Solution
City Express
City Double
City Scholar
3. CARDS- DEBIT CARD, CREDIT CARD ETC.
Visa Debit Card
Master Debit Card
Amex Credit Card
Visa Credit Card
4. NRB- FOREIGN REMITTANCE
Medical File
Student File
Remittance
Corporate Banking:
City Bank is a major player in Bangladesh wholesale banking industry to offer the full scope of innovative, customized solutions and services. Their focus is not on shortterm profit, but on building long-term relationships and standing by their clients. A unique business focus on enabling project financing, trade, investment and supply
chain financing for clients is maintained. Aim is to be a one-stop gateway for corporate and financial institutions looking to extend their business. They focus exclusively on corporate and institutional clients, offering clients access to extensive branch network and award-winning suite of state of the art services.
Working Capital Finance
Trade Finance
Short/Mid-Term Finance
Project Finance
Islamic Finance
Structured Finance
Cash Management
Investment Banking
Schedule of Charges
Interest Rate on Lending
SME Banking
SME Banking of City Bank is assuming a new and modern dimension. It is entering in to a wider horizon. The philosophy of extending banking services to SME's of the country is to meaningfully push every one of them up to the next level of respective business operations. The upward push would be meaningful as they would be business wise competitive for a sustainable future. It is therefore would be turning in to an abode of SME's to grow to the next level. Hence, the bank has named it City Business – for taking SME's to the next level.
City Bank Treasury and Market Risk Division
City Bank has a dedicated Treasury team who is capable of providing all treasury Solutions. Through our foreign correspondent business partners CBL is providing a wide range of Treasury products. In CBL Treasury, there are four teams who are specialized in their own area to ensure the best possible solution to our customer requirement. CBL has following teams in the Treasury:
Foreign Exchange (Local & G7)
Money Market
Corporate Sales
ALM & Market Research
SWOT Analysis of City Bank Ltd
SWOT Analysis
SWOT is an abbreviation for the internal Strength and Weakness of a firm and the environmental Opportunity and Threat facing by that firm. So if we consider The City Bank Limited as a business firm and analyze its strength, weakness, opportunity and threat the scenario will be as follows: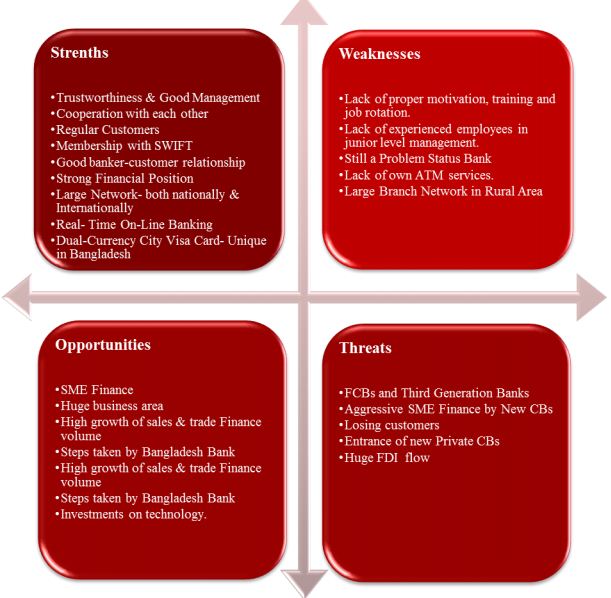 Retail Banking Activities of City Bank Ltd
Overview of Retail banking
Retail banking discusses about the banking in which banking institutions accomplish transactions directly with consumers, rather than corporations or other banks. It is like mass-market banking in which individual customers use local branches of larger commercial banks. Services offered include savings and checking accounts, mortgages, personal loans, debit/credit cards and certificates of deposit (CDs). Retail banking is a banking service which is develpoed primarily toward individual consumers. Retail banking is usually made available by commercial banks, as well as smaller community banks. Unlike wholesale banking, retail banking focuses strictly on consumer markets. Retail banking entities provide a wide range of personal banking services, including offering savings and checking accounts, bill paying services, as well as debit and credit cards. Through retail banking, consumers may also obtain mortgages and personal loans. Although retail banking is, for the most part, mass-market driven, many retail banking products may also extend to small and medium sized businesses. Today much of retail banking is streamlined electronically via Automated Teller Machines (ATMs), or through virtual retail banking known as
online banking.
Retail banking aims to be the one-stop shop for as many financial services as possible on behalf of retail clients. Some retail banks have even made a push into investment services such as wealth management, brokerage accounts, private banking and retirement planning. While some of these ancillary services are outsourced to third parties (often for regulatory reasons), they often intertwine with core retail banking accounts like checking and savings to allow for easier transfers and maintenance.
Retail Banking Activities of City Bank Ltd
City Bank Ltd is one of the oldest private Commercial Banks operating in Bangladesh. It is a top bank among the oldest five Commercial Banks in the country which started their operations in 1983. City Bank has started its journey in Retail Banking since 2009. Through retail banking City bank collects deposits, provides loan to customers, and offers various card services both local and abroad and some services to non-resident business. The bank wants to provide their customers the bestin-class services, innovative products and financial solutions from smart outlets – all
with a big smile that conveys and generates happiness all the way.
Understanding the market demand and saving trend of customer's City bank launches different facilities and new products. More over the service quality department is always there to upgrade the quality of the products and services. Thus the bank ensures the best quality service offered to their customers.
The sections and activities that the Retail Banking division includes are given below-
1. Deposit Section
2. NRB (Non Resident Business)
3. Loan Section
4. Card Section
One of the most significant success stories of last fifty years banking industry globally has been the conceptualization and innovative execution of banking with individual customers, their friends & families. The industry has termed it as Retail Banking or Personal Banking or Consumer Banking; and it has now – at a very rapid pace – become the major revenue line for most of the top banks in the world.
City Bank has started its journey in Retail Banking with new mantra – "City Retail – add a little City to your life"
City Bank wants to become the most preferred bank to all individual clients of the country, at least of the cities and towns where we operate. They want to provide their customers the best-in-class services, innovative products and financial solutions from smart outlets – all with a big smile that conveys and generates happiness all the way.
In line with the Bank's strategy of making banking services more accessible to customers, City Bank is planning to launch proper banking services and business in all branches. All branches of the bank will be brought under sales and services model focusing retail banking business while giving services to all other customers of different business units.
Deposits:
City Bank offers a wide variety of deposit products to meet your financial needs. From current and savings accounts to Fixed Deposits and Deposit Schemes each account is designed to give customer the best value for their money. Understanding customers' savings trend and market demand the bank launched 4 new deposit products which are: City Onayash, City Ichchapurun, City Shomridhdhi and City Projonmo.
City Onayash, City Savings Delight is daily interest bearing and monthly interest paying savings account, City Ichchapurun is a three year and five year time deposit product which offers monthly interest. City Projonmo a deposit product for minors is a monthly savings scheme that offers attractive maturity value and is backed by insurance. City Digoon Prapti is another new product where after five years and nine months the money will be double. –
The product features and parameters at local currency are given below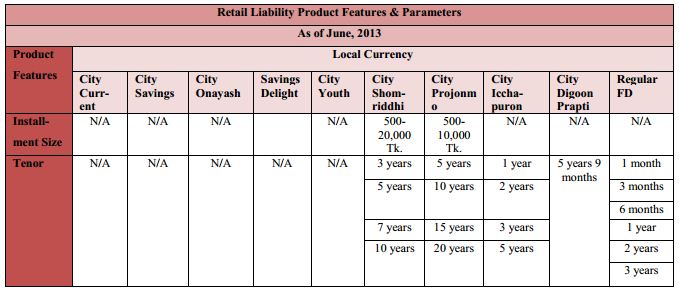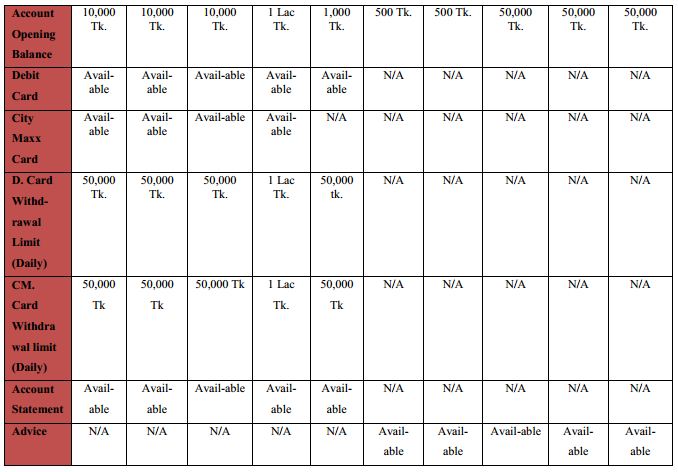 The retail liability products' interest rates are discussed below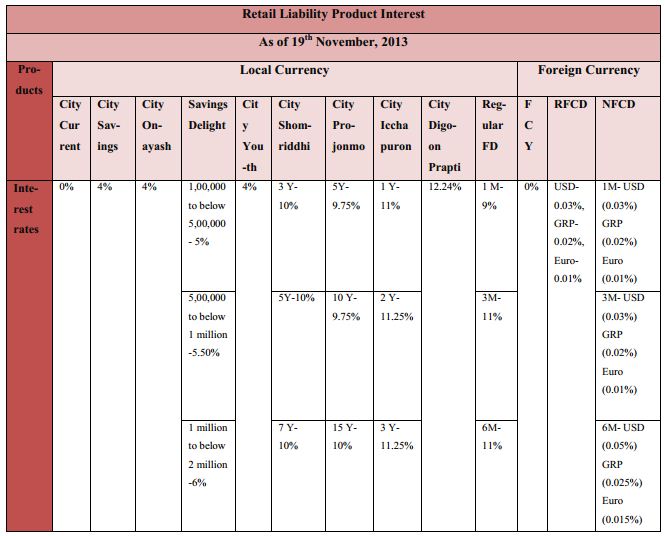 Analysis of Job Responsibility
Analysis of Account Opening Procedure
For individual introduction is needed by an account holder He/ She is required to fill up the sample signature card. Application fills up the relevant application form in the prescribed manner. The authorized officers analyze the introduction and examine the document submitted. Account and FDR is opened issuance of deposit slip and the
deposit must be made in cash. After depositing the cash one cheque book & pay –inslip book is issued. Before opening of a current or savings account, the following formalities must be completed by the customer:
With the main form it contains three other forms. They are Individual Information form, Transaction Profile, MID (Most Important Document). The following person can introduce an a/c opener an existing current/savings account holder of that branch patient. A respectable person of the society or locality who is well known to the manager/2nd man of the branch. Furnishing photographs signed by the introducers and account holder in the backside of photo Account holder needs to sign in the backside of the nominee photo. Banker will supply a set of printed forms required for opening the account, which will normally include, Specimen Signature Cards, Deposit Slip Book, Check book Requisition slip, Card request form, ADC form and so on.
Company Account
Companies prefer current accounts which is little different from the saving account procedure.
Sole Proprietorship:
Photograph of all authorized signature
Trade license & Tin Certificate
Permission under 18-A from Bangladesh Bank
Photo Identification National Id Card/ Current valid Passport /Valid Driving License.
Where Photograph is also attested/Employee Photo ID card of any multinational or listed company or organization
Partnership concern:
Trade license & Tin certificate
Certified true copy of partnership deed of the partnership concern
Nationalization copy of partnership deed of the partnership concern
Certificate of registration of the partnership concern
List of partners with their address
Permission under 18-A from Bangladesh Bank
Resident Foreign Currency Deposit (RFCD) Account:
Eligible persons can open Private FC/NFCD/RFCD accounts easily with any AD in Bangladesh by submitting account opening forms dully filled in, photo and other necessary papers like copy of passport, etc. Persons residing abroad interested to open Private FC/NFCD accounts can open account by sending necessary papers/documents
from abroad duly verified by Bangladesh mission abroad or a reputable bank or any other person known to the AD in Bangladesh. However, submission of job certificate/certificate evidencing having business abroad is not mandatory for opening FC account by Bangladesh nationals residing abroad. Besides the opportunity of opening and maintaining Private FC/NFCD accounts as stated above, non-resident Bangladeshis/other non-resident foreign nationals can invest in (i) US Dollar Premium Bond, US Dollar Investment Bond and Treasury Bond (in Taka) of
Bangladesh Government (ii) shares/securities listed in stock exchanges through opening of Non-Resident Investor's Taka (NITA) Account. Non-resident Bangladeshis may also invest in Wage Earners' Development Bond in Taka.
Dormant Account
Dormant account is an account which is inactive. Under the City bank policy, if an account remains inactive for 6 months then accounts will be considered as a dormant account. If the account becomes dormant then account holder won't be able to use it for transactions. For transactions customer needs go to the branch where he or she had
opened that account and with certain process account can be active again.
Activation Process of Dormant Account
At first account holder needs to come to the mother branch and then has to fill up a form named dormant account reactivation. Account holder needs to sign and fill up the form and submit it to the customer service officer. Customer service officer will verify the signature and sent the request to the head office through centralized system to reactivate the account. Then it takes 2 to 3 days for reactivate the account and then account holder can transact with this account. To active dormant accounts charges are applicable.
Nominee, Signature or Address Change of an Existing Account
There are several issues like nominee change, signature change, and address change and so on activities regarding existing account. Nominee is the person who is the authorize person in behalf of the account holder. Basically after the death or any such cases nominee will have the right to take any kind of decision regarding that account. To change the nominee customer needs to come to the mother branch of the account and then fill up a form named nominee change form. In the nominee form, one copy of nominee photograph is needed and account holder has to sign the form that he or she wants to change his or her accounts nominee. Then files need to submit to the responsible officer and responsible person will verify the information and sign. This whole process takes 2 to 3 working days.
For signature change, account holder has to fill up the signature change form and then needs to submit to the customer service department. Customer service officer verify the signature and the information with photograph change, in some cases account holder needs to provide a photograph of his or her own if the previous photograph is not match with the present photograph. This whole process also takes 2 to 3 working days.
Again for name change, address change, and many other factors works as almost in the same process, except the address change process. For address change, account holder needs to provide the NID, which has to match with his present address then the account holder can change the address. The remaining process is same as other like has to fill up a form then submit it to the customer service department and then responsible officer will verify the account and signature passed to the head office. This process also takes 2 to 3 working d days as well.
Account Closure
If an account holder request to close his or her account, it can be closed. After receiving an application from the customer to close an account, some procedures are followed by a banker. The customer should be asked to draw the final check for the amount standing to the credit of his account less the amount of closing and other incidental charges and submit the unused cheque leaves. The A/C should be debited for the account closing charges etc. and an authorized officer of the bank should destroy unused cheque leaves. In case of Joint A/C, the applicant for closing the A/C should be signed by all the joint holders.
Cheque Book
A cheque is a document that orders a payment of money from a bank account. The person writing the cheque, the drawer, usually has a current account where their money was previously deposited. Cheque books are issued to the account holder only against requisition on the prescribed requisition slip attached with the checkbook issued earlier, after proper verification of the signature of the account holder personally or to his duty authorized representative against proper acknowledgment.
The four main items on a cheque are
Drawer, the person or entity who makes the cheque
Payee, the recipient of the money
Drawee, the bank or other financial institution where the cheque can be presented for payment
Amount, the currency amount
For having a Cheque Book customer who opens a new account must initially deposits minimum required money in the account. When the account opening form is sent for assurance of a cheque book bank charges 130 taka from the account for processing the cheque book. Officer then sealed it with branch name. It normally takes 3 working days to produce the cheque book and deliver it to the ordered branch. When the cheque books reaches it destined branch in-charge officers enter the customer's name & the account number in the Register. Account number is then writing down on the face to the cheque book & on every leaf of the check book including requisition slip. The name of the customer is also written down on the face of the cheque book and on the Requisition slip.
Loans
Loans comprise the most important asset as well as the primary source of earning for the banking financial institutions. On the other hand, this (loan) is also the major source of risk for the bank management. A sensible bank management should always try to make an appropriate balance between its return and risk involved with the loan
portfolio. Banks collects deposit for lending & investment, this function is performed by Loans & Advance Department Sanctioning of loan proposal starting from party's request for a loan collection of necessary papers, information & financial statement, analyzing of those information, preparation of loan proposal, security analysis &
valuation, inspection, lending risk analysis, setting terms & conditions have also known to us. CBL follows a procedure for sanctioning loans. They are given belowStep
1: A customer who has willed to take loan from bank has to write an application along with the documents such as, Two copies of photographs, Valid trade license has to be deposited by the part. There must be description of collateral in the application. The collateral must not be the home state land out of municipal or vacant land, Physical inspection of collateral must be done and market value from the locality has to be determined. It must be done by B.Ss Engineer, Confidential report from other banks is also needed, Declaration and balance sheet form is needed.
Step 2: Proposal has to be sent to the Head Office by the branch along with the letter of hypothecation & other different types of certificate as per circular.
Step 3: Head Office confirms the sanction with some terms and conditions and if the party agrees with this, he signs on the duplicate copy.
Step 4: To legalize the collateral panel lawyer will complete the documentation and will give letter of satisfaction.
Step 5: After signing the charges documents the loan is created and the limit is ready for disbursement by giving the party a cheque book.
Step 6: After disbursement stock must be submitted by the party on monthly basis. In this case sudden inspection is necessary. In every 45 days the loan should have to be adjusted.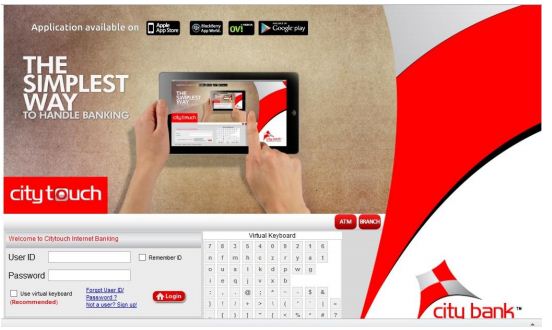 Findings and Recommendations
Findings:
During the period of internship I have achieved vast experiences that enrich my knowledge of banking extensively. Here I have tried to present my experiences and knowledge in order to provide a better judgment. CBL is one of the fasts growing and committed private commercial bank in the country. It conducts business activities efficiently around the country to achieve its objectives, and goals and gradually forwarding towards its mission and vision. The bank have been achieving continuous growth rate in all spares of banking operation since its establishment. All of its
departments are working rigid for better customer services. Abreast these, I also have found the following essence through careful examination. Understanding customers' savings trend and market demand the bank launched four new deposit products which are: City Onayash, City Ichchapurun, City Projonmo and City Shomridhdhi.
At present CBL has enormous number of credit cards as well as debit cards in the market all dynamic features.
Most of the users of credit card are male. 189 ATMs are in operation and City Bank customers now can use the Dutch
Bangla Bank's large ATM fleet and also Q-cash marked ATM booths. Accordingly large number of customers are using deposit product right now.
Major portion of customer think cash withdrawal facility provided by the bank is satisfactory. In terms of fees and charges customers are satisfied with current fees and charges. Account opening procedure is comparatively critical and time consuming. Currently launched product "CITY TOUCH" is very much popular and useful for the customers. Besides these successes, I found some difficulties during the internship period that are causing obstacles for the bank. Those are given below Centralization:
The Bank is too much centralized. For each and every move, branch office has to go for permission from the Head Office. The Head Office tightly controls each and every branch office. This sort of dependency on Head Office slows down the activities of branch office.
Old Data Finding: The existing system is time consuming both for the bankers as well as the clients. For
instance; in terms of bankers, the officers have to go through a lot of files in searching the details of a particular transaction, if it is predated. In terms of clients, they have to wait in a long queue in order to let the officer find out the correct file.
Customer Dissatisfaction:
In some cases not paying attention towards customers during a busy hour creates a negative situation. Customers get impatient of waiting for a long time like half an hour or even more for receiving during peak times.
Lack of Waiting Space:
In compare to customers the place for waiting/sitting areas are not sufficient, as a result, customers have to wait by standing.
Negative Impression:
Sometimes, customers do not receive appropriate attention during busy hour. Even though these customers are not a/c holders of the bank, the goodwill and negative word of mouth of the bank and its overall image of quality service are hindered. For a service business that is in operation for long term, these effects will negatively affects the goodwill in the long run, which seems to be hazardous.
Recommendations:
CBL should start strategic planning to increase the infrastructures and also important constructs needed to support its large customer base. So, considering the service sector of Bangladesh, CBL should be more conscious to deal with its customers as the customers have now more choice to bank with and there are institutions that are intensifying competition by focusing more on superb customer service. To identify these bank needs proper information system is required badly. Customer feedback can make value to increase right services and relations to the right customers and increase precise commitment, loyalty, trust and satisfaction to become with huge good relationship. CBL has several services gap to authentic of considerate the consumer behavior and their potential attitude, which made them deficient in modern banks. CBL has to minimize their service gap though strong study on customer objection, expectation, perception and critical internal marketing aspects. Steps should be taken to implement the new process in order to ensure a smooth service as promised to customers.
Account opening procedure is too much critical but it should be easier otherwise people will reluctant to open an account with CBL. CBL should launch EQM machine which implies the token system in every branches in order to reduce time in case of delivering service to customers. Heavy marketing and promotional campaign should be conducted to popularize the retail banking activities. Bank should be fast in cash payment, and to clear a cheque. It should maintain more cash and deposit balances with other banks. Because it is desirable that banks keep their cash and balance with other bank to such extent so that it can minimize the chance of liquidity crunch. Customer service should be more smart and fast. CBL should increase more Consumer Banking activity. Their Consumer banking activity is quite satisfactory but it will be better if they can put attention on individual customer.
Card division should be more committed to deliver product on time. Should have 24 hour customer service facility Employees are needed to give adequate training to work and handle clients under pressure. In this case both the branch authorities and higher authorities can persuade each other to train the employees. They should invent other type of deposit to attract more customers which is different from other banks. Should develop more strategic planning as to compete with its rival banks. Increase the merchant locations of ATM cards. As most of the customers of the bank are aged between 21 to 30, the bank should consider the products and services with fewer service charges that are suitable for that age group. The products should also be developed mostly for customers with income more than 30,000 and particularly jobholders. Problems regarding IT and internet link should take seriously. Should increase the number of ATMs and ensure their smooth operations. CBL should recruit more capable & experiences employees to speared the products all over the country.
CBL should maintain errors-free customer's record & database which will help to identify the major customer's facility requirements. Employees should get proper knowledge on products & facilities to deliver the customer regarding right time, right facilities as per their requirements. Customers are confused about the loan pricing & hidden charges, so CBL should informed the customer about the different fees & installment size of that particular product. Customers are demanding more SME Service Center & Branches in their locality which will help them regular transaction with them.
As per customer response, CBL is taking long time to process & disbursed the loan. More easy way should find to minimize the duration for loan process. CBL is needed to reach the brand value to the customers for building up ideal relationship to create loyal customer.
Conclusion
As an organization, City Bank has earned the reputation of top banking operation in Bangladesh. The organization is much more structured compared to any other bank operating local or foreign in Bangladesh. It is relentless in pursuit of business innovation and improvement. It has a reputation as a partner of consumer growth. With a bulk of qualified and experienced human resource, City Bank can exploit any opportunity in the banking sector. It is pioneer in introducing many new products like American Express Credit Card, Special bank Account and services in the banking sector of our country.
Accordingly City Bank has started its journey in Retail Banking. Understanding customer's savings trend and market demand the bank launched new deposit products and one DPS product in the banking sector. City Bank Ltd. has already set up a Retail Finance Center, centralized retail credit and collection management unit, to amass retail loans for individuals.