Rack plating is a method used to electroplate brittle, large, and complex parts that are difficult to plate using other processes. It is the preferred option for plating tin on larger or more delicate parts that may not be suitable for the barrel plating process. This causes the parts to remain stationary upon immersion of the metal rack into the plating solution. This method involves plating metal parts by hanging them on a metallic fixture which supplies the galvanic cell circuit necessary for the electroplating process.
Rack plating is a method that involves featuring individual parts into an array that is mounted on a solid frame – the so-called plating rack. With rack plating, the objects are hung on a rack and immersed in the plating solution. In addition to affording increased protection against damage to parts, the racking process can plate contours and intricate shapes more efficiently. The parts are mounted to a fixture or jig, known as a "rack" and then immersed in a plating solution bath.
It is common in zinc and aluminum electroplating, likewise, nickel and chrome are the most used plating solutions in this process. Although rack plating is more labor-intensive and therefore more expensive than barrel plating, it offers greater control over plating thickness and can be more effective in reaching cavities deep within the object. Metal hooks are used to offer the required electrical contact while holding the parts in place on the rack. uniform thickness distribution is achieved since the rack can hold various parts which are plated at the same time. Before settling on this method, one should consider the shape, quantity, and size of the parts.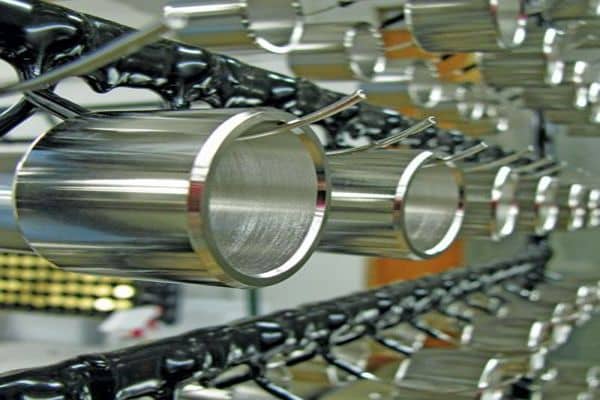 Rack plating is the preferred choice in industries where a high-quality finish is paramount such as military and defense, automotive, medical, and electronics. During the rack plating process, scratches and damage are avoided by spacing the parts well on the jig. It is good for delicate parts that should not be tumbled since parts stay fixtured during the plating process. This method also is good for large parts that won't fit in a barrel, and for parts where a high-quality/cosmetic finish is of utmost importance.
Disadvantages of rack plating include the higher cost and increased labor requirements. In many cases, it may be necessary to design and manufacture a customized rack for specialized applications. Therefore, if the parts are not fit to undergo barrel plating, the only forthright solution would be to opt for rack plating.
Information Source: