Organization Overview and Business Procedure of Beximco Pharmaceutical Limited
Beximco Pharmaceutical Ltd. is a leading edge pharmaceutical company based in Dhaka, Bangladesh and is a member of the Beximco Group. The history of pharmaceutical business of the company dates back to the early 70s, when it started to import market and distribute medicines from world renowned companies like Upjohn Inc. of USA and Bayer AG of Germany. Since the very beginning, the company was highly successful in generating increased demand for its products which eventually justified local production. It completed its registration in 1976 and started its operation in 1980 by manufacturing and marketing licensee products of Bayer AG of Germany and Upjohn Inc. of USA. After its initial years of struggle it broke ground with the launching of its own products in 1983. In 1985 BPL was listed in Dhaka Stock Exchange (DSE) as a Public Limited Company. The journey continued and barrier after barrier were crossed, challenges were faced and overcome to transform BPL into what it is at present. Now it has grown to become nation's one of the leading pharmaceutical companies, supplying more than 10% of the country's total medicine need. In the process, it was enlisted in Chittagong and London Stock Exchange. Today Beximco manufactures and markets its own `branded generics' for almost all diseases from AIDS to cancer, from infection to asthma, from hypertension to diabetes for both national and international markets.
It manufactures a range of dosage forms including tablets, capsules, dry syrup, powder, cream, ointment, suppositories, large volume intravenous fluids, metered dose inhalers etc. in several world-class manufacturing plants, ensuring high quality standards complying with the World Health Organization (WHO) approved current Good Manufacturing Practices (cGMP). Beximco also contract manufactures for major international brands of leading multinational companies. Beximco has a strong market focus and is anticipating continued future growth by leveraging business capabilities and developing superior product brands and markets. In particular it is very interested in developing a strong export market in USA and Europe. To meet the future demand it has invested over US 50 million dollar to build a new state-of-the-art manufacturing plant, confirming to USFDA and UK MHRA standards. This new plant will also offer contract manufacturing facility to leading pharmaceutical companies, especially from Europe and US.
Vision:
"If there is one characteristic that has typified the BEXIMCO approach, it is the Vision to be the best of our nature and human resource; a vision to establish our group and country as a respected and valued regional presence."
Mission:
"Each of our activities must benefit and add value to the common wealth of our society. We firmly believe that, in the final analysis we are accountable to each of the constituents with whom we interact, namely: our employees, our customers, our business associates, our fellow citizens and our shareholders."
Board and Management
Beximco Pharmaceuticals Ltd. is managed by the Board of Directors, an Executive Committee and a Management Committee. Board of Directors is responsible for the corporate governance.
It consists of eleven members including the Chairman, A S F Rahman and the Vice Chairman, Salman F Rahman. The five-member Executive Committee is headed by Mr. Osman Kaiser Chowdhury who is also a member of the Board of Directors. The Executive Committee is accountable for both operational and financial performance of the company. This committee is also responsible for budget approval, policy adoption or changes, new project review, compliance audit etc. The Management Committee comprises of ten eleven-notch professionals who are one of the bests in Bangladesh in their own fields. This committee is leaded by Mr. Nazmul Hasan, Chief Executive Officer (CEO) who is responsible for the overall management of the business. This committee reviews and manages day-to-day business operation and recommends strategy options to the Executive Committee.
Products:
The company's diverse product portfolio encompasses a wide variety of therapeutic categories, including antibiotics, analgesics, respiratory, cardiovascular, central nervous system, dermatology, gastrointestinal etc. BPL currently produces 235 generics in 426 strengths and dosage forms and many of the company's brands are consistently occupying leading positions in their respective therapeutic categories.
In 2010 Beximco Pharma introduced 27 new generics in a total of 34 presentations, which include seven ophthalmic drops, three HFA asthma inhalers and also drugs in categories such as, three cardiovascular, two multivitamins, two musculoskeletal, two anti-infective, and one antidiabetic, among others.
The three HFA-based inhalers which were launched for the first time in Bangladesh in 2010. Also introduce for first time into the market was a formulation of Paracetamol 665 mg. Napa Extend.
Baximco Pharma's Growth prospects remain excellent with key blockbuster products such as Napa and Neoceptin-R in its portfolio.
In 2010 Napa and Neoceptin R ranked 2nd and 4th respectively on the national "Top Five" list. More over ten of BPL's brands have annual sales in excess of BDT 100 million each.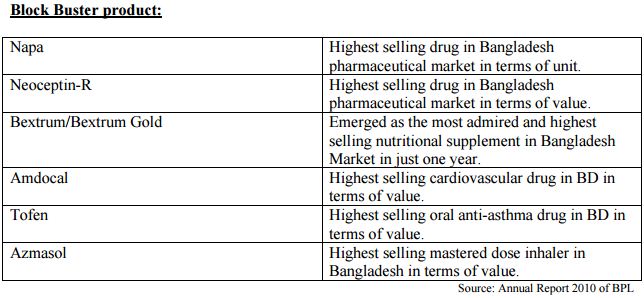 International Market:
Beximco Pharma continues to explore export opportunities and to reinforce its footprint on a global scale, which currently covers five different continents. Alongside the continuous endeavour to strengthen the position in existing markets, BPL attempts to achieve dynamic growth worldwide.
Beximco Pharma commenced its international operations with the export of API to Hong Kong in 1992 and formulation products to Russia in 1993. The company has received the 'National Export Trophy' (Gold) for an impressive three times. Since then, BPL has taken greater strides over the years to increase its footprints in international markets.
In 2010, BPL successfully ventured into several new countries including South Africa (via contract manufacturing) and Netherlands Antilles, and registered 45 products in overseas markets. The company achieved export revenues of Tk 330.54 million, up 21.47% over 2009.
The current expansion of this overseas portfolio includes prioritizing and directing marketing operations to focus more on highly regulated markets such as the European Union (EU), USA, Australia and GCC member countries for value added generics.
As of 2010 Beximco Pharma has 322 products registered in Asia, 91 in Africa, five in Central and Latin America, and 22 in Middle East, while we are actively taking measures to register our products in attractive branded generic markets such as the CIS states and the EU countries. BPL's products are highly trusted for their quality by physicians and consumers at home and abroad. With this acclamation BPL is supplying different formulations from its portfolio to renowned hospitals and institutions including Raffles Hospital, Healthway Medical Group & K. K. Women and Children Hospital in Singapore; Asthma Drug Facility (ADF) in France; CENABAST in Chile; and MEDS and Kenyatta National Hospital in Kenya. BPL is constantly investing in its state-of-the-art manufacturing facilities to significantly expand its capabilities to meet the regulatory requirements of developed countries. BPL has pursued approvals from different drug regulatory authorities, e.g. TGA (Australia), GCC (Gulf Council), ANVISA (Brazil) and INVIMA (Colombia), which highlights BPL's credentials as it explores new opportunities in the export arena.
Corporate Strategies:
Quality:
The BPL believes that being in the business which deals with human health makes us more responsible. This sense of responsibility compels BPL to keep the highest standards of its products. Through these products we seek to deliver clear health benefits and higher values to the patients. With this in mind BPL has commissioned state-of-the-art manufacturing facilities with innovative new technologies. Beximco Pharma use the most modern equipment for quality control and stringent quality assurance procedure and the manufacturing process conforms strictly to the current Good Manufacturing Practices.
Research & Development:
From its inception till date, BPL's research & development (R&D) capabilities continue to be one of the essential core strengths for leading the industry in both formulation R&D and API R&D. BPL's formulation R&D capability is proven not only by the consistent quality of its products but also by its ability to introduce hi-tech, specialized niche products and dosage forms.
The reverse engineering capability of BPL's R&D team has enabled us to introduce innovative new products to serve the ailing people at home and a broad. The reverse engineering capability of the R&D team and the drive towards new product development and innovation are central to building a proprietary research operation within Beximco Pharma. In formulation R&D, the company focuses principally on developing new formulations, predominantly through reverse engineering techniques and on simplifying manufacturing processes and improving cost efficiency. Over the years, the R&D team has successfully formulated different high-tech formulations like multi-layer tablets, long acting formulations, dispersible tablets etc. Beximco Pharma also the pioneer in introducing anti-retroviral drugs and anti-cancer drugs in Bangladesh.
Recently, with long experience in MDI formulations, BOL's R&D team has successfully developed a range of CFC-free HFA MDIs. The R&D team consists of qualified scientists with background in pharmaceutical sciences and allied areas and has a strong network with global companies and scientific community with similar expertise.
Corporate Social responsibility:
Corporate social responsibility (CSR), also known as corporate responsibility, corporate citizenship, responsible business, sustainable responsible business (SRB), or corporate social performance, is a form of corporate self-regulation integrated into a business model. Ideally, CSR policy would function as a built-in, self-regulating mechanism whereby business would monitor and ensure its adherence to law, ethical standards, and international norms. Business would embrace responsibility for the impact of their activities on the environment, consumers, employees, communities, stakeholders and all other members of the public sphere.
Furthermore, business would proactively promote the public interest by encouraging community growth and development, and voluntarily eliminating practices that harm the public sphere, regardless of legality. Essentially, CSR is the deliberate inclusion of public interest into corporate decisionmaking, and the honoring of a triple bottom line: People, Planet and Profit.
Corporate Social Responsibility (CSR) is an integral part of Beximco Pharmaceuticals business strategy. Some of the CSR activities undertaken by the company are showing as follows:-
As a first Bangladeshi Pharma company BPL introducing anti-retroviral medicines for HIV/AIDS treatment, medicine to combat the virus of bird flu and an oral anti-smoking drug to help chronic smokers quit smoking.
Food and Medicine donation during different natural disasters.
Sponsoring, organizing & participating many cultural and sports events like Corporate Cricket League, SAAf Football Championship, Inter-School Handball tournament, Open air concert etc.
Publishing posters-banners-festoons, arranging rallies-seminars-conference etc. on AIDS, Diabetes, Smoking, Cancer, Asthma, Birds Flu etc.
Beximco Pharmaceuticals Ltd. manufactures CFC-free Metered Dose Inhalers among the few pharmaceuticals in the world.
DESCRIPTION OF JOBS
Departments of Beximco Pharma
BPL operates its business through extensive departmentalization as needed for specified effectiveness of the tasks. The business activities of BPL are directed, controlled and monitored from the head office of Beximco Pharmaceuticals Ltd. Being a leading Pharmaceutical company in the country it employs a good number of people in different departments to keeps its business thriving. The following major departments coordinate the activities of BPL:
Strategic Brand Management (SBM) department
Planning department
Procurement Department
Sales department
Training department
Project management & Business Development Department
International Marketing department
MIS department
Multimedia department
Finance and Accounts department
Human Resource Department (HRD)
Market Research & Statistical Cell (MRC) department
Brief Description of Accounts & Finance department and others.
Accounts & Finance Department
The activities of the Accounts and finance department are carried over by talented and adequate person. The functions of Accounts and Finance department are carried over five sections. Actually proper control purpose, they subdivide their functions to the several sections. The sections of Accounts and Finance department are as follows:
IOC&BP
Financial Accounts- Strategic Business Unit (SBU)
Financial Accounts- Non- Strategic Business Unit
Treasury
Tax And Payroll
Leasing And Legal Affairs
IOC&BP:
The extended form of IOC& BP is Industrial operation control & business planning. This section does the Costing and Budgeting of BPL. Previously it was known as costing and budgeting section but recently it has changed its name because of horizon of their work. Their work is not bounded to the costing and budgeting functions only. They provide information to the planning, marketing, purchasing and others departments for proper decision making. This section of accounts and finance department does the reporting to the management. They prepare different types of cost reports.
Activities of this department are as follows:
Prepare cost sheet.
Determine Manufacturing cost of a product.
Allocate Overhead to the product.
Determine Tender Cost sheet.
Prepare different types of budgets such as Production budget, sales budget, cash budget, master budget, purchase budget, Departmental budget etc.
Prepare different types of report such as Scrap report, COGS report, Production report, Product profitability report, biggest loser report etc.
Provide proper data to the planning department relating to costing.
Help to control inventory.
Identifies the cost centers.
Does the inventory valuation. Etc.
Financial Accounts SBU:
The major function of this section is to prepare financial report. They prepare the financial report of Beximco Pharma. There is a manager to monitoring the activities of this section. The major activities of these sections are as follows:
Preparation of Financial Report for External Reporting.
Preparation of Monthly Financial Report.
Preparation and publishing Quarterly Financial Report.
Recording of Export Sales Earnings.
Financial Accounts Non SBU:
This section does the works of some supporting company of Beximco Pharma. These supporting companies are as follows:
Shuktara Printing Ltd.: Shuktara Printing Ltd. supplies the printing materials to the BPL. For leaflet and other printing materials are needed for drug are supplied by Shuktara printing Ltd. though it is unable to supply all printing materials needed.
Bangladesh Antibiotic Industry Ltd.: Bangladesh Antibiotic Industry Ltd. (BAIL) supplies antibiotic to the BPL. There is a manufacturing unit to Kaliakoir near to Gazipur to produce antibiotic. There is a responsible person who prepares financial reports and all recording related to BAIL. They also deal with the other pharmaceutical company to supply materials. This services also known as toll services.
I & I services Ltd.: I&I services Ltd. provides distribution services to the BPL. Through 19 depots they deliver drugs to the chemist. There is a central depot to control all the depot and services.
Pharmatek chemicals Ltd.: They provide Chemicals to the BPL. Pharmatek supplies Napa raw materials to the BPL. There is a responsible person to control, reporting and recording all transactions relating the Pharmateck chemicals Ltd.
Tax and Payroll:
The Tax and Payroll section of Accounts and Finance department deals with the taxation and
Payroll services to the company. The major activities are as follows:
Salary disbursement to the employee.
Salary loan to the employee.
Provident fund related activities.
Salary Tax.
Income tax of the company.
Legal Affairs:
This section of Accounts and Finance deals with the legal issue of the BPL. The Major activities of this section are as follows:
Trade license of the company including the International selling.
Value added tax related activities.
Drag license related activities.
New product Copyright.
Trademark related activities.
Boiler permission Renewal.
Chemical Certificate related issue.
Land related activities.
Treasury:
Treasury section deals with (i) cash at banks and (ii) bills. It also looks after the cash planning and management. A review is made every week for this purpose. This department controls and monitors cash flow positions. There is a responsible person for monitoring and controlling activities of treasury sections.
Brief description of others departments:
Strategic Brand Management (SBM) Department
The activities of SBM are:
­ Market research
­ Selection of new product
­ Design and testing of product (DTP)
­ Sample store (logistics) management
Making strategy
Procurement Department
Previously it was known as Purchase department. The procurement department deals with all the purchase of the organization such as:
Pharmaceuticals raw materials.
Packaging materials.
Office equipments.
Machinery's etc.
Planning & Inventory Control Department
The planning department is concerned with the production planning, raw material procurement planning etc. After getting the sales forecast from the sales department, the planning department goes through the current stock information of different raw materials. They decide when materials will be procured.
Sales Department
Sales department is a marketing execution department. It supplies sales forecast to the planning department. The activities and function of Sales department is very important.
The profit of the company is dependent on the sales. Sales department assigns selling responsibility to the Medical Representative.
Human Resource Department
Major Activities of HR departments are as follows:
Prepare Recruitment policy and procedure
Placement of employees
Human Resource Development planning
Organizational structure review and modification
Career planning
Hiring and firing
Job description preparation
Conducting appraisal at the end of each year
Maintaining and developing employees personal files
Safety-security.
Project management & Business Development Department
Project management & Business Development Department began its operation from January l, 2000. It is working on market development, both domestic and international. Major functions are as follows:
New product study
New technology study
Project feasibility study
MIS Department
The MIS Department takes care of total automation of BPL. It supports the hardware and software network of the company and the factory.
Multimedia Department
Functions of the multimedia department are:
Web page designing.
Developing multimedia presentation for presentation programs.
Making videos of conferences, meeting etc.
Keeping the records of annual meeting and other meeting.
Medical Department
This department is a unique department in this industry as BPL established this first ever in order to create easy relationship through using the professional linkage with the doctors.
Training Department:
Training Department deals with the training activities of the company. BPL frequently arranges training program for employees for their development of skills.
International Marketing:
International Marketing deals with the international marketing policy and procedures. Now day by day export of BPL is growing. So this department is getting more emphasis.
Factory Overhead, Selling and Administrative overhead:
Factory overhead, selling and administrative overhead is increasing year to year. The increasing trend is totally straight. Company should control the overhead properly. We know that company has no direct control over raw material prices. In the increasing raw material every company will be sufferer but company can properly control the overhead.
The control of overhead is totally under the decision of the management. Management should proper analysis of the overhead cost on the basis of this analysis they should prepare budget. Company should not prepare the budget on the basis of the requirement of the department demand. Cost manager should have proper knowledge about the all departments' functions and activities properly.
Petty Cash Expenses:
Beximco distributes their goods through I & I services. I &I services gets commission for their activities. I&I service takes their expenses from daily cash collection for expenses of distribution.
With the working with the petty cash section I have shown that depot of the I&I services overstate their expenses. For these activities the overhead cost is increasing day by day. Proposed Policy: Beximco Pharma should make budget for the daily expenses. Through proper budgetary control and research on that will minimize the expenses. BPL should set out daily allowance of the depot of I&I services on the basis of the proper study and observation.
Negotiation with the Insurance Company:
In Beximco Pharma there are many insurance companies. BPL always does insurance of their material. The management should negotiate with them to reduce their insurance premium charges. One or two company will be allowed to do all kinds of insurance.
Through this negotiation BPL will be able to reduce the expenses. Expansion of the Shuktara Printers, BAIL, Prarmateck and I&I services:
Shuktara Printers is the supplier of the printing and packaging materials of the BPL. Shuktara printer is the related party of the BPL but they are not able to supply all the printing and packing materials. BPL has to purchase printing materials from other sources. If BPL is able to manage all packing and printing materials from Shuktara then will be cost effective. If possible Shuktara will be able to sell other company for surplus.
For BAIL, Pharmateck and I&I services, I also recommend expansion policy in the same way. May these company will be leading company in the respective field like BPL, If management takes the appropriate decision.
CONCLUSION
Beximco Pharmaceuticals Ltd. is a leading edge pharmaceutical company and is a member of the BEXIMCO Group, the largest private sector industrial conglomerate in Bangladesh. Beximco Pharma is also the largest exporter of pharmaceuticals from Bangladesh, spreading its presence in many developing and developed countries across the globe. Recently, BPL has successfully made its footmark in the global market when it made its debut on the London Stock Exchange as the first Bangladeshi company to be listed in the world's most prestigious bourse. This milestone event has widened the responsibility, accountability and transparency of the company beyond geographical border. This was an added challenge to all the accounting staffs as the listing the accountability of the organization has gained a global reach. The ever expanding export trade also indicates greater responsibility to the world. The Finance and Accounts department took the challenge and prove their mettle by the timely publication of 2005 Annual Financial Reports globally. Each and every section in the department deserves to be complemented for their endeavor. From raw material import to the bringing of smile for the society, on every level, professionalism and dedication is the key to this success.
 In this report, we have tried my level best to identify management accounting techniques and procedures used by Beximco Pharma. What and how Beximco Pharma use cost accounting information for decision making and external financial reporting along with describing the procedure and systems of using cost accounting information. In this report, we imply our acquired knowledge from cost accounting course and try to comply with the techniques procedure and systems followed by the company.
In today's complex yet highly competitive business environment management needs quality information for decision making purpose. Beximco believes that quality and control should be ensured and these can be ensured by using proper cost accounting information. Relevant and reliable cost information can be ensured by implementing by using effective cost accounting methods. And they do the best one fit in the context of Bangladesh.