My Favourite Poet – Kazi Nazrul Islam
Kazi Nazrul Islam is the national poet of Bangladesh.  In fact, my favorite poet needs no further introduction to the nations of the world. He was a writer, poet, author, song composer, singer, revolutionary person, etc. He is well known as the Rebel poet in Bengali literature. He was very favorable to me for various reasons. His writings were full of hopes and aspirations, energy and juvenile spirit, love and affection, joys and sorrows. When the national life was under foreign rule, the national life was exploited ruthlessly. He began to write protesting against it. He encouraged the people who were under the soporific influence of slavery, He made them conscious of their legal rights.
He was born at Churulia in the district of Burdwan. His parents were Kazi Fakir Ahmed and Zaheda Khatun. His parents lost four children before his birth. Then they named him Dhukhu Miah after his birth. Nazrul lost his father in his early life. So, he had to struggle hard against poverty even in his boyhood. His early life was very peculiar. He was very parentless. He had to struggle hard against pauperism. He was admitted to a local primary school when he was ten years old. But his early life was full of wants and poverty.
The hard and fast rule of school life was not liked by him. So he could not pay attention to his studies. After completing his minor school, and maktab education he taught the village children the Koran. After somedays, he joined a theatrical party named 'Letto' and earned name and fame. Then he fled away from home and became a baker's boy on a monthly salary of TK-1.00 (one) only. He also led an irregulated life.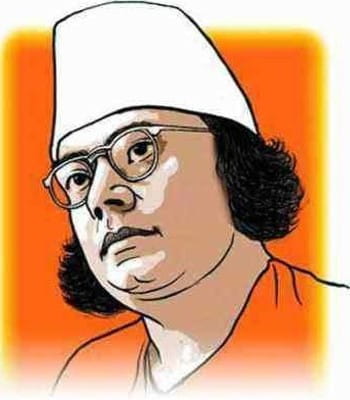 When the World War began or broke out, he joined the war. In the army, he got the rank of Havildar. He composed songs in the army and became familiar as a poet. His first ballad 'Mukti' was a remarkable poem. His songs are favorite to people of all ages. Thus he has established himself in our hearts.
Nazrul Islam began his literary works at the beginning of his school life. During that period, he composed a number of poems. His songs inspired the people to fight for the country. He composed a poem entitled Birdhrohi against the Injustice, exploitation, and oppression of the British govt. The Regiment was banned. He returned to Kolkata. Then he edited the Dhumketu in which he published his revolutionary writings. The British Govt. sentenced him to jail for one year convicting him of this sort of writing. His best writings are Agni Beena, Bisher Banshi, Dolon Champa, Rikter Bedan, Bandhan Hara, Pralaya Shikha, etc. Nazrul edited a weekly named "Dhumketu'.Many of his revolutionary writings were published in it.
Nazrul Islam was an example of many things. He never thought of his life and family. His family was not well-off for he had no sound family life. He did everything not for his family but for others. He had nothing to contribute to his family. He extended his hands towards his friends and well-wishers for help. Suddenly he fell ill so seriously that he lost his power of movement and speech. He remained as a bed-ridden patient for the last thirty years. He passed the days without creative activities.
My favorite poet made a great contribution to our nation and literature as well. He has made our literature flourished in the world. The whole nation got inspired by his writings. Nazrul is no longer in us but his poems and other writings inspire us for all times.
No other poet was as rebel as my favorite poet. His voice removed the nation's fear in all respects to establish its legal claim in the form of the world's conscience. He breathed his last on the 29th of August in 1976. My favorite author is no more. But he will remain ever fresh in my memory forever. His songs and gojhals are now very popular in our country. He was very honest to the penny. He did not like to compromise with any injustice, ill-treatment, and oppression. He had firm confidence in the supreme power of the Creator. He struggled for the country all through his lifetime event at the very end of his life. So, I love him best.