Executive summary
It is obviously true that the BBA program is designed to focus on theoretical and professional development of students to open to take up business as a profession as well as service as a career. In this course is designed with a brilliant combination of theoretical and practical aspects. Now a day's marketing involved with business and most of the issues of business world deals with marketing. The objective of this project is to provide us with experience in applying the concepts and methods of marketing to a real – world opportunity.
In this assignment our project is to create a marketing strategy for new product in the market. Finally we make some strategies by which we can create a competitive advantage than other competitors. In these ways we establish our marketing strategy for our new product.
Introduction:
Now a days Business world is dynamic and changing .In this competitive business world, POWER FAIRNESS face wash is a new brand .Its main purpose is to achieve customer trust and value in providing better service and giving competitive advantage and becoming a good Face wish company in our country. For the purpose of achieving our objective we create marketing strategy for segmenting the market, targeting the market, positioning our product in the mind of target consumers, Selling, Market share, Profit goals, Pricing, Distributing, Budgeting, Long-term sales and marketing mix.
Major objective:
Our major Objective is to create a greater customer value in the market and capture the market as the best Face wish Company in our country.
Specific objectives:
Distribution of the target market
To analyze the positioning of our product
Increasing  sales
Market share among the competitors
What would be the profit
To set prices of product with the satisfaction level of customers
Product distribution and budgeting system
How to keep flow long-term sales
To create customers' value and   strong profitable relationship with customers.
Following marketing mix
Methodology:
Primary sources: Face to face interview of customers.
Secondary sources:
Ø Different types of marketing strategy
Ø Expert opinion
Ø Internet
Product over View:
As a part of the diversification and to capture the market share, we are the marketers who have promised to launch a new product in the market. After analyzing the current market opportunity and thinking about the customers benefits as well as their increasing concern about the new product to minimize customer's comfortableness we are proudly launching our new product-'' POWER FAIRNESS FACE WASH '' .The details about this product are mentioned below:
Consumer Benefits:
POWER FAIRNESS FaceWash is a gentle cleansing solution that leaves your skin feeling clean and silky. This unique face wash contains all natural Tea Tree Oil, a natural antiseptic. Included also are extracts of Goldenseal, Hawaiian White Ginger  and the essential oil of Swiss Chamomile, Mineral-rich Bladderwrack, harvested from the sea, nourishes the skin to leave it looking vibrantly healthy. Thoroughly Power Clean Face Wash ever so gently helps improve the texture, clarity and radiance of your skin.
Ingredients:
Castile Soap, Olive Oil, Coconut Oil, 100% Pure Tea Tree Oil , Extracts of Matricaria, Goldenseal, Hawaiian white ginger, Bladderwrack, Essential Oil of Palmarosa, Petitgrain, Lavandine Super and Peppermint Oil. Does not Contain: Animal Ingredients Or Testing. Alcohol, Detergents, Animal Fat, Artificial Color Or Synthetic Perfumes
Product Users:
Power Fairness face wash can be used for all skin types
Product Categories and Prices:
Power Fairness face wash in different packages.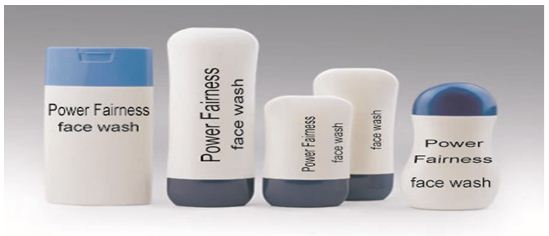 Figure: Product bottle sample
| | |
| --- | --- |
| Categories | Prices |
| 350ml  power fairness face wash | 400 taka |
| 200ml  power fairness face wash | 300 taka |
| 100ml  power fairness face wash | 190 taka |
| 50ml  power fairness face wash | 110 taka |
Health, hygiene & beauty:
Unilever aims to help people feel good, look good and get more out of life. At the heart of this mission is hygiene – and health through hygiene
Marketing Strategies Development:
We have designed an initial marketing strategy for introducing the new Power Fairness face wash to the market for achieving our goals and capturing market.
The Marketing Strategy Statement:
We have a marketing strategy statement which consists of three parts these are:
Part 01:
Target market:
The reason we're concentrating on identifying a target market is because it makes strategies for designing, pricing, distributing, promoting, positioning, and improving our product, service, or idea easier, more effective, and more cost-effective. A target market is basically a set of buyers sharing common needs or Characteristics that a company decides to serve. After evaluating different segments we have decided to enter in multiple segments which are geographic and demographic segments but we mostly emphasize on demographic segments. Before selecting actual buyers the most important thing is to decide target market strategy. Our target market strategy is as follows-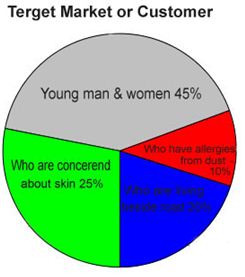 Figure: Our target market
Differentiated marketing: This is multiple segment strategy; also known as a differentiated strategy. In this case different marketing mixes are offered to different segments. The product may not be different but the promotional message or distribution channel may very. We choose this strategy because this matches our capabilities. But we seek full market coverage.
Target market profile:  Target market profile is basically customers buying behavior and it answers why a customer buys our product. Before answering those questions we want to mention who are the main or targeted customers of using face wash.
 Young men and women: In Bangladesh our main target customer are young men and women because million of young men and women use face wash to keep net and clean their faces. So want have a good quality of product will be our target market.
Those who are concerned about skin: There are many well off family who are very much concerned about their skin. Like a family whose members are in service business like doctors.
Those people who are living beside road: Basically in urban cities like Dhaka 60% of the houses are just beside the main road, which results in lots of pollution inside the house they wil be benifited to using our product.
Those who have allergies from dust: According to statistics there are 850 million people who are suffering from various air pollution caused disease. So for these people, our product might be helpful for them.
In service business: In service business like hospital, nursing home, day care center these people can buy this product for their own benefits. Moreover, in offices where the degree of air pollution is higher, can use this product.
Now our main target is to sell our product to our target market. But there are some characteristics that might affect our consumer behavior. So it is important to examine and understand those factors. These factors are cultural, social, personal and psychological. Most of the time these factors can not be controlled by marketers but our effort is to put influence in each factors and motivate them to buy our product. The following factors are described below segment.
Positioning:
Simply, positioning is how target market defines in relation to our competitors. In broader sense positioning is the technique by which marketers try to create an image or identity in the minds of their target market for its product, brand, or organization. It is the 'relative competitive comparison which their product occupies in a given market as perceived by the target market.  Basically a good positioning is-
1. What makes you unique?
2. Is this considered a benefit by your target market?
Both of these conditions are necessary for a good positioning.  It is important to understand product from the customer's point of view relative to the competition. In order to begin positioning a product, two questions are needed to be answered:
1)      What is our marketing environment?
2)      What is our competitive advantage?
The marketing environment is the external environment. Some things to consider:
Product Positioning: 
Consumers have various choices, may be its not possible for us to fulfill the all requirements individually. But our endeavor is to fulfill the consumer's needs at any cost and also respond to their changes. Among the various benefits that our consumers are looking for in each 4ps, we decided to position our self in terms of Product and Price.
Perceptual Positioning Map:
In the process of our positioning strategies we have design a perceptual positioning map, which will show how we are different then our competitors. It also shows consumer perception of our brands versus other competitions. Below we illustrate our perceptual positioning map–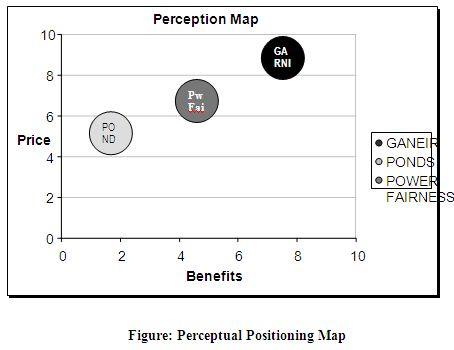 In the above we compare our product with two very best Face wash in Bangladesh. These are GARNIER and PONDS Face wash . We compare with our product with them because they have good reputation in market as well as they have been competing with us for the long time. Here X axis represents the benefits that consumers will get from our face wash. And   Y axis represents the price of the face wash. Here we can see Ponds have high price. while Garnier have much higher price then Ponds. And the benefit that they are giving is not equivalent with their price. Both have high price but in terms of benefits Garnier giving less Ponds and Ponds is giving 'more for more'. But we are giving 'more for less'. And this strategy has made us different from our competitors. 
Positioning Statement:
POWER FAIRNESS Face wash offers the best Face wash available to address fresh and clean, white & fresh Sensitivity (MCS) and quality issues such as pollution,  smoke and construction dust. We make it easy for our customer to obtain the right office or skin cleaner by providing with an easy-to-clean and secure site, the lowest legal prices, free installation, and no sales tax. Whether consumers are in the market to relief or simply looking for a Facewash for home, they can comfortably buy Face wash from because we have tested each Face wash that we sell and listen carefully to our customers for feedback and provide solutions.
The selling concept & Profit Goals:
Many companies follow the selling concept, which holds that consumers will not buy enough of the film's products unless it undertakes a large scale selling and promotion effort. The concept is typically practiced with unsought goods –those that buyers do not normally think of buying, such as insurance or blood donation .These industries must track down prospects and sell them on product benefits. Such aggressive selling however carries high risks. It focuses on creating sales profitable customers relationship. Transaction is rather than on building long term relationship. We assume that in first year we would be able to sell 5oo million pieces and can profit 10 million taka.
Market Share:
There are many competitors with us who are always trying flop us. We assume that we will be able to capture 35% of market share among others competitors. Our possible market share would be-
Part 02:
Price Strategy:
We will sell every bottle at the same discount rate the dealers or wholesalers like 350 ml 400 taka, 200 ml 300 taka, 100 ml 190 taka, and 50 ml 110 taka with 15% percent off the list price to the dealers. Dealers who sell more than 1000 units power fairness face wash in a week will get an additional discount of 3% on each unit sold. Specially, marketer needs to review four factors to arrive at a price: pricing objectives, cost, competition and demand. On the other hand, among the two principal of pricing strategies, skimming and penetration, we are going to adopt penetrating pricing that means our products price will be relatively low during the initial stage to penetrate the market quickly and deeply in order to attract a large number of buyers quickly and win a large market share. Another important reason is, it relates to our mission statement. This strategy will work because-
Our target market is quiet price sensitive.
Production and distribution costs fall as sales volume increases.
Low price will help us to keep out the competition.
Distribution:
Geographically- our special concentration is on Dhaka. Moreover, we will concentrate in Chittagong, Rajshahi, Rangpur, Khulna and also Jessore
Budgeting Strategy:
We fixed a marketing budget of 2 million taka will be split 50-50 between national media campaign and local event marketing. Advertising and Web site will emphasize the power fairness face wash's fun sprit and low emissions. During the 1st year 1.5 million taka will spend on marketing research to find out who is using the Face wash and their satisfaction levels. 
Part 03:
Long-term sales & profit goal strategy:
We will be able to capture 35% long-run market share of the total face wash market and realize an after-tax return on investment 20%. To accomplish this product quality will start high and be improved over time. Price will be raised in the second year.
Marketing Mix Strategy:
Marketing mix in our product that is 4Ps and 4Cs –
4Ps
Price- skimming, reasonable.
Product- herbal natural care.
Place- shopping mall, agencies, retailers, outlets.
Promotion- free samples, doors to doors.
4Cs
Price- customer cost.
Product – consumer solution.
Place- convenience.
Promotion- communication
Conclusion:
We are trying our level best to create strong profitable relationship by providing better quality product than other competitors do. Though we have some external limitation in the market, we are taking different stapes to over-come that limitation. After the above discussion we can have the idea, how we can send message through different medium to our potential consumers without making them confused so that our target consumers will start using our brand and become loyal to this brand .