Executive Summary
BBA is a professional degree. To fulfill this degree Internship course is an associate course which enable the students to gather practical experience where the student wants to make his/her carrier. My internship course was assigned at Dhaka Bank Limited, Bangshal Branch, under the supervision of Professor Dr. Muhammad Mahboob Ali
Department of Business Administration, Atish Dipankar University of Science and Technology (ADUST). My internship was on the overall banking operation of Dhaka Bank Limited. So my report title is "An Overall Banking Practice of Dhaka Bank Limited". So to recover the total financial soundness and management skill I have tried to analyzed how they are operating their banking system. A company's main objective is to gain more profit to benefit its stakeholders using a perfect management system. Dhaka Bank Limited is not different from them. So my internship report entitled "An Overall Banking Practice of Dhaka Bank Limited" refers how the bank drives its banking operation and how it benefits itself and its stakeholders.
Chapter 1
Introductionm
Internship is the practical working attachment with an organization to have a handy working experience. This working experience is the effective tool to correlate the theoretical knowledge with the pragmatic approach. For this reason internship is a handy tool for a business graduates. As an intern in Dhaka Bank Limited it was an immense scope for me to have an in-depth idea about the banking industry.
The importance of financial intermediaries in the development of the overall economy of country cannot be described in short. From the inception of the civilization the banking sector dominate the economic development of a country by mobilizing the saving from the general people and channeling those saving for investment and thus economic development and growth. With the emergence of banking sector in Bangladesh govt. has also come through different activities to reform and revitalize the sector.
This report is an Internship Report prepared as a requirement for the completion of the BBA Program at Primeasia University. The primary goal of internship is to provide the job exposure to the student and an opportunity to implement theoretical knowledge in real life situation. The program covers a period of 3 months.
Origin of the report
As part of the Internship Program of School of Business course requirement, I was assigned for doing my internship in Dhaka Bank Limited for the period of 3 months starting from April 15, 2010 to July 14, 2010 as an intern. During my intern period in the Dhaka Bank Limited, Bangshal Branch, I worked under all three major departments of the bank. My project was An Overall Banking Practice of Dhaka Bank Ltd, which was assigned by my internship supervisor Taslima Julia Faculty School of Business at Primeasia University.
OBJECTIVE OF THE REPORT
The main objective of education is to acquire knowledge. To acquired knowledge ultimately we must do some practical application in addition to theoretical knowledge. Through this report, I tried my level best to present my practical knowledge as well as to find out-
General:
To observe the general banking and advance operation of DBL, and their services.
To get an overall practical knowledge concerning banking activities as a financial institution.
How a bank operates their activities in different areas being a single organization.
What a bank is doing for Bangladesh to develop national economy.
Specific:
Presentation of an introduction to the organization- Dhaka Bank Limited as a whole.
To get overall idea about the credit and general banking of DBL.
To recommend necessary steps to overcome such problems faced by the DBL.
To identify the major areas of inefficiency.
METHODOLOGY OF THE STUDY
How close to the issue-under-study can a researcher reach depends to a great extent, on how methodically he/she can approach the issue. Although necessity of issuing data and information has been the prime determinant of the quality, accuracy and worthiness of a research project, in these days of abundant availability of data and information this necessity has only been acute, methodology is the pathfinder of working out a good research paper.
For the implementation of the study I have worked on "Dhaka Bank Limited".
In order to make the Report more meaningful and presentable, two sources of data and information have been used widely.
The "Primary Sources" are as follows-
Face-to-face conversation with the respective Executives & Officers of the Bank.
Informal conversation with the clients.
Practical work exposures form the different desks of the various departments of the Branch covered.
Relevant file study as provided by the officers concerned.
The "Secondary Sources" of data and information are-
Annual Reports of Dhaka Bank Limited.
Periodicals published by Bangladesh Bank.
Various books, articles, compilations etc. Regarding general banking functions, foreign exchange operations and credit policies.
After collection of data, a list of table was prepared on the basis of aims and objectives of the study and processing, editing and coding of the data were done simultaneously. The tabulated data were then analyzed and condensed to obtain the result / objective.
Limitation of the Study
The present study was not out of limitations. But as intern it was a great opportunity for me to know the banking activities in Bangladesh especially of Dhaka Bank Ltd. Some constraints are appended bellow:
Lack of Information or Data: Adequate and in-depth well-organized information is not available for access. Though the officials tried to assist, sometimes their working pressure couldn't give me proper assistance what I needed. There is some information which need special permission from top level is not always achievable.
Time Constraint: It is something like impossible to cover the entire Overall Banking Performance and performance phenomena exploiting a three month time period while an employee or an officer is awarded with one or two year probationary period to do his or her particular job.
Secrecy of Information: Some of the information needed to explore the current market scenario of the company was not disclosed.
Comparison Status: I have had no opportunity to compare the foreign exchange banking system of the Dhaka Bank Limited with that of other contemporary and common size banks. I had compared the banks that information is available. It was mainly because of the shortage of time and internship nature.
Lack of Experience: Though I have prepared many reports before, I had no experience of internship. So inexperience is one of the main constraints of the study.
Chapter 2
Organization Overview
Company name
DHAKA BANk LIMITED
Company Logo
AN OVERVIEW OF DHAKA BANL LIMITED (DBL)
Dhaka Bank Limited is the leading private sector bank in Bangladesh offering full range of Personal, Corporate, International Trade, Foreign Exchange, Lease Finance and Capital Market Services. Dhaka Bank Limited is the preferred choice in banking for friendly and personalized services, cutting edge technology, tailored solutions for business needs, global reach in trade and commerce and high yield on investments, assuring Excellence in Banking Services.
Background of Dhaka Bank Limited
Dhaka Bank Limited is a scheduled bank that was incorporated under the Companies Act 1994, started its operation on July 1995 with a target to play the vital role on the socio-economic development of the country. Aiming at offering commercial banking service to the customers' door around the country. This organization achieved customers' confidence immediately after its establishment. Within this time the bank has been successful in positioning itself as progressive and dynamic financial institution in the country. This is now widely acclaimed by the business community, from small entrepreneur to big merchant and conglomerates, including top rated corporate and foreign investors, for modern and innovative ideas and financial solution.
Corporate Information
Name of the Bank: Dhaka Bank Limited
Status: Public Limited Company
Date of Incorporation: April 06, 1995
Date of Commencement: July 05, 1995
Registered Office: Biman Bhaban (1st Floor) 100 Motijheel C/A,
Dhaka-1000 Bangladesh
Telephone: 9554514
Telex: 9556584, 9571013, 9565011
Swift Code: DHBLBDDH
E-mail: info@dhakabank.com.bd
Web Page: www.dhakabankltd.com
Chairman: Mr. Reshadur Rahman
Managing Director: Khondker Fazle Rashid
Mission
To be the premier financial institution in the country providing high quality products and services backed by latest technology and a team of highly motivated personnel to deliver Excellence in Banking.
Vision
At Dhaka Bank Limited we draw our inspiration from the distant stars. Our team is committed to assure a standard that makes every banking transaction a pleasurable experience. Our endeavor is to offer you the razor sharp sparkle through accuracy, reliability, timely delivery, cutting edge technology, tailored solutions for business needs, global reach in trade and commerce and high yield on your investments.
Our people, products and processes are aligned to meet the demand of our discerning customer. Our goal is to achieve a distinction like the luminaries in the skies. Our prime objective is to deliver a quality that demonstrates a true reflection of our vision – Excellence in Banking.
Objectives
Be one of the best banks of Bangladesh.
Achieve excellence in customer service next to none and superior to all competitors.
Cater to all differentiated segments of Retail and Wholesale Customers.
Be a high quality distributor of product and services.
Use state-of the art technology in all spheres of banking.
Values
Customer Focus
Integrity
Team Work
Respect for Individual
Quality
Responsible Citizenship
Branches
As on June 2009 the Bank serves it's customers through 50 (Fifty) branches spread all over the country.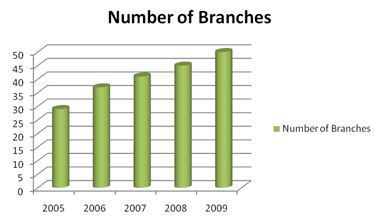 Employee
As on June 2009 the Bank has 924 employees spread all over the country.
| | |
| --- | --- |
|   |   |
| Year | Number of Employees |
| 2005 | 688 |
| 2006 | 786 |
| 2007 | 842 |
| 2008 | 898 |
| 2009 | 924 |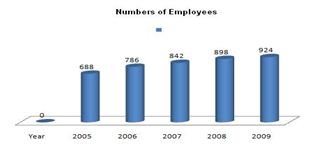 Management Information System
Since its journey as a Commercial Bank in 1995 Dhaka Bank Limited (DBL) has been laying great emphasis on the use of improved Technology. It has gone to Online Operation System since 2003 when two new banking software namely FLEXCUBE & DBCUBE was installed. As a result the Bank is able to give the services of international standards. The bank has launched its Corporate Portal (Intranet), which was initiated by IT/BPR with the primary goal to provide comprehensive and collaborative content management, paperless communication and information management, and to provide a gateway to the web application across the enterprise within one integrated platform, instead of relying of separate fragmented systems. Dhaka Bank Limited invested Tk. 50 crore to install the software and to establish separate IT division.
SHAREHOLDING STRUCTURE
As a public limited company it is listed in both of the stock exchanges of the country. The total number of shareholders as on 31/12/2009 was 10,530.
Correspondent Relationship
The Bank established correspondent relationships with a number of foreign banks, namely American Express Bank, Bank of Tokyo, Standard Chartered bank, Mashreq Bank, Hong Kong Shanghai Banking Corporation, CITI Bank NA-New York and AB Bank Ltd. The Bank is maintaining foreign exchange accounts in New York, Tokyo, Calcutta, and London. The bank has set up letter of credit on behalf of its valued customers using its correspondents as advising and reimbursing Banks. The Bank maintains a need based correspondent relationship policy, which is gradually expanding. The number of Foreign Correspondents is 406 till date.
Departments of DBL
If the jobs are not organized considering their interrelationship and are not allocated in a particular department it would be very difficult to control the system effectively. If the departmentation are not fitted for the particular works there would be haphazard situation and the performance of a particular department would not be measured. Dhaka Bank Limited has does this work very well. Different departments of DBL are as follows:
Credit Division
Treasury Division
Financial and Accounts Division
Operators Division
Central Accounts Division
Personal Banking Division
Investment Division
Information Technology Division
Human Resources Division
Audit & Risk Management Division
Foreign Exchange Division
Dhaka Bank Training Institute

 Product and Services
The product and services that are currently available are given below:
Depository Product
Dhaka Bank Limited is now offering different types product for mobilizing the savings of the general people.
Saving Deposit
Current Deposit
Fixed Deposit
DPS (Deposit Pension Scheme)
Special Deposit Scheme (Monthly income)
Deposit Double Scheme
Excel account (OD-cum-Savings Account)
Smart Plant
STD Account
Foreign Currency Deposit Account
NFCD Non Resident Foreign Currency Account 
Interest Rate Paid to Different Deposit Liabilities
Tenure

Amount

(Any amount)

Amount

Tk 2 to 5 crore

Amount

Tk 5 crore and above

1 Month

8.50%

8.50%

8.50%

3 Month

11.00%

11.25%

11.75%

6 Month

11.50%

11.75%

11.75%

12 Month

11.75%

12.00%

12.25%

24 Month

11.50%

11.50%

11.50%

36 Month

11.00%

11.00%

11.00%
Above rates will be also applicable for Islami banking branches. Mudaraba Saving's rate for Banks in Islami Banking Branches is now @ 6.50% and for Customers @ 6.00%.  Savings account @ 6.00%. STD account upto Tk. 5.00 Crores @ 6.00% and above Tk. 5 Crores @ 7%.
In 2009, Retail Banking Division will introduce VISA Credit and Debit Cards. Emphasis will also be given on liability products, which ensures mobilization of funds. Considerable growth has been achieved in both Asset and Liability products during 2009.
The Division has always been focusing on maintaining a quality asset portfolio, which ensures growth as well as good return. The Retail Banking Division ensures quick disbursement of loans in line with market competitiveness.
Loan Product
The Dhaka bank is offering the following loan and advance product to the client for financing different purpose that fulfill the requirements of the bank and have good return to the investment as well as satisfy the client. The loan and advance products are:
Personal Loan Scheme
Lease Finance
Term Loan
Small & Medium Enterprise loan
Working Capital Financing
Import Financing
Export Financing
Syndicate Loan
Industrial Financing
Personal Banking Products
ATM Card Service
Credit Card Service
Excel Account for Executives
SWOT Analysis of Dhaka Bank Limited
STRENGTH
Better customer relation specially with the Small and Medium Entrepreneurs
Better customer relation specially with the Small and Medium Entrepreneurs
Short time requirements of in loan application processing and approval.
Authority granted to the branch manager to avail excess limit to a client in sudden need.
A very well organized Credit Unit.
Correspondence with most of the countries of the world.
Quick understanding of customer needs
Efficient and effective means of determining value of the client's properties
Capability of doing online banking, internet banking and SMS banking
Strong procedure in selection of new borrow
Clearly defined measure in dealing with foreign exchange transaction.
WEAKNESSES
High cost of fund
Lack of sufficient field officer to sell different products of the bank
High interest charged
Security and collateral requirement while disbursing the loans
Fishery, poultry, dairy and agricultural sector which are largest business sectors of the country are left out of the target market for loans and advances
Lack of strong recovery team.
More dependency rests on government sources for deposit mobilization.
The techniques specified for credit appraisal is not sufficient
OPPORTUNITIES
Rising of new business venture and prospective entrepreneurs
Bank's attractiveness and goodwill in the current market.
Collection of huge foreign remittance from expatriate Bangladeshis.
Bank's business expansion to prospective remote areas.
Government positive attitude towards low classification.
THREATS
Increased competition imparted new market participants in the banking industry
Newer banks with diversity and flexibility to charge variable interest rates to different loan applicants
Banks with source of low cost fund are getting much better position in SME financing
Govt. regulations over banking industry.
Chapter 3
General Banking
General Banking
General banking is the front-side banking service department. It provides those customers who come frequently and those customers who come one time in banking for enjoying ancillary services. The officers of this department have to perform several kinds of tasks. These are as follows:
1) Account opening and close.
2) Collection of cash, cheques from customers.
3) Issuing of FDR, pay orders, cheque books and demand draft.
4) Assisting customer to open various deposit scheme.
5) Conducting clearing house activities.
6) Collection of local and outward bills.
DBL General banking is divided into five sections
1) Account opening section.
2) Bills and clearing section.
3) Remittance section.
4) Deposit section.
5) Cash section.
Account Opening Section
Under this section, DBL Officer opens different types of accounts on the request of clients. The procedure of opening account is given below.
Procedure for Opening of Accounts
Before opening of a current or savings account, the following formalities must be completed by the customer:
1. Application on the prescribed form
2. Furnishing photographs
3. Introduction by an account holder
4. Putting specimen signatures in the specimen card
5. Mandate if necessary
6. National ID Card
After fulfilling the above formalities, DBL provides the customer a pay-in-slip book and a checkbook.
Application Form for Current/ Savings Account
Followings are the contents of the application form for opening Savings or Current account in DBL-
1. Type of the Account: Individual/ Joint/ Proprietorship/ Partnership/ Limited Company/ Club/ Society/ Co-operatives
2. Name of the Applicant(s)
3. Father's/ husband's Name
4. Present Address
5. Permanent Address
6. Number, Date of issue, Date of Expiry & Place of Issue of Passport (if any)
7. Date of Birth
8. Nationality
9. Occupation
10. Nominee (s)
11. Special Instruction of Operation of the Account (if any)
12. Initial Deposit
13. Specimen Signature (s) of the Applicant (s)
14. Introducer's Information (Name, Account Number, Specimen Signature)
In case of Join Account
a) Operation instruction of the account
b) Signature (s)
In case of Partnership Account
a) Partner's Signature
b) Partner's Name ——-
The following formality along with the documents is to be completed before opening an account:
a) Two copies of photograph of the Applicant duly attested by the Introducer.
b) Two copies of photograph of the Nominee duly attested by the Applicant.
c) Passport No/ Voter Id No / National Id No/ TIN No/ VAT Reg. No/ Driving License No.
d) Introducer's signature on Account Opening Form to be verified by an officer under full signature.
e) Work permits license no.
In case of joint account, operational instructions are to be signed by the Join Account Holders.
In case of Club/ Society
a) Up to date list of office bearers.
b) Certified copy of Resolution for opening and operation of account.
c) Certified copy of By-laws & Regulations/ Constitution.
d) Copy of Government approval (if registered.)
In case of Co-operative Society/ societies Limited
a) Copy of By-laws duly certified by the Co-operative officer.
b) Up to date list of office bearers.
c) Resolution of the Executive Committee as regards of the account.
d) Certified copy of Certificate of Registration issued by Registrar, Co-operative Societies.
In case of Non- Government College/School/ Madrasha/ Muktab
a) Up to date list of the Governing Body/ Managing committee.
b) Copy of resolution of the Governing Body/ Managing Committee.
In case of Trustee Board
Prior approval of Head Office of the Bank.
a) Certified copy of Deed of Trust, up to date list of members of the Trustee Board and Certified copy of the Resolution of Trustee Board to open & operate the account.
In case of Limited Company
a) Certified true copy of the Memorandum & Articles of Association of the company.
b) Certificate of Incorporation of the company for inspection and return with a duly certified photocopy for bank's records.
c) Certificate from the Registrar of the Joint Stock Companies that the company is entitled to commence business (in case of Public limited Co. for inspection and return) along with a duly certified photocopy for Bank's records.
d) Latest copy of Balance Sheet.
e) Extract of Resolution of the Board. General Meeting of the company for opening the account and authorization for its operation duly certified by the Chairman/ Managing Director of the company.
f) List of Directors with address (a latest photocopy of the form-xii).
g) Authorized signature.
h) Name.
GENERAL CONDITIONS OF GOVERNING CURRENT / SAVINGS ACCOUNT
(a) Minimum Balance to be maintained in current account Tk.5,000 /- and in Savings account Tk. 500/- .
(b) A suitable instruction by an introducer acceptable to the Bank is required prior to opening an account.
(c) Recent photographs of the Account openers duly attested by the Introducer must be produced.
(d) Recent photographs of the nominee duly attested by the account opener.
Deposits Accepted By DBL
DEPOSITS THAT ARE TAKEN BY DBL ARE
(a) Current Deposit
(b) Saving Deposit.
(c) Fixed deposit Receipts (FDR).
(d) Short Term Deposit (STD).
(e) Bearer Certificate Deposit (BCD).
(f) Deposit Pension Scheme (DPS).
Theoretically, total deposits are divided into categories on the basis of withdrawal procedure. Time deposit & demand deposit. In case of demand deposit money is withdrawn on demand. It includes current deposit & saving deposit. On the other hand, a deposit which is payable at a fixed date or after a period of notice is a time deposit; DBL accepts time deposit, for example, FDR. Short Term Deposit (STD) is hybrid A/C in which the features of current and saving account exist. In short Term Deposit account the deposit should be kept for at least seven days to get interest. The interest offered for STD is less than that of saving deposit. In DBL, various big companies, Organizations, government departments keep money in STD accounts. Frequent withdrawal is discouraged and requires prior notice.
Interest rate for STD Account – 4.00% (Half years compounding). In DBL, usually customers give an instruction the Bank that their current account will be debited whenever its deposited amount crosses a certain limit and this amount will be transferred to the STD account. So bank follows this instruction by giving following entries.
Customer's Current A/C —————Debit.
Customer's STD A/C ——————Credit.
BEARER CERTIFICATE OF DEPOSIT (BCD)
The objective of BCD is to convert black money into white and to reduce Hundi business. Bearer Certificate of Deposit account is almost same as Fixed Deposit account. But in case of BCD account no name and address are mentioned, the customer opens this type of account as a bearer, any person who bears the BCD receipt can encash it. Another difference of BCD with FDR is that the customer deposits the money deducting the interest. At the maturity he withdraws the total money for which he opened the BCD account.
INTERESTS RATE ON BCD ACCOUNT IS SAME AS FIXED DEPOSIT ACCOUNT
For 3 months @ 8.00%
For 6 months @ 8.24%
For 1 Year or above @ 8.5%
ACCOUNTING TREATMENT IN CASE OF ISSUING OF BCD
Cash A/c Debit.
BCD A/c Credit.
ACCOUNTING TREATMENT IN CASE OF ENCASHMENT OF BCD
BCD A/c ………………………….Dr.
Excise Duty on Deposit ……..Cr.
Tax on Interest ………………….Cr.
Cash A/C ………………………….Cr.
In a very recent circular of the central Bank i.e. Bangladesh Bank directed all commercial bank's not to open any BCD Account due to preventive measures and protection of Money Laundering.
BILLS AND CLEARING SECTION
There are two types of cheque which are-
1. Inward Clearing Cheque
2. Outward Clearing Cheque.
INWARD CHEQUES
Inward cheques are those ones drawn the respective branch which have been presented on other banks and will be cleared / honored through the clearing house of Bangladesh Bank. For example the cheques drawn on DBL Bangshal Br. Then the cheque is called inward cheques of DBL Bangshal Br. Accounting treatment:
Customer's A/C Debit.
DBL General A/C Credit.
OUTWARD CHEQUES
Outward cheques are those ones drawn on other bank branches which are presented on the concerned branch for collection through clearing house of Bangladesh Bank. These cheques are called outward cheques. For example, the cheques drawn on Mercantile Bank Ltd, Kawran Bazar Branch has been presented on DBL Bangshal Branch. This cheque is called the outward cheques of DBL Bangshal Branch. Hence it is said that the cheques which is the inward cheques of one bank is the outward cheques of another bank.
Whenever a cheque is brought to the collection the concerned Officer does two functions:-
i. Giving the special crossing with "Dhaka Bank Ltd Bangshal Branch Dhaka"
ii. Endorsed by the collecting bank.
The following table is showing endorsement of instrument in DBL;
ENDORSEMENT
Payee's A/C credited pay to Mr. XXXXX
Received payment
Payee's A/C credited Pay to DBL. Mr., XXXXXX
Payee's A/C credited pays Mr. XXXX of DBL
Payee's A/C will be credited on realization Bills for Collection
OUTWARD BILLS FOR COLLECTION (OBC)
By OBC, we mean that those cheques drawn on other banks which are not within the same clearing house. Officer gives OBC seal on this type of cheques and later sends a letter to the manager of the branch of the same bank located in the branch on which cheques has been drawn. After collection of that bill branch advises the concerned branch in which cheques has been presented to credit the customer account through Inter Branch Credit Advice (IBCA).
In absence of the branch of the same bank, officer sends letter to manager of the bank on which the cheques is drawn. That bank will send pay order in the name of the branch. This is the procedure of OBC mechanism.
CLEARING
The scheduled banks clear the cheques drawn upon one another through the clearinghouse of Bangladesh Bank. DBL is a scheduled Bank. According to the Article 37 (2) of Bangladesh Bank Order, 1972, the banks which are the member of the clearinghouse are called as Scheduled Banks. This is an arrangement by the central bank where everyday the representative of the member banks gathers to clear the cheques. The place where the banks meet and settle their dues is called the clearinghouse. The clearinghouse sits for two times a working day.
The DBL Bangshal Branch. sends the instruments through Inter Branch Debit Advice (I.B.D.A). DBL Bangshal Branch. acts as an agent in this case. For this, Bangshal Branch gives the following entries,
DBL General A/C (Bangshal Br.) —————Dr.
Customer's A/C————————————-Cr.
If the instrument is dishonored, the instrument is returned to the Bangshal Branch through I.B.D.A. along with the following entries,
Customer's A/C————————————-Dr.
DBL General A/C————————————Cr.
RECEIVING CHEQUES FOR COLLECTION
In DBL, cheques of its customers are received for collection from other banks. In case of receiving cheques, following points should be checked very carefully-
a) The cheques should not carry a date older than the receiving date for more than 6 months. In that case it will be a 'stale cheque' and it will not be allowed for collection. Again the date of the cheque should not be more than 1 day's forward than the receiving date.
b) The amount in figures and words in both sides of the pay-in-slip should be same and it should also be same with the amount mentioned in figures and words in the cheque.
c) The name mentioned in the cheque should be same in both sides of the pay-in-slip and it should be the same with the name mentioned in the cheque.
d) The cheque must be crossed.
CHEQUES AND CROSSING
A "Cheques" is a bill of exchange drawn on a specified banker and not expressed to be payable otherwise than on demand. [According to section-6, negotiable Instrument Act, 1881.]
A cheque may be classified into:
a) An open cheque which can be presented for payment by the holder at the counter of the drawer's bank.
b) A crossed cheque which can be paid only through a collecting banker.
Crossing Cheque: A cheque is said to be crossed when two transverse parallel lines with or without any words are drawn across the face. Crossing may be general, special or restrictive.
ISSUING CHEQUE BOOK
Following procedures are maintained by DBL, Bangshal Branch for issuing Cheque Book.
(a) Firstly the customer will fill up the cheque requisition form.
(b) The leaves of the Cheque Book under issue are counted to ensure that all the leaves and the blank requisition slip are in tact.
(c) The officer writes A/C number and Branch name on all the leaves of the checkbook.
(d) The name and the A/C number of the customer are than entered in the checkbook register against the particular checkbook series.
(e) Then the officer sightseer, checkbook, and requisition slip.
(f) Lastly the checkbook is handed over to the customer after taking acknowledgement on requisition slip.
A cover file containing the requisition slip is effectively preserved as vouchers. If any defect is noticed by the ledger keeper, he makes a remark to that effect on the requisition slip and forward it to the cancellation officer to decide whether a new checkbook to be issued to the customer or not.
REMITTANCE OF FUNDS
Remittance of funds means transfer of money from one place to another through the banking channel. Remittance of funds is ancillary services of DBL like other commercial banks. It aids to remit fund from one place to another place on behalf of its customers as well as non- customers of bank. DBL has its branches in the major cities of the country and therefore, it serves as one of the best mediums for remittance of funds from one place to another.
The main instruments used by DBL, Bangshal Branch for remittance of funds.
-Pay Order/ Banker's check.
-Demand Draft.
-Telegraphic Transfer.
BANK'S CHEQUE/ PAY ORDER
The Pay-Order is an instrument issued by bank, instructing itself a certain amount of money mentioned in the instrument taking amount of money and commission when it is presented in bank. Only the branch of the bank that has issued it will make the payment of pay order. The banker's cheque must come to the branch for payment wherever it is presented.
ISSUING OF PAY ORDER
The procedures for issuing a Pay Order are as follows:
1. Deposit money by the customer along with application form.
2. Give necessary entry in the bills payable (Pay Order) register where payee's name, date, PO no, etc is mentioned.
3. Prepared the instrument.
4. After scrutinizing and approval of the instrument by the authority, it is delivered to customer. Signature of customer is taken on the counterpart.
A customer can purchase PO in different modes:
1. By cash: Currently it is not permitted by the DBL, Head Office.
2. By account:
3. By transfer:
4.
PO A/C is the current liabilities of bank, which is acquired to be discharged by beneficiaries against cash or through an account.
Bills Payable (PO)……………Dr.
Customer A/C………………Cr.
BANK DRAFT/DEMAND DRAFT
A DD is an order to pay money drawn by one office / branch of the bank upon other office/branch to the same bank for a sum of money payable to order on demand.
ISSUANCE OF DEMAND DRAFT
• Application in prescribed form (Cr. Voucher)
• Cash deposit/ account debit (with comm./ VAT/ Tel charges
• Draft preparation
• Entry into DD issuing register
• Insert the serial number beside printed number in the DD block
• Write printed and serial number of DD on the application form
• Punched the amount on DD with protect graph
• Apply test no. if applicable
• Check and sign by two authorized (PA holder) officer
• Crossed/ open as per desire of the customer
• Handover to customer after due acknowledgement
• Issue a cost memo (if customer desire)
• Send telegram (if applicable)
• Prepare credit advice favoring paying branch (drawee) and send it in time.
ACCOUNTING PROCEDURES FOR DD
(a) DURING ISSUANCE OF DD
Dr. Customer A/C or Cash
Cr. HO A/C paying Br.
Cr. Income A/C DD commission
Cr. Suspense A/C VAT
(b) DURING PAYMENT OF DD
Dr. HO (IBTA), A/C; Issuing Br. (Responding entry)
Dr. B/P DD Payable A/C
S/D A/C DD paid W/A
Cr. Customer A/C or Cash
MAIL TRANSFER (MT) OR TELEGRAPHIC TRANSFER (TT)
Mail transfer system is an arrangement by the banks to remit funds of the customers from one place to another through ordinary postal channel. Banks instruct their concerned branch to pay a certain amount to a specified person or to his order.
TELEGRAPHIC/TELEX TRANSFER (TT)
Sometimes people are in urgent need of remitting money from one place to another. In such cases, they prefer to remit money through Telegraphic / Telex Transfer (TT). It is an internal arrangement by the banks to remit funds through telex messages instead of postal message. The TT application form has to be duly filled in and signed by the applicant. After receipt of cash or after passing necessary transfer entries usual acknowledgement on standard cost memo is issued to the applicant and actions are taken for issuance of TT.
ISSUING OF TT
DBL follows the following procedures
i) The customer deposits money with DBL to be sent.
ii) The customer obtains a cash memo containing TT serial number.
iii) TT serial number, notifying part name is mentioned in the telex message.
iv) The Telex Department confirms transmission of the telex.
ACCOUNTING ENTRIES FOR TT
Cash A/C/ Client's A/C —————————Dr.
DBL General A/C (Bangshal Branch)————–Cr.
PROCEDURES FOR THE INCOMING TT
After receiving the telex, it is authenticated by test. TT Serial number is verified by the "TT in-Concern branch" register. The following entries are given in the vouchers,-
DBL General A/C (Bangshal Br.)—————Dr.
Client's A/C——————————————Cr.
Tk. 50/= is taken as postal charge. The minimum commission is Tk. 50/= or o.15% of the amount whichever is higher.
FIXED DEPOSIT
Fixed deposit is one, which is repayable after the expiry of a predetermined period fixed by him. The period varies form 3 months to 1 year. These deposits are not repayable on demand but they are withdrawable subject to a period of notice. Hence, it is a popularly known as 'Time Deposit' or 'Time Liabilities". Normally the money on a fixed deposit is not repayable before the expiry of a fixed period.
Before opening a Fixed Deposit Account a customer has to fill up an application form which contains the followings:
a) Amount in figures
b) Beneficiary's name and address
c) Period
d) Rate of interest
e) Date of issue
f) Date of maturity
g) Instructions:
– To be renewed automatically with interest for the next period.
– Not to be renewed for next period.
– Pay interest to account no. (——-) on maturity
h) Special instruction
i) How the account will be operated (singly or jointly)
j) Signature (s)
k) F.D.R. no.
Then a FDR account is opened and it is recorded in the FDR Register which contains the following information,-
a) FDR A/C no.
b) FDR (Fixed Deposit Receipt) no.
c) Name of the FDR Holder with address
d) Maturity period
e) Maturity date
f) Interest rate
In case of Fixed Deposit Account the Bank needs to maintain a cash reserve. So DBL offers a high interest rate in Fixed Deposit accounts. The Interest rates followed by DBL in Fixed Deposit accounts are,-
For 1 Month @ 3.00%
For 3 Months @ 8.00%
For 6 Months @ 8.24%
For 1 year or above @ 8.5%
Table 01: Interest rate for FDR
But in a very exception case this rate of interest is flexible case to case basis. This rate is the Bank's internal policy not controlled by the Central Bank.
The FDR becomes renewed automatically in DBL if the customer does not encash it within 7 days of maturity. In case of encashment of F.D.R in maturity, following accounting treatments are given:
Excise Duty on FDR——————–Dr.
Income Tax on interest —————–Dr.
FDR A/C———————————-Dr.
Cash A/C———————————-Cr.
Interest on FDR A/C——————–Cr.
If the customer wants to draw the interest only, then following entries are given-
Interest on FDR A/C——————–Dr.
Cash A/C———————————-Cr.
In case of 'before maturity enactment' interest is calculated for the days from the date of opening the FDR account in a Saving A/C. rate of interest.
CASH SECTION
The cash section of any branch plays very significant role in general banking department because, it deals with most liquid assets. The DBL Bangshal Br. has an equipped cash section with modern electronic machinery with fully computerized environment and gives one stop counter service. This section receives cash from depositors and pay cash against cheques, draft, PO, and pay in slip over the counter.
RECEIVING CASH
Any people who want to deposit money will fill up the deposit slip and give the form along with the money to the cash officer over the counter. The cash officer counts the cash and compares with the figure written in the deposit slip. Then he put his signature on the slip along with the 'cash received' seal and records in the cash receive register in the computer against A/C number.
At the end of the procedure, the cash officer passes the deposit slip to the counter section for posting purpose and delivers duplicate slip to the clients.
ACCOUNT TREATMENT
Particulars Dr./Cr.
Cash A/C Dr.
Customer's A/C Cr.
Table 02: Account Treatment
DISBURSHING CASH
The customer who wants to receive money against cheque comes to the payment counter and presents his cheque to the officer. He verifies the following information-
a) Date of the cheque
b) Signature of the A/C holder
c) Material alteration
d) Whether the cheque is crossed or not
e) Whether the cheque is endorsed or not
f) Whether there is any difference between the amount in figure and in word.
Then he checks the cheque from computer for further verification. Here the following information is checked;
1) Whether there is sufficient balance or not
2) Whether there is stop payment instruction or not
3) Whether there is any legal obstruction (Garnishee Order) or not
After checking everything, if all are in order the cash officer gives amount to the hold and records in the paid register.
ACCOUNT TREATMENT
Particulars Dr./Cr.
Customer's A/C Dr.
Cash A/C Cr.
The cash section of DBL deals with all types of negotiable instruments, cash and other instruments and treated as a sensitive section of the bank. It includes the vault which is used as the store of cash instruments. The vault is insured up to Tk.01 (one) Crore. If the cash stock goes beyond this limit, the excess cash is then transferred to Bangladesh Bank. When the excess cash is transferred to DBL Bangladesh Bank, the cash officer issues IBDA.
ACCOUNT TREATMENT
DBL General A/C Dr.
Cash A/C Cr.
When cash is brought from DBL Head Office.
ACCOUNT TREATMENT
Cash A/C Dr.
DBL General A/C Cr.
LOCKER SERVICE
DBL is providing facility of locker service for the purpose of safeguarding the valuable property of customers. The person or organization that has any account in bank branch can enjoy this service. They keep their valuable assets in banker's custody. Customers have right to look after with a key of their individual locker provided by bank.
CLOSING OF AN ACCOUNT
For two reasons, one can be closed. One is by banker and other is by the customer.
By banker: If any customer doesn't maintain any transaction within six years and the A/C balance becomes lower than the minimum balance, banker has the right to close an A/C.
By customer: If the customer wants to close his A/C, he writes an application to the manager urging him to close his A/C.
Different procedures are followed in cash of different types of A/C to close. Fixed deposit A/C is closed after the termination of the period. BCD A/C is closed when the certificate is surrendered.
CLOSING PROCESS FOR CURRENT & SAVINGS A/C
i. After receiving customer's application the officer verifies the balance of the A/C.
ii. He then calculates interest and other charges accumulated on the A/C.
iii. If it bears a credit balance, the officer writes advice voucher. He gives necessary accounting entries post to accounts section.
iv. The balance is returned to the customer. And lastly the A/C is closed.
But in practice, normally the customers don't close A/C willingly. At times, customers don't maintain any transaction for long time. Is this situation at first, the A/C becomes dormant and ultimately it is closed by the bank.
EXTRACT
Extract is a statement of all originating and responding transactions among inter –branches through inter branches debit and credit advice. At the end of the day, all the debit and credit advices of different department come to accounts department. It makes extract in light of all advices.
Actually extract shows the balance of DBL Bangshal Br. General A/C. The objective of preparing it is to know how many transactions have been originated and responded by the respective branch per day. Branch has to send it its Head Office keeping one photocopy.
DEBIT VOUCHER
For making cash payment like entertainment, conveyance, and account department writes a debit voucher. Amount is withdrawn through cash section by presenting debit voucher.
STATEMENT OF AFFAIRS
Accounts section prepares the statement of affairs for finding the profit /loss as well as amount of assets and liabilities of concerned branch per day. Theoretically, it is called financial statement and has two parts:
"Income and Expenditure A/C.
"Statement of assets & liabilities.
AMORTIZATION AND DEPRICIATION
Amortization is the allocation of the cost of an intangible asset to expense. For example; prepaid expenditure, prepaid insurance and goodwill etc. Amortization schedule is determined by the decision of management.
Depreciation is a process of cost allocation of assets not a process assets valuation.
a) Fixed Assets have been show at cost less accumulated Depreciation.
b) Depreciation has been charged on straight-line method at the following rate on cost of assets for the full year irrespective of their date of purchase.
Particulars of assets
________________________________________ Percentages
________________________________________
Furniture & fixture 10%
Office Appliance 20%
Office Decoration 10%
Electric Equipment 20%
Computer 20%
Vehicle 20%
Table 03: Rate of interest of particular assets
FUNCTIONS PROVIDED BY ACCOUNTS DEPARTMENT
Like all other Banks, in DBL Accounts Department is regarded as the nerve Center of the bank. In banking business, transactions are done every day and these transactions are to be recorded properly and systematically as the banks deal with the depositors' money. Any deviation in proper recording may hamper public confidence and the bank has to suffer a lot otherwise. Improper recording of transactions will lead to the mismatch in the debit side and in the credit side. To avoid these mishaps, the bank provides a separate department whose function is to check the mistakes in passing vouchers or wrong entries or fraud or forgery. This department is called as Accounts Department.
Besides the above, the Bank has to prepare some internal statements as well as some statutory statements which are to be submitted to the central bank. Accounts Department prepares these statements also. The department has to submit some statements to the Head Office, which is also consolidated by the Head Office later on.
The tasks of the Accounts Department of DBL Bangshal Br. may be seen in two different angles:
A. Daily Tasks.
B. Periodical Tasks.
Chapter 4
Loans Advances
Credit
Credit may be defined broadly or narrowly. Broadly, credit is finance made available by one party (lender, shareholder / owner) to another (borrower buyer, corporate or non-corporate firm). Narrowly, credit is simply the opposite of debt. Debt is the obligation to make future payments. Credit is the claim to receive those payments.
The word credit comes from the Latin word "Credo" meaning "I believe". It is a lender's trust in a person's/ firm's/ or company's ability or potential ability and intention to repay. In other words, credit is the ability to command goods or services of another in return for promise to pay such goods or services at some specified time in the future. For a bank, it is the main source of profit and on the other hand, the wrong use of credit would bring disaster not only for the bank but also for the economy as a whole.
Simply 'credit is a promise of future payment in kind or in money given in exchange for present money, goods, or services'. In other way- 'In general, credit means the granting of a period of time by a creditor to a debtor at the expiration of which the later must pay the debt due'.
In a credit economy, that is economy with borrowings & lending each spending unit can be placed in any of the three categories:
• Deficit spenders,
• Surplus spenders,
• Balanced spenders
The chief function of credit is to relax balanced budget constraint that allows promoting savings, investment, and better allocation of resources and growth of economy.
Bank Credit
Bank is financial intermediary that provides finance from surplus units to deficit spenders of an economy. Bank accepts deposits from individuals & institutions and makes loans.
IMPORTANCE OF BANK CREDIT
MACRO ASPECT
i. Credit influences & is influenced by quantity of money, level of economic activity (GNP) imports and net foreign assets.
ii. Credit provides vital linkage among Govt. sector, Private sector, financial sector and foreign sector.
iii. Credit is an important determinate of money creation and hence of production, consumption and national income.
iv. Credit influences imports and capital movements, and hence the outcome of balance of payment.
v. The macro aspect of credit planning has to take into account the overall volume of credit expansion to meet the requirements of the economy in the context of over all increase in money supply & the trends in real output.
vi. It may be necessary to direct special credit facilities to certain lines of high priority. Emphasis should be given on reduction of regional and sectional imbalances are the availability of banking facilities and on the credit particularly to the weaker sections and neglected sectors.
IMPORTANCE OF CREDIT
MICRO ASPECTS
i. Credit influences behavior of economic sectors (industry, agriculture) and behavior of economic agents (business, financial institutions, household).
ii. Two-way relationship between credit & deposit.
iii. Credit is the most important activity of banks, because interest on loans constitutes the major part of Bank income. Hence vital importance of making good loans.
There should be greater efforts on the part of individual Bank to formulate appropriate Credit budgets at the micro level in the context of available resources and in the light of directions and guidelines provided by the Bangladesh bank.
CREDIT POLICYOF DBL
One of the most important ways, a bank can make sure that its loan meet organizational and regulatory standards and they are profitable is to establish a loan policy. Such a policy gives loan management a specific guideline in making individual loans decisions and in shaping the bank's overall loan portfolio. In Dhaka Bank Limited there is perhaps a credit policy but there is no credit written policy.
CREDIT PRINCIPLES
In the feature, credit principles include the general guidelines of providing credit by branch manager or credit officer. In DHAKA Bank Limited they follow the following guideline while giving loan and advance to the client. Credit advancement shall focus on the development and enhancement of customer relationship. All credit extension must comply with the requirements of Bank's Memorandum and Article of Association, Banking Company's Act, Bangladesh Bank's instructions, other rules and regulation as amended from time to time.
Loans and Advances shall normally be financed from customer's deposit and not out of temporary funds or borrowing from other banks.
The bank shall provide suitable credit services for the markets in which it operates.
It should be provided to those customers who can make best use of them.
The conduct and administration of the loan portfolio should contribute with in defined risk limitation for achievement of profitable growth and superior return on bank capital.
Interest rate of various lending categories will depend on the level of risk and types of security offered.
GLOBAL CREDIT PORTFOLIO LIMIT OF DBL
The feature which deals with how much total deposit would be used as lending the proportion of long term lending, customer exposure, country exposure, proportion of unsecured facility etc. the most notable ones are:
The aggregate of all cash facility will not be more than the 80% of the customers deposit
Long term loan must not exceed 20% of the total loan portfolio.
Facilities are not allowed for a period of more than 5 (Five) years.
Credit facilities to any one customer group shall not normally exceed 15% of the capital fund or TK. 100 crores.
TYPES OF LOANS AND ADVANCES OF DBL
Credit may be classified with reference to elements of time, nature of financing and provision base.
CLASSIFICATION ON THE BASIS OF TIME
On the basis of elements of time, bank credit may be classified into three heads, viz.
Continuous loan
Demand loan
Term loan
CONTINUOUS LOANS
These are the advances having no fixed repayment schedule but have an date at which it is renewable on satisfactory performance of the clients. Continuous loan mainly includes following:
Overdrafts
SOD against easily en-cashable securities such as FDR, bond, and shares as per rules and regulation in force.
SOD against work Orders (As working capital finance)
Cash Credit
Cash Credit (Pledge).
Cash Credit (Hypothecation)
DEMAND LOAN
In opening letter of credit (L/C), the clients have to provide the full L/C amount in foreign exchange to the bank. To purchase this foreign exchange, bank extends demand loan to the clients at stipulated margin. No specific repayment date is fixed. However, as soon as the L/C documents arrive, the bank requests the clients to adjust their loan and to retire the L/C documents. Demand loans mainly includes following:
LIM (Loan against imported merchandise)
PAD ( Payment against Document)
LTR (Loan against trust receipt)
PCC (Packing cash credit)
ECC (Export cash credit)
Cash Incentive
EDF (Export Development Fund)
TERM LOANS
These are the advances made by the bank with a fixed repayment schedule. Terms loans mainly includes ", "Lease finance"," Hire purchase", and "Staff loan". The term loans are defined as follows:
Short Term Loan: Upto 12 Months
Mid tern Loan: More than 12 months & up to 36 months
Long Term Loan: More than 36 months
CLASSIFICATION ON CHARACTERISTICS OF FINANCING OF DHAKA BANK LIMITED (DBL)
CLASSIFICATION ON CHARACTERISTICS OF FINANCING
Funded Non-funded
Overdraft Letter of Credit
Loan Bank Guarantee
Consumer Credit
LTR
PAD
Cash Credit (Pledge & Hypo)
Staff Loan
Term Loan
Packing Credit
The varieties used by DBL are briefly described below with the common terms and condition. Banks generally offer different kinds of credit facilities to the customers.
The credit facilities of DBL may be broadly classified into five categories. They are as follows:
Loan
Cash credit
Overdraft
Bills purchased and discounted
Consumer loan/personal loan
They are discussed below accordingly
LOAN
In case of loan the banker advances a lump sum for a certain period at an agreed rate of interest. The entire amount is paid on an occasion either in cash or by crediting in his current account, which he can draw at any time. The interest is charged for the full amount sanctioned whether he withdraws the money from his account or not. The loan may be repaid in installments or at expiry of a certain period. Loan may be demand loan or a term loan.
Eligibility: Loans are normally allowed to those parties who have either fixed source of income or who desire to pay it in lump sum.
Interest Rate: 12%-15% per annum (Quarterly paid).
CASH CREDIT
In Cash credit, banker specifies a limit called the cash credit limit, for each customer, up to which the customer is permitted to borrow against the security of tangible assets or guarantees. Cash credit is given through the cash credit account. The purpose of cash credit is to meet working capital need of traders, farmers and industrialists.
Cash credit in true sense is against pledge of goods. Cash credit is also allowed against hypothecation of goods. In case of hypothecation the ownership and possession of the goods remain with the borrower. By virtue of the hypothecation agreement bank can take possession of the goods hypothecated, if the borrower defaults.
Rate of Interest: 12%-14%.
Renew System: it is renewed in periodic basis (yearly).
OVERDRAFT
Overdrafts are those drawings which are allowed by the banker in excess of the balance in the current account up to a specified amount for definite period as arranged for. These advances are secured The loan holder can freely draw money from this account up to the limit and can deposit money in the account off course, this loan has an expiry date after which renewal or enhancement is necessary for enjoying such facility. Any deposit in the OD account is treated as repayment of loan. Interest is charged as balance outstanding on quarterly basis. Overdraft facilities are generally granted to businessmen for expansion of their business, against the securities of stock-in-trade, shares, debenture, Government promissory notes, fixed deposit, life insurance policies etc.
BILLS PURCHASED AND DISCOUNTED
Banks grant advances to their customers by discounting bill of exchange or pro-note.
Personal Loan (Consumer Credit Scheme)
OBJECTIVES
The objectives of this loan are to provide essential household durable to the fixed income group (Service Holders) and other eligible borrowers. Car loan, loan for house renovation, vacation loan, marriage loan and loan for household equipment well as entertainment products are governed by personal loan program. The Total amount of loans along with the duration in which these loans taken, need to be repaid is given below:
Type of Product Loan Amount (Tk) Lac Tenure
1. Vehicle Up to 7.00 4 to 5 years
2. Household items
for Businessman 1.00 2 years
3.Household items
for Service holders Up to 3.00 2 to 3 years
4. Others Special Considerations Special Considerations
Personal loan is given under personal guarantee of the borrower and another third parson known to the borrower. As this loan is collateral free the rate of interest is little bit high such as 15% to 18%. There is also a processing fee of 1.5% taken at the time of disbursement of the loan.
TYPES OF BORROWER
Borrower must be the customer of the bank holding a bank account. Different types of borrower are given below-
Minor Account & Bankrupt: Cannot Borrow.
Joint Account: With the consent of all a/c holders, bank will lend.
Married Woman: A married woman can borrow for his own business but she can not transfer his liability to her husband.
Executor /Administrator: They normally can not borrow but if the loan is needed for the preservation of the will property, then they can be the borrower, otherwise not.
Lunatic person: Lunatic person will not get loan but bank need certificate of lunacy.
Local Govt: Cannot borrow but for specific purpose can borrow.
Proprietorship: Declaration in Pad and by showing trade license, can borrow from bank.
Partnership: Can borrow by showing resolution for taking loan.
Company: Can borrow by submitting three years financial statement and resolution.
Non-trading concern: non-trading concern will not get loan but their specific unit doing business can borrow from bank.
Govt. Corporation: they need not to take loan and they will not provide loan but can take other facilities.
APPLICATION FOR LOAN
Applicant applies for the loan in the prescribed form of bank. The purpose of this forms is to eliminate the unwanted borrowers at the first sight and select those who have the potential to utilize the credit and pay it back in due time.
Getting Credit information
Then the bank collects credit information about the borrower from the following sources:
1. Personal Investigation
2. Confidential report from other bank/ Head office/Branch/Chamber of commerce
3. CIB report from central bank
SCRUTINIZING AND INVESTIGATION
Bank then starts examination that whether the loan applied for is complying with its lending policy. If comply, than it examines the documents submitted and the credit worthiness. Credit worthiness analysis, ie. analysis of financial conditions of the loan applicant are very important. Then bank goes for Lending Risk Analysis (LRA) and spreadsheet analysis, which are introduced by Bangladesh Bank. According to Bangladesh Bank rule, LRA and SA is must for the loan exceeding Dhaka core.
If these two analyses reflect favorable condition and documents submitted for the loan appears to be satisfactory then, bank goes for further action.
SELECTION OF GOOD BORROWERS
Selecting a good borrower is an important job of a bank branch. As credit always inherent risk and therefore, the bank executive needs to be very careful in selecting a borrower. Principal of sound lending is not sufficient. Banks officer must take some important additional measures to select a good borrower.
For selecting a good borrower, a banker ought to make a study on borrower. That is he has to study at least borrower's 3 C's which refer to:
Character
Capacity
Capital
CHARACTER
Bank must "know the customer" before they make loans, and character is the place to start. Character refers to a combination of qualities that distinguishes one person or a group from another. To some extent, the words character and reputation overlap in meaning. Bank use the term character here to refer to a borrower's honesty, responsibility, integrity, and consistency, from which bank can determine their willingness to repay loans. Evidence of character traits can be found in reports from credit bureaus and credit reporting agencies such as D & B. Bank can also analyze the character of the borrower in the following way:
Who the borrower is and the background of the borrower?
Reputation of the borrower in the business circles, both among his/her friends and competitors?
Are his/her dealings with other businessmen honest?
There any instances where he/she was not sincere in honoring his/her commitments?
Does he indulge in speculative activities?
What is the reputation of the borrower among his employees?
CAPACITY
Capacity means the ability to employ the funds profitably and repay the advance according to the terms and conditions of the sanction. The capacity of the borrower has to be determined and for this reason enquiries will be necessary to find out his qualifications and experience in the line in which he is working. Banks generally require prospective borrowers to submit their financial statements or federal and state income tax statements in order to determine their credit worthiness. Here bankers will analyze his assts and liabilities and try to identify whether he is capable of repaying loan or not. Bankers have to collect information about the borrower as to:
What is his business and when did he start it?
Has he recently shifted to a new line of business?
Has he the required knowledge to carry on the business?
Is he well established in the business, what is the working result or is he still making experiments to make his business steady?
What is the popularity of his products in the market, compared to those of other units in the same industry?
CAPITAL
Capital denotes financial soundness. The borrower must have his own stake in the business; he must take a part of the risk in the business. This is to be done by putting his own money into the business. Whether the borrower has sufficient capital to repay the loan or not bankers must identify this properly.
Above these 3 C's some author use the following C's:
Collateral (Pledge Assets)
Conditions (Economic Conditions)
Compliance (Compliance with laws and regulations)
SELECTING A GOOD BORROWER
Know his credit worthiness ( Through Loan Application)
In fact loan application is a questionnaire on borrower and from it; a clear picture on borrower will be received by the banker. While verifying loan application, banker has to enquire about Business experience, Bank account, Income tax statement, asset-liability statement, CIB, LRA, Banker's opinion, credit report etc.
Bank gets "Exclusive" credit worthiness of borrower by way of verifying the following:
Mode of living of borrower
Visit to Business office
Visit to site of land and building (Securities)
Verify telephone bill.
CREDIT INFORMATION BUREAU (CIB)
The Credit Information Bureau (CIB) of Bangladesh Bank has undertaken the task of collecting, collating and storing detailed credit information from scheduled banks and other financial institutions in its proper prospective so that these can be exchanged among the schedule banks, financial institution and Bangladesh Bank for quick processing of new loan proposals and re-scheduling of existing loans. The CIB has also been supplying credit information to the Government and other national and international organizations who are engaged in the formulation of monetary, economic and credit policy.
As a matter of policy, all the schedule banks are required to submit data on quarterly basis and other financial institution on half- yearly basis on each borrower having outstanding credit facility of Tk. 1.00 lac and above to Bangladesh Bank on a specially designed form (CIB). In addition, Bangladesh Bank also collects information from the schedule banks in respect of big selected borrowers having outstanding of Tk. 1.00 crore and above on monthly basis.
Since the inception of CIB in Bangladesh Bank, various credit information are being collected, processed and distributed to the commercial banks, financial institutions, government officers and security exchange commission,. The information collected by CIB are:
Debtors/ Borrower's Information
Owner's Information
Group/Affiliations Information
Credit/Exposure Matrix or financial Information
Third Party Guarantors Information
CREDIT RISK MANAGEMENT (CRM)
BASEL-1 is a committee formed in Switzerland consisting of Central Bank representatives from leading western countries and chief executives from top corporate bodies who tried to enrich the banks' credit risk management system. They recommend 5 sectors as core risk areas. Those are:
Credit risk
Asset liability risk/Balance sheet risk
Foreign exchange business risk
Internal control and compliance
Money laundering risk
Among these credit risk is the main risky area for a bank. So all the banks are recommended to among these credit risks is the main risky area for a bank. So all the banks are recommended to manage this risk robustly. To manage credit risk robustly, all banks have to strongly formulate:
Credit policy guidelines
Organizational structure
Credit procedural guidelines
CREDIT RATIFICATION AUTHORITY OF DBL
Credit decisions are heart of all credit works. Generally branch manager and the credit in-charge of a branch are held responsible for appraising of a loan proposal. The customer request for credit limit and the credit officer prepares a credit memo and send it to the head office, credit division. After taking all the relevant information from the branch the head office credit division sent the credit memo to the credit committee. Credit committee of DBL is comprised of Managing Director and other top-level executives, that is, DMDs and EVPs. If credit committee is convinced about the merit of the proposal then it is sent the broad of directors. The board is final authority to approve or decline a proposal. The whole process takes a month or more. In DBL broad meeting occurs once in every week.
CREDIT EVALUATION PRINCIPLES
Some principles or standards of lending are maintained in approving loans in order to keep credit risk to a minimum level as well as for successful banking business. The main principles of lending are given below:
LIQUIDITY
Liquidity means the availability of bank funds on short notice. The liquidity of an advance means it repayment on demand on due date or after a short notice. Therefore, the banks must have to maintain sufficient liquidity to repay its depositors and trade off between the liquidity and profitability is must.
SAFETY
Safety means the assurance of repayment of distributed loans. Bank is in business to make money but safety should never be sacrificed for profitability, to ensure the safety of loan. The borrower should be chosen carefully. He should be a person of good character & capacity as well as bank must have to maintain eligible number of security from borrower.
PROFITABILITY
Banking is a business aiming at earning a good profit. The difference between the interest received on advances and the interest paid on deposit constitutes a major portion of the bank income, besides, foreign exchange business is also highly remunerative. The bank will not enter into a transaction unless a fair return from it is assured.
INTENT
Banks sanction loans for productive purpose. No advances will be made by bank for unproductive purposes though the borrower may be free from all risks.
SECURITY
The security offered for an advance is an insurance to fall bank upon incases of need. Security serves as a safety value for an unexpected emergency. Since risk factors are involved, security coverage has to be taken before a lending.
NATIONAL INTEREST
Banking industry has significant roll to play in the economic development of a country. The bank would lend if the purpose of the advances can contribute more to the overall economic development of the country.
PRE-DISBURSHMENT COMPLAINCE
When the credit proposal are approved the credit officer must have to be ensured that the disbursement of the credit facilities must comply with the directions written in the credit policy and circular made by time to time along with checking all the following terms and conditions.
The officer of Loan Administration must collect the acceptance of the customer's of the terms and conditions on the duplicate copy of the sanctioned advice.
They will thoroughly examine and ensure that the subject credit facility does not contradict
to any law, rules and regulation of the country, Bangladesh Bank and Deed of the Mortgage and power of the Attorney to be drafted and executed under the Supervision of the Bank's Legal Advisor.
Lawyers certificate to the effect that all the legal formalities (Equitable/Registered Mortgaged) has been properly created on the land and building in favor of the bank and bank has acquired the effective title of the property.
Registered power of attorney has been collected form the borrower (contractor) assigning the work order favoring the DBL and the power of attorney has been registered with the work order given agency and they have agreed that they will issue all the cheques favoring DBL.
The legal documents of the vehicle have been obtained.
Collection of satisfaction certificate in respect of all the documents both legal and banking from the lawyer.
Entry has been made in the Safe -in and Safe-out register and the documents are preserved.
After being satisfied all the above terms and conditions the credit in-charge will disburse the loan amount to the client.
DOCUMENTATION OF THE LOAN
Documentation is obtaining such agreement where all the terms and condition and securities are written and signed by the borrower. It specifies rights and liabilities of both the banker and the borrower. In documentation each type of advances requires a different set of documents. It also differs with the nature of securities. The documents should be stamped according to the stamp Act. There are no hard and fast rules of documentation and it varies from bank to bank. Generally, the documents are taken in the case of a secured advance by DBL:
i. Demand promissory note: Here the borrower promises to pay the loan as and when demand by bank to repay the loan.
ii. Letter of arrangement.
iii. Letter of continuity.
iv. Letter of hypothecation of goods and capital machinery.
v. Stock Report: This Report is used for OD and CC. In this report, information about the quality quantity of goods hypothecated is furnished.
vi. Memorandum of deposit of title deed of property duly signed by the owners of the property with resolution of Board of Directors of the company owning the landed.
vii. Personal guarantee of the owners of the property.
viii. Guarantee of all the directors of the company.
ix. Resolution of the board of directors to borrow fund to execute documents and completes other formalities.
x. Form no. XVII/XIX for filling charges with the register of joint stock companies under relevant section.
xi. Letter of revival.
xii. Letter of lien for advance against FDR.
SECURITY AND ADVANCES OF DHAKA BANK LIMITED (DBL)
Security against Advances
The different types of securities that may be offered to a banker are as follows:
(a) Immovable property
(b) Movable property
i. Pratiraksha Sanchaya Patra, Bangladesh Sanchaya Patra, ICB unit certificate, wage earner development bond.
ii. Fixed Deposit Receipt
iii. Shares quoted in the Dhaka Stock Exchange and Chittagong Stock Exchange.
iv. Pledge of goods
v. Hypothecation of goods, produce and machinery
vi. Fixed assets of manufacturing unit.
vii. Shipping documents.
RELATIONSHIP BETWEEN ADVANCES WITH THE SECURITY
Types of advance
Securities
Loans Lien or various kinds of Sanchaya patras, Govt. Securities, FDR, Collateral of immovable property, shares quoted in stock exchange
Overdraft Pledge or hypothecation of machinery, land and building on which machinery are installed, stock in trade, goods products and merchandise.
Bills purchased Bills itself
SECURITY
Most important function of a bank is to employ its fund by way of loans and advances to its customers. Banks strength depends considerably on the quality of its assets. Security is obtained as a lien of last defense to fall back up on. By taking security, bank acquires a claim up on the assets of the borrower if repayment is not made as planned.
Security taken by banks may be classified into two broad categories:
Primary security
Collateral security
PRIMARY SECURITY
Primary security is one which is deposited by the borrower himself and thus provides the main cover for the advance made. It can be of two types:
PERSONAL SECURITY
When personal advance is made, the borrower is personally liable to repay the advance for which he executes promissory note, accepts or endorses a bill of exchange and makes personal covenants in mortgage deed or loan agreements. It may be either primary security or secondary security.
IMPERSONAL SECURITY
It is given when a charge is created by way of hypothecation/Pledge/mortgage over the borrower's tangible assets such as goods and commodities, fixed assets, book debts and bills receivables etc.
COLLATERAL SECURITY
A collateral security is a security belonging to and deposited by borrower himself or by a third party to secure loans and advances. Collateral security may be classified into two types. Those are:
DIRECT SECURITY
Collateral security obtained from the borrower himself to secure his own account is known as direct collateral security.
INDIRECT SECURITY
Indirect collateral security means any form of security given by a third party to secure a customer's account. A guarantee is an indirect collateral security because it is given by one person to secure another person's indebtedness.
MODES OF CHARGING SECURITY
A wide range of securities is offered to banks as coverage for loan. In order to make the securities available to banker, in case of default of customer, a charge should be created on the security. Creating charge means making it available as a cover for advance. The following modes of charging securities are applied in the Dhaka Bank Limited.
LIEN
A lien is right of banker to hold the debtor's property until the debt is discharged. Bank generally retains the assets in his own custody but sometimes these goods are in the hands of third party with lien marked. When it is in the hand of third party, the third party cannot discharge it without the permission of bank. Lien gives banker the right to retain the property not the right to sell. Permission from the appropriate court is necessary. Lien can be made on moveable goods only such as raw materials, finished goods, shares debentures etc.
PLEDGE
Pledge is also like lien but here bank enjoys more right. Bank can sell the property without the intervention of any court, incase of default on loan, But for such selling proper notice must be given to the debtor. To create pledge, physical transfer of goods to the bank is must.
HYPOTHECATION
In this charge creation method physically the goods remained in the hand of debtor. But documents of title to goods are handed over to the banker. This method is also called equitable charge. Since the goods are in the hand of the borrower, bank inspects the goods regularly to judge it s quality and quantity for the maximum safety of loan.
MORTGAGE
Mortgage is transfer of interest in specific immovable property. Mortgage is created on the immovable property like land, building, plant etc. Most common type of mortgage is legal mortgage in which ownership is transferred to the bank by registration of the mortgage deed. Another method called equitable mortgage is also used in bank for creation of charge. Here mere deposit of title to goods is sufficient for creation of charge. Registration is not required. In both the cases, the mortgage property is retained in the hank of borrower.
TRUST RECEIPT
Generally goods imported or bought by bank's financial assistance are held by bank as security. Bank may release this lien / pledge these goods against trust receipt. This means that the borrower holds goods in trust of the bank; trust receipt arrangement is needed when the borrower is going to sell these goods or process it further but borrower has no sufficient fund to pay off the bank loan. Here proceeds from any part of these goods are deposited to this bank.
CREDIT MONITORING AND REVIEW
It is the last step in credit policy and procedure framework of DBL. Credit monitoring and review is very important, because it ensures proper utilities and repayment of bank fund. Credit monitoring and review feature of DBL is concerned assessing the quality of different type of loan.
Periodic review and follow up should, inter-alia aims at ensuring:
That conduct (turnover, regularity repayment etc) of the borrowing accounts during the period under review has been satisfactory or as expected.
The account is not having excess over limit.
The term and condition of the sanctioned letter are strictly followed.
The value of the collateral security is adequate.
There is not any unfavorable situation in market, economy and political conditions, which may endanger the reliability of the borrower account.
The analysis of borrower's business performance and comparison of the projected and actual to find any deviations.
Apparent profitability from the loans
CREDIT RISK GRADING (CRG)
Credit Risk Grading (CRG) was an important issue in the BASEL 2 Committee. This is a uniform measurement tool for assessing potential risk involved in lending. Bangladesh Bank in 2003 issued guidelines for the commercial banks to follow those Grading System and made the CRG mandatory irrespective of loan amount other than Retail/SME/Agri/Micro Credit. CRG is in actual amended, developed and reproduced form of LRA (Lending Risk Analysis).
CRG applies in two stages
Pre-sanction stage: Sanctioning authority uses CRG to decide whether to lend or not, loan price, extent of exposure, appropriate credit policy, various facilities, risk mitigation tools etc.
Post-sanction stage: To decide the depth of review or renewal, frequency of review, periodicity of grading, other pre-cautions.
CRG SYSTEM
 

Number

Name

Code

Grade

Credit-Worthy

1

Superior

SUP

100%

2

Good

GD

+85%

3

Acceptable

ACCPT

75-84%

4

Marginal/Watchlist

MG/WL

65-74%

No-Lending

5

Special Mention

SM

55-64%

6

Sub-standard

SS

45-54%

7

Doubtful

DF

35-44%

8

Bad & Loss

BL

Less than 35%
OBJECTIVE BASIS OF CLASSIFICATION
In classifying the loan and advance there are four classes in the loan review practiced in Dhaka Bank Limited. They are as follows:
UNCLASSIFIED
The loan account is performing satisfactorily in the terms of its installments and no overdue is occurred. This type of loan and advances are fall into this class.
 SUBSTANDARD
This classification contains where irregularities have been occurred but such irregularities are temporarily in nature. To fall in this class the loan and advance has to fulfill the following factor.
Category of Credit
Time overdue (irregularities)
  

Substandard

S-T Agri & Micro Credit
3 months & above but less than 6 months.
Continuous loan
Demand Loan
Un-recovered for 3 months & above but less than 6 months from the date of the loan is claimed.
  Fixed Term loan
Repayable within 5years: If the overdue installment equals or exceeds the amount repayable within 6 months.
Repayable more than 5years: If the overdue installment equals or exceeds the amount repayable within 12 months.
The main criteria for a substandard advance is that despite these technicalities or irregularities no loss is expected to be arise for the bank. These accounts will require close supervision by management to ensure that the situation does not deteriorate further.
DOUBTFUL
This classification contains where doubt exists on the full recovery of the loan and advance along with a loss is anticipated but can not be quantifiable at this stage. Moreover if the state of the loan accounts fall under the following criterion can be declared as doubtful loan and advance.
Category of Credit
Time overdue (irregularities)
  

Doubtful

S-T Agri & Micro Credit
6 months & above but less than 12 months.
Continuous loan
Demand Loan
Un-recovered for 6 months & above but less than 12 months from the date of the loan is claimed.
  Fixed Term loan
Repayable within 5years: If the overdue installment equals or exceeds the amount repayable within 12 months.
Repayable more than 5years: If the overdue installment equals or exceeds the amount repayable within 18 months.
BAD AND LOSS
A particular loan and advance fall in this class when it seems that this loan and advance is not collectable or worthless even after all the security has been exhausted. In the following table the criteria to be fulfilled to fall in this category are summarized:
Category of Credit
Time overdue (irregularities)
  

Bad and Loss

S-T Agri & Micro Credit
Not recovered within more than 12 months.
Continuous loan
Demand Loan
Un-recovered more than 12 months from the date of the loan is claimed.
  Fixed Term loan
Repayable within 5years: If the overdue installment equals or exceeds the amount repayable within 18 months.
Repayable more than 5years: If the overdue installment equals or exceeds the amount repayable within 24 months.
PROVISIONING
SPECIFIC PROVISION
Head office credit division prepares a list of credit accounts, which are considered to be totally or partially be unrecoverable & keeps a provision against the outstanding loans.
Rate of Provisioning
Dhaka Bank Limited in the time of loan provisioning to get the real picture of the income mainly follows the Bangladesh Bank guideline. The rate of provisioning used in DBL is summarized in the following table.
RATE OF PROVISION
Class
Short Term Agriculture credit. 
All other credit

Rate of Provisions

Unclassified (UC)
5%
1%
Substandard (SS)
5%
20%
Doubtful
5%
50%
Bad or Loss
100%
100%
LENDING RISK ANALYSIS (LRA): MODERN TECHNIQUE OF CREDIT APPRAISAL
The Financial Sector Reform Project (FSRP) has designed the LRA package, which provides a systematic procedure for analyzing and quantifying the potential credit risk. Bangladesh Bank has directed all commercial bank to use LRA technique for evaluating credit proposal amounting to Tk. 10 million and above. The objective of LRA is to assess the credit risk in quantifiable manner and then find out ways & means to cover the risk. However, some commercial banks employ LRA technique as a credit appraisal tool for evaluating credit proposals amounting to Tk. 5 million and above. Broadly LRA package divides the credit risk into two categories namely
Business risk
Security risk.
A detail interpretation of these risks and the procedure for evaluating the credit as follows:
BUSINESS RISK
It refers to the risk that the business falls to generate sufficient cash flow to repay the loan. Business risk is subdivided into two categories.
INDUSTRY RISK
The risk that the company fails to repay for the external reason. It is subdivide into supplies risk and sales risk.
SUPPLIES RISK
It indicates that the business suffers from external disruption to the supply of imputes. Components of supplies risk are as raw material, Labor, power, machinery, equipment, factory premises etc. Supply risk is assessed by a cost breakdown of the inputs and then assessing the risk of disruption of supplies of each item.
SALES RISK
This refers to the risk that the business suffers from external disruption of sales. Sales may be disrupted by changes to market size, increasing in competition, change in the regulation or due to the loss of single large customer. Sales risk is determined by analyzing production or marketing system, industry situation, Government policy, and competitor profile and companies strategies.
SECURITY RISK
This sort of risk is associated with the realized value of the security, which may not cover the exposure of loan. Exposure means principal plus outstanding interest. The security risk is subdivided into two major heads i.e. security control risk and security cover risk.
SECURITY CONTROL RISK
This risk refers to the risk that the bank falls to realize the security because of bank's control over the security offered by the borrower i.e. incomplete documents. The risk of failure to realize the security depends on the difficulty in obtaining favorable judgement and taking possession of security. For analyzing the security control risk the credit office is required to verify documentation to ensure security protection, documentation completeness, documentation integrity and proper insurance policy. He/she also conducts site visit to verify security existence. Assessment of security control risk requires analyzing the possibility of obtaining favorable judgement and analyzing the case with which the bank could take the possession and liquidate the securities.
SECURITY COVER RISK
This refers to the risk that the realized value of security is less than exposure. Security cover risk depends on speed of realization and liquidation value. For analyzing security cover risk, the official requires assessing the power of the customer to prolong the legal process and to analyze the market demand for the security For assessment of security control risk, the officials times the time that would require to liquidate the security and assess the risk and estimates the security value at liquidation and assess the risk.
Before completing the LRA form, the relationship manager collects data specially industry specific from published sources and company specific data that not usually published., by personally visiting the company. After collecting the necessary data he/ she prepares financial spreadsheet. This spreadsheet provides a quick method of assessing business trend & efficiency and helps to assess the borrower ability to pay the loan Obligation. Financial spreadsheet includes balance sheet, income statement, cash flow statement and ratios for the purpose of financial statement analysis. Through analyzing data and collected information, the concerned official completes the LRA form and all scores are transferred to the scoring matrix to find the overall risk of lending. The overall matrix provides four kinds of lending risk for decision making viz.  (I) Good (ii) Acceptable (iii) Marginal and (iv) Poor. The bank does not provide any credit request having an over all risk as " marginal" and " Poor" without justification. All credit application rated "Poor" shall require the approval of the Board of Directors regardless of purpose tenor or amount. Therefore bank can minimize the dangers regarding the bad loan and advances through using the LRA.
Chapter 5 
Foreign Exchange 
MEANING OF FOREIGN EXCHANGE
Foreign Exchange means Foreign Currency. It is a process, which is converted one national currency into another and transferred money form one country to another. If we consider 'Foreign Exchange' as a subject, then it means all kind of transaction related to Foreign Currency, as well as currency instruments, such as Draft, MT, TT, TC, and Payment Order & Foreign Trade.
NECESSITY OF FOREIGN EXCHANGE
No country is self-sufficient in this world. Every one is more or less dependent on another, for goods or services. Say, Bangladesh has cheap manpower whereas Saudi Arabia has cheap petroleum. So Bangladesh is dependent on Saudi Arabia for petroleum and Saudi Arabia is dependent on Bangladesh for cheap manpower. People of one country are going to another country for Education, Medical Service etc. One-country export Agricultural commodities, another country exports Industrial products, all these transactions needs Foreign Currency & are related to Foreign Exchange.
FUNCTIONS OF FOREIGN EXCHANGE
The Bank actions as a media for the system of foreign exchange policy. For this reason, the employee who is related of the bank to foreign exchange, especially foreign business should have knowledge of these following functions:
 Rate of exchange works.
How the rate of exchange works.
Forward and spot rate.
Methods of quoting exchange rate.
Premium and discount.
Risk of exchange rate.
Causes of exchange rate.
Exchange control.
Convertibility.
Exchange position.
Intervention money.
Foreign exchange transaction.
Foreign exchange trading.
Export and import letter of credit.
Non-commercial letter of credit.
Financing of foreign trade.
 Exchange Arithmetic
ACTIVITIES OF FOREIGN EXCHANGE
There are three kinds of Foreign Exchange transaction:
MECHANISM OF FOREIGN EXCHANGE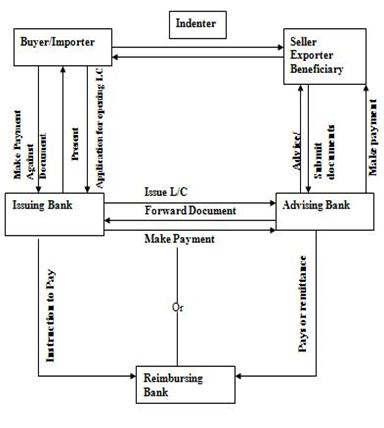 DEFINITION OF L/C
A Letter of Credit is a definite undertaking of the Issuing Banks, to make the payment for the import, on behalf on the importer; in other words, it is a letter of the issuing Bank to the beneficiary, undertaking to effect payment under some agreed conditions. It is an undertaking of the Issuing Bank to the Beneficiary to make payment or to accept bill of exchange. It is also an authorization of the Issuing Bank to effect payment or to negotiate bill of exchange, against stipulated documents, complying credit terms. L/C is called documentary Letter of Credit. Because the undertaking of the Issuing Bank is subject to presentation of some specified documents. The Uniform Customs and Practice of Documentary Credit (UCPDC), 600, govern International Letter of Credit
CLASSIFICATION OF L/C
In different considerations there are many kinds of L/Cs. Few of them are:
Irrevocable L/C
Revocable L/C
Add-Confirmed L/C
Back to Back L/C
Revolving L/C
Transferable L/C
Restricted L/C
Red Clause L/C
Green Clause L/C
Clean Letter of Credit
Documentary Letter of Credit
Straight Documentary Credit
Irrevocable Negotiation Documentary Credit
With recourse & Without recourse to drawers
DHAKA Bank Ltd, Bangshal Branch deals with the following L/C:
Sight L/C
Sight Local L/C
Deferred Foreign L/C
Back to Back L/C
PARTY INVOLVED WITH L/C OPERATION
A letter of credit is issued by a bank at the request of an importer in favor of an exporter from whom he has contracted to purchases some commodity or commodities. The importer, the exporter and issuing bank are parties to the letter of credit. There are however, one or more than one banks that are involved in various capacities and various stages to play an importer role in the total operation of the credit.
The following parties are involved with L/C operation procedures:
The Opening Bank.
The Advising Bank.
The Buyer and the Beneficiary.
The Paying Bank.
The Negotiating Bank.
The Confirming Bank.
1. The Opening Bank: The opening Bank is one that issues the letter of credit at the request of the buyer. By issuing a letter of credit it takes upon itself the liability to pay the bills drawn under the credit. If the drafts are negotiated by another bank, the opening bank reimburses that bank. As soon as the opening bank, issuing a letter of credit (L/C), it express its undertaking to pay the bill or bills as and when they are drawn by the beneficiary under the credit.
2. The Advising Bank: The letter of credit is often transmitted to the beneficiary through a bank in the letters country. The bank may be a branch or a correspondent of the opening bank. The credit is some times advised to this bank by cable and is then transmitted by it to the beneficiary on its own special form. On the other occasions, the letter is sent to the bank by mail or SWIFT and forwarded by it to the exporter. The bank providing this services is known as the advising bank. The advising bank undertakes the responsibility of prompt advice of credit to the beneficiary and has to be careful in communicating all its details.
3. The Buyer and the Beneficiary: The importer at whose request a letter of credit is issued is known as the buyer. On the strength of the contract he makes with the exporter for the purchase of some goods that the opening bank opens the letter of credit. The exporter in whose favor the credit is opened and to whom the letter of credit is addressed is known as the beneficiary. As the seller of goods he is entitled to receive payment, which he does by drawing bills under the letter of credit.
4. The Paying Bank: The paying bank only pays the draft drawn under the credit but under takes no opening bank, by debating the letters accounts with it there is such an account or by any other measured up, between the two bankers. As soon as the beneficiary has received payment for the draft, he is out of the picture and the rest of the operation concerns only the paying bank and the opening bank.
5. The Negotiation Bank: The negotiating ban has to be careful in scrutinize that the drafts and the documents attached there to be in conformity with the condition laid down in the L/C. Any discrepancy may result in reused on the part of the opening bank to honor the instruments is such an eventuality the negotiating bank has to look back to the beneficiary for refund of the amounts paid to him.
6. The Confirming Bank: Sometimes an exporter stipulates that a L/C issued in his favor be confirm by a bank in his own country. The opening this country to add its confirming to the credit the bank confirming the credit is known as the confirming bank and the credit is known as confirmed credit.
DOCUMENTS REQUIRED FOR OPEN AN L/C
The importer after receiving the preformed invoice from the exporter, by applying for the issue of a documentary credit, the importer request his bank to make a promise of payment to the supplier. Obviously, the bank will only agree to this request if it can rely on reimbursement by the applicant. The applicant must therefore have adequate funds in the bank account or a credit line sufficient to cover the required amount. Banks deal in documents and not in goods. Once the bank has issued the credits its obligation to pay is conditional on the presentation of the stipulated documents with in the prescribed time limit. The importer should submit the following documents for opening L/C:
Valid Import Registration Certificate (commercial/industrial).
Tax Identification Number Certificate (TIN)
VAT Registration Certificate.
Membership Certificate of a recognized Trade Association as per IPO.
A declaration, in triplicate, that the importer has paid income-tax or submitted income tax returns for the year preceding year.
Pro-forma Invoice or Indent duly accepted by the importer.
Insurance Cover Notice with money paid receipt covering value goods to the imported.
L/C Application form duly signed by the importer.
Letter of Credit authorization Form (LCAF) commercial or industrial as the case may be duly signed by the importer and incorporation new ITC number of at least 6 digits under the Harmonized system as given in the import Trade Control schedule 1998.
IMP (DHAKA BANK LTD – 170) Form duly signed by the importer.
PROPOSAL OF L/C
Preparing a L/C proposal is fundamental function of a letter of credit operation. Preparing a L/C proposal a lot of information is needed. For this purpose the client should co-operate the bank. Otherwise the bank will not able to complete the proposal successfully. However, the following papers/documents are required to process L/C proposal.
Completion of A/C opening as per Bank's form under terms and condition stipulated thereon.
Completion of L/C agreement form as per bank's format.
Valid trade license.
VAT Registration Certificate.
TIN Certificate.
Valid/Renewed IRC – IRC to be properly Transferred/N.O.C from previous bank.
Membership Certificate form Chamber of Commerce.
Undertaking bearing Exchange Fluctuation.
Undertaking having no overdue liability with bank's / financial institute.
Indent/P.I having address, Tel, Fax, E-mail address of Exporter/Indenter & Importer duly to be signed by both with acceptance and mentioning actual date of delivery, shipment date, ports with terms and condition.
L/C OPERATION OF DHAKA BANK LTD
Today DHAKA BANK LTD is one of the leading and most successful Banking enterprises in the country. It plays great role in the economy of the country. By export-import business the bank play a great role to the economy of Bangladesh. DHAKA BANK LTD is one of the greatest bank in export – import business.
Foreign trade plays a vital role in the economic advancement process of a nation. So the trend of country's foreign trade, i.e. import & export is of a great concern to the government of a country. Fluctuation in the parameters of foreign trade immediately brings about some impact on the total economy. As such the nature, trend and the volume of foreign trade are required to keep peace with the national economic needs and objective. There may be some areas where emphasis is to be given while there may be others which deserve restrictions or discouragement. Moreover the items of import & export value and volume of the same, the corresponding time period, sources
of fund far payment and receipt, all these factors are to be considered very carefully for making necessary adjustment to match with the national economic policies as well as achieve balanced economic growth through the inter policy and inter policy co-ordination.
International trade policy relates to commercial policy, which has two main components of Import policy relates to commercial policy, which has two main components of Import policy and Export policy. With a view to achieving favorable balance of payment position as well as to encouraging or well to encouraging or well regulated and need based foreign trade of the country, the government formulated the national commercial policy i.e. import and export policy for a certain period considering all the favorable & unfavorable aspects of the nation's previous trade performance as well as the future requirement and prospects.
The main purpose of the policy is to conserve scare foreign exchange & to ensure its utilization for the import of goods and services, which have national priority. The selected persons on institutions those who have got valid Import Registration Certificate (IRC) form the Chief Controller of Import and Export (CCI & E) can import and they are known as importers.
These importers can import goods as entitled in each year as per import policy by opening letter of credit (L/C) through bank i.e. Authorized Dealer (AD). Authorized Dealer means the
Branches of commercial banks, those that are authorized by the Bangladesh Bank to deal in foreign exchange. Letter of Credit may be defined as the letter of undertaking or letter of guarantee issued by the L/C opening bank on behalf of the importer submits all the documents as mentioned in the L/C submits all the documents as mentioned in the L/C within the time schedule to his bank i.e. exporters bank.
Before opening L/C in favor of the exporter the entitlement of the importer to be registered with Bangladesh Bank. For this purpose the importer is to apply through L/C Authorization form. After filled up and signed up the appropriate column of the LCA form, the importer will submit it to Authorized Dealer who in turn forward the same to Bangladesh Bank for registration where fund is purchased from Bangladesh Bank. After registration Bangladesh Bank forward the 1st and 2nd copy of LCA form to the Authorized Dealer, 3rd and 4th copy to CCI & E and keep the 5th copy as their office copy.
Now the importer will come to his bank with a request to open a L/C along with the following documents:
L/C application and agreement form with adhesive stamp of Tk. 150.
Indent / Pro-forma Invoice/ Contract- 3 copies.
Insurance cover note with premium paid receipt.
IMP form one set duly signed by the importer.
Any other documents if necessary.
Authorized Dealer will scrutinize the documents and open the L/C in favor of the exporter by converting the Bangladesh Taka into foreign currency at the existing B.C selling rate of exchange. Care must be taken so that the limit of Bangladesh Taka is not exceeded in any way. The foreign currency value of the L/C must correspond the equivalent amount of Bangladesh Taka if LCA registered with Bangladesh Bank.
The Authorized Official of the Authorized Dealer will check the L/C very carefully and signed the same jointly and forward the 1st and 2nd copy to their foreign correspondent situated at the nearest place of the exporter. Thus Bank is known as Advising Bank. On receipt of the L/C the Advising Bank after verification of the duplicate copy at their end.
On getting the L/C the exporter prepares the goods and ship the same as per instruction of the L/C and obtain a Bill or Lading from the shipping Authority. The exporter will prepare bill of exchange, invoice and other documents as specified in the L/C and submits the same along with the original copy L/C to his bank within the time mentioned in the L/C. The Bank with whom the exporter submits the documents is known a Negotiating Bank as this negotiates the documents i.e. makes payment to the exporters.
The negotiating bank will scrutinize the documents with terms and conditions of the L/C very carefully. If every thing is in order the bank will make payment of the amount of L/C to exporter in their local currency by debiting to their own account. Subsequently the negotiating bank will claim the L/C with whom the Head Office of L/C opening bank maintained foreign currency.
This is known as Reimbursing Bank. Reimbursing Bank will make payment to the negotiating bank by debit to L/C opening bank's head office A/C. Simultaneously the negotiating bank will forward all the documents submitted by the exporter to the L/C opening bank as per instruction of the L/C. The date of forwarding letter of negotiating bank should be date of negotiating of documents.
After taking delivery of documents from the L/C opening bank, the importer will clear the goods which has already been arrived or due to arrive from the customs authority on submission of these documents along with the custom purpose copy of LCA from.
IMPORT
Import Trade of Bangladesh is controlled under the Import & Export control Act 1950. Authorized Dealer Banks will import the goods into Bangladesh following import policy, public notice, F.E circular & other instructions from competent authorities from time to time. Goods are being imported for personal use, commercial purpose or industrial use.
IMPORT PROCEDURE
Registration of importer: In terms of the importers, Exporters and Indenters order, 1981 no person can import goods into Bangladesh unless he is registered with the Chief Controller of Import & Export from the provisions of the said order. Only commercial & industrial importer must have registration from CCI & E.
To obtain import Registration certificate (IRC), the applicant will submit the following paper/documents to the CCI & E through this nominated Bank.
Questionnaire duly filled in & signed by applicant.
Trade license.
Membership certificate from chamber of commerce or any other trade Association.
Nationality certificate.
Income tax registration certificate.
Partnership deed/Certificate of registration with the register of joint stock companies where applicable.
On being satisfied the CCI & E issues IRC obtaining original copy of treasury Challan for payment of registration fee.
Import Policy: At the beginning of each financial year, the Chief Controller of Imports and Exports announces the Import policy covering various aspects of imports in the coming year. The main points covered by the Import Policy are the following:
Items eligible for imports during the shipping period.
Items importable against – Cash foreign Exchange, Foreign aid and barter, Wages Earners Scheme.
The Procedure for induction of new comers into the import trade.
The procedure for imports by industrial consumers and commercial importers and for import under Wages Earners scheme.
Procedure for formation of groups.
The procedure for submission of application for Repeat License.
The dates for opening Letter of Credit, and shipment and the rules for revalidation of the License/LCA and the L/C.
Licensing for Imports: Most imports into Bangladesh require a license from the licensing authority. In recent years, however, the task of licensing has increasingly been delegated to the commercial banks. Beginning from the shipping period 1983-84, the commercial banks have been entrusted with the responsibility of licensing imports in both industrial and commercial sectors. Licensing is done by the commercial banks by means of a specially designed form known as Letter of Credit Authorization or simply LCA. The following documents are required to be submitted by the importer to his banker:
LCA form properly filled in and signed.
LC application.
Purchase contract in the shape of an indent or pro-forma invoice.
Insurance cover note.
Membership certificate from a Chamber of Commerce and Industry or registered Trade Association.
Proof of renewal of Import Registration Certificate for the current year.
Making the purchase contract: After being licensed, the next task for the importer is to make a contract with an overseas supplier or the letter's local agent. The contract usually consists of a pro-forma invoice issued by the supplier or his local agent and signed by the importer in token of having accepted the contractual terms.
Amendment of Letter of Credit: Not infrequently, the letter of credit opened by a bank needs amendment either because the terms and conditions incorporated in the L/C conflict with those of the underlying contract between the buyer and the seller or the buyer and seller agree, at a later date, to vary terms keeping in view the emerging circumstances.
Scrutiny and Lodgment of Documents: On shipping the contracted goods the beneficiary sets about the task of collecting and preparing the documents stipulated in the L/C. He collects Bill of Lading etc. from the carrier company, prepares the invoice, certificate of origin, packing list, bill of exchange and so on and present these to his banker. Unless the L/C restricts negotiation through any particular bank, the bank receiving the documents from his customer would negotiate these keeping in view the terms of the L/C. After that, the negotiating bank forwards the shipping Documents to the opening bank, simultaneously realizing payment by debiting the opening bank's account.
Verification and Lodgment of Document by the opening Bank: On receipt of the shipping documents from the negotiating bank, the L/C opening bank should carefully examine these to ensure that they confirm to the terms of the credit; in particular, the following are the main points that should be looked into:
The documents have been negotiated within the stipulated dates.
The amount drawn dose not exceeds the amount authorized in the credit.
The Bill of Exchange is drawn in the manner stipulated in the credit; the amount is written in figures and words and corresponds to that of the invoice, and properly endorsed.
The merchandise in properly invoiced in the name of the opener of the credit i.e. the buyer or the importer with full description of the merchandise indicating, where applicable, the unit price. The invoice is signed and bears Bangladesh Bank's Registration number.
The Bill of Lading is clean, shipped 'on board' showing freight prepaid and endorsed to the order of the issuing bank.
The certificate of origin given by the supplier is in conformity with that mentioned in the credit.
Other documents like weight list, packing list, pre-shipment inspection certificate etc. have been received and are in accordance with the terms of the credit.
PREPARATORY STEPS FOR OPENING L/C
Before opening the L/C DHAKA BANK LTD will takes the following steps:
Applicant to be Bank's A/C Holder: Bank will open the L/C on behalf of a person who has an account with the Bank. Unknown person will not be allowed to open L/C.
Registered Importer: Before opening the L/C Bank must confirm that the L/C applicant is a registered importer or personal user and the IRC of the importer has been renewed for the current year.
Permissible Item: The item to be imported must be permissible and not banned item. If the item is from conditional list the condition must fulfill to import the same.
Market Report: Bank will verify the marketability of the item & market price of the goods. Some times the importer may misappropriate the Bank's money through over invoicing.
Sufficient Security or Margin: Price is some items fluctuate frequently. In case of those item Bank will be more careful to take sufficient cash margin or other security.
Business Establishment: Bank should not open an L/C on behalf of a floating businessman. The importer must have business establishment, particularly he must have business network for marketing the item to be imported.
Restricted Country: Goods not to be imported from Israel. Credit report of the beneficiary. In the amount of L/C in one item exceeds Tk. 500 Lac. Suppliers credit report is mandatory. Bank will collect credit report of the beneficiary through its correspondent in abroad.
Applicant of the client to open the L/C: The client will approach to open the L/C in Bank's prescribed form duly stamped & signed along with the following paper & documents.
Indent/Pro=forma invoice.
Insurance cover note with money receipt.
LCAF duly felled in & signed.
Membership certificate from chamber of commerce/Trade Association.
Tax payment certificate/declaration.
IMP & TM form signed by the importer.
Charge documents.
IRC pass book, Trade license, Membership certificate & VAT registration certificate in case of new client.
Export L/C in case of Back-to-Back L/C.
Permission from ministry of Commerce: If the goods to be imported under CIF (cost insurance & finance), then permission from ministry of commerce to be obtained.
Creditability of the Client: In consideration of all the above points, if Bank become satisfied regarding the client then L/C may be opened on behalf of the client. Before opening the L/C Bank will issue & authenticate a set of LCAF in the name of the importer.
IMPORTER POINTS TO PREPARE AN L/C
To prepare an L/C the Ads should take care on the following points:
L/C Number, Place & Date of issue, Date & Place of expiry, Shipment date, Presentation period, Applicant, Beneficiary, Advising Bank Account, Part-shipment & Transshipment, Availability, Port of Shipment, & Port of destination, Tenure of the Draft, Documents required, Payment, UCP, Bill of lading, Bill of Exchange, Pre-shipment Inspection, Data content, Special Conditions, Authenticity of the credit.
SCRUTINY OF IMPORT DOCUMENTS
After shipment of the goods, the exporter will submit the export documents to the negotiating Bank. Negotiating Bank will check & will send the documents to the Issuing Bank after negotiation. Upon receipt of the import documents Issuing Bank will examine the documents. Bank will decide within 7 banking days, following the day of receipt of the documents. Whether it will accept the documents or will reuse. If the Issuing Bank fail to communicate the refusal to the negotiating Bank writhing 7 days, the documents deems to be accepted.
At the time of scrutiny the following points to be checked specially:
Scrutiny of Draft
Whether the Draft is drawn on the Issuing Bank or not?
Whether the amount of draft with the invoice & credit value and not over drawn.
Scrutiny of Invoice
Whether the description of the goods as per credit terms.
Whether the data contain such as, HS code number, unit price, quality & quantity of the goods, LCA number, Importer & Inventor's Registration Number, country of origin and any other information are as per credit terms.
Custom Invoice and /or consular invoice to be presented as per credit terms.
SCRUTINY OF TRANSPORT DOCUMENTS
Transport documents must ensure that:
It is presented in full set as called for the L/C. In how many number of documents are issued for mentioned.
The date of shipment on the transport documents must not later than the date stipulated in the L/C.
'Shipped on Board' 'Freight Prepaid' notations must be appeared on the B/L as called for in the L/C.
B/L must be 'clean' not 'caused'.
Transshipped B/L not to be acceptable unless allowed by the L/C.
Stale B/L is not acceptable, if not permitted in the L/C.
The port of shipment & destination must be as per credit terms.
B/L must bear the name of carrying vessel and the flag.
Carrier must sign L/C.
SCRUTINY OF PRE-SHIPMENT INSPECTION REPORT
Bank will examine and scrutinize the following:
Whether the entire document required by the credit is submitted.
Documents to be consistent with one another.
Documents to be presented with in the stipulated time.
Documents to be issued by the authorized person as stipulated in the credit.
Documents to be examined as per credit terms & international standard Banking practice.
fter examination, if the documents become discrepant. Issuing Bank will serve refusal notice to the negotiation/presenting Bank with seven banking days. The notice must stale all discrepancies and must also state whether it is holding the documents at the disposal of or is returning them to the presenter.
 LODGMENT OF IMPORT DOCUMENTS
If import documents found in order, it to be made entry in the bill register and necessary voucher to be passed, putting Bill number on the documents, this process is called Lodgment of the bill. The word 'Lodgment' means temporary stay. Since the documents, stay at this stage for a temporary period i.e. up to retirement of the documents, the process is called Lodgment, Bank must lodge the documents immediate after receipt of the same, not exceeding 7 banking days, following the day of receipt of the documents.
PROCEDURES OF LODGMENT
Bill register: Bank wills entry the documents in the bill register. Bill register must include date of Lodgment, Bill No., Bill of Exchange No, Amount, and Name of the Negotiation Bank, B/L no & date, merchandise, retirement date & other particulars.
Application of rate: Foreign Currency would be converted at B.C selling rate ruling on the date of Lodgment.
Exchange Control Form: IMP & Tm form must be filed in and signed by the importer at the time of Lodgment.
Endorsement of LCAF: LCA form must be endorsed showing utilization of shipment.
Noting on the File: Utilized amount showing bill no to be noted on the printed format of L/C file.
RETIREMENT OF DOCUMENTS
Importer is to be advise on the date of lodgment of documents with full particulars of shipment to entire the documents against payment or to dispose the import documents as per pre-arrangement, if any. Subsequent reminders are also to be issued very week till retirement of the bill. Such bills will be considered and be reported as overdue if the importer fails to retire the documents with 21 days of arrival of the relative import-consignments at the port of destination.
When the importer intends to retire the documents, the branch will prepare following retirement vouchers for adjustment of PAD liabilities there against:
Dr. Party's A/C
Cr. PAD A/C
Cr. SWIFT charges
Cr. Income A/C: Interest on PAD
Thereafter the documents may be handed over to the importer against proper acknowledgement after certification endorsement
ISSUANCE AND DISPOSAL OF LCAF
All imports transacted through the bank shall require LCA form. The LCAs are issued in sets of six (6) copies each. Of these, the one marked, "For Exchange Control Purchase" should be used for opening L/C and for effecting remittance.
The branch should not issue blank LCAFs to their clients. The importer should himself sign the LCAF in the presence of an officer of the branch. An authorized official of the branch should put his signature with date and seal on the LCAF, evidencing verification of the importer's signature and import entitlement as per current IPO.
If foreign exchange is intended be bought from the Bangladesh Bank against an LCAF it has to be registered with Bangladesh Bank's Registration Unit.
Where no F.C fund is required from Bangladesh, LCAFs are need not to be the registered with Bangladesh Bank, the branch will send the third & fourth copies LCAF along with the copy of the L/C and amendments thereto to the area office of the CCI & E within 15 days retaining other copies with the branch.
LCAFs issued for import of capital machinery and spares will remain valid for remittance for 18 months subsequent to the month of issuance.
When L/Cs are opened, full particulars thereof must be endorsed on the bank of the Exchange Control copy of the LCAF under the stamp and signature of the branch.
LCAFs can normally be utilized on CRF basis. Full LCAF value is therefore not remittable as F.O.B value goods. The branch should also give a certificate to the importers to the effect that the amounts of freight, handling charges. Etc. has been endorsed on the relative LCFA.
BACK-TO-BACK L/CS
The branch may open back to back import L/Cs against export L/Cs received by export oriented industrial units opening advise the beneficiary under the bonded warehouse systems, subject to observance of domestic value addition requirement prescribed by the NBR/Ministry of Commerce from time to time. The following instructions should be complied with while opening Back-to-Back Import L/Cs:
The unit requesting for this facility should process valid IRC, ERC and valid bonded warehouse license.
The branch shall hold the Master Export L/C affixing bank lien stamp thereon and be kept in safe for security purpose.
The master export L/C should have validity period adequate to the time needed for importation of inputs, manufacture of merchandise, and shipment to consign.
The Back-to-Back L/C value shall not exceed the admissible percentage of net FOB value of the relative mater export L/C.
The Back to Back import L/C shall be opened on up to 180 days usance (DA) basis except in case of those opened against Export Development Fund administered by Bangladesh Bank in which case the back to back L/C will be opened on sight (DP) basis.
Interest for the usance period shall not exceed LIBOR or the equivalent interest rate in the currency of settlement.
All amendments of the master export L/C should be noted down carefully to rule out chances of excess obligation under the back-to-back import L/C.
Back-to-Back L/C can either be local or foreign. Inland BTB L/Cs denominated in foreign exchange may be opened in favor of local suppliers or manufacturer under bonded warehouse system up to value limits applicable as per prescribed value additional requirement.
ACCOUNTING PROCEDURE
1. Creation of L/C liability:
Dr. Customer's liability on BTB L/C
Cr. Banker's liability on BTB L/C
2. Commission and other charges:
Dr. Customers A/C: Commission for 180 days + FCC+ Postal/SWIFT + Misc.
Cr. Income A/C: Commission on L/C foreign
Cr. Income A/C: Postal/SWIFT Recoveries
Cr. Income A/C: Miscellaneous earning (handling charges, stationary etc.)
Cr. Sundry deposits A/C: F.C.C.
Cr. Stamp in hand.
3. Amendment Charges:
a) If the L/C value is increased:
Dr. Customer's liability on BTB (for increased amount)
Cr. Banker's liability on BTB L/C; then,
Dr. Customer's A/C: commission for increased amount + other charges
Cr. Income A/C: Postal/SWIFT Recoveries
Cr. Income A/C: Miscellaneous earning (handling charges if any)
Cr. Sundry deposits A/C: F.C.C.
b) If L/C expiry time is extended beyond 180 days:
Dr. Customer's A/C: Commission for further one quarter
Cr. Income A/C: Commission on L/C (Foreign)
EXPORT
Export means law fully carrying out any thing from one country to another country for sale. No person can export anything from Bangladesh, unless he is registered with the CCI & E, under the registration order 1952.
LEGAL REQUIREMENTS
Although payment aspects of export are Bangladesh Bank's concern, the Export policy Order announced by the Ministry of Commerce controls physical aspects. Bangladesh has set out elaborate procedure and laid down detailed rules and regulations concerning Export and Export payments. All exports, to which the requirement of declaration applies, must be declared on the EXP form. The branch should before certifying any export form, consider and take notice of the following:
The intended exporter shall have valid Export registration Certificate.
Payment for goods exporter from Bangladesh should be received through the branch in freely convertible foreign currency or in Taka form a non-resident Taka account of a bank branch or correspondent abroad.
Commission, brokerage and other trade charge are admissible only up to a maximum of 5% the value of goods. The charges beyond 5% may be admissible subject to prior approval of the Bangladesh Bank.
In respect of export of goods by land route or by sea, the Bill of Lading, Railway Receipts, and other documents of title to cargo should be drawn only to the order of DHAKA Bank Ltd.
In respect of export goods by air, the Airway Bill and any other documents of title to cargo should be drawn the order of a bank in the country of import nominated by the bank.
PROCEDURE FOR OBTAINING EXPORT REGISTRATION CERTIFICATE (ERC)
For obtaining Export Registration Certificate from CCI & E the following documents are requited:
Application for ERC.
Nationality Certificate.
Trade License.
Income Tax Certificate.
Memorandum & Articles of Association and Incorporation Certificate, in case of company.
Bank Certificate.
Copy of rent receipt of the Business Firm.
Treasury Challan for payment of fees.
EXPORT L/C ADVISING
Advising Bank shall take reasonable care to check the apparent authenticity of the credit, which it advises. If the Bank elects not to advice or can not establish apparent authenticity, it must inform to the issuing Bank without delay. The Bank also may advise unauthenticated credit, informing the beneficiary that it has not been able to establish the authenticity of the credit, (UCP Article-7).
Bank will make entry of the L/C, in the L/C advising register, with its full particulars, putting separate serial number under different Issuing Bank. Subsequent amendment also to be recorded under correspondent L/C.
Bank will advise the photocopy of the L/C, keeping the original in the records, in case of L/C in SWIFT L/C advising commission to be realized accordingly.
VERIFICATION OF L/C
Upon receipt of an export L/C, Exporter will verify the L/C carefully, particularly the following points:
Bill of Lading must not allow blank endorsement. B/L to be endorsed favoring a Bank, other than the Issuing Bank, is also risky & should avoid accepting such kinds of B/L clause. B/L must not be to the importer in abroad.
Name & Description of the goods to be cleared 7 the item to be available and not banned by the export policy.
Unite price to be consistent to total value of the L/C considering the quantity of the goods.
Payment clause must be unconditional & specific.
Required documents to be easily prepared able.
L/C must be subject to UCPDC publication No: 500, 1993 revision or amendment there of from time to time.
L/C to be freely negotiable.
Place of Expiry of the credit must be in Bangladesh.
GENERAL RULES FOR EXPORT
There are some rules, which are mandatory for export of any goods from Bangladesh. The rules are as under:
No person can export any goods from Bangladesh, unless he is duly registered as an exporter with the CCI & E.
All export must be declared on the EXP form, which is consisting of 4 copies.
Export must be against any of the following:
* Export L/C
* Firm Contract
* Advance Payment
Transport documents related to land route or sea and any other documents of title to cargo, should be drawn only to the order of an Authorized Dealer. The Airway bill and any other documents of title to cargo may be drawn to the order of a bank in the country of import.
The exporter must submit 'EXP' to the Bank & Bank will submit the Duplicate Copy to the Bangladesh Bank with in 14 days from the date of shipment.
Payment for goods exported should be received through an authorized dealer in freely convertible currency.
The exporters must receive export proceeds within 4 Months.
Overdue export bill statement to Bangladesh Bank should be submitted by the 15th of the month, following the quarter to which it relates.
In case of short shipment, exporter should give a notice of short shipment on the prescribed form in duplicate to the customer, who will forward a Certified Copy of the notice, to the Bangladesh Bank.
ISSUANCE OF EXP FORM
Banks will certify EXP form only after confirming the following:
Arrangements have been made for realization of Export proceeds.
Bonfires of the importer/consignees abroad.
Authorized dealer of documents of title to goods has made arrangements for receipt.
The exporter has signed the EXP.
STAGES and MECHANISM OF EXPORT
There are some stages and mechanisms are mention below:
Exporter will make the goods ready for shipment.
Arrangement has to be taken for inspection of the goods by the competent authority as per credit terms.
Exporter will declare export on EXP form against export L/C firm contract/advance payment.
Exporter have to arrange approval for export from custom authority on EXP form by submitting Export L/C, Export permission from CCI & E, Quota clearance from EPB, U.D in case of garments, invoice, packing list along with shipping bill prepared by C & F agent.
After completion of custom formalities, shipping company will receive the goods and will issue B/L.
Exporter will collect visa/license and certificate of origin for final documentation.
Negotiating Bank will dispatch the documents to the issuing Bank for clearance of the goods from port of destination against payment as per credit terms.
EXPORT FINANCING
To meet up the cost of the goods to be exported, the exporter may require Bank finance. Besides, he may require finance for go down rent, freight etc. Even after shipment of the goods, exporter may require Bank finance to meet-up his current expenditure up to repatriation of the export proceeds. There are two types of export finance:
Pre-shipment finance.
Post shipment finance.
a) PRE-SHIPMENT FINANCE
Pre-shipment investment (PSI) is finance, allowed by a Bank to an exporter, to meet the cost up to the shipment of the goods to overseas buyer. The purpose of the investment is to purchase raw materials or finished goods or manufacturing, processing, packing and transporting the goods.
Limit of Pre-shipment Finance-
As per existing rule Banks can extend pre-shipment facility up to 90% of export L/C value (FOB value)
Bank will finance within the Head office sanction limit for the concerned Client.
Other liabilities of the client with the Bank also to be considered for extending Pre-shipment facility.
b) POST SHIPMENT FINANCE
There is a time gap between export of the goods and realization of the proceeds. So exporter may require finance in that period to continue his business. So Bank may finance against export documents ensuring the following.
Export documents comply the credit terms.
Buyer is bonafide.
Party's past performance is satisfactory.
Any other security in case of export under contract.
a) EXPORT BILL SECURITY CHECKLIST
General:
Late shipment
Late presentation
Early shipment
L/C Expired
L/C over-drawn
Partial shipment or transshipment beyond L/C terms.
Bill of exchange:
Amount of B/E differ with Invoice
Not drawn on L/C issuing Bank
Not signed
Tenor of B/E not identical with L/C
Full set not submitted
Invoice:
Not issued by the beneficiary
Not signed by the beneficiary
Not made out in the name of the applicant
Description, Price, Quantity, sales terms of the goods not correspond to the credit
Not marked one fold as original
Shipping marks differ with B/L & Packing List.
Packing List:
Gross Wt. Net Wt. & Measurement, Number of cartons/packages differ with B/L
No marked on as original
No signed by the beneficiary
Shipping marks differ with B/L
Bill of Lading/Airway Bill etc.:
Full set of B/L not submitted
B/L is not drawn or endorsed to the order of Dhaka Bank Limited.
"Shipped on Board", "Freight Prepaid" or "Freight Collect" etc. Nations are not marked on the B/L.
Name & Address of the Notify Parties are not mentioned or differ with L/C.
B/L not indicate the name and the capacity of the party i, e carrier or master, on whose behalf the agent is signing B/L
Shipped on Board nation not showing name of pre-carrier vessel/intended vessel.
Shipped on Board nation not showing port of loading and vessel name.
Short From B/L
Charter party B/L.
Description of goods in B/L both agrees with that invoice, B/L & P/L
Alteration in B/L not authenticate
Loaded on Deck.
b) NEGOTIATION
If the documents are found in order or if the discrepancies are covered by the indemnity of the exporter or by negotiation authorization of the issuing bank, a proposal sheet for negotiation would be prepared as per bank's format indicating the full particulars of shipment/export and discrepancies, if any. Under the signature of authorize person and should be placed to the manager for disposal instruction/sanction.
Particulars of export bills and negotiation are to be recorded in the foreign bill purchase register assigning a number to each export bill. The branch then, may make payment to the party by passing the vouchers as per calculation as shown in the negotiation proposal at O.D sight buying rate or at usance buying rate as per respective of the usance bills. The branch will realize overdue interest @ 16% per annum from all export bills after 21 days from the date of negotiation of proceeds.
c) MAILING OF EXPORT BILL
The branch shall mail export bills under a Forwarding schedule enclosing all documents as per export L/C by DHL or any other internationally reputed courier service to the issuing bank. The branch also incorporates appropriate payment instruction in the forwarding schedule mentioning number of bank's Nostro account with bank name and address. Acknowledgement receipt of the courier service and the office copy of the export bill to be field and are dept in safe for reporting and inspection purpose.
TRANSFER OF L/CS
The branch at the request of the original beneficiary (first beneficiary) may execute transfer of L/Cs to the subsequent beneficiary (second beneficiary), for doing so, the first beneficiary must maintain an accounting relationship with the branch and the branch will verify his signature on the request letter.
A letter of credit can be transferred once only if it is expressly stated, as "transferred" only on the terms and conditions specified in the original L/C with the exception of L/C amount, unit price, expiry date, presentation time of documents and shipment validity, any or all of which may be reduced or curtailed. In addition, the same of first beneficiary can be submitted for that of the applicant, but if the name of the applicant is specially required by the original L/C to appear in any documents other that the invoice, such requirement must be fulfilled.
A transferable credit can be transferred once only i.e., second beneficiary cannot transfer the L/C to any subsequent third beneficiary. However, a credit can be transferred to more that one-second beneficiary and when transfers are made in part it should be verified that the original L/C permits part shipment and the aggregate of such transfer must not exceed the original L/C.
The branch shall verify the signature of the transferor and authenticate the transfer under seal and signature of an authorized officer expressly stating that the bank does not assume any responsibility/obligation in this behalf. The branch shall check the apparent authenticity of the L/Cs with the L/C at their custody. Each and every transfer must be enclosed on the bank of this original L/C so as to avoid transfers of amount beyond the credit value.
FOREIGN REMITTANCE
DHAKA BANK LTD Foreign Exchange Branch has no authority to open FCA. This Branch is depended on Dhaka Main Branch. Convertibility of Taka in current account transactions symbolized a turning point in the country's exchange management and exchange rate system. Now the operations of foreign currency accounts have been more liberalized. Funds from these A/Cs are freely remittable to any county according to the needs of A/C holder. Foreign Remittance is classified into two way-Outward Remittance and Inward Remittance
OUTWARD REMITTANCE
On March 24, 1994 Bangladesh Taka was declared convertible for current account international transaction. As a result remittance becomes more liberalized. Outward remittance include sale of Foreign Currency by T.T, M.T, Draft, T.C or in cash for private, official and commercial purpose.
PRESENT LIMIT FOR OUTWARD REMITTANCE
A) Private Remittance
1. Family Maintenance:
Foreign nationals working in Bangladesh may remit 50% of salary and 100% of leave salary as also actual saving and admissible pension benefits for their family maintenance.
Moderate amount of Foreign Currency for maintenance abroad of family members (spouse, children, parents) of Bangladesh nationals are allowed.
2. Member ship/Registration fees etc.: ADS are allowed to remit membership fees of foreign professional and scientific institutions and fees for application, registration, admission, examinations in connection with admission into foreign education institute, supported by demand notice letter of the concerned institution.
3. Education: ADS may release foreign exchange favoring Bangladeshi students studying abroad or willing to proceed abroad for study according to the following drill:
Application by the student as per prescribed formant.
Admission letter issued by the concerned institution.
Estimate relating to Tuition Fee, Lodging and Incidental Expenses issued by the concerned institution.
Attested copies of Education Certificates.
Valid passport.
4. Travel: Private travel quota entitlement of Bangladesh national is set at USD 3000 per year for visit to countries other than SARC member countries and Myanmar. Quota for SARC member countries and Myanmar is USD 1000 for travel by Air and USD 500 for travel by Overland route.
5. Health & Medical: The ADS may release up-to USD 10,000 for Medical Treatment abroad on the basis of the recommendation of the Medical Board.
6. Foreign Nationals: The ADS may issue T.C to foreign nationals without any limit & currency notes up-to USD 300 against surrender of equivalent Foreign Currency.
7. Remittance for Hajj: ADS may release F.C to the intending pilgrims as per instructions circular to be issued by the Bangladesh bank each year.
PROCEDURE OF T.C ISSUE
a) Insure that the intending traveler is a client of the Authorized Dealer (AD) Bank or is sufficiently well known to the AD Bank.
b) The intending travelers must come to the Bank with the following documents to have the T.C.
Valid Passport.
Confirmed Valid Air Ticket.
a. Verification of the Passport & Air Ticket regarding validity, Illegibility, status etc. of the same.
b. Filling up the T/M form by the purchaser and signing on that T/M.
c. Realization of required fund.
f) Fill up the purchase Agreement Form (PAF) regarding the name, address etc.of the purchaser, T.C series no. Date of issue, amount etc, and give endorsement on the passport.
g) Be sure that purchaser signed all cheques in the upper left side of the cheque, only one person may sign any cheque.
h) Use original P.A.F. for settlement and retain duplicate for records.
i) Two sets of Photographs of Passport and Air Ticket to be obtained.
PRCEDURE OF ENCASHMENT
Travelers Cheques (T.C) to be Encashment Observing the following Formalities,
Compare the counter signature with the original signature. Cheque will not be honored if signatures differ.
Additional signature may be obtained if the signature differs.
Blank cheque-should not be Encashed.
Previously counter signed cheques not be Encashed.
Be aware of large Encashment & take caution against hurry.
Check the passport endorsement, purchase contract of the purchaser if available.
If the dealing Officer is satisfied regarding the genuineness of the purchaser and the T.C. then he can pay equivalent Local Currency to the customer. And record the T.C. in inward Remittance Register.
INWARD REMITTANCE
The term inward remittance includes not only purchase of Foreign Currency by TT.MT. Draft etc. but also purchase of Bills, purchase of Traveler's Cheque. Utmost care should be taken while purchasing currency, Notes, T.C, DD, & similar instrument for protecting the Bank from probable loss as well as safety of the Bank officials concerned.
Purchase of foreign Currency Notes T.C & DD
Following General observations are required to purchase the above:
Currency notes to be checked very carefully so as to avoid risk of purchasing counterfeit notes.
While purchasing T.C signature of the holder to be obtained on the Travelers and should be verified with the signature of the holder given at the time of issuance of T.C passport of the seller as well as purchase contract of the T.C to be asked for to ensure genuineness.
Draft should not be purchased unless the holder is a regular customer of the Bank. Indemnity bond to be obtained for recovering the amount paid to the holder in case of dishonor.
Private cheque should not be purchased without prior approval of head office.
Bangladeshi nationals working with the Foreign/International organization operation in Bangladesh if salary is paid in Foreign Currency.
Bangladeshi nationals who are ordinarily resident in Bangladesh may open FC account will Foreign Exchange brought in at the time of their return to in Bangladesh from visit abroad.
Chapter 6
Performance Analysis based on Ratio Analysis
PROFITABILITY (2006)
RETURN ON EQUITY
Return on Equity (ROE) measures the rate of return on the stockholder's investment in the bank, which includes their paid- in capital as well as retained earnings. Formula of Return of Equity is;
Net income after taxes
Return on Equity =
Total equity
703,782,843
=
3,125,688,713
= 0.225
= 2.25%
NET PROFIT MARGIN
Profitability Ratios indicate the adequacy of earnings relative to the asset base. In effect, this ratios show the efficiency and profit margin ratios combined.
Formula of Profit margin ratios is;
Net profit
Net Profit margin =
Total operating income
703,782,843
=
3,169,485,074
= 0.2220
= 22.20%
CURRENT RATIO
The current ratio measures the relationship between total current assets and total current liabilities. The higher the current ratios, the higher the liquidity position for a bank. The formula of current ratio is as follows;
Current Asset
Current Ratio =
Current Liabilities
57,443,251,307
=
54,317,562,594
= 1.05 Times
DEBT EQUITY RATIO
A bank's long-run solvency depends on the success of its operations and on its ability to raise capital for expansion or even survival over periods of temporary difficulty.
A key measure in evaluating this long-term structure and capacity is the debt-to-equity ratio. If this ratio is too high, it may indicate that the bank has used up its borrowing capacity and has no cushion for future events. If it is too low, it may mean that available leverage is not being used to the owners' benefit. Formula of debt-to-equity ratio is as follows;
Total Liability
Debt to Equity Ratio =
Total equity
54,371,562,594
=
3,125,688,713
= 17.39 Times
TIMES INTEREST EARNED
The ability to make interest payments is more a function of the company's ability to generate positive cash flows from operations in the short-run, as well as over time. Thus, times interest earned shows how comfortably the company should be able to make interest (and preferred dividend) payments, assuming the earnings trends are stable. Formula of times interest earned is given as follows;
Operating income
Times Interest Earned =
Interest Expense
3,169,485,074
=
4,048,903,967
= 0.7828
= 78.28 Times
PROFITABILITY (2008)
RETURN ON EQUITY
Net income after taxes
Return on Equity =
Total equity
838,764,573
=
3,999,512,056
= 0.2097
= 20.97%
NET PROFIT MARGIN
Net profit
Net Profit margin =
Total operating income
838,764,573
=
3.886,363,851
= 0.2158
= 21.28%
CURRENT RATIO
Current Asset
Current Ratio =
Current Liabilities
71,136,842,020
=
67,137,329,964
= 1.05 Times
DEBT TO EQUITY RATIO
Total Liability
Debt to Equity Ratio =
Total equity
67,137,329,964
=
3,999,512,056
= 16.78 Times
TIMES INTEREST EARNED
Operating income
Times Interest Earned =
Interest Expense
3,886,363,851
=
5,213,697,657
= 0.7454
= 74.54 Times
PROFITABILITY (2009)
RETURN ON EQUITY
Net income after taxes
Return on Equity =
Total equity
959,372,816
=
4,965,681,970
= 0.1932
= 19.32%
NET PROFIT MARGIN
Net profit
Net Profit margin =
Total operating income
959,372,816
=
4,234,778,143
= 0.2265
= 22.65%
CURRENT RATIO
Current Asset
Current Ratio =
Current Liabilities
77,767,413,094
=
72,801,731,124
= 1.07 Times
DEBT TO EQUITY RATIO
Total Liability
Debt to Equity Ratio =
Total equity
72,801,731,124
=
4,965,681,970
= 14.66 Times
TIMES INTEREST EARNED
Operating income
Times Interest Earned =
Interest Expense
4,234,778,143
=
5,406,545,979
= 0.7832
= 78.32 Times
Chapter 7
Recommendation and Conclusion
RECOMMENDATIONS
As per earnest observation some suggestions for the improvement of the situation are given below:
To attract more clients DBL has to create a new marketing strategy, which will increase the total export import business.
Effective and efficient initiatives are necessary to recover the default loans.
Document could be kept in the branch and until the PAD is adjusted by CPC branch can not hand over the document to client. If this procedure is accepted, certainly loss of time could be minimized. SAM ID could be provided to the concerned officer of the desk so that he/she could print the same from the branch. This will also minimize consumption of time.
Branch management has to persuade clients to give an L/C or document requisition within a specified time so that everything could be done smoothly.
Attractive incentive packages for the exporter will help to increase the export and accordingly it will diminish the balance of payment gap of DBL.
Long term training very much required for the foreign exchange officers.
In our country financial problem is a great constrain in foreign trade. DBL is very conservative for post shipment finance. If it stays in liberal position the exporters can easily overcome their financial constrains.
Bank can provide foreign market reports, which will enable the exporter to evaluate the demand for their products in foreign countries.
Segregation of International Trade transaction from the existing situation i.e. Credit aspects to be looked after by credit analysis department.
DBL can expand their export business in the frozen fish, fish, and jute sector.
New investment sector is booming rapidly. DBL should identified those untapped areas of business and invest in those sector such as Gas plant, condensed milk project, ship breaking etc.
It is noted that "delay in service" is one of the problems faced by the clients. Attempts should be made to straighten the banking procedure.
Effective Management Information System must be evolved by DBL so that correct decisions may be taken at correct time at policymaking level.
Proper communication needs to establish with clients.
Proper incentive system should be introduced to motivate bank employees for rendering better services.
DBL should open more ATM Booth.
All out efforts may be in place to reduce overhead costs as minimum as possible.
Effective and efficient initiatives are necessary to recover the default loans.
I believe these steps will be helpful to improve the performance of Dhaka Bank Limited and the financial sector of Bangladesh.
CONCLUSION
Proper financial system of a country can contribute towards the development of that country's economy. In our country Bangladesh, banks have a leading power to its financial system. For this reason, the banks should have a potential role to make our financial system. In this arena, private commercial banks are playing a vital role in the development of our economy. But Govt. and Bangladesh Bank play a crucial role to the private commercial banks through imposition of deposit restriction, lending role and other banking operations. In recent years of banking business, Dhaka Bank Limited has shown better performance comparing with other first generation banks.
We expect the Dhaka Bank Limited may hold its prospect in future and can contribute a vital role in the socio-economic prospective.
It is a great pleasure for me to have practical exposure to Dhaka Bank limited, Bangshal Branch. Without practical knowledge, it is not possible for me to compare the academic Knowledge and practical knowledge. Since the time is very limited to learn the all the sectors of a bank. If the duration of internship can be increased, then it is possible to learn the entire banking activities mere properly.
To complete in the environment of advancing technology and faster communication the DBL should depend more heavily on the quality service and information technology. DBL should be connected through wide area network. So that all the informational and service can be accessed from any branch of the country.
No doubt about it that DBL achieved superior position in our banking industry but to cope with customer DBL should think how to make its service proactive. To compete with other Banks operation in Bangladesh, DBL should introduce easier way for faster processing of credit analyses.
As a leading bank f Bangladesh, DBL contributes in the business with promising future. I can hope so that DBL can spread their business with increasing various scheme and other utility services.