Marketing Plan of Teen Shampoo
In Bangladesh Cosmetics and Toiletries Industry contribute in the economy and is playing a vital role in enriching the overall business ambience of the country. This report is a vivid showcase of the overall Cosmetic and Toitetries Industry of Bangladesh along with that the prime importance and prime focus will be placed to highlight the overall marketing plan of Teen Shampoo which will be launched by local renowned Square Toiletries Ltd(STL) in the near future. The prominent part is that there is no severe competition in this teenage hair care product, it will be a great opportunity if STL can exploit the opportunity. If it can be possible to execute, STL will get a first mover advantage which will help them to create a sustainable and long lasting impression even though any other company comes up with same sort of Teenage Shampoo. It is inevitable to say that teenage is the time when teenagers undergo different physical, psychological, emotional, spiritual, social changes. Teenage is the age of know everything, do everything and try everything. Teenagers being neither children nor adults rather, they are different from others and their needs are also different from others. At the teenage hair reaches to its largest diameter and thus it is needed to be taken care of the hair for both boys and girls properly. Due to different hormonal changes, teenagers undergo different physical changes. In the teenage period, it is experienced that Sebum secretion is maximum which makes the scalp oilier than regular and scalp skin is suffering from dandruff and different skin irritation problem. There are different herbal products but different products are for different problem and moreover the companies are not recognized that much.
STL's Teen Shampoo will facilitate the teen age consumers to take care of their hair properly and this shampoo will ensure proper hair growth and healthy scalp. As STL is renowned Bangladeshi toiletries company which does not compromise with the quality, teenagers can easily have confidence to buy Teen Shampoo with their pocket money or disposable income. As nowadays teenagers are getting self-conscious and some of them do part time jobs, they are getting more cautious about using cosmetics and hair care products. Celebrity endorsement is a common practice of making brand or product more popular among the actual and potential consumers. In one research it is found that due to ―Celebrity Worship Syndrome‖teenagers are more and more following their favorite celebrities' hair style, wardrobe fashion. In order to keep pace with the trend, teenagers also use different cosmetics, fragrances, hair care products. In most of the cases teenagers are trendsetters. Parents also play a vital role in taking care of the teenagers' hair and skin. As a part of ―Successful Parenting‖, it is the parents' duty to choose the right product for their teens. Appearance is a significant aspect of anyone's life and due to lack of social acceptance of teenagers' participation, teenagers most of the time get depressed if not properly groomed. Teen Shampoo will be a teenager's hair grooming product which will nourish the teenagers' hair. Based on the research conducted by the STL, I a part of the research collected feedbacks based on the factors like fragrance, diffusion, color, stickiness, perceived sex, after use and foaming. The marketing mix will be constructed based on the STL's branding propositions and marketing strategies will be adopted based on the requirements and budget.
Along with the four Ps product, price, place and promotional activities, packaging of the shampoo will play a vital role for getting the popularity and mass acceptance. Due to trade liberalization different multinational companies can be attracted to launch their teen products to compete with the STL's Teen Shampoo if it proves to be profitable. Different low cost cosmetic and hair care products manufacturers are targeting middle to low end market which always poses a threat to the high priced branded products. Though those products are not quality oriented but they are surviving due to the low price considerations.
Square Toiletries Ltd is now exporting their products to foreign market. Consequently, threats can be nullified if the new Teen Shampoocan occupy massive and positive consumer base.
Square Toiletries Limited
Square Toiletries Limited started (STL) its journey in 1988 as a separate division of Square Pharmaceuticals. Being a concern of Square Group, Square Toiletries Limited enjoys the prestige of Square Group and exploits the consumer confidence by their passion and hard work. In 1994 STL became a private limited company.
According to the official website of Square Toiletries Limited (www. Squaretoileries.com), at present, STL is the country's leading manufacturer of international cosmetics and toiletries with 20 brands and more than 55 products covering a wide range of categories like skin care, hair care, oral care, baby care, fabric care, male grooming and otc( over the counter-refers to stocks that that trade via a dealer network as opposed to on a centralized exchanged).
Along with the business, STL takes part in different philanthropic activities and programs like creating mass awareness on health and hygiene issues, tree plantation, employment generation program for vulnerable community, financial aid to disadvantaged and flood affected people, supporting education and various local community program.
Internship Project
Teenage life is the temporary period of a human life which does not last forever. However, it is the most important time as physiological and psychological changes become visible that need extra care to adjust with. As part of my internship program, I am working with the marketing department of STL to prepare an entire feasible marketing plan to launch a shampoo which will only be prepared to serve the specific needs and requirements of the teenagers. Mohammed Aftab, Brand Executive of Square toiletries limited supervises me to work as a team. Teenage period is the time when hair reaches to its largest diameter. As time passes by, the density of hair is getting lower and lower and hair fall starts. If in the teenage the hair growth can be ensured, in the later part of life it can be expected that s/he will enjoy less hairfall and expected hair growth. In the very beginning, for healthy hair it is mandatory to ensure a healthy scalp.
As teenagers are not children, child products are not for them. The statement is also true when they use adult products. Teenagers are different from children and adults. As a result, their needs are different. We are working to produce a shampoo which will have all the helpful ingredients for teenagers' hair. The formulation of the Teen Shampoo is undergoing with numerous research and development. I personally tested the shampoo. I facilitated some teenagers to use this pre launch trial shampoo and collected feedback from them. Based on their feedback and perceptions, we are trying to develop the marketing mix for launching this product. Along with the questionnaire based survey, I personally collected feedbacks based on factors like fragrance, diffusion, color, stickiness, extent of foaming and after use feelings. Based on the factor analysis, I am preparing my marketing plan for the Teen Shampoo.
As internship is a three month program, may be it will not be possible for me to experience the product launching during the internship period. However, if the marketing plan works in a proper way, it will be great opportunity for Square Toiletries Limited to get a first mover advantage in teenage shampoo market in Bangladesh. In addition to that as STL exports its products, it will also be an opportunity to do business internationally and thus it will uphold the dignity of Bangladesh.
Differentiation Strategy
Differentiation strategy refers that a company distinguishes themselves by their product or services. Square group is also like them. If I consider about square hospital then this strategy will be clearer. This hospital is providing unique services throughout the city. That is why people are always charged high by them at this hospital and people would like to get their service by giving high cost.
Focus Strategy
Focus strategy refers to concentrate on a specific regional market, product line or group of buyers. Square Group actually follows differentiation focus strategy. Many of companies of Square follow this strategy. Specifically Square Pharmaceuticals Ltd. and aquaria Knit Fabrics Ltd. follow differentiation focus market based strategy. They export drugs at US and UK and clothes and fabrics at Germany. STL follows focus strategy.
Analyzer
A prospector followers firm is very much innovative, seeks out new market and opportunities, and oriented toward growth. At the same time, these companies try to concentrate on maintaining their current market and customers and maintain stable growth. Square group is similar to that.
That group of company started their journey by 1958. Later on they entered into various sectors. It became possible only for their analyzing strategy. They were always keen to enter into new market and they searched for it by holding their current market and customers. All of these, made them today's Square Group.
Diversification
Square Group also follows related and unrelated diversification. For example, Square Group has Square Textiles Ltd. and Square Knit fabrics Ltd. Here, these businesses are linked with one another. So they follow related diversification. Again, Square Group has Square Textiles Ltd. and Square Consumer Products Ltd. These businesses are totally different in terms of sector and they don't have any linked up with one another. So here they follow unrelated diversification. To become a diversified firm Square Group actually follow different strategy. Most important of them is development of new product. It's very common for Square Group. We can see that Square
Group frequently established new industries and got involved into new sectors which prove their diversity. And it was only possible for their emphasizing on developing new product.
Origin of the Study
As a compulsory part of internship program, this particular report is being prepared on the proposed topic "Teen Shampoo Launching Marketing Plan". The intention of internship was to give an opportunity to the students to gain some real world experience working in a practical environment. The internship supervisor was Mr. Fazal Mahmud Roni, Assistant Manager,
Marketing Department, Square Toiletries Limited. Mohammed Aftab, Brand Executive also gave me insights to work on this project. The faculty advisor was Muhammad Ariful Ghani, BRAC Business School, BRAC University who's endless and cordial support inspired me a lot.
Objective of the Study
The primary objective of the study is:
To formulate a successful product launching marketing strategy for Teen Shampoo.
The secondary objectives are:
To identify the brands and attributes in terms of preference.
To know the consumer purchase behavior about Teen Shampoo.
To explore performance of Teen Shampoo in terms of core product attributes.
To create brand positioning of Teen Shampoo.
To find out the barriers for launching a new product.
To recommend how to overcome the barriers that a new product face
Industry Overview
The global cosmetic products market is one of the largest industries in the world, with more than $635 billion in total sales expected by 2019 and there being no signs that growth in this market is slowing down, as a CAGR in excess of 6% is forecast between 2012 and 2019. (Toesland, 2014)
FinbarrToesland wrote an article named Cosmetic Products Market published on 24 April, 2014. In the article, the writer provided some global market insights about the cosmetic products. The writer mentioned several opportunistic areas about cosmetic products and industry. In the writer's words while the world is suffering from the recession and economic downturn, the overall consumers did not have the ability to purchase luxury cars, holiday packages even the fashion clothing. That scenario had given a birth of different scenario where the marketers experienced that the sale of the lower end cosmetic products did not change in a bigger scale.
The cosmetic products secured 15% of the overall beauty and personal care industry. On the other hand skin care products and hair care products occupied 30% and 25% of the overall share.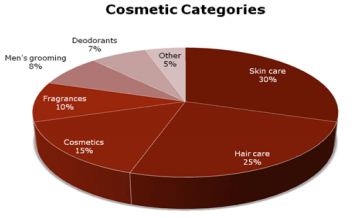 With the rampant surge of internet, social media, consumers can easily explore the post purchase and reviews of the products which make the consumers more technologically savvy and knowledgeable. Along with that with the increased number of complain and feedback platforms, companies are keeping an eye on the consumers responses and through this they are improving their product. Thus relationship is making and consumers are getting more confidence to purchase cosmetic, skin care or hair care products.
Nowadays the trend is changing. In the past the tendency was to endorse celebrities for a product but current trend is to place importance on the products features. Packaging is also playing a vital role in attracting the consumers.
Brazil, China, Mexico are also emerging as potential cosmetic market. There are also some luggage party products which really confuse the cosmetic purchasers and users.
When it comes to looking beautiful, several global factors are playing vital roles and based on importance percentages were calculated. Like eating the right food is occupying 64%, drinking lots of water 48%, getting lots of exercise 38%, using the right skincare products 27%, staying out of sun 16% and using good cosmetics 12%. (Source: Marketing Week).
The biggest challenge behind the cosmetics usage is that people do not have stronger belief in the cosmetics only 12% people have faith on cosmetic products which they believe that cosmetics can beatify their appearance.
There is a silver lining in the skin care products as globally 27% people believe that using skin care products can augment their beauty.
Market Share of Cosmetic & Toiletries in Bangladesh
According to the Bangladesh Bureau of Statistics 2010, Square Toiletries Ltd (STL) is holding the 3rd position in the cosmetic and personal care industry. The above graph showed that STL is occupying near 14% of the overall market share where Kohinoor is capturing the second position with 15% share. As expected the big player Unilever is holding the first position with 45% share of the market.
Along with that Keya, Cute, Delta are also holding significant market share in the cosmetic and toiletries industry of Bangladesh. Some other related companies are Aromatic, Kollol, Kashem etc.
Growth of Cosmetic and Toiletries Sector
The demand for the personal care and cosmetics are increasing day by day and if it is female cosmetic products they usually prefer branded products. The branded cosmetic products are basically divided into two categories such as 1. Color Cosmetics and 2. Personal Care Products (according to industry insiders).
Under the color cosmetics there are products like lipstick, nail polish, eye and cheek shades whereas personal care products include skin care products, hair care products, shampoo, conditioners, lotion, cream etc.
Renowned color cosmetics brands, including L'Oreal, Revlon, Estee Lauder, Max Factor, Avon, Maybelline, M-A-C Cosmetics, Garnier, Elizabeth Arden, Lalique, bareMinerals, BeBeautiful, Bioré, Biotherm, Bobbi Brown, Chanel, Clinique, CoverGirl, Crabtree and Evelyn, Dior, Essie, Frederic Fekkai, Fusion Beauty, Giorgio Armani, Guerlain, Nivea, Lakme, and Emami are imported into Bangladesh. Most products have been imported from the US, Germany, France; Middle East, China, Thailand and India. The reasonably priced products are most popular in the local market. The demand for globally renowned brands like L'Oreal, Revlon, M-A-C Cosmetics, Maybelline, and Garnier has risen in the past five years. (JBBC Research Report: Japan Bangla Business Center).
As these personal care products are pretty much essential among the consumers, if the prices of quality shampoo, soap, lotion go up, people will not mind to pay higher.
Brief Overview of Shampoo
Shampoos are cleaning formulations which are used for personal care, pet use and carpets. Generally most of the shampoos are manufactured in the same way which contain particular chemical named Surfactant which has ability to surround around oily particles and these oily particles are removed when applied shampoos are rinsed with water.
Shampoos are used for personal care generally for washing hair. There are different branded shampoos all over the world and as all of them have same formulations, they have several common perceived strengths and weaknesses.
Strengths of Shampoo
Removal of oil, dirt and skin particles.
Shampoo helps to make our hair clean, shiny, thick and silky.
Shampoo helps to have manageable hair.
Removal of dandruffs.
Some shampoos are enriched with Vitamin E which is helpful for the hair growth.
Eye soothing Color, pleasing fragrance, appropriate foaming, better diffusion, good after use effect, level of stickiness and viscosity (the state of being thick, sticky and semi-fluid in consistency).
Weaknesses of Shampoo
Generally shampoo is harmful for eye.
Frequent usage of shampoo can make the hair rough.
Some shampoos contain harmful chemicals which are liable for hair fall.
Sodium Lauryl Ether Sulfate or SLES is commonly used in shampoos which may be carcinogenic.
Continuous exposure to Ethylene Oxide with Sodium Laureth Sulfate headache and soreness in the eyes, nose, throats and lungs.
SLES reduces hair growth and extends the period of hair growth.
Concept of Dry Shampoo
Shampoos are basically liquid detergent where the concentration is 8% which is required to be mild on the scalp and less irritating to the eyes. As typical shampoos are used with water, it is perceived as wet shampoo. Aesthetic values perceived by the consumers make the usage of shampoo all over the world. Even the working classes use branded shampoo as worldwide recognized shampoo brands produce sachet packets for the economical benefits to the lower end branded shampoo users.
The concept of dry shampoo is getting popular day by day in the western world. Dry shampoo is a powder like shampoo which is sprinkled into the hair. Most interestingly dry shampoo needs not to be washed out with water. As working people are getting busy day by day along with that maintaining presentable appearance is also important for them, dry shampoo can be a solution to them to save time.
In parts of Asia, people used to wash their hair by sprinkling clay an in France women use powder to color their hair in the 18th century. The concept of dry shampoo came from that historical background.
People who go for camping, vacation trip, gym, meetings or attending any party can find dry shampoo useful if they want to augment his/her beauty and social acceptance.
Dry Shampoo Brands
Expert dry shampoo,
Batiste colored dry shampoo,
Batiste original,
Tressemme Instant Refresh and
Umberto Giannini Glam Hair
Above dry shampoo brands are some of the renowned dry shampoo brands which the consumers find helpful.
Body Wash Concept
Denim, Dove Men, Axe, adidas, Nivea, Lynx, Palmolive Men are some of the renowned body wash targeting men whereas Lux body wash, Dove body wash, Palmolive, adidas for women body wash are some of the famous women body wash brands.
As the body wash brands are providing the message that using soap can be infectious or impersonal as if one soap is used by many. In case of body wash, it will provide both the body and hair cleansing solutions which may decrease the sale of soap and shampoos.
However, the secnario is that body was is not accepted widely rather than consumers prefer different products for their hair and body. That's why 2 in1productcan not hold a ground against the renowned hair shampoos.
There are some renowned brands that are making quality shampoos for babies. Most of them are proposing that their baby shampoos will provide tearless baby hair cleansing. Babies are not actual purchasers of the baby shampoo rather than they are actually influencing their parents to purchase baby shampoos for them. Companies are using different cartoon characters to attract the babies so that they can influence their parents to purchase the baby shampoo.
According to the EWG research, teens tend to use an average of 17 body/skin/cosmetic products a day compared with adult use of an average of 12 products. The study showed that, across the United States, teenage girls are already typically contaminated with a wide variety of known toxic chemicals routinely used in many personal care and cosmetic formulations. Blood and urine samples collected from the teens indicated that the some of the toxic ingredients are at an elevated state in the collected samples.
EWG Research Findings
Some findings based on the EWG research are given below
Phthalates – Phthalates is often used in the manufacture of plastic products.The alarming fact is that they can be absorbed both into susceptible products and also the body via various means. It has been found that phthalates are potentially cancer causing and disruptive to natural hormones and may affect normal gender development and fertility.
Triclosan – Triclosan is a chlorophenol that is registered as a ‗pesticide' by the US Environmental Protection Agency which is widely used in liquid hand soaps, toothpaste, anti- bacterial creams and other so-called `body care` products. It progressively increases in its toxic potential level through continuous accumulation as it is very hard to get rid of once absorbed by the body. Moreover, it is known to cause irritations, trigger allergic reactions.
Parabens – A `family` of carcinogenic chemicals (e.g. methylparaben; propylparaben and others).Based on the sample of 20 teenage girls studied by the EWG, Parabens are detrimental to the teenage health.
Fragrances – Synthetic fragrances such as `musk` are frequently used in the popular, cheaper brands of perfumes, toiletries and cosmetics (typically favored by pocket-money-spending teens), these synthetic perfumes can cause allergies and sensitivities.
All these findings can be a source of informed purchase decisions for both the parents and the teenagers. Ingredients play a vital role in terms of effectiveness but it must be ensured that the long term effect must be kept in mind instead of short term results. Due diligencecan be used in terms of making a purchase decision. Along with that marketers and manufacturers must focus on ethical marketing and ethical manufacturing of the cosmetic and personal care products.
Celebrity Worship Syndrome
Celebrity worship is one of the most common ways of idolatry these days. Researchers report that about one third of people (thanks to daily gossip columns in the tabloids and ubiquitous celebrity news in the media) suffer from Celebrity Worship Syndrome, an actual syndrome that can become obsessional, replacing conventional relations.
There are three stages of the disease.
In the very beginning stage a fan shows a lively interest in a celebrity .When the fan gets addicted to the celebrity's personal life information, the situation gets livelier. S/He begins to actively pay attention to all kinds of news relating to his/her idol. Based on the information collected the information the fan structures his/her regular life where s/he follows the celebrity's wardrobe styles, hair cut etc…
The report stated that about 10% of enthusiastic fans reach the second stage as the syndrome takes shape and people become confident that they form some kind of a ―special relationship‖ with their idols.
Target Group: Teenagers
Teenagers are an idea which was invented in 1950s. In 1950s young people of the 1950s used to have less adult responsibilities and more time and more disposable income. In the period of 1930s and 40s, young people of Great Depression who had to work for livelihood or to fight in WWII. Teens of the 1950s emerged as distinct group of fashion, own style and identity.
Trendsetting for any sort of product is heavily relied on the marketing communications positioned to a target group where propositions care constructed by the master market minds. In case of teen products, teens are the trendsetters and they make their own trends.
Teenage lasts for a short span of life and undoubtedly it is a new birth. Stepping into a new horizon and charming with thoughts always make the teen champs feel them different. With the flow of time, teenagers' issues are dealt with more care and empathy. This sort of attitude towards teenagers helps them to grow boundary less and ensures their development.
There are several developments during teen life-
Physical Development
Emotional Development
Intellectual Development
Social Development
Spiritual Development
Physical Development:
These scenarios are common to most of the teenagers that they are mistakenly perceived as more aged than they are actually are .like a fifteen years old boy or girl can be considered as 21 years old which some teenagers find troublemaking and embarrassing.
Emotional Development:
Emotion is natural to the teenagers at their tender world. They struggle to recognize and deal with stress, anger and stress. Some teens are easy going and some get angry easily. Some teens want to try out new things like drugs, alcohol, self harm etc. In general teenagers do not care their parent's affections but some of them do.
Intellectual Development:
Abstract thinking developed in older teenagers. The scenario is like that lots of teens talk intelligently but still has trouble in proper and insightful planning and execution. In fact their thinking process or thoughts cannot be overlooked as their thinking is considered to be the future. The angles and the lenses that the teenagers use may appear weird and unusual to the mature heads but they should not be discouraged to exhibit their thoughts. Out of surprise, some ideas may not be applicable in present but they can appear as magic wand in future.
Older teenagers can take part in back and forth conversations as they are comparatively more mature in thinking than the younger teenagers and children. To take care of these older teenagers is always very difficult for their parents as these older teenagers assume themselves as prudent as adults. However, these older teenagers sometimes use their intellectual capabilities as ― logical weapons‖ against their parents which put the parents in a challenging situation to provide the teen heads the right track.
Social Development:
Teen agers are immensely influenced by their friends advices, clothing, styles and fads. In case of seeking any suggestion regarding any issue, teenagers always prefer their peers and friends as their reference or opinion leaders. In order to pay a shopping trip, teens also prefer their friends as their purchase pal.
Spiritual Development:
As the teens grow up gradually, they try to dig the mysteries of the world. They tend to possess some intellectual ideas about the religions, ritual, cultural practices etc. They try to seek out questions like what is the meaning of life, who is the creator, after life, personal beliefs, and personalities. All of these ideas reshape their previous perceived beliefs. Some of the teenagers also get more spiritual exposure to their daily life and get themselves more involved in the religious activities.
Segmentation of the Market:
Segmentation of the total shampoo market is very important to launch new Teen Shampoo. Appropriate segmentation will provide the basis on which the total marketing plan will rely on. The segmentation will be done based on demographic, geographic, psychographic and behavioral segmentation.
Demographic Segmentation:
Demographic segmentation is done based on demographic factors like age and income. If we consider the age literally teenagers are those who are in their teens that mean age range from thirteen to nineteen. In order to segment the market we considered age ranged from thirteen to twenty two.
Most of the teenagers are student and only a few have particular jobs. As a result, most of the purchase will be based on the pocket money spending. In addition to that we are trying to persuade the parents to purchase the right hair care products like Teen Shampoo from STL. This purchase will be done by the disposable income of the parents.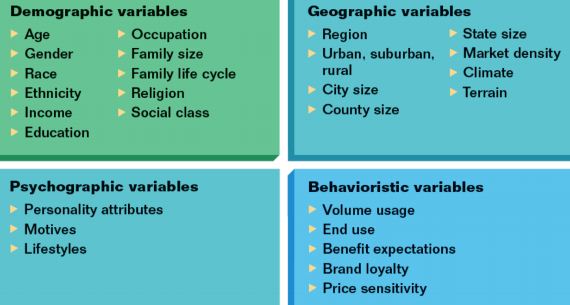 Under the geographic segmentation, typical the variables are urban, suburban, rural, city, climate etc. As mostly the metro city dwellers are more concern about their skin and hair as they are more exposed to pollutants. As a result, we will initially target the metro city teen agers.
Again market density or the number of cosmetic and toiletries shops will be comparatively higher in the metro cities. When a business will be running in urban areas, the weighted and numeric distribution of a particular product will be higher.
As a result, the chances to have an increased sale of a particular productin the initial stage will be high which will come to be a less risky investment for the investor.
Psychographic Segmentation:
Psychographic segmentation variables are personality attributes, motives and lifestyles. The personality of the typical teenagers is same. They actually want to be the trend settlers. As a result, they try different products on their skin and hair. They always want to avoid the social embarrassing situations which make them self-conscious about themselves.
In this era of rampant surge of information technology and more exposure to the internet, it has been experienced that rising up children nowadays is not easy as before. ―Successful Parenting‖ is becoming more difficult day by day. Because of the modern marketing strategies which are exploited by the cosmetics and personal care industry, teenagers are exhibiting their keen interest to use synthetic chemical products for their natural adolescent problems. ―Socially Perceived
Embarrassing‖ problems but which are natural encourage teenagers to experiment different cosmetic and personal care products on their skin and hair.
A research published by the respected Environmental Working Group (EWG) in September 2008, that if anyone has teenagers in particular s/he needs to be aware of that they are at a difficult and vulnerable time of life, when their own bodies are in a state of turmoil and constant development. Amongst the numerous challenges of approaching adulthood is the development of  natural body-smells, and minor skin eruptions, caused by glandular and hormonal disturbances.These sorts of experience make the teenagers feel ―|Self Conscious‖.
Teenagers are at a process of constant physical development and vulnerable stage in their teenage as said earlier. Choosing the right product for them is not always easy for them. In the market there are several confusing marketing communications around the personal care products.
Most of the products displayed on the shelf are produced for the adults and in addition to that there are also baby personal care products and these products are manufactured using synthetic chemical for preservation, coloring, fragrance amongst other things.As these products are triggered to the customers using different catalysts like celebrity endorsement, attractive packaging, acute fragrance that diffuse more etc.
As most of the cheap cosmetics are purchased by the pocket money spending teens they actually neglect the ingredients of the products. Only alluring commercials or any attractive marketing communication make the teenagers confused and they purchase the products. There are some organic products too but there also the ground of credibility is missing. Another aspect of teenage life is that most of them are actually suffer from ―Celebrity Endorsement Syndrome‖ which let the fanatic teen fans to follow their lifestyles and beauty products choice to look them trendy as like his/her favorite celebrities.
The typical behavioral segmentation variables are volume usage, benefit expectations, brand loyalty and price sensitivity. Generally, teenagers are more exposed to sun, dust, and polluted air as they have to go out during school/college or University hours. Moreover, teenagers loves to hangout they love to travel, try junk foods etc.
Teenagers of Bangladesh nowadays have more purchasing power than before, as they are working as tutor, doing part-time jobs, doing freelancing works they have the purchasing power to buy things according to their own needs. According to the EWG research, teens tend to use an average of 17 body/skin/cosmetic products a day compared with adult use of an average of 12 products. This finding shows that the volume use of cosmetic products is very high but it facilitates them to experience different products which make them ―Shifting Loyals‖ which means moving from one brand to another.
By behavior and based on their pocket money or disposable income they are pretty much price sensitive which make them ―Swithchers‖ which means who do not have loyalty or who try something different or deal prone.
Teen Shampoo from STL will provide all the teenagers' expected benefits which will make teenagers ―Hard Core Loyals‖ which means who buy the brand all the time. This is very much difficult and challenging for any company at the initial stage. As a result, at the initial stage it will be better to target ―Split Loyals‖ which means who are loyal to two or three brands.
Target Market of Teen Shampoo
Target group is a set of consumers who share same kind of interests. The target group of teen shampoo is the teenagers. Basically teenagers indicate those who are of 13 to 19 years of age. In this project we are targeting shampoo consumers of 13 to 22 years of age. We think this age range will be appropriate for Bangladesh to make the project feasible.
There are several rationales behind choosing this target group. One of them is that this age group has more or less same special needs and requirements. We will target the urban teenagers as they have more buying power than the rural teenagers. We are targeting the urban teenagers to have a share from their pocket money.
The overall idea of targeting will be based on the segments which we think will be attractive based financial benefits like sales, revenues and profit. In this case we have to be careful enough to target the segments which will result in generating consistent returns.
Positioning Strategy
Points of Parity (POP)
Points of parity are the associations which are not unique to the brand rather they are shared with other related brands. In order to be recognized as a good brand it is necessary to have some common features in common. Most of the consumers are not ready to accept radical change in a new brand rather than they will search for the ingredients which they are used to.
The common points of parities in Shampoos are-
Anti dandruff solution
Hairfall solution
Thick and long hair
Smooth and shiny hair
Points of Difference (POD)
Points of differences are the attributes or benefits that consumers strongly associate with a brand, strongly evaluate and believe that they could not find to the same extent with competitive brand.
The points of differences of a brand influence the buyer to purchase the product. PODs are needed to be unique. If it can be ensured that the points of differences are communicated properly, it will result in improved acceptance rate.
The very beginning point of difference is that there is no teenage oriented shampoo in the shampoo market of Bangladesh. Another dimension of point of difference will be the formulation which will ensure the hair growth of teenagers. The point of differences will encompass the overall hair care and nourishment of teenagers which they will enjoy through their rest of the life.
Branding Decision
There are different definitions about branding. According to entrepreneur.com branding is the marketing practice of creating a name, symbol or design that identifies and differentiates products from other products.
Effective selection of relevant brand elements makes the brand acceptable and popular. Marketers choose brand elements to build the brand equity as much as possible. The typical brand elements are name, logo, tag line or catchphrase, shapes, colors, sounds, scents, tastes, URL, jingle, packaging etc.
There are six criteria for choosing brand elements. The criteria are
 Memorability
 Meaningfulness
 Likability
Transferability
 Adaptability
 Practicability
The following criteria will be considered for the new product Teen Shampoo
Memorability:
Memorable and attention grabbing brands facilitate recall and recognition. For better recall and recognition it is needed to choose or select the right brand elements which facilitate the consumers to recall and recognize the brand. The unique combination of the brand elements makes the brand memorable. When the consumers recall the brand there is a more chance to have them in the consideration set and among them it they like the brand s/he will purchase brand again and again.
Meaningfulness:
Brand elements may take on descriptive or persuasive meaning. General information about the nature of the product category which build brand awareness and specific information about a particular attribute or benefits of the brand will make the brand elements more meaningful.
Likability:
Likability refers to whether the customers find the brand elements aesthetically appealing. A target group research will be easier to have an idea what are preferences of the target group and based on the preferences the brand elements will be selected.
Transferability:
Transferability refers to the brand elements usefulness for line or category extensions and to what extent the brand elements add to brand equity across geographic boundaries and market segments. This criterion will be helpful if we go for future extension or expansion.
Adaptability:
Adaptability refers to the flexibility of the brand elements when it is needed to be updated in order to keep pace with changes consumer opinions and values. For example, logos and characters can be given new look to make it appear more modern and relevant.
Protect ability
Protect ability refers to choose brand elements that can be legally protected internationally. In order to protect the brand elements it is necessary to formally register chosen brand elements with appropriate legal bodies. It will facilitate the brand to defend trademarks from unauthorized competitive infringement.
As Square Toiletries Limited is a renowned cosmetic and toiletries company, definitely it is inevitable to admit that all the criteria will be considered properly with its own style of doing business.
SWOT analysis of Teen Shampoo of Square Toiletries Limited
Strengths-
Improved product formulation
Existing vast, distribution channel of Square group
Specific need orientation of a particular market
Brand development and marketing with efficient operational structure.
Brand name & reputation.
Weaknesses:
No experience in marketing teen shampoo. Square has made its fortune selling commodity items.
Absence of premium market.
Difficult to determine ingredients
Poor penetration in rural and semi urban areas.
Opportunities:
Increasing demand for hair care products among the teen agers. The present market penetration rate is very low. There is huge potential for growth.
Production and marketing of teen shampoo can use the market position of Revive Shampoo.
Focused hair care product with vibrant packaging and better proposed performance can increase the market growth.
Increasing buying power of the teen agers with their pocket money.
Threats:
Frequent brand switch tendency among the teen agers.
Majority of the teen products are purchased by the pocket money spending. As a result low and no stable budget orientation.
Increasing global price and high import duty.
Increasing competition.
Teenage Hair Care Problems
Perry Romanowski wrote an article in the ―Chemist Corner‖ on 3rd December, 2009 titled as ―Top 10 Unsolved Hair Care Problems‖. In the article the writer highlighted the importanceof inventing new formulas to satisfy the requirements of the marketing department of an organization. In the cosmetic industry, all the companies compete almost on the same periphery.
As a result, coming up with new formulas will always give an extra mileage to capture the consumers mind share as well as the share of the product.
There is always a scope of product development through continuous research and development. When it is the case of a teen's hair, the issues get more sophisticated. There are still several unsolved hair care problems.
Hair Loss
Losing hair is a natural aspect for an adult person. At teenage it is very significant to take care of the hair as in the upcoming years s/he is going to lose hair continuously unless s/he does not take good hi/her health.
Unwanted Hair Growth
This problem is exactly the opposite of the first problem. Unwanted hair growth irritates teenagers to maintain a handsome outlook or style. Solutions like depilatories or shaving provide short-term, temporary relief but if it is possible to figure out the problem and if it is possible to formulate a hair care product which will deal with problems properly.
Hair Going Grey
Everyone's hair goes grey at the older age of life but sometimes it has been noticed that at the teenage some teenagers' hairs go grey which is embarrassing and an unexpected incident to a teen's life. A hair care is also needed here which will solve the early age grey hair problem.
Hair Color Changes
Teenagers most frequently change their hair colors and which cause numerous long term hair damage issues if the quality hair colors are not used.
Bad Hair Condition (Feel)
As teenage is the period of continuous growth and development both physically and mentally. Most of the teenagers do not feel good about their hair condition. Along with they do not feel confident about their hair. The expected hair is very important to apply any sort of styles to the hair.
Unruly Hair — Frizzy, Uncooperative
Managing the hair in the proper way is always very difficult for the frizzy hairs. Frizzy hair resists each attempt to control. By definition frizzy hair is naturally curly and dry. This curly hair needs extra care to keep it cooperative. Moisturizing is pretty important for the frizzy hair. Consequently, any hair care product which is rich in moisture will help to tackle this problem.
Thinning Hair
Hair loss is one problem but hair thinning also happens as people get older and the thinning hair problemcomes both in the thickness of the hair fibers. Continuous thinning hair problem will lead to create partial or complete bald haed. Imagine how terrible the situation will be if teenagers are not taking good care of their health.
Lack Volume
People who have naturally straight hair that lays flat on their head have complained that they do not have any volume. Harmless solutions are necessary to prevent this problem.
Shine
Every girls dream like their hair will shine like diamond but this dream remains unfulfilled for many. It is not a wise idea to use any glossy hair care product to reflect the shininess of the hair. Rather than it will be better that consumers are aware of what they are using.
Time to Style
Style and teen life are inseparable part generally. Teenagers try different styles to their hair and some result in hazardous hair styles. It is not their fault rather than sometimes they apply some hair care products without considering their hair type.
Advice for Teenagers and their Hair
Teenagers' life is pretty much different than the stress free and fear less childhood. Puberty and other physical and psychological issues always hunt them down and they always remain daunted.
Their skin texture is getting continuous change and hair growth is also prominent in this period but the general hair type is greasy hair.
While a teenager's hair is bouncing with life and vitality, another teenager's hair may remain dull and gloomy. Many teenagers and their parents are experiencing such scenarios when their tweens (children aged between 10 to 12) suddenly get into their puberty. Because of the rapid changes in the hormones, teenagers are particularly prone to have oily hair. In fact, not all of the teens have oily hair. This happens because each individual body deals with hormone imbalances differently and some teenagers may experience no or very few undesirable puberty. Genetics can also contribute to whether or not we develop greasy hair in our teenage years and often girls, whose mothers experienced greasiness, particularly whilst menstruating, complain of the same condition. The type of texture of our hair can also affect the amount of oil our hair produces.
Boys and girls with a thicker head of hair contain less substance to soak up the natural oils.
How to Care for Oily Hair
Use a PH Balanced Shampoo
Using a professional shampoo which is alkaline-based and PH balanced and specifically designed for oily hair can combat with the greasiness. In most cases, teenagers of urban use herbal hair care packs or products which are available in different cosmetic stores
It is one of the common myths or misconception about hair is that oily hair is produced by an oily scalp but in reality it is not. The real fact is that oily or greasy hair is caused by a dry scalp which requires oil glands to produce more oil. In order to eliminate the greasy hair problem, rinsing the shampoo out thoroughly with warm or lukewarm water is vet necessary. Shampoo which is left on the scalp causes the scalp to dry out and in that case using a shampoo which contains tree tea oil will help to alleviate a dry scalp, the primary cause of oily hair.
Use a Hot Oil Treatment on the Scalp
Massaging a hot oil treatment on the scalp will provide help to moisten the scalp and provide for some of those missing essential natural oils and therefore relinquish the reliance on the oil glands.
Refrain from Using Conditioner
Putting conditioner on the oily hair will increase the problem instead of reducing it. In the oily hair there is already excessive amount of moisture and in addition applying condition on hair which is another form of moistening will deteriorate the problem. If anyone feels his/her hair does need conditioner, applying some only to the ends of the hair, which tend to be much drier than the roots and the first half of the hair.
Refrain from Combing or Touching your Hair Frequently
Frequent combing and constant touching will stimulate the oil glands and as a result it produces more oil. More the oil will be produced; more the scalp will be oily. It is a better idea to refrain from combing or touching hair frequently
Drinking eight glasses of water a day is recommended by the medical experts but naturally and habitually teenagers do not drink enough water. This negligence to water reduces the probability to control the host of ailments. In addition to that water will help to moisture a dry scale naturally and resist the oil glands overproducing.
Buy Some Magnesium Sulfide
Magnesium sulfide, or known as Epsom Salt, removes toxins and excess oils from. The properties in the magnesium sulfide will help to regulate oil production and thus the greasiness of the hair will be removed.
Apply Talcum Powder onto your Hair
There are some quick fix solutions. Applying talcum powder onto the scalp will reduce greasy hair problem. Anyone having oily hair can apply talcum powder onto scalp and comb it gently will help a lot in this scenario.
Natural extracts and herbal medication and vitamin E enriched natural solutions can deal the oily here naturally. Puberty is a temporary stage of life and in this transient stage teens must take proper care of their hair to unleash all the odds with their permanent confidence and hair built in this stage of life. .
Probable Brand Names
HairLine
Groom101
HairWays
I-KON
This paper is designed to propose a teen shampoo which will have all the essential and helpful ingredients for the appropriate sustainable growth for the teenagers' hair. The teenagers if they have the proper learning and can make an informed purchase it will help them to have a better hair health.
Marketing Mix
Product
The Teen Shampoo will have the ingredients which will ensure the hair growth at an optimum level. Before launching a product the product formulation remains confidential. As a result, the ingredients of the shampoo can not be disclosed here in this report. A standard formulation is maintaining during the continuous product development in the laboratory.
As this will be a harmless shampoo, the ingredients may include different fruit extracts like apple extracts. Based on the secondary research I suggested some natural ingredients for the expected results. Olive oil can be one of the ingredients which can repair the damaged hair and hair will look nourished naturally. Another helpful ingredient can be almond oil which can smoothen the hair. Citrus can drive out the dandruff from hair. Along with all of them ginseng and soya energizer can reduce the hairfall.
Price
Price plays a vital role to attract, secure and retain customers. In addition to that price setting is influenced by many factors and there are different types of pricing methods. For Teen Shampoo, STL will use value based pricing. Value based pricing is a pricing strategy which means pricing of the product is based on the values it create. The notion behind the strategy is ―pay for performance‖.
According to the Teen Shampoo's propositions it will create greater values among the consumers and thus the price will be set. On the basis of the price list of www.bdcost.com (24.02.15) the price of Sunsilk Shampoo (180ml) is 145tk, Dove Breakage Therapy Shampoo (200ml) is 442tk, Clinic Plus Strong and Long Shampoo (180ml) is 270tk. Based on the competitors price, price will be set. As all the brands are adult shampoo brands, pricing will not be same like them. Moreover, as different herbal and fruit extracts will be incorporated proposed pricing will be 10% more than the regular shampoos in the market. It is inevitable t say that cost of the ingredients and other associated costs will play a vital role in setting price.
Place
In this era of modern technology, internet shopping, credit card use influence the marketing strategies for a product. As place refers to convenience which means consumers can easily find the products with the minimum effort at his/her end.
Square Toiletries Limited is a renowned for its far reaching market coverage by its distribution channel. Both in the Numeric Distribution (ND) and Weighed Distribution (WD) STL is showcasing its excellence.
As primarily STL will launch Teen Shampoo in the urban areas and in the metro cities, it will ensure the shampoo in the main outlet points around the cities by their dealers and sales representatives. Moreover, internet shopping is getting popular day by day; STL can position their shampoo in the online market. An own online retail platform can ensure the additional sales.
Promotion
Promotion is the communication basically in marketing the marketing communications which are designed for a particular target group. The target group shows their cooperation when they get manipulated by the communications. There are several types of promotions like advertising, public relations, personal selling, viral advertising and so on.
Consumer activation program like Kool Hall Activation program, Sepnil School Activation Program reflect STL's expertise in promotional activities. Square also sponsors Bengal Classical Music Festival, 2014.
Recommendations
It is necessary to select the brand image whether the brand will be treated as a female brand or male brand. If it is considered as a unisex product, it will widen window of opportunity to do business but it must be adopted after conducting an extensive research on the consumer behavior and buying pattern of teenagers.
Formulation of the shampoo can have fruit extracts or herbal association so that consumers can rely on the formulation and ingredients. All the shampoos are more or less formulated in the same standard way where some ingredients are common. If STL's R&D team can come up with innovation in formulation of shampoo with harmless ingredients, consumers will rely on the product.
Brand personality construction must be done in a way which can not be replicated by other companies even by the multinational companies appropriately. Unique brand personality will create unique association with the consumers which will help to create long lasting relationship with STL and consumers.
Celebrity endorsement can augment the brand acceptance among the actual and potential buyers but if the activities of the brand run on tight budget different strategies can be adopted. In case of endorsing the celebrities, the general teenagers can be used in constructing and spreading the marketing communication where teen age celebrities will not be highlighted separately rather than they can be used generally as like other teenagers. The message construction can be done in a way, where it can be reflected that every teenager is special and all of them are equally important.
Demo campaign can influence the consumers and their purchase behavior. Different youth campaigns can be used as reference to launch and communicate the product benefits and can encourage potential consumers' engagement.
Conclusion
Square Toiletries Ltd has always been quality oriented from its inception. Bringing new products is difficult for any company but continuous innovation and through product and development STL has its foothold simultaneously both in Bangladesh local market and overseas foreign market. As Teen Shampoo will be a new product for both STL and Bangladeshi local consumers, STL will need to work on building the brand knowledge so that consumers can get to know about the brand and its functionality. Strong and established brand knowledge will help the target group and target audience to consider their purchase decisions.
Risk bearing ability, setting competitive price, satisfying the end user and maintaining good relation with all the stakeholders will make Teen Shampoo successful with the shortest span of time. Increased buying power of the customers and threat of substitute products will give a tight competition to this upcoming shampoo. Distinctive consumer behaviors will also make the sustainable growth of Teen Shampoo more challenging. As Square Toiletries Limited is a renowned and trusted brand, it has the ability to lead the market from the front with their Teen Shampoo.