PRODUCT DEVELOPMENT DEPARTMENT:
Product development department is responsible for the development of a product. This department generally formulates unexciting drugs and improves the quality of the existing product. This department has tow part-
Activities of Product Development Department:
Unexciting products formulation.
Existing products development.
Preparation of B.P.R. for a new product.
Reprocessing.
Manufacturing related problem solving.
Stability study of new product according to stability study protocol.
Preparation of standard for drug testing laboratories (DTL).
Developing of analytical method.
Existing products development:
Product Development Department also develops the formulation of the existing products. They do the following works-
Increasing the quality of the product.
Prevention of any type of problem existing in the product.
To save time and cost.
Increasing the patient acceptance.
Activities done by product development department:
Preformulation study of the active ingredients, which includes collecting all available information of the active regarding its formulation its formulation , physical, chemical, therapeutical, toxicological, microbiological (if necessary) data.
 Trail of the product in small scale that includes the entire manufacturing procedure.
Comparative study on market sample for newly developing product and for existing product.
Physical and chemical analysis of the newly developed products.
Accelerated Stability Study of the new products.
In case of INN products, raw material analysis and method development for dissolution procedure.
Process Validation of 3 consecutive batches.
 Stability & chemical analysis of the products those are included in compendia (BP/USP) which often include HPLC analysis.
Reformulation of Existing Product:
 study on market complaint products to minimize complaint, which include-
 Root cause analysis of the complaint,
Reformulation of the product,
 Trail,
 Chemical analysis and
Stability.
Shape change, coating color change or changing other parameters of any product that includes reformulation of the product, trail chemical analysis and stability.
 Source evaluation of active ingredients and excipients that needs several trails for individual product.
Documentation:
      BMR preparation of all new products.
      BMR of existing product due to the batch size or other parameter.
      Stability data (accelerated and real time) preparation for export.
      Technical part of Recipe.
      Correction of Product Brief and Annexure.
      Process validation documentation.
Steps of the development of a new product:
Step-1: Product information from marketing department along with   ………..
 necessary attributes such as
        – Source
        – Sample
        – Q.C test (potency. LOD etc)
Step-2: Pre-formulation study of the active drug and excipients.
– Chemical activity.
– Function.
– Interaction.
– Boiling point.
– Contraindication.
– Moisture content etc.
Step-3: Collection of raw materials of active drug and excipients.
Step-4: Different trials for development of a stable, effective and active formulation.
Step-5: Drug administration formalities include:
a) Submission of recipe to drugs administration which contains –
– Strength
– Dosage form
– Contraindication
– Dissolution
– Description
– Precaution
– Side effect
– M.R.P.
– Indication
b)  Sample admission (if INN product)
c)   Approval of sample from drug administration and inclusion of   D.A.R. and license no.
d)   Submission of Inclusion Dossier.
e)   Final approval for commercial production.
 Step-6:  Pilot trial and accelerated stability testing.
 Step-7:  Readjustment If necessary.
 Step-8:  BPR preparation if every aspect is satisfied which contains:
– Product name
– Code
– Size
– batch no
– Theoretical yield
– Batch size
– Annexure etc.
 Step-9:  Transfer to production department commercial production.
Quality Assurance Department
uality Assurance is an organized department in ACI Pharmaceuticals Ltd. which deals with ensuring the quality of the product up to the end user. This department plays important roll to maintain the quality of product. QA issues the release or reject order of product by analyzing QC reports.
Flow Chart Activities of QA Department
Activities of Quality Assurance Department are given below-
Approval of source
Checking of Dispensing operation
In process checking of all production area
Product sampling , release
Product complaint handling
Supplier's performance review
Conducting quality audit
Perform all type of Validation activities
Document preparation, editing, control etc.
Retention sample collection, archiving, monitoring, retrieval etc.
Product quality review(Annual/Periodic)
Artwork preparation, checking, finalization for packaging material
Preparation of certificate of analysis (COA) for finished formulation and finished API.
Establishing manufacturing methods and SOPs covering entire operations and their regular up-dating.
Communication of every aspects relating to quality to all relevant persons for early positive action.
Ensuring product Stability
Quality Control Department
uality Control Department at Advanced Pharmaceutical Industries (ACI) Limited is to keep the quality up at their products and responsible for the day-by-day control at quality within the company. This department is stuffed with scientist and technicians who assess and assure that entire production process has been completed satisfactorily and satisfied all the aspects of GMP.
Activities of Quality Control Department:
Working Division of Quality Control Department:
Analytical section
Microbiology section
Packaging section
Analytical Section:
Analytical section of Quality Control Department performs analytical tests. Analytical tests are mainly of two types as follows:
Stability Study
Mainly for finished products, Quality Control Department performs stability study. Aim of this study is to ensure that all batches of the released products are maintaining within specification limits throughout their entire shelf life.
Stability study is performed according to International Conference on Harmonization (ICH).
| | |
| --- | --- |
| Type of Study | Experimental condition   |
| Real time study for climate zone 3 & 4 | 30º C ± 2º C temperature65 ± 5% Relative Humidity |
| Accelerated study | 40º C ± 2º C temperature75 ± 5% Relative Humidity |
 An intermediate stability study is also performed at 30º C ± 2º C temperatures and 65 ± 5% relative humidity. If 30ºC ± 2ºC temperature and 65 ± 5% is the long-term condition, there is no study required for intermediate condition.
 Tests performed in QC department in ACI-
A. Test for tablet and capsules-
Loss on drying at 105ºC(3hr)/ Moisture content by KFR
Disintegration test
Length/diameter
Width
Thickness of 10 tablets
Friability test
Dissolution test
Uniformity of weight
Appearance of tablets or capsules
Average hardness of tablets
Assay by titration/ spectrophotometric /HPLC/AAS method
B. Tests for raw materials:
                    1. Appearance and odor
                    2. Solubility
                    3. Identity (complies/ not complies)
                    4. Melting point
                    5. Weight per ml
                    6. Acidity/ alkalinity
                    7. Limit test
                    8. Chloride
                    9. Sulphate
                    10. Copper
                    11. Iron
                    12. Arsenic
                    13. Lead/ heavy metals
                    14. Loss on drying at 1050C (3hrs)/water content by KFR
                    15. Appearance of solution/ Clarity & color of solution
                    16. Assay-
                                    a. Chloride
                                    b. Spectrophotometric / Titrimetric /HPLC
                                    c. Residue on ignition/ sulphated ash
                                    d. Related substances/ Chromatographic purity
                                    e. Microbial limit
C. Tests for LCO / Gel / Dry syrup / drop:
                    1. Identification of active ingredient
                    2. Identification of Hydroxy benzoates
                    3. Microbial contamination (satisfactory/ unsatisfactory)
                    4. PH value
                    5. Water per ml at 20± 0C, gm
                    6. Viscosity
                    7. Sedimentation test
                    8. TOTAL SOLID
                    9. Color content
                    10. Alcohol content
                    11. PCA content (Parachloro aniline)
                    12.Assay (Spectrophotometric/Titrimetric/HPLC)
D. Test for WFI-
Contents of vial/ bottle
Sterility test
PH value test
Ammonia test
Nitrates test
Chloride test
Sulphate test
Acidity/ alkalinity test
Oxydizable substances test
Hevay metal test
Ca & Mg test
Residue on evaporation
Conductivity test
Water content
Machinery in Quality Control Department:
| | | | |
| --- | --- | --- | --- |
| Number | Machine Name | Model Number | Origin/ Source   |
| 1. | HPLC, | QAD 023 | Shimadzu, Japan |
| 2. | HPLC |  515&2487 | Shimadzu, Japan |
| 3. | UV Spectophotometer | 3000 | |
| 4. | IR Spectophotometer | | |
| 5. | Optical Polarimeter | AA-5 | |
| 6. | Microprocessor Ph mteter | Ph 539 Rs | |
| 7. | Microprocessor Ph mteter | Hanna ph 210 | |
| 8. | UV visiable Spectophotometer | UV-1601PC | Shimadzu. |
| 9. | Karl Fischer Titrator, metter teedo | DL31 | |
| 10. | Karl Fischer Titrator, metter teedo | DL 18 | |
| 11. | Automic Absorption Spectroscopy | | |
| 12. | Vibrator,Edmund bucler | Kl-2 | |
| 13. | Analytical electronic balance | GF-300 | Sartorius AG, Germany |
| 14. | Milting point Tester,buchi Melting point | B-540 | |
| 15. | sonicator | | |
 Machinery in Quality Control Department:
| | | | |
| --- | --- | --- | --- |
| Number | Machine Name | Model Number | Origin/ Source |
| 16. | Magnetic Stirrer | | |
| 17. | Tablet Hardness & Diameter tester | 6 D | Schleuniger Pharmatron |
| 18. | Water Purification System | Alpha-Q | |
| 19. | Brookfield Viscometer | DV-I | |
| 20. | Disintegration Tester | SK-32020 | Shin Kwang machinery co.Ltd |
| 21. | Dissolution Tester | ERWEKA DT-700 | |
| 22. | Dissolution Tester | ERWEKA –DT6L | |
| 23. | Test sieve | B.S | 410 |
| 24. | Abbe Refratometer | | 3T |
| 25. | Thermostart vacuum Oven Oven | | Townson & Mercer Ltd. Crodon |
Microbiology Section
Microbiology section of Q.C department is performed many microbiological tests. Microbiological tests cover many types of test, like microbial limit test, bioassay of antibiotics etc. Tests are performed basically Sterile Test & Non- Sterile test.
Activities of microbiological section-
Microbial limit test of raw materials and finished products
1.      Total aerobic bacteria and fungal count.
2.       Detection of pathogens like; Salmonella sp, Escherichia coli (E. coli),Salmonella sp, Pseudomonas aeruginosa, Staphylococcus aureus.
Microbial assay of raw materials and finished products.
Environmental monitoring Test-
Settle plate technique
Air sampling by Renter Centrifugal Sampler (RCS)
  Swale test
Note: Environmental Monitoring Test-
Bacteria needs 3 days for getting result
Fungus needs 5 days for getting result.
Sterility Test
Growth Promotion Test
Bacterial Endotoxin Test or Bed Test
For Injections the test are perform mainly:
Bed Test
Sterility Test (14 days, if pass then LAL test)
Note: Sterility test are performed for viable microorganism and Limulus Ambiocyte Lysate (LAL) test are performed for non – viable Microorganism)
For WFI the test are performed mainly:
For Selection of plate the formula are used:
Where, a= Area
During visiting in this section the Environmental monitoring test was running:
Environmental Monitoring Test:
Prepare Medium
  Autoclaving (121.Cat 15 psi for 15 minutes)
 Exposes in environment for 4 hours-
 Keep the plate in incubator for 3 days (For Bacteria: 30º C-35ºC,For
Fungus: 20º C – 25 ºC)
 Colony forming and Count the Colony.
Medium used:
For bacteria—-Using Agar (ISA) Medium
For Fungi——-SDA
Autoclaving temperature:
121 C at 15 psi for 15 minutes. Usually 1.3 Hours need to reach this temperature in autoclave
Incubator Temperature:
30-35C for Bacteria for 1-3 days usually.
20 C-25 C for Fungi for 1-3 days usually.
 Media are using in Microbiology Laboratory:
| | |
| --- | --- |
| Name of the Medium | Name of the Medium |
| Cetrimaide Agar  | Eosin Methyline blue Agar(EMB Agar)  |
| Brillant Green Agar | Bismuth Sulphate (Modified)  |
| Bismuth sulphate Agar  | Lactose Broth  |
| Mannitol Salt Agar  | Violet Red Bile Agar  |
| Sodium chloride crys.pur  | Mannitol salt Agar  |
| Di-Sodium hydrogen Phosphate Anhydrous  | Brillant Green Bile2% Broath  |
| Di- Sodium Hydrogen Phosphate Dihydrate  | Fluid Thioglycollate Medium  |
| Potassium dihydrogen Phosphate  | Sabourud Chloramphenicol Agar  |
| Salmonella Shieglla Agar  | Triptoa Soa Agar  |
| Triple SugarIron (Agar) (TSI) | |
Equipments in Microbiological Section:
Machine Name
ID Number
Capacity
Origin/Source
Incubetor-Friocell
QAD-119
Oparating range: 32.5C +-2.5
Germany
Autoclave-Greatide,Chamber Dia-300nm
QAD-72
Capacity:50L
AC-220VTaiwanAutoclave-SystecQAD-95(A)160LGermanyIncubator-heat and Cooled IncubatorQAD 45,
QAD-74
QAD-75  RefrigeratorQAD-73 ToshibaParticle Counter   Laminer Air Flow Bench430-CS  Vortex mixer   Incubator (Small)   Hot Air OvenQAD-51
Heraeus-Steriliging Oven
Speedy Autoclave(Verticle Type)
340Chamber Dia: 300 mm
Working Depth:700mm
Capacity:50 L
AC:220V.2.5KW
Laboratory Cooling Incubator-FricellQAO-118 GermanyIncubator-8
Packaging Section
  Quality Control Department performs the following tests for packaging materials:
Weight, dimension, thickness, appearance
Appearance, weight, length, diameter, volume, capacity
Appearance, weight, length, diameter, volume, capacity, adaptability with bottle, carton and plastic cover
Appearance, width, adhesiveness
Appearance, weight, length, diameter, capacity
Appearance, weight, length, diameter, capacity
Height, neck diameter, body diameter, weight, overflow capacity, machine acceptance, light transmission
(10% allowed)
Height & level, description, weight dimension
Color, width, thickness
Product name, generic name, batch number,
manufacturing date, expiry date, M.R.P,
HPLC Machine Details:
High Performance Liquid Chromatography (HPLC):
Introduction:
High-performance liquid chromatography, HPLC is a popular method of analysis because it is easy to learn and use and is not limited by the volatility or stability of the sample compound. The information that can be obtained includes identification, quantification, and resolution of a compound.
 Principle
A liquid mobile phase is pumped under pressure through a stainless steel column containing particles of stationary phase with a diameter of 3-10 mm. The analyte is loaded onto the head of the column via a loop valve and separation of a mixture occurs according to the relative lengths of time spent by its components in the stationary phase. It should be noted that all components in a mixture spend more or less the same time in the mobile phase in order to exit the column. Monitoring of the column effluent can be carried out with a variety of detectors.
Applications:
      The combination of HPLC with monitoring by UV/visible detection provides an accurate, precise and robust method for quantitative analysis of pharmaceutical products and is the industry standard method for this purpose.
      Monitoring of the stability of pure drug substances and in drugs in formulations with quantization of any degradation products.
      Measurement of drugs and their metabolites in biological fluids.
      Determination of partition coefficients a pKa values of drugs and of drug protein binding.
Advantages:
      Easily controlled and precise sample introduction ensures quantitative precision.
      HPLC is the chromatographic technique, which has seen the most intensive development in recent years leading to improve columns, detectors and software control.
      The variety of columns and detectors means that the selectivity of the method can be readily adjusted.
 Mechanism of UV spectroscopy:
Prepared sample solution at very
Lower conc. usually several mgm or mg level
Poured into UV cell which is cleaned
With alcohol and the sample solution
Which is to be detected
At first blank (only solvent) and standard are
placed into UV spectrophotometer
and absorbance is taken in specific wavelength
Standards are replaced with sample
Absorbance was taken and determined the amount by using equation.
 METER DOSE INHALER
eter Dose Inhaler (MDI) plant of  ACI is highly sophisticated and dosages form,  Inhalers are manufactured in a separate, well equipped building that is different from the other. Different areas of manufacturing floor are separated by clear glass partition and other relevant facilities. Involving manpower in this section are ten members with production officer.
 The production area is near about sterile area and considered as Class-10,000 area. This area has been restricted for general visitors. A special entrance procedure and special clothing are required to enter in the production area. SOP is Tag in all wall in this department."HEPA" filter are used for room class maintaining.
Product running during visiting:
Brodil HFA 100 mcg inhellers (Packaging)
Batch no: LK-1
Number of Product Running now in ACI-12.
Materials are required for MDI production:
Active
Sarfactants
Solvent—-Absolute Etahnol
Propalent….HFA134 Alkane
Tests are performed for MDI are given below:
Assay per Accuation
Deposition of  Dose
Uniformity of Delivering Dose
Water Contents
Leak Test
Packaging materials Source:
Can  and actuator come from England come from
Valves come from –PPI Germany.
Packaging levels are providing from "Moni printing" from Bangladesh
 Raw Materials Source:
Sulbutamol sulphate comes from –India
Machineries Used in MDI Plant
Name of machines
Origin
Capacity/ Rpm
Mixing Machine-Iprocomsa
Model-AGITADQSpain100L,Rpm- Max  733,Using Rpm Now-380   Pamasol filling & crimping machineSwitzerland800-1000can/hr  -Ink jet printerFrance-   Can Cleaning Machine (Semi Automatic)India Maharshi- Spray checker machine + lebel machineIndia   -Propalant tank 54 KgElectronic balance (Two Pitch)
Shimadzu Corporation, Japan220gm Max
10mg MinWater Bath Machine
Weight Check Machine-OCSGermany
Automatic Lebeling machineMumbai(India)
Manufacturing Procedure of Inhaler:
  OPTHALMICDIVISION
During visiting we have seen the following product:
| | | |
| --- | --- | --- |
| Brand Name | Active | Excipients |
| Hista – Vet Inj. (100 ml) | Pheniramine maleate | Methyl hydroxybenzoate |
| | | Propylhydroxybenzoate |
| | | Sodium Choloride |
|   | | WFI |
In dispensing section:

In dispensing area the disinfectants are used for cleaning are mainly:
IMS
100PPM Chloride Solution
Dispensing Unit is organized by:
Sartorius Balance
Pass Box
Hepa filter
Epoxy Paint Wall
Positive air pressure difference between rooms to room or corridor is 15 pound.
The parameters of dispensing area of ophthalmic:
| | | |
| --- | --- | --- |
| Air Flow: | Class maintained in production unit of ophthalmic: | Number of Change Room & Class Maintained in Change Room: |
 Hepa (High Efficiency Particulate Air )At rest "C" ClassFirst Room: D class maintained
Operation "B" ClassSecond Room: C Class maintained
Third Room: B Class Maintained
  Machinery used in Ophthalmic Section:
No
Name
Purpose
Capacity
Orgin
01.
Rota Filling Machine
Filling
9000-1000
Germany
02.
Sanamij (Operated by Software )
Sterilazation by moist heat
(180º C for 1 hour,120º C for 15 min at 15 pound pressure)
Holland03.OlympusSterilazation by dry heat.
(160º C for 1 hour,180º C for 20 minutes) India04.Bulk and white ChmaberFor  visual specification  05.StillmassFor WFI production Italy06.Sartorius Balance
Note:  We did not see The Eye drop machine and vial filling machine.
NEW SOLID SECTION
Number of Existing Rooms in New Solid Section:
Tools Room
WIP-2
Produton Manager room
Compression-3
Janitor-1
Compression-2
Office Room
Cleaned equipments store
Sorting Room
WIP-I
Coating Room-II
Compression-I
Coating-1
Blending
WIP-III
Granulation Room
IPC ROOM
Granulation-I
Compression-4
Washing area-II
Room facility of New Solid Section:
Air Lock system
H-VAC system exist
GMP maintained
D- class
Floor: U-Treat
Wall: Sand witch panel-fire proof,Gmp as rule, Surface smooth,tempreture proof
Dispensing area:
Dispensing area is consisted by the following section:
Raw material receiving area
Dispensing-I
Dispensing-II
Dispensed materials  store-I
Dispensed materials  store-II
Utensil store
Office room
Hepa pressure-40psi
Humidity–40
Temperature 23.6C
Running in New Solid Section during Visiting:
| | |
| --- | --- |
| Product Name | Batch Number |
| Parical20mg | L:K-89 |
| Paricel-20mg | LK-15 |
| Indever -40mg | LK54 |
| Parical-20mg | LK-89 |
| Paricef-200mg | LK-3 |
| Tenoron 50mg | |
| Paricel-20E/C Tablet core | |
 Compression section in new solid department of ACI:
Number of Compression  Sections :
Machine nameOriginModel /weightCapacityPunch Type& No.Compression  Section I:
IMA active KilionGermanyE150plus / 1500 KgE150plusB /26Compression  Section II:
IMA active KilionGermany
Machinery exists in Granulation Section of New Solid Section:
Number  of  Granulation Sections:
Machine Name
Model
Bowel volume
Rated frequency
Compressed Air
Impeller RPM
Chopper RPM
Source/Origin
Granulation Section I
FBD-
Ganaan
RMG
Ganaan
Granulation Section II
FMD
FG3001060L50Hz0.3-0.7 pa50-1501000-2900 RpmChina
Coating section in new Solid of ACI:
| | | |
| --- | --- | --- |
| Number of Coating Section | Machine Name | Capacity: |
 RPM:
 Spray Gun:
 Nozzle
 Paristaltic pump Pressure:
 Orgin:
 Coating Section ISejong
300kg124(12" distance from bed)Size:1mm0.1-200PsiKoriaCoating Section IIGlant GC smart
5 (6" Difference from each Gun To Each Gun ) 1 feet distance from bed to guns
India
 Packaging Machine in New Solid section In ACI:
Noumber of MachineModel;
 Serial no:
 Wt:
 Power Source: 415 Vol
 Phase-
 Dimension-
 Orgin: Hoonga2 MachinesHM U6S5M0000553500Kg415 Vol50HZL5600,
W-1140m/m
H-2240m/m
Koria
Buchon Automatic Blister Machine2 MachinesWIDFR-AIVW-D400198p-#5
Miscellaneous machines in new solid section of ACI:
Machine Name
Purpose           
Mesh Size/Model
Capacity
Origin
Leaker Tester Machine (In IPC ROOM)
Leak testingModel:
T/75 GMP
By jabs Pharma (Local Machine)
Avery Berket(In Sorting Room)
Paste preparation Vessel   India
Vibro Shipter
Now Mesh size: 20 (changeable mesh screen)
India
Bin Blender 15
800LChina
 Product running in mixing and blending section:
| | |
| --- | --- |
| Name of the Product | Batch Size |
 Active
 ExcipientsParicel-20E/C Tablet core242 .881 kgRabiprazole Sodium-Inn1.Mannitol BP
Magnessium Oxiade USP
Crospovidone USNF
Starch 1500USNF
5.Croscarnellose sodium
6.Sodium laurayl sulphate
. Disodium hydrogen phosphate disodium bp   8.Microcrystalline cellose BP
Collodal silicon dioxide USNF
 Involving machines for this product in this section:
Machine Name
Time
Mixing speed
Mesh size
Bin Blender
40min24 Vibro shifter  24
 PENICILLIN DIVISION
Number of rooms in penicillin section:
Office room, Aseptic area, Stripping room, Packaging room, Store room,-1 rack,
In ACI Penicillin unite has two parts:
 i) Parental-includes vial & ampoule filling and sealing
ii) Non-parental-includes dry syrup and capsule filling & sealing
 Diagram of penicillin section:
Dispensing unit               Mixing and Filling unit                  Encapsulation unit
Packaging unit                Aseptic preparation area unit                 Polishing unit
Brand Name
Active
Excipients
Fluclox-250 Cap
Flucloxacillin Sodium
Magnesium stearate
Batch size: 300000
Batch Number: Lk-27,lk-28
 Instruments: For this section the following instruments are used-
 Machineries used in penicillin department:
Unit
Machine name
Source
Capacity
Model/Identification No:
     RPM
1
Sartorious Electronic Balance, ID No.-14 Pan
Pen – 14 2Denver Electronic Balance, ID No.-14 Pan
Capacity- 3100.0 gm
Pen – 17
3Shifter machine
4Drum blender
19/minute
5Filling machine, Hauser ogerOrigin: Canada
capacity:5060/minute  6Sealing machine
Origin: India
capacity:5060/min,
 Machineries used in Penicillin:
Unit
Machine name
Source
Capacity
Model/Identification No:
7Sejong. auto capsule filling and sealing machine
korea, Sejong Pharmatec Co. Ltd40,000/min
SF-40
8Duclean capsule polishing machine
9Ganson stripp packaging machine
3,000 10Tablet balanceChina2000 gm
11Hot air sterilizer,E.CHUNG industries company, Taiwan
PEN- 07
  Machineries used in Penicillin:
Unit
Machine name
Source
Capacity
Model/Identification No:
12
Tablet balance,
China
 2000gm
HC-TPH-20
13
Sharp Washing machine
ES-S95OF14THACKARY, moist and heat sterilizerIndia Pen-24
 Mixing procedure:
 The mixing was done as per following steps-
In mixing room, sugar was passed through the 24 meshes of sieve with using shifter machine and main active ingredient was passed through the 40 meshes.
Then sugar was divided into two parts
 Half of the sugar was added with active and excipient ingredients
Then the rest half of the sugar is added with them
Then this mixer is blended into drum blender for one hour.
Filling:
In filling section Humidity: 40ºC-50ºC  and Temperature: 20º-300C are maintained here.
Parts  of Sejong encapsule filling machine:
Shell hopper
Orion
Plate hopper
Powder hopper
Powder disk
Rejected chamber
Locked chamber
Outing area
Air pressure
Polishing Room:
Through this machine capsule are polished here and than affected or unsatisfacted capsule are rejected manually. This work is performed on a table through selecting 10 or 20 tablets and through visual inspection affected or unsatisfacted capsule are rejected.
 Problems found: Capsule physical damage, Shell cutting.
Important notes:
Person sensitive to Penicillin should not allow to work.
During dry syrup preparation of moisture sensitive products the humidity is maintained
For parental preparation the raw materials come in sealed aluminium container which are opened in aseptic condition and before opening they are cleaned with chlorine solution to free from microbes.
The size of membrane  filter, hepa filter, and modular or pre-filter used are 0.2m, 0.3m and 0.3m respectively.
Vial are sterilized at 2500C for 1 hour and Ampoule are sterilized at 121-1250C for half hour.
WFI is prepared by heating at 3000C temp and then condensing and after that it is Filtered
Through "HEPA" filter air change is done 20 times per hour
Liquid filtration is done through 0.2m pore size.
ENGINEERING DEPARTMENT
ACI Limited has an independent engineering department for looking after production and utility machineries. Responsibilities of engineering department are to install, maintain, handle and solve all types of problems such as Chemical, Electrical, Electronic and Mechanical.
Function of Engineering Department in ACI limited divided into three (3) ways-
Utility
Maintenance
Project development
Engineering Department-
Power house
Compressed gas system
Chiller system
DM water plant
Central heat, ventilation and air conditioning system (HVAC system)
Stem generation and supplied plant
Effluent treatment plant
Power house of ACI-
ACI Ltd has an own complete power supply plant, which is consider as the heart of the factory. The electricity supplies from DESA substation which supply 248 KW. The plant has its own back up secondary power system because of emergency stands by generator.
The power plant of ACI consist of-
1.      Gas generator:  They have four generators operate by using purified gas of which one has capacity 1,145 KW and other three have 1,600 KW, 380 KW & 1,600 KW. (Origin: USA)
12 cubic fit gas is needed for per KW output. "ACI" using gas generator since 1992.
Diesel generator: They have four diesel generators, which capacity are 224 KW, 1,000 KW, 1,060 KW, 52 KW. They have also other two diesel generator, which capacity is 513 KW & 451 KW. (Origin: USA) 0.5 liter Diesel is needed per KW output.
DM Water plant-
ACI has two well established DM water plant. At first the water is dematerialized by reverse osmosis which reduces the mineral contents about 90% and then passed through the ion-exchange resin. The advantages of reverse osmosis are-
To decrease regeneration time
To decrease chemical using
To decrease conductance above 90%
Process-
 In first time ACI collects water from river but now a day the plant has its own water supply from 600 feet deep tube-well and treated that water for getting de-mineralized water.
FLOW CHART of Water treatment Plant-
Process of water treatment plant (old plant) is given bellow-
Notes:
Two storage tank, 4000 liter capacity
Per day production: 9800 liter
Per month production: More than 400000
Conductivity range are kept in below 1, now conductivity range : 0.62 µ sem/cm
Ph range are kept in 6-7, now Ph range: 6.4
Clean all equipments by hot water 85º C
Second water treatment plant, New plant (capacity: 4,0000 liter) is given bellow-
Notes:
Pre-treatment and post-treatment are involved in this plant
This water plant is used for WFI and washing for Ampoule and Vial
Clean all equipments by hot water 85º C
Conductivity range are kept in below 1
Ph range are kept in 5-7
Steam generation unit of ACI-
Steams are generated from the boiler. There are two types of boiler. In  ACI  Fire Tube boiler are used ( Capacity: 5500 kg using 80% of total capacity, Stem: 40-120 Psi, Origin: USA)
Fire Tube boiler
Water tube boiler
The boiler supply the following things-
Steam
Hot water
Distilled water
Water for injection (WFI)
Water for bottle washing
Water for oral liquid preparation
The boiler or steam generator from "USA". It has a capacity of 5500 kg. There are also water softeners, which convert hard water to soft water then pass water into boiler is LP gas from "Titas Gas". Temperature need to produce steam is (130-140)0C and pressure 80-120 Psi (Pound per square inches). The capacity of boiler is due to proper maintenance of the machine.
Water is supplied into Steam producing tank
Heated at 1000 C
Produced steam
Supplied to respective area where required.
Mild steel pipe line are used for supplying the water from boiler to production and other departments
 Effluent Treatment Plant-
ACI has got ISO 140001 certificate for environmental policy. So as a part of their, commitment, all the effluents are released after well treatment.
 Flow Chart of Effluent Treatment Plant–
Maintenance:
Maintenance will be done in ACI limited by the following chart-
Planning for maintenance
Requirement of skilled and trainer manpower (personnel)
Availability of required materials (parts of machines)
Execution of work
Project Development:
Engineering department also take part in project development. Recently ACI develop the plant for new solid department and MDI. These developments also take care under the supervision of engineering department.
SUGGESITIONS
The monthly observation in "Advanced Chemical Industries Limited" operates us to think in a practical way for the proper running of a plant with maintaining all the standards related to cGMP.
Albeit it is a super class plant, we may impart some suggestions to rectify some its observable problems to ensure the product safety as well as human safety in the plant.
The suggestions are:
Ø The GMP has to be followed in old department fulfilly.
 Semi-automatic machine should be replaced by automatic machine.
 It would be better if it is possible to feed the hopper for compression automatically instead of manually.
 It would be better if there is totally different section for cream, ointment, paste.
 The space of "Cephalosporin Department" should be expanded.
 The "Cephalosporin Department" should be separated in accordance with the "Advanced Chemical Industries Limited" image.
CONCLUSION
he Advanced Chemical Industries (ACI) Ltd. is the leading pharmaceutical company of Bangladesh. This company manufactures products not only for the market of Bangladesh but also for the international market because they manufacture products having higher quality. They maintain "GMA" in the production area and also they have well developed SOP. Besides they do IPC properly that is very important thing for manufacturing quality products.
We are very much delighted as we have came in contact with the "ACI" family during our Internship with them and we also very much impressed by their generosity.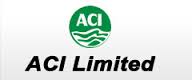 Some are parts:
In Plant Training in Advanced Chemical Industries Limited (Part 1)
In Plant Training in Advanced Chemical Industries Limited (Part 2)