Executive Summary
BBA is a professional degree. To fulfill this degree Internship course is a associate course which enable the students to gather practical experience where the student wants to make his/her carrier. My internship course was assigned at IT Consultants Ltd., under the supervision of Eti Laila Kazi Assistant Professor, Department of Business Administration, Stamford University Bangladesh. My internship was on the overall operation of IT Consultants Ltd.. So my report title is"". So to recover the total financial soundness and management skill I have tried to analyzed how they are operating their organization system. A company's main objective is to gain more profit to benefit its stakeholders using a perfect management system. IT Consultants Ltd. is not different from them. So my internship report entitled "Future Prospect of IT Consultant Ltd. As A Third Party Processor" refers how the organization drives its operation and how it benefits itself.
From the total survey I have found some figures that refer the financial soundness and management skill of the organization. In year 2011, the Asset of the organization was Tk1,052,727,521 which is higher then the previous year. In year 2011, the Investment Income position of the organization was 6.38% which is less then the previous year. In year 2011, the Profit Margin Position of the organization was 0.11% & in the year 2010 was 0.21% which is higher then the previous year.
Form the total period of my internship and after analyzing the data that I got from the organization, the feedback that I have got that the financial soundness and management skill of IT Consultants Limited is quite good. The performance of the organization is well in 2010 & 2011 than the previous years. So the management team and the top level authority and executives of the organization should become concern about the management skill ness of the organization which can benefit more.
1.1: Introduction
ITCL (Information Technology Consultants Limited)is a medium-sized organization operating in the Banking Technology industry in Bangladesh. ITCL provide total smart card solutions comprising of smart card management system, banking technology and information solution as well as solutions for smart card personalization and key management.
ITCL has successfully implemented the Q-cash Network consisting of all the major banks, hundreds of ATMs, POS Terminals with network coverage all over Bangladesh. ITCL also introduced the KIOSK –Deposit Machines that enables the cash & check deposit, check book request, bill payments etc. The Company was established in the year 2000 and today one of the leading credit/debit card and payment services provider in Bangladesh geared to meet the needs of the Banks, Financial institutions, and large and individual retailers. ITCL certified for third party processor by VISA International; thus offering customers the most comprehensive range of products and services in both the Issuing and Acquiring segment of the card industry in the Bangladesh region. In addition to the processing and management services offered, ITCL also provides consultancy services ranging form planning  and designing, to developing of new products and services and providing sponsorship with the VISA International.
1.2: Origin of the Report
The Report entitled "Future Prospect of IT Consultant Ltd. As A Third Party Processor" has been prepared as a partial fulfillment of BBA program authorized by department of business administration, Stamford University of Bangladesh.
After completion of BBA course every student must do Internship from any Financial Institution/organization to gather the practical knowledge of marketing & financial transactions. To prepare a report based on the corresponding financial institution/ organization is an important curriculum for Bachelor of Business Administration (BBA) degree. My Internship instructor Eti Laila Kazi, Assistant Professor, Department of Business Administration, Stamford University Bangladesh assigned me this report.
1.3: Objectives of the Study
The objective of the internship program is to familiarize students with the real market situation, to compare them with the business theories & at the last stage make a report on assigned task. The main objective of this report is to have an assessment about overall activities of "IT Consultants Ltd.". How the organizations is providing facilities to its clients & to suggest remedial measure for the development of overall activities of "IT Consultants Ltd.".In addition, the study seeks to achieve the following objectives:
Specific Objective:
  To present an overview of "IT Consultants Ltd."
  To apply theoretical knowledge in the practical field.
  To relate the theories of organization with the practical organizational activities.
  To make bridge between the theories and practical procedures of organizations day-to day operations.
1.4: Methodology of the Study
Certain Methods and techniques have been utilized to collect data for this research paper. Both primary and secondary sources were chosen as effective means of collecting data relevant for this report. The report was fully exploratory in nature. Data have been collected from both primary and secondary sources
Primary Sources of Data
Face to face conversation with the organization officers & staffs.
 Informal conversation with the clients.
Different manuals of ITCL.
Different circulars of ITCL.
 Secondary Sources of Data
Internal sources
Annual report of ITCL.
Group business Principal manual.
Group Instruction Manual & Business Instruction Manual.
Any information regarding the Banking sector.
Their official web sites such as www.itcbd.com
 External sources
Different papers of ITCL.
1.5: Scope of the Study
IT Consultants Ltd. play a very important role in banking sector. The objective of this report cognates the internship purpose. The internship objective was to gather practical knowledge and experiencing the corporate working environment with the close approximation to the business firm and the experts who are leading and making strategic decisions to enhance the growth of a financial institution. To this regard this report is contemplating the knowledge and experience accumulated from internship program. With the set guidelines and proposal by the Stamford University and with the kind advice of both the Organization and Internship Supervisor this report comprise of an organization part and a project part. My main objective of the study is to analyze "Future Prospect of IT Consultant Ltd. As A Third Party Processor".
This internship report covers all the trade related products handled by the IT Consultants Ltd. such as ATM, POS, KIOSK, VISA, Master Card.
This report has been prepared through extensive discussion with ITCL employees and with the customers. While preparing this report, I had a great opportunity to have an in depth knowledge of all the activities practiced by the "IT Consultants Ltd.".
1.6: Limitations of the study
Learning all the organization functions within just 90 days was really tough.
Because of the shortage of the time I have had no opportunity to compare the credit management system of the IT Consultants Ltd.
Another limitation of this report is organization policy of not disclosing some data and information for obvious reason, which could be very much useful.
The organization authority was very busy, so they could not give me enough time for discussion about various problems.
This study completely depended on official records and annual reports.
This is my first experience on job, so there may arise some faults though I have tried my level best.
2.1: Definition of Consultancy Firm
A consulting firm is a business that offers specialized expertise to its clients, which may be businesses or individuals. Different consulting firms offer different types of advice. Although there are numerous types of firms, some of the most popular are information technology (IT) consulting firms and management consulting firms. Other types of business firms include environmental consulting firms and human resource consulting firms.
Each business consulting firm operates its business in a different manner. Firms may offer consultants who concentrate on a specific project or consultants who help train and implement changes to a staff to accomplish specific goals. Project oriented firms typically specialize in a specific business function, such as supply chain or customer relationship management (CRM). These firms analyze their clients' needs and manage development, implementation and training until it is completed.
A consulting firm that concentrates on staff augmentation begins its service after a client's business has been analyzed and projects have been outlined and budgeted. Staff augmentation firms offer very specific resources, methodologies and training. Their job is also complete upon implementation.
In some cases a business may need to hire multiple consultants for different areas which need improvement. For example, a large company may contact a management consulting firm to help it increase production. After a company analysis, the management consultant recommends implementing new computer hardware and software. If the business does not have the knowledge or capability to implement the new technology, it hires an IT consultant to complete the project.
2.2:  Objectives of Consultancy Firm
Expand sales to existing customers (build on a strength).
Introduce existing products into a new market (build on a strength).
 A bigger market share.
Quicker design-to-market times than rivals.
Higher product quality than rivals.
Lower costs relative to key competitors.
Broader or more attractive product line than rivals.
A stronger reputation with customers than rivals.
Superior customer service.
Recognition as a leader in technology and/or product innovation.
Wider geographic coverage than rivals.
Higher levels of customer satisfaction than rivals.
2.3: Competitors of IT Consultants Ltd. 
Cashlink Bangladesh Limited (CBL) is a joint venture establishment owned by AB Bank Limited, Euronet Worldwide Inc., Networld Bangladesh Limited and United Commercial Bank Limited. CBL is in the process of strategically rolling-out 505 ATMs and 10,000 POS terminals across the country within 2010.
The Technology is provided and maintained by Euronet, a global EFT software and services company established in the early 1990's in the emerging markets of Central and Eastern Europe through the deployment and operation of own "Euronet" branded ATMs. Based on the history of running ATMs on its own behalf and on behalf of the customers in emerging markets, Euronet closely understands the challenges faced by banks today across different markets. Today, Euronet is a unique company in the EFT business providing a broad range of solutions across the globe.
In terms of operation of CBL, they are poised to serve their Customers through robust, cost-effective and tailor-made solutions to fit the specific needs for meeting their business challenges for day to day banking. Based on the local market perspective of Bangladesh, CBL has strategized pay-per-use price model with access to card issuance, switching, connectivity to gateways (local/VISA/MC), fields services, etc. Each customer can choose the set of services that they might require. Their solution services include:
Provision of EFT outsourcing services (including ATM, POS and Card services) on behalf of their Customers through their state of the art processing center in Bangladesh.
Provision of a full range of outsourcing services for around 500 ATMs & 10,000 POS terminals under the "CBL" Brand or under the brands of our bank customers.
In summary, CBL &Euronet has a good knowledge of the Bangladesh environments and requirements, Euronet – being the technical operator of CBL Bangladesh – Euronet understands the challenges in the Bangladesh market.
 Given the above deep knowledge and experience in the local market and combined with the international pedigree and worldwide experience, CBL &Euronet is in a unique position to be able to offer any banks with a creative, flexible, cost effective solution to the challenges the Bank is facing in today's global environment.
 It is worth mentioning that, CBL is capable of interfacing with any core banking & host supporting ISO8583 industry standards and has already interfaced with some of the leading core banking vendors world wide , including Iflex, Finacle, Misys and local including Bexibank, Infinity, PC Bank etc. CBL can also consider a special proprietary interface project if necessary to avoid any restriction from bank side in selecting their preferred core banking software supplier.
Product & Services:
Cashlink Bangladesh Limited (CBL) offers the following product & services to financial institutions currently:
ATM Deployment.
Shared ATM Network Services.
ATM Outsourcing.
POS Outsourcing (branch & merchant POS).
Debit Card Solution (branded, proprietary).
Prepaid Card Solution (branded, proprietary).
Prepaid Mobile Top-up and Recharge.
Bill payment.
Local and Foreign Remittance.
Managed services.
Any other service, as required by Bank.
LEADS
LEADS Corporation Limited is a leading technology services company delivering Information Technology solutions. LEADS delivers a broad portfolio of IT services and solutions to clients in the banking, insurance, financial services, production, distribution industries and to government and non-government organizations.
Since 1992, LEADS Corporation Limited has been supporting clients nationwide in managing the evolving role of information technology in business. As a strategic business partner, they provide diversified IT solutions and services that support attainment of our clients' business objectives. Their services and solutions include custom application software development, network infrastructure building, plastic card personalization, and delivery and installation of PCs, Servers, POS, and ATMs.
They combine the best of technologies, processes, strategies, and our extensive industry experience to enable our clients to succeed. LEADS designs, implements, and supports end-to-end IT solutions and services. Their goal is to improve performance, maximize IT investments, and, ultimately, create a competitive business advantage for our customers. Their ability to integrate Information Technology services into a flexible, total single-point-of-contact (SPOC) solution is the key element of our success.
Partnerships with some of the world's "best-in-class" corporations provide LEADS with unique expertise and experience in providing diversified Information Technology solutions, including Information Technology consulting and systems integration. LEADS represents DataCard Group, Dell Inc., NCR Corporation, TCS BaNCS, Teradata and VeriFone Holdings, Inc.
Technomedia
Technomedia Limited have started it's journey in 2001 as an ICT company.Technomedia have expanded it's business in Banking industry with the distributorship of Systemedia Division of NCR Corporation in 2005. Technomedia is a reliable vendor and service provider in the field of MICR encoded cheque processing. TML have succeeded to create a huge number of clients for MICR encoded cheque processing in the Banking and Financial sectors. TML have established it's position as one of the strongest competitor in the field of MICR cheque production in Bangladesh and gave this country a new name to trust.
After achieving enormous success and reliability of the Banking Industry in Systemedia Division, TML have been honored with the distributorship of NCR Financial Services Division (i.e. NCR ATM, NCR Cash Deposit Machine, Automatic cheque clearing system and ATM Switching Solution). TML as a pioneer serves all kinds of world standard ATM machines and consumables to the Bangladesh Bank's scheduled Banks. Strengthened by professional, qualified team, and unique business model, TML have gained sustainable competitive advantage across various verticals. Further, strong fundamentals like adherence to high quality standards and integrity have been the cornerstones of our success. TML again showed its' charm and achieved such a success which no vendor could achieve for NCR Financial Services Division in Middle East & African region. Being a member of Financial Service Division within one & half years, Technomedia Limited successfully sold and installed thousands of NCR ATM among multiple financial institutions. TML have delivered Automatic cheque clearing system to a number of renowned financial organizations. TML is deploying NCR ATM Switching solution, along with Financial Middleware, Card production & management system and other e-Banking products of AVANZA SOLUTIONS to a renowned financial organization.
3.1: Background of the Organization
IT Consultants Limited (ITCL), a public limited company that introduced its technology and business operations in Bangladesh on electronic payment systems in the year 2001. ITC, a local leader in providing end-to-end payment services enabler that deploys world-class payment infrastructure, services and technology to Banks, Governments, Financial and Non-Financial Institutions in the name of Q-Cash Payment network. Q-cash payment systems solutions are further recognized, accredited and certified by organizations and governing bodies such as Visa, MasterCard, AMEX, while continuing to develop their partnership with clients and associates so that it remains dynamic and maintaining its cutting-edge offerings even as market needs become more and more sophisticated. At present, Q-Cash providing payment infrastructure services, based on Tranzware solutions, to as much as 22 prominent local banks, Bangladesh Post office and other prominent financial and non financial organizations.  By providing a broad range of payment solutions, ITC today deploys its products and services to multiple clients across various vertical segments not limited to banking and financial services institutions, telecommunications, transportation and retail.
On 20th September 2008, ITC acquired Bangladesh Electronic Payment Systems Ltd (BEPS), to become the single largest Electronic Transaction processing house in Bangladesh. This was done to completely break the business monopoly for foreign banks in this field. Q-Cash is the largest Consortium of Banks, stretching across 22 Banks with approximately 3400+ Bank branches. Branch wise coverage of Q-cash Member Banks are almost 80%+ of the entire market arena. Further, ITCL currently providing the payment infrastructure services to Bangladesh Post office to introduce electronic payment system in the name of Postal Cash Card. In the mean time, all the head post office and district post office has come under q-cash payment network. Within 2 month, all the upzela& Thana (P.S) post office will come under Q-Cash payment network. Even within year Q-Cash coverage will go more beyond up to the union-porishad level of every district.
Q-cash also operates with a rapidly rising number of ATM terminals strategically located across the country and wide spread of POS terminals at various Merchant locations and Bank branches to serve the Card transactions of our clients customers.
ITC has developed an interface between Q-Cash (Tranzware) and major CBS (Core Banking Solution) and Switching Hosts of local financial market. All the CBS of Q-cash members are connected to ITC host. ITC also has developed Host to host connectivity with Switching host of Dutch Bangla Bank Ltd (DBBL) and Omnibus (Brac Bank) network.
As a result, all Q-cash card holders are able to transact through intra-Bank or  inter-bank various payment media under the Q-Cash network as well as payment media of DBBL and Omnibus (Brac Bank) network and vice versa.
Additional Banks by acquiring BEPS
Southeast Bank Limited
United Commercial Bank Limited
Dhaka Bank Limited
EXIM Bank Limited
Dutch Bangla Bank Limited About Q-CASH
Q-CASH is the convenient, cashless way to pay off campus at the area's most popular businesses. A prepaid, stored-value account that's part of your Q-CARD, Q-CASH has you covered with whatever you need, whenever you need it, 24 hours a day, 365 days a year.
From copy, laundry (no need to stockpile quarters!) and vending machines to the game room, post office, and campus store, Q-CASH has you covered. In addition, Q-CASH makes your dollar worth more, with money-saving specials available only when you use Q-CASH. So forget about carrying cash, checks, ATM, and other cards.
You've got Q-CASH. You've got The Way to Pay.
Balances on your Q-CASH account roll over from term to term and year to year. There are no fees associated with Q-CASH; however, unlike an ATM, Q-CASH funds are not available for cash withdrawal.
Q-Cash Member Banks
Bank Asia Limited
Basic Bank Limited
Bangladesh Commerce Bank Ltd.
Eastern Bank Limited
ICB Islamic Bank Limited
IFIC Bank Limited
Jamuna Bank Limited
Janata Bank Limited
LankaBangla Finance Ltd.
Mercantile Bank Limited
Mutual Trust Bank Limited
National Bank Limited
NCC Bank Limited
Pubali Bank Limited
Shahjalal Islami Bank Limited
Social Islami Bank Limited
Sonali Bank Limited
Standard Bank Limited
State Bank of India
The City Bank Limited
Trust Bank Limited
Uttara Bank Limited
3.2: Board of Directors
 The Board of Directors of IT Consultants Ltd.:
1.     Mr. Kutubuddin Ahmed
Mr. Kutubuddin Ahmed, the Chairman of ITCL, is a graduate in Mechanical Engineering from Bangladesh University of Engineering and Technology (BUET). He is also the Chairman of Envoy Group, formed in 1984 and has always been the pivotal force behind phenomenal success of the group, which is now one of the largest and thriving conglomerates in Bangladesh.
2.     Mr. Abdus Salam Murshedy:
Mr. Abdus Salam Murshedy is a prominent personality in the business arena of the country and playing a pre-dominant role in establishing a solid industrial base in Bangladesh. He was also involved in establishment of Envoy Group in 1984. He is closely associated with the garment industry movement in Bangladesh was elected as a President of BGMEA in 2009.3.     Dr. Kazi Saifuddin Munir:
Dr. Kazi S Munir, Ph.D. Sponsor Director & founder Managing Director & CEO of ITC Ltd. He has over 20 years professional experience in IT & Project Management in International Organization WB, UN and Govt level as Consultant & Advisor in Africa, Europe & Bangladesh.
4.     Mr. Salahuddin Alamgir:
Mr. Salahuddin Alamgir, a Director of ITC is a young entrepreneur. He had passed BSc from Bangladesh Military Academy (BMA). He is the Chairman and Managing Director of Starlight Group. The Starlight Group is one of the prominent knit garments exporters in the country.
3.3: Mission
We believe in success.  Our aspiration is to be the monarch of the business world. If sky is the limit, we aim to be a twinkle star. Client contentment, austere principals, and professionalism are our significance and potency to escalate us towards our destiny.  The buoyant ITC team has been a powerhouse to produce confidence in implementing innovative business strategies. Our invincible confidence and diligence invigorated us to work as a market leader with a goal to be an inimitable, peerless and preeminent performing technological player in the banking and financial sector of Bangladesh.
3.4: The Way…..
"What is this life is full of care, we have no time to stand and stare".  Who wants to stay on the line for hours to deposit a check in the bank? Do we have an extra hour to spend just to pay our utility bills before we go to work? Does anybody prefer to walk around with a bundle of cash? Living in a world of technology, this is not acceptable.  ITC ltd believes on technological advancement, creative thinking and dynamic activity. We are both doers and dreamers.  Our Q-Cash network is the "One Stop" solution for all these banking necessities.
3.5: And the Spirit
ITC is committed to be the leader as Smart Card solutions provider in the Banking sector as well as the Automated Transaction processing industry in Bangladesh.
Our Motto "Value Added Cost Effective Services" is focused towards providing our best to the clients to enhance their productivity and profitability.
Furthermore, we enable our clients to gain and sustain a new competitive advantage over their competitors. Our clients also move a long distance ahead with innovative customer service.
3.6: Journey towards the Mission
There was a time when no one even dreamt about having automated banking system in Bangladesh.   Only a few companies were trying to implement the network within a limited area. Even though, most of the countries in the world are using this technology since many years, unfortunately, as a third world country, it was always thought to be an impossible project.  ITC Ltd is one of a kind that loves to accept challenges and work till it wins.  We love to use complexity as the key to hard work and utilize the experienced
skills to implement the solutions.  Our enthusiastic strategies led us to become a market leader.  ITC Ltd is proud to be the 1st local company in Bangladesh to manage most complex network of ATMs and provide largest and widest coverage.  In last few years, we implemented several advanced banking technologies including Q-Cash Smart Cards, ATM Machines, KIOSK-Deposit Machines, Visa enabled shared consortium, POS terminals, and as well as the maintenance of all the networks to facilitate and modernize the Bangladeshi banking system.
3.7: Product
Visa provides individuals, businesses and governments access to the world's largest payment network through a range of Visa-branded products and services that deliver unrivaled choice, convenience and security. Credit — Visa offers its financial institution clients a broad range of credit platforms that can be tailored to meet the needs of virtually all demographic segments around the world — from those new to credit, to affluent consumers, to large corporations. Visa's credit platforms are accompanied by value-added services that can be offered to consumers to enhance loyalty and usage. These include tailored rewards, emergency card replacement, travel assistance and rental car insurance.
Debit, Credit and Prepaid
Visa provides its clients with a range of consumer debit products tailored to individual demographic segments and geographies. Visa debit products allow consumers to pay electronically using available funds and deliver clear advantages over cash and checks in terms of convenience, security and flexibility. Visa offers four branded debit marks — Visa, Visa Electron, Interlink and PLUS. Visa also offers a broad range of prepaid products that enable consumers to access a designated pool of funds. Visa prepaid solutions can be offered to financially underserved consumers with no pre-existing banking relationships as a more secure and convenient alternative to cash and checks. Visa prepaid products are offered currently by governments and businesses for distributing healthcare funds, unemployment assistance and other benefits, as well as payroll. Visa also offers prepaid gift cards that can be used at any Visa merchant outlet that accepts Visa debit products.
Commercial
Visa provides a broad suite of commercial payment solutions for small businesses, midsized and large corporations and governments. Visa commercial platforms include:
• Small Businesses — Visa Business credit and Visa Business debit
• Midsized and Large Corporations and Governments — Visa Corporate, Visa Purchasing and Visa Distribution.
In addition to these platforms, individual regions have tailored solutions to meet the specific requirements of businesses and government agencies of all sizes.
Security
Visa understands that it must protect each link within its control and work with others to preserve the trust in every Visa payment. To that end, Visa employs multiple layers of security. These layers work together to help ensure that fraud is identified as soon as it occurs and that, when fraud does make an impact, it is quickly erased or limited to the extent possible. Visa's security strategy focuses on:
  Securing the payments environment to protect card data
  Monitoring, identifying and preventing fraud through technology and best practices
  Managing the impact of fraud by helping issuers and acquirers recover from its effects
  Maintaining trust in Visa payments through merchant and consumer education
  Creating an environment of partnership by promoting industry engagement and accountability around security
Innovation
Visa is committed to innovation that enables more people in more places to enjoy the benefits of electronic payments at any time, in any location, using a multitude of devices. Recent innovations pioneered by Visa include:
Money Transfer
Visa Money Transfer is a remittance payment platform that enables the transfer of funds from account to account securely and quickly using the Visa network.
Chip Technology
 In a number of regions, Visa supports the deployment of chip technology, whether EMV contact chip or contact less Visa pay Wave. Chip cards have a small yet powerful microprocessor embedded that can provide enhanced security and increased transaction speed and can carry other applications that enhance the consumer payment experience, such as merchant loyalty programs. Chip card technology can also expand the use of Visa payments to new acceptance environments such as transit, vending and parking.
Mobile Payments and Services
 As the number of mobile devices continues to grow, Visa has a significant opportunity to extend its products and services through the mobile channel. In developing economies where phone penetration is significantly higher than bank card penetration, mobile technology represents an opportunity to leapfrog a generation of financial services and payment products, allowing consumers to use a mobile device to access and transfer funds, make payments, pay bills or top-up wireless air time. In developed economies, Visa has an opportunity to deliver mobile services that enhance the consumer payment experience, such as merchant offers that are tailored to consumers' lifestyles and locations, transaction alerts and mobile payments at the point of sale and on the go.
Compass Plus – is specialized in object-oriented technologies and tools designed for developing, testing and supporting large systems and offers a range of software products and solutions utilizing such technologies for electronic fund transfer environments including Retail banking, ATM and POS front office support, Internet banking, interactive voice response (IVR), electronic and mobile commerce (E&M Commerce) solutions as well as systems for processing real time events and signals. The solution is certified by EMV consortium
PS400 is a kind of portable POS with supreme performance and stylish appearance. It has GPRS built-in (GSM and CDMA optional). And it has fast yet silent thermal printer built-in and rechargeable lithium battery and charger. It is suitable for Parking area, Taxi company, delivery company and stadium etc.
Key Service Offering:
IT Consultants Ltd is a single window solution provider for the banking sector.  Our main focus is to operate on high security automated banking solution for a consortium of local banks in Bangladesh. We provide total end to end automated transaction solution comprising of debit card operating system, banking technology and information solution as well as solutions for chip and magnetic stripe card personalization, key management, international standard ATM(Wincor Nixdorf) installation & maintenance, EFTPOS (Electronic Fund Transfer at Point of Sales) machine installation & maintenance and also the entire transaction processing.  We also provide consultancy to financial institutions to get certifications and visa acquiring licenses.  In short we implement and support:
►  TOTAL ONLINE BANKING SOLUTION PROVIDER
Q-cash ATM Network
ATM (Wincor Nixdorf) Sales & Support
Switching Solution Sales & Support
Design, Development and Support of Transaction Processing System for ATMs /Kiosks / POS / E-commerce
Payment Gateways
Debit/Credit/Prepaid Card Personalization & Management
Core Banking Solution Sales & Support
POS Terminals Sales & Support
KIOSK-Deposit Machines Sales & Support
Transaction Switching
Mobile VAN ATM
Remittance Distribution Solution
Third Party VISA Membership support
SMS Banking Solution
Biometric ATM Solution
Product and Services:
CARDS
Currently ITC provides         M(proprietary brand), VISATM cards to individuals and corporate cardholders.
ITC provides total card management solutions including
¤    Card Production

¤    Card Printing

¤    Card Personalization

¤    Embossing, tipping and indenting
The cards are inter-usable throughout the Q-cash and VISA networks worldwide.
ATM Network
IT Consultants Ltd. has build up an extensive ATM network in Dhaka, Chittagong, Khulna, Sylhet, Cox's Bazaar, Sirajgonj, Munshigonj and Bogra in the first phase. So far the network has the widest and largest coverage in the country. In the immediate future we plan to extend the network to further North and ultimately establish 80% coverage in Bangladesh.
ITC carries all the associated costs of services for the Wincor Nixdorf ATMs. Services include:
¤    ATM site selection

¤    ATM procurement

¤    ATM configuration

¤    ATM booth construction advice

¤    ATM deployment

¤    ATM maintenance
The unique features/usages of the ATMs are:
¤    Cash Withdrawal

¤    Fund Transfer

¤    Account Information

¤    Balance Inquiry

¤    Print out Mini statement

¤    24 Hours Banking

¤    Cheque book Request

¤    Any Time Anywhere Banking

¤    Utility Bill Payment
Monofunction cash dispenser
The ProCash 1500xe is the entry-level system in Wincor Nixdorf's ProCash product family. With its compact size, it is the ideal system for locations at which space is limited and the focus is on cash handling.
Featuring up to four cassettes, the ProCash 1500xe also guarantees maximum availability in installations outside bank foyers, for example at service stations or supermarkets.
Monofunction cash dispenser
The ProCash 280 is the newest system in Wincor Nixdorf's ProCash product family. It is the ideal system for usage in extreme conditions, where a robust machine type is needed, at which space is limited and the focus is on cash handling.
Featuring up to four cassettes, the ProCash 280 also guarantees maximum availability thanks to its best in-class dispensing technology and its integrated open software standards.
The ProCash 280 comes, as an option, with high level security solutions such as a finger print sensor and security surveillance solutions.
Unique Dispensing technology
Low maintenance effort
75% market penetration
No problems with pin holes in bank notes
Jam free robotic dispensing technology
Dispenser also operates at high altitudes
No problems dispensing other media(postage stamps, coupons, vouchers, tickets)
Technical Highlights
Dispenser module with a height of 1 to 6 cassettes
Dispensers various media
Banknote size: Length 105 to 200 mm, height 57 to 100 mm, thickness 0.06 to 0.18 mm
Firmware download
Banknote transport path monitored by photo sensors
Grippers for bundle transport are monitored via magnetic sensors
Dual mechanical note recognition for banknote height and thickness
Features
Based on friction technology
Optimized number of mechanical parts and substitution of belts and rollers to minimize wear and tear
Separate reject and retract compartments
EPP and function keys / touch screens
In-built Journal Integrated Camera
Upgradeable to Biometrics Authentication
Dispenser and cassettes
Receipt and journal printer
Scanners for barcodes or checks (optional)
Envelope deposit module (optional)
Card readers (hybrid, DIP, swipe)
Functions
Load/unload electronic purse
Print receipts or other documents with a full-graphics printer
Issue tickets or vouchers from versatile cassettes
Print statements or other information up to a paper width of 250 mm
Extended editing thanks to an alphanumeric combo keyboard
Deposit banknotes/valuable documents in envelopes
Process passbooks
Process checks
Read barcodes
Audio systems (loudspeakers/headset)
SAND PS 400 & VeriFone Vx510 POS (Bank/Branch POS) Terminal supports the following transactions:
Cash Advance ( PIN Base)
Cash Deposit
Void [Reversal]
Settlement
 Additional features:
Balance Inquiry ( PIN Base)
Fund Transfer ( PIN Base )
Utility Bills Payment
For obtaining additional features the client has to pay development charge.
Transaction Type (Merchant POS):
SAND PS 400 & VeriFone Vx510 POS (Merchant POS) Terminal supports the following transactions:
Merchandise Return i.e. Refund
They are also offering international standard and customized KIOSK terminals with multi functions including cash and check deposit, bill payment and statement request etc.  The KIOSK comes with ATM standard vault.  These deposit machines with advanced technologies and features would definitely ease the banks and financial institutions deliver rapid services to their clients.
The basic functionalities of the Kiosks – Deposit Machines:
• Cash Deposit (Envelope)
• Cheque deposit (Envelope)
• Account Debit
• Utility Bill (Electricity, Water, Gas, Phone, Mobile Phone etc.) Payments through Cash, Account Debit or Cheque
• School payment and other institutional payment
• Check Book Request
• Bank Statement Request
Customized Functions:
• Internet Banking (Through Web-server integration)
• Intra-bank Fund Transfer
• Product promotion
• Snapshot of customers during transaction
Transaction Flow:
 All transaction scenario and other configuration parameters are downloaded by the terminal from the Server through proprietary messaging system. In some situations transaction flow and other parameters can be locally configured.
Transaction flow and screens can be designed as per customer requirements. Bank's logo and corporate theme must be provided.
 Report Generation:
There are two ways to generate reports.
1. Deposit Transaction Report can be generated from the server. Bank Branch or Head Office will collect that report and send to the corresponding branch for posting.
2. Deposit Transaction Report can be generated from the local computer (within the deposit machine). Bank Branch will generate the report and perform necessary activities to post it to the Core Banking Software.
Capacity of Deposit:
Maximum Note Allowed Per Deposit: 
The standard deposit is 100 Notes per Envelope.
Maximum Envelope Deposit: 
The Vault can accommodate more than 400 Envelopes.
Transaction Processing: 
Transaction processing settlement can be arranged according to client's requirements and policies. It can be arranged for both Online and Branch Banking.
Warranty:
The Deposit Machine will come with 1 (one) year full warranty including spare parts.
Color Customization:
 The machine can be colored as per Bank's corporate theme.
Maintenance:
 This Deposit Machine requires maintenance for Sensor systems, Shutter, Printer, Card Reader Head, monitor & others periodically.
 Consumables will be required to be loaded on need basis.
Security Feature:
Both the Hardware and Software ensures highest security.
1. The Vault is UL standard; fire-proof and tamper-proof.
2. Customer Account Number and Card number are stored using 3DES encryption.
Monitoring Solutions
Deposit Machine can be monitored locally or from remote locations.
Monitoring Locally: 
An individual Personal Computer with a local Printer or Network printer should be allocated for Monitoring Deposit Machine. The following monitoring abilities are allowed:
Hardware
Hardware monitoring can identify:
1. If the Vault of the Deposit Machine has been opened.
2. If the Power is switched off.
3. If the Envelope Sensor is not working.
4. If the Shutter is not working
Software
 Software monitoring can find:
1. The total number of successful transaction.
2. The total number of cancelled transaction.
3. The number of cash deposit transactions.
4. The number of cheque deposit transactions.
5. The number of utility bill transactions.
Monitoring Remotely:
A specific Personal Computer with Deposit Machine Network Access should be allocated for Monitoring all the Deposit Machines at the same time. The same monitoring abilities are allowed if monitored from a remote location. Only difference is one person can monitor all the Deposit Machines from a single point.
Climate Condition:

18- 30 Degree Celsius. Ideally 22 Degree Celsius. Indoor use.

Power Supply:

220 -240V ~, 50-60 Hz.

Printer:

Thermal with auto cutter,

80 mm

System Control:

Celeron Processor

Pentium IV Processor (Optional)

Connectivity:

Ethernet TCP / IP

Input Media:

Touchscreen

Card Reader: 

[Optional]

Hybrid Card Reader, Track 1,2,3

Magnetic Cards

Hybrid Cards

Contact position as per ISO track up or down

Other Peripherals: [Optional]

Portrait Camera

Biometric Security (Fingerprint)
Technical Data
Technical Specification:
 1. 17" LCD TOUCH SCREEN 
a. High resolution.
b. Life of sixty million touches.
c. Low Power Consumption.
2. AUTO CUT Thermal Printer
a. Fast printing with high resolutions.
b. Paper cutting automatically after Printing as per given length.
c. Very easy to Load new Paper.
Software
ITC Ltd has been using TranzWare, an extremely versatile suite of applications, for the switching solution and card management.  We also provide complete maintenance and services to our TranzWare clients. TranzWare includes a broad range of innovative products and solutions.  The major TranzWare solutions that ITC Ltd offers are TranzWare Online, TranzWare CMS, and TranzWare Card Factory.
TranzWare Online is a highly efficient, fault-tolerant engine for switching, parametric routing and authorization of electronic payment transactions as well as for terminal network driving. The system was specifically designed to deliver great flexibility and options for system expansion unrestricted by hardware, operating system, networks and host systems, financial products, types of transactions, devices and delivery channels.
TranzWare CMS offers financial institutions of any size the ability to supply differentiated and ever-improving services at competitive prices, thus, creating a competitive advantage and ensuring customer satisfaction and loyalty in this turbulent environment. TranzWare CMS is a scalable system delivering a variety of automated back office functions for both issuers and acquirers

   TranzWare Card Factory is a refined card personalization and issuing solution specifically designed to drive the costs of EMV card personalization and issuance down, thus, helping card issuers to operate in a cost-effective, efficient and secure way. The product offers a staged approach to card personalization and provides comprehensive support for data preparation, card personalization and issuing of EMV as well as magnetic stripe cards, all integrated into one expedient system.
3.8: Organization Structure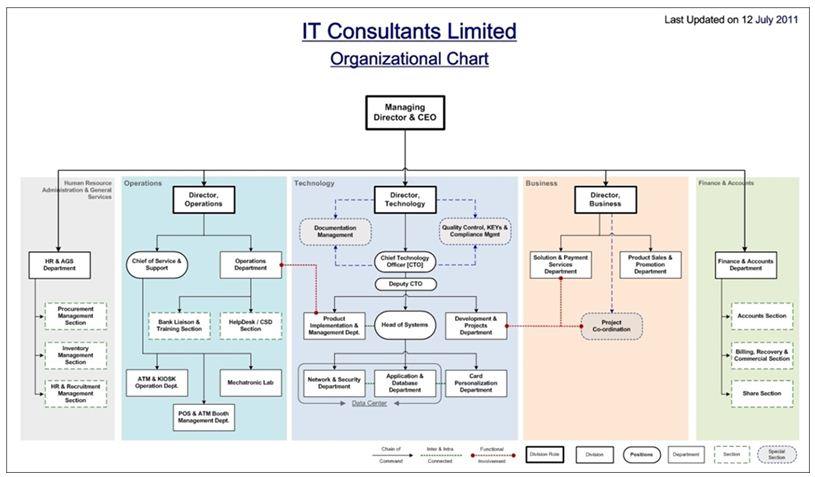 3.9: Organizations Operational Area
Human Resource Administration & General Services:
The duties of a Human Resource Administration & General Services Department of IT Consultants Ltd. involves as per below mentioned points:
Purchasing of equipment's, maintenance of procurement, housekeeping, safety, security, employee induction etc.
Planning and preparing monthly reports pertaining to finance required for maintaining office infrastructure and facilities.
Assisting the department in project management, cost optimization and implementing business expansion plans.
Managing repair, maintenance & replacement of office equipment, appliances, furniture, furnishings, vehicles, building, etc.,
Processes, Documentation, Business Control checks, auditing of Staff personnel & monitor all statutory compliance areas.
Event Management, organizing meetings, conferences, making travel arrangements and hotel reservations for guests & foreign delegates.
Vendor management- Oversee acquisition, installation and commissioning of equipment that are required for the facility – IT Systems, air conditioning etc.
   Operations:
An Operation department has been formed and introduced in ITCL and this department is headed by the Director-Operations. Under his supervision, 4-5 executives are working in the Operation team.
Laterally, this department will also be known as the PMO or Project Management Office. As per the nature of ITCL's business it is necessary that all the business deliverables are considered as 'Projects'. It is well-known to us that every project has a starting point and end lines, which ensures strict Quality Control (QC) that confirms the deliverables. Considering the facts presented, the Operation Department will be holding the responsibilities to make certain that organizational effectiveness of all the business case and work orders have been constructed as individual projects. Improve the operational systems, processes and policies in support organizations missions- specifically, support better management reporting, information flow and management, business process and organizational planning.
FUNCTIONALITIES OF OPERATION DEPARTMENT
The Operation department has sub-functional teams within its field, i.e. BD Support, Logistic & Technical Support etc. Mentioned below is the following work process:
Business Development Support – Once the Business team completes the initial phase with the Banks, the Operation teams takes necessary steps like follow-up on the progress of the implementation project of that particular Bank and liaises with the Business Development (BD) & Technical Team as a supportive hand to the BD.
Logistical & Technical Support – Coordinating with the Technical and the Help Desk team to assure the business objective is met on time and to keep an updated track record on the each deliverables, is the prime responsibilities of the of the Operation department.
Technology:
ITCL, understands that every financial institution has different set of business problems and requirements and therefore, they can tailor to a unique solution even for the most fastidious customers by carefully combining our software products and modules to best address any aspect of the customer. The flexible architecture of the TranzWare suite not only allows to easily address the current needs of a financial institution but also provides for their changes in the future as any new module of the suite can be easily integrated into the existing set, thus, improving and extending bank's product offerings and increasing revenues.
The following are just some of the key solutions based on the TranzWare product family, which is looked after by the Systems department in ITCL:
Independent processing centre status
Processing system for banks with a multi-branch structure
Back Office for Agent-banks served by a Sponsor-bank processing centre
Terminal host for managing large ATM networks (with external host authorization)
Terminal host for managing large retailer networks
Switching centre supporting various interface types with other hosts (more than 10 types)
Fault-tolerant processing system
Fraud Monitoring solution
e-payments security system
Remote banking service via telephone, the Internet, SMS, WAP
System of customer payments (including P2P, standing order, direct debit, arbitrary payments, periodic, one off payments, etc. and support of various payment channels)
Application of a mobile phone in e-payment systems (including payments, identification, authentication, notification, cash withdrawal, funds transfer, etc.
ATM-testing laboratory with ATM emulators, graphical design tools, verification and debugging of dialogue interfaces, user dialogue scenarios, receipt formats supporting several languages, font design and other graphical components
Business:
Whenever a service or product needs to be sold to the market, it is essential that there are employees who can sell the products or services so that consumers are aware of its uses. The business development manager and its team play a role that may involve visiting companies so travelling is required as well as the need to carry out presentations and write up business reports in order to successfully sell the product or service.
Finance & Accounts:
The role and responsibilities of Finance & Accounts Department in IT Consultants Ltd. is to obtain and maintain financial reporting and general ledger structure and ensuring the timely reporting of all monthly financial information is accurately completed. Other responsibilities are:
Collection and confirmation of Billing Data sent to all member banks of Q-cash.
Arrangement of all records of the Billing Process is in a clear and systematic way.
Reports prepared on Sales, Cost of Goods Sold, Billing information, which is given internally to respected departments.
Filing of VAT and all service tax returns and all TDS (Tax Deduction at Source) related matters.
Maintaining of proper accounting of all the activities of the organization and see that everything is being done as per the accepted accounting norms
Evaluation of variance analysis for expenses which have exceeded the budgets or forecasts and also report any such variations to the owners.
Working with the Audit Controller to ensure a clean and timely year end audit of the Company accounts.
3.10: Achievements
Considering the electronic payment industry, ITC has achieved the supreme position and after acquiring of its earlier prime rival Bangladesh Electronic Payment System (BEPS), market position of ITC has strengthen greatly. At the moment ITC serving as third party processor to the Q-cash consortium of 22 member banks and by acquiring BEPS further 7 banks comes under the umbrella of ITC. Overall, ITCL is covering more than 90% of electronic payment industry as a third party processor.
Some of the achievements of ITCL are as follows:
ATM: ITC provided ATM machine Wincor-Nixdorf, the German manufactured, has taken the NCR market position gradually in global market as well as in Bangladesh. The reason to such rapid growth of Wincor-Nixdorf is that currently WN is the only ATM which still manufactured in Germany and it clearly maintains the quality of European Standard and its R&D is continuous to develop new technology in this industry like: WN is the first ATM manufacturer who uses Robotic Technology rather conventional belt system in cash dispensing unit of ATM.
POS Terminals: ITC provide cutting-edge POS solution that is capable to operate as Merchant POS and Bank POS. The competitive advantage for ITC is, the POS application software is developed by ITC itself and it can customize the POS application as per Bank/clients requirement.
KIOSK-Deposit Machines: International Acumen started the KIOSK business in Bangladesh but the market has captured by ITC through its own manufactured KIOSK which operation system is supplied by world famous Wincor-Nixdorf. The KIOSK application software has developed by R&D team of ITC; hence ITC can provide total support to clients resulting almost 90% market share controlled by ITC.
Mobile VAN ATM: ITC has first time introduced the latest concept, Mobile VAN ATM, in Bangladesh. The concept is widely appreciated by Banks and they are interested to commence the concept in their operation.
Remittance Distribution Solution: As ITC is the only player in the field, so there is no scope of competition and ITC is determined to control the market.
SMS Solution: ITC is the only entity in the country to offer card-base SMS solution which is totally capable to interface with Switching Software, resulting real-time transaction notification without core banking access.
Q-cash e-Commerce Payment Gateway: merchants can easily connect to the Q-cash Payment Gateway, which provides the complex infrastructure and security necessary to ensure fast, reliable and secure transmission of transaction data. Q-cash e-Gateway manages the routing of transactions just like a traditional credit card swipe machine you find in the physical retail world; however, Q-cash e-gateway uses the Internet instead of a phone line.
Biometric ATM Solution: ITC has developed Biometric ATM solution first time in Bangladesh and has implemented in Cambodia with Wincor-Nixdorf ATMs. No other organization in the country to offer such solution.
3.11: About the Departments I Worked
In the business development department I worked as an Internee. During my tenure in this department I have acquired various knowledge and skills. In Chapter-4 I explain about the department I worked.
4.1: Business Development Department
I worked as an internee in Business Development Department of IT Consultants Ltd. Whenever a service or product needs to be sold to the market, it is essential that there are employees who can sell the products or services so that consumers are aware of its uses. The business development manager and its team play a role that may involve visiting companies so travelling is required as well as the need to carry out presentations and write up business reports in order to successfully sell the product or service.
Communicating with other departments of the company would enable the business development manager and team to keep up to date with any company news, development and strategies. The business development team will most likely be given objectives and targets to achieve, so it is therefore important that they are able to keep up or be in line with it. The business development manager will need to constantly be in search for new business opportunities and help with the company's business strategy. The more customers and clients the business development can bring to the company, the better reputed the company will be and the better the revenue will be generated.
Business development includes a number of techniques designed to develop a Business organization. Some of the techniques are:
Research & assessments of marketing opportunities
Target markets
Intelligence gathering on customers and competitors
Generating leads for possible sales
Follow-up on sales activity
Formal proposals submitted to clients
Good planning and presenting our products and services to prospective clients
Negotiate with future clients
Developing new revenue streams from new products and services
Communicate with people at all levels and most importantly, closing deals and bringing on new clients to the network.
On the whole, business development team play an important role within any company in generating new businesses and helping the company achieve its objectives and targets.
Assessment of Internship
5.1: Learning through my tasks
The tasks that I have learned working with the Business Development team are as follows:
I learned the procedures, workflow and understanding of company products and scope of business.
There are many foreign clients of ITCL. I learned how to talk with the clients.
Have learned how to write Business letter/ offer letter, which is sent to the banks. Also understood the legal requirements of the company by reading the master agreements and Addendum to the agreements and other documents like Service Level Agreement (SLA), Memorandum of Understanding (MOU), Non Disclosure Agreement (NDA's).
5.2: Comparison between textual work in school and in internship
IT Consultants Ltd. is a great working environment. All of the staffs are professional and personable. I was able to learn and gain a lot of information, experience and build strong connections. My internship experience was wonderful. By taking the internship I was able to take away many more experiences and lessons than I would have been able to in a regular semester class.
6.1: SWOT Analysis
A scan of the internal and external environment is an important part of the strategic planning process. Environmental factors internal to the firm usually can be classified as strengths (S) or weaknesses (W), and those external to the firm can be classified as opportunities (O) or threats (T). Such an analysis of the strategic environment is referred to as a SWOT analysis.
The SWOT analysis provides information that is helpful in matching the organizations resources and capabilities to the competitive environment in which it operates. As such, it is instrumental in strategy formulation and selection.
Strengths
ITCL's strengths are its resources and capabilities that can be used as a basis for developing a competitive advantage. Examples of such strengths include:
      IT Consultants Ltd. is the only option as Third Party Processor in the electronic payment system.
      ITCL provides a state-of-the-art scalable system known as Tranzware to issuers and acquirers to all its member Banks.
      ITCL has introduced electronic payment system to Bangladesh Post Office by issuing Postal cash cards to its account holders.
      ITCL provides various international brands and proprietary cards to member Banks.
      Affiliated with VISA, MasterCard.
      It is EMV (European Master VISA) compliant.
      ITCL also process AMEX transactions.
      ITCL provides world class ATMs and POS terminals to its clients.
      KIOSK application software is produced by ITCL.
      Under the Q-Cash consortium there are currently 22 member banks and more in the pipeline.
      ITC has the flexibility to adapt to new technology developments and compliance requirements with ease.
Weaknesses
The absence of certain strengths may be viewed as a weakness. For example, each of the following may be considered weaknesses:
      Scarcity of labor in a particular field.
      Services are easily learned and replicated by others.
      Disorganization of some sectors.
      Vulnerable to new technologies.
      Basic functions and core activities are handled by ITC but additional products to the system or changes then ITC is highly dependent on its principal company.
      It has high research & development (R&D) cost.
 In some cases, a weakness may be the flip side of strength. Take the case in which an organization has a large amount of manufacturing capacity. While this capacity may be considered a strength that competitors do not share, it also may be a considered a weakness if the large investment in manufacturing capacity prevents the firm from reacting quickly to changes in the strategic environment.

Opportunities
The external environmental analysis may reveal certain new opportunities for profit and growth. Some examples of such opportunities include:
      ITCL has a great opportunity for horizontal expansion in terms of technology.
      Government policy is favorable.
      Opportunities to offer payment services through cell phones.
      Offering clients the convenience and reliability of an ATM & POS machine provides a low-cost opportunity to increase your profit margin.
      Opportunities to bring new innovative ideas in the payment services that can be offered to the clients
      To capitalize on rapid growth in the information management market
Threats
Changes in the external environmental also may present threats to the organization. Some examples of such threats include:
      Network link connectivity. Network problem can occur from ITCL connection or from Bank connection or from the link vendor (METRO, ALAP, Link3, Brac Net).
      Lack of education & knowledge in the Card Business.
      Shortage of knowledgeable people.
      Introduction of competitors using the similar technology can be a threat to ITCL.
      Most of the time bank shows manipulative approach to vendors.
      Natural calamities like earthquake, floods, power shortage can hamper production.
      New entrants offering similar infrastructure in the market.
      Clients opting for a different software solution.
6.2.1: Capital and Reserves
Table   : Capital and Reserves
| | |
| --- | --- |
| Capital | 570,701,000 |
| Reserves | 316,434,847 |
The Capital of IT Consultants Ltd. is Taka 570,701,000 and Reserve is Taka 316,434,847.
6.2.2: At a Glance Profitability Position Of ITCL
Table   : At a Glance Profitability Position of ITCL  from year 2007 to 2011.
| | |
| --- | --- |
| Year | Taka |
| 2007 | (23,129,767) |
| 2008 | 102,759,404 |
| 2009 | 105,252,617 |
| 2010 | 53,622,798 |
|                                    2011 | 36,405,520 |
At a Glance Profitability Position of the Organization was lower in 2007 that is (23,129,767). From the year 2008 to 2011 the profitability position is good.
6.2.3: Total Assets Position of ITCL
Table   : Total Assets Position of ITCL from year 2007 to 2011.
| | |
| --- | --- |
| Year | Taka |
| 2007 | 266,840,462 |
|                                    2008 | 315,293,627 |
| 2009 | 333,401,234 |
| 2010 | 910,214,992 |
| 2011 | 1,052,727,521 |
From the year 2007 to 2011 asset position of the organization is increasing. In 2011 asset position is Taka 1,052,727,521 this is higher than last four years.
6.2.4: Total Liability and Shareholder Equity Position
Table   : Total Liability and Shareholder Equity Position from year 2007 to 2011.
| | | |
| --- | --- | --- |
| Year | Liability | Equity |
| 2007 | 165,728,263 | 274,050,977 |
| 2008 | 228,148,082 | 283,551,000 |
| 2009 | 232,842,416 | 100,559,818 |
| 2010 | 205,870,629 | 704,344,363 |
| 2011 | 299,331,283 | 755,699,883 |
In the year 2011 total Liability is Taka 299,331,283 which is higher than 2010 that is Taka 205,870,629. In 2011 total Shareholder Equity is Taka 755,699,883.
6.2.5: Investment Income Position
Table   : Invest income position from year 2007 to 2011.
| | | | | | |
| --- | --- | --- | --- | --- | --- |
| Year | 2007 | 2008 | 2009 | 2010 | 2011 |
| Investment Income Position | (4.05) | (4.11) | (3.02) | 9.40 | 6.38 |
In the year 2007 to 2009 the Investment Income Position of ITCL was very low. The most losing year was 2009 that is (3.02)  percent . The Investment Income Position was high in 2010 that is 9.40 percent.
6.2.6: Profit Margin Position
Table   : Profit Margin position from year 2007 to 2011.
| | | | | | |
| --- | --- | --- | --- | --- | --- |
| Year | 2007 | 2008 | 2009 | 2010 | 2011 |
| Profit Margin Position | (0.41) | (0.23) | (0.16) | 0.21 | 0.11 |
The most profitable year was 2010 that is 0.21 percent . So, the Profit Margin Position is increasing. After 2010 the profit margin position is decreasing.
6.2.7: ROA (Return on Asset
Table   : ROA from year 2007 to 2011.
| | | | | | |
| --- | --- | --- | --- | --- | --- |
| Year | 2007 | 2008 | 2009 | 2010 | 2011 |
| ROA | (19.12) | (17.37) | (7.78) | 9.64 | 5.72 |
The ROA is higher in 2010 that is 9.64 percent and 2011 that is 5.72 percent. So the margin increasing in 2010 and again decreasing in 2011. In the years 2007, 2008 and 2009 the margin is decreasing.
6.2.8: Cash as Percentage (%) of Total Assets
Table   : Cash as Percentage of Total Assets from year 2007 to 2011.
Year

Formulae

Result

2007

863,469 x 100

0.32%

266,840,462

2008

2,381,082 x 100

0.76%

315,293,627

2009

735,248 x 100

0.22%

333,401,234

2010

935,137 x 100

0.10%

910,214,992

2011

9,485,362 x 100

0.91%

1,052,727,521
Recommendation:
In regards of the limitations found about the special functions of the organization following recommendations are provided:
New Branches Should Be Introduced:  IT Consultants Ltd. has only one office in Dhaka throughout Bangladesh. New branches should be constructed in Dhaka city satisfying more geographic segments. As convenience of communication to the branch location is a very important factor for the clients.ITCL should consider building new branches within Dhaka city.
Advertising & Promotion:  ITCL should pursue an aggressive advertising campaign in order to build up a strong image and reputation among potential customers. In this context, the valuable strengths should be used for positioning the corporate image of the organization. TV ads should be aired to reach a wider array of customers. The ads should capitalize on building strong relationship, needs of customers and quality service of the organization rather than features of products. Thus and offensive marketing strategy emphasizing customer satisfaction and service quality can bring valuable business for the organization.
Direct Social Involvement : To enhance the image of the organization and to assume social responsibility, the organization should engage itself to various social programs like Scholarship to poor but meritorious students, Empowerment of the children in abject poverty, Compaign against dowry and other social evil etc.
      The organization should increase more labor in some particular field. And should increase more knowledgeable. Should be more consern about the competitors.
      Natural calamities like earthquake, floods etc. the organization should be aware before this type of calamities.
Conclusion:
As an internee student in IT Consultants Limited, I have truly enjoyed my internship from the learning and experience viewpoint I am confident that three month internship program at IT Consultants Limited will definitely help me to realize career in the job market.
During the course of my practical orientation I have tried to learn the practical lessons to realize my theoretical knowledge, what I have gathered and going to acquire from various courses. It is great pleasure for me to have practical exposure of ITCL, because without practical exposure it couldn't be possible for me to compare the theory with practice.
Through the departments and sections are covered in the internship program, it is not possible to go to the depth of each activities because of time limitation. So objectives of the internship program have not been fulfilled with complete satisfaction. However, highest effort has been given to achieve the objectives of the internship program.
In fine we can say the profitability of the organization was comparatively satisfactory. Finally we can say if the organization controls its expenses and takes proper steps to overcome its little limitation, it will become a first rows organization of Bangladesh.
So in conclusion it can be said that every organization has its positive as well as negatives & in case of IT Consultants Limited existence of the later one is less than the earlier one & as the management is determined to reach the pick of success it seems that in near future the negatives will be eliminated.