Overview
In our country there are about 52 banks working with the people with varieties of their attractive products and services and there is a high level amongst competition each other. For sustaining, they offering various types of innovation for better service for the clients, so, to reach the closer best to the clients direct marketing gaining momentum in the country. In terms of SME, its targeted entrepreneurs are the subjects of dealings to achieve the objectives of BRAC Bank and its policy is to contact with clients directly with a confident manner. Some key activities of a CRO:
Conducting Survey Properly
Individual contact with entrepreneur for selecting potential borrower
Deliver BRAC Bank's products and other services
Keeping in close touch with clients to develop mutually beneficial long term relationship
There are two types of dealings which customer services officer do as follows:
Regular
The main duty of a CRO is to search new potential customer by providing door-to-door services. They talk with clients and monitor their manners, activities of their business and then provide the loan of the potential customers.  Most customers take hypothecation loan, which are unsecured loan. Normally it carries 2-5 lacs.
Unique
They also handle some unique customers who come to their unit offices to get the loan. Especially this client demands 10-20 lacs for their business. In this case, clients have to provide collateral securities in favor of bank. The securities may be land or fixed deposits. It takes little bit of time to disburse the loan for a CRO.
Macro Environmental Analysis
It is very important to carry out a macro environment scanning for the banking industry in order to identify and analyze the external factor that affected the growth and development of the banking sector in Bangladesh. A through analysis of the macro environment in which the banks operate will allow the banks to develop pro-active strategies and navigate the organization in the turbulent ocean of competition.
The financial institutions are always heavily influenced by the macro economic conditions both globally, regionally or locally. The key macro economic indicators like GDP growth rate, inflation, industrial growth rate, expansion of trade and commerce and other factors affects the operations and the pricing strategy of the bank. BRAC Bank Limited (BBL), since its inception has achieved a steady growth rate. However, the present economic downturn or recession is affecting BBL's operations. The country is now under a deep recession having a major decline in industrial growth rate, galloping inflationary pressure, and decline in international trade with export targets for the fiscal year yet to be achieved and other factors will eventually affect BBL and other banks pricing strategies. Many banks will have to revise the interest rate structure for its various services in order to cope with economic slowdown. However, SME results for BBL is quite satisfactory, as they have surprised their stipulated targets despite the economic sluggishness going on in the country. Some practical example is as follows:
If the savings rate in our country decreases the purchasing power of our people will decreases. The demand for taking loan from bank will decline and client cannot repay the loan properly. On the other hand, if it is increase extremely then purchasing power will increase but people will have enough cash on hand which will reflect by not taking loans from financial organizations. So everything should be balanced.
Another example like- if the interest rate increases then people will not be interested for taking loans and as well as client will be unable to make profit by taking loans. On the other hand, if it decreases then bank will not be able to make profits quickly. So it would be considered for balancing both sides. Unemployment is another whether too much unemployment can affect the industry to understand the business properly. So this sort of impact might occur in the environment, which could have handle properly.
Demographic Environment
Demography is the study of human populations in terms of size, density, location, age, gender, race, occupation and other statistics. The demographic environment is of major interest to marketers because it involves people and people make up markets. In terms of SME requirements customer is the main part of bank. If there is, no client there is any business. According to the location BRAC Bank SME unit offices already has reached in every cities around the country for providing door-to-door facilities. Some key factors of demographic environment are- urbanization, education, living standard etc. For example-In terms of urbanization, lots of new business and enterprises are growing rapidly in the city or town. So more banks can be aggressive for providing loans in newly developing areas. For having new banks in the city, the standard of living will increase for the people. Education is another major factor for developing a nation. Without literacy standard of living could not come for individuals. Therefore, each and every factor is interrelated to each other.
Economic Environment
Factors that affect consumer buying power and spending patterns. SME is very careful regarding economic issues in the country. Customer relation office is always keen to check purchasing materials and leading lifestyle of the client. Because if the economic condition of a client become bad then he/she might not repay the loan. On the other hand if war occurs between the two countries then price of the products will increase and people will loss purchasing power. In this way, organization might affect economically. On the other hand, A steady growth rate with continues market oriented reforms will contribute positively by expanding the volume of business and profitability of the bank. In an economy, a steady growth means there will be more investment, savings, and consumption in the economy. As a result, bank also gets more deposit and more projects for credit disbursement.
After disbursing the loan, if the economic condition of the business is being poor then BRAC Bank regenerate the repayment schedule of the client to repay the loan. On the other hand if the economic condition rise up then client repay the whole amount in favor of BRAC Bank Limited.
Social Environment
As banks are service-oriented organizations, they always have to consider the attitude of the customer. Customer now wants a speedy service accompanied by attractive and well decorated impressive branches with customer friendly officers providing tailor made services to the customers. SME of BRAC Bank impressive office has already earned a reputation for the bank and has attracted lots of potential customers around the country. In order to match with the customer needs, banks are also increasing varieties of products such as single short products, different short and medium term products and other services.
One of the key factors of a social environment is social class growth. It carry out attitudes of various classes of people, such as upper class, middle class, lower class upper lower class, upper lower class, etc. The customer relation officer of BRAC Bank deals with them regarding their social classes. The clients are accepting the SME loans with knowing the interest rate of 24%( 2% per month). Client wants fast service rather than paying 24% interest. Some clients are argued about the interest rates that BRAC Bank is now think of to reduce it. BRAC Bank already have 4000 clients and disbursed 150 crore. Next year its projected target is 9000-11000 clients and captures the market in our country. So, SME has a rapid growth in the market.
Political Environment
The political environment consists of law, government agencies and pressure groups that influence and limit various organizations and individuals in a given society. SME of BRAC bank have to abide national laws like festivals, holidays. On the other hand, hartals, strikes, barriers can affect the economic condition of SME of BRAC Bank Limited. Under the latest World Bank, recommendation the banking division of the ministry of finance is being abolished a step further in providing autonomy to Bangladesh Bank. The emergence of BBL SME and other contemporary banks and the arrival of the foreign banks are all due to the on going reforms in the financial sector of Bangladesh. BBL is restricted to provide loans for the political leaders. Customer services officers of BRAC bank always avoid political leaders who carry out business. But if any pressure occurs from the political sides to have the loan the top management handles the situation but never give the loan to them.
Technological Environment
BRAC bank of SME division has a strong network in the whole country. The main head office is in the capital city from which it operates with all the unit offices by means of mobile telephone. In the near future, SME might hand over the palmtop computer to all customer services offices to provide accurate and quick service to the clients.
Ecological Environment
Sometimes ecological environment can turnout the business of the clients. Foods, disasters can affect the business after having the BRAC bank loans or fire can burn out the whole business. To protect from these disasters BRAC bank do the insurance policy with the joint names of the client. So that client can get feedback from the insurance policy to run again his business. If client do not get support from the insurance company then BRAC bank give time or generate the client repayment schedule
Micro Environmental Analysis
Marketing management job is to attract and build relationship with customers by creating customer value and satisfaction. It depends on other factors in the organization microenvironment- suppliers, customers, competitors; various publics that make up the organizations value delivery system. The company needs to study its customer marketer closely in terms of Small and Medium Enterprise of BRAC Bank Limited and their customers group is specified. Their target group is only Small and Medium Enterprise client. The CRO closely monitor and try to build good report with clients. On the other hand corporate clients are different to have the loan. Each market type has special characteristics that call for careful study by the marketer.
In terms of SME, most clients are carrying out trading business rather than manufacturing business. Few clients are attached with service business like pharmaceutical, hospital, homeopath etc. In the trading business clients want loans to meet their working capital requirement. On the other hand, client want 10-15 for purchasing fixed assets.
In our country mostly 35-40 years old clients are carrying out loans regarding the type of their business. The clients who interested to take the loan of SME then they have maintained at least one year running business. It is a policy of this bank because in the mean while client can understand his business and can set a future plan.  The educational qualification of our clients is very poor. Clients are undergraduate but carry out good business. SME support their clients who are carrying out good business and also give suggestions and guidelines to develop their business. If any client has maintain loans with other banks then SME is restricted to provide loans for that clients. The client needs clearance certificate to get the loan from the BRAC bank.
It has been found out that in our country most clients need small loans to develop their own business. The world is being globalizes and modernized. Therefore, client takes risks to enhance and develop their business and BRAC bank is a good helping hand to help them. In our country, clients want more time to repay the loan. BRAC bank gives adequate time for the client to repay the loan whether they can get benefit from it. Clients are very happy to repay the loan by equal monthly installment. Clients know the right time to repay the loan at the right place. But in the pick season, most client wants short fund requirement to carry out good business. Regarding interest rates, clients are not talk about more because clients get the loan at the right time from the BRAC bank. Clients are also happy by the issuance of security preferences because they do not have to provide any collateral security for hypothecation or unsecured loans. SME of BRAC bank networks has everywhere in Bangladesh. So clients can have the SME loans wherever his business exists in the country. In addition, clients get the fast service from the BRAC bank.
The purpose of this loan is the economic development in our country, which might divert the clients mind after having the loans for expansion. Many clients have ambition to expand from trading to manufacturing business to generate more profit.  When a CRO would visit a business, the client must provide the proper and right information and show the right documents for justifying a good client. If any CRO feel bad smell in the business then the CRO reject that client without concerning the management. So clients should be feel comfortable to provide proper information to have the loan. Regarding the service by the CRO, getting these quick facilities from them satisfies almost all clients. Though it is pioneer division of the bank, client should be fully satisfied by having this facility.
Industry Analysis: 
a. Threat of New Entrant
In every industry, there is a threat of new entry, which varies according to industry. Similarly, the banking sector of Bangladesh also faces the threat of new entrants. However, the threat comes from two directions. The first threat comes from the arrival of the multinational banks and their branch expansion particularly due to the booming energy sector. For example, Standard Chartered Bank already inaugurates the SME loan. Another threats comes from the emergence of new private commercial banks. For example, Southeast Bank, Dhaka Bank & others, the countries traditional banks are facing the treat of further competition and better quality service. Similarly, the potential banks that may emerge in the next few years will further enhance the intensity of competition and may pose further threat to the existing banks. At the same time, arrival of the foreign banks is posing threat and pressure on the existing banks. At the same time, arrival of the foreign banks is posing threat and pressure on the existing banks. Already Standard Chartered Bank and Hong Kong Sanghai Banking Corporation (HSBC) has started to provide small loans to clients and they are also going to start door to door services to clients.
b. Growth in the Industry
The rivalry among the competitors and the growth in the industry depends upon the intensity of competition. If the industry has a high intensity of competition then the industry will have a high growth rate, as all the firms will try to beat the others in order to grab the market share. Similarly, the banking sector of Bangladesh is growing considerably and at the same time competition is increasing. Currently BRAC bank SME division is a pioneer one and carrying out Digital Technology Management Systems.
Evaluation of SME
October 07, 2001– its operation started as the name of SESDF (Small Enterprise
                               Support Development and Finance)
October 30, 2001– its first loan disbursed to Mita Oil Mills as an overdraft loan.
October 10, 2002– it got the name SME (Small and Medium Enterprise)
March 2003 – Month of greatest challenge and achievement (Achievement-104%)
A sample MIS report has shown below:
Disbursement: Target Achieved (In lacs)

Month
Target

Achieved

(%)

January 2003
783

630

75

February 2003
796

681

81

March 2003

855

925

104

March 2004

1000

1056

106

March 2005

1500

1620

108

March 2006

1800

1960

109

March 2007

1850

2000

110

March 2008

1900

2100

112
c. Competitors
Identifying the banks competitors
In terms of World Bank advice, most of the private banks are ready to provide small or micro credit loans to the clients because small loans are less risky than the corporate loan. At the recent trend, many banks like Standard Chartered, Islami Bank of Bangladesh, Southeast Bank, Dutch Bangla Bank Limited etc are going to take many aggressive steps in terms of small loan to clients.
Determining the competitors objectives
In our country, High amount loans or long term loans are risky because Bangladesh Bank is carrying out lots of defaulter's list. So most of the banks are now interested to provide small or micro credit lending in terms of small and medium enterprise business. The objectives of the competitors are to capture in the market by providing small loans regarding and manufacturing business. But everyone's common objective is economic development of this country.
Identify the competitors' strategy
Standard chartered bank already sent marketing troops surrounding the cities for providing loans and deposits. CITI Bank is going to start retail service business for capturing the market. So competitor's analysis is important factor to carry out in the long run business for any organizations. Among these banks, many of them have lower interest rates but lots of hidden costs and services.
In terms of SME, a sample comparison between BRAC Bank Limited and Islami Bank of Bangladesh has shown below:
| | |
| --- | --- |
| BRAC Bank Ltd. | Islami Bank |
| Provide online banking & services | Provide manual banking services |
| Officers provide door to door services | Clients have to go to branch & then talk with officer |
| BRAC Bank has 265 unit offices to bring clients | It has almost 50 brunches around the country |
| BRAC Bank depends on other banks for disbursements | Disburse the loan from its own brunch |
| Collateral free 2-5 lacs | Collateral free 2-5 lacs |
| It has only term loan system | It has overdraft & term loan facilities |
| Networking with BRAC, IFC & Shore Capital | No network |
| It has goodwill & flexible interest rate | It has goodwill but higher interest rate |
| It has vast field employees to reach each and every client in terms of small & medium enterprise | It has also vast employees but not in the field level |
SME Relates With The Modern Marketing Concept
First it provides customer satisfaction.
Second customer satisfaction through integrated effort. In terms of SME the goal is to economic development of our country through meeting and exceeding customer needs better than competition. In terms of customer orientation, SME provides the best facilities to customers regarding their needs. SME provides unsecured loans up to 5 lacs which none of other banks provide. In spite of integrated effort, SME is a team-based organization. CRO go to the door-to-door business and by depending on them, SME gives loan to clients.
Though it is team base management bank, the corporate goals can be achieved and gaining trust of management satisfies customers.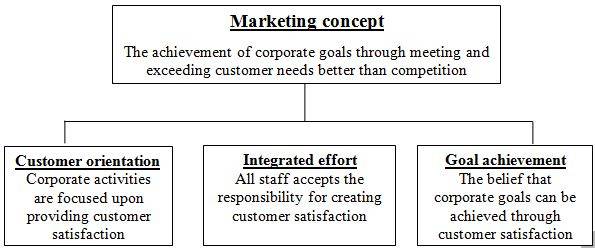 Figure  Marketing Concepts for SME
Strategic Planning in a Nutshell of Small and Medium Enterprise
In terms of our country most financial institution start out with extensive business and marketing plans to attract potential customers. But organization has some internal steps to carry out organization in the long run which it related to Small and Medium Enterprise of BRAC Bank Limited are as follows:
Identify the major elements of business environment in which the organization has operated over the previous few years. In terms of BBL SME, it provides loans to small and medium enterprise. CRO or marketing officers deals with the clients directly and CRO's are all in all to provide the loans in terms of their beliefs. SME is very friendly to provide various facilities by the existing clients.
Describe the mission of the organization in terms of its nature and function for the next two years. By thinking of client's benefits and satisfaction, SME will withdraw up to 10 lacs without collateral security for providing loans. Disbursement system will carry out by means of courier services. CRO will send necessary documents to head office to disburse the loan that is nonparallel decision by comparing other banks.
Explain the internal and external forces that will impact the mission of the organization. In terms of SME, it has various unit offices surrounded throughout the country and has vast number of employees to handle different clients. However, it is a SME bank, which has strong feedback and reputation in terms of social and environmental sights. By considering external forces, IFC or World Bank is financially collaborating with BRAC Bank. So it is big driving force for the SME of BRAC Bank Limited.
Identifying the basic driving force that will direct the organization in the future. In terms of SME of BRAC Bank, it believes integrity, honesty, and conciseness bilaterally of clients and us. Though it is credit division, so marketing officers can relate with bravery. Management is very strict in terms of that issue. It is a strong reputed organization so clients have faith on us and this relationship will carry out long-term relationship with SME.
Develop a set of long-term objectives that will identify what the organization will become in the future. In terms of SME, it has a long-term vision to run into the organization. Already it applies in Millennium Banking System software by means of online facilitates in terms of keeping all record and to way the process easier in the long run. SME thinks key business process with IT Management together in which IT can be enable can give best possible outcomes.
Basically strategic plans define the organizations overall mission and objective. Within each business unit, marketing plays a role in helping to accomplish the overall strategic objectives.
Market Segmentation
The market consists of many types of customers, products and needs and the marketer has to determine which segments offer the best opportunity for achieving company objectives. SME segments the market into three categories: Trading, Manufacturing, and Service. In trading business, there are different kinds like retailer, wholesaler, food business, general stores etc. in manufacturing, there are mills, bakery, press business, etc and also except purchasing manufacturer organization also take loans to meet the working capital requirements. In service business, there are pathology, hospitals and satellite business. Though in our country there is not much manufacturing organization, so most of the demands go for trading business. Though it is a small and medium enterprise, therefore it focuses on small loan clients that is small types of business like trading, manufacturing, and service. Basically manufacturing clients take medium or low amount of loan during short period of time.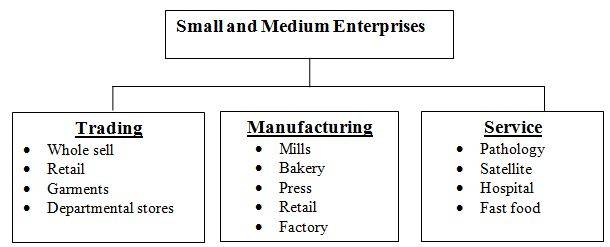 Figure Market Segmentation
Bases for Segmenting Consumer Markets
There is no single way to segment a market. A market has to try different segmentation variables, alone and in combination, to find the best way to view the market structure.
Geographic segmentation: Dividing a market in to different geographic units such as nations, states, region, countries, cities, or neighborhood. In terms of SME, it targets every region around the country in terms of small business. Now the SME has almost 265 unit offices to provide credit facilities to the clients around the country. Each of the SME unit offices mainly setup the district levels around the city but not in the rural or undeveloped areas. However, where the potential enterprises/businesses are more, SME try to develop unit office at that particular region/ area to capture the entire market.
Demographic Segmentation: Dividing the market in to groups based on demographic variables such as age, sex, family, income, education, religion, and nationality. In terms of SME, in some cases it is very strict. If one who has Hindu religion and live close to the border, SME would have very careful to provide loans to those clients. SME provide loans 20-60 aged peoples. SME is restricted to provide loans more than age of 65.
Behavioral Segmentation: Behavioral segmentation divides buyers in to groups based on their knowledge, attitude, uses or responses to a product. Many marketers believe that behavior variables are the best starting point for building market segments. In terms of SME, few clients would be found those who had done MS and most of clients are secondary or higher secondary pass. But basically SME segments clients at least whether the clients can understand his/her own business. SME gives very importance on attitude. At the first sight if any client behaves rough then CRO never go to that particular client.
Target Consumer
To succeed in today's competitive marketplace, organization must be customer centered and keeping them by delivering greater value. But before it can satisfy customers, organization must first understand their needs and wants. There are two many different kinds of consumers with too many different kinds of needs and some organization in a better position to serve certain segments of the market. In terms of SME of BRAC bank, their target customers are small and medium enterprises. BRAC bank SME target customers those who have minimum income of 40-70 thousand Tk. per month. Mostly entrepreneur's in our country is illiterate. Some of them are higher secondary and BSC graduate. So SME mainly targeted those clients who actually understand his own business. There are three sectors of target customers which SME follows: Trading, Service and Manufacturing. Basically according to the clients demand, SME support them financially to enhance their business.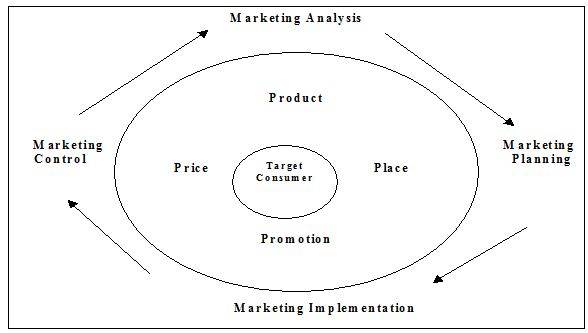 Figure  Target Market
Target Market
Evaluation of attractiveness of each marketing segment and selection of other segments to enter. In terms of SME, the scope is specified which the target market is small and medium enterprise. However, SME is restricted for leather, jewelry, and alcohol business.
Differentiated marketing: Using a differentiating marketing strategy, an organization decides to target several markets or niches and designs separate offers for each. Basically it provides the loan within 25 days and gives the highest months to repay the loan than other banks. In terms of trading business, if the business is not too big then SME is not allow to give more than 20 months to repay the loan. On the other hand, in case of manufacturing business, if the business is too big then SME gives the client gross period and more than 30 months to repay the loan. SME also categorizes the dealings with the customers in A, B & C groups.
A-Categories officers are dealing with the educated clients, like MBA or PhD holder or highly social client.
B-Categories officers are dealing with the undergraduate or normal standard clients.
C– Categories officers are dealing with the non-educated or illiterate normal clients.
Market Positioning
Arranging for a product to occupy a clear, distinctive and desirable place relative to accomplish products in the minds of target consumers. Formulating competitive positioning for a product and detailed marketing mix. To meet the customer demands, SME already establish different offices across the country. Before taking the loan CRO clearly defines to the clients regarding SME policies and repayment schedules. To positioning in the market, SME not only provide loan but also they give some valuable ideas to enhance the clients business and for economic development.
Once a company decides in which segments of the market it will enter, it must decide what positions it wants to occupy in those segments. A products positioning in the way the product is defined consumers mind relative to competing product.
Main head office of SME is in Dhaka city and rest of its unit offices are spread out surrounding the country. Each unit office consist of 2 or 3 CRO who provides door to door services, they even work at night. Many banks have field officers but could not carry out the unit office facilities. So BRAC bank can reach to the potential clients at anywhere in the country. The CRO of SME never say to the customer at the first impression that interest rate is 24%. They try to make understand to the clients mind that 2% per month or equal monthly payment as well as many benefits.
Unique Selling Propositions
Facilities- the main facility of SME is to provide quick service to the clients, which might take 15 to 20 days. Hypothecation loans are collateral security free which other banks take securities. If any clients got serious problem in business after taking SME loans then it gives reschedule to repay the clients loan. While taking repeat loan SME provide various facilities to the clients.
Different features- IFC and Shore banks are going to carry out equity participation with BRAC bank. It will deposit more funds to provide more loans to the clients, which cover around the whole country
Different services- to get the loan, client do not have to go in bank directly. All sort of work are done by the CRO for clients to have the loan quickly. In terms of necessities CRO go to clients home and bring repayments of the loan. In favor of clients, CRO also work in holidays.
Marketing Strategies for Competitive Advantages
To be successful the company must do a better job than its competitors for satisfying target consumers. Thus marketing strategies must be geared to the needs of consumers and also to the strategies of competitors. The core competency of SME is that it already set up the business around the country and marketing officers go to the door to door to the clients. On the other hand, it provides the highest amount for unsecured loans than other banks. In addition, it provides extremely quick services to clients by getting the loan.
Developing Marketing Mix
The set of controllable tactical marketing tools- product, price, place and promotion that the organization blends to produce it wants in the target market. The many possibilities can be controlled into four groups of variables known as the four P's: Product, Price, Promotion and Place.
a. Product means the goods and services combination the company offers to the target market. In view of SME, they have short term and medium term loans whether CRO provide quick and quality services to clients. Customer service is another element of product strategy. A company designs its products and support services to profitability meet the needs of target customers. Short terms products means 3/6/9/12 months loan and mid term product means 15/18/24/30/36 months loan. For example- in Eid occasion most cloth merchants want short-term loan to carryout a profitable business.
Short Term Products:
Easy repay- these categories of products are easy repaid for the clients. When the pick season comes like Christmas of EID then these short-term products could be required for the clients. If the clients have that loan at the pick season then clients business carry out hot cakes and easily can repay the loan to BRAC bank.
Short-term fund requirement– without pick season, many clients could have required short funds to hold the tender or dealership. BRAC bank would be a good hand for the clients to have that dealership.
Mid Term Products
Proper Utilization– on average, clients get these categories of loan for 18 to 24 months. So clients can easily utilize the money regarding the prospect of the business.
Easy repay– though it is a long time repayment schedule, so clients make the profits to get the required amount of loan and repay the loan in a monthly basis.
b. Price– is the amount of money customers have to pay to obtain the products. In terms of SME of BRAC bank, clients have to pay a certain amount of processing fees and stamp costs to get the loan. One of the factors that affect the companies own pricing moves. For example- many banks have processing fees with 1% or 2% additional charge and other miscellaneous costs. But BRAC bank has withdraws other costs and charges to carry out in the competitive market.
Costly- BRAC bank SME interest rate is 24%. So it is little bit of costly by the competitive edge but the client gets this loan within very short period of time. In this situation client cannot think about the interest rate because at the right time they get the loan, which they can exercise in their business, can yields profits.
Easy sanction– If the CIB (Credit Information Bureau) is being cleared from Bangladesh Bank and all information is being transparent from client then the loan is become sanctioned in favor of client.
All time consultancy– without taking any money, the officer of this bank give moral advices to clients to develop the business.
c. Place (Distribution) It includes companies activities that make the product available to target consumers. SME already spread out its unit offices around the country. SME tries to reach each and every small business enterprise to meet client's demands. Marketing channel decisions are among the most important decision that management faces. Management must make channel decision carefully, incorporating today's needs with tomorrow like selling environment. SME of BRAC bank already has 265 unit offices, which is spread throughout the country and 173 staffs working under these unit offices. These officers have respective selected supervisors who directly report to the SME main head office. So SME division has everywhere in Bangladesh to serve all respective clients.
d. Promotion– means activities that communicate the merits of the product and persuade target customers to buy it. For example- up to 8 lacs taka SME don't take collateral security to provide loan. Also for the repeat borrowers SME discounts up to 6% interest rate and Tk. 1000 for the respective client. Advertisement is one of the major elements in promotion. SME is focusing customers by printing various leaflets, magazines and showing banners in front of their respective unit offices.
Door to door service– it is a door-to-door customer services to clients. CRO knock the door of the business enterprise whether the client have required any loan or not.
Market to non-Bank people: Some clients do not maintain any account in the bank. They are dealing by cash. By providing BRAC bank loans, these sorts of clients can be attached with the banks. In addition, they can understand more about banking and can have a good relationship with them.
Neglected People– there are some people who are very afraid of dealing with the bank. They were very simple dresses too afraid to the bank. But they are carrying out good business and potential clients. They could be target for the BRAC Bank Limited.
Figure  Marketing Mix
Managing the marketing effort in terms of SME
The company wants to design and put in to action the marketing mix that will best achieve its objectives in its target market. Much organization follows four marketing management function- Analysis, planning, implementation and control
Marketing Analysis: SME always analyzes its market and marketing environment to find attractive opportunities and to avoid environmental threats. It is also analyze banks strengths and weakness as well as current and possible marketing action to determine which opportunities it can best pursue. For example: after analyzing the market, SME withdraws collateral security up to 8 lacs taka to get the loans.
Alternative sources of funds from the viewpoint of clients
BRAC Bank provides financial assistance to potential enterprises and committed entrepreneurs up to the amount of 2 to 30 lacs. There are also other sources of funds like nationalized commercial banks, private commercial banks that provide financial assistance to the enterprises. The alternative sources of funds from the viewpoint of clients are discussed below:
Nationalized commercial banks: Once nationalized commercial banks provided most of the finance to the enterprises. Gradually, various kind irregularities, red tropism etc creates pains for entrepreneurs. As a result, various types of private commercial banks have emerged.
Private commercial banks: Presently private commercial banks are providing better services than the nationalized commercial banks to the clients. But these banks are fouling mainly the large and medium scale business. As a result, these banks do not find small enterprise.
Other financial institutions: Other financial intuitions like various leasing corporations finance to the enterprises. But the small enterprise has no better access to these types of financial institutions.
Relatives and friends: The above sources of funds are providing finance to the enterprises. The interested clients have to find out these organizations and communicate for financial assistance. On the other hand the CRO of BRAC bank find out potential enterprises for financial assistance. Though BRAC bank and alternative sources of funds of BRAC Bank provide loan to the client, BRAC bank is more client's service oriented.
Interest rates and other charges and comments of clients- BRAC Bank provides mainly medium term loans to small enterprises and the repayment system is monthly installments. Say for example: if 3 lacs loan is provided to an enterprise for a 18 months, this enterprise will repay Tk.. 19142 as monthly installment. Thus total amount repay by the enterprise is Tk. 344556/= where Tk. 300000 is principal and 44556 is interest. Some clients based on the nature of business feel the system unsuitable because the principle amount is not used for the whole period of the loan.
This is another system for providing loan to the enterprises which term loan. After a specific period of time the principal amount repaid, but the client quarterly tie should pay the interest, after each 3 month. In this case the rate of interest is 24%. The clients who have easy access to the various commercial banks, they are a little bit dissatisfied because most of the ease, they have pay bribe or they are not satisfied by the behaviors of the bankers of these banks, where CRO perform most of the function of the client.
When the client heard that CRO will perform most of the function for taking the loan, then considering his time, loan land cost reduction satisfied the client.