Celebration of Pahela Baishakh
Pahela Baishakh is the first day of Bengali year. It is a part and parcel of Bangle culture. It is celebrated with various traditional and cultural festivities and making merriments in both Bangladesh and West Bengal. In Bangladesh, it is a national holiday. According to the Bangladeshi calendar, Pahela Baishakh usually falls on April 14. The Baishakhi Mela is also celebrated with great festivals and it is perhaps the largest festival of Bangle culture. On this day people bathe early in the morning and wear traditional Bangalee dresses. Young women wear white sarees with red borders and adorn themselves with bangles flowers and tips. Men usually wear white pajamas or dhuti and Panjabi. It is celebrated on the first day of the Bengali new year with traditional festivities across the country.
Businessmen open new books of account this very day which is known as Halkhata. It was customary to clear up all dues, taxes, and loan payments on the last day of the Bengali Year. The traders and the shopkeepers offer sweets to their customers. They try to complete their old dealings and open new accounts. Shop keepers both in villages and towns open current account book named as Halkhata and distribute sweets among their customers and clients.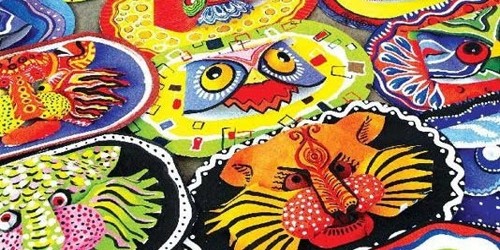 The day's first cultural function starts under the cool shade of the large banyan tree. Almost all the socio-cultural organizations join the function. The function starts with the famous Tagore's song – "Eso hee Baishakh, eso eso (come ooh Baishakh, come). This function continues to tin almost two hours. Folk songs as well as Baul, Bhatiali, Bhawaia, and Murshidi songs are also sung in this function. Horse races, bull races, bull fights, cockfights, flying pigeons, boat racing were once popular. Jatrapala is staged and Jari, Sari songs are performed by Sufi and folk singers. Puppet shows and magic shows amuse and entertain people.
A number of food stalls are set in the corner of the function ground. People take Panta-Ilish (soaked rice with fried Hilsa fish) from the stalls. There are green chilies and onion with the dish free of cost.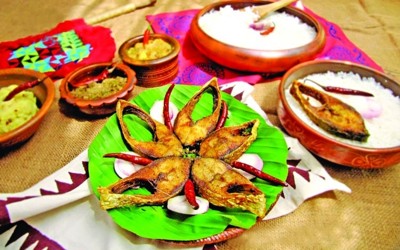 On this day a gorgeous Baishakhi Mela (fair) is held in the large field of our High School. Various agricultural products, traditional handicrafts, toys, cosmetics as well as various kinds of food and sweets are sold at this fair. We buy different things from the fair. Puppet show and merry-go-round are the other attractions of the fair. We also enjoy these. In the late afternoon of the day, the youngsters of our locality stage a Jatra show under the banyan tree. All the people of our locality enjoy this traditional event with great enthusiasm.
Pahela Baishakh reminds us of our customs and traditions, our history and heritage. That is why it has a universal appeal to us. It bears the testimony to the fact that we have a culture of our own. It is the manifestation of our cultural heritage. But the communion of souls of people from different caste and creed on this occasion proves that it has truly become a common festival of Bangladesh.